Weathering with You Anime Film's Official Art Book Limited Edition Bonuses Revealed
The official Weathering with You art book is set for release in Japan on May 27, 2020. The book will include a limited edition version, and depending on where you purchase it from you will receive a different bonus item.
KADOKAWA announced the release of the art earlier this month. The hit anime film directed by Makoto Shinkai (Your Name, The Garden of Words) was released in July last year to critical acclaim, earning the title of Best International Feature Film at the 92nd Academy Awards.
The art book is to feature over 240 gorgeous pieces of background art which of course includes image of Tokyo's sky changed by the weather in the film. It will also include an interview with the director Makoto Shinkai, comments by the art director Hiroshi Takiguchi, and plenty more for a detailed, behind-the-scenes look into the movie.
Let's check out the different stores offering their exclusive bonus items.
Animate
IC Card/Smartphone/Tablet Stickers (Sticker Set A)
Books Kinokuniya
IC Card/Smartphone/Tablet Stickers (Sticker Set B)
MARUZEN & JUNKUDO
IC Card/Smartphone/Tablet Stickers (Sticker Set C)
*Stickers are available at select branches only. Please enquire in-branch for more information.
The three different sticker sets feature breathtaking background art from Weathering with You, and can be used on IC cards, smartphones, or tablets.
Amazon
PC Wallpapers (3 Designs/3 Sizes) – these can be used as backgrounds for online calls too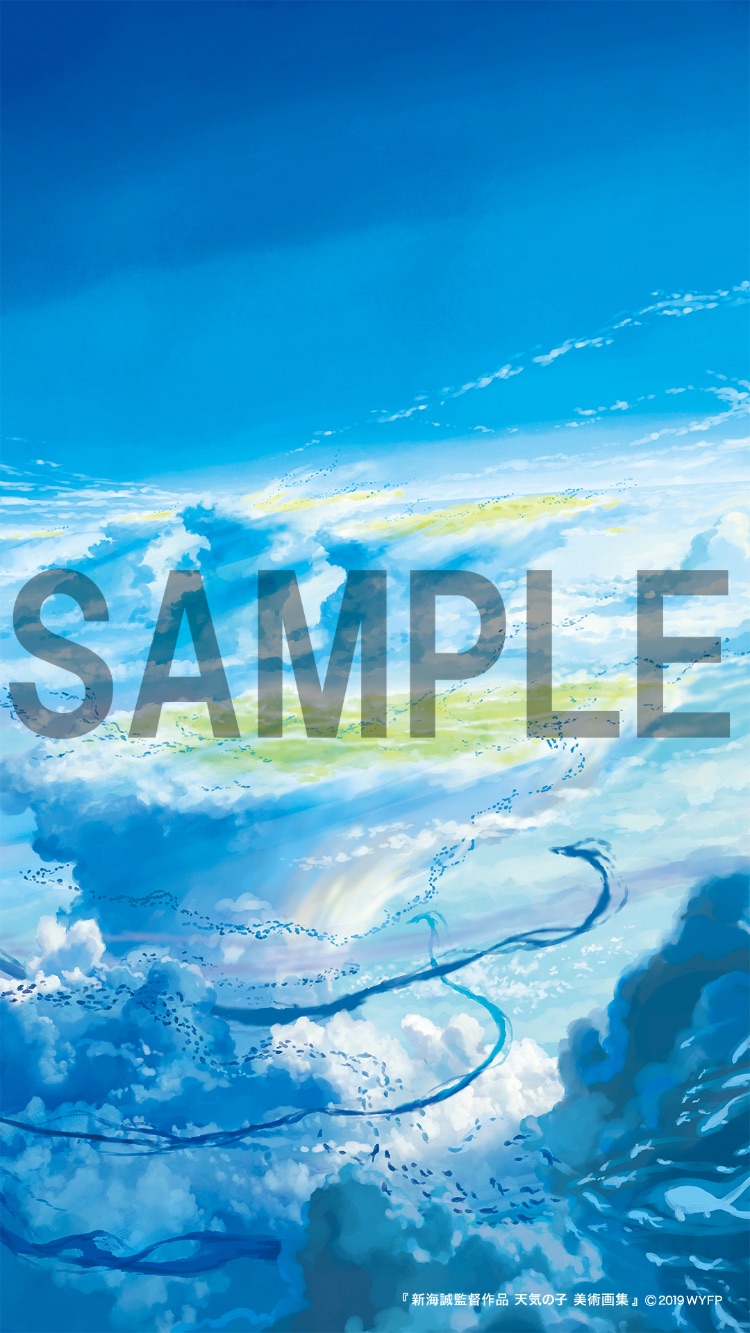 Smartphone Wallpaper (1 Design)
If bought on Amazon, you'll get some PC wallpapers and a smartphone wallpaper.
*Wallpaper designs subject to change without notice. The wallpapers are exclusive to customers who buy the book by July 31, 2020 at 23:59 (JST). Wallpapers can be downloaded until October 29, 2020 at 23:59 (JST).
©2019 "Weathering with You" Production Committee
Information
Weathering with You Official Art Book (Japanese Title: 新海誠監督作品『天気の子』美術画集)
Release Date: May 27, 2020
Price: ¥2,700
Size: B5 (224 pages, comes with sleeve)
ISBN: 978-4-04-604698-7
Publisher: KADOKAWA
Rolling out on Amazon Japan and Japanese book retailers
KADOKAWA Official Webpage: https://www.kadokawa.co.jp/product/321911000087/
RELATED ENTRIES
Shibuya PARCO's Dwiky KA Exhibition Collaborates With Japanese Brands and Artists

PARCO opened the Dwiky KA Exhibition at its Shibuya branch on Friday where it's set to run until August 9. Dwiky KA is an Indonesian artist who has collaborated with many music artists and apparel brands.

Dwiky KA x HYSTERIC GLAMOUR

Dwiky KA x BiSH

Dwiky KA x Kosuke Kawamura

Dwiky KA x Kosuke Kawamura

Dwiky KA x Tappei

Robot exhibit

As part of the exhibition, a line-up of merchandise and original items is being sold, including collaborations with brands Hysteric Glamour and balansa x YAGI, artists Kosuke Kawamura and Yappei, and idol punk band BiSH.

Information

YAGIBOY & GALLERY X presents Dwiky KA exhibition "LABRAX"
Running: July 30, 2021 – August 9, 2021

Location: GALLERY X

Address: Shibuya PARCO Floor B1F, Udagawacho, Shibuya, Tokyo
Opening Hours: 11:00-20:00
Price: ¥500 (Tax Included)
Official Website: https://art.parco.jp

Art For Social Change Project Launches in Japan Using Waste to Create Art

Innovation Design launched its new 'Art For Social Change' project at haishop in Shibuya Scramble Square on July 21 which sees artwork made from waste.

According to Japan's Ministry of the Environment, 42.74 million tonnes of garbage has been thrown out since 2019. That's the equivalent of around 115 Tokyo Domes, or 918g of waste per person everyday. The waste cannot be exported, and so real action is required to reduce the amount of waste create on the island country of Japan, especially when thinking 20 years down the road.

That's where haishop comes in. Using caps from detergent, which are actually no longer sold, as well as plastic caps and other materials resulting from waste, it will create a new identity for waste together with consumers in the form of art. Art For Social Change aims to send a message to society to make real transformations in the world through the medium of art.

It's easy to imagine what happens when creating a product up to its completion, but considering what happens to it after it's been used is a lot more difficult. Every year, the available capacity at final disposal sites decreases more and more. The important topic at hand is getting everyone in Japan to really treasure the products they buy, to conceive ideas on how to prolong longevity of the things that people purchase, and construct a new society centred on recycling and reusing. And this isn't just a Japan problem – it's a global one. That's the message which Art For Social Change carries.

 

The only conditions on participating with the project is that you agree with its goal and that you use materials on sale at haishop. Everyone is invited regardless of age or gender.

The artworks in action


4th year students from Nitobe Bunka Elementary & Junior High School used waste materials to create 'souvenir' theme products which the children are helping to sell at the shop. The proceeds go back to the school itself while helping teach children about new ways of reusing and recycling.

Souvenirs created by the students of Nitobe Bunka Elementary & Junior High School

Mascara bottles made using caps from detergent bottles

ESTINATE HOTEL Celebrates Okinawa Branch's 6th Anniversary With Ryu Ambe Collaboration

The lifestyle hotel chain ESTINATE HOTEL's Okinawa Naha branch will turn 6-years-old on August 7, and to celebrate, it will hold a special event in collaboration with the character designer Ryu Ambe from August 6-15. This will be Ambe's first-ever exhibition where his work will be sold in-person.

Pottery in Shujiro Castle Park

"Shima Map" design by Ryu Ambe to be used on posters and t-shirts

ESTINATE HOTEL has welcomed people from all regions of Japan over the years. It has held many events including one two years ago with the theme "Meet Local" and another last year themed on "Feel Global." This year, the catchphrase is "Hello New World" which hopes to encourage people to discover new things by meeting the locals of Okinawa through the medium of art.


Ryu Ambe has a unique designer reminiscent of American comics. For this event, he has created the "Shima Map" which will be used on a variety of merchandise such as 30 limited-edition silk screen posters. There are also pottery pieces inspired by the sea life found in Okinawa's oceans, amongst other art works.

Information

Ryu Ambe Exhibition "HELLO NEW WORLD" at ESTINATE HOTEL
Running: August 6, 2021 – August 15, 2021 @ 11:00-17:00

Ryu Ambe's Stay Duration: August 7, 2021 – August 8, 2021

Location: ESTINATE HOTEL Okinawa Floor 1F Lounge

Address: 23-11 Matsuyama, Naha, Okinawa, 900-0032, Japan

Official Instagram: https://www.instagram.com/estinate_hotel/

Official Website: https://estinate.com/


teamLab's Enchanting Ovoids Light Up Chiba Art Festival 2021

Japanese digital art collective teamLab has announced their plans to set up a public art exhibition at Chiba Art Festival 2021 which will take place at Chiba Port Park from July 31 to September 5.

Autonomous Resonating Life and Resonating Trees, teamLab, 2017.

team lab will be showcasing their interactive ovoid digital art exhibit Autonomous Resonating Life and Resonating Trees. The art group describes the work: " The resisting and resonating ovoids placed amongst the trees shine. The light of the ovoids and the light of the trees are autonomous: they shine brightly and then fade slowly, as though they are breathing. When an ovoid is pushed, the colour of the light it emits changes and the tone unique to that color echos. The light that originated from that ovoid resonates out to other ovoids and trees nearby. The tone resonates out continuously in the same way as the light, spreading throughout the ovoids and trees."


Chiba Art Festival is one of several cultural programs hosted by Chiba Prefecture. The Tokyo Olympics and Paralympics are not solely for enjoying sports; they're also an opportunity to enjoy the culture of Japan, and so the country is running many different cultural events across and around the capital. The theme of the festival is to showcase artwork that the city wishes to pass on to the next generation. Many pieces are being displayed around Chiba, including at the Chiba Prefectural Museum of Art, such as illustrations, photos, and more.

POKÉMON COLORS Exhibition Opens at Matsuya Ginza

Matsuya Ginza opened its POKÉMON COLORS exhibition on July 22 which is set to run until August 11. The event is a kaleidoscope of bright colours and shapes of Pokémon and Pokémon motifs, with four activities and one installation to enjoy, as well as 160 original pieces of merchandise for fans to buy.

Logo mark

Art Deli Key Visual | ¥4,400

Pikachu Design Pouches – Assorted Pokémon Design Pouches | Small: ¥1,650 Each, Large ¥3,300 Each

Get your hands on a range of vivid and stylish Pokémon items, take photos at the many different photo spots dotted around the event, and learn the latest news about the Pokémon franchise.

Indigo dye art piece

Dangling from the first floor atrium is a 20-meter Pokémon art piece made by the dye group BUAISOU who used the traditional Japanese art of indigo dyeing to create it.

©2021 Pokémon. ©1995-2021 Nintendo/Creatures Inc./GAME FREAK inc.
ポケットモンスター・ポケモン・Pokémonは任天堂・クリーチャーズ・ゲームフリークの登録商標です。

Information

POKÉMON COLORS

Running: July 22, 2021 – August 11, 2021

Location: Matsuya Ginza – Floor 8F

Opening Hours: 10:00-20:00

Official Website: https://pokemon-colors.com/

Bunkamura Bon Bon: MAPP_ x Atsushi Ito Create Paris Themed Artwork

The Shinjuku-based cultural facility Bunkamura is currently promoting French culture and art as part of its monthly event which focus on different countries each month. Titled Bunkamura Bon Bon – Bunkamura France Monthly 2021 –, the event features artwork and commentary by Japanese graphic designer Atsuhi Ito as well as a Paris-themed menu.

Artwork on the walls at Bunkamura

Artwork on the columns at Bunkamura

Wagon Shop | Running: July 10, 2021 – July 18, 2021

Performance by Jester | Running: July 17, 2021 – July 18, 2021

The title of the artwork decorating the inside of Bunkamura is PLAYTIME and is a collaboration with MAPP_, an art project group known for their diverse artwork including the use of project mapping. The designs were created by graphic designer Atsuhi Ito who has captured the essence of Paris. The facility's cafe is also serving up a special French inspired menu with bistro classics to seasonal fish, summer vegetables, and more.

Atsuhi Ito | Comment

"The inside of Bunkamura is decorated with fictitious Paris artwork with life-size illustrations on the walls, columns, elevator and elsewhere. We're living in a time right now where we can't just freely go abroad, so I hope with this people can find something nostalgic about Paris, snap some photos, and feel like they're on a fun trip."
パリの街並みを感じることができるアートワークやイベントをチェックしてみては?


UNIQLO's Global Design Competition UT GRAND PRIX 2022 is Themed on the Peanuts Comics

The UT GRAND PRIX (UTGP) is a design competition that started in 2005. The contest uses the T-shirt as a creative medium and invites everyone to freely express their creativity. This year, the competition is themed on the Peanuts comic strips by Charles M. Schulz which first hit the scene in the US back in 1950, over a hundred years ago.


Create your own Peanuts tee design


Artists are invited to unleash their imagination and bring their own Peanuts creations to life using UNIQLO's UT brand as their canvas. Designs will be judged by the Charles M. Schulz Museum and a team of Charles M. Schulz creative associates.

An internship at the Peanuts studio


The Grand Prize is $20,000 and all winning designs will become products sold in UNIQLO stores worldwide in the summer of 2022. The winners of the top two prizes will be invited to the USA. There will also be an internship opportunity to be a member of the Charles M. Schulz creative associates team.

Sign up to the competition and submit your entry for the chance of your artwork being featured worldwide.

MIDTOWN ART PALETTE Brings Dreamy Digital Artwork to Tokyo Midtown For Summer

Tokyo Midtown's annual MIDTOWN ART PALETTE has returned again for the summer, opening on July 16 and running until September 5. This year, the event delivers a Digital Art Garden with gorgeous dream-like digital artwork.

Digital Art Garden

Last year's event

Experience a distinctively Japanese way to stay cool and refreshed on a wooden veranda with light and mist dancing through the outdoor space inspired by traditional Japanese rock gardens. Find yourself bewitched by an enchanting summer evening as the digital art transforms throughout the day.

This year's event is being held with all proper social distancing measures in place.

Take digital art home with you with AR fireworks

Locate five QR codes dotted around Tokyo Midtown which when accessed via your smartphone will award you with artistic AR fireworks, allowing you to enjoy fireworks with you wherever you point the camera on your screen, including at home.

Event Report: Sanrio's Little Twin Stars and Their Dreamy World at Tokyo Tower

Sanrio's popular character duo Kiki & Lala, also known as the Little Twin Stars, are have brought their dreamy, pastel-coloured world to Tokyo Tower with a special summer event titled "Little Twin Stars Summer Night Fantasy Meets Kiki & Lala Exhibition produced by LIDDELL" which began on July 10.

At the event entrance, guests are given a special 'passport' notebook which is stamped before entering, allowing access to Kiki & Lala's world in the clouds above.

Guests are guided by Kiki & Lala's voice through the rose-coloured "Star & Rose-Coloured Cloud Fantasy Gate" were they are met with five different booths.

At Kiki's Star Catching booth, visitors can experience one of Kiki's favourite past times by 'catching' stars. The stars that are caught can be taken home as a fun memory.





There's also the Starry Sky Light Shower booth which is decorated with mirror balls that reflect the light as well as a wall featuring words and phrases said by the twins, the pink and light blue-coloured Kiki & Lala's Playroom where you can snap cute photos, the Glittering Moviegenic booth which uses your smartphone to watch an animation of Kiki & Lala, and more.

Fans of the twins can enjoy an exhibit of various artworks too, including the 8-meter tall Fantasy Wall which depicts the world above the clouds.

The day before the exhibition began, on July 9, Tokyo Tower was lit up in blue and pink Kiki & Lala colours from 19:30 to midnight. It was a special one-night experience.

If you're in Tokyo this summer, soar up high into Kiki & Lala's world at Tokyo Tower.

©'21 SANRIO 著作(株)サンリオ

Information

LittleTwinStars Summer Night Fantasy Meets Kiki & Lala Exhibition produced by LIDDELL

Running: July 10, 2021 – July 25, 2021

Event Site: https://sanrio.site/qY0AN

Newly Renovated Chubu Electric Power MIRAI TOWER Begins Projection Mapping Performance

Japanese creative company NAKED opened its 'NAKED SKY CRUISING' projection mapping performance at Chubu Electric Power MIRAI TOWER's observation deck on July 1.

NAKED has used its projection mapping technology at towers and observation decks up and down Japan such as Tokyo Tower, Abeno Harukas, and Sapporo TV Tower, combining it with each location's nightscape and catering each performance to the seasons at various themes. Chubu Electric Power MIRAI TOWER has hosted seven night-themed experiences at its observation deck to date, but NIGHT SKY CRUISING is the first one to be held after the tower underwent refurbishment in September 2020.


Visitors can enjoy a magical projection mapping show on the tower windows with Nagoya's incredible evening city view in the background.

Information

NAKED SKY CRUISING
Loctation: Chubu Electric Power MIRAI TOWER's Sky Deck

Run Dates

July 1, 2021 – August 23, 2021 @ 19:00

August 24, 2021 – September 14, 2021 @ 18:30

September 15 onwards @ 18:00

Finishing Times
Weekdays & Sunday @ 21:00 (Last Entries 20:30)

Saturdays & Public Holidays @ 21:40 (Last Entries 21:10)


Prices
General (High School Students and older) = ¥1,600 per person

Children (Elementary & Junior High School Students) = ¥1,000 per person

Infants = Free


Official Website: https://www.nagoya-tv-tower.co.jp/nakedskycruising/

teamLab Planets Blooms Original Blue Orchids That Are the First of Their Kind in the World

teamLab Planets TOKYO revealed two brand new, original blue-coloured phalaenopsis aphrodite orchids on July 8 as part of its new Floating Flower Garden exhibit. The flowers are the first of its kind in the world and there are no plans for it to be sold, meaning the only way to see them is by visiting the Tokyo-based digital art museum.

Unique, never-before-seen orchids

teamLab has named the flowers Phal.'teamLab Sunshine Star' and Phal.'teamLab Moonlight Star' in cooperation with Haruhiko Kato of the Lama Orchids Center.

The flower enjoys a full bloom for around a month. The reason why this orchid is so special is because until recently only four types of phalaenopsis had been found to be blue. The fifth, Phal.lueddemanniana coerulea, was discovered in recent years, and this brand new version was born from it.

The teamLab: FIRE smartphone app lets you take flames home

The new app 'teamLab: FIRE' has been created for teamLab Planets TOKYO's Universe of Fire Particles – Continuity exhibit which lets you enjoy the piece on the go. When you launch the app and approach a specific artwork or a fire held by another person, your smartphone will light up with flames. When you bring the flame close to another person's teamLab: FIRE, the flame will connect. As you connect the flame you received with another person, and they connect that flame with someone else, the flame will spread all over the world.

Drawing on the Water Surface Created by the Dance of Koi and People – Infinity

The museum's Drawing on the Water Surface Created by the Dance of Koi and People – Infinity exhibit will transform into bright colours for the summer season from July 21 to August 6. The digital artwork sees koi swim on the surface of water that stretches out into infinity. Visitors can walk into the water. The movement of the koi is influenced by the presence of people in the water and also other koi. When the fish collide with people they turn into flowers and scatter.

Information

teamLab Planets TOKYO
Address: 6-1-16 Toyosu, Koto-ku, Tokyo

July 2021: [Weekdays] 10:00-20:00 / [Weekends] 9:00-20:00

*Open 9:00-20:00 from July 22-31

*Last entries one hour before closing time

Closed: July 20, 2021

Official Website: https://planets.teamlab.art/tokyo/

teamLab Forest Fukuoka's Interactive Digital Art Installations Get Summer Makeover

teamLab Forest Fukuoka is getting a makeover for the summer season from July 17. Look out for seasonal digital installations including a bed of bright yellow sunflowers, animals made of summer flowers walking around, and more.

Summer Digital Artworks

Shifting Valley, Living Creatures of Flowers, Symbiotic Lives

Animals of Flowers, Symbiotic Lives II

Soft Terrain and Granular Topography, 2020

Flutter of Butterflies, Ephemeral Life

For summertime only, teamLab's Athletics Forest presents Shifting Valley, Living Creatures of Flowers, Symbiotic Lives – A Whole Year per Year where various animals made from seasonal flowers, such as sunflowers, roam the area. There's also A Whole Year per Year / Soft Terrain and Granular Topography – A Whole Year per Year where visitors can see varying levels of three-dimensional soft terrain, and Flutter of Butterflies, Ephemeral Life – A Whole Year per Year, where butterflies flutter in summer colours.

The teamLab Athletics Forest and Catching and Collecting Forest are new museums by teamLab. In the Athletics Forest, visitors use three-dimensional thinking using the body, while in the Catching and Collecting Forest, they capture the wonder of catching and collecting things as children.

 
teamLab's artworks are not pre-recorded images that are played back; they are created by a computer program that continuously renders the artwork in real time. As a whole, they are continuously changing, and previous visual states are never replicated. The picture at this moment can never be seen again.

Information

teamLab Forest Fukuoka – Summer 2021

Start Date: July 17, 2021

Venue: BOSS E・ZO FUKUOKA (Floor 5F)

Address: 2 Chome-2-6 Jigyohama, Chuo Ward, Fukuoka

Official Website: https://www.teamlab.art/e/forest/