The live-action film adaptation of Fujita's webmanga series Wotakoi: Love Is Hard for Otaku opened on February 7, 2020 and has collected 1.3 billion yen (approx $12 million USD) in the Japanese box office. Today, it has been revealed that it is finally heading to DVD and Blu-ray in Japan on August 19, 2020.

The story follows Narumi Momose (played by Mitsuki Takahata), an office worker who lives a secret life as a fujoshi otaku. At her new workplace she meets her childhood friend Hirotaka Nifuji (Kento Yamazaki) who is a game otaku. They seem a match made in heaven, but as the title suggests, love is hard for an otaku. The film was directed by Yūichi Fukuda (Gintama; Yūsha Yoshihiko) and distributed by Toho.
The Special Edition of the DVD and Blu-ray comes with behind-the-scenes footage and bonus scenes including a dance scene that was sadly cut between the two main characters, an unreleased scene with Narumi where she's fantacising about boys love (BL), and more.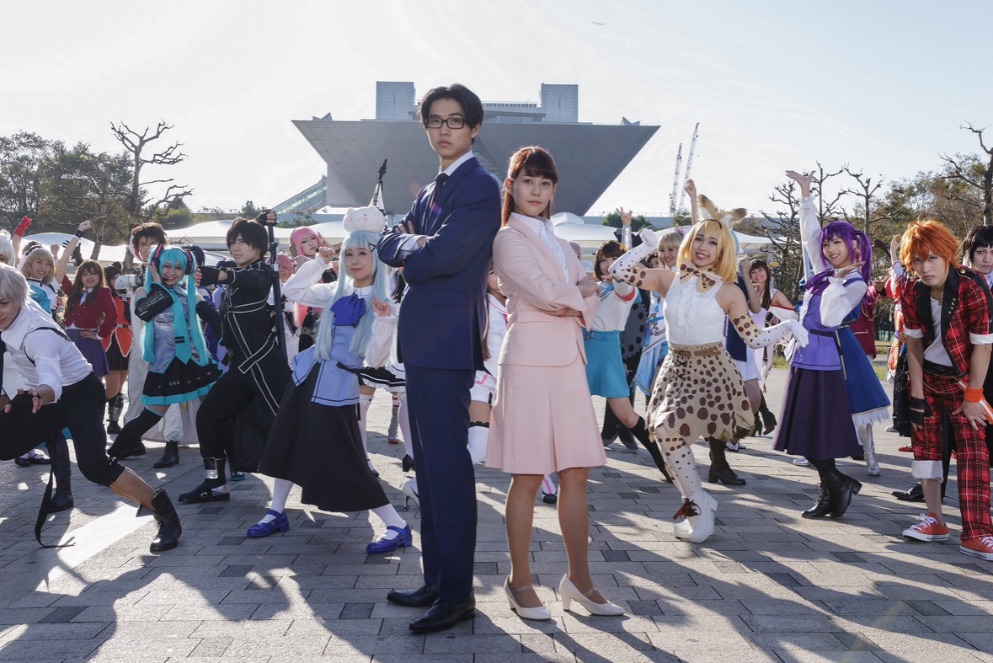 The two lead actors released the following comments in conjunction with the DVD and Blu-ray release announcement.
Mitsuki Takahata (Plays: Narumi Momose) | Comment
"It's a fun film with singing, dancing, and… skits? Everyone was sweating when we were practicing our dances during the shoot. I was also able to do the kind of cosplay which I normally wouldn't be able to in real life. You should be able to see lots of that behind-the-scenes stuff on the special edition, I think! Personally, I was super impressed at the cosplay costume they were able to make specially for me. It really leaves an impression. It was like Lisa Trevor from Resident Evil or something. Really cool."
She continues: "We're spending a lot more time at home right now, so I hope watching this film puts a smile on your face and brightens up your time at home, even if just a little bit. And I'd be even happier if you sing and dance to it too! Like some kind of special at-home edition. Some of the choreography for some of the things was so hard for me. I sounded like a crying baby when I was practicing. If you'd like, you can try memorising the choreography at home yourself too so you can dance together with me!"
Kento Yamazaki (Plays: Hirotaka Nifuji) | Comment
"Dancing has never been my strong point. Director Fukuda even said to me, 'You don't have dancer's blood in you!' so I really tried my best during practice. It was super difficult doing the otaku dance live, but there was a sense of solidarity between all of the dancers, so we got into a kind of dancer's high . We had regular voice training for singing. I discovered a lot of things, like how to use my throat muscles, which I was impressed with. When we were recording, [Shirō] Sagisu gave really simple instructions to me that were really easy to understand. I feel that I can use [what I've learnt] for other things, not just singing."
He continues: "I had fun working with Takahata, she helped me out. She was really stable during the musical scenes too, she really is amazing! I feel that the director Fukuda opened new doors for me every time. The last film we did was a comedy, and this time he's shown me the worlds of musicals and otaku. I hope you all enjoy!"
©Fujita/Ichijinsha ©2020 "Wotakoi: Love Is Hard for Otaku" Production Committee
Information
Wotakoi: Love Is Hard for Otaku DVD & Blu-ray
Release Date: August 19, 2020
Official Website: https://wotakoi-movie.com/