Japan's Manga Artists Join Hands For New Manga Project Depicting Life During COVID-19
Over 50 manga artists in Japan are coming together for the launch of the new "MANGA Day to Day" project which will depict daily life during the novel coronavirus (COVID-19) pandemic.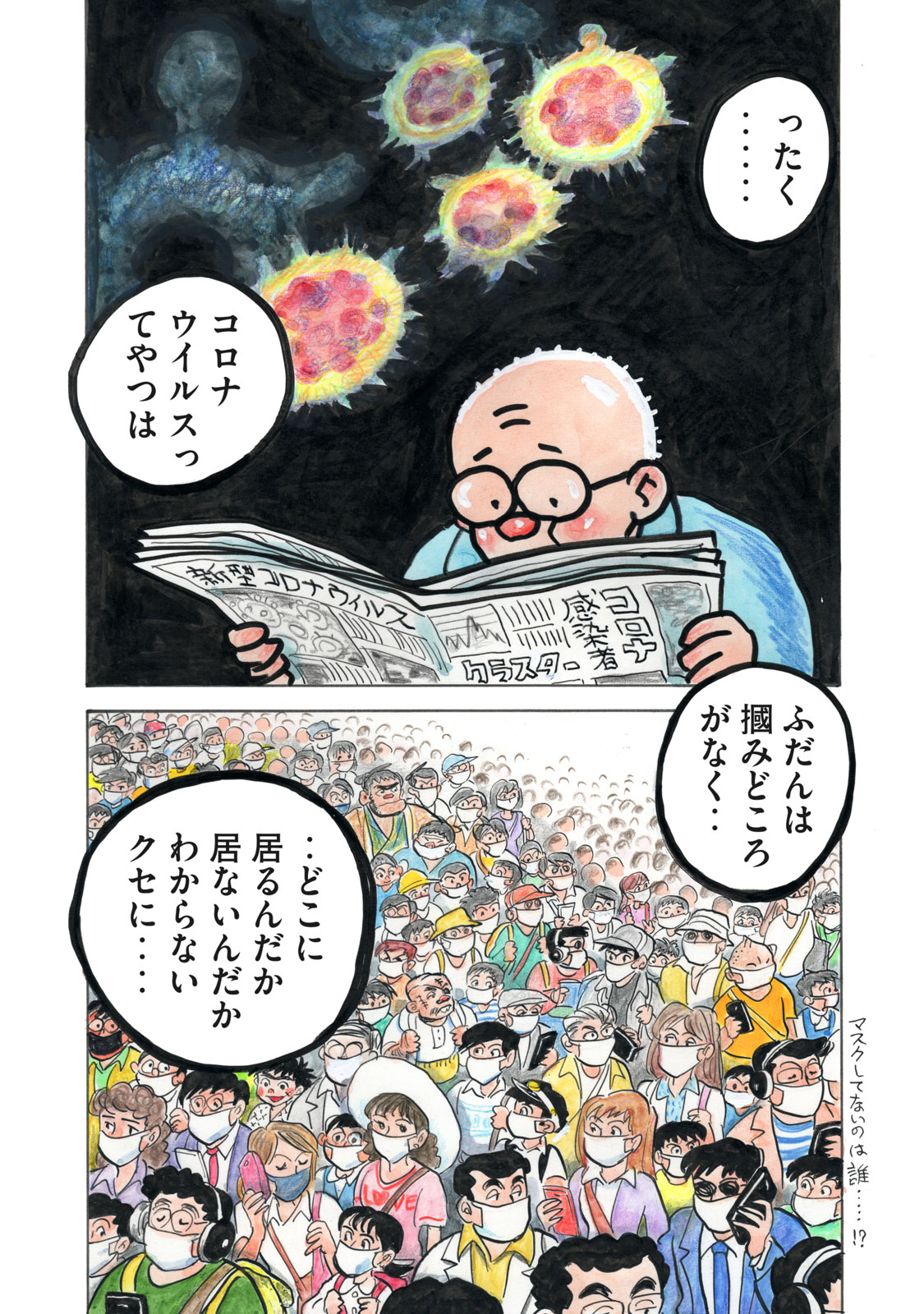 The project is set to roll out for free in mid-June on Twitter and Comic Days. A teaser by famous manga artist Tetsuya Chiba (Ashita no Joe; Notari Matsutarō) was released on May 22, 2020.
A related project entitled "Day to Day" is also taking place over on the Japanese literature news website TREE where over 50 popular authors have penned writings and essays on the restrictions of today's everyday life. In addition to Japan, both projects have caught the attention of overseas news media and websites too. Like the related "Day to Day" project, "MANGA Day to Day" will have one new manga strip released for free each day on Twitter and Comic Days. A piece entitled Akudama by Tetsuya Chiba is already available to see over on the project's official Twitter account.
People's lives have changed drastically as a result of the pandemic. To pass down this time in history to the next 100, or even 200 years, the pieces contributed to the "MANGA Day to Day" project will be compiled into a book that's scheduled for release in early 2021. A special edition of the book will also be compiled featuring both the manga and writing pieces.
Be sure to follow the Twitter account below to keep up to date.
RELATED ENTRIES
Manga Group CLAMP to Release CLAMP PREMIUM COLLECTION Vol. 2

The second volume of the CLAMP PREMIUM COLLECTION will feature the popular series Tokyo Babylon! The manga group has begun re-releasing their most famous works in gorgeous new editions, so fans won't want to miss adding these to their shelves. 

Tokyo Babylon is one of CLAMP's masterpieces, serialized from 1990 until 1993. The volumes will be released in order starting June 3, and each will feature new cover art. Those purchasing a complete set will receive an acrylic stand inspired by the original release.




Recently, CLAMP has begun releasing original art reproductions from 32 of their most famous works. The second round of illustrations has been announced, pulling from Tokyo Babylon, X, Wish, Kobato, Clamp School Detectives, Man of Many Faces, and RG Veda. Preorders open June 1.



(C)CLAMP・ShigatsuTsuitachi CO.,LTD.

Shueisha's Haruman!! 2022 Festival Celebrates Manga this Spring

Shueisha is currently offering a ton of manga for free as part of Haruman!! 2022. The campaign is running until May 15 at participating locations and tons of digital manga series are available for download.

©Shueisha

During Haruman!! 2022, users can read over 305 digital titles for free. This year's theme is 'Manga Festival,' and manga fans can find both recent and classic titles. Why not catch up on some manga history while you can?

A collaboration with the popular VTuber agency Hololive is also underway. One of the group's manga-loving members will be chosen each day to serve as Editor-in-Chief of an original manga magazine.

Popular authors are also commemorating the occasion with new illustrations. Eleven artists from Shueisha's manga department have drawn popular VTubers, and these awesome images are available exclusively on the Haruman!! website.

Stream Date: April 23, 2022

Participants: Shueisha x Hololive Traveling Editorial Department

Streaming Channel: https://www.youtube.com/channel/UCJFZiqLMntJufDCHc6bQixg

©Shueisha

In collaboration with puzzle game creators RIDDLER, 'The Search for the Great Manga King's Treasure' will be held. Pulling inspiration from One Piece, which is currently celebrating 25 years of serialization, fans will have to find clues to solve a massive mystery.

Find your new favorite manga series during Haruman!! 2022.

Information

Haruman!! 2022

Running: April 11 – May 15, 2022

Official Site: https://haruman.jp

Tower Records Holds Collaboration Campaign with Manga Artist Inio Asano

Dead Dead Demon's De De De De Destruction, a popular series by Inio Asano, is about to come to its big conclusion in Weekly Big Comic Spirits. To coincide with the climax, the Tower Records Cafe Omotesando store will hold a collaboration cafe for a limited time, from February 3 until February 27, 2022.

Menu


Round 1 Exclusives

Round 2 Exclusives

Available During Round 1 & Round 2

Collaboration Bonuses

Bonus Postcard (Top 4 limited to Round 1, Bottom 4 limited to Round 2, Right available during both Rounds)

Bonus Poster

Bonus Sticker

Merchandise

Acrylic Keychain (6 varieties)

Pin (6 varieties)

2-pack Clear Folder Set

Towel

Mug

Tote Bag

T-shirt

Hoodie

 

Original menu items inspired by the characters from Dead Dead Demon's De De De De Destruction, such as Kadode and Ouran, will be available. The Tower Records exclusive illustration of the two was made for the event and will be distributed to cafe visitors while supplies last. New collaborative merchandise will also be available at Tower Records Abeno Hoop and Tower Records Online.

©浅野いにお/小学館

Information

Inio Asano x Tower Records Cafe Collaboration Cafe

Collaboration Menu Periods:

Round 1: February 3 – February 15, 2022

Round 2: February 16 – February 27, 2022

Details: https://tower.jp/asanoinio-cafe

Collaboration Merchandise

Available at Tower Records Cafe Omotesando / Tower Records Abeno Hoop / Tower Records Online
Now on Sale!

Details: https://tower.jp/asanoinio

Berserk Merchandise from Recent Kentaro Miura Exhibition Available for Second Time

From December 11, 2021 until January 30, 2022, a large-scale exhibition paying tribute to Kentaro Miura's Berserk was held at Hirakata Park Event Hall in Osaka. The special merchandise released for the event is now available again, this time on the ARTIMATION online shop.


ARTIMATION x Berserk

Unreleased Items from the Berserk Exhibition (Only available at the ARTIMATION Online Shop)

This lineup is sure to please not only Berserk fans but those overseas who were unable to attend the event. Certain items not sold at the venue are also available exclusively on the ARTIMATION online store, so check it out!

Information

'Berserk Exhibition ~ Kentaro Miura's 32 Years of Artistry' Collaboration Merchandise
ARTIMATION Official Online Shop: https://www.artimation.shop/

Handyman Saito in Another World Manga Series to Receive Anime Adaptation

Kazutomo Ichitomo's Handyman Saito in Another World manga series is getting an anime adaptation. The manga launched on Kadokawa's ComicWalker service in 2018 and has been a smash hit since its release, selling over 300,000 copies to date. Ichitomo drew a special celebratory drawing to commemorate the announcement.

The "heartwarming another world fantasy" series follow Saito, a normal handyman reincarnated into another world. He then forms a dungeon party with the beautiful warrior Raelza; Marok, an old and senile magician; and Lafanpan, a cute fairy.

More details will be announced in the future.

©一智和智・KADOKAWA刊/「便利屋斎藤さん、異世界に行く」製作委員会

Information

Handyman Saito in Another World

X-girl Announces Collaboration Collection with Horror Manga Artist Kazuo Umezu

Since its early days, women's streetwear brand X-girl has offered easy and timeless items for every kind of girl. Starting January 21, the apparel brand is teaming up with horror manga legend Kazuo Umezu for a new collection of wearable items! This coincides with Umezu's Art Exhibition celebrating his huge body of work including The Drifting Classroom and Makoto-chan. 

THE GREAT ART EXHIBITION S/S TEE

MY NAME IS SHINGO S/S TEE

FACE S/S TEE 



The collection will include three T-shirt designs, including one design being shown for the first time. One graphic was drawn by Umezu exclusively for the collection as well!

Information

X-girl x Kazuo Umezu
Release Date: January 21, 2022
Participating Stores: X-girl store, X-girl Osaka, X-girl Nagoya, X-girl Fukuoka, Online Store
X-girl Stores:  https://x-girl.jp/stores/
X-girl Official Online Store (Calif): https://calif.cc/pages/xgirl

SNS Shonen Manga 'GABULI' Gets Fifth Music Video Collab Between Nilfruits and sekai

'GABULI' is a popular manga series published on social media by the masked and anonymous team No.965 (Croc). On December 26, 2021, the fifth music video for the series was posted to YouTube, and features a new collaborative track between Vocaloid producer Nilfruits and singer sekai. The dark dance number highlights the past of the newest heroine set to join the series. A sixth music video is currently in production and will be released in early January 2022. 

Baba Yaga – Nilfruits × sekai

https://youtu.be/J215uX4lolo?list=TLGGQ2BjqZyrW-0yNjEyMjAyMQ


This marks the first collaboration between Nilfruits and the mysterious singer sekai, and even more exciting mashups are coming soon. 

Vocaloid Producer Nilfruits: 
YouTube https://youtu.be/aOelHbwkRD4 


Released December 18, 2021
Fabric Flower – Hiiragi Magnetite x Wolpis Carter
https://youtu.be/hJ7dtfeCg38

Released December 26, 2021
Baba Yaga – Nilfruits × sekai
https://youtu.be/J215uX4lolo

Releasing Early January 2022
Title Unannounced – Aqu3ra × MARY

©︎965

Popular 'Style of Chloe' Manga Series Gets Live-Action Series

Daisuke Imai's popular manga series Style of Chloe is now a  live-action series viewable on the VISION video portion of the 'LINE NEWS' smartphone service. The show premiered on December 23, 2021. 

The vertical video app VISION has already streamed a number of series, including a short film by Shunji Iwai, one of Japan's leading film directors, and the comedy series 'Itaoism.' The app has proven popular with those wanting something to watch on long communtes, where a cell phone is the only available screen. 

Style of Chloe has been serialized irregularly in Weekly Manga Goraku since 2014, and this is the first time it has been adapted into a live-action format. Chloe is a French girl attending a Japanese high school, and despite her pretty blonde hair and blue eyes, she is obsessed with Japanese culture and historical dramas, making her speak like a samurai. 

Chloe is played by Maria Tani, a multi-talented actress currently working as an exclusive model for the fashion magazine Vivi. The role of Shinji Nakamura, a boring high school boy who is secretly in love with Chloe, will be played by Kyoya Honda.

Comments from the Cast

Maria Tani
"I think this story teaches a number of life lessons based on the Japanese Bushido spirit–even if those lessons are taught by a French girl. The words and the actions of each character gave me so many opportunities to reflect on the important things in daily life, like gratitude and compassion. Although Chloe is nearly expressionless when she speaks, each line is somehow warm and piercing. I was incredibly nervous up until the start of filming, but my co-stars and the staff were so friendly that I ended up having the best time. The shooting was short and I wish it weren't over! I was also excited to wear a school uniform for the first time in a while."


Daisuke Imai (Manga Author)


"I'm happy that Style of Chloe, which has been so loved by so many people, has been turned into such a wonderful series. The main character is one of the most unrealistic manga characters I've ever drawn, so I'm sure there will be a ton of challenges in bringing her to life. Her ingenuity in dealing with the difficulties of life, however, will surely attract a wide audience, so as a viewer I'm really looking forward to it. I hope that old fans and new fans alike will enjoy the show!" 

Characters

 

Chloe: Maria Tani

A blond-haired, blue-eyed high school girl from France. She's obsessed with Japanese culture.

Shinji Nakamura: Kyoya Honda
A timid high school boy. He's shocked by how Chloe talks and acts, but can't help but be attracted to her.

Minoru Sakashita: Hohomi Nasu

A calm but strong-hearted girl with glasses. She is close friends with Chloe.

Akihito Mukai: Kohshu Hirano

Captain and ace of the soccer team, he's the top-ranked boy in the school's popularity poll. 

Information

Style of Chloe on LINE NEWS VISION
Streaming Date: December 23, 2021 at 18:00~ (Airs Thursdays, 8 episodes total)

Official Series LINE Account:  https://line.me/R/ti/p/%40oa-vi-chloe

Manga Author Ai Yazawa, Known for 'NANA' and 'Paradise Kiss,' to Open Exhibition in Summer 2022

​Shojo manga artist Ai Yazawa will hold her own exhibition in 2022! The event will begin at Shinjuku Takashimaya in late July before traveling to Osaka Takashimaya and Yokohama Takashimaya. 


Yazawa's most popular manga series include Tenshi Nanka Ja Nai, Neighborhood Story, Paradise Kiss, and Nana. This exhibition will serve as a 'best-of album' for her many beloved works. Typically, Yazawa's storylines center heavily on young women and their relationships, with each of these characters being very stylish. In the west, this inspired more interest in Tokyo street fashion. 


The Ai Yazawa ALL TIME BEST Exhibition will feature over 100 original drawings and illustrations, as well as never-before-seen materials from the production of Yazawa's many manga series and anime adaptations. 

Information

Ai Yazawa ALL TIME BEST Exhibition

Late July – Early August 2022 / Shinjuku Takashimaya 11F Event Hall

Late August – Early September 2022 / Osaka Takashimaya 7F Grand Hall

Late September – Early October 2022 / Yokohama Takashimaya 8F Gallery

*Schedule as of December 21, 2022. Dates and content are subject to change. 

Ai Yazawa Gallery Official Website: https://yazawaai-ten.com/

Manga Series Dandadan Gets Collaboration Merch at Tower Records to Celebrate Volume 3

To celebrate the release of volume 3 of the Dandadan manga series, participating Tower Records locations in Japan will be selling some collaborative merchandise starting on December 3. The items will also be available to purchase on Tower Records Online. 

Acrylic Keychain (8 varieties): ¥715 (Tax Included) 

*This product is limited to 16 per person.

Square Pins (6 varieties): ¥605 (Tax Included) 

*This product is limited to 12 per person. 

Sticker (Momo Ayase, Okarun, Aira Shiratori & Turbo-Granny, 3 Varieties): ¥880 each

Tiny Pin: ¥660 (Tax Included) 

Sticky Note Set: ¥880 (Tax Included) 

Towel:  ¥2,200 (Tax Included) 

Reversible Reuseable Bag: ¥2,200 (Tax Included) 

T-shirt (Okarun, Turbo-Granny, 2 varieties): ¥3,850 each

©︎龍幸伸 / 集英社

Information

Dandadan x TOWER RECORDS

Release Date: December 3, 2021 *Reversable bag will go on sale December 10

Participating Locations: Shibuya, Shinjuku, Sapporo PIVOT, Sendai PARCO, Ikebukuro, Akihabara, Machida, Kawasaki, Nagoya Kintetsu Pass'e, Umeda NU Chayamachi, Fukuoka PARCO

Tower Records Online: https://tower.jp

Details: https://tower.jp

Manga Artist Macoto Takahashi Collaborates With Tsudanuma PARCO for Christmas Event

Legendary shojo manga artist Macoto Takahashi is collaborating with Tsudanuma PARCO in Funabashi, Chiba, for the 2021 Christmas event from November 19 until December 25, 2021. The creator recently released an art book featuring many of his works titled 'Macoto Takahashi's Jewelry Box.' An exhibition featuring mini-prints and mini-panels of works featured in the book will also be held, and merchandise will be on sale both on-site and online. 

Main Visual

Window

After his debut in 1953, Takahashi published the manga series Arashi wo Koete and Princess Anne. His signature style of depicting glittering stars in the eyes of his protagonists would have a lasting influence on other manga artists. In the 1960s and 1970s, he was at the helm of many magazine covers and illustrations for popular girls' manga magazines like Nakayoshi, Shojo Friend, and Margaret. Despite his classic style, his works are still largely popular today. The main visual for the event 'Lucky Star' features a girl in a red Christmas-themed costume surrounded by animals, blue snowflakes, and delicate lace.

Information

MACOTO CHRISTMAS 2021

Running: November 19 – December 25, 2021

Location: Tsudanuma PARCO 1F Entrances, Windows (Christmas Decorations) /

B Building 4F, In front of ACADEMIA Kumazawa Bookstore, Next to Escalators (Exhibition / Shop)

Online Store: https://kaeru.parco.jp/shop/detail/shop000027204/

Popular Seinen Manga Series Mononogatari Getting Anime Adaptation

Manga series Mononogatari is finally getting an anime adaptation. The series began in Shueisha's Miracle Jump in April 2014, switching to Ultra Jump in January 2016. Onigunso, the manga's creator, drew an original illustration to celebrate the announcement and posted it to Twitter along with a comment. 

Comment from Onigunso

"Thanks to the support of so many people, Mononogatari is becoming an anime series. Thank you to all of the readers, and thank you to everyone involved in this project! As a manga artist, I draw the character's movements and words, but it can be hard to visualize exactly how it would look in motion. As the author, I'm looking forward to seeing how the characters appear on screen. I hope you'll continue supporting both the manga and anime series in the future!"

Mononogatari Synopsis

As objects get older, they eventually get worn-out and rusty. When this happens, they develop a 'soul,' becoming a tsukumogami. Hyoma Kunato hates these creatures for stealing something important from him. Traveling to Kyoto, he meets Botan Nagatsuki, a girl who loves tsukumogami and lives with six of them as her family.

©オニグンソウ/集英社