New Cat Shots From Upcoming Anime Film 'Nakitai Watashi wa Neko wo Kaburu' Released
Nakitai Watashi wa Neko wo Kaburu is the second original anime feature film from Studio Colorido. The studio's first feature film Penguin Highway released in August 2018 to critical acclaim (August 2018 release) and went on to win the Japan Academy Prize for Animation of the Year as well as the Axis: The Satoshi Kon Award for Excellence in Animation award at Fantasia International Film Festival for the best-animated feature.
The film is being co-directed by Junichi Sato (Sailor Moon; Princess Tutu) and Tomotaka Shibayama, the latter making his debut as the director of a feature length film. The screenplay is being written by screenwriter Mari Okada (AnoHana; Black Butler; O Maidens in Your Savage Season).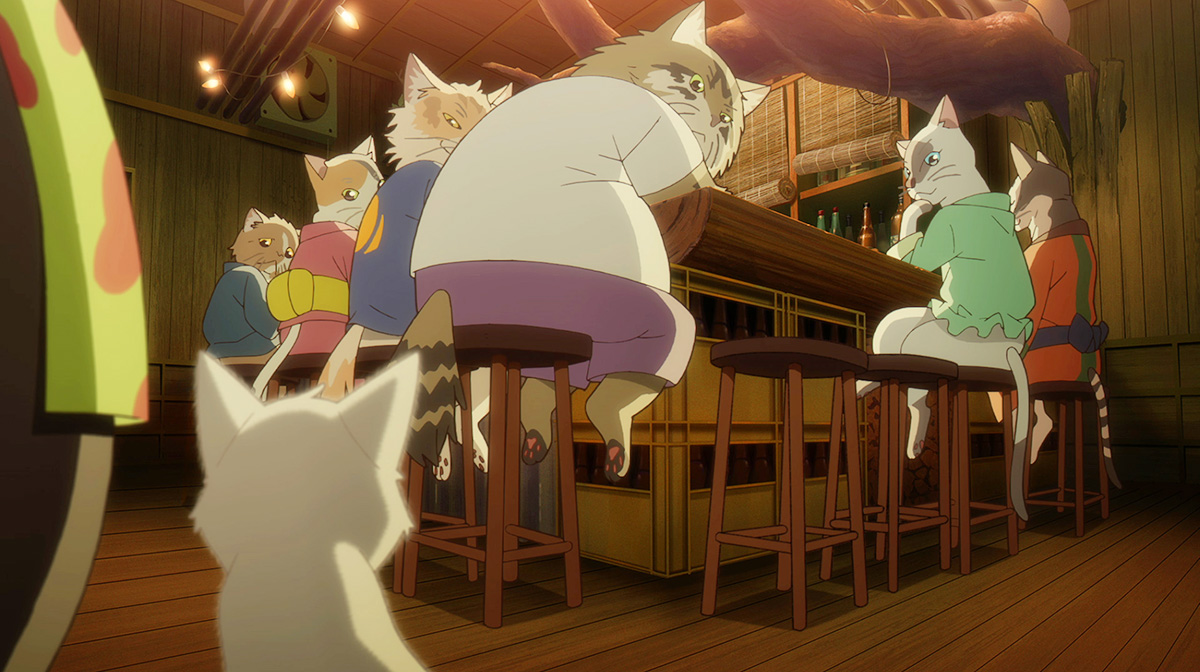 A new batch of images have been officially released featuring new shots of Muge as a cat and the secret cat world she lives in.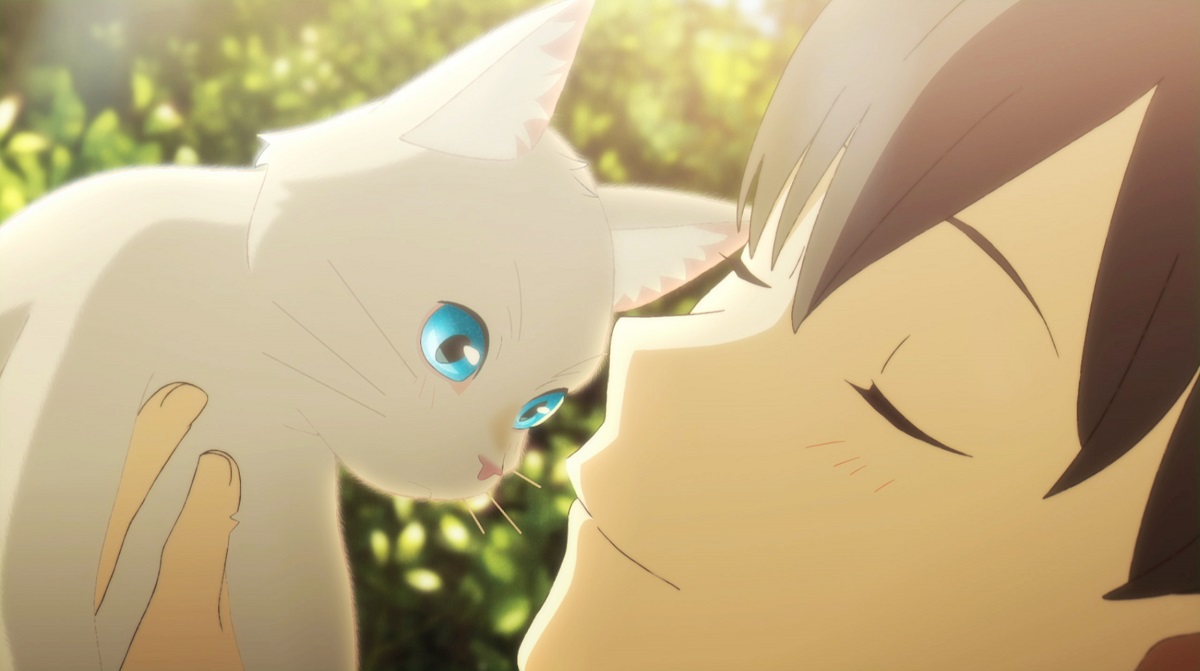 Miyo Sasaki (voiced by Mirai Shida) is a 2nd year middle schooler a little different from the rest, and whose classmates called her "Muge" which is short for Mugendai Nazo Ningen in Japanese which roughly translates to "Infinitely Puzzling Human." She's head-over-heels for her classmates Kento Hinode (Natsuki Hanae), who she boldly tries to attack every day, but he pays her no attention. But she's not discouraged and continues to approach him. She also has a big secret she can't tell anyone about. The reason for Muge not giving up on her situation with Hinode is thanks to a mysterious mask she received from a cat shop owner which allows the wearer to turn into a cat. Muge uses this power to turn into a cat every day to visit Hinode's house.
Muge tries to approach her classmate Hinode every single day, but he's at that point in his youth where he doesn't know what road he should take in life. He's into ceramics, loves cooking, and has a cute side too as he nicknames the cat that Muge transforms into "Taro." Will his heart change for better of for worse if he finds out Muge's secret?
New details have been revealed for some of the other cats we will meet along the way. Eri Kitamura (Fairy Tail; Bakemonogatari; Toradora!) will voice Kinako, a female cat that lives in the same house as Muge and is owned by her father's fiance. Shinichiro Miki (Pokémon; Fullmetal Alchemist: Brotherhood; My Hero Academia) will voice Kakinuma, a reliable cat that Muge meets on the island of cats. Rei Sakuma (Ranma ½) will voice Tamaki who warns Muge to return to the human world immediately. Oolongta Yoshida will voice Sugita who shows Muge around cat island when she arrives. Fukushi Ochiai will voice Hajime who worries about Muge to the point of tears.
©2020 "Nakitai Watashi wa Neko wo Kaburu" Production Committee
Information
Nakitai Watashi wa Neko wo Kaburu
Release Date: June 18, 2020 worldwide on Netflix
Netflix Page: netflix.com/nakineko
RELATED ENTRIES
Aggretsuko: Season 3 Music Spotify Release Includes 3 Songs by OTMGirls

Three songs by the idol group OTMGirls from Season 3 of Aggrestsuko were released in both English and Japanese on music download and streaming services worldwide, including Spotfy, on August 28.

Aggretsuko is a Netflix Original musical comedy anime series produced by Fanworks that follows Retsuko—a character created by Sanrio—a red panda who works as an accountant at a Japanese company. Retsuko faces constant frustration from her coworkers and superiors, and she lets it all out by singing death metal at karaoke. Season 3 released worldwide on Netflix on August 27, 2020.

Aggretsuko: Season 3 – Three Insert Songs Released Worldwide

Artist: OTMGirls feat. Aggretsuko
Title: Aggressive Girl (Japanese: アグレッシブガール)
Released: August 28, 2020

Stream & Download: Spotify / iTunes / Apple Music

Aggressive Girl CD Single Release

Two of the songs will also be released on OTMGirls'first ever CD single in Japan on September 2, 2020. The single is being mastered by Grammy-award winning American mastering engineer Ted Jensen (Green Day's American Idiot). Tower Records will also sell OTMGirls merchandise alongside the single's release.

Aggressive Girl

Release Date: September 2, 2020

Price: ¥1,000 (Before Tax)

Stock No.: JBCZ-6117

OTMGirls Bazuritai! Music Video

Check out the new music video for OTMGirls' song Bazuritai! which is sure to get your feet tapping and shouting "O! T! M!" along with the track.


YouTube Spin-Off Anime "OTMGirls no Yoki Yoki Channel"

OTMGirls are also getting their own spin-off anime on YouTube which open on September 2, 2020. The anime is directed by Rarecho who is also the director for Aggretsuko.

©2015, 2020 SANRIO サンリオ/TBS・ファンワークス

Aggretsuko: Season 3 Trailer Sees Everyone's Favourite Ball Of Rage Moonlighting at New Underground Job

A new trailer has finally dropped for season three of Aggretsuko along with a series of new animation stills and the announcement of new cast members.

The trailer kicks off at a depressing pace with inside Retsuko's messy room where she has fallen asleep on the ground wearing her VR headset. "I'm no-one special in the grand scheme of things. It's time I lived with my feet on the ground," she ponders timidly. The trailer then switches to a meeting between Retsuko and Gori. Gori asks Retsuko to invest in her new marriage counselling project.

But the story really takes a turn when Retsuko crashes into the back of a certain leopard's car. That leopard happens to be the producer of the underground idol group OTMGirls. He appoints Retsuko as the 'Account Director' for the group, and so begins Retsuko's journey into moonlighting to pay off her debt.

We see a new unicorn character called Seiya in the trailer, who in the Japanese dub will be voiced by none other than Yūki Kaji who is known for voicing Eren Yeager in Attack on Titan and Zeldris in The Seven Deadly Sins. "I remember when I first met 'Aggretsuko,' I was shocked that such a cute girl could scream like that," laughs Kaji. "But I think that polarity is what gets you hooked on this show."

Speaking about his role in the show, Kaji also comments: "Seiya, the unicorn I play, is a really deep character. He finds himself equal to the rest of the world!"

Season three of Aggretsuko will hit Netflix worldwide on August 27, 2020. See the full trailer below.

Aggretsuko Season 3 Netflix Release Date and New Poster Revealed

Netflix has finally confirmed the release date for season 3 of Aggretsuko. Get ready to rage with your favourite red panda on August 27, 2020.

Warning: Potential story spoilers ahead

What is Aggretsuko?

Aggretsuko is a Netflix Original musical comedy anime series produced by Fanworks that follows Retsuko—a character created by Sanrio—a red panda who works as an accountant at a Japanese company. Retsuko faces constant frustration from her coworkers and superiors, and she lets it all out by singing death metal at karaoke. When the first season dropped in April 2018, it became a hit worldwide. Its popularity continued when Season 2 was released in June 2019.

Season 3 Announced

In the run up to Season 3's worldwide Netflix release on August 27, a new poster has been released along with key art of new characters: OTMGirls, a three-member idol group, and their producer.

In Season 2, Retsuko fell in love with Tadano, a donkey, but that shortly ended after he revealed to her that he is not interested in getting married or having kids, resulting in Retsuko going back to her old life as an ordinary office lady. In the new poster, however, we see her wielding an electric guitar, perhaps ready to take on new challenges. We also see familiar faces returning in the poster, along with some new ones.

Season 3 of Aggretsuko will hit Netflix worldwide on August 27, 2020. If you've yet to watch the first two seasons—you have plenty of time to catch up!

©2015, 2020 SANRIO/TBS・Fanworks

Japan Sinks: 2020 Netflix Original Anime Series Spin-Off Project 'Shizumanu Kibou' Launches

Japan Sinks: 2020, the first ever anime adaptation of Sakyo Komatsu's best-selling 1973 disaster novel Japan Sinks, was released worldwide on Netflix on July 9, 2020. The series is directed by Masaaki Yuasa, who is known for his unique free-flowing animation style, having directed such internationally-lauded anime series like Devilman Crybaby, Ping-Pong: The Animation, and The Tatami Galaxy.

Netflix launched a new project called "Shizumanu Kibou" (Unsinking Hope) on July 10 as a spin-off project of Japan Sinks: 2020 which aims to inspire positivity based on the characters that appear in the anime series who never forget the importance of looking forward no matter how difficult the circumstances. The project will archive "music," "words," "images," and other media centred on the series to show hope for the future in the face of adversity.

The film's director, Masaaki Yuasa, is known for throwing in lighthearted rap scenes during importance scenes in his tragic films. Japan Sinks: 2020 is no exception, where the character Kaito sings an uplifting rap. This scene of hope for the future in the series served as the starting point to the Shizumanu Kibou project.

Ongoing content from Kafu, Daichi Yamamoto, and Taichi Mukai

A line-up of creators will be releasing songs, music videos, and a variety of content for the Shizumanu Kibou project going forward. This includes Kensho Ono, who voiced Kaito in the series and performed the rap part; virtual singer Kafu; Daichi Yamamoto who is big in Japan's hip-hop scene; and singer-songwriter Mukai Taichi.

Mic relay spins words of hope

A social media campaign is launching in Japan as part of the project which can be followed with the hashtag #キボウのマイクリレー ('Mic Relay of Hope'). Japanese rapper Ken the 390, who wrote the rap for Japan Sinks: 2020 is hosting this online mic relay, which hopes to inspire a viral trend based on the rap.

Social media posting campaign

A second social media campaign is also being held with the hashtag #キボウの風景 ('scenery of hope') which invites users to post pictures of scenery that is important to them or images that they would like to leave for the future.

You can keep update on the project and the anime series over on the official Japan Sinks: 2020 Twitter page here.

©"JAPAN SINKS : 2020"Project Partners

Netflix's Upcoming Grudge Horror Series 'Ju-On: Origins' New Trailer Released

The new Netflix Original horror series JU-ON: Origins will be released on July 3, 2020. A brand new trailer featuring never before scenes released dropped today on Netflix's official YouTube channel.

Ju-On is a Japanese horror franchise that first hit the scene back in 2000 with two direct-to-video productions, Ju-On: The Curse and Ju-On: The Curse 2. The two movies were a hit with horror fans in Japan, leading to the first theatrical release and third instalment of the series Ju-On: The Grudge in 2003. Since then, the series has continued to scare folk for 20 years during which it has grown into an international franchise. The first Hollywood remakes The Grudge (2004) and The Grudge 2 (2006) reached number one in the US box office, and along with The Ringーa remake of another Japanese horror franchise Ringuーintroduced and sparked a global interest in J-horror.

Ju-On: The Final Curse was supposed to be the final entry to the main film series, but Netflix's JU-ON: Origins is bringing it back to explore something that you may have not even known aboutーthat Ju-On is actually based on real-life events. For the first time ever, this new drama series will explore the origins of the cursed house and the numerous unpleasant incidents surrounding it. Its ties to reality are set to engulf viewers in a terrifyingly real experience.

JU-ON: Origins New Trailer

The new trailer is a snippet from a single scene from the new series, featuring the main character and psychic researcher Kodajima (name reading not confirmed) who is played by Yoshiyoshi Arakawa. A sense of unease and dread lingers throughout the clip, and this feeling is reinforced when Kodajima clocks an unpleasant stain on the staircase, confirming to him that something really did happen in this house.

The policeman who is with Kodajima in the clip and is investigating the incident that happened here says that his subordinates say this house appears in their dreams. He himself also says to Kodajima that he sometimes finds himself forgetting to breathe. It's then that we hear the sound of something smashing in the background.

Several new stills were also released alongside the trailer with some seriously creepy angles. Kodajima himself also looks frozen to death at the sight of something.

JU-ON: Origins will maintain the same scary imagery and fear-inducement that the franchise has built up to now while adding a fresh spin. Don't miss JU-ON: Origins when it drops on worldwide on Netflix on July 3, 2020.

Information

Netflix Original Series – "Ju-On: Origins"

Release Date: July 3, 2020 (Worldwide)

Episodes: 6

Official Website: www.netflix.com/ju-on_origins

Netflix Anime Film 'A Whisker Away' New Promotional Video Features Ending Song

A Whisker Away (Nakitai Watashi wa Neko wo Kaburu) is the second original anime feature film from Studio Colorido. The studio's first feature film Penguin Highway released in August 2018 to critical acclaim (August 2018 release) and went on to win the Japan Academy Prize for Animation of the Year as well as the Axis: The Satoshi Kon Award for Excellence in Animation award at Fantasia International Film Festival for the best-animated feature.

The film is being co-directed by Junichi Sato (Sailor Moon; Princess Tutu) and Tomotaka Shibayama, the latter making his debut as the director of a feature length film. The screenplay is being written by screenwriter Mari Okada (AnoHana; Black Butler; O Maidens in Your Savage Season).

A new promotional video has been released featuring the ending song Uso Tsuki by Yorushika who are also performing the main theme Hana ni Bourei (Flower for the Dead) and insert song Yakou (Walking in the Night).

Yorushika – "Uso Tsuki" x "A Whisker Away"

The video showcases scenes with Hinode and Taro, and even a scene with Muge holding Hinode's hand. The ending song by Yorushika adds another layer to the scenes with its melancholic lyrics and melody.

Yorushika | Comment


n-buna (Guitarist/Composer)

We are a band that creates music based off the concept of a work, so we were concerned on how far we should express the outlook of this film, but we had no reason to be worried. We felt reassured when the director said to us on our first meeting with him that we could do as we liked. One concept from our next album is the feeling between transitioning from spring to early summer, which we thought didn't stray from the film, so we continued writing in the way that we were at the time. All three of the songs we came up with is themed inside a town inside a memory.

'Hana ni Bourei'… a ghost is pretty much just a memory, so this song is about looking at a memory of flowers blooming in the summer.

'Yakou'… the 'night' which we're talking about here is the night of life. Becoming an adult, forgetting things, heading towards death. These things have replaced nighttime [as we know it].

'Uso Tsuki'… it means liar. The lyrics are laced with lines from [Japanese poet] Ozaki Hōsai.

suis (Vocals)

I love animated movies, so I am overjoyed and excited that Yorushika will be heard during the credit roll of one! At the same time, I felt it my goal to make everyone at the end of the film cry, so I wanted to make sure I sang a good song.

*Comments translated from Japanese by MMN

© 2020 「泣きたい私は猫をかぶる」製作委員会

Netflix Original Anime Japan Sinks 2020 New Stills Released

A new series of stills has been released from the upcoming Netflix Original anime series Japan Sinks 2020, featuring snippets from the first half of the story where the characters go on a trip.

Japan Sinks 2020 is the first ever anime adaptation of Sakyo Komatsu's best-selling 1973 disaster novel Japan Sinks sometime this year. Set for release worldwide on Netflix on July 9, 2020, the series is being directed by Masaaki Yuasa, who is known for his unique free-flowing animation style, having directed such internationally-lauded anime series like Devilman Crybaby, Ping-Pong: The Animation, and The Tatami Galaxy.

The anime adaptation set in modern Japan and follows the Mutō family: the protagonist middle schooler Ayumu, her brother Gō, mother Mari, and father Kōichirō, as their peaceful life turns tragic in an instant.

It's do or die as the Mutō family try to escape from Tokyo. Along the way they meet several characters from various backgrounds as they face life or death while staying hopeful in the face of such adversity.

What does fate have set in stone for these characters? The new stills released showcase characters cheering up one another and trying to live naturally, telling us that despite the situation, they have not thrown away hope and look to the future with positivity.

Stills of four new characters have also been released: Kanae Muroda (voiced by Tomoko Shiota), Shu Asada (Daiki Hamano), Daniel (George Cockle), and Mitsuo Otani (Taichi Takeda). These characters are associated with Sun City, a community facility tasked with helping people. They provide food, clothes, a place to stay, electricity, entertainment, and more. Ayumu and her family arrive here and enjoy the amenities. However, the shape of the Japanese archipelago continues to crack and change, leading to the possibility of another disaster.

Japan Sinks 2020 will release worldwide on Netflix on July 9, 2020.

©"JAPAN SINKS : 2020"Project Partners

Netflix Anime Film 'A Whisker Away' Collaborates With Japanese Illustrator mojacookie

A Whisker Away (Nakitai Watashi wa Neko wo Kaburu) is the second original anime feature film from Studio Colorido. The studio's first feature film Penguin Highway released in August 2018 to critical acclaim (August 2018 release) and went on to win the Japan Academy Prize for Animation of the Year as well as the Axis: The Satoshi Kon Award for Excellence in Animation award at Fantasia International Film Festival for the best-animated feature.

The film is being co-directed by Junichi Sato (Sailor Moon; Princess Tutu) and Tomotaka Shibayama, the latter making his debut as the director of a feature length film. The screenplay is being written by screenwriter Mari Okada (AnoHana; Black Butler; O Maidens in Your Savage Season).

A new illustration has been released in collaboration with Japanese illustrator mojacookie which features the artist's popular character Shikaru Neko and Tarou from A Whisker Away.

In A Whisker Away, Muge receives a mask which when worn turns her into a cat. She uses this to get close to Hinode, the boy she likes, and also finds herself swept into the feline world. While viewers wait in excited anticipation for the release of the film, mojacookie's character Shikaru Neko ("Scolding Cat"), which was first posted on Twitter, has been appointed as a "Support Member" for A Whisker Away.

Shikaru Neko is known for his many facial expressions, which are both angry but loving. He only scolds you because he loves you and is looking out for you.

mojacookie, the illustrator, praised A Whisker Away. "I was spellbound straight away. I found myself completely immersed in the film's world," they said. "The way they did made the cats look and the gestures are realistic. In the scene when the cats appear, I just wanted to ruffle their fluff!"

More collaboration content from mojacookie is set to roll out over on the official website for A Whisker Away, so be sure to check it out in the run up to the film's release.

© 2020 「泣きたい私は猫をかぶる」製作委員会

New Shots From Upcoming Anime Film 'Nakitai Watashi wa Neko wo Kaburu' Released

Nakitai Watashi wa Neko wo Kaburu is the second original anime feature film from Studio Colorido. The studio's first feature film Penguin Highway released in August 2018 to critical acclaim (August 2018 release) and went on to win the Japan Academy Prize for Animation of the Year as well as the Axis: The Satoshi Kon Award for Excellence in Animation award at Fantasia International Film Festival for the best-animated feature.

The film is set to release worldwide on Netflix on June 18, 2020.

Miyo Sasaki (voiced by Mirai Shida) is a 2nd year middle schooler a little different from the rest, and whose classmates called her "Muge" which is short for Mugendai Nazo Ningen in Japanese which roughly translates to "Infinitely Puzzling Human." She's head-over-heels for her classmates Kento Hinode (Natsuki Hanae), who she boldly tries to attack every day, but he pays her no attention. But she's not discouraged and continues to approach him. She also has a big secret she can't tell anyone about. The reason for Muge not giving up on her situation with Hinode is thanks to a mysterious mask she received from a cat shop owner which allows the wearer to turn into a cat. Muge uses this power to turn into a cat every day to visit Hinode's house.

The film is being co-directed by Junichi Sato (Sailor Moon; Princess Tutu) and Tomotaka Shibayama, the latter making his debut as the director of a feature length film. The screenplay is being written by screenwriter Mari Okada (AnoHana; Black Butler; O Maidens in Your Savage Season).

A new selection of shots from the film have been released showcasing the film's characters.

Mirai Shida, who voices Muge, said of her character: "She's a really great girl to watch since she expresses her feelings honestly, something which you don't see much of these days." Muge is the kind of character you'll root for without even realising it as she shows the gap between putting on a face when around friends at school and being who you really are at home in your bedroom.

Muge tries to approach her classmate Hinode every single day, but he's at that point in his youth where he doesn't know what road he should take in life. He's into ceramics, loves cooking, and has a cute side too as he nicknames the cat that Muge transforms into "Taro." Will his heart change for better of for worse if he finds out Muge's secret?

Natsuki Hanae, who voices Hinode, spoke of a highlight of his character as: "…how his feelings change from that of a single boy into a young man."

Muge receives her mysterious mask from the owner of a cat shop who visits her from time to time and shows her the ropes of living as a cat. Kōichi Yamadera, who voices the cat, said the role was a lot of fun to play.

Minako Kotobuki will voice Yoriko Fukase, a close friend of Muge's who always shows concern for her. Kensho Ono will voice Masamichi Isami who does school activities with Hinode. Both Yoriko and Masamichi are important friends to the two main characters who always lend a hand when they find themselves in a pinch.

Hiroaki Ogi will voice Muge and Hinode's homeroom teacher, Mr. Kusunoki (name reading not confirmed).

©2020 "Nakitai Watashi wa Neko wo Kaburu" Production Committee

Information

Nakitai Watashi wa Neko wo Kaburu

Release Date: June 18, 2020 worldwide on Netflix

Netflix Page: netflix.com/nakineko

Netflix Releases Ghost in the Shell: SAC_2045 Staff Interview and Behind the Scenes Video

Ghost in the Shell: SAC_2045 is a 3D CG animated film that was released worldwide on Netflix on April 23, 2020. The film was directed by Kenji Kamiyama and Shinji Aramaki at Production I.G and Sola Digital Arts.

Ghost in the Shell is an internationally celebrated series. The original manga, written and illustrated by Masamune Shirow, was first serialised in Weekly Young Magazine 1989, and went on to become a media franchise, spawning a catalogue of animated films beginning with Ghost in the Shell in 1995, which was directed by Mamoru Oshii, as well as multiple anime series, video games, and a live-action Hollywood adaptation.

Netflix has released a video on their YouTube channel which features interviews with the film's directors Kenji Kamiyama and Shinji Aramaki who discuss how the film came to be. It shows snippets of the voice recording, the actors in the motion capture studio, the team discussing the script together, and more. The directors also discuss the benefits from making the film fully 3D CG, as well as the hidden intentions behind the film's theme and its time period setting.

Ghost in the Shell: SAC_2045 Interview & Behind-the-Scenes


ⒸMasamune Shirow・Production I.G/Kodansha・ Ghost in the Shell: SAC_2045 Production Committee

Worldwide Netflix Release Confirmed For Nakitai Watashi wa Neko wo Kaburu Anime Film

The upcoming anime film Nakitai Watashi wa Neko wo Kaburu was originally scheduled to be released on June 5, 2020, but it was revealed earlier this week that its release date had to be postponed as a result of the COVID-19 pandemic.

However, those who were looking forward to the film's release will be over the moon to hear that it is set to hit Netflix worldwide on June 18, 2020.

Nakitai Watashi wa Neko wo Kaburu is the second original anime feature film from Studio Colorido. The studio's first feature film Penguin Highway released in August 2018 to critical acclaim (August 2018 release) and went on to win the Japan Academy Prize for Animation of the Year as well as the Axis: The Satoshi Kon Award for Excellence in Animation award at Fantasia International Film Festival for the best-animated feature.

The film's staff decided that in these current turbulent times, the power entertainment is something that we all need right now, and so made the decision to release it on Netflix.

Trailer

The voice actors for the film's two main characters made the following comments with regards to the Netflix release. The comments have been translated from Japanese.

Mirai Shida | Comment

"The decision has been made to move the film's release from the cinema to Netflix. Many different films and works are having their release dates postponed right now, so it was decided that the movie be safely delivered to everyone who had been looking forward to it. I'm relived and overjoyed. Right now, we can't go outside, and there's a lot of restrictions on our lives. I believe that entertainment is one way we can have fun."

She continues: "And with everyone here to watch it, I feel that the film is truly complete. This wasn't how we originally intended to release the film, but I want lots of people to watch it, even if it's just one. Finally, this film is full to the brim showing people's warmth and caring about one another, so I hope it makes you all all feel better, even just a little."

Natsuki Hanae | Comment

"Nakitai Watashi wa Neko wo Kaburu is now releasing on Netflix instead of in the cinema. It's a shame you won't get to see it at the cinema, but with all of us at home a lot now, I think releasing it digitally for everyone is a good thing. Nakineko is a film about the importance of feelings between people, conveying feelings, and having the courage to step forward. It's a wonderful film that I want people of all generations to enjoy while they think of those who are precious to them. Look forward to watching it on Netflix!"

© 2020 "Nakitai Watashi wa Neko wo Kaburu" Production Committee

Information

Nakitai Watashi wa Neko wo Kaburu

Release Date: June 18, 2020 worldwide on Netflix

Netflix Page: netflix.com/nakineko

Nakitai Watashi wa Neko wo Kaburu Anime Film's Release Date Postponed Due to Coronavirus

The upcoming anime film Nakitai Watashi wa Neko wo Kaburu was originally scheduled to be released on June 5, 2020, but that release date has now been postponed as a result of the COVID-19 pandemic.


A new release date has yet to be officially announced, but will be revealed on the film's official website in the future.

© 2020 「泣きたい私は猫をかぶる」製作委員会