1/1 Scale Plastic Cup Noodle Model to be Released Worldwide
BANDAI SPIRITS is teaming up with Nissin Foods to release the new "BEST HIT CHRONICLE 1/1 Cup Noodle," a plastic model of Nissin Foods's popular Cup Noodle product that you can assemble. It will be released in Japan on September 18, 2020―the day of Cup Noodle's birthday―and will roll out outside Japan after then.

BEST HIT CHRONICLE 1/1 Cup Noodle: ¥2,420 (Tax Included)
Since launching in 1971, the instant cup noodle brand Cup Noodle has filled the bellies of people around the world. BANDAI SPIRITS has now turned the product into a a fun 1/1 scale plastic assembly kit as part of the BEST HIT CHRONICLE line.
The kit was made by 3D scanning real Cup Noodles to make it as realistic as possible, from the cup to the noodles and toppings.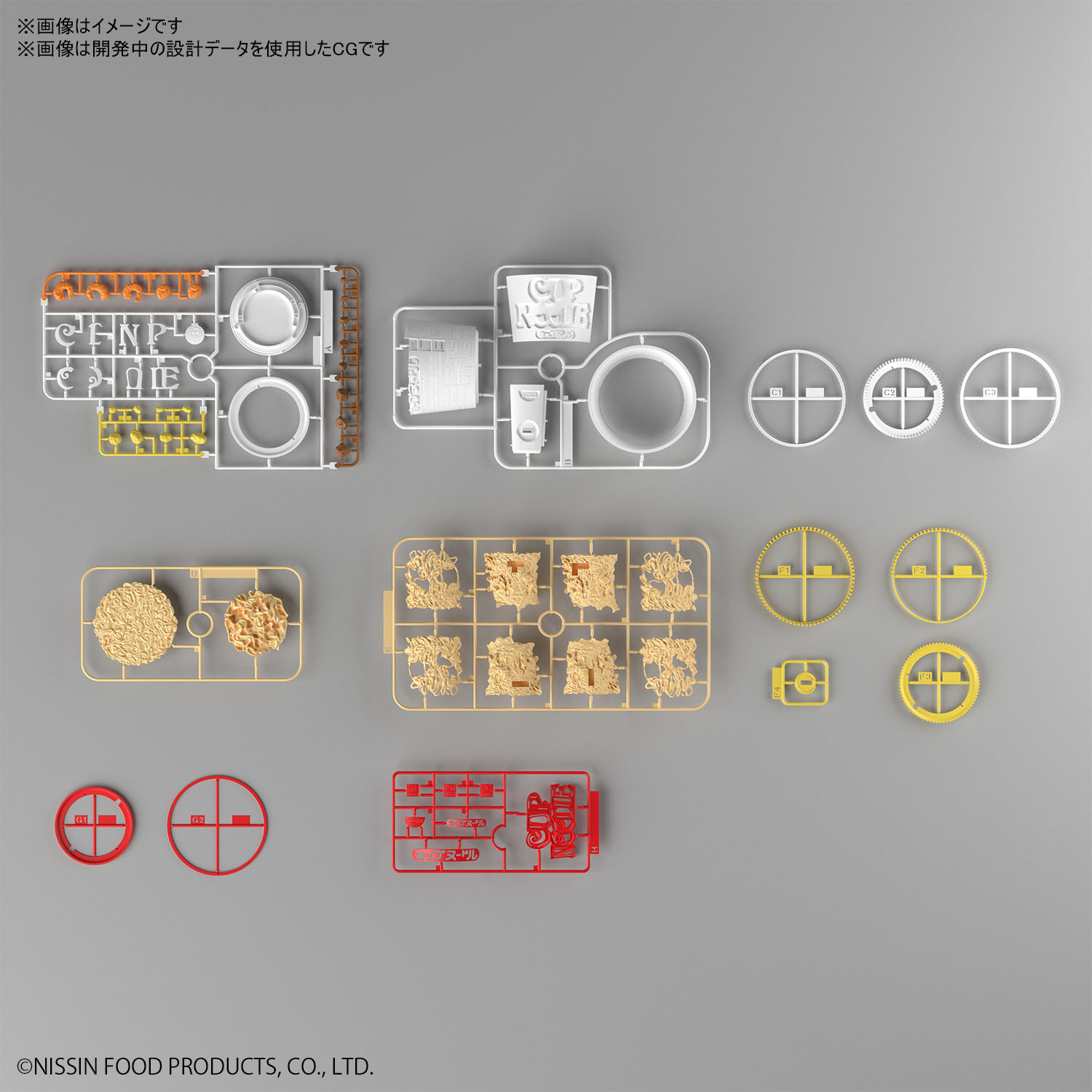 The kit comes with actual ingredients used in Cup Noodles including egg, shrimp, meat, and spring onion. You get to decide how much you want to top your noodles with.
The outside of the cup can also be removed so you can see what the inside of Cup Noodle looks like.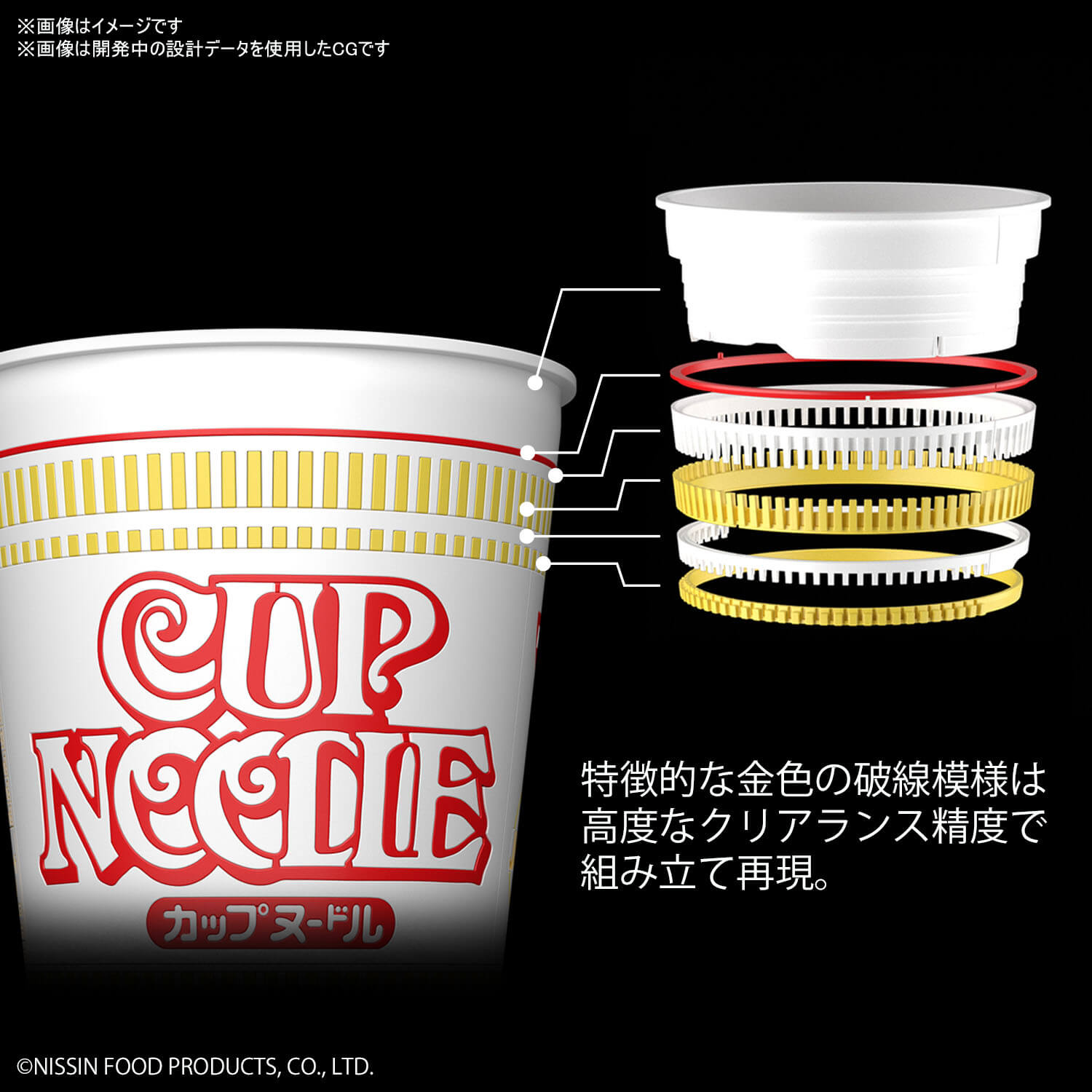 The cup design of Cup Noodle has gone unchanged since its release, making it a very familiar sight to all who have tucked into a cup. The plastic model recreates all of its distinct features, combining the iconic white, red, and gold colours. They even have the line inside the cup which tells you where to stop pouring your hot water.

The design is so detailed it even has the ingredient list, allergy breakdown, and more—all recreated with the same font and font size.
Information
BEST HIT CHRONICLE 1/1 Cup Noodle
Release Date: September 18, 2020
Available: Japan (Hobby shops, toy shops, online, Nissin Online, and elsewhere)
RELATED ENTRIES
One Piece's Luffy, Ace and Whitebeard Appear in Anime's Final Commercial Collaboration With Nissin Cup Noodles

Instant noodle brand Nissin Foods released their final animated commercial in collaboration with the One Piece anime series on February 7. The commercial is part of the company's "HUNGRY DAYS" series of ads.

The commercial comes as the sequel to their first collaboration with the anime series which featured the character Zoro back in May. The video gained huge attention across social media with a combined view count of over 22 million views across Twitter, Facebook and YouTube, making it Nissin's most watched online video. Together with the trailer announcing the start of the series and the second collaboration, the series as a whole has amassed over 44 million views across their social media platforms.

In the final video, which translates to "Cavalry Battle," we see a shift in one from all the commercials up to now. It portrays the original story's Battle of Marineford as a massive, heated cavalry battle as seen in the series' sports episodes.

Keep an eye out for a number of different characters, such as Luffy, Ace, Whitebeard, Blackbeard, and more. The characters are voiced by the original cast, and there is also narration by popular Japanese voice actress Megumi Hayashibara who voices Rebecca in the One Piece anime. The character design is by Eisaku Kubonouchi, and the music used to portray the hot-blooded battle is Maximum the Hormone's song Hungry Pride.

See the epic conclusion to this series below.

Information

HUNGRY DAYS One Piece Cavalry Battle (Japanese Title: ワンピース頂上騎馬戦篇)

Released: February 7, 2020 (Airing in Japan until May 16, 2020)

Nissin Brand Website: https://www.cupnoodle.jp/

One Piece's Vivi Appears in Anime's Third Commercial Collaboration With Nissin Cup Noodles

Instant noodle brand Nissin Foods just dropped the third animated commercial in collaboration with the One Piece anime series on December 6. The commercial is part of the company's "HUNGRY DAYS" series of ads.

The commercial comes as the sequel to their first collaboration with the anime series which featured the character Zoro back in May. The video gained huge attention across social media with a combined view count of over 22 million views across Twitter, Facebook and YouTube, making it Nissin's most watched online video. Together with the trailer announcing the start of the series and the second collaboration, the series as a whole has amassed over 35 million views.

The new commercial sees Vivi taking the spotlight. Like the previous commercials, it re-imagines the characters as ordinary high school students. This edition sees Vivi announcing to the rest of the characters that she is transferring schools, and we see just how much she cherishes them as friends.

The video features over 50 characters in various scenes.

The video even features actual voice actors from the anime series reprising their roles for the commercial, including Misa Watanabe who voices Vivi, Mayumi Tanaka (Luffy), Akemi Okamura (Nami), Masako Nozawa (Doctor Kureha), and others. The character designs were designed by Eisaku Kubonouchi and the music is by BUMP OF CHICKEN.

We look forward to seeing who will play the main role of the next commercial. Stay tuned for the next edition.

Food Review: Nutrient-Packed Vegan Cup Noodles Vegewel RICE NOODLES

Frembassy is a Japanese company whose aim is to create a barrier-free food culture in Japan where everybody can laugh and enjoy their meals together. On Thursday, the company introduced its new Vegewel RICE NOODLES on Vegewel Marché, a food website run by the company, which will be sold for a limited time. The cup noodles are vegetarian and vegan-friendly and packed with healthy ingredients.

Vegewel RICE NOODLES are made with no animal products, dairy, egg, wheat or crustaceans, and contain no chemical or synthetic seasonings. They can be enjoyed by both children and adults alike.

The bowl contains the noodles, seasoning, and soup powder. Simply put all the ingredients into the bowl, pour over hot water, and leave for 3 minutes before tucking in.

The chewy noodles are an original creation made from rice flour and made specifically for Vegewel RICE NOODLES. The flour is made from Akitakomachi, a type of rice, and provides a great flavour balance with the other ingredients.

The soup and seasoning contains absolutely no additives, chemical seasonings, or yeast extract.  To ensure no quality is lost in the flavour of the cup noodles, only citric acid is added to the rice flour noodles. The bowl is packed full of crispy cut up vegetables which is rare when it comes to cup noodles in Japan. The secret to their crispiness comes from allowing the vegetables to dry in a vacuum drier in cold vapour. Normally, glucose is added to the dried vegetables, but that has been taken out of the process for these noodles too.

One bowl contains 125g of vegetables, letting you get 1/3 of your daily intake of veggies. Their delicious taste coupled with sweet mirin makes for a treat for your taste buds. The seasoning is simple, but once you've put everything together, the flavour takes on a whole new level.

I recommend adding lots of fresh vegetables like okra and tomato, maybe even a sprinkle of paprika and a small dash of extra virgin olive oil.

A bowl contains 266Kcal which is is much lower compared to your ordinary cup noodles. It's also low in fats and zero in cholesterol. It makes for a simple, healthy and light lunch or even dinner. Japan is still catching up when it comes to vegan cuisine, so this is a great option if you're staying there and in need of something!

Information

Vegewel RICE NOODLES

Price: ¥590 (Before Tax)

Product Page: https://vegewel.com/en/marche/products/ricenoodles

Ingredients

Noodles: Japanese Rice (Made in Japan), Corn Starch, Citric Acid

Seasoning: Yacón (Hokkaido), Broccoli (Hokkaido), Daokon (Aichi), Carrot (Aichi)

Soup: Soy Sauce Powder (Soy Sauce/Tapioca), Shiitake Powder, Sesame Powder, Onion Powder, Tomato Powder, Rock Salt, Mirin Powder

One Piece's Nami Appears in Anime's Second Commercial Collaboration With Nissin Cup Noodles

Instant noodle brand Nissin Foods just dropped the second animated commercial in collaboration with the One Piece on September 13. The commercial is part of the company's "HUNGRY DAYS" series of ads.

The commercial comes as the sequel to their first collaboration with the anime series which featured the character Zoro back in May. The video gained huge attention across social media with a combined view count of over 21 million views across Twitter, Facebook and YouTube, making it Nissin's most watched online video. Together with the video announcing the start of the series the series has over 25 million views. According to the CMDB, Japan's commercial research institute, the Zoro video is the number one most liked commercial from any company in Japan, making it 20 years since Nissin has achieved that status.

The new commercial sees Nami taking the spotlight. Like the Zoro edition, it re-imagines the characters as ordinary high school students. In this parallel world, we see Nami living her ordinary, day-to-day life as a student, with appearances from familiar faces.

Eisaku Kubonouchi

BUMP OF CHICKEN

The video features voice acting from Mayumi Tanaka and Akemi Okamura who voices Luffy and Nami in the anime series respectively. Eisaku Kubonouchi (creator of Tsurumoku Dokushinryo) is in charge of the character designs while BUMP OF CHICKEN performs the music.

The video will be available to watch until May 16, 2020. Be sure to check it out alongside the previous work.

One Piece Collaborates With Nissin in Cup Noodle Commercial Featuring Character Zoro

Instant noodle brand Nissin Foods just released a new animated commercial in collaboration with the anime series One Piece. The commercial is part of the company's "HUNGRY DAYS" series and this time centres around the One Piece character Zoro.

Nissin has made four other videos in the series so far, all in collaboration with various anime franchises including Kiki's Delivery Service, Heidi, Girl of the Alps, Sazae-san, as well as an animated original entitled Saishukai ("The Last Time"). Nissin commercials have become the nation's favourite in the food industry. The series has become a big hit having been viewed over 18 million times.

A year after the TV anime series One Piece ended, Nissin initiated a collaboration with the series. which lead to the creation of this animated commercial.

The commercial re-imagines the characters as ordinary high school students. It follows the story of main character Luffy's friend Zoro and his youthful strive for improvement!

Hungry Days One Piece Zoro Version

Esteemed manga artist Eisaku Kubonouchi, who is known for creating the manga series Tsurumoku Dokushinryo, worked on the character design for the commercial, while and the music was created by BUMP OF CHICKEN. The voice actors/actresses for the characters including Luffy (Mayumi Tanaka) and Zoro (Kazuya Nakai) are the same people who voice acted for the anime too! The narration was directed by famous voice actress Megumi Hayashibara.

"Nisshin Shokuhin Cup Noodle" with illustrations of the animation "kiki's delivery service." An exhibition of the TV commercial's original illustrations will be held in Tokyo, Fukuoka and Taiwan!

Illustrations used in the Nisshin Shokuhin Cup Noodle TV commercial illustrated by the illustrator, Eisaku Kubonouchi will be exhibited in Tokyo, Fukuoka and Taiwan.

【Nisshin Cup Noodle CM "HUNGRY DAYS Heidi version】

【Nisshin Cup Noodle CM "HUNGRY DAYS kiki's delivery service version】

At the exhibition venue in Japan, related illustrations and panels which show the "making" process based on the original illustrations will be exhibited. The exhibition will consist of two periods, the first period and second period. The content of the exhibitions will be changed.

They will sell goods using the motifs of Eisaku Kubonouchi's illustrations. Plus, they will hand out an illustrated poster or clear file (both items are not for sale) to visitors who spend more than 3,000 yen.

・Poster design

・Clear file design

Don't miss this chance to see these original illustrations.

◼︎Information

【Fukuoka】
First period: "HUNGRY DAYS kiki's delivery service version" 2017,10,14 (Sat.) to 2017,10,20 (Fri.)

Second period: "Hungry DAYS Alps no Shojo Heidi version" 2017, 10,21 (Sat.) to 2017,10,27 (Fri.)

Venue: HMV&BOOKS HAKATA

〒812-0004 9-1, Chuogai, Hakata Station, Hakataku, Fukuokashi, Fukuoka (Hakata Marui 6F)

※The exhibition will commence as soon as the store opens.

【Tokyo】
First period: "HUNGRY DAYS kiki's delivery service version" 2017,10,25 (Wed.) to 2017,10,31 (Tue.)

Second period: "HUNGRY DAYS Alps no Shojo Heidi version" 2017,11,1 (Wed.) to 2017,11,7 (Tue.)

Venue: HMV&BOOKS TOKYO

〒150-0041 21-3,1st avenue, Jinnan, Shibuyaku, Tokyo (Shibuya Mody 6F)

※The exhibition will commence as soon as the store opens.

・Entering fee: free

・Taking photos is allowed

※Distribution of the amenities will end when stock runs out (venues at Hakata and Tokyo)

【Taiwan】※The date and time might be changed

Date: 2017,11,12 (Sun.) to 2017,12,10 (Sun.) to 2017, 12,10 (Sun.)

Business hours: 13:00 to 22:00

Venue, d/art, 2F, 14, Nidan, Bushogai, Bankaku, Taipei, 10844

Entrance fee: 100 gen

Autograph session and live painting: 2017,11,18 (Sat.), 19 (Sun.)

Works that will be exhibited: "HUNGRY DAYS Majo no Takkyu Bin version" related illustrations (including the illustrations that were not used) and other old works.

※The exhibition of "HUNGRY DAYS Alps no Shojo Heidi version" will not be held.

(※The date and content of the exhibition in Taiwan might be changed. Please refer to d/art's official website RE detailed information)

Special website:https://www.meteorstreams.jp/exhibition201710