Studio Ghibli American Casual Clothing Brand GBL to Open First Store in Shibuya
Japanese company Benelic is set to open the first permanent store for GBL, an online clothing company whose stock features designs from Studio Ghibli's animated film features. The store will open inside MIYASHITA PARK, a new shopping centre opening in Shibuya this summer.
About GBL
GBL aims to capture those special feelings of magic and wonder we have all felt watching a Studio Ghibli film. Each clothing item in GBL's collection is woven with love and enthusiasm for the internationally beloved animations.
The First Stop: Shibuya

GBL was launched in 2017, and since then has sold its stock via its website and at pop-up shops. Shibuya will be the place that GBL opens its first physical store, which is designed like a garage filled with fun and exciting products.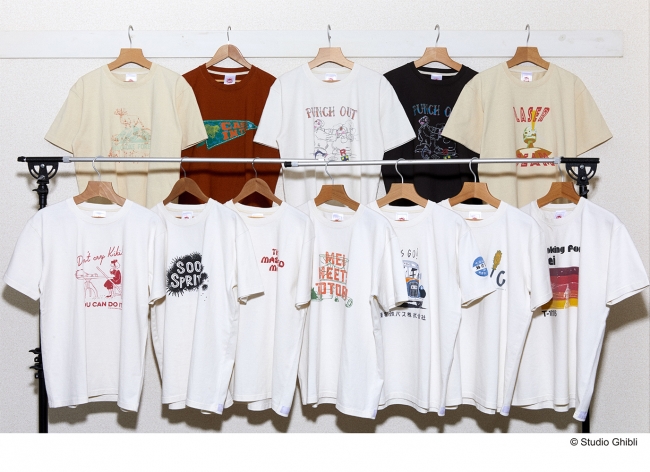 New 2020 Design T-Shirts
Shibuya is known the world over as the hub of street trends, making it the perfect location for GBL's line-up of attire which combines Studio Ghibli and an "American casual" style.
Fans of Studio Ghibli won't want to miss out on a trip to Shibuya when they visit Tokyo to enter GBL.
RELATED ENTRIES
Ghibli Park Gives First Look at Ghibli's Grand Warehouse Ahead of November Opening Date

Ghibli Park Phase 1 will open to the public on November 1 in Nagakute City, Aichi Prefecture at Moricoro Park within the Expo 2005 Aichi Commemorative Park. Ahead of the exciting day, fans are getting their first glimpse at the Ghibli's Grand Warehouse area!

For those looking to immerse themselves in the world of Ghibli, look no further. Phase 1 will see the opening of a theater, a shop, a cafe, and three unique exhibits. 

Cinema Orion

The theater will screen ten short films that were previously only available to watch at the Ghibli Museum in Mitaka, Tokyo. 

Trio of Special Exhibitions

The Famous Scenes Exhibition will invite guests to pretend to be a character in their favorite Ghibli films, stepping directly into recreated scenes. In addition, due to how often fans claim that food in Ghibli films looks exceptionally tasty, a special exhibition from the Ghibli Museum is also coming to Ghibli Park featuring these delectable-looking treats. 

The on-site store and cafe will also be selling original products only available at the park. A new trailer has been released for the park as well, showing what fans can look forward to in November. Tickets for Ghibli Park will go on sale on the 10th of each month and are reservation-only, with a date and time assigned for each area. Lottery sales for December admission will run from September 10 until September 21 at 23:59.

© Studio Ghibli

Information

Ghibli Park

Phase 1 Opening: November 1, 2022

Address: Expo 2005 Aichi Commemorative Park (1533 Ibaragabasama, Nagakute, Aichi)

Official Website: https://ghibli-park.jp/

Home Cooking Themed Yowamushi Pedal LIMIT BREAK Collaboration Cafe to Open in Shibuya

Fans of Yowamushi Pedal won't want to miss this special collaboration! Chugai Grace Cafe, located on the seventh floor of Shibuya MODI, will be running the Yowamushi Pedal LIMIT BREAK cafe from September 22 until October 17, 2022.

Collaboration Menu

Sakamichi Onoda and Sangaku Manami's Udon & Onigiri Plate 


Yasutomo Arikita and Kuroda Yukinari's Hamburger & Salad Plate

Hayato Shinkai's Chocolate & Banana Mini Parfait

Sohoku High School Mango Whipped Cream & Calpis Drink

Hakone Academy Mint Whipped Cream & Calpis Drink

Goods

Pin (Random Holographic included, 9 varieties)

Acrylic Figure Stand (9 varieties)

Pin, Mini Character Ver. (Random Holographic included, 16 varieties)

Acrylic Stand (16 varieties)

Table Plate (9 varieties)

Shoulder Bag

Menu Order Bonus / Online Preorder Bonus

Coaster (1st Half): September 22 – October 4, 2022

Coaster (2nd Half): October 5 – October 17, 2022

The collaboration cafe focuses on dishes you may find at home, such as udon, onigiri, and even a chocolate banana mini parfait as a dessert. New original goods with exclusive illustrations will also be available for purchase!

©渡辺航(週刊少年チャンピオン)/弱虫ペダル05製作委員会

Kuroko's Basketball Cafe to Open at Chugai Grace Cafe in Shibuya

From August 26 until September 18, Chugai Grace Cafe at Shibuya MODI will hold a special collaboration cafe with the popular series Kuroko's Basketball!

Menu at a Glance

Ryota Kise's French Onion-style Carbonara

Daiki Aomine's Teriyaki Burger over Rice

Shintaro Midorima's Lucky Monaka

Tetsuya Kuroko's Vanilla Shake

Atsushi Murasakibara's Violet Blueberry Water

 

Goods

Pin (Cafe ver.)

Type A (7 varieties)

Type B (7 varieties)

Mini Acrylic Stand (Cafe ver.)

Type A (7 varieties)

Type B (7 varieties)

Nametags (Cafe ver.)

Type A (7 varieties)

Type B (7 varieties)

Mini Bromide (Cafe ver.)

Type A (7 varieties)

Type B (7 varieties)

Holographic Sticker (Cafe ver., 14 varieties)

Clear Case (Cafe ver.)

Menu Order Bonus: 1 Coaster (28 varieties, random)

Web Order Bonus: 1 Coaster 

Fans of the series will be able to sample a number of unique dishes inspired by characters from Kuroko's Basketball. Original goods featuring newly-drawn cafe-inspired illustrations will also be available, and guests will be able to enter a drawing to win a one-of-a-kind tapestry.

© 藤巻忠俊/集英社・黒子のバスケ製作委員会
©「黒子のバスケ」アニメ10周年プロジェクト

Information

Kuroko's Basketball x Chugai Grace Cafe

Running: August 26 – September 18, 2022
Venue: Chugai Grace Cafe, Shibuya MODI 7F
Reservations Now Available
Details: https://chugai-grace-cafe.jp/collaboration/kurobas/

*Priority for admission will be given to customers with reservations. Same-day seatings will be available depending on availability. See the official website for more details.

*All measures to protect guests against COVID-19 are outlined on the official website.

*Contents are subject to change without notice. We apologize for any inconvenience. 

Web Sales:
Chugaionline: https://chugai-grace-cafe.jp/collaboration/kurobas/
Order Period: September 27 – October 4 at 23:59
Shipping Date: November 2022

Official Site: http://www.kurobas.com/

Hot Topic and Studio Ghibli Collab Project HARAJUKU COLLECTIVE Gets Pop-Up Store in Harajuku

HARAJUKU COLLECTION, a Studio Ghibli-inspired apparel collection by popular American counterculture chain Hot Topic, is offering licensed Ghibli goods for fans in the U.S. and Canada. The collection opened its online store for those in Japan on August 10, and a limited time pop-up store has been opened in Harajuku to celebrate the release of this incredible apparel!

Japan Original Items

American Original Items

The store has a colorful exterior that shows Totoro and the Susuwatari playing together. Once inside, guests will be greeted by a massive rainbow Totoro! The shop blends the world of Ghibli with the style of Harajuku.

"If there were colorful and kawaii mushrooms in Totoro's forest, and if it rained acorns one day, maybe he'd need a mushroom umbrella!" This colorful Totoro was inspired by this adorable thought.

The walls are decorated with artwork drawn by the creators of the original Japanese items, and guests are able to see and purchase the products in this special space. Why not visit?

© 1988 Studio Ghibli
© 1989 Eiko Kadono – Studio Ghibli – N
© 1997 Studio Ghibli – ND
© 2001 Studio Ghibli – NDDTM
© 2004 Studio Ghibli – NDDMT

Manga Series 'Eren the Southpaw' Hijacks Reebok Harajuku and Shibuya Stores

Reebok has appointed a number of popular artists in Japan and abroad to take part in their new campaign titled 'Life is Not a Spectator Sport -Move, Move!-' This collaboration started in March 2022.

 

As a part of this collaboration, Reebok is teaming up with the manga series Eren the Southpaw. Kappa's popular ensemble drama highlights a number of creators, and has a very poignant tagline: "To all those who couldn't become geniuses." Reebok's brand message matches this and is meant to be a manifesto for life, telling people to never give up, act on their own convictions, and find their own path. 

Reebok Classic Store – Harajuku Interior

Stickers / Pins

Original Scene from Eren the Southpaw 

To commemorate the release of Reebok's flagship model INSTAPUMP FURY 95 in Sax Blue, a huge piece of window art was redrawn by Kappi. The artist also provided an original manga featuring an entirely new story. Fans can find this at the Reebok Classic Store Harajuku and on the official Reebok Twitter page. The Reebok stores in Harajuku and Shibuya have also been completely taken over by Eren the Southpaw, completely decorated from top to bottom in images from the series. 

HARAJUKU COLLECTIVE Apparel Collection to Bring Studio Ghibli Merch to Hot Topic in the U.S.

HARAJUKU COLLECTION, a Studio Ghibli-inspired apparel collection by popular American counterculture chain Hot Topic, will be available in stores throughout the U.S. and Canada starting in August! These items will be available on the Hot Topic online store in Japan as well, and a limited-time pop-up shop is scheduled to open in Harajuku on August 10. This is the first time that one of Hot Topic's apparel collections will be made available in Japan.

HARAJUKU COLLECTIVE, an Apparel Collection from Studio Ghibli and Hot Topic

Hot Topic has been popular in the states for years, with over 800 stores in America in 2022. Founded in 1988, the company is best known for selling apparel and goods inspired by popular music, games, movies, and anime. The new HARAJUKU COLLECTIVE collection brings the heart of Japanese culture to the chain, adding to the ongoing collaboration with the store and Studio Ghibli which began in 2014. Hot Topic stores will sell original items produced by nine Japanese creators and brands, as well as some original American items produced by Hot Topic's executive designers. 

 
The lineup of Japan-original items includes T-shirts, tote bags, and other items featuring exclusive artwork by up-and-coming creators. These items depict beloved characters from Studio Ghibli's works, as well as logos created for the collaboration. This will be the first time these creators will be releasing items inspired by the famed animation studio, so expect to find a new vision of Studio Ghibli's world!

HARAJUKU COLLECTIVE Limited Time Pop-up Store to Open in Harajuku


To celebrate the collection's release, a pop-up store will be opening in Harajuku for a limited time. Visitors will be able to see and purchase the available items while in this unique space, and more details will be released on the official HARAJUKU COLLECTIVE's social media pages, so keep an eye out!

Information

STUDIO GHIBLI × HOT TOPIC – HARAJUKU COLLECTIVE

Release Date: August 10, 2022

*Only select items to be released in the U.S. will be sold in Japan. 

*Japan-original items will only be sold in Japan.

HARAJUKU COLLECTIVE  Pop-up Store

Open: August 10 – August 28, 2022

Venue: AF GALLERY 1F (3-21-8, Jingumae, Shibuya-ku, Tokyo)
*See HARAJUKU COLLECTIVE's official social media accounts for more information.

Online Store (Japanese)

Open: August 10 – December 31, 2022

*Opening soon.

Special Site (Japanese): https://ghibli-harajukucollective-ec.com/


HARAJUKU COLLECTIVE Official Social Media Accounts (Japanese)
Instagram: @harajuku_collective (https://www.instagram.com/harajuku_collective)
Twitter: @harajuku_collect(https://twitter.com/harajukucollect)

Space Brothers Manga Inspires Collaboration Event at Shibuya Scramble Square

Shibuya Scramble Square will host a special collaboration event with the manga series Space Brothers from August 5 until August 28, 2022. The event itself will take place on the SHIBUYA SKY observation deck and the 12th-floor event space Scene12.

The popular manga series Space Brothers has sold over 28 million copies since it began serialization in 2007. After 15 years, the story is approaching its climax, with the two main characters finally landing on the moon. With fans of the series anxiously awaiting the story's conclusion, the event will be the perfect place to celebrate. It will be split into two areas: the Shibuya Space School and the Space Cafe.



Shibuya Space School will take place on the SHIBUYA SKY observation deck, and is a fun and educational production that will teach visitors about space using VR and an exhibition of equipment used in space travel. Guests can also enjoy a photo spot featuring the moon over Shibuya, an astronomical observation class for both parents and children, and a talk show about the thrill of space travel.

Cafe Menu


On the 12th floor, guests can visit the Space Cafe. Inspired by a 1970s coffee shop, the location is the perfect spot for fans to mingle, read Space Brothers, or partake in some space-inspired treats exclusive to the event.

Collaboration Goods

Event

A selection of exclusive Space Brothers merchandise and collaboration goods will be available, and the editor of the manga will also be giving a talk during the event. Those who want to test their knowledge can also take part in a quiz competition, so don't miss out!

The Toshio Suzuki and Studio Ghibli Exhibition Opens in Tokyo

The Toshio Suzuki and Studio Ghibli Exhibition finally opened on July 1, 2022 at Warehouse Terrada in Shinagawa, Tokyo. 

 

First held at Kanda Myojin in 2019, the reception for the exhibition was incredible, and after popping up in Nagasaki and Kyoto, the newest Tokyo exhibition will be the first held in three years. It features significantly more exhibits and content, so Ghibli fans won't want to miss it. 

Toshio Suzuki, a producer at Studio Ghibli, has worked with both Hayao Miyazaki and Isao Takahata on a number of beloved masterpieces. The exhibition will feature a large bookshelf housing 8,800 of Suzuki's publications. Many of these were published before Suzuki joined Studio Ghibli, and guests are invited to see how the producer was inspired to join the legendary studio.

This exhibition was realized after Suzuki himself proposed the idea of exhibiting his books for the first time following the 2019 event. The giant bookshelf containing 8,800 tomes was based on a brick-and-mortar store that once served as Suzuki's 'hideout.'

The Massive Abura-ya Annex

Chihiro's Bathhouse – Chilled Footbath

No-Face AR

As a limited event, the Tokyo exhibition will also feature the Abura-ya Annex, a huge space that recreates the world of Spirited Away. Visitors can transform themselves into No-Face using AR or enjoy the Chilled Footbath after getting their fortunes told at the Yubaba and Zeniba Luck and Love Fortune Telling Corner. 

8,800 of Toshio Suzuki's Favorite Books

Valuable Documents, Behind-the-Scenes Details, etc. 

No-Face perches atop one of the many bookshelves at the exhibition, lost in a tome of his own. All 8,800 books were read by Suzuki, and all of them influenced the creator's decision to join Studio Ghibli. The wallpaper was designed by William Morris, a favorite of the producer since his youth. Some of the books can be picked up and enjoyed, so be sure to flip through some of these inspiring pages!

Rare materials and copy that led to many of the studio's blockbuster hits are all on display, and visitors can trace the secret story behind the establishment of Studio Ghibli and how the company created everything from Nausicaa of the Valley of the Wind to their latest release Earwig and the Witch. Suzuki is known for his incredible scripts, such as the many lines he wrote for the title character in The Tale of Princess Kaguya.

On June 30, an opening ceremony was held with Suzuki in attendance. "I've stored away so many items that have been important to me in my life, and while it can be somewhat embarrassing to have them on display, I'm glad that so many can appreciate them," he said. "My dream was to collect all the books I've read over the past 70 years and display them in one room. I was so happy when I realized that we could fit all 8,800 books in one space. I hope as many people as possible come to enjoy the exhibition." 

Information

Toshio Suzuki and Studio Ghibli Exhibition

Running: July 1 – September 7, 2022

Location: Warehouse Terrada B&C Hall/E Hall

Toshio Suzuki Studio Ghibli Exhibition Inspires Limited-Time Hotel Suite

The Grand Prince Hotel Takanawa in Tokyo will offer a special suite inspired by the upcoming Toshio Suzuki Studio Ghibli Exhibition from July 1 until August 31, 2022. This will include tickets to the exhibition, which will take place at Warehouse Terrada in Shinagawa from July 1 until September 7. 

Toshio Suzuki, a producer at Studio Ghibli, has worked with both Hayao Miyazaki and Isao Takahata on a number of beloved masterpieces. The exhibition will feature a large bookshelf housing 8,800 of Suzuki's publications and favorite tomes. Many of these were published before Suzuki joined Studio Ghibli, and guests are invited to see how the producer was inspired to join the legendary studio after working as an editor at a manga magazine. To commemorate the exhibition's opening, this special suite is filled with books written by Suzuki along with other books that visitors may enjoy during their relaxing stay. 

In the suite, guests will find a list of 106 books that influenced Suzuki the most. This list will be available to take home. Visitors will also find reproductions of Suzuki's calligraphy. 

©TS ©Studio Ghibli

Golden Kamuy x Sanrio Characters Collaboration Cafe to Open in Shibuya

Characters from the popular anime series Golden Kamuy will team up with beloved Sanrio characters for a new collaboration cafe! Fans should visit Chugai Grace Cafe in Shibuya by July 18 to try some themed dishes and grab some exclusive merchandise.

Menu

Eat the Great North! Cream Stew Plate

Almond Pound Cake with Lingonberry Sauce

Matagi's Stump Birthday Cake

Monkichi the Monkey and Shiraishi's Banana Soda

Cola Float and Strange Juice

Goods

Pin – Cafe ver. (7 varieties, random)

Acrylic Stand (7 varieties)

Acrylic Frame Keychain (7 varieties)

Acrylic Block – Cafe ver.

Let's Go to the Cafe! Curry (2 varieties)

Pouch (10 varieties)

Genjirou Tanigaki Birthday Set

Collab Menu Order / Advanced Reservation Bonus Coaster (17 varieties)

Matagi's Stump Birthday Cake Order Bonus – Bromide

Goods Preorder Bonus Bromide (17 varieties)

The collaboration menu will include a tasty Almond Pound Cake with Lingonberry Sauce and Matagi's Stump Birthday Cake to celebrate Tanigaki's birthday! Don't miss out on these exclusive menu items and goods. 

©野田サトル/集英社・ゴールデンカムイ製作委員会
© 2022 SANRIO CO., LTD. TOKYO, JAPAN(L)

Tokyo Revengers to Hold Collaboration Event in Shibuya's RAYARD MIYASHITA PARK

From June 17 until July 10, the anime series Tokyo Revengers will inspire a number of special events at RAYARD MIYASHITA PARK in Shibuya!

The new campaign will feature photo spots, an original broadcast only viewable on-site, and a raffle to win exclusive original collaboration merchandise. 

MIYASHITA PARK PARTY, a Special Summer Bargain

Special promotions available during the event period include discounts at participating stores, lucky bags, and more, promising to make this a happy summer for fans. For more information about the MIYASHITA PARK PARTY including participating shops and bargains, check out the special campaign website.

Win Tokyo Revengers x RAYARD MIYASHITA PARK Collaboration Goods!

Guests presenting a reciept for ¥3,000 or more (tax included) during the event period will be entered to win Tokyo Revengers x RAYARD MIYASHITA PARK collaboration goods. 

A Photo Spot and Original Stream!

Guests will find three unique photo spots within RAYARD MIYASHITA PARK featuring nine characters from the series. Original broadcasts featuring Takemichi Hanagaki and Manjiro Sano will be aired on-site.

▶Photo Spot

Available: June 17 – July 10, 2022

Locations: 2F South in front of L'ÉCHOPPE (Takemichi Hanagaki, Manjiro Sano, Ken Ryuguji)

2F South in front of THE SHIBUYA SOUVENIR STORE (Chifuyu Matsuno, Keisuke Baji, Kazutora Hanamiya) / 3F South in front of MINOTAUR INST. (Takashi Mitsuya, Haruki Hayashida, Ryohei Hayashi)

▶Original Stream

Running: June 17 – July 10 (Broadcast every 30 minutes during business hours.)

Don't miss this special campaign filled with bargains, exclusive merchandise, lucky bags, and plenty more!

Pui Pui Molcar Inspires Pop-Up Store at Shibuya MODI for a Limited Time

From June 24 until July 17, fans of the adorable stop-motion series Pui Pui Molcar will be able to grab some exclusive beach party-inspired goods at Shibuya MODI! A limited-time pop-up store, 'Sparkling Beach Party -Molcar's Official Trip PARKING Shop,' will welcome guests inside the 7th-floor event space.

This is the second limited-time brick-and-mortar store inspired by the web shop "Pui Pui Molcar Parking." In this iteration, the characters are seen enjoying a beach party and have been painted in a new style! Products using those newly-drawn illustrations and a raffle for original prizes will be held for those purchasing goods. A "Potato Photo Session" is scheduled for July 9 and 16. 

The Pui Pui Molcar pop-up shop will be traveling to Osaka and Fukuoka in the future, so be sure to visit!

©見里朝希JGH・シンエイ動画/モルカーズ


Information

Sparkling Beach Party -Molcar's Official Trip PARKING Shop-

Venue: Shibuya MODI 7F Event Space

Running: June 24 – July 17, 2022

Hours: 11:00-20:00 (Closing at 19:00 on July 17)

Official Site: https://www.bnfw.co.jp/