Studio Ghibli American Casual Clothing Brand GBL to Open First Store in Shibuya
Japanese company Benelic is set to open the first permanent store for GBL, an online clothing company whose stock features designs from Studio Ghibli's animated film features. The store will open inside MIYASHITA PARK, a new shopping centre opening in Shibuya this summer.
About GBL
GBL aims to capture those special feelings of magic and wonder we have all felt watching a Studio Ghibli film. Each clothing item in GBL's collection is woven with love and enthusiasm for the internationally beloved animations.
The First Stop: Shibuya

GBL was launched in 2017, and since then has sold its stock via its website and at pop-up shops. Shibuya will be the place that GBL opens its first physical store, which is designed like a garage filled with fun and exciting products.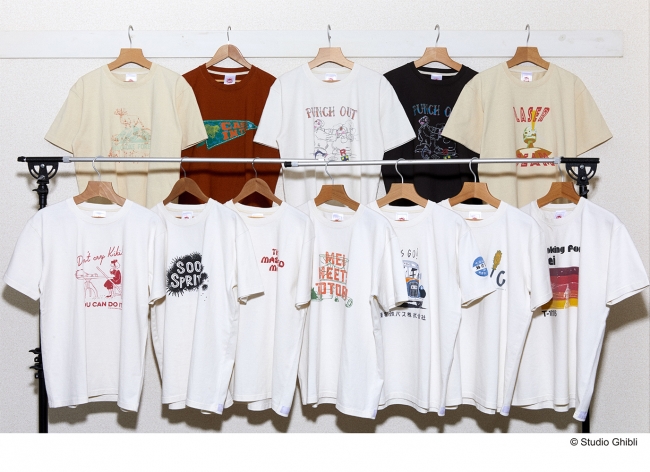 New 2020 Design T-Shirts
Shibuya is known the world over as the hub of street trends, making it the perfect location for GBL's line-up of attire which combines Studio Ghibli and an "American casual" style.
Fans of Studio Ghibli won't want to miss out on a trip to Shibuya when they visit Tokyo to enter GBL.
RELATED ENTRIES
Sustainable Fashion Week Event to Take Place at Earth Day Tokyo 2021

Earth Day Tokyo 2021 is set to run from April 17 to April 25 both online and offline. Messages of eco-friendliness, organic products, sustainability, ethics, and inclusiveness will be at the core of various events held as part of the festival and it will bring together environmental NPOs, charities, and locals.

As part of this year's Earth Day Tokyo, sustainability and fashion are set to interweave with the SUSTAINABLE FASHION WEEK 2020+1 event which is running on April 24 and 25.

With less than nine years to go until the world must achieve the 17 Sustainable Development Goals (SDGs), Earth Day Tokyo believes individuals need to be doing more to change their lifestyles and the way they do certain things. Fashion is an area that enrichens people's lives—but it's also one that can call for environmental action by changing our consumption habits.


SUSTAINABLE FASHION WEEK 2020+1 will bring together various teams and organisations to hold booths and talk sessions online and offline where people can learn about these issues. It's a collaboration between Fashion Revolution Japan, the Japanese branch of the global Fashion Revolution campaign to reform the fashion industry by enabling a greater transparency in the fashion supply chain amongst other problems. Fashion Revolution Week takes place every year on April 24, the same date as the 2013 Dhaka garment factory collapse where 1,134 people died and more than 2,500 people were injured.

The main visual for SUSTAINABLE FASHION WEEK 2020+1 features Japanese singer and artist KOM_I who is best known as a member of the Japanese music group WEDNESDAY CAMPANELA. It was created by HYPE FREE WATER, an artist collective headed by KOM_I and art director Minori Murata. KOM_I will participate in a planned talk program at MIYASHITA PARK on April 24 and 25.


A Message From KOM_I

"HYPE FREE WATER will be taking part in Sustainable Fashion Week at Earth Day this year. Our organisation focuses on the future of water. We want to be able to wear something beautiful without having to make sacrifices like selling out the future or destroying the environment. I'm looking forward to new people getting involved with us as this discussion takes off."

Information

Earth Day Tokyo 2021

Running: April 17, 2021 – April 18, 2021

Earth Day Tokyo Official Website: https://www.earthday-tokyo.org

SUSTAINABLE FASHION WEEK 2020+1

Running: April 17, 2021 to April 25, 2021

Time: 11:30-18:00
Where: Shibuya Miyashita Park / RAYARD MIYASHITA PARK

Address: 1-26-5 Shibuya, Shibuya-ku, Tokyo

Fashion Revolution Japan: https://www.fashionrevolution.org/asia/japan/

Little Glee Monster and Other Japanese Artists Announced For Tokyu Musix Challenge

Tokyu Musix Challenge is set to take place at Bunkamura Orchard Hall this year on March 7 at 18:00.

2020 saw the cancellation of music events across the world, with Japan being no exception. Shibuya, Tokyo's hub of countless live music venues and halls, was particularly affected by the effects of the pandemic. But the energy and power that music artists hold is one they can offer to brighten up peoples' time during today's times. That's where Tokyu Musix Challenge comes in, a new kind of music festival that will bring together a multitude of genres, and where better for it to be held than the cultural melting pot that is Shibuya.

This year will be the first run of the festival, where a collaboration between classical music and contemporary pop music will clash at Bunkamura Orchard Hall. The Tokyo Philharmonic Orchestra, which is recognised as Japan's oldest symphony orchestra, will play alongside acts such as Little Glee Monster, Ai Higuchi, Win Morisaki, Meimi Tamura, Kayoko Yoshizawa, ROTH BART BARON, and more. And the line-up is set to grow as more performers will be announced in the lead up to the event.

Comments from the Artists

Little Glee Monster

"We are really looking forward to feeling the fresh breeze of our music colliding with the grand scale of an orchestra. We'll be sure to play our part so that we don't lose to the overwhelming performance of everyone in the Tokyo Philharmonic Orchestra, but also so that our music complements theirs. We hope that everyone can have a good time and feel good from the strength that music has."

Ai Higuchi

"In 2020, we may have all lived kind of complicit with so many options in front of us leading down different paths. A certain friend might have gone to a drinking party, another might not have seen their lover for a long time. What choices do we make? We become darker depending on our choices. In Shibuya, a city that continues to change, I will sing my unchanged songs."

Win Morisaki

"Over this past year, the respect I have for the position I'm in where I can express myself has really sunk in. I'm so happy I've been able to get involved with this challenge. And getting to sing with an orchestra, it's magnificent. I'm so excited about what's to come."

Meimi Tamura

"I can't contain my excitement at a genre collaboration between classic, which is the foundation of music, and pop which is strongly tied to Shibuya. I think I'm going to start feeling tense at getting to perform alongside everyone in the Tokyo Philharmonic Orchestra and singers of all different kinds of music. We don't have a lot of freedom today during the pandemic, but I will work my hardest so that I can deliver love through music from the city of Shibuya."

Kayoko Yoshizawa

"My chest roars and having the opportunity to perform along side Japan's oldest and longest-running Tokyo Philharmonic Orchestra at the legendary Orchard Hall. It's my first time experiencing singing with an orchestra, so I'm looking forward to seeing how the songs will be structured, and how my voice will sound, when we do it."

Studio Ghibli's Totoro, Spirited Away, Laputa, and Kiki Release Official Mug Planter Collection

Benelic are releasing four new mug planters at Donguri Kyowakoku and online at Sora no Ue, both official Studio Ghibli merchandise shops in Japan, this month.

The porcelain planters include designs for My Neighbor Totoro, Kiki's Delivery Service, Laputa: Castle in the Sky, and Spirited Away, each capturing the wonderful world of the beloved animated movies. They make for the perfect plant pots for around your home.

The designs up close

My Neighbor Totoro | ¥3,960 (Tax Included)

 

Kiki's Delivery Service | ¥3,960 (Tax Included)

 

Laputa: Castle in the Sky | ¥3,960 (Tax Included)

 

Spirited Away | ¥3,960 (Tax Included)

Harajuku's Pompompurin Maid Café to Open on April 14

Akihabara's premiere maid café chain "@home café" announced last month the opening of a permanent maid café themed on Sanrio's popular character Pompompurin. The café is set to open along Harajuku's famous Takeshita Street on April 14, 2021.

 © 2021 SANRIO CO., LTD.  APPROVAL NO. S620028

@home café has collaborated with many of Sanrio's popular characters in the past at its Akihabara-based café branches such as Hello Kitty, My Melody, Cinnamoroll, and of course Pompompurin, but this time the collaboration is flying out of Akiba and straight into the heart of Japanese pop culture: Harajuku.

This new Pompompurin Café is themed on Pompompurin throwing a party for everyone—that's you and your friends. It's a place for Purin to deliver happiness to all who visit in the form of cute and tasty food.

Of course, the @home café maids will also be present, and all wearing original maid uniforms coloured like Pompompurin.

A little look at some things on the menu

The Food

Soufflé Omurice | ¥1,450

Butter Chicken Curry | ¥1,300

The Desserts

Pompompurin Pudding | ¥700

Chocolate Banana Mountain Waffle | ¥1,200

The Drinks

Custard Pudding Latte | ¥850

Muffin's Caffe Mocha | ¥850

Take a commemorative photo

For just ¥550, you can take a chekki photo at the café. It comes with café-original stickers and paper. For an extra ¥300, you can take a photo with one of the maids.

Pompompurin Birthday Party

 

April 16 is Pompompurin's birthday, so on that day the café will have a special dessert prepared (which you can see below) along with novelties for customers, new decorations, and more.

Pompompurin's Birthday Dessert

Special Birthday Parfait | ¥1,700 | Serving: April 14, 2021 – April 30, 2021

Birthday Novelty

To commemorate Pompompurin's birthday and the opening of the café, all visitors will receive the pin below for free.

Pompompurin will visit the café

On the evening on April 16, Pompompurin will visit the cafe for his birthday to celebrate with everyone. Details and bookings can be found here in Japanese.

Information

Pompompurin Cafe x @home cafe

Grand Opening: April 14, 2021

Where: CUTE CUBE HARAJUKU Floor 3F, 1-7-1 Jingumae, Shibuya, Tokyo

Opening Hours: [Weekdays] 11:00-22:00 / [Weekends] 10:00-22:00

No Fixed Holidays

Pompompurin Cafe Official Website: https://pompompurincafe.com/

@home Official Website: http://www.cafe-athome.com/

Japanese Sensu Folding Fan brand BANANA to YELLOW Opens Pop-Up Shop in Shibuya

Japan's long-standing Kyoto-based sensu folding fan brand BANANA to YELLOW, which has been around since 1823, opened a pop-up shop at Shibuya PARCO in Tokyo on Friday, the store's first-ever pop-up shop outside Kyoto.

BANANA to YELLOW's goal is to make traditional Japanese sensu folding fans a fun and stylish experience for the modern day no matter the scene or season. The fans sold at the Shibuya pop-up shop will also include limited-edition designs.

Sensu

The line-up features some of the brand's signature fans which fuse traditional Kyoto-style folding fans with modern designs. Some of the fans are also printed by hand.

The fans can not only be used as they were originally intended—for manners, style, art, warding off evil, and so on—but also as a general accessory.

T-Shirts

The brand also has a collection simple and casual of t-shirts featuring a classic folding fan pocket as originally featured on Japanese kimono.

Bags

A hand two-way tote bag also equipped with a sensu pocket.

Eau de Toilette

Miyawaki Baisen-an's popular eau de toilette makes an appearance at the pop-up shop in four daily fragrances with a Japanese-style scent to them.

Guests

BANANA to YELLOW has collaborated with various artists to develop a range of fans. The first three guests include fashion designer Kunihiko Morinaga (Anrealage), artist Shinro Ohtake, and Mahito the People (Gezan).

Information

BANANA to YELLOW POP-UP STORE

Running: April 9, 2021 – April 22, 2021

Where: Shibuya PARCO's Floor 1F GATE Pop-Up Space

Address: 15-1 Udagawacho, Shibuya-ku, Tokyo

Official Website: https://shibuya.parco.jp/event/detail/?id=3285

Kyary Pamyu Pamyu's Fragrance Brand Nostalgia Syndrome Releases Lily & Jasmine Series

Nostalgia Syndrome opened pre-orders for its new Lily & Jasmine series of fragrances on March 31. The products will be released on April 22.

Nostalgia Syndrome is a fragrance brand produced by Kyary Pamyu Pamyu which launched last year. The new Lily & Jasmine series will be available to purchase online and will also be sold at two brand pop-up shops in Tokyo and Osaka. Those who spend over ¥10,000 online or at either of the stores (tax included) will receive a free Nostalgia Syndrome novelty – these are available in limited supply.

Online Store Novelty: Original Thermal Bottle

Pop-Up Store Novelty: Original Big Eco-Bag

Lily & Jasmine Series

Eau de Toilette | ¥8,250 (Tax Included)

Room & Fragrance Spray | ¥3,300 (Tax Included)

Aroma Diffuser | ¥7,150 (Tax Included)

Bath Salts | ¥3,410 (Tax Included)

Hand Soap | ¥3,520 (Tax Included)

Scented Candle | ¥8,140 (Tax Included)

Eau de Toilette Two-Set (9mL)

Kyary Pamyu Pamyu | Comment

"This is Nostalgia Syndrome's second fragrance release. After mixing together various ingredients, I was finally able to catch the right scent. The theme for this one is 'travel fragrance.' Because of COVID, our time spent outdoors has gone down dramatically, but smells tied to our memories make up part of us all. And smelling them brings back those memories. This is a blend of sweet, sophisticated lily and refreshing jasmine, so it's a really easy one to use that can be enjoyed by both guys and girls. We're also opening our first pop-up shop so please be sure to drop by to try out!"

Lily and jasmine are vibrant fragrances and perfect for the spring season. Order yours today!

Information

Nostalgia Syndrome Lily & Jasmine

Pre-Orders: March 31, 2021 (Shipping from April 22)

Release Date: April 22, 2021

Pop-Up Stores

・+SPBS (SHIBUYA SCRAMBLE SQUARE 2F)

Running: April 22, 2021 – May 26, 2021

Where: +SPBS, SHIBUYA SCRAMBLE SQUARE Floor 2F, 2-24-12 Shibuya, Shibuya-ku, Tokyo

Opening Hours: 11:00-21:00

・Shinsaibashi PARCO

Running: May 13, 2021 – May 20, 2021

Where: Shinsaibashi PARCO Floor B1F, 1-8-3 Shinsaibashisuji, Chuo-ku, Osaka-shi-, Osaka

Opening Hours: 10:00-20:00

Nostalgia Syndrome Official Website: https://www.nostalgia-syndrome.com/

sumika to Perform at IN THE FLIGHT's 5th Anniversary Event

IN THE FLIGHT inc. has announced that sumika will join the artist line-up for their 5th anniversary event that's taking place at Toyosu PIT in Tokyo on April 26 and 27.

IN THE FLIGHT inc. is a Japanese event organiser and music artist manager and producer that's also known for producing hotel koe tokyo. This year marks the company's 5th anniversary which it's celebrating with a two-day concert. April 26 will see sumika, GLIM SPANKY, SPiCYSOL, and sankara perform while April 26 will welcome Nulbarich, FIVE NEW OLD, Have A Nice Day!, and NAGAN SERVER to the stage. All of the artists are associated with IN THE FLIGHT. Tickets for the concert were released on March 24. Both shows will be held following social distancing and government guidelines.

A pre-event is also scheduled to take place at hotel koe tokyo in Shibuya on April 24 where RUNG HYANG, ASOBOiSM, sorange, Bule Vintage, and sankara will play.

Speaking about the event, Kenta Kataoka of sumika said, "Clothes are also a part of the music. This will be the birthday of a special someone who taught me that. Since setting out to establish the company, I have made many memories together with them, so I went to go all out with the celebrations. I'd like to say congratulations, and my follow-up to that I'll show you on stage."

Information

IN THE FLIGHT 5th Anniversary

Running: April 26, 2021 – April 27, 2021

Venue: Toyosu PIT

Times: Doors 17:30 / Start 18:30

Ticket Window: March 24, 2021 – April 4, 2021

Buy Here: https://eplus.jp/intheflight5th/

Pre-Shows

Venue: hotel koe tokyo

Date: April 24, 2021

Times: Doors 16:00

Tickets: ¥1,000 + one mandatory drink charge

Venue: TOKIO TOKYO

Date: April 24, 2021

Times: Doors 17:00 / Start 17:30 

Tickets: ¥3,500

Buy Here: https://eplus.jp/intheflight5th/acc/ 

IN THE FLIGHT inc. Official Website: https://intheflight.com/

Tokyo's Studio Ghibli & Animate Exhibition Reveals Original Merchandise Collection

Matsuya Ginza is set to host the "Animage & Ghibli Exhibition" which will run from April 15 to May 5. The event will pay homage to Hayao Miyazaki's Nausicaä of the Valley of the Wind manga which was serialised in Animage by showcasing a range of never-before-seen cell artwork, as well Mamoru Oshii's OVA art film Angel's Egg, and much more.

With two weeks until it begins, the exhibition has revealed some of the exciting original and exclusive merchandise anime fans can expect to get their hands on. Tickets for the event were released on Saturday.

Teto Plush Toy ¥11,000 (Tax Included) / Ohmu Plush Toy ¥14,300 (Tax Included)

Bath Towel ¥8.800 (Tax Included)

Tapestry ¥16,500 (Tax Included)

Multipurpose Cases ¥3,300 Each (Tax Included)

Notebook ¥495 (Tax Included)

Square Pins ¥440 Each (Tax Included)

Animage Logo Pins ¥330 Each (Tax Included)

Wooden Brooches ¥1,320 Each (Tax Included)

Stainless Steel Bottles ¥3,520 Each (Tax Included)

Handkerchiefs ¥1,650 Each (Tax Included)

The exhibition is a nostalgia fest and celebration of animation during the 70's and 80's, a time when 'anime' was yet to be widespread in the vocabulary of ordinary Japanese people. It wills how how the anime boom really set off after the release of Mobile Suit Gundam in 1979 which was lauded for its animation quality, as well as how Toshio Suzuki, a producer at Studio Ghibli, approached Hayao Miyazaki and Isao Takahata during his time as an editor at Animage. The exhibition will also feature the works produced by Suzuki and much more. Over 200 materials will be showcased for the duration of the exhibition.

 

Around 150 pieces of original merchandise will also be sold at the event, including gorgeous must-grabs for fans of Nausicaä of the Valley of the Wind that capture its wonderful world, such as a tapestry featuring the design taken from the film's opening credits.



A special exhibit will also take place entitled ALL ABOUT TOSHIO SUZUKI which covers everything about Studio Ghibli's famous producer. Other things to look forward to include books and merch for the upcoming animated film Earwig and the Witch directed by Hayao Miyazaki's son Goro Miyazaki, merch for the internationally beloved animated hit Spirited Away which is celebrating its 20th anniversary this year, and more.

© 1984 Studio Ghibli – H© 1986 Studio Ghibli© 1988 Studio Ghibli© 1989 Eiko Kadono – Studio Ghibli – N

Poupelle of Chimney Town Themed Cafe to Open in Shibuya

000Cafe by tlc, a coffee stand in Shibuya with its own pop-up space, is collaborating with the hit film Poupelle of Chimney Town to offer a limited-time cafe experience based on the movie. It will run from April 1 to June 30.

The cafe design concept

Crinkle Cookies

SHIBUYA CHIMNEY COFFEE

Poupelle of Chimney Town is an animated fantasy film based on Akihiro Nishino's picture book of the same name. It was released on Christmas Day last year and was nominated for Animation of the Year at the 44th Japan Academy Film Prize.

Disney Japan Celebrates 30th Anniversary of Disney Fan Magazine With Special Event

Walt Disney Japan will celebrate both the 30th anniversary of its Disney Fan monthly magazine and the 10th anniversary of its Disney Store original character UniBEARsity with a special event titled "Disney FAN 30th anniversary FAN!FAN!FAN!" which will run at the Shibuya Koen-dori branch of the Disney Store from April 2 and the Shinsaibashi branch from May 14.

©Disney

The event will pay homage to the 30-year history of the much-loved Disney Fan magazine as well as feature a special art exhibition of past front covers. This artwork will be included on new and exclusive merchandise sold at the store. UniBEARsity will also see the spotlight as its history is also covered along with a range of 10th anniversary items.

Disney Fan 30th Anniversary Celebrations: Art Exhibition, History, and Merch

©Disney

The Disney Fan exhibit will include a silhouette of Mickey Mouse made from a collage of old-time magazine covers. It will also feature an exhibit of back numbers, statues and papercrafts made from past magazine covers, commentary on certain issues, and more.

Fans can also get their hands on a collection of merchandise made with exclusive artwork from the magazine covers, from folders and face mask cases to magnets, frames and more – check out an excerpt of what's on offer below.

UniBEARsity: 10th Anniversary Exhibition

©Disney

UniBEARsity is a line-up of Disney teddy bear characters which came to life after Minnie taught Mickey and friends how to sew them. In celebration of its 10th anniversary, a special exhibition will take place including a special feature taken from Disney Fan when it first debuted, as well as a showcase of 89 teddy bears.an original story that bear characters. Check out what merchandise you can get here.

Information

Disney FAN 30th anniversary FAN! FAN! FAN!

Disney Store Shibuya Koen-dori

Running: April 2, 2021 – May 9, 2021

*The first three days of the event (April 2-4) are exclusive to users of the Disney Store app

Address: Humax Pavilion Shibuya Koen-dori, 20-15 Udagawacho, Shibuya, Tokyo

Opening Hours: 11:00-20:00 (Until 17:00 on May 9)

Entry: Free

Disney Store Shinsaibashi

Running: May 14, 2021 – June 20, 2021

Address: 2-1-13 Shinsaibashisuji, Chuo-ku, Osaka-shi, Osaka

Opening Hours: [Weekdays] 10:00-19:00 / [Weekends & Holidays] 11:00-19:00 (Until 17:00 on June 20)

Entry: Free

Event Page: http://shopDisney.jp/store/DisneyFAN30th/

Kiii Presents Kagimatsuri Pop-Up Shop Event to be Held in Shibuya

Kiii has announced a pop-up shop event called Kagimatsuri which is set to run at MAGNET by SHIBUYA109 from April 23 to May 9. It will welcome a range of exclusive merchandise by popular Japanese creators, including a selection of items by famous Japanese illustrator Yuuki Kikuchi who is known for his hit 4-panel comic strip series 100 Nichi Go ni Shinu Wani which follows the story of a crocodile who doesn't know he's going to die in 100 days. 100 panels were released across 100 days on his Twitter page with the final comic strip garnering over 2 million likes.

 

Buy Exclusive LINE Stamps

¥120 Each

In the run up to the event, a selection of LINE stamps made by eight popular creators is know available for purchase over on the LINE store.

Information

~Kiii Presents~ Kagimatsuri

Japanese Event Name: 〜Kiii Presents〜かぎまつり

Running: April 23, 2021 – May 9, 2021

Where: MAGNET by SHIBUYA109

Address: 1-23-10 Jinnan, Shibuya, Tokyo, 150-0041

Event Page: https://kiii.co.jp/news/6859/

The Little BAKERY Tokyo Revamps and Reopens With New Eat-In Area

The beloved takeout bakery The Little BAKERY Tokyo, which is just down the road from another of Harajuku's popular eateries THE GREAT BURGER, has undergone refurbishment to add a brand new eat-in space. The site reopened on March 22 as a bakery and cafe.

A tasty new eat-in menu

Crushed Avocado Toast | ¥1,250 (Before Tax)

Homemade Maple Granola | ¥1,350 (Before Tax)

New York Pizza (Pepperoni Slice) | ¥1,000 (Before Tax)

Classic Ham, Egg, & Cheddar Cheese Sandwich | ¥1,500 (Before Tax)

Apple Gorgonzola Cheddar Cheese Sandwich | ¥1,450 (Before Tax)

Bread loaves and takeout goodies

Red Bean Paste & Butter Ball | ¥420

Hokkaido Yotsuha Butter Croissaint | ¥260

Custard Pudding | ¥550

Hokkaido Brioche Loaf – Whole ¥580, Half ¥320 / Hokkaido Whole Wheat Loaf – Whole ¥560, Half ¥300 / Hokkaido Milk Loaf – Whole ¥580, Half ¥320 (Before Tax)

The new eat-in menu features a range of irresistibles like vegan-friendly avocado toast, homemade granola topped with fresh fruits and Greek yogurt, a selection of sandwiches made with homemade brioche toast, New York-style, pizza, and more.

Takeout options includes all the classics like bread loaves, sweet custard pudding, soft and crispy croissants, and so on.

There are around 30 baked delights to pick from at The Little BAKERY Tokyo all of which are made using flour from Hokkaido and natural yeast. All items on the menu are made fresh in-house every day, all ingredients from the salt and sugar to the eggs and more are domestic, and all ingredients are sourced sustainably and locally. The bakery also caters to all needs from those with food restrictions and allergies as well as a fantastic vegan menu which replaces animal products like eggs and butter with soy milk and grapeseed oil.

They even sell American-style doughnuts from the doughnut brand GOOD TOWN DOUGHNUTS who are inspired by doughnuts from Brooklyn. There's around 20-30 to choose from, all colourful and all used with natural ingredients like fruit – none of the bad additives. Of course, there's vegan doughnuts too, so if you're struggling to find vegan food in Tokyo, you know where to go.

One worry in the bakery industry is that of leftover stock. But The Little BAKERY Tokyo has a solution for that: by wrapping up their pastries and baked foods and selling them as 'DAY OLD BREAD' on their online shop so nothing goes to waste, something which has received huge praise from people across Japan.