Studio Ghibli American Casual Clothing Brand GBL to Open First Store in Shibuya
Japanese company Benelic is set to open the first permanent store for GBL, an online clothing company whose stock features designs from Studio Ghibli's animated film features. The store will open inside MIYASHITA PARK, a new shopping centre opening in Shibuya this summer.
About GBL
GBL aims to capture those special feelings of magic and wonder we have all felt watching a Studio Ghibli film. Each clothing item in GBL's collection is woven with love and enthusiasm for the internationally beloved animations.
The First Stop: Shibuya

GBL was launched in 2017, and since then has sold its stock via its website and at pop-up shops. Shibuya will be the place that GBL opens its first physical store, which is designed like a garage filled with fun and exciting products.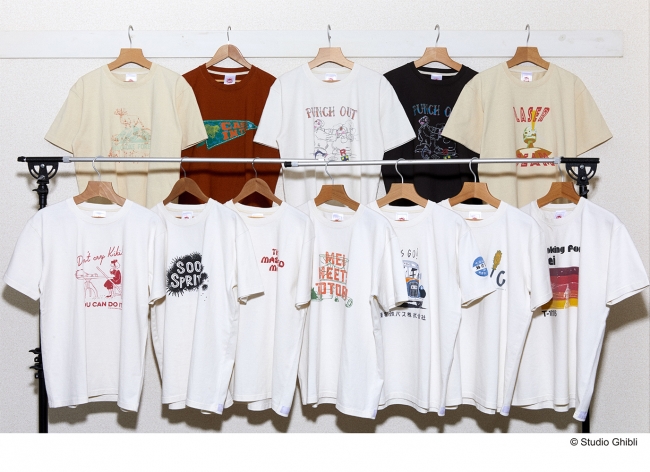 New 2020 Design T-Shirts
Shibuya is known the world over as the hub of street trends, making it the perfect location for GBL's line-up of attire which combines Studio Ghibli and an "American casual" style.
Fans of Studio Ghibli won't want to miss out on a trip to Shibuya when they visit Tokyo to enter GBL.
RELATED ENTRIES
Shibuya's L'OCCITANE CAFE Reveals Spooky Parfait For Halloween 2020

L'OCCITANE CAFE Shibuya is getting ready for Halloween with the reveal of its sweet potato and apple parfait which will be served from October 21 to 31. The Tokyo-based cafe is centred on the food culture and lifestyle of Provence in southern France.

Sweet Potato and Apple Parfait | ¥1,280 (Tax Included)

The seasonal treat is a mix of purple sweet potato and regular sweet potato, baked apples, apple sherbet, and vanilla ice, all topped off with whipped cream, roasted nuts, and almond tuile biscuits in the shape of ghosts and a pumpkin.

Information

Sweet Potato and Apple Parfait
Serving: October 21, 2020 – October 31, 2020

L'OCCITANE CAFE Shibuya
Address: 2-3-1 Dogenzaka, Shibuya, Tokyo
Opening Hours:
[Sun-Thur] 11:00~22:00 (Last Orders 21:00)
[Fri-Sat] 11:00-23:00 (Last Orders 22:00)
TEL:03-5428-1563
Access: Straight ahead of Shibuya Station's 5th Exit (Inokashira Exit)
L'OCCITANE Japan Official Website: https://jp.loccitane.com/

Studio Ghibli's Kiki's Delivery Service and Whisper of the Heart Get Fragrance Candle Release

Donguri Closet is releasing two new fragrance candles this month inspired by the hit Studio Ghibli animated feature films Kiki's Delivery Service and Whisper of the Heart.

Donguri Closet is a store brand in Japan which is a branch of the official Studio Ghibli merchandise shop Donguri Kyowakoku managed by Benelic.

The Donguri Closet brand focuses on the heroines of Studio Ghibli's moviesーfemale characters who are by nature gentle but all of whom are strong women. The brand's concept centres on being a place where people can be themselves through the merch.

Kiki's Delivery Service Fragrance Candle – A Fulfilling Day (Citrus) | ¥2,700 (Before Tax)

The Kiki's Delivery Service candle bears the words written by Kiki to her mother and father in a letter, in English:

Everything at work seems to be falling into place nicely. I'm even starting to gain some confidence. There are still times when I feel sad… but all in all, I sure love this town.

The candle is a relaxing citrus fragrance to fill you with positivity.

Whisper of the Heart Fragrance Candle – Close Love (Berries) | ¥2,700 (Before Tax)

The Whisper of the Heart candle features the words written by the Baron, who appears in the protagonist Shizuku Tsukishima's dreams, in English:

Louise and I were happy… because he had made us so we could love each other.

The candle smells of sweet berries to relax you during those times you can't settle.

Once you've used up the candle, you can reuse the beautiful glass it comes in which has plants inside it.

Information

Donguri Closet LAZONA Kawasaki Plaza
Address: LAZONA Kawasaki Plaza Floor 3F, 72-1 72-1 Horikawachō, Saiwai-ku, Kawasaki, Kanagawa
Opening Hours: 10:00-21:00
Donguri Closet Instagram: https://www.instagram.com/closet_by_donguri/

*The candles are also available at Donguri Kyowakoku LUCUA Osaka, Donguri Kyowakoku Nagoya Takashimaya Gate Tower Mall, Donguri Kyowakoku Tokyo Skytre Town Solamachi, and Donguri Kyowakoku Canal City Hakata

New Studio Ghibli Book Focuses On the Main Characters' Daily Lives

Tokuma Shoten Publishing released a new picture book entitled Studio Ghibli no Ironna Kurashi in Japan on October 9, 2020 which is centred on the everyday lives of the protagonists from 13 of Studio Ghibli's animated feature films.

The book looks at where the characters of these films reside and what kinds of lives they live, whether it be in the Toxic Jungle of Nausicaä of the Valley of the Wind, or Sophie taking up the role of the cleaning lady in Howl's Moving Castle, or Sosuke and Lisa who live upon the cliff in Ponyo.

Life in the castle in Howl's Moving Castle ©2004 Studio Ghibli・NDDMT

Who's who in the family? What kind of house do they live in? What job do they work? These are the questions that the book will answer as it delves deep into the livelihoods of the globally-beloved characters conceived by the incredible minds of Studio Ghibli.

The town of Koriko in Kiki's Delivery Service ©1989 Eiko Kadono・Studio Ghibli・N

Arrietty's house in The Secret World of Arrietty ©2010 Studio Ghibli・NDHDMTW

Noboru Yoshida (Art Supervisor for The Secret World of Arrietty)

The house that Satsuki and Mei move to in My Neighbor Totoro, the dwelling of Totoro, the wartime life of Seita and Setsuko living in Kobe in Grave of the Fireflies, the town where Kiki begins her life living alone at the age of 13, and so on.

The book is a must-have in the collection of any fans of Studio Ghibli, and is sure to make you want to step into those magical worlds once again.

Information

Studio Ghibli no Ironna Kurashi (Japanese Title: スタジオジブリのいろんなくらし)
Films Featured: Nausicaä of the Valley of the Wind, Laputa: Castle in the Sky, My Neighbor Totoro, Grave of the Fireflies, Kiki's Delivery Service, Princess Mononoke, My Neighbors the Yamadas, Spirited Away, Howl's Moving Castle, Ponyo, The Secret World of Arrietty, From Up on Poppy Hill, The Tale of Princess Kaguya
Release Date: October 9, 2020

Price: ¥1,800 (Before Tax)

Size: B5 Hardback

Pages: 96 full colour

Publisher: Tokuma Shoten Publishing Co., Ltd.
Product Page: https://www.tokuma.jp/book/b535734.html

Tokyo's Cheese Dish Factory Releases New Tart Parfait Mont Blancs

Cheese Dish Factory, a restaurant in Shibuya MODI in Tokyo, released a new seasonal dessert for the autumn season on Monday called the 'Tart Parfait Mont Blanc.' The tasty bite's foundation is an almond tart which is filled and layered with ingredients like a parfait before being topped off with mont blanc cream.


The dessert comes in for delightful variations such as the 'Chestnut & Tiramisu' which tops tiramisu with the flavours of autumn like chestnut ice cream and chestnut cream, and the 'Berry & Berry' which is piled full of strawberry cream and topped off with a strawberry. Sweet-tooths will discover a labyrinth of flavours as they gradually make their way through whichever they decide to order.

Chestnut & Tiramisu (Mascarpone Cheese) | ¥880 (Before Tax)

The tiramisu is made with mascarpone and has on top of it Japanese chestnut and chestnut ice cream. The chestnut cream is arranged like a mont blanc. The inner tiramisu adds a unique touch to make this a mont blanc for the ages.

Berry & Berry (Cream Cheese) | ¥820 (Before Tax)

This tiramisu is made from cream cheese which is topped with strawberry sauce and vanilla ice cream. A parfait mont blanc for the strawberry lover who won't be able to resist the strawberry cream and the crowning fresh strawberry.

Fromage & No-Bake Cheesecake (Parmigiano-Reggiano Cheese) | ¥780 (Before Tax)

A no-bake cheese cake combined with cream cheese ice cream and cream cheese. Inside you'll find fresh white peach. There's also a crispy texture brought by the Parmigiano-Reggiano. A must-try for cheese fanatics.

Matcha & Brown Sugar Syrup Soy Flour (Ricotta Cheese) | ¥780 (Before Tax)

A mountain made from matcha warabimochi, adzuki red bean paste, brown sugar syrup soy flour, and vanilla ice cream. This one's full of Japanese flavours, but also ricotta cheese, making it a Japan x Western fusion.

Information

Cheese Dish Factory Shibuya MODI
Address: Shibuya MODI Floor 9F, 1-21-3 Jinnan, Shibuya-ku, Tokyo

Access: 3-minutes from Shibuya Station
TEL: 03-6416-5179
Business Hours: Lunch 11:00-15:00 / Cafe 15:00-17:00 / DINNER 17:00-23:30
Official Website: http://www.sld-inc.com/cheesedishfactory.html

Experience Shinjuku's Famous Halloween Event Online at Virtual Shibuya

The Virtual Halloween Committee has announced that it will host an online Halloween event inside Virtual Shibuya as a result of the pandemic and to mitigate crowded streets in Shibuya, a place which becomes a sea of people during the spooky holiday season.

The event, titled Virtual Shibuya au 5G Halloween Fes, will begin on October 26 and run up to Halloween Day. It is being promoted with the hashtag #StayVirtual.


Shibuya 5G Entertainment Project launched its new digital platform "Virtual Shibuya" back in May of this year. Officially recognised by Shibuya City, Virtual Shibuya comes in response to the effects of the novel coronavirus (COVID-19) which has brought tight restrictions to the economy and people's way of life. It will enable people to continue enjoying entertainment from the comfort of their homes by participating in a whole host of virtual events and activities. The project aims to deliver content from Shibuya with live performances from artists, art exhibitions, talks, and more. The use of 5G and the latest cutting edge technology will connect the real Shibuya to a virtual space, combining the realms of the digital and real world.

The Halloween event is inviting a host of Japanese artists and comedians to perform inside the virtual space, which itself will be littered with all things Halloween like Jack-o'-lanterns, bats, and more. Users will also be able to dress their avatars in the appropriate clothing in line with the holiday season of scares. All of this aims to deliver the famous Shibuya Halloween experience that the people of Tokyo are so used to.

Virtual Shibuya au Halloween Fes

Virtual Shibuya is evolving and will be updated for the upcoming Halloween event. Users can look forward to a host of music events and talk events during this age of the 'new normal.'

au 5G Presents Kyary Pamyu Pamyu: Virtual Mini Live

Virtual Shibuya will host its very first virtual live concert to open the Halloween festival. Japanese pop star Kyary Pamyu Pamyu is included in the performance line-up, who will be serving a very special one-night-only Halloween themed show inspired by horror movies. Titled "Kyary Pamyu Pamyu Online Halloween Live 2020 THE FAMILY 10.31," you can find out more about the concert here.

au 5G Presents BiSH: Virtual Live

Japanese idol group BiSH will also be playing a special Halloween show at the event.

au 5G Presents "Everyone's 5G" – Comedy Duo Wagyu Perform

Japanese comedy duo Wagyu will perform live using 5G technology which will render them in high-speed, high quality holograms.


The rest of the line-up and more details about the event will be announced in the coming weeks.

Review: The 30 Year Old Cafe Chatei Hatou in Shibuya

Hi, everyone. It's Banako of MOSHI MOSHI FRIENDS. Today I'm reviewing Chatei Hatou, a long-standing cafe in Shibuya, Tokyo.

Shibuya is a place that bustles with youth culture and fashion. It's also home to many eateries, but there aren't many places around that you can go to to get away from the busy streets for a quiet break.

Chatei Hatou opened in 1989 at Miyamasuzaka Shita in Shibuya, where it has gone unchanged and welcomed customers for the past 30 years. It's very easy to get to, being just a 3-minute stroll from the Hachiko Exit of Shibuya Station.

When opening the door to the cafe and stepping inside, the first thing to jump out at you are the rows of coffee cups lined up along shelves behind the counter.

The coffee cup collection features a selection of works by many different makers. There's even a cup in there valued at ¥200,000!

The antiques littered here and there around the cafe elevate the vibe of the cafe. There's a number of seating areas, including the counter seats as well as tables for two, four, or big groups.

I felt the faint tasty scent of the Japanese pudding calling to me so I went and ordered a pumpkin pudding along with a hot chocolate.


Cafe Chocolat (Hot) ¥950 / Pumpkin Pudding ¥500


The pumpkin pudding was nice and moist and rich in flavour. Nothing short of delicious. It's made even sweeter when eaten together with the fluffy whipped cream―which also elevates the flavour of the pumpkin too.


I was inspired by the cafe owner to go for the cup I chose for my hot chocolate. There is so much variety between the cups; it's fun getting to see rare ones. Be sure to check their Instagram page where they have more detailed write-ups about their coffee cups and coffee varieties.

The cafe has a selection of original coffee blends which they make fresh with the utmost care and consideration. You can buy their coffee beans, take cake away from you, and even order whole cakes, so you can enjoy their delights at home.

Chatei Hatou has stood together with Shibuya these past 30 years. According to the owner, the most important thing about running a cafe is making sure its doors are always open. It's been tough as a result of the pandemic this year, but the cafe is still there as a part of people's lives.

The next time you're in Shibuya, why not enjoy a drink and a sit down at Chatei Hatou?

Information

Chatei Hatou
Address: 1-15-19 Shibuya, Shibuya-ku, Tokyo
Opening Hours: 11:00-23:30 (Last Orders 22:30)
No Fixed Holidays (But may be closed during the New Year Holidays)
Access: 3-minutes on foot from Shibuya Station's Hachiko Exit
Official Instagram: https://instagram.com/hatou_coffee_shibuya?igshid=9ubwybwvpktb
*The cafe is cash-only and has an outdoor smoking area

Writer: Banako
Translator: Joshua Kitosi-Isanga

Manga Series Tokyo Revengers Gets Exhibition at Tower Records Shibuya

Tower Records Shibuya will host an exhibition dedicated to the ongoing manga series Tokyo Revengers from September 26 to October 18. The exhibition is being held to promote the release of the 19th volume which hits shelves in Japan on September 17.

Tokyo Revengers is a manga series written and illustrated by Ken Wakui. An anime adaptation is scheduled to broadcast in 2021.

The exhibition will feature a variety of works drawn by Ken Wakui for the series, both black and white as well as coloured illustrations, as well as panels of each character, and more. There will also be an exhibit for the upcoming live-action film.


Tokyo Revengers x TOWER RECORDS OSMO Stamps (22 Designs) | ¥909 Each (Before Tax)

Tokyo Revengers Monochrome Panels | ¥30,000 Each (Before Tax, Includes Shipping)

Fans can also get their hands on a range of exhibition-exclusive merchandise, and from October, the exhibition will sell some Tokyo Revengers x Tower Records collaborative merch. There'll be some signed artwork for sale too.

Character Business Cards (11 Designs)

And for every ¥1,000 spent at the exhibit, fans will receive one of 11 possible character business cards.

Information

Tokyo Revengers Exhibition – Tower Records Shibuya
Running: September 26, 2020 – October 18, 2020

Time: 12:00-15:00 / 16:00-20:00 (Last Entries 19:30)

Location: Tower Records Shibuya Floor 8F SpaceHACHIKAI
Entry: Free (But you must book a place online)

Exhibition Information (Japanese): http://towershibuya.jp/news/2020/09/15/148467

TALENT PROFILE

Anna Yano

Released the song "Shape My Story" produced by kz (livetune) in August 2013. Performed as the vocalist on a single for kz's solo project 'livetune' in January 2014. Both songs were used as theme songs for anime series and received attention in Japan and overseas. In October 2015, she formed a new unit with kz called 'livetune+' and they released their first EP "Sweet Clapper" on May 11, 2016.

Ayumi Seto

Active as a model, especially in fashion magazines. Receives tremendous support for her cute and distinct fashion. In February 2014, she debuted her apparel brand 'Aymmy in the batty girls' where she works as a designer. She was the first Harajuku and Aomoji-kei model to establish an authentic apparel brand. She develops clothing items through her unique fashion sense lens.

Ema Tanioku

"Emaeri" is the nickname for models Ema and Eri Tanioku, who are Aomoji fashion model twins. Ema and Eri Tanioku specialise in twin fashion coordination. Over the years their fanbase has increased due to their cute looks. Ema Tanioku spreads Harajuku culture within Japan as well as overseas and works as a Harajuku Tourism Ambassador. Starting off as a model, Ema has broadened her talent range from fashion magazines to TV, and from playing the lead role in dramas to movies.

Hayao Miyazaki Exhibition to Open Academy Museum of Motion Pictures in Los Angeles

The Academy Museum of Motion Pictures has announced that its inaugural temporary exhibition will be a retrospective honouring the internationally beloved and celebrated Academy Award-winning filmmaker Hayao Miyazaki of Studio Ghibli. It will open on April 30, 2021.

Photo by Joshua White JWPictures/©Academy Museum Foundation

It will take place inside the Marilyn and Jeffrey Katzenberg Gallery and will hail as the first North American museum retrospective dedicated to the work of Miyazaki. Works will be curated by the museum's Exhibition Curator Jessica Niebel and Assistant curator J. Raúl Guzmán.


lmageboard, 'My Neighbor Totoro' (1988), Hayao Miyazaki © 1988 Studio Ghibli


Still Image, 'Spirited Away' (2001), Hayao Miyazaki © 2001 Studio Ghibli・NDDTM

The lineup will showcase over 300 objects include original imageboards, character designs, storyboards, layouts, backgrounds, posters, and cels, all from the archives of Studio Ghibli. Fans of Studio Ghibli and Miyazaki's works can look forward to seeing their favourite films celebrated such as My Neighbor Totoro (1988) and the Academy Award-winning Spirited Away (2001).

Hayao Miyazaki Exhibition – What to Expect

Tree Tunnel


Still Image, 'My Neighbor Totoro' (1988), Hayao Miyazaki © 1988 Studio Ghibli


Journey through the iconic "Tree Tunnel" conceived by Hayao Miyazaki for the film My Neighbor Totoro just like 4-year-old Mei does when chasing the mini Totoro.

Creating Characters


Still Image, 'Kiki's Delivery Service' (1989), Hayao Miyazaki © 1989 Eiko Kadono・Studio Ghibli・N

Creating Characters will introduce Hayao Miyazaki's many protagonists from such celebrated works as My Neighbor Totoro, Princess Mononoke, and more. This will include original character design illustrations as well as pieces never before exhibited outside of Japan.

Making Of


Imageboard, 'Nausicaä of the Valley of the Wind' (1984), Hayao Miyazaki © 1984 Studio Ghibli・H

The Making Of section will illustrate Miyazaki's early career and the founding of Studio Ghibli together with the deceased Isao Takahata, as well as the process of producing an animated feature film such as Nausicaä of the Valley of the Wind (1984). Early works showcased will include, but are not limited to, the television anime series Heidi, Girl of the Alps (1974) which Isao Takahata was also involved in as an animator, and The Castle of Cagliostro (1979).

Creating Worlds


Background Image, 'Spirited Away' (2001), Hayao Miyazaki © 2001 Studio Ghibli・NDDTM

Creating Worlds will capture the contrast between beautiful, natural environments and industrial settings, a theme that Miyazaki often explores in his movies. This will include a look at original storyboards from Laputa: Castle in the Sky (1986), as well as concept sketches and background images that offer a peek into the imagination of Miyazaki. It will also look at the famous bath house of Spirited Away, the underwater world of Ponyo (2008), and themes of 'flying' as seen in Porco Rosso (1992) and The Wind Rises (2013).

Sky View Installation

A must-see at the exhibition is the Sky View installation which captures one of Miyazaki's other themes: the desire to lay back and relax, have a day off, think, and dream.

Transformations

Transformations will explore the metamorphoses Miyazaki's characters and settings often experience, such as the influences that human beings have on the natural world like in Nausicaä of the Valley of the Wind.

Magical Forest

Magical Forest, with its Mother Tree installation, will highlight the interconnected aspects of humans, nature, and the spiritual worlds, such as the Kodama forest spirits seen in Princess Mononoke.

Photo of Hayao Miyazaki by Nicolas Guerin

Toshio Suziki, Studio Ghibli Producer & Co-Founder | Comment

"It is an immense honor that Hayao Miyazaki is the inaugural temporary exhibition at the Academy Museum of Motion Pictures. Miyazaki's genius is his power of remembering what he sees. He opens drawers in his head to pull out these visual memories to create characters, landscapes and structures that are busting with originality. It is our hope that visitors will be able to experience the entire scope of Hayao Miyazaki's creative process through this exhibition. I am deeply grateful to all those who have been instrumental in presenting this exhibition."

Bill Kramer, Academy Director | Comment

"We could not be more excited to launch our new institution with the most comprehensive presentation of Hayao's Miyazaki's work to date. Honoring the masterful career of this international artist is a fitting way to open our doors, signifying the global scope of the Academy Museum."

Jessica Niebel, Academy Museum Exhibitions Curator | Comment

"Hayao Miyazaki has a singular ability to capture how we perceive life, with all its ambiguities and complexities. It has been a privilege to collaborate with Studio Ghibli in creating an exhibition that will appeal to the most avid Miyazaki fan and those not yet familiar with his work."

Information

Hayao Miyazaki Exhibition
Opening: April 30, 2021

Venue: Academy Museum of Motion Pictures (Marilyn and Jeffrey Katzenberg Gallery)

Shibuya's New Tourist Information Centre 'SHIBU HACHI BOX' Opens October 1

Shibuya is set to welcome tourists to its all-new tourist information centre SHIBU HACHI BOX which will open on October 1, 2020.

Conveniently located outside of Shibuya Station next to Shibuya's iconic Scramble Crossing and Hachiko statue, SHIBU HACHI BOX, managed by PLAY! DIVERSITY SHIBUYA, will act as the hub for tourist and sightseeing information on events, food, shopping, hotels, and more.

The centre will also house a PR space for its supporting partner NTT Docomo which will offer entertainment and video content related to the latest in technology and more.

SHIBU HACHI BOX will be ready waiting to welcome the people of the world to Shibuya as they step outside of the famous Hachiko Exit of Shibuya Station.

Information

SHIBU HACHI BOX

Grand Opening: October 1, 2020

Address: 2-1 Dogenzaka, Shibuya, Tokyo

Opening Hours: 10:00-20:00

PLAY! DIVERSITY SHIBUYA: http://play-shibuya.com/

Kawaii Fruit Desserts Now Being Sold at Shibuya Scramble Square in Tokyo

Tokyu Food Show Edge and +Q Beauty inside Tokyo's Shibuya Scramble Square mixed-use skyscraper are now serving a succulent selection of autumn fruit desserts, incorporating autumn flavours like chestnuts, apples, and Japan's famous Shine Muscat grapes.

Let's take a look, and try not to drool too much on your keyboard.

MORI YOSHIDA PARIS

Mont Blanc | ¥918 (Tax Included)

A mont blanc with cream draped around like a helix. Inside you will find Crème Chantilly and chestnuts, while the base is baked in parcel.

apple & roses

Caramel Apple Rose Cake/Raspberry Rose Cake | ¥2,160 (Tax Included)

These rich butter and almond rose cakes come in two flavours: caramel apple with apples specially selected from Nagano Prefecture, and raspberry, which add a sweet and sour kick.

Péché Mignon

Feuilletée (Box of Two) | ¥756 (Tax Included)

Feuilletée pies filled with a chestnut paste which add a delightful sweetness. The box contains two base flavours: chestnut and chestnut chocolate.

c7h8n4o2


Fresh Fruit Tablet Shine Muscat | ¥2,592 (Tax Included)

Whole specially selected Shine Muscat grapes wrapped in chocolate and shaped into a tablet bar. The chocolate is a rich 70% Piura Quemazon from Pacari Chocolate which blends deliciously with the grape juice.

Atelier Anniversary


Whole Chestnut Pound Cakes (Set of 4) | ¥1,404 (Tax Included)

The dough is combined with chestnut paste and each mini pound cake contains a whole chestnut.

ANNA'S by Landtmann


Red Apple | ¥693 (Tax Included) *Eat-in price

This apple cake is filled with apple mousse, chocolate mousse, and chocolate sponge. The entire thing is coated in a red apple glaze, giving it a cute appearance.

Egyptian God Anime Series To-totsuni Egypt Kami to be Narrated by Tomoya Nakamura

Some new information has finally arrived for Frontier Works's upcoming web anime series To-totsuni Egypt Kami.

Synopsis: To-totsuni Egypt Kami

Who would have thought that the Egyptian gods could be kawaii? Well, that's exactly what they've become in To-totsuni Egypt Kami, a series set in Ancient Egypt where the Egyptian deities, like Anubis, Thoth, Bastet, and Ra live laid-back and relaxed lives. The series is adapted from a popular line of character mascots of the same name.

Japanese actor Tomoya Nakamura has been confirmed as the narrator for the web anime series, whose warm and gentle voice will convey the chilled lives of the Egyptian pantheon of gods.

Tomoya Nakamura – Comment

"I think we'll see a domino effect with the number of people who will find themselves healed by these adorable and mysteries Egyptian gods. I hope you're sat back, relaxed, and looking forward to it."

To-totsuni Egypt Kami main voice cast

The full voice cast for To-totsuni Egypt Kami has finally been revealed, along with comments from the members. Here are some words from the main cast.

Hikaru Midorikawa – Comment

Medjed | Hikaru Midorikawa

"Everything about [Medjed] is riddled in mystery. His movements are bizarre , and nobody can predict what he's going to do next. And for his finishing move, he can… shoot a laser beam from his eyes? I think for an anime series, the movements of the gods make them that much more charming."

Nobunaga Shimazaki – Comment

Horus | Nobunaga Shimazaki

"Horus is a very powerful god with the head of a falcon. He's also a hard worker who works a busy part-time job day and night. He doesn't get along with Set who he fights with a lot. The world of 'To-totsuni Egypt Kami' is really pop and cute, but somewhat mysterious. It would delight be if you enjoyed it in a laid-back manner."

Hiroyuki Yoshino – Comment

 Set | Hiroyuki Yoshino

"The god of destruction. He doesn't get along with Horus and always tricks and harasses him. But his appearance makes you feel calm… I guess you'll have to look forward to the anime series to see!"

Kenjiro Tsuda – Comment

Ra | Kenjiro Tsuda

"Ra, the god of the sun. He's the father of everyone. He likes to sail a lot and bring back souvenirs for everyone, but there's something more to him… Sit back and look forward to it!"

*Comments translated from Japanese by MMN

Initial Broadcast: December 2020

The series will began airing online this December, including on YouTube. It is being directed by Katsuya Kikuchi (The Royal Tutor), with series composition by Yūichirō Higashide (Fate/Apocrypha; Fate/Grand Order – Absolute Demonic Front: Babylonia), and character designs and animation direction by Suzuna Okuyama (The Royal Tutor). Check out the promotional video below.

Themed cafe in collaboration with Animate Cafe Gratte

Gratte cookie design

Several branches of Animate Cafe Gratte in Japan are collaborating with To-totsuni Egypt Kami to serve themed food and drinks.

To-totsuni Egypt Kami x Gratte

Running: September 19, 2020 – November 8, 2020

Participating Branches: Animate Cafe Shibuya / Kichijoji PARCO / Sendai / Osaka Nipponbashi / Okuyama

©yuka/To-totsuni Egypt Kami Project

Information

To-totsuni Egypt Kami

Initial Broadcast: December 2020

Watch On: YouTube, GYAO!, Bandai Channel, FOD, ABEMA, d Anime Store, U-NEXT

Official Website: https://to-to2ni-anime.jp

Virtual Shibuya Appoints Hachiko as its Loyal Ambassador

YOU MAKE SHIBUYA Crowdfunding and Future Design Shibuya has appointed the faithful dog Hachiko, a Japanese Akita dog known for his loyalty to his owner, as the official leader of Virtual Shibuya, an online digital platform which opened in May this year and is officially recognised by Shibuya City. An event will be held in the virtual platform this October to officially appoint Hachiko as the leader.

The designer of Virtual Hachiko is none other than Yoshiyuki Sadamoto, the character designer for Neon Genesis Evangelion, Summer Wars and other Japanese anime series, as well as a founding member of the anime studio Gainax.

YOU MAKE SHIBUYA Crowdfunding was launched to help support the cultural industry of Shibuya which has been greatly impacted the effects of the COVID-19 pandemic. It is being carried out until September 6, 2020. The crowdfunding project has numerous projects in the works to help bring Shibuya to people, the first of which was the launch of Virtual Shibuya in May which is to act as "a second Shibuya." Hachiko is a symbol of Shibuya and has his own bronze statue outside of Shibuya station. The statue is a popular meeting spot for people getting together in Shibuya. Hachiko has watched over Shibuya throughout the Showa, Heisei, and current Reiwa eras of Japan, making him the perfect ambassador for Virtual Shibuya.

Hachiko will appear as "Virtual Hachiko" inside the virtual platform in the next couple of months. His design will be inspired by the real-life Hachiko.

Japanese politician Ken Hasebe (pictured below) and real-life mayor of Shibuya has also been appointed as the virtual mayor of Virtual Shibuya, further linking together the real and digital worlds.

The crowdfunding campaign will also give "Citizen ID Cards" to citizens of Virtual Shibuya, as well as SHIBUKURO Tote Bags and Pin Badges.