Have fun making delicious creations with the new Tsukuru Oyatsu Series Pokemon Choco Maker!!
Popular series sweet-making kit "Tsukuru Oyatsu" now has a new addition to their original character chocolate series – get ready for the "Tsukuru Oyatsu Pokémon Get Daze Choco Maker". This new product will be stocked up in the sweets section of supermarkets and convenience stores nationwide.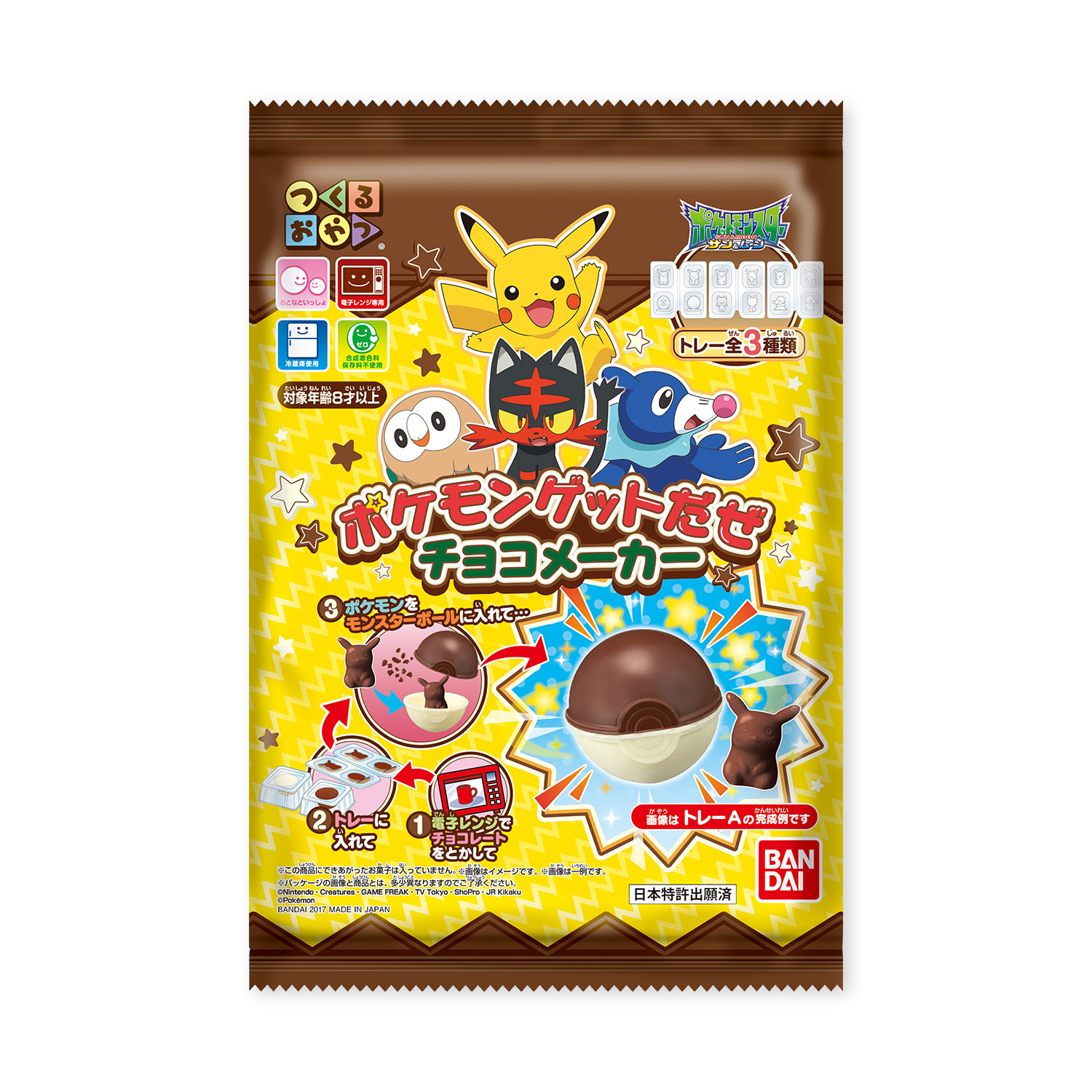 The Tsukuru Oyatsu sweets creation kit is now featuring a pack based on Pokémon Sun and Moon – a TV anime which is currently broadcast as a TV Tokyo Keiretsu series! Now you can make chocolate treats in the shape of Pokémon and a monster ball! The Pokémon shape modelling tray included in the pack comes in three varieties; the Pikachu A/ Rowlet mould, Pikachu B/ Litten mould and Pikachu C/ Popplio mould.
▶ Check out the following video on how to make your chocolate Poké-tastic creations!
Simply  microwave the chocolate that comes in the pack until it has melted and then transfer it into the   tray that comes in the pack. After allowing the chocolate to solidify in the refrigerator, you can fill your monster ball with choco crunch and your chocolate Pokémon.
In the Tsukuru Oyatsu series, this product is aimed at intermediate to advanced level sweet makers, so make sure you pay close attention to the video to make your sweets!
■ Information
Tsukuru Oyatsu Pokemon Get Daze Choco Maker
(つくるおやつ ポケモンゲットだぜ チョコメーカー)
・Price not including tax: ¥250
Purchasable at: The sweets section of supermarkets & convenience stores nationwide
・Release date: Tuesday 21st March 2017
(C) Nintendo・Creatures・GAME FREAK・TV Tokyo・ShoPro・JR Kikaku
(C) Pokemon
−−−
■Related article: Over 80 new Pocket Monsters being added to Pokémon GO this week【Video】
■Related article: Zoff to release blue light dispelling Pokémon glasses for use with your PC, TV and smartphone
RELATED ENTRIES
Doraemon Future Department Store to Open Pop-Up Shop in Ginza Mitsukoshi

Benelic Co., Ltd. has announced the opening of a pop-up shop version of Doraemon Future Department Store, the world's first official Doraemon shop, at Ginza Mitsukoshi in Tokyo from March 17.

Doraemon Future Department Store first opened back in December 2019 in Odaiba, Tokyo. Dedicated to the beloved manga and anime character Doraemon, the store has opened various pop-up shops across Japan including Fukuoka, Osaka, and Nagoya. The new pop-up shop will be the first to open in Tokyo and will be stocked with the usual fan must-grabs, items exclusive to the Odaiba shop, Ginza exclusives, pre-sales, and more.

 

Ginza Mitsukoshi Exclusives & Pre-Sales

1. The Exclusives

The Ginza Mitsukoshi pop-up shop will sell four exclusive items including a T-shirt, handy tote bag, and more.

The merchandise will feature an illustration based on the designs of the shopping bags given at Doraemon Future Department Store. Take a look below.

Ginza Mitsukoshi Exclusive T-Shirt (5 Colours) | ¥3,520 (Tax Included)

Sizes: S・M・L

Ginza Mitsukoshi Exclusive 2-Way Tote Bag | ¥2,860 (Tax Included)

2. The Presales

Fans can get their hands on pre-sales of 7 items in the "Flying to Department Store" series of kitchen, cookware, and other items, as well as 12 accessories that both kids and adults alike can enjoy.

 

Flying to Department Store Series – Kitchen Apron | ¥4,400 (Tax Included)

 

Flying to Department Store Series – 21cm Plate | ¥3,850 (Tax Included)

 

Doraemon & Dorami Back Earrings | ¥2,200 (Tax Included)

Customisation Service

The pop-up shop will offer a customisation service which lets customers have different embroideries put into the T-shirts, tote bags, and key rings. The work is done on the spot by hand so you can see the result of what will be a very special item of which only one exists in the world. Perfect for Doraemon fans and gifts to friends and family.

Freshly-Made Dorayaki

The Ginza Mitsukoshi pop-up shop will also serve freshly-baked dorayaki stamped with Doraemon's cute face. They will be made in limited quantities each day.

 

Dorayaki | ¥290 (Tax Included)

Bonus Items For Spending

1. Every purchase at the Doraemon Future Department Store pop-up will earn customers a free sticker. These are available in limited quantities.

2. The first 300 people at the pop-up shop to take their receipts to the main Doraemon Future Department Store in Odaiba between March 17 and 29 will receive a different limited-edition free sticker.

 

Ginza Mitsukoshi Original Doraemon Sticker

 

Odaiba Doraemon Future Department Store Sticker

Information

Doraemon Future Department Store in Ginza Mitsukoshi 2021

Running: March 17, 2021 – March 29, 2021

Where: Ginza Mitsukoshi Shinkan Floor 7F

Address: 4-7-16 Ginza, Chuo-ku, Tokyo

Opening Hours 10:00-20:00 (Until 18:00 on March 29)

Doraemon Future Department Store Official Website: https://mirai.dora-world.com/

TV Anime Romeo and the Black Brothers Opens Pop-Up Shops in Japan

Nippon Animation's 1995 anime series Romeo and the Black Brothers is opening four pop-up shops in Japan selling a variety of themed merchandise. And for every ¥3,000 spent at the shops, customers will receive a special shopping bag with a design from the series.

商品一覧

Original Shopping Bag

Epos Card Holders Exclusive Items

A-Prize: Canvas Board

B-Prize: Complete Postcard Set

C-Prize: One Postcard (6 Designs)

The Marui City Yokohama branch pop-up shop will also feature a special exhibition of illustrations, photos, and artwork that take a look back over scenes from the series.

Information

Romeo and the Black Brothers Pop-Up Shop

Japanese Pop-Up Shop Name: ロミオの青い空「ボルゴ横丁雑貨店」

Marui City Yokohama

Running: March 5, 2021 – March 14, 2021

Location: Marui City Yokohama Floor 7F

Hakata Marui

Running: March 27, 2021 – April 4, 2021

Location: Hakata Marui Floor 5F

Kokubunji Marui

Running: April 9, 2021 – April 25, 2021

Location: Kokubunji Marui Floor 4F

Kobe Marui

Running: April 16, 2021 – April 26, 2021

Location: Kobe Marui Floor 5F

Romeo and the Black Brothers Exhibition

Running: March 5, 2021 – March 14, 2021

Location: Marui City Yokohama Floor 7F

Opening Hours: 11:00-20:00 (Until 19:00 on March 14)

Entry: Free

Epos Card Members Prizes

Running: Until March 5, 2021 @ 23:59 (JST)

Winners to be Chosen: 3

Official Website: https://www.sekaimeisaku-nostalgia.com/

The Promised Neverland Teases Season 2 Blu-ray & DVD Cover Art

The ongoing second season of the TV anime series The Promised Neverland has teased the cover art for the upcoming first volume of the DVD and Blu-ray which is set to hit shelves in Japan on April 7, 2021. An anime music video for the ending theme Mahou by Myuk was also released.

Blu-ray & DVD Volume 1 Cover Art

Myuk – "Mahou" Anime Music Video

Information

The Promised Neverland Season 2 – Volume 1

Release Date: April 7, 2021 (Japan)

Limited Pressing Edition Blu-ray: ¥9,800 (Before Tax)

Limited Pressing Edition DVD: ¥8,800 (Before Tax)

Episodes: 1-4

Official Website: https://neverland-anime.com/

Achingly Adorable Animal Watercolour Illustrations Decorate Merchandise at Village Vanguard

Village Vanguard has teamed up with Japanese watercolour artist Ayae Suzuki to release a collection of cute items featuring her animal art. The line-up hit the website on Saturday (February 27).

Ayae Suzuki Tote Bag | ¥2,200 (Tax Included)

Ayae Suzuki Pouch | ¥1,650 (Tax Included)

Ayae Suzuki Mirror | ¥1,788 (Tax Included)

Ayae Suzuki Ayae Pins (2 Designs) | ¥550 Each (Tax Included)

Don't you just feel warm and fluffy looking at these cute little guys? Orders are open now until March 7.

X-girl & atmos pink Collaborate With Nike On New Sneaker Models

Nike released a stylish new model of their Fontanka Edge sneakers in Japan on Friday (February 26) which was created in collaboration with X-girl and atmos pink.

NIKE FONTANKA EDGE "Light Arctic Pink" PINK

NIKE FONTANKA EDGE BLACK/LtGREEN

The new Fontanka Edge models are lightweight and fitted with highly durable Zoom X soles. They are made with a fusion of TPU and mesh for even greater durability, and their comfort has been taken to the next level. The uppers fuse seamlessly with the rest of the shoe to give them a stylish, complete look.

2021 Sanrio Character Ranking Voting Begins in April

Sanrio has finally announced news about the 36th annual Sanrio Character Ranking. This year's award event, the 2021 Sanrio Character Ranking, will open initial votes on April 9 to May 24 when fans can vote for their favourite character from Sanrio's roster. As with previous years, the 2021 run will also welcome the "Collaboration Category" of the awards which will feature 27 character entries from those who have collaborated with other companies and businesses over the past year.

Ichigo Shimbun is a monthly magazine published by Sanrio. It not only includes information about the latest character merchandise, but is also the place where the Sanrio Character Ranking first began in 1986. From Sanrio's long list of over 450 characters, just 80 are entered into the awards each year. Cinnamoroll took first place for the 3rd year in a row at the 2020 Sanrio Character Ranking which we covered in detail, including the initial first round up of winners and second round up.

Normally, the results are announced in-person at a big event. This year's announcement gathering was originally scheduled for June 8, but was cancelled due to the COVID-19 pandemic. It will now be hosted online instead, and fans will also be able to vote using the new Sanrio members service Sanrio+.

This year's 80 entrants are now being rolled out over on the official Sanrio Character Awards Twitter page.

This Year's Award Theme: "The Witness of a New World – Your Support Will Change the Future"

Every Sanrio Character Awards has a theme, and this year's is, "The Witness of a New World – Your Support Will Change the Future." The "new world" refers to the future of Sanrio—which celebrated its 60th anniversary last year—that fans will bear witness to. The key visuals for the 2021 Sanrio Character Awards have the characters holding a magnifying glass with which they are peeking into that new world.

 

New Entrants Announce Everyday On the Official Twitter Page

The Sanrio Character Rankings' official Twitter page will post the key visuals and personal messages from all 80 entrants on its official Twitter page between February 26 to March 31. Leading this year's awards ceremony are the popular characters Kuromi, Badtz-Maru, and Hangyodon. Voting opened on February 25.

 

How to Cast Your Vote

Votes for the 2021 Sanrio Character Ranking can be cast online, at Sanrio shops, and for the first time, on the new Sanrio members service Sanrio+. Votes for the Collaboration Category however can only be placed online. Last year's vote was open to all fans worldwide. It is unconfirmed whether this year will be the same, but stay tuned as we follow the event.

Online Votes (Smartphone Only) *Cannot be cast on computers or tablets

Sanrio Shops

Sanrio Online Shop

Ichigo Shimbun (May 2021 Issue, on sale April 10 / June 2021 Issue, on sale May 10).

*Ichigo Shimbun voting open from April 10

Sanrio+ Members Smile Vote (Sanrio Shops/Online Votes)

Sanrio+ Members Ticket Vote (Online Votes) *More info TBA

Other Voting Methods (TBA)

 

Vote With Sanrio+

Sanrio+ allows members to exchange 100 Smiles (the currency on the Sanrio Shop) for two voting chips. Members can exchange a maximum of 1,000 smiles for 20 chips in one go. The chips are spent at the voting box on the Sanrio Shop. One chip counts for a total of three votes.

Additionally, when members first log in to Sanrio+ on the voting website, they can used 50 Smiles to cast one vote. Members can vote with a maximum of 500 smiles in one day. One Smile vote counts for a total of two votes.

Stay tuned for the latest news and updates on the 2021 Sanrio Character Ranking.

Information

2021 Sanrio Character Ranking

Running: April 9, 2021 – May 24, 2021 (From April 10 in Ichigo Shimbun)

First Round-Up Announcements: April 14, 2021 at Noon (JST)

Second Round-Up Announcements: May 13, 2021 at Noon (JST)

Winner Announcement: June 8, 2021 (Online event, details TBA)

News Page: https://www.sanrio.co.jp/news/mx-ranking2021-20210225/

Premium Doraemon Cookware Developed by French Brand Le Creuset to Release in Asia, Australia, and New Zealand

Premium French cookware brand Le Creuset Japan is celebrating Doraemon's 50th anniversary by releasing a collection of original cookware items inspired by the characters, colours, and designs from the series.

The line-up will be released not only in Japan but across Asia as well as Australia and New Zealand and can be enjoyed by both kids and adults alike during dinnertime.

Pre-sales of the items in Japan will begin on March 4 at Doraemon Future Department Store, Le Creuset Japan's online shop, Rakuten, and Yahoo! Shopping. The collection will then roll out for general sale at Le Creuset stores and elsewhere in Japan on March 6.

A special pop-up shop will also open from March 4 to 17 on the 5th floor of Shibuya Hikarie in Tokyo where fans can get their hands on all the products in the collection.

 

Special Sets | Prices Include Tax

Le Creuset Japan opened pre-orders for limited-stock item sets on Thursday (February 25) before everything is released digitally with designs based on Doraemon, Dorami, and other characters from the manga and anime series.

The Sets

Doraemon Special Set | ¥53,900

Dorami Special Set | ¥48,400

 

 

Cast Iron

Doraemon | ¥38,500

Dorami | ¥33,000

Doraemon | ¥44,000

Stoneware

Doraemon & Dorami Plate Set | ¥8,800

 

Doraemon & Dorami Oblong Plate Set | ¥6,600

Doraemon All-Stars Stone Plates (5 Included) | ¥14,300

Doraemon All-Stars Stone Tumblers (5 Included) | ¥11,100

Information

Lu Creuset x Doraemon Collaboration

Release Date: March 6, 2021

Where (Japan Locations): Le Creuset, Rakuten, Yahoo! Shopping, Amazon, Mitsukoshi Iseten, Hare no Hi Kitchen, ZOZOTOWN, Doraemon Future Department Store, and elsewhere

Product Page: https://www.lecreuset.co.jp/brand/doraemon/

Detective Conan Themed Cafes Open in Japan to Promote Upcoming 'Scarlet Bullet' Anime Film

To promote the upcoming anime film Detective Conan: The Scarlet Bullet which is set to released in Japan on April 16, 2021, seven themed cafes will open in Tokyo, Osaka, Nagoya, and Sapporo from March 24. The cafe is themed on a retro diner which will transport fans back in time to diners inspired by America in the 1950s and 60s.

Main Visual

Bonus Items

RETRO AMERICAN DINER MENU

DETECTIVE BURGER/SNIPER BURGER/ZERO BURGER/BOYISH BURGER/SHERRY BURGER/OSUSOWAKE BURGER – ¥1,599 Each (Before Tax), +¥500 For Acrylic Key Ring

DETECTIVE SUNDAE/SNIPER SUNDAE/ZERO SUNDAE/BOYISH SUNDAE/SHERRY SUNDAE/OSUSOWAKE SUNDAE – ¥1,099 Each (Before Tax), +¥500 For Acrylic Key Ring

DETECTIVE SODA/SNIPER SODA/ZERO SODA/BOYISH SODA/SHERRY SODA/OSUSOWAKE SODA – ¥899 Each (Before Tax), +¥500 For Acrylic Key Ring

CONAN CAFE CLASSIC Menu

APTX-4869 TROPICAL LAND CURRY | ¥1,400 (Before Tax)

COLUMBO MINT SAUCE PASTA ¥1,499 / DELICIOUS TO DIE FOR RAMEN ¥1,099 / POIROT CAFE SANDWICH ¥1,399 (All Prices Before Tax)

AI'S BERRY CHEESE FRENCH TOAST ¥1,200 / RAN'S LEMON PIE ¥1,499 / HIROSHI AGASA'S "SHIPPAI JA" PANCAKES VER.2 ¥1,199 (All Prices Before Tax)

CRIMINAL'S BLACK SESAME STRAWBERRY AU LAIT ¥999 / CRIMINAL'S SOUVENIR MUG +¥1,400 (All Prices Before Tax)

LEFT'S CAFE LATTE ¥899 / YOUNG DETECTIVE SHAKE ¥1,099 / RAN'S BERRY JELLY SODA ¥999 (All Prices Before Tax)

LIMITED EVENT MENU

1st Menu: Detective Conan: The Scarlet Bullet Menu | April 16, 2021 – May 31, 2021

AKAI FAMILY BANQUET ¥1,499 / UNAGI'S KABAYAKI & TARE OKAWARI RICE ¥1,699 / SHUKICHI & YUMI'S DELICIOUS SHORTCAKE ¥1,399 / SCARLET OGURA STRAWBERRY TOAST ¥1,599 (All Prices Before Tax)

2nd Menu: Phantom Thief Kid & Aoyama Sensei's Birthday Menu | June 1, 2021 – July 11, 2021

*Only available at Nagoya cafe from July 1-11

THE JEWEL GARDEN SALAD ¥1,499 / MAGIC SPICE PARFAIT ¥1,200 / AOYAMA-SENSEI BIRTHDAY CURRY ¥1,399 (All Prices Before Tax)

3rd Menu: Shuichi Akai Season 1 Menu | July 1, 2021 – August 15, 2021

4th Menu: Shuichi Akai Season 2 Menu | August 16, 2021 – September 26, 2021

*Menus 3 and 4 exclusive to Shinjuku and Umeda cafes

*Menus 3 and 4 are centred on the character Shuichi Akai

Original Merchandise

Pins (6 Designs) | ¥450 Each (Before Tax)

Acrylic Coasters (12 Designs) | ¥800 (Before Tax)

Mini Acrylic Stands (12 Designs) | ¥900 (Before Tax)

Acrylic Magnets (6 Designs) | ¥500 (Before Tax)

Folders (6 Designs) | ¥300 (Before Tax)

Bandanas (2 Designs) | ¥1,500 Each (Before Tax)

Eco Bag | ¥1,850 (Before Tax)

Chocolate Tin | ¥1,600 (Before Tax)

Fans can tuck into a Detective Conan-themed retro menu as well as get their hands on some exclusive merchandise featuring original chibi art.

Make sure you don't miss Detective Conan: The Scarlet Bullet.

©青山剛昌/小学館・読売テレビ・TMS 1996

Disney x MOUSSY Release Retro Clothing Collection

High-casual brand MOUSSY has collaborated with Disney to release the "Disney SERIES CREATED by MOUSSY." The Spring/Summer 2021 collection dropped in Japan on Wednesday (February 24).

PALS TAPESTRY SH JKT | ¥34,980 (Tax Included)

PALS TAPESTRY SK | ¥19,910 (Tax Included)

MATCHING OUTFITS POJ | ¥8,250 (Tax Included)

ALWAYS COOL TSJ | ¥6,600 (Tax Included)

The collection combines 70s-80s vintage taste with a 90s street style to create a special retro fusion design. The items are crafted by Japanese artisans from the gobelin-stich fabric series PALS TAPESTRY and feature Minnie and Mickey Mouse in different attire including cute matching outfits.

©Disney

PEACH JOHN Releases New Spring Season Bra Collection

Japanese lingerie brand PEACH JOHN released a new collection of products for the Spring 2021 season on Wednesday (February 24). The line-up includes stylish entries to their long-selling LOVE & PEACH bra series, PJ DAYS series, popular Nudy® bra series, and more. The gorgeous spring line-up is available via PEACH JOHN's official website and Japanese stores.

LOVE & PEACH Bra Lacy Harmony (Pink, Blue, Navy) | ¥3,480 (Before Tax)

LOVE & PEACH Bra | New Colour: Coral | ¥3,280 (Before Tax)

DJ Days Flower Dot Bras (Pink, Blue, Mint) | ¥2,680 (Before Tax)

Nudy® Bra | New Colour: Nudy | ¥2,980 (Before Tax)

FINAL FANTASY VII THE FIRST SOLDIER Battle Royale Game Announced For Mobile

Square Enix announced on Friday (February 26) the release of FINAL FANTASY VII THE FIRST SOLDIER, a new battle royale game for mobile which is set for release sometime in 2021. Check out the teaser trailer below.




FINAL FANTASY VII THE FIRST SOLDIER is set in Midgar and takes place 30 years before the events of Final Fantasy VII when Shinra is forming SOLDIER. In the trailer, the game looks to feature close quarters first-person and third-person gun fights, classic Final Fantasy summons, and more.

Tetsuya Nomura, the artist for the original Final Fantasy VII and director for Final Fantasy VII Remake, is serving as Creative Director for FINAL FANTASY VII THE FIRST SOLDIER.

© 1997, 2021 SQUARE ENIX CO., LTD. All Rights Reserved.

Powered by Ateam Inc.

CHARACTER DESIGN: TETSUYA NOMURA

Sanrio Releases Tea Gift Set in Collaboration With World Tea Brand LUPICIA

World tea brand LUPICIA launched its 7th collaboration with Sanrio on Thursday (February 25) featuring a range of tea gift sets. Every year, LUPICIA releases a wide variety of rea-related gift sets for White Day, the spring season, Mother's Day, and more.

Four Fruit Fruity Tea With Lidded Mug

Hello Kitty LUPICIA Mug & Flavoured Tea | ¥3,300 (Tax Included)

My Melody LUPICIA Mug & Flavoured Tea | ¥3,300 (Tax Included)

Cinnamoroll LUPICIA Mug & Flavoured Tea | ¥3,300 (Tax Included)

Kuromi LUPICIA Mug & Flavoured Tea | ¥3,300 (Tax Included)

This year adds the dearly beloved Kuromi to the new collaboration which features a variety of fresh and fruity teas together with a mug that comes with a lid to keep your tea hot.

Will you be having tea with Hello Kitty, My Melody, Cinnamoroll, or Kuromi?

(c)'21 SANRIO 著作(株)サンリオ