Jump Force Deluxe Edition Arrives On Nintendo Switch This August
The Deluxe Edition of Spike Chunsoft's fighting game Jump Force published by Bandai Namco Entertainment is set to hit Nintendo Switch on August 27, 2020.
Jump Force is a fighting game that brings together a roster of over 50 characters from popular series the manga magazine Weekly Shonen Jump such as One Piece, Naruto, Dragon Ball, and many more. The game pits the characters in real world locations like New York and Matterhorn and has players battle it out.


The new trailer showcases some of the unique gameplay features which Nintendo Switch players will be able to enjoy, such as being able to play six-player local multiplayer games. The Nintendo Switch edition is packaged with the full game plus Character Pass 1 which introduces nine new characters into the long roster.
Those who pre-order the physical edition of the game will receive three One Piece, Dragon Ball, and Naruto avatar costumes and Frieza's pod as pictured below.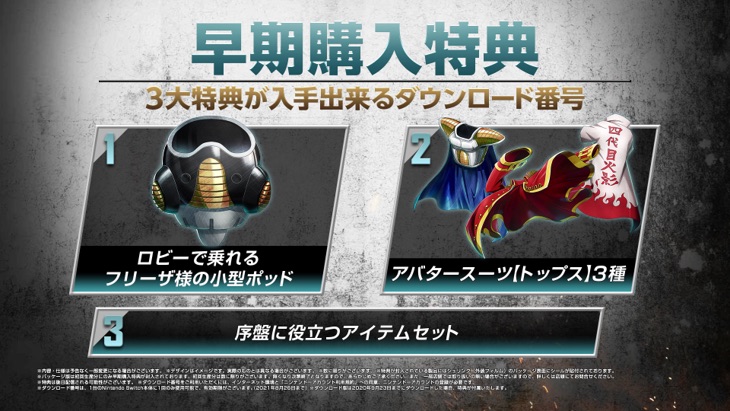 ©JUMP 50th Anniversary
©BANDAI NAMCO Entertainment Inc. ©2017 Nintendo
Information
JUMP FORCE DELUXE EDITION Nintendo Switch™
Release Date: August 27, 2020
Platform: Nintendo Switch™
Official Website: https://www.bandainamcoent.com/games/jump-force
*Nintendo Switch and the Nintendo Switch logo are trademarks of Nintendo.
*YouTube is a trademark Google LLC.
RELATED ENTRIES
Ado Releases Compilation Album of Songs from ONE PIECE FILM RED

On August 10, Ado, one of the most popular singers in Japan today, released a compilation album of songs from ONE PIECE FILM RED. 

Ado performs the singing voice for the film's character Uta and has eight songs featured in the movie. The album includes New Genesis, the film's theme song, and a number of other artists appear, including Yasutaka Nakata, Mrs. GREEN APPLE, Vaundy, FAKE TYPE., Hiroyuki Sawano, Yuta Orisaka, and Motohiro Hata. 


New Genesis – Ado (Music Video Teaser)

 

The theme song New Genesis was composed by Yasutaka Nakata, a musician, DJ, and producer who is making his debut in the One Piece world. The music video was created by hmng, an animator and illustrator who has created music videos for a number of other artists along with original art for anime. The video was inspired by Uta's colorful worldview and shows a side of her not seen in the film.

The jacket of the standard edition features a colorful illustration by Eiichiro Oda, the creator of One Piece and general producer of the film, and depicts a live performance by Uta.

The jacket illustration for the limited first edition is by ORIHARA, who also serves as Ado's image director. The illustration depicts Uta and Ado facing each other and singing, highlighting Uta's red hair.

Look forward to hearing this incredible music in ONE PIECE FILM RED, now in theaters!

Naruto Anime Series Celebrates 20th Anniversary with Traditional Kokeshi Dolls

To commemorate the 20th anniversary of the Naruto anime series, Usaburo Kokeshi has created two traditional dolls modeled after Naruto Uzumaki and Sasuke Uchiha. The original manga series by Masashi Kishimoto has become a global phenomenon, and fans won't want to miss out on these unique pieces! Preorders are now open.

Usaburo Kokeshi makes each of these pieces by hand, transforming them from children's playthings into traditional works of art. The wood used to create these pieces is from trees in Gunma Prefecture.

Usaburo Kokeshi Doll – Naruto Uzumaki

Usaburo Kokeshi Doll – Sasuke Uchiha


These adorable dolls completely recreate both character's outfits and hairstyles, and the designers clearly focused on the small details. Enjoy these palm-sized versions of your favorite Naruto characters!

©岸本斉史 スコット/集英社・テレビ東京・ぴえろ

ONE PIECE FILM RED Inspires Collaboration Event with Raku Spa

From August 18 until September 19, 20 Gokurakuyu and Raku Spa locations will hold a special collaboration to celebrate the release of ONE PIECE FILM RED. 

Goods

Menu

During the event, a new bath will be available each weekend. Guests can enjoy fragrant baths inspired by Luffy, Zoro, Nami, Usopp, Sanji, Shanks, and Uta. Check the website to see which baths will be available at which locations!

Those visiting can find some new merchandise featuring exclusive illustrations made for the campaign and a tasty menu inspired by One Piece characters, so don't miss it!

Netflix Reveals One Piece Live-Action Series Set Details and Concept Art

During the Netflix Geeked Week livestream, more details about the Hollywood live-action One Piece adaptation were revealed to a sea of anxious fans.

Along with six new cast members, fans caught a glimpse of the fantastic sets being used for the series and a greeting from the showrunners Steven Maeda and Matt Owens, along with the actor playing Luffy, Iñaki Godoy.


The new cast members include Alexander Maniatis as Klahadore, Steven Ward as Mihawk, Craig Fairbrass as Chef Zeff, Langley Kirkwood as Captain Morgan, Celeste Loots as Kaya, and Chioma Umeala as Nojiko.

 

A One Piece live-action project had been discussed before, finally coming to fruition after original creator Eiichiro Oda and other members of Shonen Jump staff were convinced that it could be done well. As announced by a number of cast members on social media, the project began filming recently in South Africa.

Behind-the-Scenes Time-lapse Footage

"We get to go to work every day and walk on these massive sets and see these characters come to life," Maeda said. 

"Oda's world is so unique. Seeing all of this stuff in person, being able to reach out and touch it, has just been such an experience," Owens continued.

Eiichiro Oda's manga series has become one of the best-selling manga series in history. Originally published in Weekly Shonen Jump in 1997, the series recently celebrated its 100th volume and will celebrate 1,000 anime episodes in the coming weeks. With over 490 million copies in circulation, Luffy's adventure is beloved by manga fans around the world.

On August 6, the newest One Piece film, ONE PIECE FILM RED, will be released in theaters in Japan.

This live-action adaptation is highly-anticipated by longtime fans around the world. Stay tuned for more news to come!


Netflixシリーズ「ONE PIECE」全世界独占配信
©尾田栄一郎/集英社

One Piece Summer 2022 Event to Open at Universal Studios Japan

From July 1 until October 2, 2022, fans of the long-running series One Piece won't want to miss taking a trip to Universal Studios Japan! This year's event promises to be extra special as fans celebrate the 25th anniversary of the manga series and the 15th anniversary of the One Piece Premier Show, the annual event at USJ. A special menu featuring tasty treats inspired by the series will be available alongside unique merchandise only available on-site. 

This summer's limited menu and goods lineup are each inspired by a music festival. The event itself will draw inspiration from the film One Piece Film Red, scheduled to release on August 6, 2022.

The Discovery Restaurant in the Jurassic Park-themed area of Universal Studios Japan will be transformed into the One Piece Summer Banquet Restaurant during the event period, featuring a selection of tasty dishes inspired by each main character. This year, menu items inspired by Robin and Jinbe will be available for the first time.

Plenty of original merchandise will be on sale, with one specific item serving as a highlight of the new collection: the 15th-anniversary book. This tome includes details and images from each of the past One Piece Premier Shows and is a must-have for any fan. It also includes a message from the original series author Eiichiro Oda. 

One 'music festival' themed item is the Festival Towel. Playing a major role in the 2022 version of the One Piece Premier Show, the item is decorated with a limited edition 15th-anniversary design. Guests can also grab a collectible bracelet and salted candy in a unique soda can-inspired package. Of course, it wouldn't be a One Piece event without some straw hats for sale!

This year's menu includes everything from Nami's Orange Frappe to Frankie's Super American Hot Dog. Each of these tasty dishes will be perfect for posting on social media! Next to the Lost World Restaurant, guests can enjoy some additional goodies from the One Piece Food Cart including Sanji's Pork Ribs and Sanji's Peach and Lemon Frozen Smoothie, perfect for beating the heat.

Everyone, young and old, is invited to immerse themselves in the world of One Piece during this special celebration.

© 尾田栄一郎/集英社・フジテレビ・東映アニメーション

A BATHING APE Releases Dragon Ball Super: Super Hero Collaboration Collection

A BATHING APE, one of Japan's leading streetwear brands, has announced a new collection inspired by the new film Dragon Ball Super: Super Hero!


This isn't the first time that BAPE and Dragon Ball have come together for a stylish collaboration. The two have set the standard for what a crossover between streetwear and manga culture should look like, starting with the first collaboration in 2016. From pieces showing the protagonist Son Goku as a young boy to the most recent items inspired by the Majin Buu arc, fans of the series can't get enough.


The latest collection features characters from the highly-anticipated new film Dragon Ball Super: Super Hero set to premiere on June 11, 2022.

Son Gohan, Pan, Piccolo BABY MILO® T-Shirt (Colors: Black, White): ¥9,900 (Tax Included)

Red Ribbon Army BABY MILO® T-Shirt (Colors: Black, White): ¥9,900 (Tax Included)

Popular characters Gohan and Piccolo have been given the BABY MILO treatment along with the new androids Gamma 1 and Gamma 2 and their creator Dr. Hedo from the newly-revived Red Ribbon Army. 

BAPE® X Dragon Ball Super Ape Head Pullover Hoodie (Colors: Black, Orange): ¥28,600 (Tax Included)

BAPE® X Dragon Ball Super Ape Head Totebag (Colors: Black, Orange): ¥8,800 (Tax Included)

Fans of Goku, Vegeta, and Gohan's daughter Pan won't want to miss these stylish hoodies and tote bags complete with BAPE's signature Ape Head!




The collaboration items will be available at select stores throughout Japan and online starting on June 5, 2022, just before the movie's release. 

Information

A BATHING APE® × Dragon Ball Super: Super Hero

Release Date: June 5, 2022

Where to Buy:

BAPEXCLUSIVE™️ Aoyama
BAPE STORE®︎ COMME des GARCONS Osaka
BAPE STORE®︎ DOVER STREET MARKET Ginza
BAPE.COM Online Store

BAPE.COM Special Page:https://bape.com/pages/dragonball-super

Nijigen no Mori's Naruto & Boruto Ninja Village Sakura Birthday Event Stickers Now Available

The Naruto and Boruto Ninja Village located at the Nijigen no Mori anime theme park in Hyogo is celebrating its third anniversary! A new event has begun celebrating Sakura's birthday, and fans of the characters will be able to grab some neat merch.


Those who purchase tickets to this special event will receive a Mission Accomplished Sticker featuring an original, newly-drawn design. The celebration is running until June 30!

The escape game will have park guests running around the park looking for panels with hints on how to progress. For this event, the panels contain keywords and illustrations related to Sakura. Visitors will really have to use their brains to figure out the solution!

Guests will also be able to write congratulatory messages on cherry blossom petal stickers associated with Sakura and stick them to life-size character panels. Original goods featuring characters in original event costumes will be on sale.

© 岸本斉史 スコット/集英社・テレビ東京・ぴえろ

New Prince of Tennis Game Coming to Nintendo Switch in 2022

Bushiroad has announced that The New Prince of Tennis Let's Go!! ~Daily Life~ from Rising Beat will be coming to the Nintendo Switch in Autumn 2022! A key visual, a trailer, and a teaser site for the visual novel have been released.

More details about the game will be released soon, but until then, head to the teaser site to see a bit more about what's in store!

The New Prince of Tennis Let's Go!! ~Daily Life~ from Rising Beat Teaser Site

https://risingbeat.bushimo.jp/console/

Watch the trailer for the new Prince of Tennis game below: 

The New Prince of Tennis Let's Go!! ~Daily Life~ from Rising Beat Trailer


The new Prince of Tennis game will follow the group of tennis boys competing in the Sportsman Hunting Deluxe. Keep an eye out for more details coming soon!

©許斐 剛/集英社・NAS・新テニスの王子様プロジェクト
©BUSHI

A BATHING APE Releases Dragon Ball Z Majin Buu Collection

Japan's top streetwear brand A BATHING APE is releasing a new collection inspired by Dragon Ball Z! The two first collaborated in 2016 starting with imagery inspired by Son Goku's childhood. In June 2020, the company released a collection themed around the Cell arc.

Lineup

The newest collection was inspired by the final arc of the series, the Buu Saga, expressed in the style of BABY MILO.


The main characters from the series–Goku, Vegeta, Majin Buu, and Piccolo–are all depicted in BABY MILO style. In addition, characters such as Mr. Satan and Uub appear, perfect for more hardcore fans wanting to see lesser-known characters represented.


The lineup includes a coach jacket and hoodie featuring newly-drawn illustrations inspired by the final episode. Don't miss this special collaboration!

Information

A BATHING APE x Dragon Ball Z

Release Date: May 21, 2022
Where to Buy: A BATHING APE Authorized Retailers, BAPE.COM Web Store

For Preorder
Coach Jacket

Preorders start May 21, 2022 (Preorders will end when the item is sold out.)
Item to ship in early July
*Regular items and preorder items cannot be purchased in one order.

Official Site: https://bape.com/pages/dragon-ball-z

XLARGE Releases Dragon Ball Collaboration Collection Featuring Popular Characters

Fashion brand XLARGE has announced a new collaboration to commemorate the upcoming release of Dragon Ball Super: Super Hero in theaters. The film will see the return of the Red Ribbon Army, which Gohan, Piccolo, and other popular characters will have to defeat. Check out the collection below–is your favorite fighter in the lineup?

Collection

XLARGE×DRAGON BALL GOHAN S/S TEE

XLARGE×DRAGON BALL PICCOLO S/S TEE

XLARGE×DRAGON BALL CAPSULE CORP JUMPSUIT

XLARGE×DRAGON BALL ANDROID18 S/S TEE

XLARGE×DRAGON BALL BULMA S/S TEE

XLARGE×DRAGON BALL TRUNKS S/S TEE


The collection includes T-shirts featuring Gohan, Piccolo, Bulma, Android 18, and Trunks. Items will be available online and in select stores nationwide!


Information

XLARGE x Dragon Ball

Online Store
https://calif.cc/blogs/feature/220518xl_dragonball

Lottery: May 18, 12:00 – May 19, 11:59

*Winners to be Announced on May 20, 12:00

ZOZO
https://zozo.jp/shop/xlarge/
Available May 21, 12:00~

Available in-store: 

XLARGE locations nationwide, XLARGE/X-girl locations (excluding outlets)

May 21~

*The XLARGE x DRAGON BALL Capsule Corp Jumpsuit will only be available at the calif online store and ZOZOTOWN.

Dragon Ball Super: Super Hero Film Soundtrack Scheduled for June Release

The Dragon Ball Super: Super Hero film is scheduled to release in theaters on June 11, and the original soundtrack will hit shelves a few days prior, on June 8, 2022.

The film has been a hot topic in recent months. The original story, screenplay, and character design have all been handled by Akira Toriyama, with Tetsuro Kodama directing and Chikashi Kubota serving as animation director. 

The music will be composed by Naoki Sato, a composer who won the Best Music Award at the 29th Japan Academy Awards for the film Always: Sunset on Third Street. The musician has composed music for movies, dramas, and animated films such as Masquerade Night, Rurouni Kenshin: The Beginning, and the historical drama Reach Beyond the Blue Sky. The soundtrack will contain 23 background tracks.

Graniph Releases Items Inspired by Upcoming Dragon Ball Super: Super Hero Film

Japanese apparel brand Graniph has revealed two collaborative t-shirts inspired by the upcoming Dragon Ball Super: Super Hero film! The items are available at the Graniph online store and in select Graniph locations in Japan.

Lineup

'Superhero' T-shirt

'Fusion' T-shirt


The Dragon Ball Super film series has been a huge hit worldwide. The first film, Dragon Ball Super: Broly, was released in 2018. The upcoming film features a completely new story, in which the Red Ribbon Army is reformed and threatening the world yet again. Can our favorite fighters stop the bad guys before they unveil the ultimate evil weapon? Be sure to check out the film when it releases in June, and grab one of these t-shirts to wear to the theater!

ⓒバード・スタジオ/集英社
ⓒ「2022 ドラゴンボール超」製作委員会

Information

Graniph x Dragon Ball Super: Super Hero

Release Date: April 22, 2022

Where to Buy:

Graniph Online Store: https://www.graniph.com
Select Graniff Stores (Excluding some locations for kids)