Wine and Dine at Four Seasons Hotel Kyoto's Luxurious New 'Champagne Garden'
Four Seasons Hotel Kyoto opened its limited-time "Champagne Garden" on July 3 at its first floor outdoor terrace restaurant Brasserie. Running until September 6, customers can enjoy free-flow French Bollinger champagne and cocktails.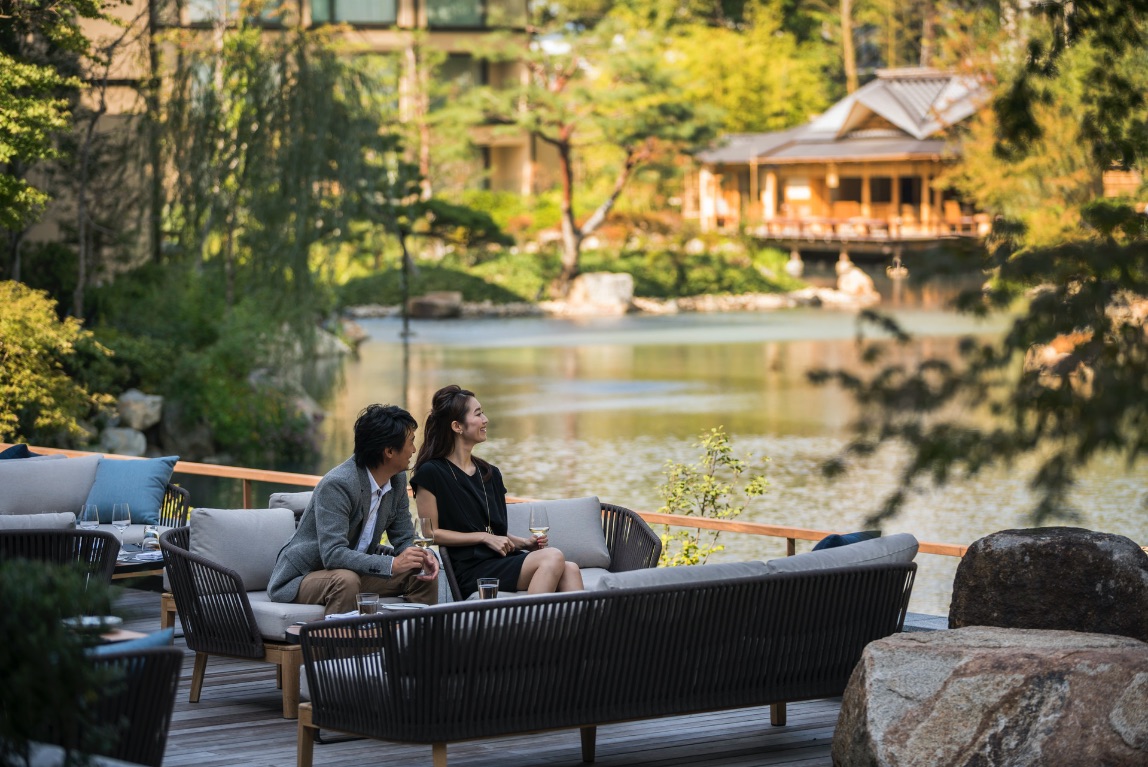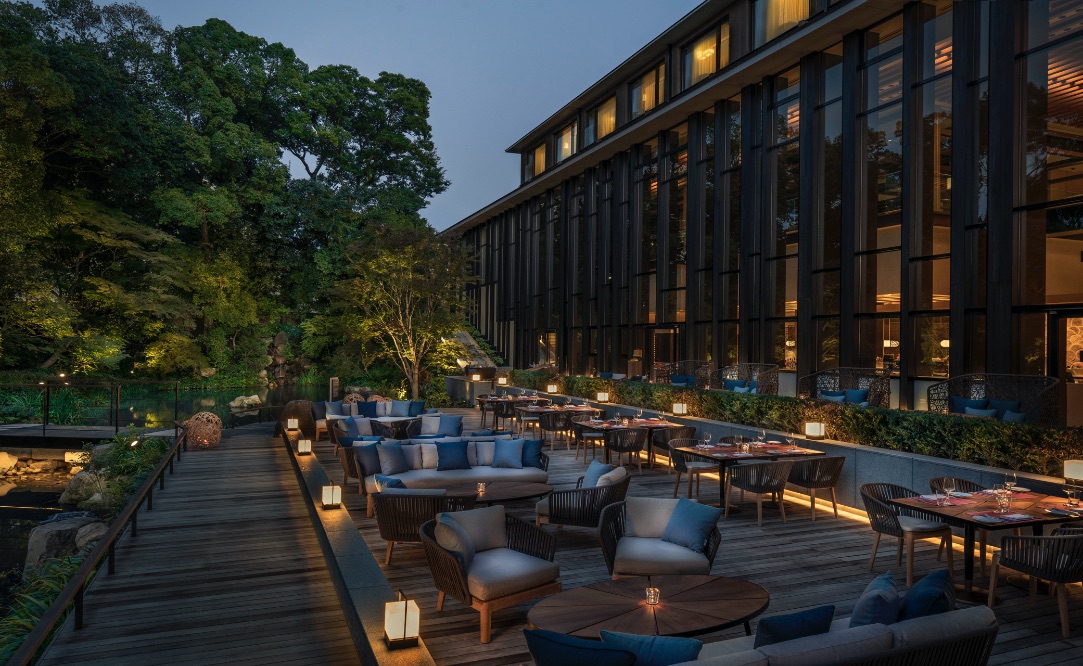 Four Seasons Hotel Kyoto opened back in October 2016 as a luxury hotel, home to the famous Sekisuien Gardens which have a history spanning back 800 years and are mentioned in the The Tale of the Heike epic. The hotel's first floor restaurant Brasserie has towering 9-meter tall windows that look out onto these gardens, while inside customers can enjoy dining in a stylish environment.
The champagne served in the Champagne Garden is produced by the French Champagne house Bolligner, a company that started by Jacques Bollinger in 1829. Fermented in oak barrels, the champagne has sophisticated and complex flavours. In 1884, Bolligner received a Royal Warrant from Queen Victoria.
At the Champagne Garden, guests can enjoy four different types of canapé made by the restaurant's head chef Koga together with a glass of Bolligner. They can also order rosé wine, cocktails, or soft drinks too, all of which are free-flow. And since the restaurant faces the garden, guests can enjoy the view of the greenery throughout all four seasons, in central Kyoto.
Four Seasons Hotel Kyoto reopened on July 1 after closing temporarily due to COVID-19. The hotel has launched its "Lead With Care" program which ensures guests and staff are at the top of the priority list for safety against the coronavirus.
Information
Four Seasons Hotel Kyoto – Champagne Garden
Running: July 3, 2020 – September 6, 2020
Location: Brasserie, Four Seasons Hotel Kyoto Floor 1F
Address: 445-3 Myōhōin Maekawachō, Higashiyama-ku, Kyoto
Time: 11:00-20:30
Price: ¥8,800 per person (90 minute window)
*15% service charge and 10% consumption tax charged separately
*Booking in advance recommended
TEL:  075-541-8288
Official Website: https://www.fourseasons.com/jp/kyoto/
RELATED ENTRIES
artKYOTO 2020: The Art Fair at Kyoto's World Heritage Site Nijō Castle

artKYOTO 2020 will take place at the World Heritage Site and former imperial villa Nijō Castle from November 6-8.

This marks the second-ever run of the event, following the success of the first last year. Once again, the grand and breathtaking Nijō Castle serves as the venue for the event where around 30 of Japan's best galleries, both old and contemporary, come together to exhibit various artworks to the people of Kyoto.

With the COVID-19 pandemic having affected Japan's economy as well as impacting society overall due to the many restrictions on movement, artKYOTO 2020 aims to bring back art and culture, as well as help circulate the economy, and contribute towards artists while promoting the value that art has on society.

Art Fair

Photo from artKYOTO 2019


Photo from artKYOTO 2019 | Photo by office TKD

The first artKYOTO event saw 31 galleries come together to promote Japan's art industry through Kyoto's history and culture. This year will see a diverse exhibit from old works to contemporary pieces.

artKYOTO 2020 will adopt all of the necessary precautions against COVID-19 while still delivering a a fully-fledged experience for people to enjoy art.

Information

artKYOTO 2020
Running: November 6, 2020 – November 8, 2020
Opening Hours: 11:00-20:00 (Until 17:00 on November 8)
Location: Nijo Castle, 541 Nijojocho, Nakagyo Ward, Kyoto

Official Website: https://artkyoto.jp/

Fall Into Autumn With an Enchanting Boat Ride Through Arashiyama in Kyoto

HOSHINOYA Kyoto has announced a special new serving for one group a day that lets them bask in the autumn colours of Arashiyama. The service, entitled "Asa no Momiji Bune" (Morning Autumn Colours Boat), will run from November 20 to December 6 this year.

A cosy autumn morning boat ride all to yourself

Sail down the tranquil Oi River, which runs right beside HOSHINOYA Kyoto, and bask in the surrounding sights of Arashiyama and Ogurayama as they burn aflame with autumnal colours. Wrapped in reds and yellows in every direction, this morning experience is a rare opportunity witness Japan's fall season like never before as you gaze at the crisp leaves of the trees and their reflection from the water's surface.

Sweet wagashi treats just for you

While on the boat, guests are treated to a cup of matcha and some seasonal Japanese wagashi confections, like hard candies shaped like HOSHINOYA Kyoto's logo and other colourful sweets made to look like maple leaves, ginkgo leaves, and more. These confections are made exclusively for the boat ride by Kameya Yoshinaga, a Japanese sweets shop that has been around since 1803, while the matcha is provided by Rishouen Chasho, a tea shop in Uji, Kyoto who have picked out specially selected leaves just for HOSHINOYA Kyoto.

The roofed Kingfisher boat

The boat guests will ride is owned by HOSHINOYA Kyoto and is called "Hisui" (Kingfisher). A switch can change the rooftop colour from white to transparent so you can look up and see the gorgeous blue sky.

If you're in Japan this autumn, and still need to find a hotel, why not treat yourself to a luxurious morning boat ride at HOSHINOYA Kyoto?

Information

Asa no Momiji Bune / 朝のもみじ舟 (Morning Autumn Colours Boat)
Running: November 20, 2020 – December 5, 2020

Time: 8:30-9:10

Boarding/Return: HOSHINOYA Kyoto

Price: ¥31,000 per group (tax, service charge, and hotel fee not included in price)

Includes: Boat ride, Japanese confections, matcha

Participation: Exclusive to HOSHINOYA Kyoto guests

Capacity: 1 group of 1-4 people per day

Reservations Required: Book at https://hoshinoya.com/kyoto/

Note: The boat ride will be cancelled during stormy weather

Premium Hotel MGallery to Open New Kyoto Yura Hotel Nijo Castle This November

MGallery, a collection of over 5,000 luxury boutique hotels in 110 countries worldwide, landed in Japan for the first time last year with the opening of the 5-star KYOTO YURA HOTEL MGallery in Kyoto. Now, the brand has announced the opening of the new "Kyoto Yura Hotel Nijo Castle MGallery" (Kyoto Yura Hotel Nijo-jo Bettei) which will open on November 28, 2020.

Situated just a short 1-minute stroll from Njio Castle Station, this small, 25 room hotel, aims to offer luxury at the highest level.

Kyoto Yura Hotel Nijo Castle MGallery was designed by Yukio Hashimoto, who has worked on countless hotels and facilities around the world. The hotel lobby and all guest rooms face a gorgeous Japanese-style garden where guests can enjoy its beautiful sights through all four seasons.

The hotel takes inspiration from Nijo Castle, a structure which has seen both the end of the shogun as well as the start of modern Japan. As you enter the hotel, from the front door through and through the main entrance, guests will find themselves in their own private domain before they reach the breathtaking Japanese garden in front of them. All 25 of the guest rooms are crafted with high quality, sophisticated interiors.

On the first floor of the hotel, guests will find a restaurant and bar. The restaurant cooks up creative French dishes made delicately with seasonal ingredients while the bar serves up MGallery's iconic "mixology" cocktails.

Kyoto Yura Hotel Nijo Castle MGallery also offers a range of activities which can't be experienced anywhere else, including private trips to local shrines and temples that the hotel has connections with.

Information

Kyoto Yura Hotel Nijo Castle MGallery (Japanese: 京都悠洛ホテル⼆条城別邸)

Grand Opening: November 28, 2020

Address: 180 Ichinochō, Nakagyō-ku, Kyoto

Kyoto Aquarium Begins Special Opening Service For After 3 o'clock

Kyoto Aquarium is now holding a special "off-peak" opening service after 3:00pm where visitors can receive free novelties amongst other things. The service began on July 23 and will run until September 30 this year.

The service comes as a measure against the spread of COVID-19. Normally, the aquarium can become crowded during the day, and to spread the number of visitors out, they are offering a special service for those visiting after 3:00pm. This means that visitors can enjoy the aquarium at a more relaxed pace and take their time.

But that's not all. On days when the aquarium closes at 6:00pm, visitors will receive a free original Kyoto Aquarium seal made to promote the new jellyfish exhibition area which opened on July 16, 2020. And on days when it closes at 8:00pm, visitors will not only receive a free folder, but can get a serving of the aquarium's mini soft serve ice cream at three times the amount as usual, or  a free mini drink.

Information

Kyoto Aquarium After 3 o'clock Special Service
Running: July 23, 2020 – September 30, 2020
[Closing Hours: 18:00] ①Jellyfish Seal
[Closing Hours: 20:00] Arriving between 15:00-17:00 = ①Jellyfish Seal / ①Jellyfish Folder, ②Mini Ice Cream or Mini Drink

*One novelty per person

*Aimed at visitors aged 3-years old and above who hold a valid ticket

*Harvest Cafe is open until 19:15

Official Website: https://www.kyoto-aquarium.com/

Hotel New Otani Osaka released introduced its new "NIGHT POOL & RESTAURANT PLAN ~SWEET or BITTER~" plan on July 18 which is set to run until September 13. The plan is a set that combines the hotel's night pool with a dining experience at its restaurant.

The pool, named "The Water Terrace," remains open into the night every summer at Hotel New Otani Osaka and has done so since 2015. This year, the number of people allowed in the pool is being limited as part of measures against the spread of the COVID-19 pandemic.

SWEET PLAN: Tuck into specially-made pancakes

Hotel New Otani Osaka's all-day dining restaurant "SATSUKI" are serving up their famous fluffy pancakes for the "SWEET PLAN." These fluffy delights are served with ricotta and are made with cascara powder, which is known as a superfood. Enjoy a 'sweet' night with a serving of pancakes and a dip in the night pool.

BITTER PLAN: Grown-up nighttime fun

For the "BITTER PLAN," guests can head up to the rooftop sky lounge where they can order a drink from the bar, whether it be one of the 18 different kinds of beers, cocktails, high-balls, and more. They also serve food like roast pork and appetisers. Gaze out across and spot Osaka Castle sat beneath the starry night sky as you enjoy your meal.

The hotel's poolside restaurant "LAGOON" will be joining the fun too, serving soy meat burgers, a soy chocolate parfait that can be shared amongst friends, and more.

Information

NIGHT POOL & RESTAURANT PLAN ~SWEET or BITTER~
Running: July 18, 2020 – September 13, 2020
SWEET PLAN: 14:00~18:00
BITTER PLAN: 17:00~23:00
Price: ¥7,000
Enquiries: 06-6949-3229 (Direct to restaurant)

Official Website: https://www.newotani.co.jp/group/pools/osaka/

Shibuya's New Hotel sequence MIYASHITA PARK Connects the People to the City

sequence MIYASHITA PARK is a new mixed-use hotel set to open inside MIYASHITA PARK on August 1, 2020.

sequence's concept is to connect the people with the city. It offers a space for everyone whether they want a quiet time alone, whether they are sightseeing, having a work-do, celebrating a party or festival, and more. This is centred around the hotel's three notions: "SMART," "OPEN," and "CULTURE."

The hotel is inspired by the local concept of "PARK MIND" which offers guests a place to relax after a long, busy day, like in a park. It has collaborated with Tokyo-based designers and creators to bring this to life in room designs. Furniture and fittings are simple while still being of high quality.

The fourth floor entrance connects seamlessly to Miyashita Park and is home to a lobby lounge as well as the new VALLEY PARK STAND cafe and bar. Up on the fifth floor is the breakfast dining restaurant Dōngxī Restaurant & Sakaba. Up on the 18th floor, guests can enjoy a panoramic view of Shibuya, as well as dine at the entertainment restaurant SOAK whose design and concept mixes together history and the future, the West and the East. There is also art from artists coordinated by The Chain Museum.

4 Must-Try Colourful & Kawaii Cream Sodas in Kyoto

The rainy season in Japan, known as Tsuyu, is finally coming to a close, which means the real summer is right around the corner. And what better way to stay cool in Japan during the summertime than with a glass of coo, refreshing cream soda?

We've compiled a list of 4 must-try cream sodas in Kyoto recommended by Tiara on Instagram, who posts photos on her Instagram of drinks and desserts she tries around the Kanto region of Japan, and who has kindly provided us with photos on this occasion too.

and C Kyoto | Kita-ku

Yellow Cream Soda / White Cream Soda / Red Cream Soda / Blue Cream Soda

and C Kyoto is a stylish bar, cafe, and second hand clothes store located right by Hirano Shrine. They serve four different colours of their cream soda which look super cute when lined up in a row.

and C Kyoto
Address: 30 Hirano Kamihatchōyanagichō, Kita-ku, Kyoto
Opening Hours: 12:00-23:00
Closed: Tuesdays
Instagram: https://www.instagram.com/andc102/

BABBI GELATERIA KYOTO | Gion Shijo

Mango Passion / Classic Blue / Amaou Strawberry

BABBI GELATERIA KYOTO is located along the Kamo River and is famous for its gelato. They also sell some super refreshing cream sodas topped with their tasty gelato.

BABBI GELATERIA KYOTO
Address: 134 Saitocho, Shimogyo Ward, Kyoto
Opening Hours: 13:00-20:00 (Temporary hours due to COVID-19)
TEL: 075-585-5200
Official Website: http://www.babbi.co.jp/showcase/gelateria-kyoto/

Kissa Zou | Imadegawa

Pudding a la Mode / Lemon Squash & Elephant Cookie

This cute cream soda comes with an elephant-shaped cookie. The custard pudding has a rich eggy flavour.

Kissa Zou
Address: 440-3 Santeichō, Kamigyō-ku, Kyoto
Opening Hours: 10:00-18:00 (Last Orders 17:00)
No Fixed Holidays
Instagram: https://www.instagram.com/kissa_zou/

Bread, Espresso & Arashiyama Garden | Arashiyama

Cherry Blossom Cream Soda

This old cafe is renovated from an old family estate which was built at the end of the Edo Period and is designated as a cultural property of Kyoto. This beautiful cafe coincides with the gardens and has gorgeous thatched roofing.

Bread, Espresso & Arashiyama Garden
Address: 45-15 Sagatenryuji Susukinobabacho, Ukyo Ward, Kyoto
Opening Hours: 10:00-18:00 (Last Orders 17:00)
TEL 075-432-7940
Official Website: https://bread-espresso.jp

Tiara has lots of other delicious dessert recommendations over on her Instagram, so be sure to follow her if you're travelling in the Kansai region and are in need of a sweet treat.

Original Text & Photo: @happy_pinkrose_tiara

Translation: Joshua Kitosi-Isanga

*The information about the items on this list are correct at the time of publishing. For the latest information, please visit each cafe's official websites and social media pages.

Glamp Dome Kobe Tenku: Go Glamping With Hot Springs and Kobe's Night Sky

The new glamping facility Glamp Dome Kobe Tenku is set to open inside Minotani Green Sports Hotel in Kobe, Hyogo on August 7, 2020.

Located in the lush green abyss of Kobe's Minotani area, Glamp Dome is just 20-minutes from Kobe-Sannomiya. Guests can look forward to a glamorous camping experience inside on of the huge dome tents set up on site from which they can enjoy Kobe's sunset and subsequent night sky. The facility promises a luxury camping experience like no other.

Your dome tent and a private BBQ space

The half-dome tents are 7 meters in circumference. They are fitted with air conditioning and can be used throughout all four seasons. Each one has its own private BBQ space too so you can enjoy a close-knit meal together with friends and family without having to interact with other guests.

The Ginga Hot Spring's water is directly from the water source

Ginga Hot Spring's water spurts out from 1,200 meters underground. The facility offers a variety of bathing experiences, from the open-air hot spring to utaseyu where water falls onto your back, and more, as well as a resting area, sauna, and so on.

It is said that if water pH levels are over 7.5 then it is good for your skin. The water at Ginga Hot spring is 8.5, making the water quality very high.

The unique foot bath bar

At Glamp Dome Kobe Tenku, guests can enjoy a bar experience with pouring their own drinks while getting a foot bath from the facility's hot spring water sauce. Open from 19:00-21:00, there's also campfires, fire pits for private domes, and other services.

Glamp Dome Kobe Tenku also offers high quality ingredients for a gourmet camping BBQ experience, from premium Japanese black wagyu steak to seafood and more.

Menu
・Japanese black wagyu steak
・Domestic smoked beef
・Skillet of the day日
・Acqua pazza
・Dessert skillet
・Baguette

Hotel amenities

Glamp Dome Kobe Tenku also offers hotel-style amenities like towels, toothbrushes, hair dryers, gowns, and more. All domes are also fitted with Wi-Fi and plug sockets.

When Glamp Dome Kobe Tenku opens, it will also be bookable on Resort Glamping, a booking website for glamping facilities and resort villas across Japan. If you're ever travelling to Kobe, why not stay there in style with this very special glamping experience?

Ginza's Luxury New Hotel Aloft Tokyo Ginza's Opening Date Announced

Information

Aloft Tokyo Ginza
Address: 6-14-3 Ginza, Chuo-ku, Tokyo
TEL: 03-6278-8122

Access

4-minutes on foot from Ginza Station via the Tokyo Metro Marunouchi Line

2-minutes on foot from Higashi-Ginza Station via the Tokyo Metro Hibiya Line

Details: https://www.marriott.co.jp/tyoal

teamLab's Interactive Digital Art Exhibition to Open at Takeo Hot Springs in Kyushu This July

teamLab's annual digital art exhibition teamLab: A Forest Where Gods Live, which is held every year from summer to autumn at Mifuneyama Rakuen's Takeo Hot Springs, is collaborating with Rakan no Yu, a new sauna facility which opened at the Kyushu-based hot spring facility and won first place in Sauna Chelan 2019.

The exhibition will open in the 500,000 square meter Mifuneyama Rakuen Park on July 22, 2020 to both guests and non-guests of Mifuneyama Rakuen Hotel, Onyado Chikurintei, and other surrounding accommodations. Set tickets to enjoy both Rakan no Yu and the teamLab exhibition went on sale on July 20 and are limited to 40 people per day.


Drawing on the Water Surface Created by the Dance of Koi and Boats – Mifuneyama Rakuen Pond​
teamLab, 2015, Interactive Digitized Nature, 13min 24sec, Sound: Hideaki Takahashi

The water of Rakan no Yu is pure, low-alkali hot spring water with no colour, smell, or taste. It's known for its superior moisturising effect, leaving the skin nice and smooth. Rakan no Yu won first place in Sauna Chelan 2019. Sauna Chelan is considered the "Michelin" ranker of the sauna world.


In June 2020, a dry sauna and new baths were added to Rakan no Yu's women's open air baths. Guests can enjoy the meditation sauna, indoor and outdoor baths, hot springs, and more in both the men's and women's sections.

Ever Blossoming Life Rock
teamLab, 2017, Digitized Nature, Sound: Hideaki Takahashi

Universe of Water Particles on a Sacred Rock
teamLab, 2017, Digitized Nature

This year marks teamLab's sixth collaboration with Mifuneyama Rakuen. Their teamLab: A Forest Where Gods Live is held every year at the site, and this year they have 22 art pieces to showcase. Takeo Hot Springs opened in 1845 and is registered as a national monument.

Life is Continuous Light – Azalea Valley

teamLab, 2017, Interactive Digitized Nature, Sound: Hideaki Takahashi


Floating Resonating Lamps – One Stroke, Fire
teamLab, 2019, Interactive Installation, Murano Glass, LED, Endless, Sound: Hideaki Takahashi

teamLab's incredible interactive digital art will react to people's presence and movement throughout the 500,000 square meter space.

Information

teamLab: A Forest Where Gods Live

Running: Jul 22 – Nov 08, 2020

Hours
Jul 22 – Sep 13, 2020 19:00 – 22:30
Sep 14 – Oct 11, 2020 18:00 – 22:30
Oct 12 – Nov 8, 2020 17:00 – 22:30

*Enter from Entrance 1. Entrance 2 is only available 60 min after the opening.
* Last entry is 22:00.

Official Website: https://www.teamlab.art/e/mifuneyamarakuen/

Japan's Best Hot Springs and Spas For 2020 Ranked by Tripadvisor

Tripadvisor® has posted its list for this year's most popular hot springs and spas in Japan for day trips as ranked by its users over the past year.

This is the 9th run of this particular list, which is normally announced each winter, but due to the stress caused by the COVID-19 pandemic, travellers have been looking to find somewhere to relax, and so the website decided to release the list earlier this time. Tripadvisor® also ranked the best hot spring regions as well as foot baths.

This year's list has a diverse line-up of locations, from huge new facilities to old ones with history. Half of the places in the list are situated in the Kanto region of Japan—more than the previous lists. Those in the ranking are listed not only for the hot springs, but for the services on offer like massage, dining, rest, and more, all of which adds to them being great for day trips.

Hot Springs & Spas Popular With Japanese People For Day Trips – 2020 Edition

1st Place: Busshozan Onsen (Takamatsu, Kagawa)
2nd Place: Miharashi no Yu (Hashijo-machi, Tokyo)
3rd Place: Hōheikyō Hot Spring (Sapporo, Hokkaido)
4th Place: Shika no Yu (Nasu, Tochigi)
5th Place: Tenzan Tohji-kyo (Hakone-machi, Kanagawa)
6th Place: Hoshino Onsen Tombo-no-yu (Karuizawa, Nagano)
7th Place: Lamune Onsen (Taketa, Oita)
8th Place: Spadium Japon (Higashikurume, Tokyo)
9th Place: Maenohara Onsen Sayano Yudokoro (Itabashi, Tokyo)
10th Place: Miyazawako Onsen Kirari Bettei (Hanno, Saitama)
https://tg.tripadvisor.jp/news/ranking/best-public-bathes/

8th Place: Spadium Japon (Higashikurume, Tokyo)

Spadium Japon is a large-scale public bath facility with 15 different types of baths and saunas. It has transparent onsen, which is rare in the Kanto region, and the water is known for its sodium salt. Tripadvisor® users praise the facility for offering all-day services and how big it is, likening it to a theme park.

Special Mentions

Tripadvisor® also listed some special mentions of popular hot spring "chiku," or districts, where you can walk around and try out lots of different types of hot springs, as well as foot baths. The foot baths in Oita Airport and Kagoshima Airport are free to use, making them a great way to kill some time while waiting for departure.

Top 5 Hot Spring Chiku Popular With Japanese People

1st Place: Kinosaki Onsen (Toyooka, Hyogo)
2nd Place: Yu no Mine Onsen (Tanabe, Wakayama)
3rd Place: Kurokawa Onsen (Minamioguni, Kumamoto)
4th Place: Ginzan Onsen (Obanazawa, Yamagata)
5th Place Gero Onsen (Gero, Gifu)

Top 3 Foot Baths Popular With Japanese People

1st Place: Oita Airport Foot Bath (Kunisaki, Oita)
2nd Place: Lake Kussharo Sunayu (Teshikaga, Hokkaido)
3rd Place: Kagoshima Airport Foot Bath (Kirishima, Kagoshima)

HIKES IN JAPAN Releases Information Page For Foreign Travellers Climbing Japan's Mountains

Yama-kei Publishers, a Japanese media company which reports on nature in Japan, has posted an information page over on the English version of "HIKES IN JAPAN" for foreigners to read if they're thinking of climbing mountains in Japan. It has also added 11 new courses to its mountain climbing and hiking guide, bringing the number of courses up to 100.

Before the Hike: Trip Plan and Travel Accident Insurance

The website offers a trip plan that's required when hiking in the Japanese mountains and gives information on travel accident insurance you should sign up for in case of emergency.
https://hikesinjapan.yamakei-online.com/information/l.php

Manners and Precautions While Hiking

There are rules and proper manners that need to be followed when climbing mountains in Japan. Read and follow these 11 simple steps, including some that might be different to mountain climbing in your own country.

https://hikesinjapan.yamakei-online.com/information/m.php

Dangers on the Trail and Emergency Measures

Hiking is a lot of fun, but it can also be dangerous. There may also be dangers unique to Japan that you won't be able to anticipate from home. This section summaries the dangers of hiking in Japan that you need to be aware of, as well as what to do in case of an emergency.
https://hikesinjapan.yamakei-online.com/information/n.php

100 Mountain Climbing & Hiking Courses

HIKES IN JAPAN lists specially selected courses for hikers and mountain climbers with necessary information including when to travel, distances, how difficult a climb is, and so on.

If you're thinking of tackling Japan's mountains, then HIKES IN JAPAN will prove indispensable in your trip planning.