Get Ready For Summer with mikko illustrations and HONEY SALON's Collection
Fashion brand HONEY SALON, which was developed by Stripe International Inc., is releasing a new line of items in collaboration with mikko illustrations. mikko illustrations is famous for their charming illustrations of women with sexy flair. The new line of items will be released from July 4, 2020.
About mikko illustrations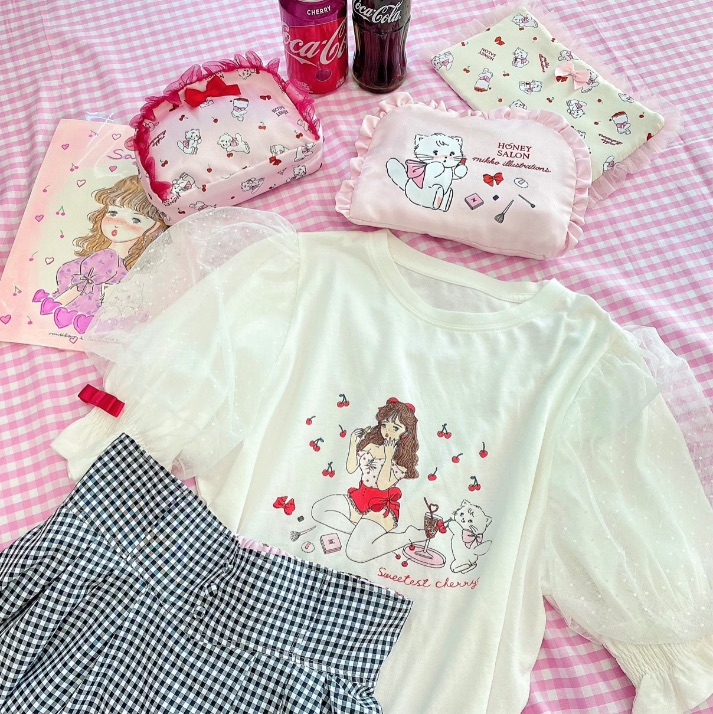 Charming, nostalgic with a touch of sexiness, mikko illustrations welcomes you to the adorable everyday life of a girl. mikko illustrations started off as a freelance illustrator in 2013. Their illustrations appeared in women's magazines, on websites and in apparel collections. They have also showcased their portraits and original merchandise at a number of exhibitions.
mikko illustrations and HONEY SALON Collaboration Collection
"An extraordinary girl like a sweet cherry" is the main concept of the collaboration. The sexy illustrations are also inspired by the retro and sexy 80's pin-up model. The collaboration items include t-shirts and skorts (skirts with shorts underneath). There are also tote bags, and two kinds of pouches.  The design seen above shows an adorable girl striking a pose with a cat helping itself to her scrumptious dessert.

sweetest cherry Puff Sleeve Shirt: ¥5,900 (Before Tax) Colours: White/ Light Pink

The illustration featured on this shirt shows the adorable young woman putting on her makeup while her mischievous cat seizes the opportunity to steal the cherries on her drink. The design is in full colour and in vintage style. Dainty and light material is used to make the puff sleeves which are decorated with ribbons to finish the vintage girly look. The skirt the girl is wearing in the illustration inspired the design for the gingham skorts in the collection.
sweetest cherry Gingham Skorts: ¥9,000 (Before Tax) Colours: Red/Black
The skorts are lined with a collaboration-limited gingham pattern. A beautiful ribbon hides the elastic that beautifully embraces the waistline while adorable round buttons decorate the front. Tuck in your top to enjoy this look. The high waist skort can be worn with the top for a beautiful silhouette.
sweetest cherry Compact Tote Bag: ¥4,800 (Before Tax) Colour: Ivory/ Pink
The tote bag comes with a useful pocket, making it easy to carry and use as one pleases. It is perfect for carrying a mini purse, train card and essential items to enjoy a day out. The back pocket design is adorable and cherry-themed. The tote bag is made from light satin, making it perfect for any kind of trip.
sweetest cherry Frilly Pouch: ¥2,900 (Before Tax) Colour: Ivory/ Pink
Every time you pull out this soft, frilly satin pouch, your heart will be overwhelmed by the kawaii world of mikko illustrations. This two-coloured pouch is fastened together with a heart-shaped charm. The round shape makes it easy to organise and easy to use.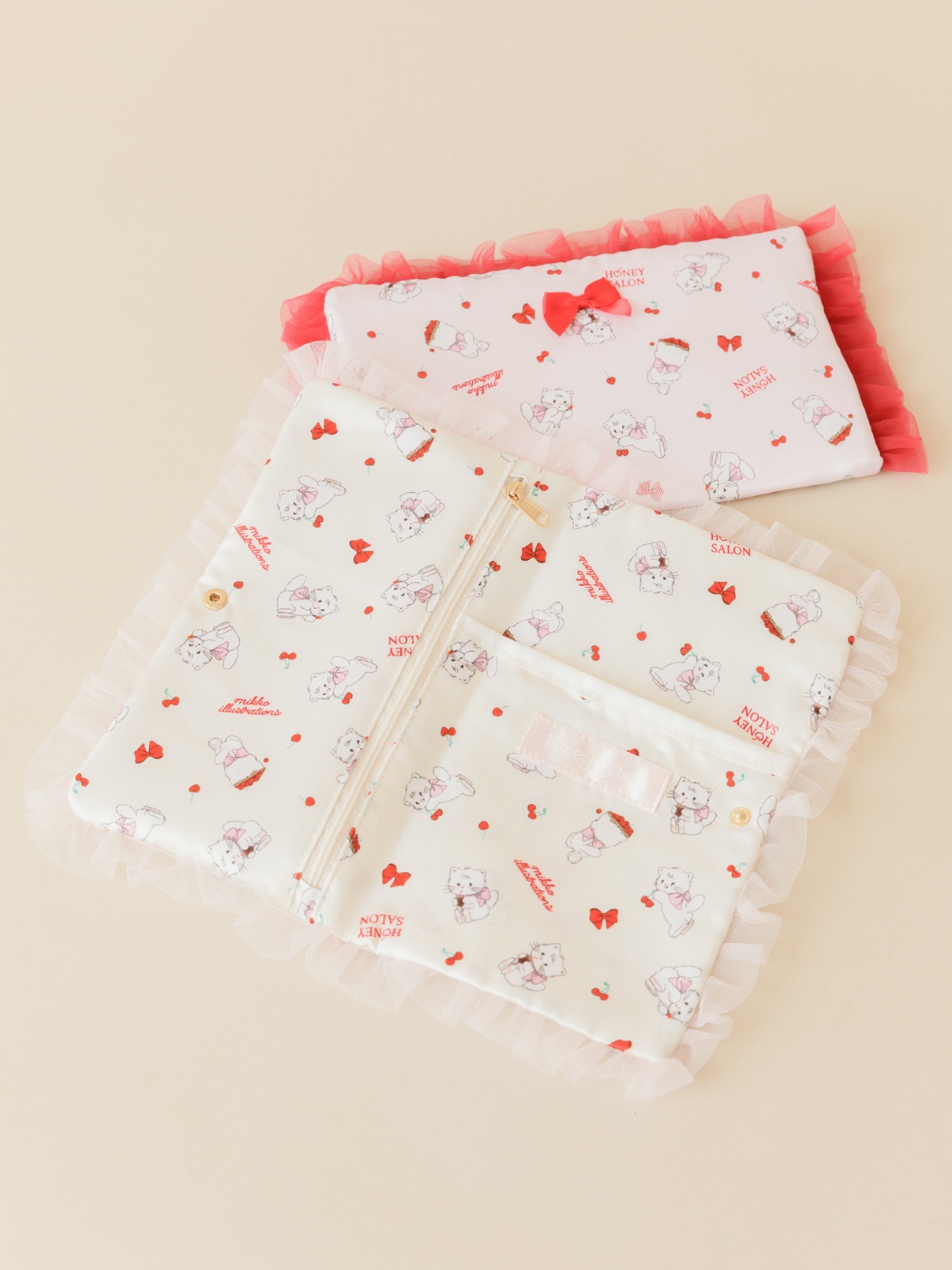 sweetest cherry Multi-Pouch: ¥3,000 (Before Tax) Colour: Ivory/ Pink
The multi-pouch is made from water resistant fabric and shows off an original design. This pouch is perfect for your toothbrush and toothpaste, cosmetics, hair comb, handkerchief, mask and much more. A snap faster is affixed to close the pouch, making it easy to access.
If you want to get your hands on some of the items in this collection, head to Laforet Harajuku. These items will be sold from July 4 to July 17, 2020. Not only can you get your hands on these collaboration items here, but also many other items which feature original designs by mikko illustrations. Spend more than ¥13,000 (tax included) on mikko illustrations items and you will be given a ticket granting entry to a campaign where mikko illustrations creates digital portraits of participants.
As we're celebrating summer, this is the perfect opportunity to spice up your wardrobe.
Information
mikko illustrations X HONEY SALON Collaboration
Release Date: July 4, 2020
Avaialble At: HONEY SALON Shops across Japan ( Laforet Harajuku, Lumine EST Shinjuku, EST Umeda)
Online (STRIPE CLUB): https://stripe-club.com/honeysalon/
RELATED ENTRIES
My Melody and Kuromi Bubble Tea to be Served at Pearl Lady in Japan

Bubble tea chain Pearl Lady, which is celebrating its 17th anniversary this year, is teaming up with Sanrio for the second time to release two new drinks themed on the popular characters My Melody and Kuromi on October 16, 2020. My Melody and Kuromi are also celebrating their 45th and 15th anniversaries respectively.

Black Lemonade | Strawberry Milk Tea (w/ Novelty) – ¥500 Each (Tax Included)

The two beverages are Sweet Strawberry Milk Tea, which is inspired by the cute My Melody, and Black Lemonade, which is based on her rival Kuromi.

When ordering either of the drinks at Pearl Lady, customers will also get one of 6 possible badges as pictured above. One of the designs is a secret, so you'll need some luck if you want that one.

Demon Slayer Confections Slash Their Way Into Lawson Convenience Stores in Japan

Bandai Candy's character-inspired Japanese confectionery series Tabemas collaborating with the popular TV anime series Demon Slayer: Kimetsu no Yaiba to release two confections themed on the show's main characters Tanjiro Kamado and Nezuko Kamado as well as a collection of tarts. The sweet treats will hit the chilled desserts corner of Lawson convenience stores in Japan on October 20, 2020.

Tabemas x Demon Slayer


Tabemas x Demon Slayer: Kimetsu no Yaiba (Tanjiro Kamado/Nezuko Kamado) – ¥264 Each (Before Tax)

The tarts feature all the little details of the beloved characters, from the scar on Tanjiro's forehead and his earrings to the bamboo pipe in his sister Nezuko's mouth and her hair adornment. It also captures the designs of their clothes. Both are filled with Japanese red bean paste with Tanjiro being chocolate flavoured and Nezuko strawberry flavoured.

Demon Slayer Tarts


Demon Slayer Tarts | ¥231 (Before Tax)

An assortment of biscuit base tarts laced with caramel mousse. The tart designs feature a range of popular characters from the anime series including the Kamado siblings, Zenitsu, Inosuke, Shinobu, and Tomioka.

Demon Slayer: Kimetsu no Yaiba is a manga series by Koyoharu Gotouge serialised in Weekly Shonen Jump. The popular series has over 100 million copies in circulation and spawned a hit anime series last year. The upcoming anime film Demon Slayer: Kimetsu no Yaiba the Movie: Mugen Train, which is being animated by ufotable, is set for release tomorrow on October 16, 2020 will serve as a direct sequel to the 2019 anime series.

©Koyoharu Gotouge/Shueisha・Aniplex・ufotable

Streetwear Brand XLARGE to Release My Hero Academia Collaborative Clothing

Established in November 1991 in Vermont Avenue los angeles, XLARGE has become one of the leading streetwear brands, infusing a range of culture such as music, art and comics into their designs and pioneering a new direction in fashion. 

 XLARGE is set to release a line of My Hero Academia collaborative clothing with Kōhei Horikoshi – the creator of the popular Weekly Shōnen Jump series (Shueisha. Inc).  

My Hero Academia is set in a world where 80 percent of the world possess some kind of superpower called "quirks". The main character Izuku Midoriya (Deku), who has dreamt of becoming a hero since childhood, discovers that he was born quirkless. After an unexpected encounter with the world's greatest hero All Might, Deku inherits the "One For All" quirk and is able to enter the prestigious hero school U.A. High School where he studies and fights alongside his new classmates to master his quirk. From children to adults, the series has become incredibly popular worldwide and the TV anime is set to release its fifth season. 

S/S TEE DEKU WHITE,BLACK,GREEN / S,M,L,XL / ¥5,500+TAX

S/S TEE ALLMIGHT WHITE,BLACK,NAVY / S,M,L,XL / ¥5,500+TAX

The new clothing series features Izuku Midoriya, his rival from childhood Katsuki Bakugo, the top-class hero Shoto Todoroki and the world's number one hero and Deku's biggest role model All Might. All the illustrations are original and include the XLARGE logo.

MY HERO ACADEMIA DENIM PANT LtINDIGO / 30,32,34,36inch / ¥20,000+TAX

If you're a fan of these new generation Jump characters then this stylish lineup is just what you need. The lineup will be sold from May 2, 2020 on calif and ZOZOTOWN online stores. 

This is perfect for any My Hero Academia fan looking to quirk up their look. 

©Kōhei Horikoshi/ SHUEISHA. Inc, My Hero Academia Production Committee

Street Fighter collaborates with Saga Prefecture to open Sagat themed shop in Ginza

Saga Prise, a project set up to promote the latest news and info on Saga Prefecture, has announced a joint-collaboration with Street Fighter II – the second entry to the critically acclaimed competitive fighting game series Street Fighter, which celebrated its 30th anniversary last year – to create the "Street Fighter Saga" project. In conjunction with this, Street Fighter character Sagat will open a special local goods store called "Sagatto Shouten" in Ginza for a limited period starting from January 22nd.

"Street Fighter Saga" is a collaborative project to celebrate the charm of Saga Prefecture's local specialties. The distance between Saga Prefecture and Thailand is rapidly growing closer, so to help the process, the popular Thailand-born character Sagat will join the fray. Saga Prefecture was used as a filming location for a movie in Thailand, and since then, the number of tourists visiting from Thailand has increased, deepening relations between citizens of Saga.

Sagat is the center of this project, but 8 of the main Street Fighter II cast will also be joining him, giving life to a range of collaborative local specialties. There is a total of 14 items to get your hands on, and they'll all be sold in Ginza at "Sagatto Shouten." The shop's name, "Sagatto Shouten" (Sagat Shop), has been written as a pun in Japanese (佐賀ット商店) to refer to Saga Prefecture. Sagat has been inaugurated as a tourist ambassador and the shop's manager where he will promote Saga Prefecture to locals and tourists coming to Ginza.

Street Fighter Saga Aritayaki Porcelain – ¥8,000 (tax incl.)

Arita ware is one of Japan's oldest type of porcelain made in Arita, Saga. The gorgeous gloss and vivid, detailed porcelain painting of this product will dazzle fans. This limited edition Sagatto Shouten item was made by "Koransha," a long-standing Aritayaki pottery company that has been around for 137 years.

Losing Face Band Aids – ¥900 (tax incl.)

Pharmaceutical company "Yutoku Yakuhin" is located in Kashima, Saga, and they make band aids. These fun Street Fighter band aids showcase the characters' losing faces. Hopefully these will give you the motivation to 'continue' if you hurt yourself.

Black Mon Blanka – ¥200 (tax incl.)

This chilled ice cream is produced by "Takeshita Seita" in Ogi, Saga. The unique name of the product originates from when the former company president Takeshita Shotaro gazed at Mont Blanc in the Alps and thought to himself "wouldn't it be delicious if you put chocolate onto this pure white mountain and ate it?" It's a widely recognised snack in Kyushu, to the point that there's probably no one there who has never seen it before. Even Blanka from Street Fighter couldn't resist how tasty this is.

Saga Nori in Classic Packaging – ¥900 (tax incl.)

This special box contains seaweed from Saga. "San Nori" is expertly farmed in the gorgeous Ariake Sea. Has a melt-in-the-mouth taste and irresistible sweetness. The packaging features a classic Street Fighter design.

There are lots of other unique items available too, so be sure to head on over to the shop before it closes for good!

■Information

Location: GINZA PLACE 3F, common ginza RAMO FRUTAS CAFÉ

Address: 5-8-1 Ginza, Chuo-ku, Tokyo

Running: January 22, 2018 – January 28, 2018

*Merchandise, art display and collaborative menu available

Opening Hours: 10:00-21:00 (open 15:00-21:00on January 22nd)

Sagat (Costumed) Appearance Times:

・January 22nd: 15:30-16:00/16:30-17:00/17:30-18:00

・January 26th-28th: 13:00-13:30/14:00-14:30/15:00-15:30/16:00-16:30

Saga Prise! Official Website: http://sagaprise.jp/

Street Fighter V Official Website: http://www.capcom.co.jp/sfv/

©CAPCOM U.S.A., INC. ALL RIGHTS RESERVED.

Where's Wally? He's now an ambassador at Zoff! Your chance to search for the perfect circular specs!

Cute round glasses brand "Zoff" is running a new campaign from Friday 1st September. The "Maru Megane wo Sagase! Campaign" will set you on a hunt for round spectacles. Character Wally from the popular picture book "Where's Wally?" has been appointed as the ambassador for this campaign and is thrilled to bits. The campaign involves the release of limited edition original goods including glasses cases, wiping cloths and much more.

 

From BOSTON to round, circular specs are becoming increasingly popular. There are many people who would love to challenge their look with round specs, but give in to fear…

…but that's where Zoff comes in! Zoff's campaign is giving you the chance to causally try on circular specs for fun! Pop in to Zoff's store to try on a wide range of specs – from BOSTON to round, there are over 100 types of specs waiting for you! Come join in the fun with ambassador Wally!

Glasses cases

Glasses cloths

There will be a limited number of Zoff original Wally goods. Those who purchase glasses or sunglasses will receive a case as part of a set. There are two glasses case designs available. If sold separately, they are ¥700 (+ tax) and can also be purchased online. There will also be four varieties of large (30cm X 30cm) glasses cloths selling at ¥700 each (+tax), and a limited number of shopping bags.

Look at that limited edition shopping bag! Try searching for the Zoff Husky and Zoff staff wearing round glasses!

What a cute design ♡ The glasses cloths and shopping bags are decorated with original Zoff illustrations. In these drawings, try to spot Zoff staff or even a Husky dog wearing round specs – it's not just Wally you're looking out for!

This is your chance to look for circular specs that suit you!

■ Information

Maru Megane wo Sagase! Campaign – (Search for the round glasses campaign)

Starts: Friday 1st September

Streetwear Brand "XLARGE®" to Release Dragon Ball Z Collaborative Clothing

Men's streetwear brand "XLARGE®" have teamed up with the quintessential Japanese anime series "Dragon Ball Z" to release a line of collaborative clothing, set for release on July 21st.

The designs in the new collection include Vegeta, Trunks, and Majin Buu, three characters recognisable all around the world.

The Vegeta and Trunks designs present the XLARGE company name in the same style font as the Dragon Ball Z font, superimposed on the characters themselves as they appear in the show.

The Majin Buu design features the XLARGE logo in its standard design in a salmon pink colour just like Buu.

If you love streetwear and you love Dragon Ball, then be sure to pick up a t-shirt by XLARGE of your favourite character and join in with the new streetwear culture offered by this collaboration.

■Information

Available at XLARGE® and calif stores from July 21st for a limited time

Stores: XLARGE® – http://www.xlarge.jp/shoplist

 B's INTERNATIONAL Online Shop calif – http://calif.cc/

Dragon Ball S/S VEGETA
PRICE: ¥5,000+tax
SIZE : S, M, L, XL
COLOR: White, Black, Navy

Dragon Ball S/S TRUNKS
PRICE: ¥5,000+tax
SIZE :S, M, L, XL
COLOR: White, Black, Light Purple

Dragon Ball S/S MAJIN BUU
PRICE: ¥5,000+tax
SIZE : S, M, L, XL
COLOR: White, Black, Pink

Related Article:Make your original face logotype! XLARGE®and X-girl's collaborative campaign will start up

Related Article:Release of Best Album "God" for 30th Year Anniversary of TV Animation "Dragonball"!

Japan's popular "Angel Pie" transforms into Barbapapa ー selling for a limited period at PLAZA general goods stores!

Starting up sales in 1961, Japan's much loved "Angel Pie" (Morinaga & Co) has been selling for more than 50 years. Now, they have teamed up with famous character Barbapapa to create a new, delicious limited edition treat to be sold at general goods store PLAZA and MINiPLA!

The "Mini Angel Pie <Barbapapa>" edition includes 4 varieties of Barbapapa-themed packaging designs. The colours and Barbapapa's expression used on the packaging vary with each design and are quite cute! The special Barbapapa design will also be on the reverse side of the packaging and on the individual packets of Mini Angel Pie. When you see it, you won't be able to stop a smile spreading on your face!

This special edition can only be purchased at PLAZA stores, so don't miss out!

■Information

Mini Angel Pie <Barbapapa>

(ミニエンゼルパイ<バーバパパ>)
4 designs, ¥320 each (tax not included)

−−−

■ Related article: Limited edition kawaii pink curry on sale from today over at "Cafe BARBAPAPA"!

■ Related article: Be gobbled up by Pacman in Asakusa in this 2m long rickshaw!

BAPE KIDS® celebrate their 10th anniversary with Hello Kitty & My Melody collaborative t-shirts!

It's been 10 years since BAPE KIDS® was created as part of clothing brand BAPE. To celebrate, BAPE have announced a collaboration with the Sanrio characters "Hello Kitty" and "My Melody" to release special anniversary t-shirts. The BAPE KIDS® store in Harajuku will also be holding an anniversary event to celebrate 10 years.

BAPE KIDS® will turn 10 years old on November 22nd, 2016. In line with this, a collaborative, limited edition t-shirt design featuring Hello Kitty and My Melody will be available at the BAPE KIDS® store in Harajuku from Saturday November 19th. The Sanrio characters will also be joined by 10 BABY MILO® designs to mark the 10 year anniversary. BAPE KIDS® will also be selling limited edition junior size items (150cm-160cm) for the very first time on the same day.

In addition, BAPE KIDS® Harajuku will be hosting an anniversary event. You'll be able to meet the mascot character BABY MILO® who will be there to make the event even more fun. Special sweets with BABY MILO® printed on them will also be handed out. It's looking to be a day of big celebration of 10 years for BAPE KIDS®.
※The special sweets are limited in quantity. Once all have been handed out there will be no more.

■Information
Photography Location: BAPE KIDS® Harajuku
Date: Saturday November 19th, 2016
Photography Time: First Slot – 15:00-15:30 / Second Slot 16:30-17:00
Address: 3 Chome-29-11 Jingumae, Shibuya-ku, Tokyo TEL. 03-5770-4455
Website: bape.com

ーーー
■Related Article: A Bathing Ape® × Coca-Cola Second Capsule Collection on sale from October 22nd!

http://www.moshimoshi-nippon.jp/20104

■Related Article: A BATHING APE® × Minions Collab Items Are Out Now

Celebrate Cocoa Day this November with Morinaga & Company's Milk Cocoa X VERY FANCY limited edition collaboration menu!

To celebrate Cocoa Day, which is on 7th November, specialist pancake shop "VERY FANCY" will be serving up a new limited edition collaboration menu from Monday 7th 〜 Wednesday 30th November. The new collaboration menu uses "Milk Cocoa" ー a long selling brand of chocolate by Morinaga & Company, Ltd.

Enjoy the full yet mild-flavour of Morinaga & Company's standard milk cocoa sauce, which has been generously poured over the pancake. The batter of the pancake has also been kneaded with cocoa, and then finally sandwiched with layers of mascarpone cream and banana. The chocolate and banana combination is perfect for children and even adults.

The pure cocoa pancake is another variety of pancake sold ー cocoa pancakes are layered with mascarpone cream and strawberries and finished off with Morinaga & Company's pure cocoa sauce. The bitter chocolate combined with the strawberries makes a perfect match, creating a bittersweet flavour which adults may find particularly appealing.

The collaboration drink uses Morinaga & Company's cacao 70 as the bass. This is then topped with extravagant fresh cream to make a perfect high bitter cocoa drink which has a bittersweet scent. This drink is perfect to warm up your heart and body this Autumn and Winter!

Made with the best wheat flour, buttermilk, homemade cheese and baking powder without aluminium ー don't miss out on VERY FANCY's pancakes or the long-loved Morinaga & Company's Cocoa combination! The limited edition collaboration tasty treats will be available until 30th November, so grab some while you can!

■Information

Limited period: Monday 7th 〜 Wednesday 30th November
Location: Available at 6 "VERY FANCY" stores nationwide

Official website: http://veryfancy.me

ーーー

■ Related article:【MOSHI MOSHI GOURMET】The best Fruit Parlor where you can enjoy seasonal fruits in Japan.

■ Related article: Taste a bit of the luxurious high life at Freshness Burger: "Foie Gras Burger Special Set"

Doraemon secret gadget-themed stamp collection selling at post offices all over Japan!

Post offices all over the country will be selling a limited edition "Doraemon's secret gadget"-themed product!

…A personalised stamp set!! This stamp set is themed around Doraemon's secret gadgets and comes with a special stamp holder pouch which has a 4D pocket-themed design. Special stamps themed around chapter 23 of the Doraemon series have been used to design special delivery stamps, ensuring your letter will arrive immediately at the address you send them to! Fans will not be able to resist the additional secret gadget message card or 4D pocket envelope that come in the package!

For those of you who crave a Doraemon Secret Gadget of your own ー hurry down to the post office when sales commence!!

■Information

Selling period:Purchase from the window at the post office

                             1st November (Tuesday)〜 16th December (Friday)

Period to buy online : 1st November (Tuesday)〜 20th December (Tuesday)

Post office shopping website: http://www.shop.post.japanpost.jp/

ーーー

■ Related article: Doraemon and Rilakkuma are now edible… but they're too cute to eat!! ♡

Go inside the fluffy Pompompurin train in front of Hachiko in Shibuya!

Sanrio character Pompompurin has teamed up with the train monument in front of Shibuya train station's Hachiko exit to celebrate the character's 20th year anniversary this year. The train will be displayed for a limited period of time from Tuesday October 18th to Tuesday November 1st.

The "Pompom Train" is part of Pompompurin's 20th year anniversary campaign which began in March of this year, being the 3rd instalment to the celebration in the form of a special train set up in Shibuya. If you're around Shibuya, be sure to have a ride inside of the cute and fluffy Pompom Train!

■Information
Pompom Train
Available: Tuesday October 18th to Tuesday November 1st
Location: Hachiko area, Shibuya

ーーー

■Related Article: Pom Pom Purin becomes a delicious caramel & custard with marshmallow McFlurry!

http://www.moshimoshi-nippon.jp/19685

■Related Article: Start off 2016 Halloween with "KAWAII MONSTER CAFE HARAJUKU"! There will be Halloween specials as well as rare dishes are offered!

Collaboration with tasty donut chain Floresta turns Cheburashka into a donut! ♡

Delicious donut store "Floresta" will be serving up limited edition Cheburashka donuts from Tuesday November 1st to Wednesday November 30th in celebration of the famous international Russian children's character Cheburashka's 50th year anniversary this year. The cute ears are made with couverture chocolate, and the orange on top of its head is made of pumpkin coated in chocolate. Made with tasty ingredients and screaming kawaii, don't miss out on this Florence × Cheburashka collaboration!

■Information
Cheburashka Donuts
Available: Tuesday November 1st to Wednesday November 30th.

■Related Article: A Bathing Ape® × Coca-Cola Second Capsule Collection on sale from October 22nd!

http://www.moshimoshi-nippon.jp/20104
■Related Article: Tokyu Hands commemorates 40 years in business with a "Hands Thanksgiving Celebration" — Sanrio, Fuchiko and many more famous characters collaborate!