Universal Studio Japan's New 'Stand By Me Doraemon 2' XR Ride Opens in August
To promote the 50th anniversary anime film Doraemon: Nobita's New Dinosaur, which is set for release in Japan on August 14, 2020, Doraemon himself is making appearances right now at Jurassic Park in Universal Studios Japan until July 22, 2020. Additionally, in promotion of the upcoming 3D CG anime film Stand By Me Doraemon 2, USJ is opening its second-ever Doraemon themed XR ride on August 4 which will run until January 6, 2021.
It will be a fast-paced Stand By Me Doraemon 2 themed XR ride and sensory explosion that makes use of VR technology to send riders on a VR coaster time travel experience through the past, present, and future.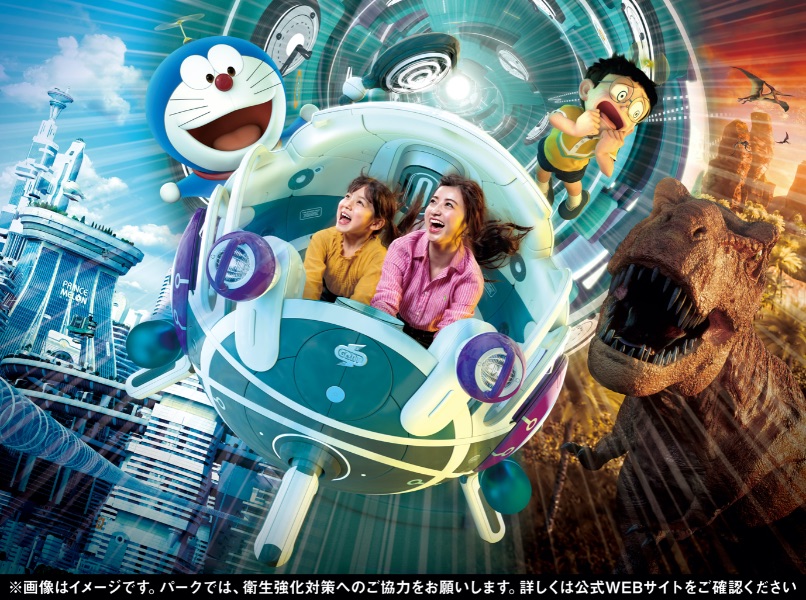 Stand By Me Doraemon was released in 2014 as the first 3D CG animated Doraemon film and was a huge hit for the quality of its animation and moving story. The staff have returned to work on its sequel, Stand By Me Doraemon 2, including writers and directors Takashi Yamazaki and Ryuichi Yagi. The XR ride will feature an original story that is connected to the sequel film which itself will be based on the Doraemon short film Doraemon: A Grandmother's Recollections.
©Fujiko Pro/2020 STAND BY ME Doraemon 2 Film Partners
Information
Stand By Me Doraemon 2 XR Ride
Running: August 4, 2020 – January 6, 2020
Universal Studios Japan Official Website: https://www.usj.co.jp/e/
RELATED ENTRIES
Fans Asked to Name Blimp Inspired by the Upcoming Film 'Doraemon: Nobita's Sky Utopia'

The film Doraemon: Nobita's Sky Utopia will be released on March 3, 2023. The 42nd Doraemon movie follows Doraemon, Nobita, and his friends as they venture off to find Utopia, a perfect land in the sky where everyone lines in joy and happiness. They do so using an airship with a time warp function on their adventure, and to commemorate the film's release, the Flying Doraemon Project began on January 14. A real-life 17-meter-long Doraemon blimp will soon appear in the sky, and fans are being asked to decide on a name for the craft.

The blimp, inspired by the Doraemon movie, will feature popular characters including Nobita, Shizuka, Suneo, and Gian. The blimp is the largest unmanned airship in Japan.

The message of the Flying Doraemon Project is to convey the feeling that in this day and age, children and adults alike can once again look upward and move forward toward their hopes and dreams.

Fans are asked to contribute ideas for the blimps name during the application period. Check the website for more details!

Original Doraemon Shirt Inspired by Nobita's Room Now Available

Shogakukan's online store has released a long-sleeve shirt inspired by Nobita's room from the long-running Doraemon series. Released on December 15, the fashionable and fun item is sure to be a fan favorite.

Shirts Inspired by Nobita's Room!

The shirt was developed in collaboration with Kawatani Shirt, a Tokyo-based brand dating back to 2011 specializing in casual shirts for adults. 

 

The green stripes were inspired by the tatami mats found in Nobita's room, and the simple back is white with a slight checker pattern at the top.

 

Part of the inner lining is even decorated with Doraemon's Take-copter!

The button at the neck is bright yellow, inspired by Doraemon's signature bell.

The lining of the left breast pocket features an embroidered Doraemon as well. 

As expected, Nobita can also be seen lounging on the bottom right of the shirt. 

The shirt is available in four sizes from S to XL. Made from 100% cotton, this is a comfortable piece of clothing perfect for wearing all year round. Why not add this playful shirt to your rotation?

 ©Fujiko-Pro

Information

Doraemon Long-sleeve Shirt 'Nobita's Room'

Release Date: December 15, 2022

Sizes: S, M, L, XL

Price: 14,300 (Tax Included)

Universal Cool Japan 2023 Announces SPYxFAMILY Collaboration

SPYxFAMILY continues to take the world by storm. In 2023, fans will be able to test their skills as part of the Forger family at Universal Studios Japan! From February 17 until July 2, the SPYxFAMILY Secret Mission will be underway at the Osaka location. Guests will need to decipher a mysterious code to take part in an immersive experience with the popular characters. 

SPYxFAMILY is the fastest-selling comic in the history of Shonen Jump. It ranked in the top spot in the animation category of the Yahoo! Search Awards 2022, pulling in audiences with its blend of hard-hitting action and sweet family comedy. 

This special attraction is the first-ever interactive experience inspired by the series. Guests can enjoy two separate instances: a puzzle-solving rally taking place at different locations around the park, and a live show that only those completing the rally can enjoy. During the rally, guests will act as rookie WISE agents as they decipher mysterious codes around the park. Of course, fans can expect to see Loid, Yor, and Anya while on their mission!

※1 The first-ever puzzle-solving rally & live show in the history of the series!

※2 Shonen Jump+, which began publishing the series in 2014, has announced that for the first time in its history, the total number of copies sold, including digital copies, has exceeded 10 million as of the release of the seventh volume.

※3 SPYxFAMILY won first place in the animation category of the Yahoo! Search Awards 2022, seeing a sharp increase from the previous year.

SPY x FAMILY Secret Mission – Attraction Details        

The SPYxFAMILY Secret Mission will allow fans of the hit series to step into the shoes of a WISE agent as they seek to unravel a mystery at Universal Studios Japan!

Guests will take on a top-secret mission with the Forger family as a new WISE agent connected to Operation Strix. Using their wits, they must decipher a series of codes hidden around the park. Successful spies will be granted a top-priority mission from Loid to participate in a live show featuring all three members of the beloved family.

Come enjoy the world of SPYxFAMILY at Universal Studios Japan in 2023!

©遠藤達哉/集英社・SPY×FAMILY製作委員会

原作/青山剛昌「名探偵コナン」(小学館「週刊少年サンデー」連載中)

© 2023 青山剛昌/名探偵コナン製作委員会

© SCRAP All Rights Reserved.

©CAPCOM CO., LTD. ALL RIGHTS RESERVED.

TM & © Universal Studios & Amblin Entertainment

Universal Studios Japan TM & © Universal Studios. All rights reserved.

Information

Universal Cool Japan – SPY x FAMILY Secret Mission

Running: February 17 – July 2, 2023

Venue: Universal Studios Japan, Park-wide

Official Site: https://www.usj.co.jp/web/ja/jp

Doraemon Sleeping Bag and Neckwear Perfect for Bringing on a Winter Camping Trip

Doraemon fans who also love the great outdoors will be able to grab some new goods for their winter outings. A Doraemon-inspired sleeping bag created by down maker NANGA and neckwear made by Spanish brand BUFF are now available at the Shogakukan online department store!

NANGA is one of Japan's leading down manufacturers, beginning as Yokota Sewing in 1941 in Maibara, Shiga Prefecture, a famous production center for cotton futons. The down used in this new sleeping bag has been cleaned and refined using the newest technology, promising that this bedding will last for years to come.

Sleeping Bag

In addition to the blue, white, and red Doraemon-inspired coloring, the character's famous collar also makes an appearance. Covered head to toe in motifs from the series, this bedding is also highly functional and warm.

Neckwear

The included storage bag is compact and able to fit in a backpack, measuring approximately 20cm x 40cm. Will you be adding these items to your camping pack this winter?

©Fujiko-Pro

Doraemon's Official Store Launches Limited Edition Dorayaki-Flavored Black Tea

Doraemon's Mirai Department Store, Doraemon's official shop, has announced a limited edition black tea flavored with the character's favorite food: dorayaki! The tea and four special themed plates will be available starting November 11, 2022. The tea itself is provided by the tea specialty shop LUPICIA. 

Doraemon's Mirai Department Store Black Tea (Dorayaki Flavor)

Doraemon's Mirai Department Store is now offering this special tea in an adorable themed tin.

The flavor of the tea is inspired by Doraemon's favorite food, dorayaki, a sweet Japanese pastry filled with red bean paste. The gorgeous blue and red toppings blended into the tea leaves were inspired by Doraemon himself, and fans will want to enjoy a cup as they lose themselves in the classic manga or anime series.

Doraemon's Mirai Department Store Tasty Plate (4 varieties)

These 14cm square plates are perfect for snacks with tea. Dishwasher-safe, fans can pick from four designs, each showing Doraemon enjoying some tasty treats. 

©Fujiko-Pro

Super Nintendo World at Universal Studios Japan Reveals First Winter Decorations

Universal Studios Japan is holding its NO LIMIT! Christmas event from November 11, 2022 until January 9, 2023. 

During this period, the new Super Nintendo World area will be decorated with winter decorations for the first time since it opened. The area's entrance is bringing the holiday cheer with Mario and Luigi snowmen, perfect for using as a photo spot. Upon entering the area, visitors will find a Christmas tree decorated with familiar Nintendo items along with wreaths and garlands. 

Fans won't want to miss visiting during this special season, as special menu items and merchandise will be available for a limited time. This is a winter experience you won't find anywhere else!

During the NO LIMIT! Christmas event, Minions and other popular characters will appear around the park in Christmas costumes. Two special Minions meet and greet sessions will be held as well! Come spend the holidays with your favorite characters dressed as Santa, reindeer, trees, angels, and more!

 WIZARDING WORLD and all related trademarks, characters, names, and indicia are © & ™ Warner Bros. Entertainment Inc. Publishing Rights © JKR. (s22)
Minions and all related elements and indicia TM & © 2022 Universal Studios. All rights reserved.
© Nintendo
TM & © Universal Studios & Amblin Entertainment
TM & © Universal Studios. All rights reserved.

Doraemon's Official Shop Opens for a Limited Time at Daimaru Umeda

From December 1, 2022 until May 28, 2023, Doraemon's official shop will appear at Daimaru Umeda! Doraemon's Mirai Department Store will offer a variety of limited-edition products for this brief period. 

Doraemon's Mirai Department Store Exclusive Goods (Selection)

Chenille Embroidered Tote Bag (Doraemon and Mini Doraemon): ¥3,520 (Tax Included)

This tote bag is decorated with lasting embroidery and is sure to brighten any Doraemon fan's day. The shoulder-length handles are practical and each bag has excellent storage capacity!

Doraemon Striped Socks (Red/Green): ¥2,420 each (Tax Included)

These thick socks are sure to keep your feet warm during the cold winter months. The simple lines and chic colors make these a great gift for any age.

Come check out these exclusive items that you can only find here!

©Fujiko-Pro

Information

Doraemon's Mirai Department Store in Daimaru Umeda 2022-2023

Running: December 1, 2022 – May 28, 2023
Venue: Daimaru Umeda 13F (3-1-1 Umeda, Kita-ku, Osaka)

Hours: 10:00-20:00
Doraemon's Mirai Department Store Official Site: https://mirai.dora-world.com/

Doraemon Ukiyo-e Series Reimagines Popular Characters in Classic Hiroshige Work

A Doraemon version of Hiroshige's 1833 ukiyo-e painting Fifty-Three Stations of the Tokaido Hoeido Edition (Rainstorm) will be available to order on October 29!

This work is said to be one of the most famous paintings by the artist, who was considered the last great master of ukiyo-e.


 

The painter was best known for his depiction of rainscapes, and many of his paintings pushed the envelope of traditional art.

 

This painting shows Ise Province, what is now present-day Mie Prefecture. 

Doraemon and his friends have been expertly placed into the famous piece of art, desperately climbing a steep hill during a sudden evening shower.

 

For Doraemon and Nobita, the rain is a chance to have fun. Looking at the piece, viewers can see an image of hope in tough times and can remember that with friends, anything is possible and any difficulties can be overcome. 

The piece is made from high-quality materials, and you won't want to miss ordering one of these rare works of art!

Information

Doraemon Ukiyo-e / Fifty-Three Stations of the Tokaido Hoeido Edition (Rainstorm)

Orders Open: October 29, 2022 at 12:00
Price: ¥45,000 (Excluding tax and shipping charges)
Number Available: 300
Echizen-Manufactured Washi Paper Provided by Iwano Ichibei
Online Shop: http://ukiyoework.com/

Universal Studios Japan Announces NO LIMIT! Christmas Event

From November 11, 2022 until January 9, 2023, Universal Studios will hold its NO LIMIT! Christmas event!

Christmas is associated with romance for many in Japan, but this year, USJ wants to give visitors a new way to celebrate this special winter holiday. Under the theme of a 'Red Hot Christmas,' this super-energetic event is sure to be the most exciting Christmas event on the scene this year.

This year, the Crystal Christmas tree will make its return this year after a 3-year hiatus. The tree broke the Guinness World Record for nine consecutive years from 2011 to 2019 for the World's Most Illuminated Tree. In 2019, the tree had 591,850 lights and also received Guinness certification for the World's Largest Christmas Snowflake Ornament.

The Super Nintendo World area will be decorated for winter for the first time in 2022, while Minions and other popular characters will appear in special Christmas costumes. Limited-time food and merchandise will be available as well. 

 

An Exciting Christmas Experience for All Five Senses! The NO LIMIT! Crystal Tree

NO LIMIT! Crystal Tree

This year, the Crystal Christmas tree will make its return after a 3-year hiatus with a totally new look! Guests will be bathed in colorful lights and visitors won't want to miss taking a photo with this magnificent sight. 

*On October 28, 2019, the tree won the Guinness World Record for Most Lights on an Artificial Christmas Tree with 591,840. 

The Spectacle of Lights, Complete with Heart-Pounding Music

NO LIMIT ! Christmas

During the event period, the Spectacle of Lights will be held in Gramercy Park. 

The entire area around the Crystal Tree will be completely transformed, and the space will feature projection mapping and countless lights. The blend of Christmas music fused with the magical lights will create a moment you'll never forget.

Super Nintendo World to be Decorated for Winter!

Super Nintendo World's Winter Decorations

Super Nintendo World, the newest area in the park, will feature winter decorations for the first time in 2022. At the entrance to the area, Super Star Plaza, guests will be greeted with a giant gift box and Mario and Luigi-themed snowmen. 

Guests will find wreaths and garland decorating Peach's Castle, along with another Christmas tree decorated with iconic Nintendo characters and items. 

Limited Time Greetings and Stage Shows

Limited-Time Special Greeting & Stage Shows

Guests won't want to miss meeting their favorite characters while they're dressed in holiday outfits! A special meet and greet will be held for children and adults to join the Minions for a special winter celebration. 

Hello Kitty's Christmas Happiness with the Happiness Brass Band

Hello Kitty's Christmas Happiness with the Happiness Brass Band

Hello Kitty and the Happiness Brass Band will perform Christmas music multiple times a day, so families are invited to sing and dance along while getting into the Christmas spirit! You won't want to miss Hello Kitty in her special winter wardrobe.

The Peacock Theater's Popular Universal Party–Reimagined for Christmas!

In 2022, Universal Studios Japan will introduce Universal Party ~ The Showtime & Taste of Christmas. This dinner show requires a separate ticket and will offer some incredible entertainment and menu items. The experience will be held at the Peacock Theater on select days during December 2022.

*A Studio Pass or Annual Pass is required to enter the park. 

WIZARDING WORLD and all related trademarks, characters, names, and indicia are © & ™ Warner Bros. Entertainment Inc. Publishing Rights © JKR. (s22)

Minions and all related elements and indicia TM & © 2022 Universal Studios. All rights reserved.

© Nintendo

TM & © 2022 Sesame Workshop

© 2022 Peanuts Worldwide LLC 

© 2022 SANRIO CO., LTD. APPROVAL NO. EJ2091601

TM & © Universal Studios & Amblin Entertainment

TM & © Universal Studios. All rights reserved.

McDonald's Japan Launches Festive Doraemon-Themed Summer Sweets

On August 5, McDonald's Japan will begin selling some summer-only sweets! The McShake Doraemon Ramune and Doraemon Choco Banana Pie items are based on a summer festival, and the packaging will feature adorable Doraemon imagery. 

These treats will bring back memories of summer festivals, with popular flavors like chocolate banana and ramune. Each sweet will be available in a total of six newly-designed packages, so you might need to buy a few until you get your favorite character!

McShake Doraemon Ramune

The McShake Doraemon Ramune features the nostalgic flavor of ramune and a creamy texture. Two types of ramune flavors were used to create a taste that will keep you coming back for more, and citrus flavors were added to create a refreshing flavor perfect for summer. This tasty treat is available in three versions–Doraemon, Nobita, and Gian.

Doraemon Chocolate Banana Pie

The Doraemon Chocolate Banana Pie consists of a crispy pie crust packed with banana filling and a rich chocolate sauce. Fans of Doraemon can grab this pie in three different sleeves–Dorami, Shizuka, and Suneo.

※Product images for illustration purposes only. Actual products may vary.

Happy Meal

Round 1: August 5 – August 11

Round 2: August 12 – August 18

In addition, Doraemon-related items will be packed with every Happy Meal starting August 5.

Jujutsu Kaisen Inspires First Theater Show Attraction at Universal Studios Japan

The popular series Jujutsu Kaisen is getting its first theater show at Universal Studios Japan! Jujutsu Kaisen: The Real 4-D will open at the theme park on September 16, 2022 for a limited time only. For the first collab between the park and the globally-popular series, fans will be able to experience the ultra-realistic world of Jujutsu Kaisen through 3D imagery and special effects. 

Jujutsu Kaisen: The Real 4-D

The 4D ride will tell an entirely new story, allowing guests to experience a fight between the main cast and Cursed Spirits. Yuji Itadori and friends are fighting to prevent a conspiracy targeting the opening of a Jujutsu High School in Osaka. This will also mark the first time that characters from the series will appear in 3D. Along with Yuji, fans will be able to see Megumi Fushirugo, Nobara Kugisaki, Aoi Toudou, and Satoru Gojo in an entirely new way. Along with engaging graphics, fans can expect to experience seat vibrations, water splashes, and more. 

Jujutsu Kaisen x Hollywood Dream – The Ride ~Kaikai Kitan~

Along with the 4-D theater show, Hollywood Dream – The Ride will be transformed for the collaboration. The theme song for Jujutsu Kaisen, Kaikai Kitan by Eve, will be played on the ride for a limited time, from September 16, 2022 until January 18, 2023. The track is incredibly popular, and the opening for the series has been watched over 250 million times on YouTube. Listening to it on a roller coaster will be an entirely new experience and one that you can only experience at Universal Studios Japan!

Additionally, there will be Jujutsu Kaisen-themed food and merchandise available during the crossover event. More information will be announced in the future.

WIZARDING WORLD and all related trademarks, characters, names, and indicia are © & ™ WBEI. Publishing Rights © JKR. (s22)
Minions and all related elements and indicia TM & © 2022 Universal Studios. All rights reserved.TM & © Universal Studios & Amblin Entertainment
Universal Studios Japan TM & © Universal Studios. All rights reserved.
© Nintendo
©芥見下々/集英社・呪術廻戦製作委員会

Jujutsu Kaisen Attraction to Open at Universal Studios Japan for a Limited Time

Universal Studios Japan has announced that it will be opening a selection of Jujutsu Kaisen attractions for a limited time starting September 16, 2022. The anime series has been a global smash hit since it premiered. 

The original Jujutsu Kaisen manga series has sold over 65 million copies worldwide, and the recent Jujutsu Kaisen 0 film grossed over ¥13.7 billion at the domestic box office.

Attractions will focus on the theme of "curses," though there are no details as of yet as to what they will be or involve. Jujutsu Kaisen follows the story of Yuji Itadori, who becomes the host of a powerful curse named Ryomen Sukuna in order to protect his friends. Yuji then joins the Tokyo Prefectural Jujutsu High School to train and become a sorcerer so that he can avoid an execution, as well as to help others fight against Cursed Spirits. Guests will be able to immerse themselves in the series' world, and we're excited to find out more details about what attractions will be coming to USJ this fall. 

WIZARDING WORLD and all related trademarks, characters, names, and indicia are © & ™ WBEI. Publishing Rights © JKR. (s22)
Minions and all related elements and indicia TM & © 2022 Universal Studios. All rights reserved.TM & © Universal Studios & Amblin Entertainment
Universal Studios Japan TM & © Universal Studios. All rights reserved.
© Nintendo
©芥見下々/集英社・呪術廻戦製作委員会

Information

Universal Studios Japan x Jujutsu Kaisen

Open for a Limited Time Only

Opening September 16, 2022

Official Site: http://www.usj.co.jp/