MANON's New Track 'WORLD'S END feat. dodo' & Hiroshi Fujiwara Remix Released Simultaneously
Springtime this year saw MANON move her work to Tokyo where she is now based. Her new song WORLD'S END feat.dodo is a graduation track that was recorded at the end of her time at high school. It's a bittersweet pop number, and an emotional one that sings of love.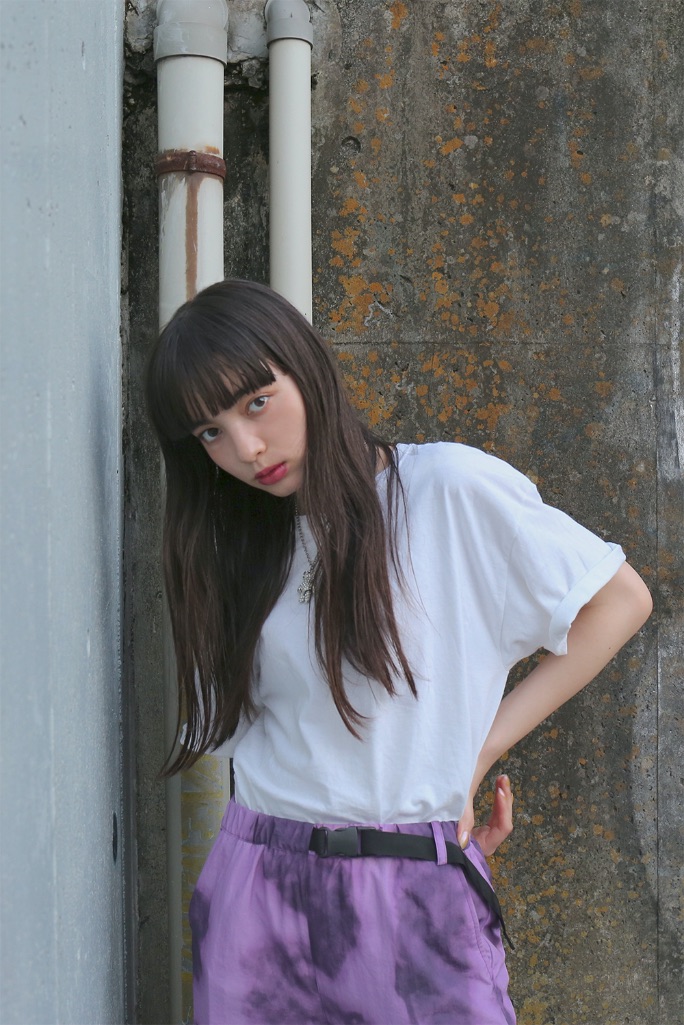 The song invites the easygoing and chill 'nerd' rapper dodo on board whose popularity continues to surge. His song im was released last year and has almost 4 million views on YouTube. WORLD'S END feat.dodo sees two worlds clash together: the cute and stylish MANON admired by girls of her age, and rapper dodo, whose style is based around looking unpopular.
Music Video


Japanese musician, producer and designer Hiroshi Fujiwara, who is big in the Harajuku street culture scene, has also provided a remix of the track. He's laid down a luxurious ground beat and melded in a melody that's both an homage to funky disco and includes plenty of new classic vibes.
The original song is produced by YUPPA (HNC) who has worked on all of MANON's tracks before this. The CD cover for the original version is drawn by illustrator mako arai who also directed the music video that is being released together with the song. The CD cover for the remix version was designed by Hiroshi Fujiwara himself.
RELATED ENTRIES
Vogue Japan, fragment design, & THE CONVENI to Release T-Shirts and Hoodies in Triple Collaboration

Vogue Japanーthe Japanese edition of the world's most influential fashion magazine Vogueーhas teamed up with Hiroshi Fujiwara-led brand fragment design and his concept store THE CONVENI to create two T-shirts and hoodies. This is the first time Vogue Japan has collaborated to release an item with its logo branding.

 

VOGUE MAGAZINE TEE: ¥8,500 (Before Tax) / COLOR: BLACK, WHITE / SIZE: S, M, L, XL

This is Vogue Japan's first ever triple-collaboration and celebrates the 20th anniversary since it launched. THE CONVENI is known for its creative packaging, which has spilled into this collaboration too with the hoodie being packaged in a cereal box and the t-shirt in a milk carton.

VOGUE MAGAZINE HOODIE: ¥18,000 (Before Tax) / COLOR: BLACK, WHITE / SIZE: S, M, L, XL

Both the T-shirts and hoodies are available in black or white. The front reads "VOGUE JAPAN," the back features the 20th anniversary logo, and the sleeves read "FRAGMENT." The release dates for the items will be announced on THE CONVENI's social media, so follow them on Instagram to keep up to date.

Ryo Ishikawa & Hiroshi Fujiwara's Final 'Denim by Vanquish & Fragment' Collection Arrives

Denim by Vanquish & Fragment is a collaborative brand between fashion brand Vanquish and Hiroshi Fujiwara's Fragment Design. The final collection of the line―the 19S/S Collection―is set to go on sale on February 23, 2019.

Denim by Vanquish & Fragment was first made public at the Vanquish 2011 Spring/Summer Collection fashion show in 2010. The following year, in 2011, the brand arrived at Vanquish stores. It has now been on the market for 9 years.

1st Collaborative Denim Line From 2011

The 19S/S Collection incorporates neon colours in its designs with the brand's iconic denim pants as the main apparel. It includes the first women's denim line as well as a range of accessories like an 18K chain and other miscellaneous items such as mugs and a luggage box. Those who purchase "DENIM BY" items in the line will also receive a free novelty. These are limited in stock.

A pop-up store will also open to commemorate the final collection.

Denim Pants: Straight / Tapered / Wide / Skinny / Angle Cut / Jogger Pants

Women's Denim Pants: Rigid Tapered / Skinny

Don't miss out on the final collection of this hugely popular and well-recognised collaborative brand.

Information

19S/S Collection Pop-Up Store

Address: Champs-Elysees Floor 1F, 4-28-14 Jingumae, Shibuya, Tokyo

Running: February 23, 2019 – February 24, 2019

Time: 11:00-18:00

Dealers

Release Date: February 23, 2019

Online Store

Release Date: February 23, 2019

Website: https://ceno.jp/DENIMBY

Hiroshi Fujiwara x Pokémon Pop-Up Store to Open at Ginza Sony Park

A pop-up store for Hiroshi Fujiwara and Pokémon's collaborative Thunderbolt Project is set to hit mainland Japan for the first time at Ginza Sony Park from November 24 to December 2.

The pop-up shop is teaming up with THE CONVENI, a concept store and new take on the convenience store by Fujiwara. A range of items will be sold by the Thunderbolt Project brand including those that were popular at Hypefest. There will also be kid's sizes available for the first time as well as a line-up of items exclusive to Ginza.

Advance bookings will be entered into a lottery draw for attendance. New information as well as first looks at the Ginza exclusive items will be made available on the pop-up shop's official social media so be sure to check there before visiting.

Kero Kero Bonito Feature in MANON's New "SWIPE" Music Video

MANON―aka the cultural icon of the new generation―will release her new album TEENAGE DIARY on July 11. A music video for the lead song SWIPE was posted and features Kero Kero Bonito.

Kero Kero Bonito are a London-based British electropop band who collaborated with MANON to produce SWIPE. The catchy song fuses chiptune with old school hip-hop.

The music video was filmed in both Tokyo and London. As the title of the song suggests, it centers around "swiping" left and right with your finger on your phone. Sarah Bonito of Kero Kero Bonito was responsible for the art and direction of the video. Both her and MANON rap in English and Japanese to the rhythm of the swiping screen.

Make sure to check the fun video out for yourself!

Starbucks, Stanley & Hiroshi Fujiwara's Triple Collaboration on Stainless Bottles

Musician and designer Hiroshi Fujiwara has taken his design project Fragment Design to collaborative with Starbucks and US summer ware brand STANLEY to release two new stainless bottles.

Both bottles will be released on June 27, 2018 and can be picked up at most Starbucks branches in Japan as well as via their online store.

This is the latest in collaborations between Fragment Design, which began in 2012, and Starbucks. STANLEY has joined the fray this time and marks the first time their bottles have been used at Starbucks. The bottles use vacuum isolation and so will keep hot drinks hot and cold drinks cold. They also have lasting durability so can be used over a long period of time at home, in the workplace and elsewhere. It's sure to be a hit in Japan for the coming summer season as people take trips to the mountains and seaside.

You can pick from either navy blue or grey both of which are finished with a matte coating. Their size also makes carrying them around convenient, clocking in at the same size as a Starbucks Short. On the front of the bottles you'll see logos for all three collaborators involved. The minimalist design echoes influence by Hiroshi Fujiwara.

Be sure check them out yourself in a Starbucks near you while in Japan.

■Information
Stainless Bottle Navy Fragment×STANLEY Navy (236ml)

Stainless Bottle Navy Fragment×STANLEY Grey (236ml)

Available at most Japanese Starbucks branches and via the Starbucks Japan online store.

On Sale: June 27, 2018

Price: ¥4,000 (Pre-Tax)

*Limited stock.

*A limit of one of each colour purchasable per customer.

Starbucks Japan Online Store: http://www.starbucks.co.jp/onlinestore/

Ever since she released her digital single xxFANCYPOOLxx last summer, female high school artist MANON has stirred a buzz amongst teens and sceptic music listeners. Her first album TEENAGE DIARY is complete and will be released on July 11.

The record features all of MANON's songs since her debut and was produced under YUPPA (aka HNC / Hazel Nuts Chocolat) who worked on the above visual. A list of up-and-coming artists also are also involved with the album, including London-based British band Kero Kero Bonito and Canadian record producer Ryan Hemsworth. The album's sound is a fusion of the latest in music culture overseas and Japanese 'kawaii.'

The album's lead track SWIPE will receive an early digital release on June 22. The full album will become available digitally on July 7. Be sure to mark it all in your calendars.

■Information

MANON 1st Album – "TEENAGE DIARY"

On Sale: July 11, 2018

Price: ¥2,500 (w/tax ¥2,700)

"SWIPE"

Available digitally on June 22, 2018.

Full album available digitally on July 7, 2018.

MANON is known as a new pop icon of the young generation.

Even before the release of her own CD, she had already performed at large events such as Shibukarusai, OTONOKO, and SYNCHRONICITY! Despite being so young having just started grade 11 this April, she has released her new single SOMEWHERE.

MANON has released various kinds of singles such as soft rap, alternative rock and electro pop and her new single is an urban-styled dub pop which has a 90's "ground beat" taste.

The emotional lyrics of the song expresses the world of girls' culture and teenagers' innocent feelings.

The sound and the lyrics of the single were produced by YUPPA from HNC (ex. Hazel Nuts Chocolate) who has been producing MANON's other works. YUPPA is currently working as an artist (HNC), trackmaker and singer, so why not check out her work as well!

Don't miss MANON's new beautiful urban ballad!

HIKAKIN and MANON will appear at the event produced by Yasutaka Nakata "OTONOKO!"

"OTONOKO" is a local music festival which gathered a huge audience last year. The committee of the event announced (5th announcement) that HIKAKIN&SEIKIN, RUAN OHYAMA、and MANON will participate in the event as guests!


"Yasutaka Nakata" is one of the most famous musicians / producers / DJs in Japan who is popular among top artists throughout the world. He has been offering music to various kinds of movies including Hollywood movies and international ceremonies. He is also the producer of artists like Perfume and KYARY PAMYU PAMYU and creates public sounds such as the announcement sound of Hokuriku Shinkansen Kanazawa Station.

The music festival produced by Yasutaka Nakata "OTONOKO" will be held in the 4th Building of Ishikawa Prefecture Sangyo Tenjikan on the 2nd of December.

The committee announced that HIKAKIN, a pioneer of Japanese YouTubers and boasting the No.1 Japan-channel registration number, SEIKIN, a YouTuber who runs SeikinTV and SeikinGames and RUAN OHYAMA will participate in the event as a guest! (RUAN OHYAMA will appear on TeddyLoid's SPECIAL GUEST LIVE)


Moreover, they announced that they will hold a DJ audition to select a DJ who can perform on the main stage. Detailed information about the audition which gathered much attention last year will be released on the 7th of November via the official website.

Don't miss the lineup of "OTO (sound)" created by Yasutaka Nakata who is known as the top artist/DJ/producer!

◼︎Information
Yasutaka Nakata presents "OTONOKO 2017"

Venue: Ishikawa Prefecture Sangyo Tenjikan, 4th Building

Date: 2017,12,02 (Sat.) 11:00 open / 13:00 start/ 19:30 closed (please note that the date and time might be changed)

Fee: Standing – 6,800 yen (tax included)
Official bus tour: reservation can be made via the official website

http://travel.willer.co.jp/tour/campaign/live/otonoko/

Shuttle bus: reservation can be made via the official website
http://travel.willer.co.jp/st/3/ja/pc/tour/package/?mcid=28652

Performers:
Yasutaka Nakata / CAPSULE / Perfume / C&K / Okazaki Taiiku / DAISHI DANCE / tofubeats / 80KIDZ / TeddyLoid (Special Live Guests:HIKAKIN & SEIKIN / RUAN OHYAMA)
/ banvox / Atarashi Gakko no Leaders (OPENING ACT) / MANON(OPENING ACT)

The next generation's girls' icon, MANON's music video of her new single "POPCORN CRISIS" was released.

MANON is a model who is famous for her street snaps. After releasing (in July) her debut single with a cute rap called "xxFANCYPOOLxx," she has been releasing singles "BEAT THE BAD LUCK" and "WAVY PINEAPPLE DAYS" in rapid succession. Her forth single "POPCORN CRISIS" is a bubble-gum electric pop tune with a colorful and fancy taste. The single was released on the 6th of October (Fri.)

The new single "POPCORN CRISIS" is a danceable pop number which is quite different from the rap songs and indie pops which she has been releasing so far. The single is influenced by Euro dance pop and bubble-gum base and is a colorful, fancy and strange electric pop song.

The lyrics of the song describe a mid-teenage girl's love affair. The total production work for this song (sound and artwork) was done by YUPPA of HNC (ex. Hazel Nuts Chocolate) who has been supporting her for a long time.

The music video of "POPCORN CRISIS" was directed by the VJ unit "onnacodomo." Technologies such as computer graphics and recorded materials were not in the video but instead the team used colorful daily things such as stationaries, toys and water. The video synchronizes with the story of the lyrics and the beat of the song and is a fun work with a catchy atmosphere where MANON and various kinds of animals and creatures dance together.

She will perform at "Shibukaru Matsuri 2017" which will be held at SHIBUYA QUATTRO on the 20th of October (Fri.). Let's enjoy the live concerts of MANON which represents the Japanese girly culture of "kawaii."