Pour Sake Into These Cups and Watch the Cherry Blossoms Bloom
Japanese online store Fujimaki, which sells rare luxury products, released the new "Sakura no Heihai" (Cherry Blossom Sake Cup) on July 18 which has a cherry tree design on it that blossoms when cold sake is poured over it.

The cup is manufactured by Marumo Takagi, a Japanese pottery and ceramics company based in Tajimi, Gifu, which has been running for over 130 years. Due to the effects of the COVID-19 pandemic, many people held out on the Hanami (cherry blossom flower viewing) in Japan this year. Marumo Takagi conceived the idea for their new cup as a result of this so that people can enjoy Hanami from the comfort of their own home.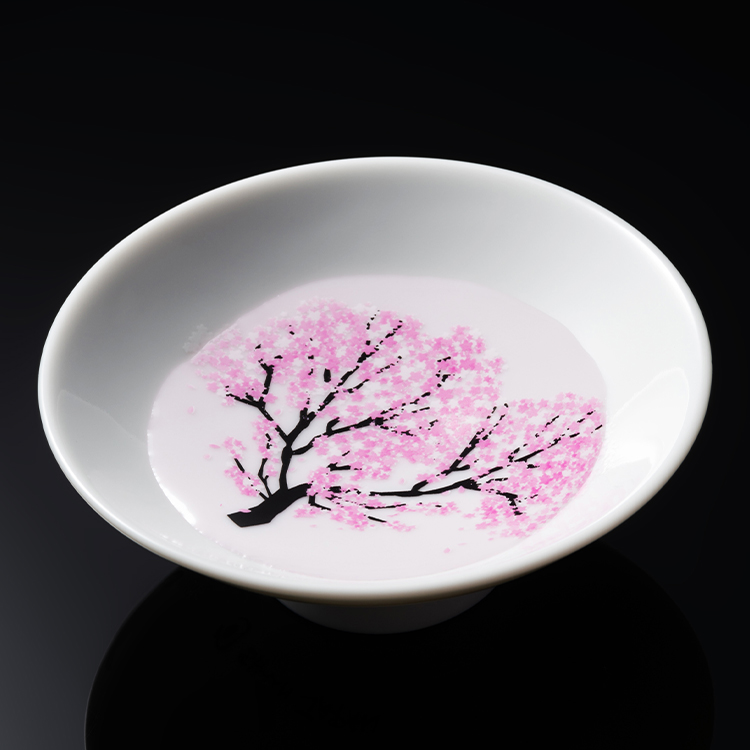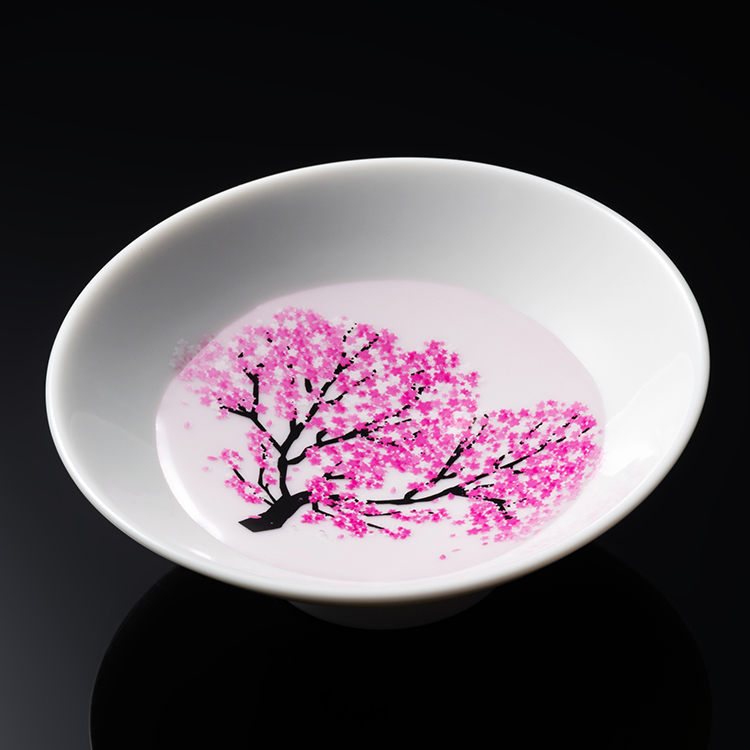 Left: Blossoms in 7 minutes with liquids near 17°C / Right: Very cold liquids cause a full bloom
Each and every cup is handmade individually, including the cherry blossom designs. The flowers bloom a faint pink when the users pours in liquid which are of a temperature around 17°C. If the liquid is very cold, the cherry blossoms take on a full bloom pattern. The white porcelain serves to emphasise the pink hues of the flowers.
The secret behind how this reaction happens lies in the tools used to draw the illustration. Seiji Takagi, the 5th generation president of Marumo Takagi, conceived the idea when he simply thought how amusing it would be to have a function on one of the company's drinking vessels that changes as a result of temperature.
Takagi explained how the went through much trial and error to achieve their vision for the colour, something which they were more focused on than everything else in the manufacturing process.
Cherry Blossom Sake Cup (Japanese: 桜の平盃): ¥3,300 (Tax Included)
The western region of Gifu Prefecture is famous for its Japanese ceramics. It is the biggest pottery manufacturing location in Japan and has been firing up ceramics for over 1,300 years. The city of Tajimi in Gifu, where Marumo Takagi is based, has prospered when it comes to the creating sake cups. The cherry blossom sake cup comes as an innovative design and shows the true skill and art of Marumo Takagi's artisans.
RELATED ENTRIES
Cherry Blossom Menu Appears at Cafe Accueil Ebisu for a Limited Time

Cafe Accueil Ebisu is currently offering a limited Sakura-themed menu featuring pancakes, afternoon tea, and drinks until April 10, 2022.

Sakura & Strawberry Pancakes

Sakura Afternoon Tea

Special Latte with Cherry Blossoms

The seasonal menu includes Sakura & Strawberry Pancakes with pale pink and strawberry red accents, and savory items such as a croissant with cherry cheese cream. Guests can also enjoy Sakura Afternoon Tea, a colorful 12-item menu featuring cherry and strawberry delights. Come enjoy the coming of spring at this gorgeous Tokyo cafe!

Information

Cafe Accueil Ebisu Sakura Season Special Menu

Available until April 10, 2022

Address: 2-10-10 Ebisunishi, Shibuya-ku, Tokyo

Hours: 11:00-22:00 (Last Order at 21:00)

Official Site: http://accueil.co.jp/ebisu/

NAKED's Popular Sakura Artwork Transformed into Company's First NFT

The NFT platform 'Adam by GMO' will offer the creative company NAKED's first piece of NFT art. Sakura Ousai has been featured in the hands-on art exhibition NAKED FLOWERS held in Nihonbashi, Nijo Castle, Hong Kong, and Korea. The NFT will be available in late March and a portion of the proceeds will be donated to support Ukraine.

Since its establishment in 1997, NAKED has constantly produced incredibly unique art installations to fit with the times. Starting with the projection mapping of Tokyo Station in 2012, the company has created unprecedented art and entertainment experiences by combining real space with virtual experiences. The current theme is 'borderless creativity,' and creating NFT art fits into this vision.


NAKED FLOWERS, one of NAKED's signature events, has been held since the New Year 2016. The NAKED FLOWERS experience has now been converted into a piece of NFT art for the first time, and buyers can enjoy these cherry blossoms no matter their location!

NAKED Sakura Pilgrimage Event Comes to Kanda Myojin Shrine in Tokyo

People flock to Kanda Myojin to pray for good luck at the start of the new financial year, surrounded by beautiful pink blooms. The shrine offers beautiful sights during the day, and this year, it's collaborating with digital art collective NAKED to host a beautiful light-up event every evening from March 26 until April 10, 2022.

Kanda Myojin is a hidden cherry blossom viewing spot in Tokyo. This spring-only event is held in the hope that people will pray at Kanda Myojin, one of the most popular power spots in Tokyo, for a great start to the new year.



Guests will be able to see cherry blossom trees lit up in iridescent lights with pink petals projected on the ground. Some of the digital sakura are interactive and change shape and color when you're nearby. Digital art is even incorporated at the hand sanitizing station, where you'll see vivid pink sakura projected onto your palms. Visitors will also be handed a special Naked Distance Lantern, which naturally creates distance between others as you hold it up.

Information

NAKED Sakura Pilgimage

Location: Kanda Myojin Shrine
Running: March 26 – April 10, 2022
Hours: 18:00-20:30
Admission: Free

Official Site: https://myoujin-sakura.com/

Lake Biwa Canal's Cherry Blossoms to Come to Life During Spring Illumination 2022 Event

Lake Biwa Canal, one of the best places to see cherry blossoms in Shiga, will be completely illuminated each night from March 25 until April 10! The nearby Onjo-ji Temple will also be lit up during the duration of the event.

Lake Biwa, Otsu Spring Illumination – Cherry Blossoms on the Lake Biwa Canal

The Lake Biwa Canal carries water from the biggest lake in Japan to Kyoto and was built during the Meiji era using the best civil engineering technology of the time. Both sides of the bank are lined with almost 200 cherry trees, making it one of the most beautiful cherry blossom viewing spots with a spectacular view leading to Onjo-ji Temple.

Onjo-ji Spring Illumination 2022

Over 600 lights will be set up around the temple grounds to illuminate the cherry blossoms. The national treasures and designated cultural properties will be completely open to the public for nighttime viewing.


Information

Lake Biwa, Otsu Spring Illumination – Cherry Blossoms on the Lake Biwa Canal

Running: March 25 – April 10 (Dates may change depending on when cherry blossoms bloom)
Hours: 18:00 – 21:30
Location: Lake Biwa Canal
Sponsored by the Lake Biwako Otsu Tourism Association

Onjo-ji Spring Illumination 2022

Running: March 25 – April 10
Hours: 18:00 – 21:30 (Last Entry at 21:00)
Location: Onji-ji Temple
Admission: Adults ¥1,000 / Children ¥500
*Public transportation is recommended due to heavy congestion on surrounding roads during the event period.

Cherry Blossom Drone Project 2022 to Bring Hanami to People Around the World

Wishing you could be in Japan to see the cherry blossoms? The Cherry Blossom Drone Project on March 27 will be live-broadcasting some of the most beautiful blossoms in the country to viewers around the world. 

Incredible 4K aerial footage will be available to watch on YouTube LIVE for free from 12:00 until 19:00 on March 27, 2022. No matter where you are, you'll be able to lose yourself in the feeling of spring. 

Three Best Cherry Blossom Viewing Spots Chosen by Sakura Enthusiasts

Breathtaking Mountain Cherry Blossoms at Mount Yoshino in Nara

The First New Sakura Species in Over 100 Years Found in Wakayama Prefecture

A Sea of Cherry Blossoms at Takato Joshi Park in Ina, Nagano Prefecture

McDonald's Japan Offering Sakura Mochi Pie to Celebrate Springtime

McDonald's Japan will start selling the new Sakura Mochi Pie starting March 23, 2022 for a limited time only.

The new pie is inspired by sakura mochi, a traditional wagashi sweet popular during spring. 

Sakura mochi is typically made from mochi rice cakes filled with a sweet red bean paste and wrapped in a pickled cherry blossom leaf. The McDonald's pie is filled with azuki red bean paste and a chewy, sakura-flavored mochi that features bits of pickled sakura leaves.


The packaging will also feature spring designs and each pie costs just ¥150. They will be available until mid-April. 

NAKED Sakura Aquarium Digital Art Event Opens at Maxell Aqua Park in Shinagawa

Creative company NAKED has opened its popular annual spring event NAKED Sakura Aquarium at Maxell Aqua Park Shinagawa until April 17, 2022. 

Since winter 2015, Maxell Aqua Park Shinagawa and NAKED have held a number of collaborative events each season based on blending the concepts of sound, light, images, and living things. The centerpiece of this spring event is the immersive area titled 'Patterns.' The walls of the aquarium are decorated with fluttering cherry blossoms as petals dance across the ground, pulling guests into a virtual Japanese garden. 

The Garden of Dancing Sakura

Fluttering Sakura

Flower Lantern

Nighttime Dolphin Performance 'Sakura Story'

NAKED Tsukubai – Sakura Version

Guests can also enjoy a cherry blossom version of NAKED Tsukubai, a virtual hand-washing experience. Why not come experience spring in a whole new way?

Cherry Blossom Themed Drink Appears at Flower Miffy

Flower Miffy Juice Garden, a drink stand featuring Dick Bruna's popular character Miffy, is now offering a limited-time cherry blossom beverage at its Asakusa location!

Strawberry

Green Apple

Cherry Blossom Season with Miffy

The Slightly Sakura Drink is inspired by springtime and features a sweet whipped topping with cherry blossom-colored copeau de chocolat. The base of the drink is sakura-colored milk available in green apple and strawberry flavors. Each beverage comes with a Miffy cookie for added cuteness!

 

A Cherry Blossom flower arrangement is also available for purchase at the Flower Miffy online store. 

Illustrations Dick Bruna Ⓒ copyright Mercis bv,1953-2022 www.miffy.com

Hoshino Resort Aomoriya Holds Cherry Blossom Viewing Event Under a Cozy Kotatsu

Hoshino Resort Aomoriya, an inn where visitors are invited to fully enjoy Aomori's culture, will begin its Hanami Kotatsu event from April 1 until May 31, 2022. Guests can enjoy local sake while warming themselves beneath a cozy kotatsu. In the chilly Aomori spring, a kotatsu) will be set up beneath the blooming trees for visitors to comfortably view the cherry blossoms. Hot-water bottles will also be available for rent if guests can a little too cold!

April in Aomori is spring according to the calendar, but it's still quite chilly. Nevertheless, the people of Aomori look forward to flower viewing to overcome the cold winter and enjoy the long-awaited arrival of spring.

Three Fun Additions to Make Cherry Blossom Viewing More Fun

1  A Traditional Umbrella with a Sakura Pattern

Next to each kotatsu is a row of Japanese umbrellas with cherry blossoms painted on them, spreading the pink cherry blossom imagery all around. When opened, the umbrellas are covered with cherry blossoms, making you feel as if you are under the cherry blossoms in full bloom.

2 Choose a Local Sake and Sake Cups for a Flower Viewing Sake Tower

Choose your favorite local sake and three sake cups to make a sake tower! Guests can choose from 10 Aomori sake brands, each with unique aromas and flavors. 

3 Cherry Blossom Patterned Cotton-Filled Hot Water Bottle for Extra Warmth

To keep extra warm beneath the kotatsu, a cotton blanket with a cherry blossom pattern and a hot-water bottle are available for rent. Doesn't it sound heavenly?

Four Seasons Hotel Tokyo At Marunouchi Launches Spring-Only Cherry Blossom Afternoon Tea

From March 16 until April 20, Maison Marunouchi at Four Seasons Hotel Tokyo At Marunouchi will offer a special spring-only cherry blossom afternoon tea set!

The restaurant's head chef, Daniel Calvert, is also the executive chef of the French restaurant Sezanne, which was listed in the Michelin Guide last year. Starting in mid-March, visitors can enjoy a variety of cherry blossom-themed sweets created by executive pastry chef Elwin Boyles.

Covered in bright marzipan, the Princess cake was created by Boyles by combining the image of a princess cake, a Swedish cake traditionally eaten on special occasions, and the image of cherry blossoms, which symbolize the coming of spring and new beginnings.

 

The Pink Gateau Opera combines the image of cherry blossoms with green tea buttercream and almond cream. The Sakura Choux Bombe combines the sweetness of cherry cream and sour lime juice, while the Preserved Sakura Macaron will serve as the perfect Instagram photo. 

Hotel Gajoen Tokyo Introduces Cherry Blossom Viewing Room and Spring Menu Items

Hotel Gajoen Tokyo is known for highlighting the best of Japanese culture, with some rooms used for art exhibitions. To celebrate the coming of spring and the cherry blossoms in full bloom, the location is offering some sakura-themed menu items and a room with a sweeping view of Meguro River and the many sakura trees that line it. 

Special Sakura Kaiseki: ¥6,050 (Tax Included) / Available Weekdays from March 15 – April 8

Sakura Afternoon Tea: ¥4,950 / With Champagne: ¥6,820 (Tax Included), Available from March 14 – April 10

Lunch Set: ¥4,950 (Tax Included) / Available from March 14 – April 10

The hotel's four restaurants are each offering limited-time cherry blossom items. The Japanese restaurant Tofutei will offer the Special Sakura Kaiseki Set, while the New American Grill Kanade Terrace has added cherry blossom petals to its popular seasonal afternoon tea. The Chinese restaurant Shun Yuki has a themed lunch set, 

Spaghettini with Shrimp, Bamboo Shoots and Sea Urchin: ¥2,200 (Tax Included) / Available from March 1 – March 31

The Italian restaurant Ristorante Canoviano is offering guests a spring-inspired course using seasonal ingredients. 

Cherry Blossom Viewing Bento: ¥4,320 (Tax Included) *Limited Availability

The hotel's patisserie is selling a limited number of Cherry Blossom Viewing Bento sets perfect for taking on a picnic. 

Meguro River Cherry Blossom Viewing Room: ¥89,000~ (Tax Included) / 1 room, 2 guests / Available from March 18 – April 7

For overnight stays, guests can enjoy cherry blossom viewing from the Meguro River Cherry Blossom Suite. The executive lounge, exclusively for guests, also overlooks the river and is open for afternoon and evening tea. The food and drink menu changes every hour. 

Japanese Sweets Brand Tohouen Offers Cherry Blossom & Cat-Inspired Spring Manju

Tohouen, a Japanese confectionary maker in Gifu Prefecture, has begun selling a springtime version of its popular cat-inspired manju. Inspired by the many cats that like to stroll around the shop's headquarters, the new release includes cherry blossom-colored cat paws. 

A traditional sweet in Japan, Manju is made from flour, rice powder, and buckwheat, with a tasty sugar and anko (red bean paste) filling.

Do you think these are too cute to eat? 

Information

Cherry Blossom Cat

Release Date: March 2, 2022

Where to Buy: Tohouen Stores, Tohouen Online Shop