Pour Sake Into These Cups and Watch the Cherry Blossoms Bloom
Japanese online store Fujimaki, which sells rare luxury products, released the new "Sakura no Heihai" (Cherry Blossom Sake Cup) on July 18 which has a cherry tree design on it that blossoms when cold sake is poured over it.

The cup is manufactured by Marumo Takagi, a Japanese pottery and ceramics company based in Tajimi, Gifu, which has been running for over 130 years. Due to the effects of the COVID-19 pandemic, many people held out on the Hanami (cherry blossom flower viewing) in Japan this year. Marumo Takagi conceived the idea for their new cup as a result of this so that people can enjoy Hanami from the comfort of their own home.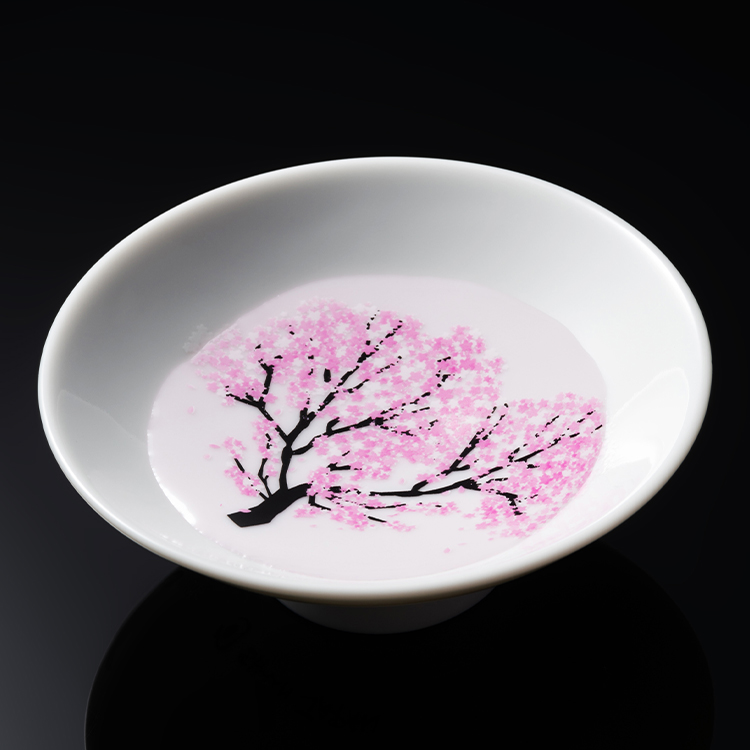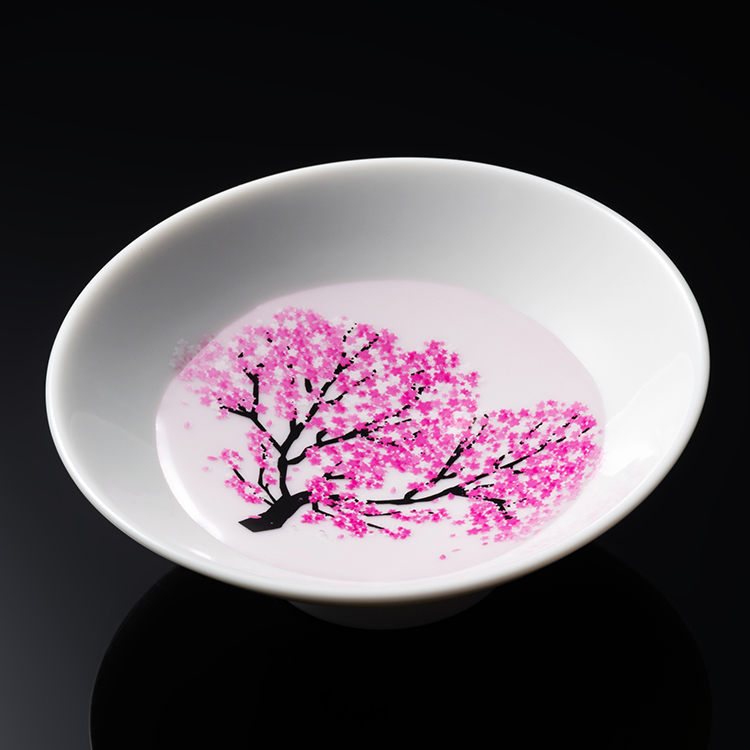 Left: Blossoms in 7 minutes with liquids near 17°C / Right: Very cold liquids cause a full bloom
Each and every cup is handmade individually, including the cherry blossom designs. The flowers bloom a faint pink when the users pours in liquid which are of a temperature around 17°C. If the liquid is very cold, the cherry blossoms take on a full bloom pattern. The white porcelain serves to emphasise the pink hues of the flowers.
The secret behind how this reaction happens lies in the tools used to draw the illustration. Seiji Takagi, the 5th generation president of Marumo Takagi, conceived the idea when he simply thought how amusing it would be to have a function on one of the company's drinking vessels that changes as a result of temperature.
Takagi explained how the went through much trial and error to achieve their vision for the colour, something which they were more focused on than everything else in the manufacturing process.
Cherry Blossom Sake Cup (Japanese: 桜の平盃): ¥3,300 (Tax Included)
The western region of Gifu Prefecture is famous for its Japanese ceramics. It is the biggest pottery manufacturing location in Japan and has been firing up ceramics for over 1,300 years. The city of Tajimi in Gifu, where Marumo Takagi is based, has prospered when it comes to the creating sake cups. The cherry blossom sake cup comes as an innovative design and shows the true skill and art of Marumo Takagi's artisans.
RELATED ENTRIES
Tokyo's National Museum of Nature and Science Launches YouTube Video Exhibition On Japanese Cherry Blossoms

National Museum of Nature and Science, Tokyo has posted a new series on its YouTube channel entitled "Japanese Cherry Blossoms Illustrated by Ohta Yoai, a Pioneer of the Botanical Art in Japan."

In response to the coronavirus outbreak, the Ueno-based museum was forced to close its doors to the public on February 29, 2020. The museum was originally scheduled to hold the "Japanese Cherry Blossoms Illustrated by Ohta Yoai, a Pioneer of the Botanical Art in Japan" exhibition at the museum itself from March 14 to April 12, but due to the closure it was not run.

However, the exhibition planners still wanted people to see the content of the exhibition, and so they have posted three videos on YouTube to take viewers on a tour of it. The three videos, themed on "Botanical Art," "Japanese Cherry Blossoms," and "Ohta Yoai" are presented by Japanese botanist Masanobu Higuchi.

In the first video, we are introduced to the exhibition's theme of Japanese cherry blossoms. We get to see examples of cherry blossom collected by Tomitaro Makino, the father of Japanese botany.


In the second video, we realm about what kind of person illustrator Ohta Yoai was, as well as botanist Jisaburo Ohwi. Both of them co-wrote the 1973 work Nihonzakura Shu ("A Collection of Japanese Cherry Blossoms").


In the third and final video, we get to see some of Ohta Yoai's best pieces, along with explanations of what kinds of cherry blossoms they are.

5 Best Cherry Blossom Spots in Hokkaido | 2020 Edition – MOSHI MOSHI NIPPON

Sapporo, Asahikawa, Abashiriーthe list goes on when it comes to incredible places to see the cherry blossoms in Hokkaido. And the best time to see them in Japan's northernmost main island is May.

Today, we are joined by Mirina, an Instagrammer who posts photos of tourist and sightseeing spots in Hokkaido that are rich in nature. She has shared her photos with us along with details of 5 must-visit famous cherry blossom sites in Hokkaido. Let's take a look.

Tokiwa Park


Tokiwa Park is located in the city of Asahikawa, and is home to around 200 individual cherry trees of various kinds including the Yoshino cherry and ezo yamazakura. Weeping cherries also dangle their graceful branches around the lake, which you can sail through on a boat for an even more memorable cherry blossom experience. Tokiwa Park is also listed as one of Japan's "100 City Parks," so it's one that needs to go on your list of sightseeing spots if you're travelling to Hokkaido.

Tokiwa Park


Address: Tokiwakoen, Asahikawa, Hokkaido

Access: 25-minutes on foot from Asahikawa Station (via JR Line). Alternatively, board the Tohoku Bus and get off at Tokiwa Park (常磐公園).

Official Website: http://www.asahikawa-park.or.jp/

Twin Harp Bridge

This spot is also located in Asahikawa. It gets its name from how the bridge looks like two harps lined up next to each other. Twin Harp Bridge is also a popular place with the locals for celebrating Hanami in the spring season as cherry blossoms bloom in the vicinity of the bridge.

Twin Harp Bridge

Address: 4 Chome Toko 18 Jo, Asahikawa, Hokkaido to 5 Chome Kyokushin 1 Jo, Asahikawa, Hokkaido

Access: 20-minutes by car from Asahikawa Airport / 15-minutes by car from Asahikawa Station

Official Website: http://www.city.asahikawa.hokkaido.jp/files/tosi_kei/index.htm

Kitoushi Forest Park – Family Village

Located southeast of Asahikawa, Kitoushi Forest Park – Family Village offers views of ezo yamazakura as well as shibazakura moss phlox. Visitors can also have barbeques at the facility for an even better outdoor experience combining great food with cherry blossom viewing.

Kitoushi Forest Park – Family Village (Kitoushi Shinrin Koen Kazokuryokomura)

Address: 5 Gokita-44 Nishi, Higashikawa, Kamikawa-gun, Hokkaido

Access: 40-minutes by car from Asahikawa Station

Official Website: http://www.kazokuryokoumura.jp/

More Information (English): http://www.asahikawa-tourism.com/asahikawa/asahikawa_sites/higashikawa/higashikawa_en.html

Maruyama Park


Maruyama Park is another famous cherry blossom site where Yoshino cherry trees and ezo yamazakura bloom. Compared to Asahikawa, the cherry blossoms here bloom a little earlier during spring. You'll catch them from late April to early May. During the cherry blossom season, there is a place where fires can be lit, so you'll catch people cooking up jingisukan, a type of Japanese mutton dish.

Maruyama Park

Address: Miyagaoka, Chuo Ward, Sapporo, Hokkaido

Access: 5-minutes on foot from Maruyama-Kōen Station

Official Website: http://www.sapporo.travel/find/nature-and-parks/maruyama_park/

Higashimokoto Shibazakura Park


Higashimokoto Shibazakura Park's rolling hills offer a breathtaking view of shibazakura moss phlox cherry blossoms. The hills themselves aren't steep, so the spectacle can be enjoyed from both the top and bottom of them. The Shibazakura Festival is also held between May and June.

Higashimokoto Shibazakura Park

Address: 393 Higashimokotosuehiro, Ozora, Abashiri-gun, Hokkaido

Access: 30-minutes by cat from Abashiri Station. Alternatively, board the transit bus from Abashiri Station, get off at Higashimokotocho (東藻琴町). The park is a 5-mintue drive from here.

Official Website: http://www.shibazakura.net/

 

Photo:Mirina has visited many sightseeing spots in Hokkaido, so if you're looking for more places to visit be sure to follow her on Instagram.

Photos: Mirina Nishio

Travel Virtually to Japan's City of Komoro in Nagano to See Cherry Blossoms, Soak in the Onsen & More

Komoro Tourism Bureau has developed the new "Komoro Tourism Channel" using Voicy, a news and media site which reports spoken information online. The channel focuses on the latest information with regards to tourism in Komoro, and focuses on the city's many different hot springs.

About Komoro

Komoro is a city in Nagano Prefecture. Komoro Castle is home to Kaikoen Park, which was chosen as the 100 best cherry blossom spots in Japan. The city also boasts a wide variety of onsen (hot springs) which offer amazing views and numerous different bathing experiences. Komoro Tourism Channel covers all of this and more.

Komoro is about 2-hours by car via the Nerima Interchange on Kan-etsu Expressway. It's also accessible from Tokyo via car. You can also reach it in around 24 minutes from Karuizawa Station via Shinano Railway.

Delivering the sounds of the relaxing onsen from Komoro

Komoro has eight water sources which provide water to its hot springs. The city sits 1,400 meters above sea level, from which each of its hot springs offer breathtaking views. The podcast on the hot springs, which is in Japanese, lets you feel like you're experiencing them from your very own home. More podcasts on Komoro are planned to be released in the future, and QR codes will be implemented are various hotels and tourist facilities in Komoro which when scanned will offer voice guides to those places.

Komoro Tourism Channel: https://voicy.jp/channel/1074

The Komoro Tourism Bureau is coming up with measures to continue promoting the city during the ongoing coronavirus pandemic. As well as Komoro Tourism Channel, it is also releasing information on its website, Twitter page, and elsewhere.

Kaikoen Park at Komoro Castle

Kaikoen Park at Komoro Castle is a tourist hot spot in Komoro. The castle itself was chosen as one of Japan's 100 most famous castle sites. It is also famous for the castle itself being situated lower than the town around the castle. Kaikoen Park was selected as one of Japan's 100 best cherry blossom spots, where around 500 trees bloom Yoshino cherries, shidare-zakura, higan-zakura, and more through April every year. The "Komoro-yae-beni-share" tree is an endemic species of cherry tree to Komoro and has a deep pink colour. The park also has towering stone walls and is home to the the front castle gate.

Komoro Castle Official Website (Japanese): https://www.komoro-tour.jp/castle/

Komoro Castle Official Website (English): https://www.komoro-tour.jp/lg_en/

See 3,000 Rhododendrons in Full Bloom at the Tsutsuji Garden by Lake Ashi in Hakone

May is the most colourful time of the year at Hotel de Yama near Lake Ashi in Hakone, when a total of 3,000 rhododendronsーcomprised of 30 different typesーbloom their beautiful flowers in the large Tsutsuji Garden, where one can enjoy a great view of Mount Fuji and Lake Ashi.

Tsutsuji Garden at Hotel de Yama

"Tsutsuji" is the Japanese word for rhododendron. The Tsutsuji Garden at Hotel de Yama was once the villa of Koyata Iwasaki, "the fourth and last president of a unified Mitsubishi." During that time, numerous varieties of rhododendrons were planted in the garden, which have since been maintained. There are plants amongst them that are over 100-years-old, ones that tower over the human stature, and more; with petals that bloom pink, red, purple, and white.

A combined view of the kaleidoscopic rhododendrons and Mount Fuji

The staff who are experts on the garden have set up two photo frame stands in two of the best spots in the garden for taking picturesque photos. Snap some Instagrammable and memories with the colourful rhododendrons and Mount Fuji together.

Rhododendron Desserts: Saison a colorier – ¥1,634 / Tea Set – ¥2,360 (Before Tax)

Salon de thé Rosage, the dessert restaurant that sits in front of the hotel, is serving up a new special dessert called "Saison a colorier" in line with the full bloom of the rhododendrons. It captures the colourful pink, red, white, and purple appearance of the flowers, and looks like a mini version of the hotel's garden on your plate. The main part of the dessert is the tea mousse, which has a bright red colour as it is coated beautifully in a strawberry puree nappage. The tea used in the mouse is an original rhododendron blend exclusive to the restaurant.


The white rhododendron dessert is a macaron that's filled with raspberry sorbet. The red which contrasts with the white is a rhododendron milk tea cream and fresh raspberries. The rest of the plate is adorned with pink jelly and edible flowers. The perfect afternoon tea to finish off your time at Tsutsuji Garden.

3 Must-Visit Cherry Blossoms Spots in Nagasaki Prefecture's Hirado City | Spring 2020

Spring has arrived in the city of Hirado, Nagasaki, which has been dyed a cherry blossom pink colour from the blossoming of the cherry trees. A simple glance at the signs of spring there is enough to have one feeling elated. It has also made the news that the budding of the cherry blossoms in Hirado has arrived earlier than usual.

We've made a list of 3 popular spots to enjoy Hanami in Hirado this spring.

Jigenzakura


Jigenzakura is a single sakura tree that stands proud and majestic. Aged 140 years old, the tree is listed as a National Treasure of Hirado. It's close to the Oshima variety of cherry tree, and was planted by Catholics who migrated to Japan at the beginning of the Meiji Period. A visit to Jigenzakura offers a splendid sight to behold as it blossoms in the ravine. The best time to see it in full bloom last year was March 31.

Address: Kigatsucho, Hirado, Nagasaki (35-minutes from Hirado Bridge)

Nagasaki Tabi Net: https://www.nagasaki-tabinet.com/guide/51690/

 

Kameoka Shrine / Kameoka Park


Kameoka Park is a famous cherry blossom site that's adjacent to Hirado Castle. It's home to around 1,000 sakura trees, which are best seen from the end of March to early April. It also has a very rare type of cherry blossom called the nidozaki-zakura which blooms twice. You can see these around mid-April at Kameoka Park.

Address: 1458 Iwanouechō, Hirado, Nagasaki (7-minutes from Hirado Bridge)

Nagasaki Tabi Net: https://www.nagasaki-tabinet.com/guide/370/

Tabira Park


Tabira Park is just over Hirado Bridge, and is a place where you can look out at both Hirado Bridge and Hirado Seto while gazing at the rows of cherry trees.

Address: 823-1 Tabirachō Kotedamen, Hirado, Nagasaki (Next to Hirado Bridge)

Official Website: http://nagasaki-park.or.jp/free/tabira

Hirado is easy to get to, and is a must-visit not just for Hanami, but for the food and its rich history too.

Witness Mount Fuji and Fully Bloomed Cherry Blossoms at HOSHINOYA Fuji

HOSHINOYA Fuji is offering a very special Hanami flower-viewing experience for guests from April 7 to 21 this year where they can observe the springtime cherry blossoms against the backdrop of Mount Fuji. Offers include cherry blossom desserts, a glamping experience inside a cabin eating curry while enjoying the scenery of the outdoors, a private outdoor dining dinner, and more.

HOSHINOYA Fuji hails as Japan's first luxury camping resort. Located on the hill overlooking Lake Kawaguchi near Mount Fuji. It offers the ultimate glamping experience, with a large outdoor terrace surrounded by nature, cabins that can be enjoyed throughout the year, and more. It's difficult to go out and enjoy the cherry blossoms on the streets right now, but if you'd still like to enjoy spring safely with your special someone, then HOSHINOYA Fuji has created a special springtime experience.

Sakura Apéro: Witness the cherry blossoms during sunset with desserts in hand

"Sakura Apéro" is a chance to take a breather and enjoy all the beauties nature has to offer. It is held in the cabin area of HOSHINOYA Fuji under the towering cherry blossom trees. Sit back, relax, and enjoy an evening treat of cherry blossom flavoured bean paste rice cake, a cup of matcha milk or a matcha cocktail, and a front row seat of the cherry blossoms as the sun sets.

Hanami on the terrace

HOSHINOYA Fuji's cabina area is built in such a way so that guests can enjoy an outdoor experience. One third of the cabin has a terrace area with an enormous window that looks out into the natural landscape. A fireplace and kotatsu is available so you can still enjoy the outdoors even inside while relaxing with a comfortable stay into the late nights. Some of the cabins offer a view of the surrounding cherry blossom trees, inviting spring into your room.

Curry made on one of Mount Fuji's lava plates

At HOSHINOYA Fuji, guests can enjoy outdoor cooking in luxury be it in one of the cabins or the dining restaurant in the forest. Those who want to relax in a cabin are recommended the "Glamping Curry" at the terrace. You grill beef and vegetables yourself on a Mount Fuji lava plate and can combine five spices of your choice to create your own original flavour. In the outdoor dining area, which is exclusive to groups of guests, game meat is also served, such as boar and deer, as well as seasonal vegetables prepared in a dutch oven. For dessert, there's cherry blossom flavoured ice cream. You can also make your own strawberry sauce using fresh strawberries over a fire to pour over your ice cream before topping it with matcha crumbles.

Due to the ongoing situation surrounding the coronavirus, all guest rooms and public areas at all HOSHINOYA facilities are being thoroughly cleaned in line with the recommended guidelines to ensure the health and safety of guests and staff. Alcohol gel is available at all HOSHINOYA facilities, and staff's health and hygiene are being consistently examined.

Information

HOSHINOYA Fuji

Address: 1408 Ōishi, Fujikawaguchiko, Minamitsuru-gun, Yamanashi

Official Website: https://www.hoshinoya.com/

5 Must-Visit Cherry Blossom Spots in Toyota City in Aichi Prefecture For Hanami 2020

Toyota in Aichi Prefecture is a city abundant with nature and one home to countless famous flower spots. Tourism Toyota has outlined a list of the perfect places to visit there this spring to enjoy viewing the cherry blossoms for this year's Hanami.

Asian Fawnlily | Korankei

Korankei is a valley created by the Yodo River in Toyota, Aichi, and is said to be one of the best places in Japan to enjoy the autumn colours. In spring, an area covering 5,000m² blooms with beautiful Asian fawnlilies, dyeing the grass as a light purple carpet.

Best Time To See: Mid March – Late March

Location: Korankei, Iimori Asukecho, Toyota, Aichi

Access: Board the Meitetsu Bus bound for Yamani (矢並線) at Toyotashi Station's East Exit, get off at Korankei (香嵐渓), and walk for 10-minutes

Official Website: https://www.tourismtoyota.jp/spots/detail/272/

Cherry Blossoms & Spiraea Thunbergii | Aichi Greenery Center

 

Every year at Aichi Greenery Center from late March to early April, the Spiraea Thunbergii, also known as Thunberg's meadowsweet, blossom their white flowers in full along a path stretching 200 meters, which makes it look like the area is covered in snow. When the cherry blossoms bloom, their light pink flowers offer a beautiful contrast with the snowbound meadowsweet.

Best Time To See: Late March – Early April

Address: Saruta-21-1 Nishinakayamachō, Toyota, Aichi

Access: Board the Oiden Bus bound for Fujioka/Toyota Via Nishinakayama (藤岡・豊田線(西中山経由)) and get off at the Greenery Center (緑化センター)

Official Website: https://www.tourismtoyota.jp/spots/detail/277/

Weeping Cherry Blossoms | Kaminaka

Kaminaka is home to some incredible weeping cherry sights. Around 3,000 weeping cherry trees stretch 1km from the car park, dyeing the mountainous landscape white, red, and pink.

Best Time To See: Early to Mid April

Address: Makigahora Kaminakacho, Toyota, Aichi

Access: 27km from Shidare Interchange (枝下IC) via Sarugata Green Road (猿投グリーンロード)

Official Website: https://www.tourismtoyota.jp/spots/detail/225/

Weeping Cherry Blossoms | Zuiryuji Temple & Daian-ji Temple

Zuiryuji Temple is home to a weeping cherry tree that is said to be 400 years old. It is officially listed as a Natural Treasure of Aichi Prefecture. Its flowers are best enjoyed in early April when it offers a spectacular sight next to the temple gate.

Daian-ji Temple also has an ancient weeping cherry tree that is 260 years old and listed as a National Treasure of Toyota. Another row of cherry trees are located next to it, wrapping the area in gorgeous pink hues. Both of these temple trees are also lit up in the evenings, offering a different kind of beautiful atmosphere from a daytime viewing.

Best Time To See: Early April

Address: Terayama-3 Inabuchō, Toyota, Aichi

Access: Board the Oiden Bus [Kaisoku Inabu] at Toyotashi Station's East Exit, get off at Dongurinoyu Mae (どんぐりの湯前), and walk for 10-minutes

Official Websites:

https://www.tourismtoyota.jp/spots/detail/39/ (Zuiryuji Temple)

https://www.tourismtoyota.jp/spots/detail/697/ (Daian-ji Temple)

Wisterias | Fuji no Kairo

This 370-meter long path is known as Fuji no Kairo, or "Wisteria Corridor," which is home to four different species of wisteria that bloom fully in the spring to the delight of those passing under it.

Best Time To See: Late April – Early May

Address: Mitsukuricho, Toyota, Aichi

Access: Board the Oiden Bus bound for Fujioka/Toyota Via Kanocho (藤岡・豊田線(加納経由)) and get off at Toyota City Hall (藤岡支所). Change onto the Fuji Bus bound for Kawaguchi/Ino (川口・飯野線), then get off at Fuji no Kairo (ふじの回廊口).

Official Website: https://www.tourismtoyota.jp/spots/detail/191/

Shirasagi Coffee: Ehime Prefecture's Cafe Releases Springtime Cherry Blossom Menu

Shirasagi Coffee, a cafe in Ehime Prefecture, has released a new seasonal menu full of strawberries and cherry blossoms to commemorate the spring season.

Shirasagi Coffee's logo features a heron, a reference to a legend that says the locals of Matsuyama in Ehime noticed that a white heron healed its injured leg by bathing in the hot springs of Dōgo Onsen, one of the oldest hot springs in  Japan. The cafe was renovated using furniture made from scrap wood from when Dōgo Onsen was built. It's an artistic cafe that has garnered much attention from both locals and tourists.

Thick-Cut Natural Yeast Toast

This thick-sliced bread is provided by Panya Uzu, a bread shop also in Matsuyama, Ehime. Perfect for breakfast or lunch, it's topped with a cherry blossom jam and mascarpone cheese cream.

Top: Cream Soda / Right: Cherry Blossom Tea Latte / Left: Cherry Blossom & Strawberry Mint Sour

This line-up of three drinks are made using seasonal strawberries grown in Ehime Prefecture.

Sweet Bavarois

Bavarois is a classic dessert at Shirasagi Coffee, and this one is made using matcha grown in the village of Shingu in Ehime and is coated in a cherry blossom cream.

Spring Madonna Parfait

This limited-time parfait is stacked with 12 different ingredients of varying textures and flavours, including cherry blossom, as well as Ehime strawberries, chestnuts, and matcha. It's the culmination of Ehime's springtime ingredients.

Takeout Drinks

Mini Parfait

The cafe also serves mini parfaits, drinks and other items for takeout. Pick something out and go and observe the cherry blossoms for Hanami at Dōgo Park.

Information

Shirasagi Coffee

Address: 2F, 12-1 Dōgoyunomachi, Matsuyama, Ehime Prefecture

Opening Hours: 08:00-18:00 (from 07:00 on weekends and public holidays)

No Fixed Holidays

Closest Station: Dogo Station via Iyotetsu

Official Website: https://shirasagicoffee.com/

*Open everyday until 22:30 from March 23, 2020

*Table reservations available on weekdays

*Breakfast-only until 11:00

Lisa Larson Designs Cute New Cherry Blossom Hedgehog Items

An adorable new collection of items fitting for Japanese springtime have been released featuring Lisa Larson's popular hedgehogs and cherry blossoms. Larson has an interest in Japanese culture, and has designed this line-up in time for the Hanami season.

Letter Paper Set – ¥440 (Tax Included) / Masking Tape (35mm) – ¥550 (Tax Included)

The letter paper and masking tape features cute illustrations of the hedgehogs taking a stroll amongst the cherry blossoms. A great spring gift or souvenir from Japan.

Water Absorbent Cloth – ¥660 (Tax Included) / Tea Towel – ¥660 (Tax Included)

The cloth and tea towel are perfect additions to the kitchen, whether for drying the plates, for food prep, wiping the counter, and so on. The adorable strolling hedgehogs will add a warm touch to any kitchen.

Printed Hand Towel – ¥1,540 (Tax Included)

The hedgehogs are enjoying observing the cherry blossoms on this hand towel, which is light-pink and has a gentle Japanese taste to it. The towel is made using a dyeing technique known as kata-yuzen which is used to dye fabrics for kimono in Kyoto. It's a versatile item: it can of course be used as a kitchen towel or cloth, but also for wrapping gifts like wine too.

Mamezara Dish (Hasami Ware) – ¥1,430 (Tax Included)

The hedgehogs are in the thick of the fully-bloomed cherry blossoms on this mamezara dish, which can be used for food or placing small items like keys and accessories.

Waffles – ¥1,620 (Tax Included)

These tins, which feature Mikey and the hedgehogs, are filled with a traditional waffle confection that has been sold by Tokyo Fugetsudo since 1927. They are light and crunchy round wafers stuffed with cream.

Hanami Set 2020 (Online Orders Only) – ¥11,000 (Tax Included)

Available online only, this special set is the perfect way to enjoy Hanami in Japan this season, featuring a cute bird sake jug and more.

Celebrate the arrival of the cherry blossoms in Japan with this new line-up from Lisa Larson.

Cherry Blossoms and Rape Blossoms Compete For Spring at Kusaba River in Fukuoka

The town of Chikuzen in Fukuoka Prefecture is home to a 2km strip of cherry blossom trees which bloom their pink beauty along the Kusaba River in spring. The area sees countless people flock there during the Hanami season to see the trees in full bloom.

But Kusaba River isn't only home to cherry blossoms; it also sees rape blossoms sprout their yellow flowers during springtime, which offers a beautiful contrast to the overhead pink from the cherry trees.

The place is lit up in the eveningsーa great chance to see the cherry blossoms in a different light at night.

Rich verdure lines the whole of Kusaba River, so be sure to visit if you're heading to Fukuoka this spring to see the cherry and rape blossoms.

Information

Kusaba River

Address: 875 Hisamitsu, Chikuzen, Asakura-gun, Fukuoka

Bloom Period: Late March – Early April

Access: 5-minutes on foot from Shincho Bus Stop (新町バス停) via Nishi Tetsu Bus

Experience Hanami and Cherry Blossoms With Digital Art at FLOWERS BY NAKED 2020 – Sakura –

FLOWERS BY NAKED is an annual flower-themed digital art event held by NAKED Inc. As part of this year's event, FLOWERS BY NAKED 2020 – Sakura –, a special addendum event entitled "Nijo Castle Sakura Matsuri" will take place during the evenings at the World Heritage Site Nijo Castle From March 20 to April 12 this year.

FLOWERS BY NAKED is an interactive digital art experience. It has been held at Nijo Castle during the autumns of 2018 and 2019, but this will be the event's first time being held in Kyoto during the spring season. 2020's theme is cherry blossoms, and this will be showcased in a number of wonderful ways.

Prologue | NAKED BIG BOOK

"NAKED BIG BOOK, a monument of the beginning of this exhibition, will show collaboration works by an artist Ryotaro Muramatsu and a photographer LESLIE KEE. LESLIE KEE contained energy into photographs as the quiet expression, and Ryotaro Muramatsu reinterprets his works to dynamic photography art.​"

Arrival of Spring | Kara-mon Gate (Important Cultural Property)

"Projection mapping expresses the coming of Spring on Karamon-Gate as an important cultural property."

Flowers Wall ~ SAKURA ~ | Inner Moat

"Projection mapping of impressive sakura on the moats in Nijo-jo Castle. The landscape will transition following sakura."

Sakura Droplets | Seiryu-en Garden

"A mystical space surrounded by real sakura where bubbles confined spring fragrance float as the sakura droplet.​ ​"

The event is working on countermeasures against the coronavirus, such as installing disinfectants and having staff wear masks. It requests that visitors take normal measures against the infection such as cough etiquette and washing your hands. Click here for more information.

Information

FLOWERS BY NAKED 2020 −Sakura− World Heritage Nijo-jo Castle

Running: March 20, 2020 – April 12, 2020
Opening Hours: 18:00-21:00 (Closed at 22:00)
Location: Nijo-jo Castle
Admission Fees:

Early Bird Tickets (Available until March 19, 2020) / Junior High School and Older ¥1,000, Elementary School Students ¥800
General Tickets (March 20, 2020 – April 12, 2020) / Junior High School and Older ¥1,400, Elementary School Students ¥800
*All prices above include tax. Free for preschoolers. Disability discount available.

Official Website: https://flowers.naked.works/2020nijojo-sakura/

Must-Visit Spots in Kagawa Prefecture in 2020: Cherry Blossoms, Dolphins, Bonsai & More

Appreciation for the Seto Inland Sea in Japan is on the rise: American company Discovery named Shikoku one of its Top 10 must-visit rising locations around the world for 2020, and the city of Setouchi in Okayama has featured as a recommended travel destination in Western media. One particular location, Kagawa Prefecture, has been featured on many international travel sites as a must-visit place, including on Booking.com, Skyscanner, and REMOTE LANDS, with places such as Takamatsu, Teshima, and Shōdo Island being picked up.

Takamatsu is known as the doorstep that brings together the many islands of Seto Inland Sea. It's a port city with great fresh food, highly convenient for travellers wanting to visit lots of different islands, and a popular region that brings together elements of Japanese culture.

Today, we take a look at some must-visit locations around Takamatsu, including a new facility opening, must-visit spots for spring to early summer, food, and more.

Shikoku Aquarium – The largest aquarium in Shikoku

Shikoku Aquarium is set to be the largest across Shikoku when it opens its doors to the public on March 20, 2020. It's located inside Utazu Seaside Park in the town of Utazu where it will exhibit the creatures that live in Shikoku and feature the many different seaside landscapes located there. But the aquarium won't just stop at showcasing animals, it will also be a cultural facility where you can learn about the history, culture, and natural environment of Shikoku, and there'll be artwork perfect for the Setouchi Triennale contemporary art festival which is held around Seto Inland Sea every three years.

Shikoku Aquarium

Address: Utazu Rinkaikoen, 4-1 Utazu, Ayauta District, Kagawa

Opening Hours:

[March 20, 2020 – September 30, 2020] 9:00-18:00

[October 1, 2020 – March 19, 2021] 10:00-18:00

[Golden Week/Summer Break] 9:00-21:00

No Fixed Holidays

Price: General (16+ Years & High School Students) ¥2,200 / Children (Elementary School Students) ¥1,200 / Toddlers (3+ Years) ¥60

Official Website: http://shikoku-aquarium.jp/

Well-Known & Little-Known-Good Cherry Blossom Spots

Kagawa Prefecture is home to many spots that offer beautiful sounds and sights throughout the four seasons. Cherry blossom season is right around the corner in Japan, so let's take a look at some must-visit spots, both popular and little-known good ones.

■Well-Known Spots

Ritsurin Garden (Takamatsu)

One of the most famous historical gardens in Japan, Ritsurin Garden is home to around 320 Yoshino cherry trees, whose pink colour reflects beautifully off the lake together with the 1,000 green pine trees.

Marugame Castle (Marugame)

Marugame Castle is one of only 12 castle in Japan to have an original wooden tenshu, or castle tower, built. From the great height of the castle's stone wall, which is the tallest in Japan, one can gaze down at 1,000 cherry blossom trees in bloom.

■Little-Known-Good Spots

Megijima (Takamatsu)

Around 3,000 cherry trees bloom on t he island, including Yoshino cherries, yama-zakura, and yae-zakura, which roll from the port to the lighthouse.

Asahiyama Forest Park (Mitoyo)

Asahiyama Forest Park is located on the peak of Mt. Asahi, up 238 meters high. There, you can witness 2,000 vibrant cherry blossom trees bloom in spring, including Yoshino cherries. The park's observation deck is popular too, offering a 360° panoramic view.

Experience the world of bonsai in Kagawa, the only place in Japan which produces pine bonsai trees

Interest in bonsai trees continues to grow every year not just in Japan but overseas too. The number of people incorporating them into their lives as interior decoration is on the rise. Kagawa Prefecture is the only place in Japan which produces pine bonsai trees, the largest places being Kinashi and Kokubunji in Takamatsu. There are around 60 bonsai makers in both of these towns, so you are sure to spot some if you walk through them.

Official Website: https://takamatsu-bonsai.com/en/

The new Takamatsu Bonsai no Sato is also set to open on April 17, which will include an information centre providing information on bonsai culture in Takamatsu, and there will be workshops too. Whether you're new to bonsai or a pro, there's something for everyone to enjoy.

Takamatsu Bonsai no Sato

Grand Opening: April 17, 2020

Address: 353-1 Kokubunjichō Kokubu, Takamatsu, Kagawa

Travel to Kagawa this spring to enjoy the cherry blossoms and pay a visit to the new Shikoku Aquarium.