Kawaii Creator's Club #8: Milli Shares Her Experiences as a Kawaii Fashion Creator
MOSHI MOSHI NIPPON is launching a new series which we are calling the Kawaii Creators Club. Each episode, we'll be introducing to you, the readers, to Kawaii Fashion Creators from around the world whose kawaii fashion is reminiscent of that seen in Tokyo's fashion hub of Harajuku.
You'll get to know each of these creators―who all live in different countries around the world―as you learn how they came to know about kawaii fashion, where they buy their clothes and accessories, who their fashion inspirations are, and more, in the form of an interview.
In Episode #8, we welcome Milli from Germany! We get to hear about how this kawaii fashion creator, whose gorgeous short hair has us hooked, came to be interesting in fashion, how anime has influenced her, and more.
–What is your nickname (or name)?
Milli
–Which country do you live in?
Germany
–What is your occupation?
I'm a student, nearing the last year of German secondary school (similar to High School).

–What made you interested in kawaii fashion?
I saw a YouTube video way back, when I was just getting into cosplay, discussing whether Lolita Fashion fell into the cosplay category or not (obviously it doesn't). I had no idea what Lolita Fashion or Fairy Kei was then, but I saw the two lolitas featured on the thumbnail of that video and thought "wow, I wanna look like them!!!"
–At what age did you start experimenting with kawaii fashion?
When I was 12 years old.
–Where do you buy your kawaii accessories and clothes from?
Accessories I buy at random or make myself. For clothing, I like to go thrifting as much as possible, although I looove the following online-available brands:
Nile Perch /Milklim/Listenflavor/Peiliee Shop/Kokopie Shop/Good Fortune Shop/Pastelloves Store/Devil Inspired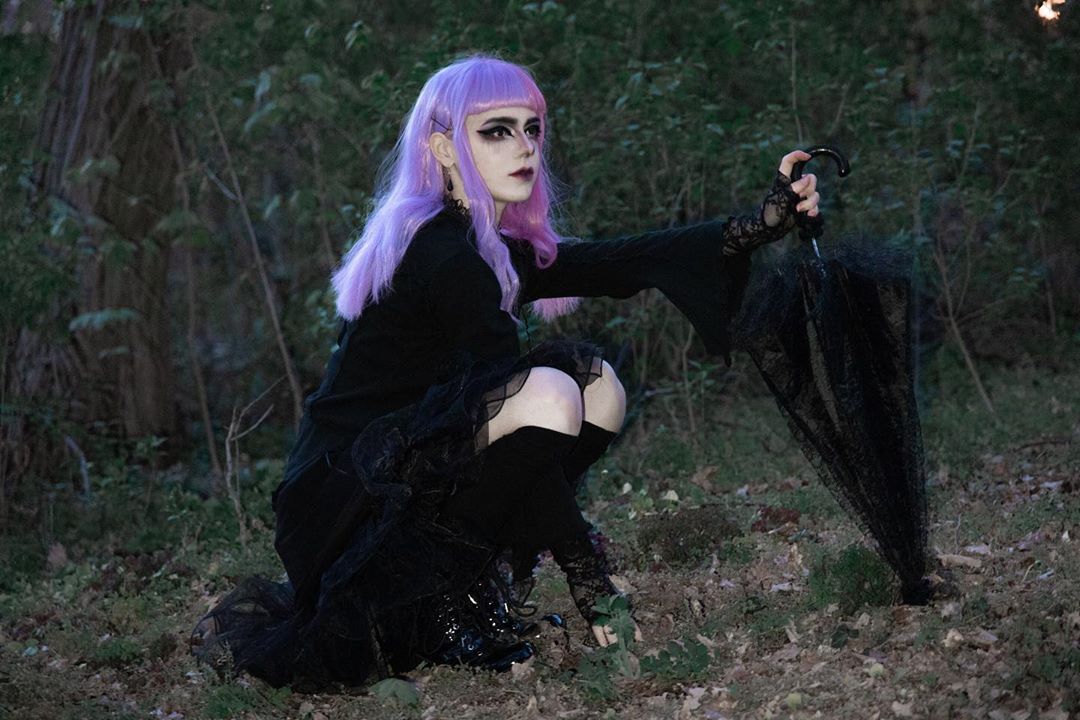 –Is there anyone who inspires your fashion style?
There are so many amazing creators out there, so I could name a bunch of people haha… When I need particular fashion inspiration, I often go to the accounts of @laaagkki @pixieelocks @dewybun @fairy.izzi @kao_kitsune @newniji @katiebabydoll
— What do you like doing on your days off?
Anything creative! Drawing, sewing, scrapbooking, going out and taking photos… Oh, and bake a cake!
–What is your favourite food and why? (It can be from any country)
Mango curry with vegetables and fried tofu (for a meal), but something my sweet tooth can never get enough of is German poppyseed cake!

–Do you have a favourite anime?
I'll have to name multiple…
Kuroshitsuji:
love because: it combines my favorite past time (the 1880's) with my favorite city (London) and an AMAZING set of characters
fav character: Ciel Phantomhive because I relate to his cold, sarcastic energy. Which gives me confidence that one can use these traits for good, not for evil or to be mean.
Haikyuu:
love because: sooo many characters to cheer for! Best sports anime out there and it focuses on each team so nicely, you literally can't pick sides.
fav character: Hinata Shoyo because he shines like a happy, energetic sun for everyone around him. I want to be that for my friends.
Ouran Highschool Host Club:
love because: hilarious, queer, absolutely out there, and so different from any other anime I've watched.
fav character: Haruhi Fujioka because I have NEVER before related to any fictional character this much. And I just love the way she breaks gender stereotypes!
–Do you have a favourite Japanese celebrity? If yes, who is it and why?
I don't really keep up with celebrities in general haha, sorry… I only really know influencers, so in that case: Haruka Kurebayashi (@kurebayashiii on Instagram)
Her style is so creative (the way she puts together outfits and combines the pieces + makeup is amazing!) and her personality just SHINES! Which makes the videos and vlogs she does especially enjoyable.
–Do you have a favourite website about Japan or Japanese culture? If so, what is it?
Well, since the part of Japanese culture that I currently educate myself on the most is the language, I will name the website I'm learning through: japanesefromzero.com
Moreso, the author George Trombley is so helpful with the teachings he gives on his YouTube channel!
–What is your favourite Japanese word or phrase?
十人十色 // juunintoiro // Ten People, Ten Colours
I find this proverb so joyful and fitting, as it allows me to take it literally (in the sense of individual style and "don't judge a book by its cover") or interpret it according to an occasion (when I might be upset because someone has a different outlook on something, that might however be interesting to consider).
It also promotes diversity!
–Have you ever been to Japan? What is your favourite place?
Not yet, but I want to go as soon as possible!! Mainly to Harajuku, as I'd love to see the district where my favorite fashion styles originated and flourish.
–Tell us about your dreams for the future.
I dream of living freely and finding an occupation I love (this is especially important right now, as I need to know what to do after I finish school). I want to travel with friends and one day live in an old house in my hometown, with a big garden and many cats. It might sound like just wishful thinking, but we attract what we believe in!
–Finally, what does "kawaii" mean to you?
"kawaii" is a lifestyle to me, as well as a feeling of childish, careless happiness and unrestricted creative freedom. It's definitely more than just "cuteness"; it's the way I view and design my surroundings and how I choose to find brightness and positivity in the world, regardless of how dark it might be some days.
If you want to see more of Milli then be sure to follow her on Instagram where you can check out many more of her looks.
Milli Instagram: @plantlovingrose