Kawaii Creator's Club #9: Luzia Shares Her Experiences as a Kawaii Fashion Creator
MOSHI MOSHI NIPPON is launching a new series which we are calling the Kawaii Creators Club. Each episode, we'll be introducing to you, the readers, to Kawaii Fashion Creators from around the world who are interested in kawaii fashion from Harajuku.
You'll get to know each of these creators―who all live in different countries around the world―as you learn how they came to know about kawaii fashion, where they buy their clothes and accessories, who their fashion inspirations are, and more, in the form of an interview.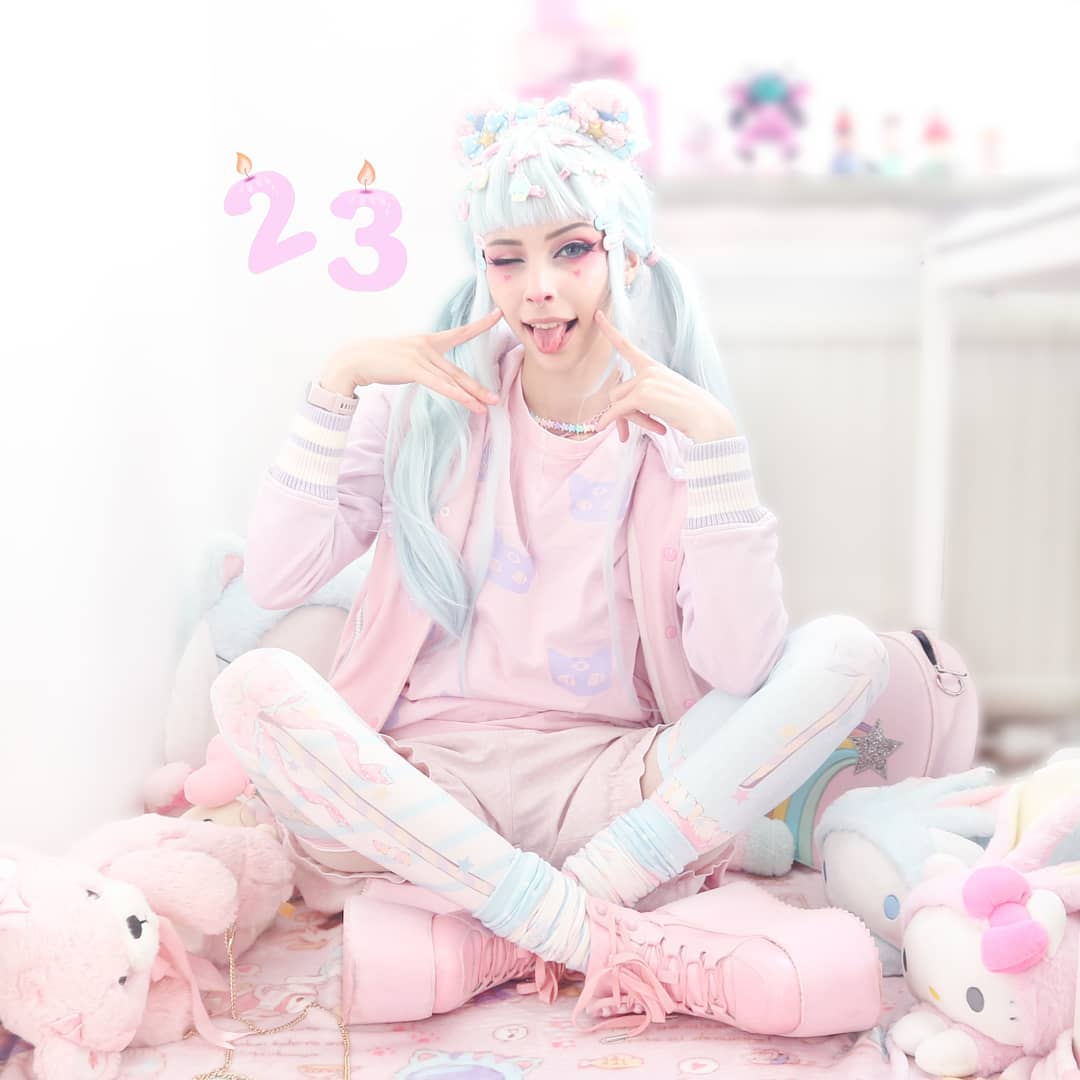 In Episode #9, we welcome Luzia from Portugal, who expressed her kawaii through fashion and illustration. In this interview, we get to hear about how she came to love fashion, the anime series that have influenced her, and lots more.
–What is your nickname (or name)?
Hi! My name is Luzia! It's not a super common name, though… so I get called Luiza or Lucia all the time haha!
–Which country do you live in?
I'm from Portugal but I moved to Sweden exactly a year ago!
–What is your occupation?

At the moment, I work as an artist (I earn my life through drawing commissions) but I am working on my first clothes and accessories collection.
–What made you interested in kawaii fashion?
I've always loved pastel and overall kawaii things ever since I was a kid. Me and my brother would watch magical girls girl animes every day for years and those memories always stuck with me. For this reason, when I found photos of Sweet lolita and Fairy Kei online and noticed how, in a way, I could look and feel like a magical girl every day, I became obsessed with them and really wanted to try it. My family was not super supportive of my style in the beginning but, now they accept it a bit more.
–At what age did you start experimenting with kawaii fashion?
I first started experimenting with kawaii fashion around my 19th birthday. I was in recovery after suffering with a very severe case of Anorexia Nervosa and I just went: "Screw what people may think. I almost died. I'm not going to keep living my life looking like what other people want me to. I want to wear what makes me happy", and I did!
–Where do you buy your kawaii accessories and clothes from?
I buy most of my stuff in the second hand market (Lace Market, Closetchild, facebook groups, etc…). It's one of the things which I love about kawaii fashion, in fact! It makes it more affordable and also more sustainable since people are a lot more careful with their clothes and tend to prefer higher quality pieces.
I also really enjoy getting stuff from different artists and to support their work!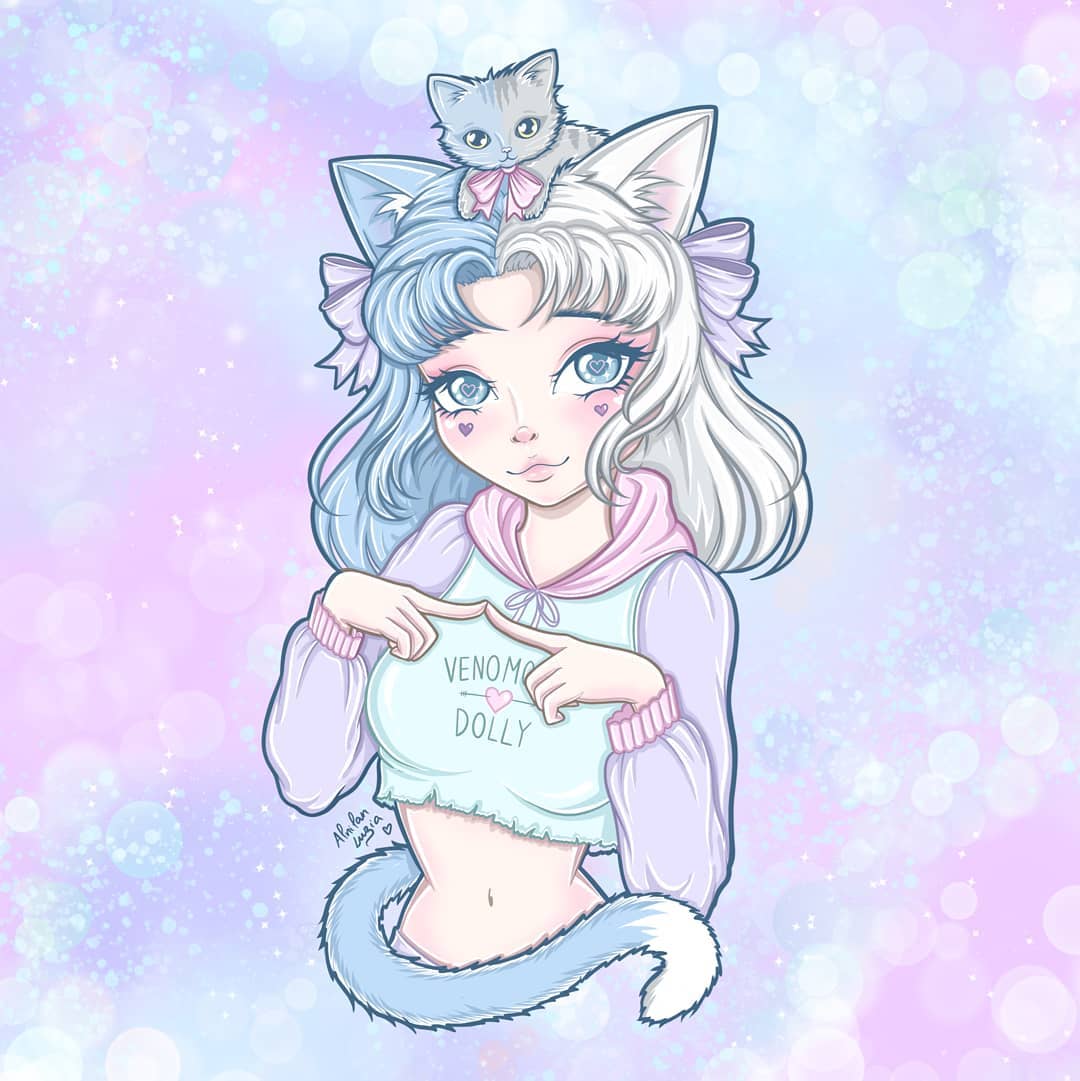 –What sparked your interest in creating kawaii art?
Seeing all the amazing kawaii art out there and the realization that i could do it too and make others smile!
–At what age did you start making kawaii art?
When I was a kid, "Santa" would always give me a big tin of Caran'dAche coloring pencils. It was, probably, a bit of an extreme gift for a 4 years old, BUT, it did lead me to not only draw A LOT of princesses and fairies, but also to respect art supplies (and not break them like all those kids in kindergarten haha). I was not allowed to study art in High school but I never stopped practicing and drawing cute anime girls non-stop! Eventually, we reached "today" and that is my job! It's great!
–What do you use to create your art?
Most of my art is currently done on my 6th gen ipad and I use the app Procreate. Before that, I had a pretty long copic markers + fine liners phase and before that, coloring pencils. I am working towards getting a better set up, though! One day…
–What do you like doing on your days off?
I draw! A lot! I also do some gaming here and there (not as much since I started doing commission work this often) but I also really enjoy doing makeup, put on a kawaii outfit and taking photos for my instagram account.
–What is your favourite food and why? (It can be from any country)
Cheese, mushrooms and sushi!
–Do you have a favourite anime?
Cardcaptor Sakura and Puella Magi Madoka Magica will always have a place in my heart.
— Do you have a favourite Japanese celebrity? If yes, who is it and why?
Misako Aoki! She is a lolita model for several brands and she is also a nurse! And nurses are super awesome heroes!
— Do you have a favourite website about Japan or Japanese culture? If so, what is it?
I've recently found the youtube channel Abroad in Japan and I absolutely love it since it is full of beautiful scenery, yummy food, fun facts and British humour! Would definitely recommend it if you'd like to see a lovely view of Japan, without the usual focus on the anime and fashion districts.
–What is your favourite Japanese word or phrase?
I use the word "Kawaii" several times a day for years. It is my life at the moment so, as cringy as it may be, it describes my dreams and what makes me happy.
–Have you ever been to Japan? what is your favourite place?
No… I would love to one day, though! My boyfriend went there a couple of years ago on a tour with his band and his stories always make me so jealous.
–Tell us about your dreams for the future.
I would love to: 1: Get a nice set up going which helps me be more productive, 2: Launch my first collection of apparel and accessories and, lastly, get more healthy or, at least, get healthier or, at least, get help to manage my chronic condition.
–Finally, what does "kawaii" mean to you?
As I've said above, ​it describes my dreams and what makes me happy.
It's more than just pastel colours. It's warm and cozy, it's beautiful, everything is perfectly balanced (as all things should be), it comes with an amazing community and it makes people smile!
If you want to see more of Luzia then be sure to follow her on Instagram where you can check out many more of her looks.
Luzia's Instagram: https://www.instagram.com/alnilan_luzia/
RECOMMENDED ENTRIES
Kawaii Creator's Club #8: Milli Shares Her Experiences as a Kawaii Fashion Creator

MOSHI MOSHI NIPPON is launching a new series which we are calling the Kawaii Creators Club. Each episode, we'll be introducing to you, the readers, to Kawaii Fashion Creators from around the world whose kawaii fashion is reminiscent of that seen in Tokyo's fashion hub of Harajuku.

You'll get to know each of these creators―who all live in different countries around the world―as you learn how they came to know about kawaii fashion, where they buy their clothes and accessories, who their fashion inspirations are, and more, in the form of an interview.

In Episode #8, we welcome Milli from Germany! We get to hear about how this kawaii fashion creator, whose gorgeous short hair has us hooked, came to be interesting in fashion, how anime has influenced her, and more.

–What is your nickname (or name)?
Milli

–Which country do you live in?
Germany

–What is your occupation?
I'm a student, nearing the last year of German secondary school (similar to High School).


–What made you interested in kawaii fashion?

I saw a YouTube video way back, when I was just getting into cosplay, discussing whether Lolita Fashion fell into the cosplay category or not (obviously it doesn't). I had no idea what Lolita Fashion or Fairy Kei was then, but I saw the two lolitas featured on the thumbnail of that video and thought "wow, I wanna look like them!!!"

–At what age did you start experimenting with kawaii fashion?

When I was 12 years old.

–Where do you buy your kawaii accessories and clothes from?

Accessories I buy at random or make myself. For clothing, I like to go thrifting as much as possible, although I looove the following online-available brands:
Nile Perch /Milklim/Listenflavor/Peiliee Shop/Kokopie Shop/Good Fortune Shop/Pastelloves Store/Devil Inspired

–Is there anyone who inspires your fashion style?

There are so many amazing creators out there, so I could name a bunch of people haha… When I need particular fashion inspiration, I often go to the accounts of @laaagkki @pixieelocks @dewybun @fairy.izzi @kao_kitsune @newniji @katiebabydoll

— What do you like doing on your days off?

Anything creative! Drawing, sewing, scrapbooking, going out and taking photos… Oh, and bake a cake!

–What is your favourite food and why? (It can be from any country)

Mango curry with vegetables and fried tofu (for a meal), but something my sweet tooth can never get enough of is German poppyseed cake!


–Do you have a favourite anime?
I'll have to name multiple…
Kuroshitsuji:
love because: it combines my favorite past time (the 1880's) with my favorite city (London) and an AMAZING set of characters
fav character: Ciel Phantomhive because I relate to his cold, sarcastic energy. Which gives me confidence that one can use these traits for good, not for evil or to be mean.
Haikyuu:
love because: sooo many characters to cheer for! Best sports anime out there and it focuses on each team so nicely, you literally can't pick sides.
fav character: Hinata Shoyo because he shines like a happy, energetic sun for everyone around him. I want to be that for my friends.
Ouran Highschool Host Club:
love because: hilarious, queer, absolutely out there, and so different from any other anime I've watched.
fav character: Haruhi Fujioka because I have NEVER before related to any fictional character this much. And I just love the way she breaks gender stereotypes!

–Do you have a favourite Japanese celebrity? If yes, who is it and why?
I don't really keep up with celebrities in general haha, sorry… I only really know influencers, so in that case: Haruka Kurebayashi (@kurebayashiii on Instagram)
Her style is so creative (the way she puts together outfits and combines the pieces + makeup is amazing!) and her personality just SHINES! Which makes the videos and vlogs she does especially enjoyable.

–Do you have a favourite website about Japan or Japanese culture? If so, what is it?
Well, since the part of Japanese culture that I currently educate myself on the most is the language, I will name the website I'm learning through: japanesefromzero.com
Moreso, the author George Trombley is so helpful with the teachings he gives on his YouTube channel!

–What is your favourite Japanese word or phrase?
十人十色 // juunintoiro // Ten People, Ten Colours
I find this proverb so joyful and fitting, as it allows me to take it literally (in the sense of individual style and "don't judge a book by its cover") or interpret it according to an occasion (when I might be upset because someone has a different outlook on something, that might however be interesting to consider).
It also promotes diversity!

–Have you ever been to Japan? What is your favourite place?
Not yet, but I want to go as soon as possible!! Mainly to Harajuku, as I'd love to see the district where my favorite fashion styles originated and flourish.

–Tell us about your dreams for the future.
I dream of living freely and finding an occupation I love (this is especially important right now, as I need to know what to do after I finish school). I want to travel with friends and one day live in an old house in my hometown, with a big garden and many cats. It might sound like just wishful thinking, but we attract what we believe in!

–Finally, what does "kawaii" mean to you?
"kawaii" is a lifestyle to me, as well as a feeling of childish, careless happiness and unrestricted creative freedom. It's definitely more than just "cuteness"; it's the way I view and design my surroundings and how I choose to find brightness and positivity in the world, regardless of how dark it might be some days.

If you want to see more of Milli then be sure to follow her on Instagram where you can check out many more of her looks.

Milli Instagram: @plantlovingrose

Kawaii Creator's Club #7: MOSHI MOSHI NIPPON Introduces Kawaii Fashion Creator Chirikku

In our Kawaii Creators Club series, we introduce to our readers to Kawaii Fashion Creators from around the world who are interested in kawaii fashion from Harajuku.

Each episode, you'll get to know a different creator―each of whom live in different countries around the world―as you learn how they came to know about kawaii fashion, where they buy their clothes and accessories, who their fashion inspirations are, and more, in the form of an interview.


In Episode #7, we say hello to Chirikku from Norway. We asked her about her roots in "kawaii," what brands she likes, her dreams for the future, and more.

–What is your nickname (or name)?
My name is Henrikke, but I go by Chirikku online.

— Which country do you live in?
I currently live in Norway.

–What is your occupation?
Employed with a company.

— What made you interested in kawaii fashion?
I first got interested in Japanese pop-culture back in high school, and that lead me to find out about different kinds of Japanese fashion trends. I was already dressing a bit different than the other kids at my school so the different street styles in Japan really facinated me. Back when I first got into it it wasn't even called Kawaii fashion.

–At what age did you start experimenting with kawaii fashion?
I must have been about 13 or 14 years old when I first started experimenting with different styles, that also included different elements of what we now call kawaii fashion.


— Where do you buy your kawaii accessories and clothes from?
I usually buy most of my clothes and accessories whenever I'm in Japan, but I also have some online stores I like ordering from.

— Is there anyone who inspires your fashion style?
Yeah of course! I get really inspired by many of my friends and other people I follow on Instagram etc.

–What do you like doing on your days off?
I love spending time with my friends just doing whatever. I also really enjoy playing games and occasionally I read manga and draw.


–What is your favourite food and why? (It can be from any country)
Sweets and desserts, haha. I would have sweets over food any time of the day, jk …unless? But yeah, I really like pizza, any food with salmon, and many other Japanese dishes that does not have any meat in them.

— Do you have a favourite anime? Who is your favourite character?
I honestly don't watch that much anime anymore, but Black Lagoon has always been one of my favorite animes.
I really like most of the female characters in this anime, they are all so bad ass but Revy is my favorite for sure.

–Do you have a favourite Japanese celebrity? If yes, who is it and why?
I haven't really been keeping up with Japanese celebrities so I can't really say I do have one right now.

–Do you have a favourite website about Japan or Japanese culture? If so, what is it?
I actually really enjoy your website https://www.moshimoshi-nippon.jp/ , and I always pop by it before going to Japan to see what's up or if there are any cute restaurants popping up.

— What is your favourite Japanese word or phrase?
My favorite word is 天使 meaning Angel, and phrase 仕方がない.

–Have you ever been to Japan? what is your favourite place?
Yeah I have been there 5 times by now. I studied at a university there back in 2017-2018, and I'm planning om on moving back for a little while in the near future.
Tokyo has a special place in my heart, but I have really enjoyed every place in Japan I have been to this far. I just really love exploring new places, preferably by bike.


–Tell us about your dreams for the future.
My dreams for the future is to be able to work and live in Japan for a period of time and just see where life takes me.

— Finally, what does "kawaii" mean to you?
kawaii
/kəˈwʌɪ/

adjective
(in the context of Japanese popular culture) cute.
"she paints elephants that are extremely kawaii"
noun
the quality of being cute, or items that are cute.
"even in a cosmopolitan city like Tokyo, kawaii is everywhere"

Just kidding, no but to me it just cute and youthful, and there is just something so pure and sweet about it.

If you want to see more of Chirikku, then be sure to follow her on Instagram where you can check out many more of her looks.

Chirikku's Instagram: @chirikku