Hotel New Otani Osaka released introduced its new "NIGHT POOL & RESTAURANT PLAN ~SWEET or BITTER~" plan on July 18 which is set to run until September 13. The plan is a set that combines the hotel's night pool with a dining experience at its restaurant.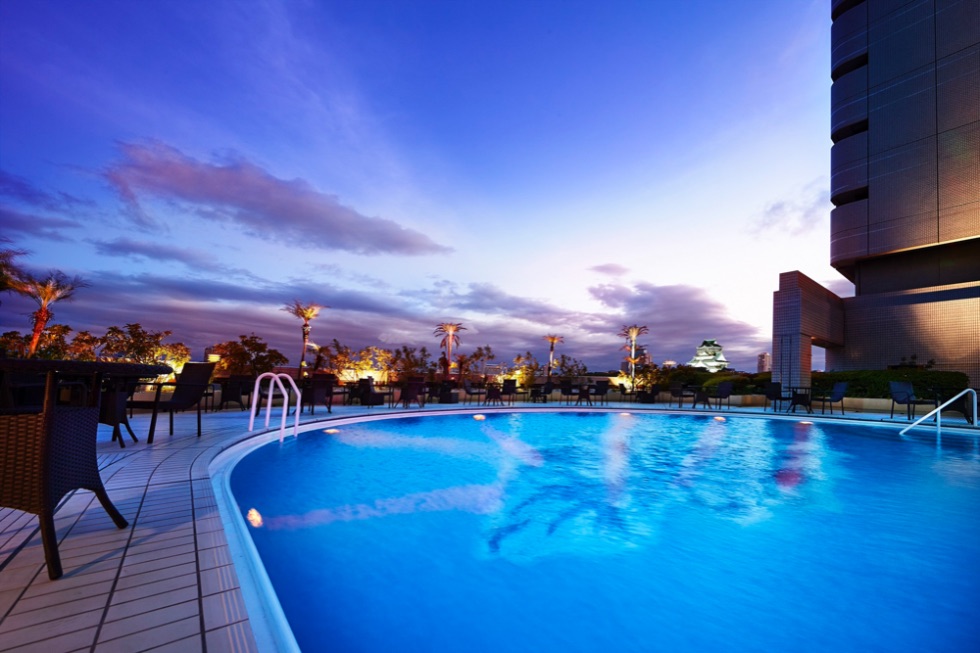 The pool, named "The Water Terrace," remains open into the night every summer at Hotel New Otani Osaka and has done so since 2015. This year, the number of people allowed in the pool is being limited as part of measures against the spread of the COVID-19 pandemic.
SWEET PLAN: Tuck into specially-made pancakes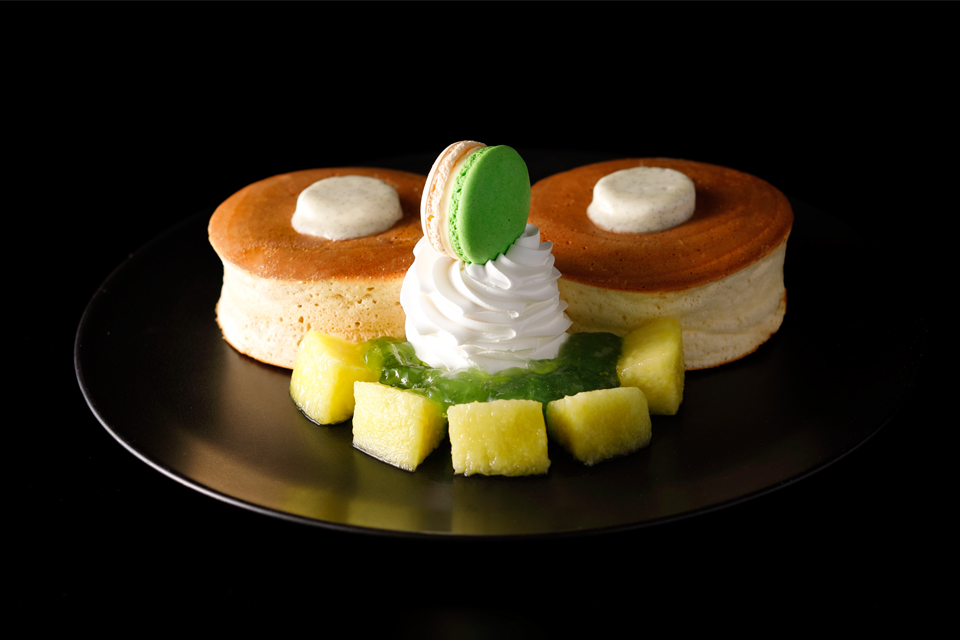 Hotel New Otani Osaka's all-day dining restaurant "SATSUKI" are serving up their famous fluffy pancakes for the "SWEET PLAN." These fluffy delights are served with ricotta and are made with cascara powder, which is known as a superfood. Enjoy a 'sweet' night with a serving of pancakes and a dip in the night pool.
BITTER PLAN: Grown-up nighttime fun
For the "BITTER PLAN," guests can head up to the rooftop sky lounge where they can order a drink from the bar, whether it be one of the 18 different kinds of beers, cocktails, high-balls, and more. They also serve food like roast pork and appetisers. Gaze out across and spot Osaka Castle sat beneath the starry night sky as you enjoy your meal.
The hotel's poolside restaurant "LAGOON" will be joining the fun too, serving soy meat burgers, a soy chocolate parfait that can be shared amongst friends, and more.
Information
NIGHT POOL & RESTAURANT PLAN ~SWEET or BITTER~
Running: July 18, 2020 – September 13, 2020
SWEET PLAN: 14:00~18:00
BITTER PLAN: 17:00~23:00
Price: ¥7,000
Enquiries: 06-6949-3229 (Direct to restaurant)
Official Website: https://www.newotani.co.jp/group/pools/osaka/
RELATED ENTRIES
Nagasaki's 112 Year Old Hotel Nampuro Opens Terraces With Panoramic Ocean and Sky Views

The 112-year-old Hotel Nampuro in Nagasaki is set to open the new Sky Terrace and Ocean Terrace this month. These vistas offer breathtaking, unbroken views of the sea and sky that make it feel as if you're floating on the ocean with rolling skies ahead that stretch to the horizon.

Observation Terrace (1)

Observation Terrace (2)

Infinity Pool-Style Open-Air Bath

Silky Bath

Beautifying Bubble Baths

Jacuzzi Bath (Male Only)

Children's Bath

Hinoki Sauna & Steam Sauna

Iyashi Onsen Cafe

Rental Open-Air Bath

The observation terrace offers an incredible panoramic view of the great Ariake Sea that offers a picturesque spectacle at all times of the day. Guests can enjoy seeing the morning, noon, and night skies which merge together with the ocean for an unbeatable result. There's also a "no talking" rule on the terrace so guests can fully soak up what's in front of them as they take a luxirous soak in the warm baths.

The infinity pool-style open-air bath offers a refreshing view while making it seem as if you are part of the ocean. The silky bath uses delicate micro bubbles which become an air cushion and promote good blood circulation using massage. The jacuzzi bath relaxes the entire body with stimulating bubbles, while the children's bath allows kids to get in on the fun too. Both saunas are a change to unwind fatigue and the tired body. The steam sauna is set at a lower temperature than your usual high-temperature dry sauna which ensures it doesn't have as much strain on the body so guests can sweat it out comfortably. The freshly-brewed coffee available at the hot spring is also exclusive to the hotel's Onsen Cafe.

Foodies Make Their Way to Zi-tempo's Pop-Up Eatery in Osaka's Shinsaibashi PARCO

PARCO has teamed up with Kaji Kaji H, Koichi Igarashi—who is known for his work with BEAMS JAPAN's brand projects—and a certain chief editor at a popular Kansai fashion magazine to open Zi-tempo, a limited-time food spot aimed at foodies that will run for 20-days at PARCO Shinaibashi in Osaka.

Zi-tempo brings together designers from popular fashion brands working in Kansai, editors from fashion magazines, stylists, writers, more to serve up a creative menu by a line-up of individuals not involved in anyway in the food industry. As well as food, visitors can get their hands of a selection of related merchandise, clothing, and more.

The First Serving

Running: January 13, 2021 – January 19, 2021
Curry Mala: Enjoy the unique spices of both curry and mala

Spicy curry has recently become something of a soul food in Osaka. For the first serving, foodies can enjoy discovering a wonderful combination of spices in a selection of curries, as well as a numbing line-up of mala made with mapo tofu. This menu is the creation of 'R,' a designer at a fashion brand, and 'T,' a former chief editor of a Japanese fashion magazine. R is actually the owner of a popular curry house called COBACHI CURRY in Nakazakicho, while T has tasted countless mapo tofu dishes. This makes them the perfect curry-mala combo for this experiment.

Menu

・Curry Mala Shokuhako – ¥1,200 (Before Tax)
・Curry Mala 1 (Spice Chai) – ¥500 (Before Tax)
・Curry Mala 2 (Spice Highball) – ¥500 (Before Tax)
・Curry Mala Hoodie – ¥7,800 (Before Tax)
・Curry Mala Long T-Shirt – ¥5,800 (Before Tax)

The Second Serving

Running: January 20, 2021 – January 26, 2021
Tacos Variar x Berbers Ya!: Traditional Mexian and Moroccan dishes


The second serving sees a coming-together of tacos and couscous by two creators working in Kansai: nahonic who works at Tacos Variar at an underground spot in Kansai selling tacos, and stylist Sunny, both of whom enjoy homecooked couscous from their Moroccan mothers growing up. Foodies will get to enjoy both Mexican and Moroccan food at the same time, a perfect opportunity during the current climate when travelling is difficult. There will also be a variety of apparel and goods from creators like the mystery creative group "the golden dawn."

Menu
・1P ¥350 (Before Tax)
・2P ¥700(Before Tax)
・3P~ ¥300 / 1P(Before Tax)

The Third Serving


Running: January 27, 2021 – February 1, 2021
Natouya: Taste and compare an array of natto rice bowls


Eateries serving gyudon, or beef rice bowls, never fail to bring in repeat customers for their cheap prices, quick service, and delicious taste. But our heal is the most important thing, so why not change it up once in a while with a natto rice bowl? At the event, foodies get to tuck into a selection of dishes using 5 different kinds of natto beans that vary in size and colour, served sticky, yummy, and in generous portions. These natto rice bowls were conceived by Murakami, a researcher of natto and editor of a certain fashion magazine. There will also be goods from natto apparel brand NNBean, natto crockery, and plenty of other things for lovers of natto to enjoy.


Menu

・Five Bean Natto Rice Bowl – ¥900 (Before Tax)
・NNBean Sweater – ¥7,100 (Before Tax)
・NNBean Long T-Shirt – ¥5,800 (Before Tax)
・Natto Plate – ¥4,200 (Before Tax)

If you're in Osaka throughout January, and love food, don't miss out on a unique eating experience over at Zi-tempo.

Information

Zi-tempo
Running: January 13, 2021 – February 1, 2021
Location: Shinsaibashi PARCO B1F "THE KITCHEN"
Address: 1-8-3 Shinsaibashisuji, Chuo-ku, Osaka
Opening Hours: 10:00-20:00 (Subject to change depending on COVID-19 and weather)
Shinsai PARCO Official Website: https://shinsaibashi.parco.jp/

Universal Studios Japan Announces Easter Universal Celebration 2021

Universal Studios Japan is set to spring into Easter starting on March 12 with the announcement of Universal Easter Celebration 2021. This year, which marks the 20th anniversary since USJ opened, will see the park's cute and iconic characters once again lull guests into an unforgettable Easter dream at Universal Wonderland and Minion Park.

Universal Easter Celebration

USJ will see colourful pastel decorations cover the Universal Wonderland and Minion Park areas, and the characters too will be dressed in their seasonal Easter costumes. A special Easter rendition of the Wonderland Seasons Joy show will also take place to commemorate the park's 20th anniversary with song and dance.

Wonderland Seasons Joy ~Easter Ver.~

Minion Park Easter

The park will also introduced a special egg hunt after Elmo and the Minions dropped some of their eggs. If you manage to find them all you get a limited-edition gold medal. USJ is also taking the Easter festivities online too with a special celebratory live stream called Let's Cooking! Kawaii Easter Party

WIZARDING WORLD and all related trademarks, characters, names, and indicia are © & ™ Warner Bros. Entertainment Inc. Publishing Rights © JKR. (s21)
Minions and all related elements and indicia TM & © 2021 Universal Studios. All rights reserved.
TM & © 2021 Sesame Workshop
© 2021 Peanuts Worldwide LLC TM & © Universal Studios & Amblin Entertainment
Universal Studios Japan TM & © Universal Studios. All rights reserved.

© Nintendo

Information

Universal Easter Celebration
Running: March 12, 2021 – June 27, 2021
Location: Universal Studios Japan
Official Website: https://www.usj.co.jp/web/en/us

Super Nintendo World Releases Virtual Tour of Entire Theme Park Area

Universal Studios Japan (USJ) announced last month that its highly-anticipated new Super Nintendo World area will open on February 4, 2021, which also happens to fall on the day of USJ's 20th anniversary.

Super Nintendo World comes as the world's first theme park area to be based around Nintendo's characters and games, combining innovative ideas with cutting-edge technology.

With just one month left until the grand opening, USJ has launched a special website for Super Nintendo World which offers a virtual tour through each part of the new theme park area. Mario fanatics are sure to be delighted by the adornments from Bowser's Castle to Pipes, Mushrooms, Question blocks, and more, as well as familiar faces like Goombas, Thwomps, Yoshi—the list goes on.

Accessing the site will bring you to an overview of the map. As you scroll down the website takes you on a virtual journey to each of its iconic attractions, all of which are designed to make you feel like you're really in the world of Super Mario.

hotel androoms Announces Opening of New Kyoto Shijo Branch in March

Solare Hotels and Resorts has announced that a new branch of hotels androoms will open in Kyoto Shijo on March 6, 2021. In the run up to its grand opening, the company has opened a website where guests can book hotels with Solare Hotels and Resorts at the cheapest possible price. The website will begin rolling out more information about each hotel on the site through the year.

Access

hotel androoms Kyoto Shijo is located a convenient 5-minute walk from Kyoto Station's Karasuma Line section and 7 minutes from the Central Exit in the JR section, placing it within close distance to many of Kyoto's sightseeing spots.

The hotel offers seven different room types from standard to double to premium twin. One room can house a maximum of three people, accommodating groups and families. It also promises to be packed with a variety of exclusive services you won't find at other hotels.

Specialty coffee by Unir Kyoto

hotel androoms Kyoto Shijo will welcome the opening of a new branch of Unir inside the hotel which serves coffee made from specially-selected coffee beans. The coffee is hand-roasted on site with baristas pouring their love and skill into every cup.

Breakfast delivered right to your room

The morning time is your time and should be used as you please without you having to rush around, so says the hotel, and so it offers a breakfast delivery service which must be booked in advance.

Relax and unwind in the modern-style baths

Those looking for a little relaxation can look forward to pushing all their stresses aside in a modern bathing area which is inspired by a cave. It's open from 3pm-2am and again from 6am-10am.

If you're planning a trip to Kyoto and want a hotel with easy access to all the hot spots then be sure to consider hotel androoms Kyoto Shijo.

Strawberry Loaded Afternoon Tea and Strawberry Cocktail to Welcome the New Year at Hotel Gajoen Tokyo

Hotel Gajoen Tokyo, which is a museum and hotel fusion, is serving up a special Strawberry Afternoon Tea and Strawberry Cocktail at its restaurant New American Grill "KANADE TERRACE" from January 6 to February 11 and February 15 to March 19 next year.

Strawberry Afternoon Tea | ¥4,500, with champagne ¥6,200 (1 Person/Before Tax/Service Charge Not Included)

New American Grill "KANADE TERRACE" is known for its afternoon teas, which are made with seasonal ingredients, as well as its cocktails. Their new Strawberry Afternoon Tea will welcome in the New Year with a strawberry and rhubarb tart, strawberry fondue, strawberry and mascarpone soup, and other sweet and savoury selections.

Strawberry Cocktail | ¥1,600 (Before Tax/Service Charge Not Included)

The Strawberry Cocktail is of course made with fresh strawberries as well as mint and soda for a fusion of sweet and tangy. Those who don't enjoy alcohol can rest assured they'll enjoy this alcohol-free cocktail.

Information

Strawberry Afternoon Tea / Strawberry Cocktail
Location: New American Grill "KANADE TERRACE" (Hotel Gajoen Tokyo Floor 1F)
Serving Dates: January 6, 2020 – February 11, 2020 / February 15, 2020 – March 19, 2020)
Serving Times: Afternoon Tea 14:30-17:30 / Cocktail 11:30-21:00
*Serving times are subject to change

*The afternoon tea is available while supplies last

Official Website: https://www.hotelgajoen-tokyo.com/archives/59170

Doraemon Future Department Store to Open Pop-Up Shop in Osaka and Nagoya

Doraemon's official shop Doraemon Future Department Store, which is located in Odaiba, Tokyo, is celebrating its 1st anniversary of opening this December by opening two limited-time shops in Osaka and Nagoya this month and January respectively. Fans can get their hands on a selection of exclusive merchandise and more.

Customise Service

The pop-up shops will offer a customisation service which lets customers have different embroideries put into the T-shirts, tote bags, and other merch they buy. The work is done on the spot by hand so you can see the result of what will be a very special item of which only one exists in the world. Perfect for Doraemon fans and gifts to friends and family.

Post Office

The shop will offer a postal service for sending off Doraemon letters and postcards with original Doraemon stamps.

Bonus Items

1st Anniversary Postcard


Mini Tote Bag


Those who buy anything from the department stores will receive a free 1st anniversary postcard. And for every ¥5,000 spent (tax included) they'll get a mini tote bag. These are all limited in stock so you'll want to get them while they're hot.

If you're in Osaka or Nagoya over the New Year be sure to pay a visit to the Doraemon Future Department Store pop-up shops.

©Fujiko-Pro

Information

Doraemon Future Department Store in Abeno Harukas Kintetsu 2021
Location: Abeno Harukas Kintetsu, Wing Building Floor 4F
Running: December 30, 2020 – January 17, 2021
Opening Hours: 10:00-20:00 (until 18:00 on January 17)
Closed: January 1, 2021

Doraemon Future Department Store in Takashiyama Gate Tower Mall 2021
Location: Takashiyama Gate Tower Mall (Nagoya), Rose Terrace on Floor 7F
Running: January 8, 2021 – January 26, 2021
Opening Hours: 10:00-21:00

*Opening hours subject to change

A Dream Collaboration Between Rilakkuma and Sumikko Gurashi Announced For Hirakata Park

Hirakata Park in Osaka has announced a special collaborative event with San-X's popular characters Rilakkuma and Sumikko Gurashi which will begin on March 6, 2021.

Park entrance

Rilakkuma and friends as well as the characters of Sumikko Gurashi will both have their own special pavilions raised at the park entrance. At the Rilakkuma tent, the cute bear and his comrades where will be showcasing their three fundamental elements that go into having a leisurely and relaxing time. Over at the Sumikko Gurashi tent, you'll get a peek into the lives of these cute characters which are known for their lifestyle of dwelling in the corner.

The event will welcome a range of original Rilakkuma and Sumikko Gurashi themed food and merchandise too.

©2020 San-X Co., Ltd. All Rights Reserved.

Information

Rilakkuma & Sumikko Gurashi Festival
Running: March 6, 2021 – June 27, 2020

Opening Hours: 10:00-17:00 (Last Entries 16:30)

Location: Hirakata Park Event Hall I

Enquiries 0570-016-855 (10:00-17:00)
Event Page: https://www.ntv.co.jp/rilakkuma-and-sumikko-fest/

Japan Hotels | New Hotel The OneFive Terrace Fukuoka to Open on December 15

Hakata Hotels is welcoming the third branch of its The OneFive brand hotels with the opening of The OneFive Terrace Fukuoka in Chuo, Fukuoka, on December 15, 2020.

The OneFive is based around the old Japanese way of ichigo ichie, which roughly translates to "treasure every meeting, for it will never reoccur." It has taken considerate measures to question what really constitutes as necessary service when it comes to hotels, and launched as a new brand of simple yet comfortable and high quality hotels serving Japanese omotenashi, or hospitality.

Simple yet fine quality comfort

The OneFive Terrace Fukuoka is located in busy central Hakata—within walking distance of the entertainment district of Nakasu and the lively riverside area of Tensu—while offering spacious and comfy rooms.

Rooms are 27㎡~48㎡ in size, with Double Rooms being equipped with king size beds and Twin Rooms with two double beds. Each has a bath, toilet, and wash area, as well as a writing desk, closet, and other pieces to make the hotel stay as comfortable and convenient as possible. There are of courses terraces too, living up to the hotel's name, which act as 'another living room' for guests.

The 4 S's of Japanese Tea at The OneFive Terrace Fukuoka

1. Select
A selection of specially-selected teas from around locations in Kyushu such as Yame (Fukuoka), Chiran (Kagoshima), Ureshino (Saga), and elsewhere.

2. Style
Enjoy tea in a variety of different styles from creamy and foamy draft tea to hand drip tea and more.

3. Sweets
The hotel's pastry chefs will whip up a range of tea-flavoured desserts that fuse the traditional Japanese taste with modern western ideas.

4. Scene

All guests staying at The OneFive Terrace Fukuoka are offered a welcome cup of tea. The hotel is a chance for them to appreciate the local culture, region, and lifestyle arranged in a contemporary way.

Fuji-Q Highland's Hidden Leaf Village Theme Park Area Adds New Photo Spots

Fuji-Q Highland, an amusement park in Yamanashi, Japan, added new photo spots to its popular Naruto x Boruto Fuji Hidden Leaf Village area on Friday (December 4).

The new spots

New statues of Jiraiya, Tsunade, Gaara, and Itachi have been placed around the park, making the perfect for a photo opportunity and to make guests feel even more like they're in the world of Naruto.

A new Gaara-inspired ramen dish

¥1,180 (Tax Included)

The area is home to Ramen Ichiraku which is inspired by the ramen bar seen in the Naruto series. There, they have cooked up a new ramen dish inspired by Gaara which comes with a boiled egg with the kanji for 'love' (愛) that's written on the character's forehead.

Naruto themed hotel rooms at Highland Resort Hotel & Spa

Fuji-Q Highland's official hotel, Highland Resort Hotel & Spa, has its own special Naruto-themed rooms with references to shinobi and the Hidden Leaf Village dotted everywhere. A new batch of amenities are also set to roll out for guests from February 1, 2021 which will include yukata that dress you like Naruto and Sasuke, face towels with Naruto and Sasuke on them during their final battle, and more.

If you've always wanted to feel like you're in the world of Naruto, look no further than Fuji-Q Highland.

ⓒ岸本斉史 スコット/集英社・テレビ東京・ぴえろ

Information

Fuji-Q Highland Naruto x Boruto Hidden Leaf Village
Opening Hours: 10:00-17:00
Closed: [2020] December 10th / [2021] January 7th, 14th, 21st, 28th
Official Website: https://www.fujiq.jp/

Shinobi Japanese Ninja Suite Room NARUTO
Capacity: 4 People (¥6,000 for each additional person up to 6 people)
Book: https://www.highlandresort.co.jp/
*Booking comes with amenities

FAUCHON HOTEL KYOTO Announces Opening Of Le Spa Fauchon in March 2021

FAUCHON HOTEL KYOTO is set to open its second branch in March 2021 which will be home to the Fauchon brand's world-first spa Le Spa Fauchon.

Le Spa Fauchon's spa experience incorporates its concept of "FAUCHON Meets Kyoto. Feel Paris" which is offered in a variety of ways. The spa of course serves a wide range of body, facial and scrub treatments with voluptuous fragrances and rich textures, while the floors of the spa rooms are dyed a stylish Fauchon pink. It's a coming-together of splendorous Paris and quaint Kyoto.

An unforgettable spa experience by Japan and Paris's beauty specialties

Le Spa Fauchon is managed by Cred International at FAUCHON HOTEL KYOTO, an industry-leading company that operates luxury hotels both inside and outside Japan.

The spa's products and menu were developed in a joint effort between premium cosmetic brand KOS PARIS, which manages numerous 5-star hotel spas and offers high-quality products in Paris, and which is coming to Japan for the very first time, and Cred International. The spa is also offering an original and exclusive range of oils in collaboration with top Paris therapist Yuki Inotsume, who has offered her knowledge of Japanese skin care and Japanese peoples' preferences, and KOS PARIS's high-grade oils.

FAUCHON HOTEL KYOTO also offers all guests a selection of amenities in their rooms with the "FAUCHON Meets Kyoto. Feel Paris." concept for guests to enjoy the ultimate spa experience.

If you're staying in Kyoto, why not treat yourself to a spa trip at Le Spa Fauchon?

KINGDOM HEARTS Melody of Memory Themed Cafes to Open in Japan This Holiday Season

Japanese company LEGS has announced the opening of two limited-time cafes themed on the video game KINGDOM HEARTS Melody of Memory which will run from December 11, 2020 to January 31, 2021.

KINGDOM HEARTS Melody of Memory is a rhythm action game developed by Square Enix. Released on November 11 in Japan and November 13 everyone else, it is the latest instalment to Square Enix and Disney's video game series Kingdom Hearts.

The cafe menu features a line-up of dishes, drinks, and desserts inspired by characters and worlds found throughout the internationally-beloved video game series. The items all adhere to Disney's nutrient guidelines and so are low in salt and sugar, offering fans a healthier option. The cafe will also sell a range of original merchandise.

The Menu

Food (Excerpt)

<Sora> Power of Waking Tomato Pasta | ¥1,599

A red tomato pasta inspired by Sora that comes with a potato salad shaped like King Mickey.


<Riku> Daybreak Chicken Burger | ¥1,599

A black chicken burger based on Riku becoming enveloped by the Power of Darkness. This dish also comes with a potato salad shaped like King Mickey.


<King Mickey> King's Tuna Sandwich | ¥1,399, with plate +¥2,000

A tuna sandwich branded with a King Mickey symbol that comes with a side of fruit.


<Neverland> Island Seafood Curry | ¥1,699

A squid and shrimp seafood curry inspired by Peter Pan's Neverland which you can travel to in Kingdom Hearts.

Drinks (Excerpt)


<Sora, Riku & Kairi> Fate's Pineapple Herb Soda | ¥899, with acrylic coaster +¥1,000

A pineapple herb soda based on the Paopu Fruit from the series.


<Roxas, Xion, Axel> Sea Salt Ice Cream & Milk | ¥1,199, with acrylic coaster +¥1,000

Based on the sea salt ice cream that Roxas, Xion, and Axel all eat together. It's served with hot milk that can be poured over the ice cream for a tasty treat.


<Hundred Acre Wood> Honey Latte | ¥799, with mug +¥1,650

A latte sweetened with Winnie the Pooh's favourite thing in the world: honey.

Merchandise (Excerpt)

Folder ¥500 / Acrylic Magnet ¥700


Tote Bags (3 Designs) | ¥3,500 Each (Timeless River/Keyblade A/Keyblade B)

Bonus Items

Customers who book a table in advance (¥650 before tax) and order from the menu will receive one of two folders, and if they order a drink, one of four coasters. Available while supplies last.

© Disney. © Disney/Pixar.

*All prices listed are pre-tax

Information

KINGDOM HEARTS Melody of Memory Cafe
・Tokyo (Shibuya): SHIBUYA BOX cafe&space
Running: December 11, 2020 – January 31, 2021
Address: LOFT (Floor 2F), 21-1 Udagawacho, Shibuya, Tokyo

・Osaka (Umeda): UMEDA BOX cafe&space
Running: December 11, 2020 – January 31, 2021
Address: Umeda LOFT (Floor 1F), 16-7 Chayamachi, Kita-ku, Osaka-shi, Osaka

KINGDOM HEARTS Melody of Memory Cafe Official Website: https://khmom.ohmycafe.jp/