Kanazawa's New Cafe Kanazawa Shiturae Opens in Higashi Chayamachi District
HAKUICHI has renovated and opened the new Kanazawa Shitsurae cafe in Higashi Chayamachi on July 23, 2020. Higashi Chayamachi was built 200 years ago to this year. With a desire for this renovated tea house to exist for the next 200 years, it has been renovated and opened as the new Kanazawa Shitsurae.
Kanazawa Shitsurae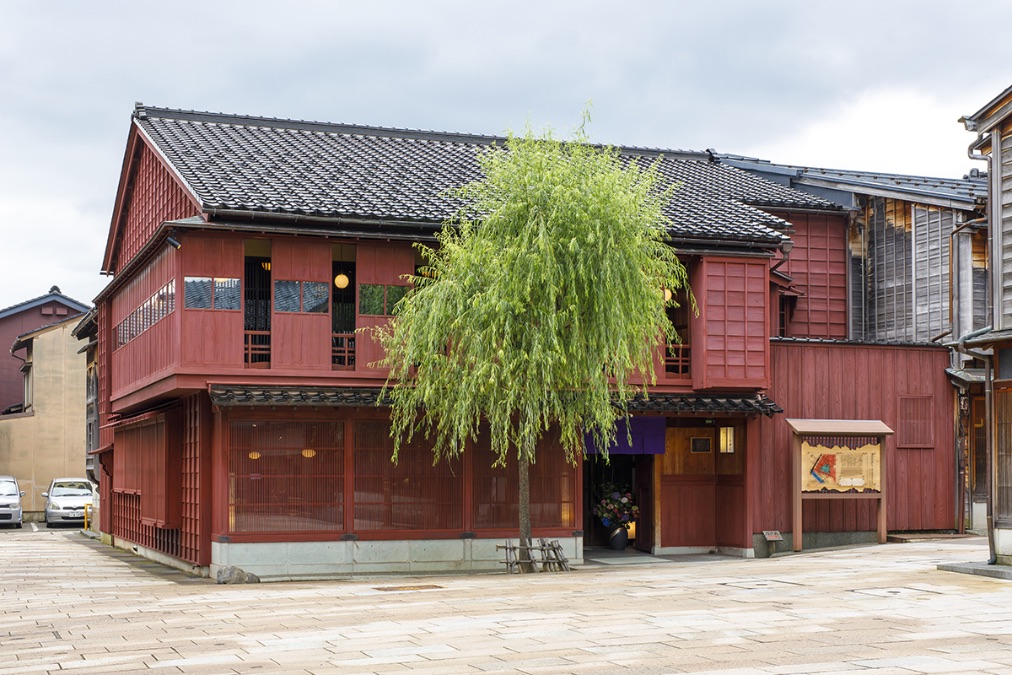 Located in the district of Higashi Chayamachi, which has been around since the Edo Period, Kanazawa Shitsurae is a breathtaking tea house and cafe. Stood proud at the welcoming entrance is a mikaeri-yanagi, a type of willow that is seen as a symbol of Chayamachi. The building which is now Kanazawa Shitsurae was built 200 years ago and is officially registered as a listed building of Kanazawa to be preserved. The renovations it has undergone for the new opening include earthquake resistance to ensure it can be passed over to the next generation. Its interior design has also been revamped, with high quality traditional crafts showcased throughout.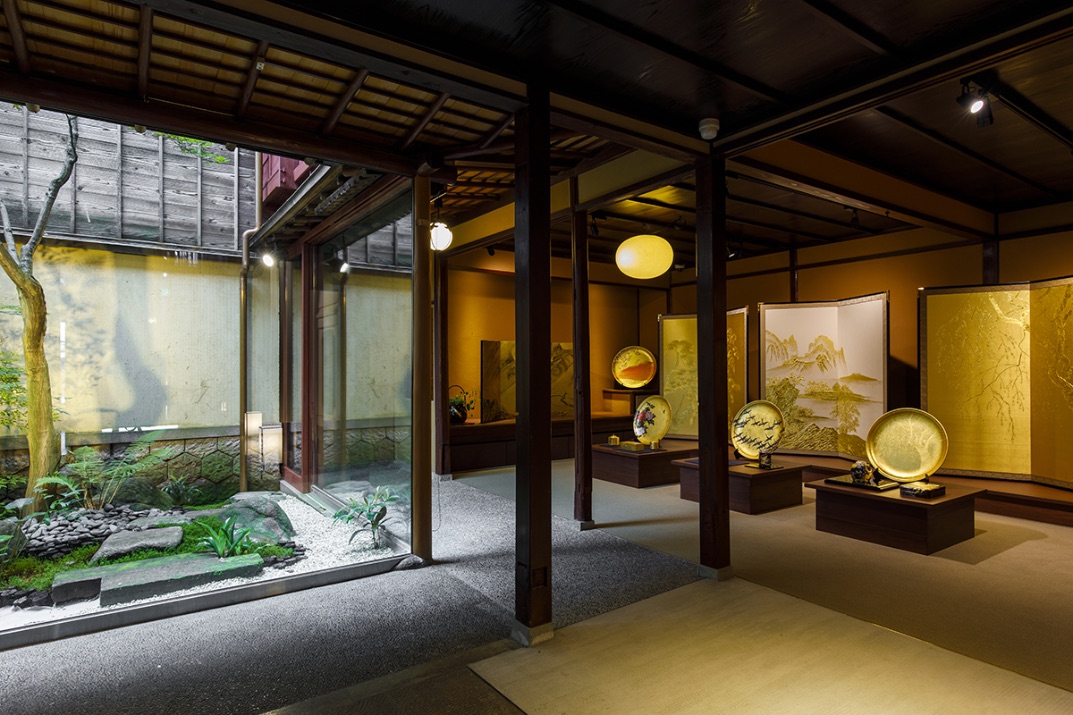 Gallery Shop
Kanazawa Shitsurae will serve as a flagship location for HAKUICHI's traditional Ishikawa Prefecture with its own gallery and shop. The items will be displayed like an art museum where pieces can't be put into a showcase. It will feature a line-up of gorgeous works from people considered National Treasures, traditional artisans, and more.
Yanagi-an: The Cafe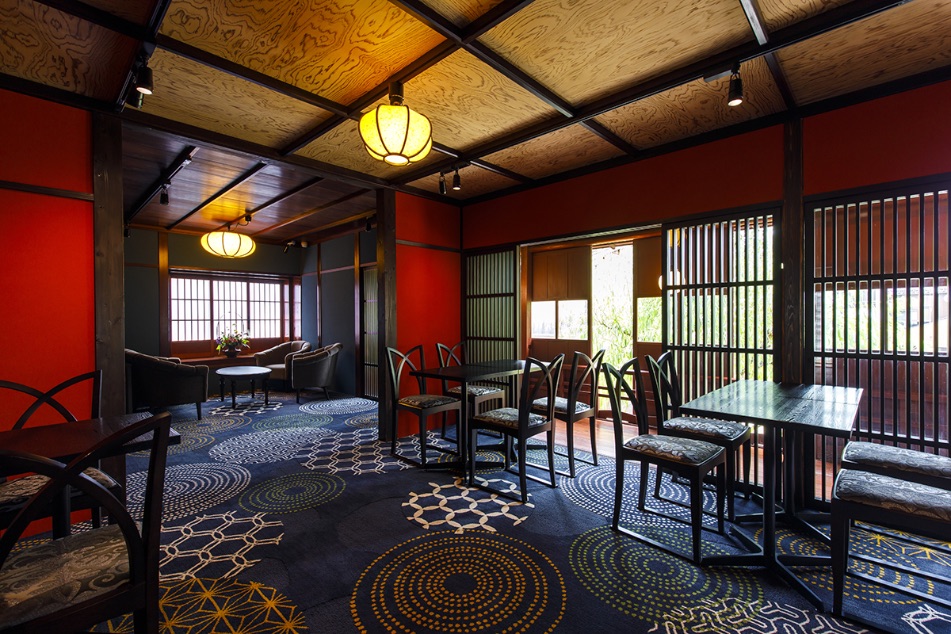 The second floor area is home to Yanagi-an, a relaxing cafe which overlooks Chayamachi. Customers can enjoy a cup of matcha poured inside a traditional handicraft cup together with some Kanazawa-style confections, parfaits with seasonal fruits, and more.
Information
Kanazawa Shitsurae
Address: 1-13-24 Higashiyama, Kanazawa-shi, Ishikawa Prefecture
Opening Hours: 10:00-18:00 (Yanagi-an is open until 17:00)
Closed: 3rd Wednesday of every month (Except July & August) / January 1
TEL: 076-251-8899
Official site: https://kanazawa.hakuichi.co.jp/
RELATED ENTRIES
Yusuke Nakamura Exhibition Opens at the 21st Century Museum of Contemporary Art, Kanazawa

The Yusuke Nakamura Exhibition opened at 21st Century Museum of Contemporary Art, Kanazawa, on April 29. It was also announced that the Japanese illustrator is releasing the first artbook to compile all of his CD cover art on May 28, but the book can be bought early at the exhibition.

Yusuke Nakamura Exhibition

Yusuke Nakamura Exhibition CD Artworks

Yusuke Nakamura has designed covers forASIAN KUNG-FU GENERATION, Masashi Sada, Spitz, and more

Commentary on the CD covers written by the Yusuke Nakamura himself

Rough sketches are featured in the book

A talk between Yusuke Nakamura and Masafumi Gotoh (ASIAN KUNG-FU GENERATION)

It wouldn't be an exaggeration to call Yusuke Nakamura one of Japan's most prolific artists, having worked with some of the country's biggest names such as ASIAN KUNG-FU GENERATION, Gentouki, Masashi Sada, and more. His new artbook, entitled PLAY, compiles all of his CD covers from 2002-2020, commentary, rough sketches, talks, and more. While many things from the book are explored at the exhibition, there's plenty of content exclusive to the book too, so it's a must-grab for fans.

Information

Yusuke Nakamura Exhibition

Running: April 29, 2021 – May 29, 2021

Location: 21st Century Museum of Contemporary Art, Kanazawa

Official Website: https://www.kanazawa21.jp/

PLAY
Release Date: May 28, 2021

Price: ¥2,273 (Tax Included)

KOGEI Art Fair Kanazawa 2021 to Showcase the Craftsmanship of Kanazawa

KOGEI Art Fair Kanazawa 2021 is set to be held at Hyatt Centric Kanazawa from November 26 to November 28. The event is also taking submissions for the exhibition gallery.

Scenes from KOGEI Art Fair Kanazawa 2019

KOGEI Art Fair Kanazawa is an annual art fair that has been held in Kanazawa, Ishikawa, since 2017, showcasing the best of the region's craftsmanship. The event is taking submissions from both young up-and-coming artisans to seasoned craftsmen. Kogei is a branch of fine art unique to Japan that promotes traditional Japanese culture such as the tea ceremony, the essence of zen, Noh theatre, and more.

This year marks the 5th run of the art fair and will be its first collaboration with Hyatt Centric Kanazawa which opened in August of last year. The hotel will display many works from local artists and act as a hub for the promotion of Ishikawa's culture.

Information

KOGEI Art Fair Kanazawa 2021
2021/11/26 @ 13:00-19:00 (First View)
2021/11/27 @ 11:00-19:00 (General Opening)
2021/11/28 @11:00-18:00 (General Opening)


Location: Hyatt Centric Kanazawa (Floors 5F & 6F)

Address: 1-5 Hirooka, Kanazawa, Ishikawa 920-0031, Japan

Price: ¥2,000 (for two days)

Exhibits: 30-40 exhibits to be displayed from both Japan and overseas


Tickets

Sign-up window: April 19, 2021 – June 25, 2021 at 18:00 (JST)

Sign up here: https://kogei-artfair.jp/ 

Daidō Moriyama x KAMU kanazawa x Fukumitsuya Collaborate On New Sake 'Lip '

Fukumitsuya Sake Brewery has collaborated with the Kanazawa-based art museum KAMU kanazawa, and prominent Japanese photographer Daidō Moriyama to release a new sake called "Lip <Junmai>" which dropped on Fukumitsuya's online shop and three of their branches on February 22.

100 Bottles Signed by Daidō Moriyama

KAMU kanazawa is a modern art museum which centres on art expressing the culture of Kanazawa. On December 15 last year, the museum opened a new space called the "LIP BAR" which features prints of a close-up photo taken by Moriyama plastered on the walls, ceiling, and surfaces. Lip <Junmai> can be tasted at the LIP BAR from Monday to Saturday at 20:00-Midnight amongst a flurry of other cocktails.

The sake can also be bought online or in-store at Fukumitsuya, with a limited number of just 100 bottles signed by Moriyama himself.

The Sake at a Glance
The sake is an homage to Moriyama; a deep-flavoured junmaishu made with Yamada Nishiki and Kinmon-Nishiki rices.

The Design
The sleek and stylish bottle features a silver label layered with Moriyama's famous lip shot. The regular edition bottles have English on the front and Japanese on the back. The signed edition bottles are signed by Moriyama on the front and have a unique serial number on the back. All the bottles are frosted and bear Fukimitsya's logo. The box design was created by Kanazawa-based art director Katsura Matsuzawa.

Lip <Junmai>

©Daido Moriyama Photo Foundation Courtesy of Akio Nagasawa Gallery

Information

Daidō Moriyama x KAMU kanazawa x Fukumitsuya: Lip <Junmai>

Regular Edition: ¥3,500

Signed Edition: ¥25,000 (100 Bottles)
Released: February 22, 2021

Where: Fukumitsuya Online Shop / Fukimitsuya Kanazawa / Fukumitsuya Tokyo Midtown / Fukumitsuya Higashi

Official Website: https://www.fukumitsuya.com/ext/special/lip_junmai/

Pokémon Center to Open New Store in Kanazawa

The Pokémon Company is opening a new branch of Pokémon Center, the official store for Pokémon merchandise, in Kanazawa, in late November 2020. The store will open inside Kanazawa Forus, a shopping centre located just a 1-minute walk from Kanazawa Station.

Pokémon Center Kanazawa's design captures the beauty of the Hokuriku Region of Japan. There to greet customers who enter the store is Milotic who is perhaps the most beautiful Pokémon.

Pokémon Center Kanazawa will sell a whole range of Pokémon merchandise, including items to promote the grand opening of the store.

©2020 Pokémon. ©1995-2020 Nintendo/Creatures Inc. /GAME FREAK inc.
Pokémon, ポケットモンスター and ポケモン are registered trademarks of Nintendo, Creatures Inc. and GAME FREAK inc.

Information

Pokémon Center Kanazawa
Grand Opening: Late November 2020
Address: Kanazawa Forus 5F, 3-1 Horikawashinmachi, Kanazawa, Ishikawa
*Specific opening date not yet confirmed. Opening day subject to change depending on COVID-19.

Official Website: https://www.pokemon.co.jp/

Coronavirus in Japan: Kaname Inn Tatemachi in Kanazawa Offers Free Accommodation to Foreigners Who Can't Get Home

Kaname Inn Tatemachi, a hotel in Kanazawa, Ishikawa, has announced a project named "Room for rescue" which will offer free accommodation to foreigners unable to travel back to their home countries from Japan due to lockdowns and restrictions from going outside as a result of the ongoing COVID-19 pandemic

With flights cancelled around the world, there is no way for foreigners to return home from Japan, resulting in them being forced to change their plans and extend their stay. They are living their days in constant worry, both financially and mentally. To ensure that foreign travellers don't feel like their trip to Japan was a bad experience, free accommodation is becoming available to those who meet certain prescribed conditions.

In response to the decreasing number of tourists, Kaname Inn Tatemachi opened its doors to Japanese citizens through Facebook for free accommodation to help support businesses like local restaurants that could no longer make a living. They received a lot of guests, as well as a request from a friend who asked if someone from the Netherlands could stay there because they couldn't get back to their country. This sparked the "Room for rescue" project for stranded foreign tourists to stay at Kaname Inn Tatemachi for free too.

 

Kaname Inn Tatemachi is using its own funds to pay for the project and allow free stay. However, doing this long term will put strain on the business, so to help pay for hotel use and staff's wages, the hotel has opened up a crowd funding page which you can find here.

Information

Room for rescue

Aimed at: Foreign travellers who cannot return home

How to Apply

Send the following details to the e-mail address r4r@kaname-japan.com

①Write "Room 4 Rescue" as the subject of your e-mail

②Include which country you are from

③Write the names of all the people who wish to stay at the hotel

④Write the number of adults

⑤Write the number of children

⑥Write your check-in time and date

⑦Write your check-out time and date

⑧Attach a screenshot or photo of your cancelled flight details

Application Deadline: March 28, 2020 at 23:59 (JST)

Free Accommodation Stay Time: Until April 15, 2020

Interview: Go! Go! Curry President Hirokazu Miyamori & Sakura President Toshiaki Yuasa Discuss Progressive Innovation and Generating Added Value

Kanazawa, also known as Kaga Hyakuman-gokuーan old name with a long history that originally marked the city's tradition of wealth, and can also be used to refer to anything that is quintessentially Kanazawa. Capital of Ishikawa Prefecture, the city of Kanazawa is known as a place rich in art and traditional culture, and enjoys no shortage of popular tourist and sightseeing spots. At the core of all of this is the creative mind of the Kanazawan people from which these things have formed. We had the chance to speak with two company presidents, both of whom were born in Kanazawa: Hirokazu Miyamori of GO GO CURRY GROUP CO.,LTD., and Toshiaki Yuasa of Sakura Inc.

The interview was carried out at the Show House Gallery at Sakura Inc.

ーーーMr. Yuasa, this is a really wonderful place, isn't it? I'd like to begin the interview by asking for a brief explanation of each of your companies.

Yuasa: Thank you very much. My name is Yuasa, and I work at Sakura. We are a company specialising in custom housing, and have done so for the past 26 years since establishing. We centre on the Ishikawa Prefecture area, but also have galleries in Toyama, Gifu, and Kyoto.

Miyamori: I'm Miyamori, and I work at Go! Go! Curry Group. We opened the first Go! Go! Curry branch in Shinjuku in May 2004. We specialise in curry and sell pre-packed curry products. Today, we have restaurants not only in Japan, but America, Brazil, and elsewhere too.

ーーーIf I'm not mistaken, you were both born in Kanazawa, correct?

Miyamori: Yes. I've had "The Nation of Kaga Hyakuman-goku" chiseled into my head since I was small. I didn't know what it meant back then, but after I travelled to Tokyo and went overseas, I realised how beautiful a place Kanazawa is for its history, traditional arts, and culture. Those two characters* had more meaning than I thought. They have weight, are a brand, and contain soul and spirit.

*Referring to the Japanese reading of Kanazawa, "金沢."

Yuasa: It's just as Mr Miyamori says. I feel a yearning when hearing the word Kanazawa. I believe anyone and everyone there has an interest in its traditions and culture. And that's because Kanazawa is a region with history, with style.

Miyamori: From being a young age, it's been normal to know and have artisans around you. For instance, you go to someone's house, and their father would be a yuzen fabric weaver. When we would go on field trips, we would go to facilities specialising in traditional crafts, go to see a Noh play at a Noh theatre, get involved in various cultural and seasonal events. But these days, those kinds of things aren't as tied to people anymore. It's something I realised by going outside.

ーーーーI feel like I now understand a little more the reason behind why there are so many creative people in Kanazawa. Both of you are founders, correct?

Miyamori: When I was 20, I went to New York. I said to myself that I would definitely go back there again. It was a dream of mine. But I ended up forgetting about it when I became a member of society. One day, I saw that a local [baseball] player and star transferred to the New York Yankees. I was so happy hearing that, and at the same time I remembered, "Oh yeah, I went there one time too." I had no intention of opening a curry shop or becoming a company president. I just wanted to go to New York.

Yuasa: I completely get that <laughs>. I worked for a local company for 15 years, and had some unexpected luck which led to what I'm doing today. I established the company in the latter half of my 30s, but at the time I really had the same kind of authority that Mr Miyamori has <laughs>. Being young is scary in a sense. 'Management' has a generational appeal to it, but Mr Miyamori is young, so I think he's got much more to offer yet!

Miyamori: Haha!

Yuasa: When I look at Mr Miyamori here, I can tell he's really close with his staff. Do you wear this uniform in Tokyo, too?

Miyamori: I do. I go about like this on the bullet train and plane too! The people in New York get me pretty well as well.

Yuasa: I bet! <laughs> You're a man of nerve.

Miyamori: We're a team, so even at this moment in time, my heart is connected to the hearts of all my hardworking staff across the country. They wear the same thing too. I don't think of myself as a company president or an employee. I think I'm more of a captain.

ーーーーTell me about how you're putting strength into each of your businesses today.

Miyamori: Up to now we've focused our efforts on opening more stores, but now we're pouring our energy into building our brand. We now have consignments not only for Go! Go! Curry, but Turban Curry, Hot House, and Samrat too. And all of these brands have real soul. That's why I don't only want to open restaurants. I also want to sell pre-packaged curry and curry for business use, as well as polish our brand to attract more customers.

Yuasa: I too am putting the majority of our attention into our brand. Branding involves a lot of things, like the image our customers have of us, and putting value in various different things, and by not responding to that structure when running a company, I believe there is no future for you. It's difficult to find the right words to convey to customers who are particular about things, but is that feeling that the customer has not important?

Miyamori: You've got to show them, don't you?

Yuasa: That's right. There are many things here in this gallery like that which have added value, but even if I were to put them into words it would be difficult to get through, so I want to actually show them by preparing land and buildings. By adopting new things people have never seen before in properties, it adds value for customers so they don't see it as just a building. To do that, it's important to keep our eyes open and always work on innovating. If you want to innovate, but don't have a clear vision or concept, your mind will become clouded before you can achieve it. And even when you do, every day is still a struggle.

Miyamori: Everyday, that's for sure. <laughs>

Yuasa: Speaking of which, I'm the only impatient one. I leave it to my employees. Akira Yoshino, who won the Nobel Prize [in Chemistry] this year, also said it was for research for the generations of young people to come. He was right.

Miyamori: If there's no challenge, there's no growth, and it's not fun. It's blood, sweat and tears. I'm taking part in the next Kanazawa Marathon, and training for it has been really tough.

Yuasa: You'll be running in that uniform, right? You're sure to stand out from the crowd!

Miyamori: The people along the roadside cheer you on. That's a huge source of strength. I can only relax once the run is over. That sense of accomplishment when you reach the goal is difficult to put into words. I want young people to experience this same feeling.

Yuasa: That sounds really good. If one of our workers signs up for the Kanazawa Marathon, I wonder if they'd be able to borrow a uniform from you?

Miyamori: If you've got someone who'd bear the responsibility of our company I'll be sure to cheer them on! The people being cheered on, too. Even if it looks like you'll be crushed, you keep at it. You'll make bonds in the company. It's the same with managing too. It's tough to keep going, but when you achieve that goal, all of those troubles and hardships disappear in an instant.

Yuasa: It's a cycle of achieving, and then aiming toward your next objective.

Miyamori: You completely forget about the troubles, don't you? <laughs>

ーーーI see. And do you ever feel a sense of fulfilment at work?

Miyamori: It makes me happy when the customers call the curry we serve delicious. Other things too, like our curry being the first curry a child has ever eaten, or a family coming together again over it. We distribute curry to disaster-stricken areas, so we're happy if we can become a source of energy for people too. I feel happy when our workers set high goals, we achieve them and grow from it, too.

Yuasa: It really makes me happy when I meet with a customer who bought a house from us a year later and they say that it's a really great house. A house isn't something you go and buy multiple times, so I feel relieved when they are satisfied. And although we're a small company, I'm happy I can leave it to my staff so that they can grow. Because they try and they move forward, then the future will open for them. And with that, it's the responsibility of the company president to bring about results from their hard work. Managing such a task is a tough job alone, but that's what being a company president is. And if you don't have that, you'll fail.

Miyamori: I get that. You've got to pour in blood, sweat and tears if you want to grow. If you don't go all out, you're not going to sweat. You will grow greatly if you continue to go all out with everyone involved and achieve a monumental goal.

ーーーYou both have warm feelings towards your staff and workers, don't you?

Miyamori: They feel like my own children. So it makes me really happy when they get married, have kids, and build a home.

Yuasa: That's true. And also, if your company doesn't grow, you can't continue to exist. It's important to always look towards growth and strive with everyone.

ーーーFor my last question, I'd like to ask you about your visions for the future.

Miyamori: Curry will save the planet! I'm aiming for the world with curry! For instance, if we were talking about ramen, and someone asked me which is more deliciousーeating ramen at a restaurant or at homeーI'd say eating it at a restaurant. But when it comes to curry, your mother's is the most delicious. Basically, the curry you eat out isn't growing or improving. Just like how Starbucks serves delicious coffee all around the world, I also want to serve delicious curry around the world.

Yuasa: Your vision is really easy to understand <laughs>.

Miyamori: Curry is actually a delicious form of Chinese food therapy. We can divide up allergies, so we make it delicious for everyone from children to the elderly. Also, when you eat curry, your bowel warms up, so with curry you can also look at increasing healthy life expectancy, building immunities, and fighting cancer. This curry is a Nobel Peace Prize meal! How about you, Mr Yuasa? What are you looking towards for the future?

Yuasa: I want to build a company that tackles problems faced by customers, like adding value to buildings by making them earthquake-proof and lowering electricity costs, as well as seeing how to incorporate that into housing. Our customers are valuable so we're seeking value. We want to make lots of houses that answer the question, "How can I live happily in this house?" I believe how people live happy lives in a house changes generation by generation, so I want to catch onto that and keep up with the times.

Miyamori: You really are a company president, Mr Yuasa! I don't even think of myself as well, and I don't think my employees do either <laughs>. But it's amazing how much thought you're putting into ways of living, and I think that's wonderful.

Yuasa: Thank you. Before I met you, I thought you were a nonstandard person, but after listening to your story today, and seeing you in that uniform, my opinion has changed to conviction. It's not everyday something like the Nobel Prize comes into conversation <laughs>. I believe things will get better for both yourself and your employees!

Curryーand property. Two completely different worlds, but two company presidents hooked on innovation and growing their brands. Their ambitions and warm feelings they have towards their staff will encourage the people they work with and pave the way for new challenges brought about by adding new value to their companies. The day when the people of Japan are living in their wonderful Sakura homes and eating delicious Go! Go! Curry in them may already be on the horizon.

Interview & Text: Yuki Yokoo

Photographer: pon

Translator: Joshua Kitosi-Isanga

Kuroneco Jack Sells Sensational Chocolate Gâteau in Kanazawa

Gâteau Chocolat shop Kuroneco Jack just opened this May in Kanazawa, Ishikawa and has already become a sensation.

The shop interior is colourful. The wooden features add warmth to the surroundings, creating a relaxing atmosphere. Although this is a very difficult location to reach if you don't have a car, the shop is filled with customers every single day. 

Every day, the highly experienced patissiers create 12 flavours of cute and delicious gâteau. From standard chocolate to fruit, black sesame and matcha, you can find many rare flavours here. 

The standard chocolat JACK is made from 62% cocoa chocolate. The raspberry JACK offers chocoholics the opportunity to enjoy Jack's luxurious chocolate with a sour touch of fresh raspberries to accent the flavour. Just the aroma of the Black Sesame JACK proves its fantastic quality. There are also many more flavours on sale that you just won't be able to resist. 

If you pop by the shop, you should also check out the popular parfait menu that consists of three fruity parfaits. Just looking at them will make your mouth water. Of course, Jack's chocolate is also used in the parfaits. The SHIRONECO Parfait uses a white chocolate base, whilst the KURONECO Parfait uses a dark chocolate base. There is also the DORANECO parfait, which is completely left in the chef's hands to do as they please. 

There is also original soft serve ice cream, gâteau chocolat with brûlée, cheesecake and many more fusion desserts that are sold as part of the INTO Series. I know everything looks so delicious you will not be able to decide, but if you ever find yourself in Kanazawa, please pop by. 

Information

Kuroneco Jack

Address: Kanazawa Kuratsuki HR Building 1C, 3-27, Kuratsuki, Kanazawa, Ishikawa. 

Eat In Corner: 19 seats

Takeaway Hours: 11am ー 7 pm 

Eat In Hours: 11 am ー 5 pm (Last orders: 4:30 pm)

Free parking available. (20 spaces) 

TEL: 076 268 9611

Website: https://kuronecojack.com/

A Digital World Where Art Meets Nature: Don't Miss teamLab's Immersive Exhibition in Kanazawa

teamLab is a creative group of professionals and artists that creates collaborative digital art projects and exhibits them to the public. Visitors have the opportunity to fully immerse their bodies in the exhibition and become part of the art. Now, teamLab is heading to the 21st Century Museum of Contemporary Art, Kanazawa (Ishikawa).

From Friday 9th August to Sunday 1st September, the exhibition Impermanent Flowers Floating in a Continuous Sea will take place in the museum. Tickets can be purchased from Seven Ticket (Seven-Eleven convenience stores) or from event's official website.

Continuous Life and Death at the Now of Eternity, Cannot be Controlled but Live Together
teamLab, 2019, Interactive Digital Installation, Endless, Sound: Hideaki Takahashi

Learn more: https://www.teamlab.art/w/continuous_life_and_death/

Reversible Rotation – Black in White
teamLab, 2018, Digital Installation, Sound: Hideaki Takahashi

Learn more: https://www.teamlab.art/jp/w/reversible-blackinwhite/

The main exhibition features one continuous wave produced by one installation. The concept is; Black Waves: Lost, Immersed and Reborn. The movement of the patterns in the exhibition are influenced by the movements of the visitors. The exhibition aims to show people that the continuous cycle of life and death exists in a moment that lasts forever. You cannot control it, but you can learn to live alongside it. 

 Black in White is another immersive exhibition. Here, you stand in the exhibition space and watch Japanese sho (calligraphy) being drawn all around you in 3D. The Graffiti Flowers Bombing exhibition is where visitors can draw their own flowers which then grow and bloom on the walls and spread all over the exhibition space.

Graffiti Flowers Bombing
teamLab, 2018, Interactive Digital Installation, Endless, Sound: Hideaki Takahashi

Learn more: https://www.teamlab.art/w/graffiti-flowers-bombing/

All visitors are invited to become one with the art together. As your body intwines with the art, the borders between people and the exhibition disappear, creating a new borderless relationship with the world.  This is a chance for anyone to experience the latest technology to their heart's content.

teamLab to Showcase Latest Digital Art Tech at 21st Century Museum of Contemporary Art in Kanazawa

teamLab has announced that it will hold an exhibition at the 21st Century Museum of Contemporary Art in Kanazawa, the capital of Ishikawa Prefecture, entitled teamLab: Impermanent Flowers Floating in a Continuous Sea from August 9 to September 1.

Black Waves: Lost, Immersed and Reborn teamLab, 2019, Digital Installation, Continuous Loop, Sound: Hideaki Takahashi 

Full Details: https://www.teamlab.art/w/blackwaves_lost_immersed_and_reborn/

This enormous installation is made of a single continuous wave.

Continuous Life and Death at the Now of Eternity,  Cannot be Controlled but Live Together teamLab, 2019, Interactive Digital Installation, Endless, Sound: Hideaki Takahashi

Full Details: https://www.teamlab.art/w/continuous_life_and_death/

This art piece is influenced by the movement of people. Rendered in real time, it creates unique visual states that will never be replicated.

Reversible Rotation – Black in White teamLab, 2018, Digital Installation, Sound: Hideaki Takahashi

Full Details: https://www.teamlab.art/w/reversible-blackinwhite/

A display of "spatial calligraphy" where traditional Japanese sho, or calligraphy, is presented in a contemporary way inside a rotating abstract space.

Graffiti Flowers Bombing teamLab, 2018, Interactive Digital Installation, Endless, Sound: Hideaki Takahashi

Full Details: https://www.teamlab.art/w/graffiti-flowers-bombing/

Attendees will draw flowers onto paper which will bloom onto the walls in colourful bunches.

Enjoy sharing the immersive world of teamLab's boundary-transcending, transient and deep digital art together with the other people in the exhibition.

Information

teamLab: Impermanent Flowers Floating #チームラボ #teamLab #21世紀美術館
Location: 21st Century Museum of Contemporary Art – Galleries A & B (1-2-1 Hirosaka, Kanazawa, Ishikawa Prefecture)

Running: August 9, 2019 – September 1, 2019
Time: 10:00-18:00 (Until 20:00 on Fridays and Saturdays)

Price
Adult (High School & Older): ¥2,200
Children (4 – Junior High School): ¥1,000
*Free for children 3 years-old and younger
*Tickets scheduled to go on sale from early June

Exhibition Page: https://www.teamlab.art/e/kanazawa21/

teamLab Official Website: https://www.teamlab.art/

Experience-based, gold-leaf museum "Hakkokan" was renewed!

Japan's largest "experience-based museum," "Hakkokan" was renewed on the 20th of April 2018.

The museum was built about 20 years ago and it was renewed to become "an experience-based gold-leaf museum" using the latest technologies such as projection mapping. Museum staff will entertain and introduce the beautifulness and charms of "gold-leaf" to their customers.

 

The panels that include directions written in 8 languages (Japanese, English, Chinese, Korean, Russian, French, Spain and German) were installed. They will also offer various contents related to gold-leaf such as an entertainment spot named "Taikangata Kinpaku Museum," "Taikendokoro" where both children and adults can play together.

 

 

The largest gold-leaf specialized shop in the Hokuriku Area, "Hakuichi Café" where they will sell very popular menu items named "Kinpaku no Kagayaki Soft Cream."

And "Sozo Kogei," a gallery which was opened last winter.

 Let's visit Hakkokan to learn about gold-leaf.

■Information

 

Experience-based gold-leaf museum "Hakkokan"

Address: 1-1, 2nd avenue, Morito, Kanazawashi, Ishikawa Prefecture Business hours: 9:00 to 18:00

TEL:076-240-8911

Perfume to perform for the very first time at Yasutaka Nakata's music festival "OTONOKO"!

The OTONOKO music festival brought together an unprecedented number of attendees last year, and the event is set to return later this year. The third round of artists to perform has finally been announced – you can expect to see Perfume, 80KIDZ, and TeddyLoid performing at OTONOKO this December.

Last year's OTONOKO was a huge success and will return on December 2nd this year at Ishikawa Sangyo Tenji in Hall 4.

The festival is produced by none other than Yasutaka Nakata, Japan's leading musician, producer and DJ who receives huge support from artists all over the globe, and who is known as the producer for some of the Japan's biggest acts including Perfume and Kyary Pamyu Pamyu. Nakata has created music for international ceremonies, public showcases, countless movies both in Japan and overseas including Hollywood blockbusters and more.

3 new artists have been added to the line-up for this year's OTONOKO. Perfume, one of Japan's biggest and most successful J-pop groups, will appear at the event for the first time. The group's music has been produced by Nakata for 14 years now since the release of their single "Sweet Donuts" back in 2003. This will be their first ever performance alongside Nakata at an event.

80KIDZ and TeddyLoid will also be making a return to OTONOKO, having performed at last year's festival.

All three of these acts are in close relations to Nakata, and you can expect to see them all there on the day. Further information regarding the event will be released at a later date, so be sure to keep up to date over on the official site!

■Information

Yasutaka Nakata presents "OTONOKO 2017"

Date: Saturday December 2, 2017 (11:00 OPEN / 13:00 START)

Venue: Ishikawa Sangyo Tenji in Hall 4

Price: Standing Tickets – ¥6,800 (tax incl.)

Tickets go on sale at ticket agencies in Japan on August 26th at 10:00am.

Official Bus Tour: http://travel.willer.co.jp/tour/campaign/live/otonoko/

*2nd wave of tickets to go on sale from Friday September 1st.

"OTONOKO" Official Website: http://www.otonoko.com

Second Wave of Artists Announced for Yasutaka Nakata Produced Festival "OTONOKO"

The second wave of artists for the big music festival "OTONOKO," which was help in Kanazawa last year to huge success, have finally been announced. The new artists added to the line-up include Taiiku Okazaki, DAISHI DANCE, tofubeats, and banvox.

The festival is hosted by none other than Yasutaka Nakata, whose influential career spans wide across the Japanese music industry. Nakata is well-known as being the producer for the huge J-pop artists Perfume and Kyary Pamyu Pamyu. As well as that, he has created music for international ceremonies, as well as for a huge variety of movies both inside and outside Japan including for Hollywood. A representative musician, producer and DJ for Japan, he is well respected and recognised by artists all around the world.

Last year's "OTONOKO" prospered greatly. The next festival will be held this year on December 2nd at Ishikawa Sangyo Tenji in Hall 4.

Tickets are now available at various playguides in Japan. It has also been announced that there will be a round-trip bus tour directly to the venue where the festival is being held. There are two plans in place: the first will give you the opportunity to be taken back to where you came from to reach the venue, while the second includes an overnight stay so that you can enjoy your time in Kanazawa. There will also be original OTONOKO merchandise for bus tour takers only. For more details, be sure to check the homepage. Reservations for the bus tour will take place over on the event's official website on July 31st from 16:00.

Nakata hopes to deliver his sound ("OTO") to the world from his hometown of Kanagawa with OTONOKO, a new kind of festival the likes you have never seen.

For the latest information and details regarding OTONOKO, please visit the event's official homepage.

■Information

Yasutaka Nakata presents "OTONOKO 2017"

Date/Time: December 2, 2017 – 11:00 OPEN / 13:00 START

Venue: Ishikawaken Sangyo Tenjikan Hall 4

Price: Advance Standing Ticket – ¥6,800 (tax included)

Tickets now available at various playguides.

Official Bus Tour: Reservations begin from 16:00 on July 31st

Related Article:CAPSULE Announced to Perform at the Yasutaka Nakata-Produced Music Festival "OTONOKO"!

Related Article:Introducing the latest clips and videos from internationally acclaimed Japanese artists—from Kyary Pamyu Pamyu to Perfume & more!