Kanazawa's New Cafe Kanazawa Shiturae Opens in Higashi Chayamachi District
HAKUICHI has renovated and opened the new Kanazawa Shitsurae cafe in Higashi Chayamachi on July 23, 2020. Higashi Chayamachi was built 200 years ago to this year. With a desire for this renovated tea house to exist for the next 200 years, it has been renovated and opened as the new Kanazawa Shitsurae.
Kanazawa Shitsurae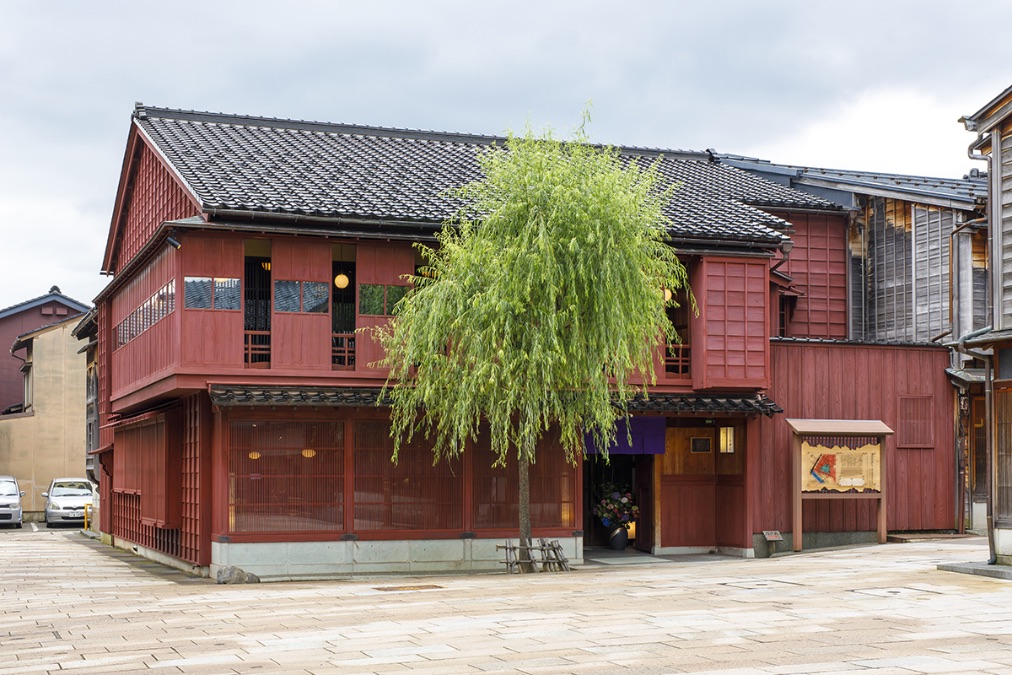 Located in the district of Higashi Chayamachi, which has been around since the Edo Period, Kanazawa Shitsurae is a breathtaking tea house and cafe. Stood proud at the welcoming entrance is a mikaeri-yanagi, a type of willow that is seen as a symbol of Chayamachi. The building which is now Kanazawa Shitsurae was built 200 years ago and is officially registered as a listed building of Kanazawa to be preserved. The renovations it has undergone for the new opening include earthquake resistance to ensure it can be passed over to the next generation. Its interior design has also been revamped, with high quality traditional crafts showcased throughout.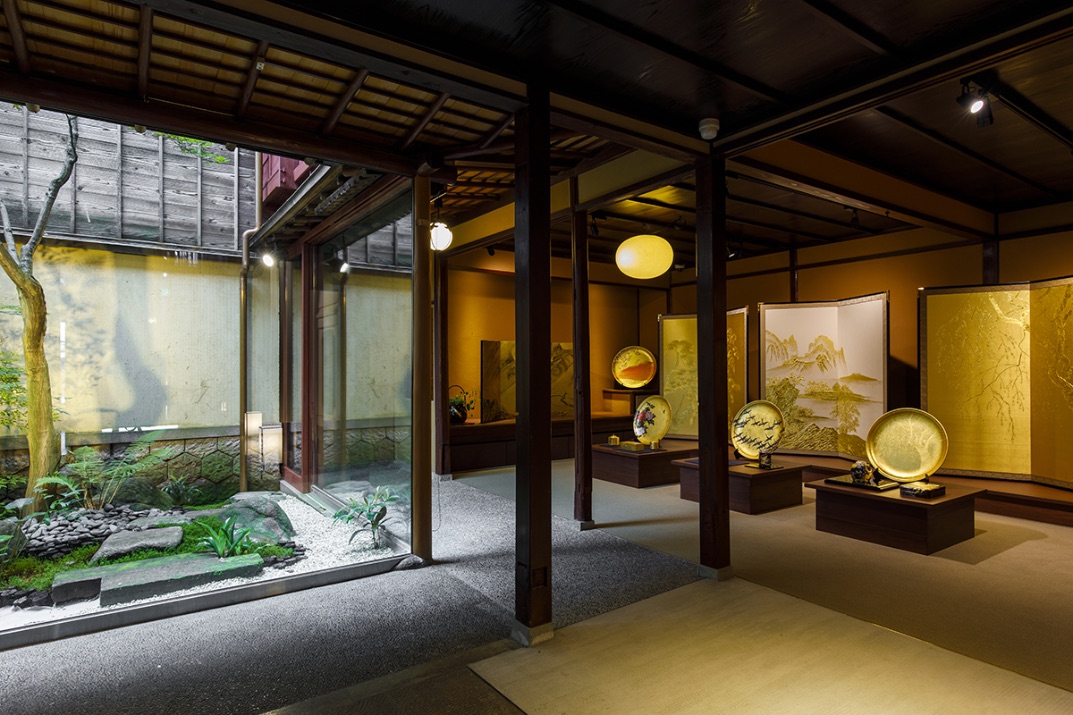 Gallery Shop
Kanazawa Shitsurae will serve as a flagship location for HAKUICHI's traditional Ishikawa Prefecture with its own gallery and shop. The items will be displayed like an art museum where pieces can't be put into a showcase. It will feature a line-up of gorgeous works from people considered National Treasures, traditional artisans, and more.
Yanagi-an: The Cafe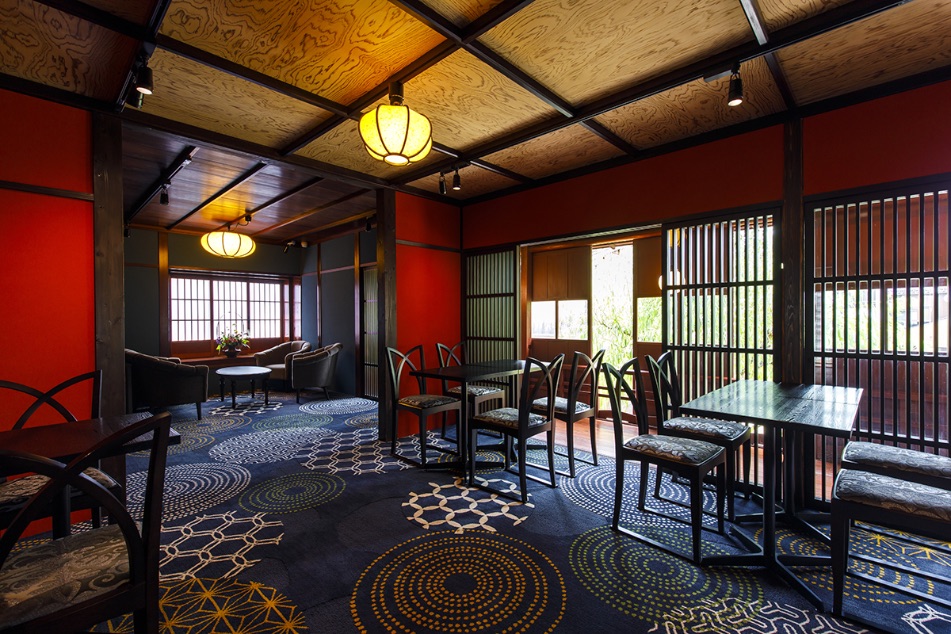 The second floor area is home to Yanagi-an, a relaxing cafe which overlooks Chayamachi. Customers can enjoy a cup of matcha poured inside a traditional handicraft cup together with some Kanazawa-style confections, parfaits with seasonal fruits, and more.
Information
Kanazawa Shitsurae
Address: 1-13-24 Higashiyama, Kanazawa-shi, Ishikawa Prefecture
Opening Hours: 10:00-18:00 (Yanagi-an is open until 17:00)
Closed: 3rd Wednesday of every month (Except July & August) / January 1
TEL: 076-251-8899
Official site: https://kanazawa.hakuichi.co.jp/
RELATED ENTRIES
Creepy-Cute Halloween Sweets Available for a Limited Time at Hyatt Centric Kanazawa

Halloween is on the way, and the Hyatt Centric Kanazawa hotel is prepping some spooky sweets to celebrate! From October 1 until October 31, a Monster Halloween Cake Set will be available at the hotel's restaurant FIVE – Grill and Lounge. Guests can also enjoy a Halloween lunch and dinner menu featuring a chic menu filled with black, red, and purple dishes. Visitors who come in costume will gain access to some special offers as well!

Halloween Lunch / Dinner Course

Poached Eggs with Black Chaudfroid Sauce

Grilled Beef Tenderloin with Beet Variation

 

The courses were inspired by an adult Halloween party and will be available for four days only. Each dish contains colors perfect for the season, like haunting black and bloody red punctuated with a purple-tinted memory of moonlight. While the dishes may look strange, they are made with the finest ingredients. 

Monster Halloween Cake Set

Witch's Mont Blanc Pudding

Mummy Macaron

Denture Parfait

Jack-o'-Lantern Cream Puff

Frankenstein Brownie

Gyuhi Ghost

Spider Web Mousse

GO FOR KOGEI 2022 Collaboration 5×5 Cake Set

A special cake set featuring everything from Frankenstein to spider webs will get you in the Halloween mood. The lineup includes Witch's Mont Blanc Pudding topped with purple sweet potato cream, and the adorable Jack-o'-Lantern cream puff filled with–you guessed it–pumpkin cream. Come enjoy some other playful treats like the Mummy Macaron filled with apricot and the Denture Parfait with berries and marshmallows. On weekdays from October 3 until October 21, the cakes will be served on a special Kutani ware in collaboration with GO FOR KOGEI 2022. This 5×5 set will be limited to five servings per day. Kutani ware is a style of traditional Japanese porcelain found in Ishikawa Prefecture.

Halloween Cocktail


This year's Halloween cocktail is the rock-themed Back in Black. With a tequila base, you're sure to have some extra fun after downing this classy beverage. 

Come enjoy some spooky and cute Halloween sweets while you can!

Information

Monster Halloween 

Hyatt Centric Kanazawa
FIVE – Grill & Lounge
Address: Hyatt Centric Kanazawa 3F (1-5-2 Hirooka, Kanazawa, Ishikawa)
Official Site: http://fivegrillandlounge.jp

Lunch / Dinner Menu

Available: October 28 – October 31, 2022
Hours:
Lunch: 11:30-14:30 (Last Order at 14:00)
Dinner: 17:30-21:00 (Last Order at 20:30)
Details/Reservations: https://bit.ly/FIVEHalloween 

Monster Halloween Cake Set
Available: October 1 – October 31, 2022
*On weekdays from October 3 to October 21, the 5×5 cake set, made in collaboration with GO FOR KOGEI 2022, will only be offered in a limited number of 5 per day. (Advance reservations required.)
Hours: 12:00-17:00 (Last Order at 16:30)
Details/Reservations: https://bit.ly/FIVEHalloween 

Halloween Cocktail
Available: October 24 – October 31, 2022
Hours: 17:00-24:00 (Last Order at 23:30)

*Menu subject to change depending on availability.

'Alien Artist,' Winner of Best New Director at Kanazawa Film Festival 2021, Released

The Kanazawa Film Festival aims to 'promote Japan's countryside culture to the world.' The event held from September 18 to September 20, 2021 marked the 15th anniversary. In addition to staging special works each year, the festival has an established reputation in the film community for its 'New Directors with Promising Talent' program.

The film Alien Artist was directed by Seiyo Hotani, who took home the promising director award in 2020. Given the excellent critic feedback for the movie, it has been decided that Alien Artist will be officially released this spring. Hotani is a university student studying philosophy at Kyoto University, and his directorial work certainly shows off his knowledge on the subject. The film was entirely shot in Kanazawa and Kaga, Ishikawa Prefecture.

Alien Artist inspired viewers with its bizarre storytelling and display of ideology and philosophy. If you could eradicate all of the 'evil' people on Earth, would you? Who decides who is evil? The movie follows a number of unique characters, each with their own personal stories and motivations, as the world faces destruction and rebirth. 

Alien Artist

Runtime: 90 Minutes
Release Year: 2021
Director: Seiyo Hotani
Script: Hifumi Keihan
Executive Producer: Ikuya Onodera
Cast: Kunihiko Watanabe, Yuuritsu Maruyama, Ryofu Karuma, Rui Kiriyama, Shigeo Osako, Jirou

Information

Channel 47

Channel 47 made a splash at the 2021 Kanazawa Film Festival by producing the short video 'HAKKEN -in Kanazawa Movie Festival.' Check it out at the YouTube link below.

Title: HAKKEN -in Kanazawa Movie Festival-

YouTube: https://youtu.be/ewrScVKQGXY

Kyary Pamyu Pamyu Collaborates with Famed Kanazawa Curry Shop Go! Go! Curry! for LOCAL POWER JAPAN Project

​

Celebrating the 10th anniversary of her major label debut, Kyary Pamyu Pamyu is staying active in 2022. Next month, the singer will finally take to the stage at Coachella 2022 in California. In conjunction with the nationwide tour, the LOCAL POWER JAPAN Project was launched to energize Japan through the appeal of regional towns and cities. The singer has just announced a collaboration with the now globally-recognized curry chain Go! Go! Curry!, headquartered in Kanazawa, Ishikawa Prefecture.

With locations popping up around the world, Go! Go! Curry! serves real Kanazawa-style curry. Kanazawa curry can be recognized by its thick roux, and it is often accompanied by plenty of shredded cabbage. Served on a stainless-steel plate, it can be eaten with a fork or spoon, and a crunchy cutlet is placed on top. 

The collaboration logo is a mix of the key visual from Kyary's current 10th ANNIVERSARY JAPAN TOUR 2022 CANDY WAVE and the Go! Go! Curry! gorilla mascot. This recognizable ape is now seen wearing Kyary's 10th-anniversary red ribbon.

Fans can now buy the aptly named 'Go! Go! Kyary!,' a classic Kanazawa beef curry, from the LOCAL POWER JAPAN Project website. A collaborative T-shirt is also on sale featuring the new logo and the singer's 10th-anniversary logo!

Information

Go! Go! Curry! (Ishikawa) x Local Power Japan Project 'Go! Go! Kyary!' / Collab T-Shirt

Available: March 23 – April 5, 2022
Where to Buy: LOCAL POWER JAPAN Project Official Shop
https://store-localpowerjapan.com/ 


Puella Magi Madoka Magica 10 Exhibition to Open in Kanazawa for Limited-Time

The Puella Magi Madoka Magica 10 Exhibition will be open at Daiwa Korinbo in Kanazawa, Ishikawa Prefecture from December 26, 2021, until January 12, 2022. The event commemorates the 10th anniversary of the anime series, and this limited-time run will be the first time the exhibition has been held in the Chubu and Hokuriku regions. 

Puella Magi Madoka Magica 10 Exhibition Admission Ticket with Goods

The Puella Magi Madoka Magica 10 Exhibition invites visitors to relive the series' story with newly-drawn key visuals, production materials, illustrations, videos, and much more. 

In addition to original merchandise such as tapestries and new illustrations, visitors can find local acrylic charms for purchase. 

Kanazawa is located close to the Sea of Japan, and visitors coming during this holiday season can enjoy the beautiful snowy scenery and delicious local fare as well!

(C)Magica Quartet/Aniplex・Madoka Partners・MBS

Information

Puella Magi Madoka Magica 10 Exhibition in Ishikawa

Address: Daiwa Korinbo 8F Hall (1-1-1 Korinbo, Kanazawa, Ishikawa)

Running: December 26, 2021 – January 12, 2022

*Closed on January 1, 2022. 

Hours: 10:00-19:00

Official Site: https://10th.madoka-magica.com/madokaten/

Ayako Suwa's New Work 'TALISMAN in the Woods' on Exhibition at KAMU Kanazawa

KAMU k=k, the sixth space in the private contemporary art museum KAMU Kanazawa, will officially open on December 17, 2021. The location was created as a multi-purpose exhibition space, and it's first project will be 'TALISMAN in the Woods' by Ayako Suwa, active in the field of food art. The work is seat in Hakusan and Kanazawa and revolves around the themes of nature, cities, and water circulation.

TALISMAN in the woods ©Ayako Suwa Courtesy of KAMU kanazawa 





In the year and a half since its opening in 2020, KAMU Kanazawa has continued to inspire with unique spaces inspired by artist's individuality. The opening of 'KAMU tatami' in October made a big splash, and 'KAMU k=k' will only be a limited space for around four years. This follows the museums philosophy that the role and shape of a city changes over time, meaning that the museum should change along with it. 

KAMU k≐k Courtesy of KAMU kanazaw

 


The space is five meters high, and seven meters wide and deep, giving a theater-like atmosphere. Giving a wildly different impression than it's surroundings, visitors can enjoy a once-in-a-lifetime art experience. 

TALISMAN in the woods ©Ayako Suwa Courtesy of KAMU kanazawa 

 

The first exhibition held in "k≐k" will be "TALISMAN in the Woods" by Ayako Suwa. Ripples will spread outside of the museum, following the theme of water circulation. Visitors will be asked to pay attention to how nature silently impacts daily life, and will be inspired to create connections with the world around them. In this exhibition, Suwa will share insight on water from Hakusan, a city supplying water to huge areas of Ishikawa Prefecture. This three-dimensional work was created by the artist during 2020 during the height of the Coronavirus pandemic. Using Cedar branches and leaves from Hakusan, the installation is on a massive scale consistent with the new space.After the exhibition, the talismans displayed in the work will be returned to the soil of Hakusan to connect the exhibition with local nature. 

©Ayako Suwa Courtesy of food creation

©Ayako Suwa Courtesy of food creation

 

Through crowdfunding, guests can snag a piece of Suwa's work along with other special items. In addition to simply owning a piece of art, upon the death of these talismans, guests can participate in the ritual of returning these pieces to the forest. 

TALISMAN ©Ayako Suwa Courtesy of food creation

Information

KAMU k=k

Open: December 17, 2021

Ayako Suwa's 'TALISMAN in the Woods' 

Exhibition Period: December 17 – December 23, 2021

Admission: ¥1300 (Ticket for all spaces) / Free for Elementary Students and Under

Closed on Mondays (unless a national holiday)

Hours: 11:00-18:00 

Address: KAMU Kanazawa (1-1-52 Hirosaka, Kanazawa) 

*KAMU Sky is not currently open to the public. 

Crowdfunding Information

Open Period: November 22 – December 27, 2021

Crowdfunding URL: https://motion-gallery.net/projects/kamu_ayakosuwapjt/

Platform: MotionGallery (https://motion-gallery.net/)

Channel 47 Produces Special Short Video for Kanazawa Film Festival

Highlights from the Kanazawa Film Festival

Channel 47, a company using the power of entertainment and pop culture to convey the appeal of Japan to the world, made a splash at this year's Kanazawa Film Festival by producing the short video 'HAKKEN -in Kanazawa Movie Festival.' This was shown at both the Kanazawa Film Festival and the Tatemachi Film Festival, which were held simultaneously in Kanazawa, Ishikawa Prefecture in September 2021. The video is available to watch on the official Channel 47 YouTube channel. 

「HAKKEN -in Kanazawa Movie Festival-」

The film was produced by Channel 47 to promote both film festivals. The Kanazawa Film Festival aims to 'promote Japan's countryside culture to the world,' and with such similar goals, the two were perfect partners. 

In conjunction with the project, Channel 47 invited AMIAYA and Etsuna (both talents under ASOBISYSTEM) as special guests to the awards ceremony of the Kanazawa Film Festival. The Channel 47 Award was given to MELIA, who also won the Promising New Director Grand Prix. 

The short video highlights some of the best moments from both events and includes interviews with the Director of Eiga no Kai (The Film Association) and MELIA. There's plenty of impressive footage to see, so check out the highlights!

HAKKEN -Discover Kanazawa with AMIAYA-

HAKKEN -Discover Kanazawa with AMIAYA-, also produced by Channel 47, shows off Kanazawa's best pop culture tourist spots. 

HAKKEN -Experience Kanazawa's History with ETSUNA-

The final HAKKEN film produced by Channel 47 shows off the incredible depth of Kanazawa City and how much it has to offer. 

The Kanazawa Film Festival is an ongoing event held by the Eiga no Kai at the 21st Century Museum of Contemporary Art in Kanazawa and at other venues throughout the city. The goal is to help develop the area and share countryside culture with Japan and the world. The 15th such event was held from September 18 to September 20, 2021. In addition to staging special works each year, the festival has an established reputation in the film community for its 'New Directors with Promising Talent' program. This year, 83 films were entered into the New Directors competition, with 11 being chosen to be screened. MELIA came out on top for 'Experimental Tour,' and also won a special Channel 47 award.

The Tatemachi Film Festival is organized by the Tatemachi Shopping District Revitalization Association and is held at the same time. The venue was the rooftop of Tatemachi Parking, a multi-story parking garage in the city also popular for outdoor music festivals. It was held from September 17 to September 19, 2021.

Official Site: https://www.eiganokai.com/event/filmfes2021/kanazawa/

Channel 47 is a project using the power of entertainment to share Japan and its local culture with the world. By getting popular celebrities and public figures involved, the company produces events and content that conveys the appeal of specific Japanese locales and customs to global audiences. 

Official Site: https://channel47.jp/

Contact: info@channel47.jp

Discover the wonder of Kanazawa with AMIAYA and ETSUNA with new "HAKKEN" videos produced by Channel 47

Fashion icons show the modern and historical charm of Kanazawa, Japan

TOKYO, JAPAN (16 November, 2021) – Channel 47, a company focused on globally promoting the appeal of local and popular Japanese culture through the power of entertainment, is excited to debut their new "HAKKEN" video series today, 16 November, highlighting the wonderful modern and historical tourism aspects of Kanazawa City in Ishikawa Prefecture. "HAKKEN" is the Japanese word for discovery, which is the core feeling this new video series is aiming to convey. Channel 47 wants toinspire viewers to discover the wonders of Japan's local culture through these shortfilms.

The debut videos feature fashion icons AMIAYA and ETSUNA (both represented by ASOBISYSTEM), each exploring a different facet of what Kanazawa has to offer curious visitors. These films were produced by Channel 47 as a part of promotional efforts for the Kanazawa Film Festival held in September of 2021. These entries in the "HAKKEN" series were informed by Channel 47's shared philosophy with the Kanazawa Film Festival, to disseminate the culture of Japan's countryside and promote its appeal worldwide.

In the first video, twin model & singer duo AMIAYA discover the "pop" elements of the city at locations such as the Omi-machi market, the 21st Century Museum of Contemporary Art, the Nagamachi Samurai District, and more. Along the way they sample delicacies from some of Kanazawa's highly rated restaurants. Through their experiences viewers will see art, food, shopping, and scenery that has high appeal among visitors.

Watch "HAKKEN – Discover Kanazawa with AMIAYA"

https://www.youtube.com/watch?v=a9-gD-ftTE0

Find AMIAYA online

Official Website: https://asobisystem.com/talent/amiaya/

AMI Instagram: https://www.instagram.com/amixxamiaya/

AYA Instagram: https://www.instagram.com/ayaxxamiaya/

Twitter: https://www.twitter.com/AMI__AYA

In the second video, fashion designer and influencer ETSUNA takes a different approach and wanders the traditional side of Kanazawa. Starting with a stroll in the Higashi Chaya District, her journey takes her to make ceramic art at Hokutoh, and to see historic locations such as the Ishikawa Bridge, the Gyokusen'inmaru Garden, Sannomaru Square, and more. To fit the traditional theme of her visit, she visits Kimono & Antiques Soki and gets dressed for the occasion. Viewers will see through ETSUNA's exploration the beauty and historical legacy of Kanazawa City.

Watch "HAKKEN – Experience Kanazawa's History with ETSUNA"

https://www.youtube.com/watch?v=Z3h-57mhouU

Find ETSUNA online

Official Website: https://asobisystem.com/talent/etsuna/

Instagram: https://www.instagram.com/etsunaotsuka/

Twitter: https://www.twitter.com/etsuna_artist/

ABOUT KANAZAWA FILM FESTIVAL

The 15th Kanazawa Film Festival was held from September 18-20, 2021 in Theater 21 at the 21st Century Museum of Contemporary art in Kanazawa. The festival has a reputation not only for the high quality of films presented each year, but also for its "New Directors with Promising Talent" program. This year 83 films were entered in the "New Directors with Promising Talent" program, and 11 of them won screening rights. The Grand Prix was awarded to MELIA's "Experiential Tour", for which she also received the special Channel 47 Award.

More information on the Kanazawa Film Festival can be found at

 https://www.eiganokai.com/event/filmfes2021/kanazawa/

ABOUT CHANNEL 47

Channel 47 is a project that using the power of entertainment to communicate the appeal of Japan and its different regions to overseas audiences. Through planning and producing events with celebrities and personalities, Channel 47 creates content that conveys the appeal and charm of Japan's many different regions to viewers all over the world. Channel 47 created the post-movies for the 15th Kanazawa Film Festival, held in September 2021. Additional efforts to promote the event overseas include producing

English subtitles for "Alien Painter" which was screened as a Kanazawa Film Festival Scholarship Film.

For more information about Channel 47 please contact: info@channel47.jp

Hyatt Centric Kanazawa Reveals Halloween Inspired Menu for October

All-day restaurant FIVE – Grill & Lounge, located within the Hyatt Centric Kanazawa hotel, will begin serving up a selection of Halloween-inspired treats beginning October 1, including cake sets, parfaits, muffins, and various lunch and dinner items.

Guests will also be able to enjoy some mischievous cocktails and mocktails inspired by witches and ghosts!

Halloween Cake Set 

Black Sesame Pudding

Mummy Macaron

Ghostly Mousse

Pumpkin Ice Cream Sandwich

Coffin Tart

Monster Cream Puff

Halloween Parfait Set

Halloween Dinner/Lunch Course

Halloween Muffin Box

Halloween Cocktails 

Spooky Night

Hallo-Wine Sangria

I sWitch (Mocktail)

The Halloween Cake Set is filled with ghoulish treats, each one displaying incredible attention to detail. In the Halloween Parfait Set, guests can enjoy a tower of different sweets, including black currant and chocolate. Themed with creepy eyeball decorations throughout, it offers a variety of overlapping textures and tastes guests will want to savor until the last bite.

 

When thinking of Halloween, the colors orange and purple instantly come to mind. For the Halloween Dinner/Lunch Course, the menu's creators went with a more dark theme, envisioning a ghost appearing at any moment. The entire restaurant will be decorated in black and gray, creating a truly haunting dining experience.

Don't miss out on the Halloween Muffin Box, a set of mini-muffins made with fresh autumn ingredients, and offering a much cuter feel. Quantities are limited!

The gin-based Spooky Night cocktail is refreshing, with a bold blue color and red-rim on the glass, sure to turn your mouth bright crimson. Hallo-Wine Sangria, house-made with autumn fruits, has a unique design, with a skeleton rising from the glass! For those wanting a mocktail, the I sWitch asks guests to pour the accompanying red syrup over the cotton candy, changing both the appearance and flavor of the drink as if by witchcraft!

Which of these treats would you be after?

Yusuke Nakamura Exhibition Opens at the 21st Century Museum of Contemporary Art, Kanazawa

The Yusuke Nakamura Exhibition opened at 21st Century Museum of Contemporary Art, Kanazawa, on April 29. It was also announced that the Japanese illustrator is releasing the first artbook to compile all of his CD cover art on May 28, but the book can be bought early at the exhibition.

Yusuke Nakamura Exhibition

Yusuke Nakamura Exhibition CD Artworks

Yusuke Nakamura has designed covers forASIAN KUNG-FU GENERATION, Masashi Sada, Spitz, and more

Commentary on the CD covers written by the Yusuke Nakamura himself

Rough sketches are featured in the book

A talk between Yusuke Nakamura and Masafumi Gotoh (ASIAN KUNG-FU GENERATION)

It wouldn't be an exaggeration to call Yusuke Nakamura one of Japan's most prolific artists, having worked with some of the country's biggest names such as ASIAN KUNG-FU GENERATION, Gentouki, Masashi Sada, and more. His new artbook, entitled PLAY, compiles all of his CD covers from 2002-2020, commentary, rough sketches, talks, and more. While many things from the book are explored at the exhibition, there's plenty of content exclusive to the book too, so it's a must-grab for fans.

Information

Yusuke Nakamura Exhibition

Running: April 29, 2021 – May 29, 2021

Location: 21st Century Museum of Contemporary Art, Kanazawa

Official Website: https://www.kanazawa21.jp/

PLAY
Release Date: May 28, 2021

Price: ¥2,273 (Tax Included)

KOGEI Art Fair Kanazawa 2021 to Showcase the Craftsmanship of Kanazawa

KOGEI Art Fair Kanazawa 2021 is set to be held at Hyatt Centric Kanazawa from November 26 to November 28. The event is also taking submissions for the exhibition gallery.

Scenes from KOGEI Art Fair Kanazawa 2019

KOGEI Art Fair Kanazawa is an annual art fair that has been held in Kanazawa, Ishikawa, since 2017, showcasing the best of the region's craftsmanship. The event is taking submissions from both young up-and-coming artisans to seasoned craftsmen. Kogei is a branch of fine art unique to Japan that promotes traditional Japanese culture such as the tea ceremony, the essence of zen, Noh theatre, and more.

This year marks the 5th run of the art fair and will be its first collaboration with Hyatt Centric Kanazawa which opened in August of last year. The hotel will display many works from local artists and act as a hub for the promotion of Ishikawa's culture.

Information

KOGEI Art Fair Kanazawa 2021
2021/11/26 @ 13:00-19:00 (First View)
2021/11/27 @ 11:00-19:00 (General Opening)
2021/11/28 @11:00-18:00 (General Opening)


Location: Hyatt Centric Kanazawa (Floors 5F & 6F)

Address: 1-5 Hirooka, Kanazawa, Ishikawa 920-0031, Japan

Price: ¥2,000 (for two days)

Exhibits: 30-40 exhibits to be displayed from both Japan and overseas


Tickets

Sign-up window: April 19, 2021 – June 25, 2021 at 18:00 (JST)

Sign up here: https://kogei-artfair.jp/ 

Daidō Moriyama x KAMU kanazawa x Fukumitsuya Collaborate On New Sake 'Lip '

Fukumitsuya Sake Brewery has collaborated with the Kanazawa-based art museum KAMU kanazawa, and prominent Japanese photographer Daidō Moriyama to release a new sake called "Lip <Junmai>" which dropped on Fukumitsuya's online shop and three of their branches on February 22.

100 Bottles Signed by Daidō Moriyama

KAMU kanazawa is a modern art museum which centres on art expressing the culture of Kanazawa. On December 15 last year, the museum opened a new space called the "LIP BAR" which features prints of a close-up photo taken by Moriyama plastered on the walls, ceiling, and surfaces. Lip <Junmai> can be tasted at the LIP BAR from Monday to Saturday at 20:00-Midnight amongst a flurry of other cocktails.

The sake can also be bought online or in-store at Fukumitsuya, with a limited number of just 100 bottles signed by Moriyama himself.

The Sake at a Glance
The sake is an homage to Moriyama; a deep-flavoured junmaishu made with Yamada Nishiki and Kinmon-Nishiki rices.

The Design
The sleek and stylish bottle features a silver label layered with Moriyama's famous lip shot. The regular edition bottles have English on the front and Japanese on the back. The signed edition bottles are signed by Moriyama on the front and have a unique serial number on the back. All the bottles are frosted and bear Fukimitsya's logo. The box design was created by Kanazawa-based art director Katsura Matsuzawa.

Lip <Junmai>

©Daido Moriyama Photo Foundation Courtesy of Akio Nagasawa Gallery

Information

Daidō Moriyama x KAMU kanazawa x Fukumitsuya: Lip <Junmai>

Regular Edition: ¥3,500

Signed Edition: ¥25,000 (100 Bottles)
Released: February 22, 2021

Where: Fukumitsuya Online Shop / Fukimitsuya Kanazawa / Fukumitsuya Tokyo Midtown / Fukumitsuya Higashi

Official Website: https://www.fukumitsuya.com/ext/special/lip_junmai/

Pokémon Center to Open New Store in Kanazawa

The Pokémon Company is opening a new branch of Pokémon Center, the official store for Pokémon merchandise, in Kanazawa, in late November 2020. The store will open inside Kanazawa Forus, a shopping centre located just a 1-minute walk from Kanazawa Station.

Pokémon Center Kanazawa's design captures the beauty of the Hokuriku Region of Japan. There to greet customers who enter the store is Milotic who is perhaps the most beautiful Pokémon.

Pokémon Center Kanazawa will sell a whole range of Pokémon merchandise, including items to promote the grand opening of the store.

©2020 Pokémon. ©1995-2020 Nintendo/Creatures Inc. /GAME FREAK inc.
Pokémon, ポケットモンスター and ポケモン are registered trademarks of Nintendo, Creatures Inc. and GAME FREAK inc.

Information

Pokémon Center Kanazawa
Grand Opening: Late November 2020
Address: Kanazawa Forus 5F, 3-1 Horikawashinmachi, Kanazawa, Ishikawa
*Specific opening date not yet confirmed. Opening day subject to change depending on COVID-19.

Official Website: https://www.pokemon.co.jp/