IKEA Logo Clothing Collection EFTERTRÄDA Pre-Sales Begin at IKEA Harajuku
IKEA Japan is launching IKEA's first apparel and merchandise brand to feature the company's logo. Named "EFTERTRÄDA," pre-sales for the collection will take place at IKEA Harajuku on July 31. General sales will then begin at IKEA stores across Japan and on IKEA Japan's official website on August 7.

The EFTERTRÄDA collection is made in Japan and takes inspiration from Tokyo culture. A special lookbook was created featuring young people who live in Tokyo wearing the collection. They were asked to focus on how they present themselves in their own homes. Each photo is a look into their private lives.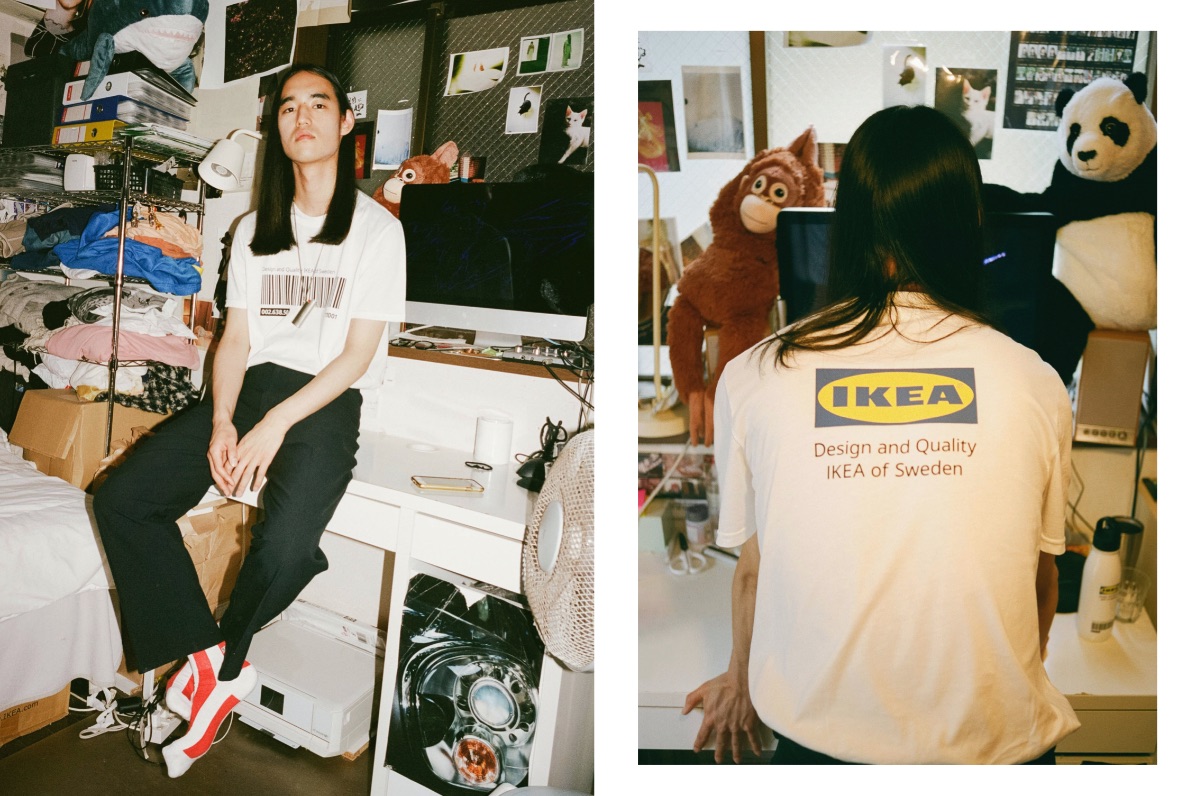 IKEA T-shirt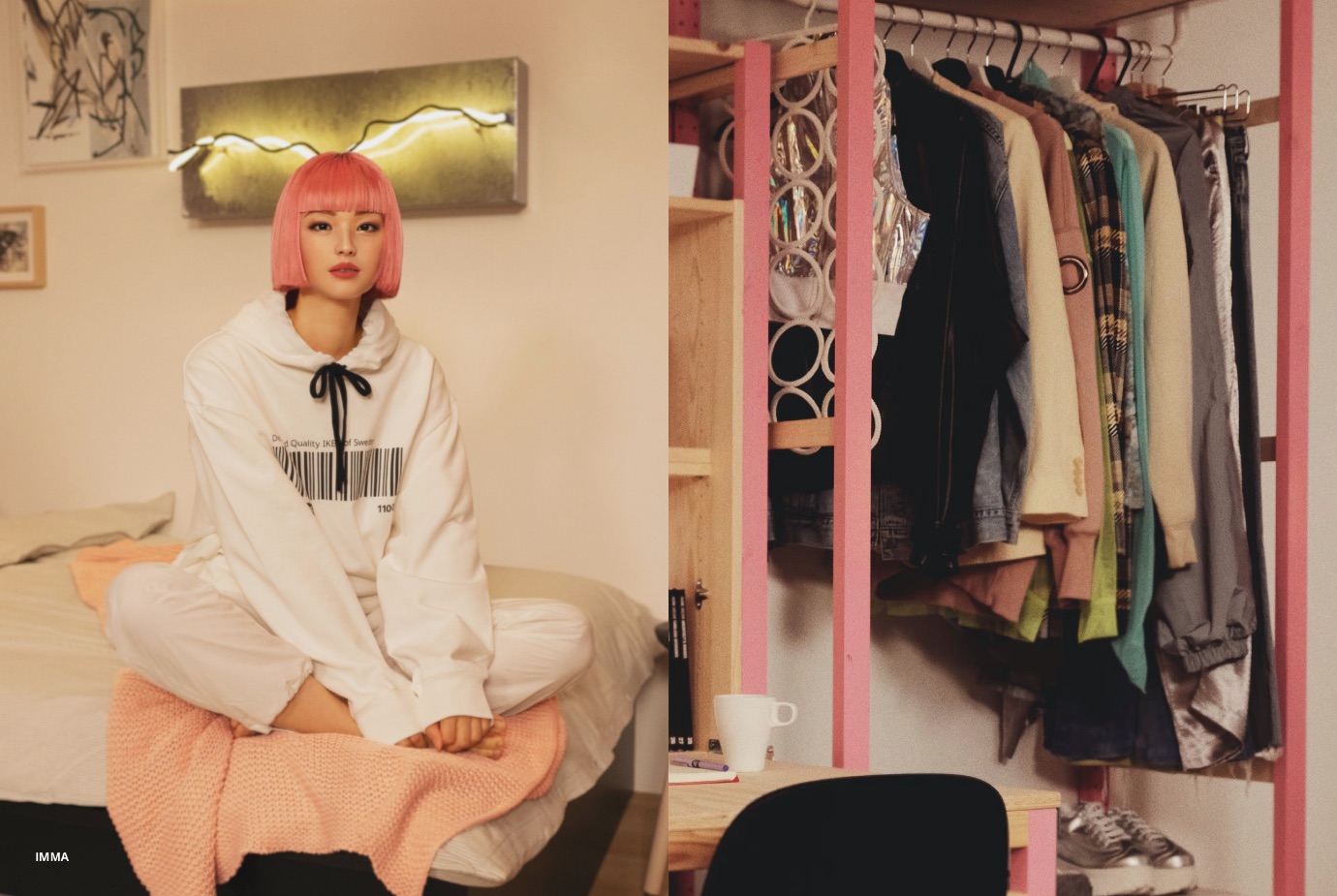 IKEA Hoodie
The lookbook of these five Tokyoites was shot in partnership with IKEA Harajuku to commemorate the store's opening. This includes Japan's most popular virtual model Imma.
IKEA Bag
IKEA Umbrella (White)
The EFTERTRÄDA simple yet stylish collection includes ten pieces of apparel and goods branded with IKEA's official logo, such as the T-shirt, hoodie, towel, umbrella, water bottle, and more.
The collection is one to add to your wardrobe, so when visiting Tokyo, be sure to head on into IKEA to get your hands on it.
Information
EFTERTRÄDA
Pre-Sales: July 31, 2020 (IKEA Harajuku)
General Release Date: August 7, 2020
Official Website: http://www.ikea.jp/eftertrada
RELATED ENTRIES
IKEA Shinjuku to Open in Spring 2021

IKEA Japan has announced that its third branch will open in Shinjuku in Spring 2021, following the opening of IKEA Harajuku in June and IKEA Shibuya which is opening on November 30.

IKEA Shinjuku will be conveniently located just a 5-minute walk from JR Shinjuku Station. It will feature a line-up of products to get people living more sustainably at an affordable price. It will also serve authentic Swedish food.

Helen Von Rice (IKEA CEO, Chief Sustainability Officer) | Comment

"We are so excited to continue our city-expansion journey with our third city shop meeting many more of the Tokyoites in the bustling Shinjuku district. We hope to inspire and solve home-furnishing needs at a time when the home has never been more important. Our Shinjuku shop will also continue to offer great plant-based food as well as sustainable products to reach our goal of being climate-neutral by 2030."

Information

IKEA Shinjuku
Grand Opening: Spring 2021
Address: Keio Shinjuku B1F-3F, 3-1-13 Shinjuku, Shinjuku-ku, Tokyo
Official Website: https://www.ikea.com/jp/ja/

Tokyo's Art Aquarium Museum in Nihonbashi Announces Christmas Event

Having only held annual summertime events up to now, Art Aquarium Museum in Nihonbashi, Tokyo, is celebrating Christmas for the first time this year with a series of holiday season festivities.

The Aquarium's first Christmas tree

Art Aquarium Museum will display its very first Christmas tree for the event indoors near the entrance. The tree artwork was created by Hidemoto Kimura using 550 colourful crystals that have been made to look like goldfish. Made from venetian glass, he had them shipped himself from Italy. They are strung in 10 different colours which glow and glisten to create a romantic atmosphere.

Artwork Name: Natale di Pesce D'oro
Running: December 1, 2020 – December 27, 2020
Location: Art Aquarium Museum entrance

Pair tickets for Christmas with alcohol


Pair Ticket (2 People) + 2 Drinks | ¥4,600 (Tax Included)

Those arriving in twos can buy Pair Tickets which come with two alcoholic or non-alcoholic beverages so you can plunge into the magical underwater world of the aquarium while enjoying a drink.

Buy Tickets: https://ticket.artaquarium.jp/en/
Running: November 24, 2020 – December 27, 2020
Validity Period: December 1, 2020 – December 27, 2020
Drinks Menu:

[Alcohol] COEDO Beer / Marihana / Louis Raison Rouge Délice

[Non-Alcoholic] Sanpellegrino Pompelmo / Grapefruit

Christmas menu served up in the lounge and cafe

2-Person Hors d'oeuvre With 2 Drinks | Online Booking ¥4,200, Same-Day ¥5,000 (Tax Included) | Serving: December 18, 2020 – December 25, 2020

The aquarium's lounge restaurant is serving an hors d'oeuvre for pairs of Japanese and western food together with two drinks.

2-Person Christmas Sweets Plate With 2 Drinks | Online Booking ¥3,300, Same-Day ¥3,850 (Tax Included) | Serving: December 1, 2020 – December 27, 2020

The cafe is serving up plate of assorted desserts, perfect for a post-aquarium date.

Christmas Special Cocktail | ¥2,200 (Tax Included) | Serving: December 1, 2020 – December 27, 2020

Both the restaurant and cafe are also serving a seasonal cocktail of chocolate, strawberries, cranberries, and champagne jelly for a sweet and refreshing mix.

Information

Art Aquarium Museum Christmas Event

Address: 1-3 Nihonbashihoncho, Chuo Ward, Tokyo
Opening Hours: 10:00-21:00 (Until 20:00 in December)
No Fixed Holidays
General Admission: Adults (13 and over) ¥2,300 (Tax Included) / After Dark Ticket: Adults (13 and over) ¥2,000 (Tax Included)

*Free for 12 and under
Official Website: https://artaquarium.jp/en/

Starbucks Japan Opens Nishitokyo Branch by 300-Year-Old Camphor Tree

Starbucks Coffee Japan opened a new branch on Thursday (November 25) in Nishitokyo, a western area of Tokyo, next to an ancient 300-year-old camphor tree. The coffee shop opens with a gorgeous wooden interior.

Starbucks Nishitokyo

Starbucks Nishitokyo was built on top of a long-standing cafe called Kusunoki in Musashino, Tokyo that was loved by locals for 40 years before closing down. The Starbucks branch, with its striking warm wooden decor, takes inspiration from an old 300-year-old tree that stands 23-meters tall and 7 meters in circumference. The old round pillars that kept the previous cafe Kusunoki standing have been kept in place and built around, incorporating a tall new triangular roof, lights, and the walls, and more—all as an homage to the old cafe. This way, memories of the beloved can be passed on while making way for a new chapter in history.

Starbucks's wooden decor

Starbucks Shinshu Zenkoji Nakamise-dori branch


Starbucks Shikishima Park branch

Starbucks Nishitokyo comes as the latest Starbucks branch to have entirely wooden decor, something which the company has been incorporating much of in Japan in recent years. The Shinshu Zenkoji Nakamise-dori branch is made using five different types of trees sourced in Nagano Prefecture. The Shikishima Park branch offers an incredible view of the park's flowers and trees, including the cherry blossoms when they bloom in spring.

Starbucks Japan is opening another wooden branch in Spring 2021 at Ise Grand Shrine.

An initiative to use wood grown in Japan

Starbucks Shinjuku Gyoen branch


Starbucks LINKS UMEDA branch

The number of shops and cafes using local wood in Japan is on the rise in response to the issue of using domestic wood from places outside of a local area. Starbucks Shinjuku Gyoen, for example, has walls, a ceiling, and drinks counter made from wood sourced in Tama, Tokyo, while Starbucks LINKS UMEDA has pillars made of wood taken from trees in Umeda, Osaka.

Information

Starbucks Coffee Nishitokyo
Address: 5-19-10 Shinmachi, Nishitokyo, Tokyo
Grand Opening: November 25, 2020
Opening Hours: 7:30-22:30
No Fixed Holidays

Official Website: https://www.starbucks.co.jp/

Enjoy the Beautiful Taste of Kyoto at Isetan Shinjuku in Tokyo

Isetan Shinjuku has announced a special event dedicated to promoting the beautiful taste of Tokyo. Set to begin on December 2, the event will see both traditional and newer restaurants from Kyoto come together to serve up Kyoto-style cuisine to the people of Tokyo from oldies like sushi to dango to more modern dishes like okonomiyaki and katsu sandwiches. Visitors will also be able to watch real chefs from Kyoto at work.

Hi-Lite Shokudo's "Hi-Lite Katsu Sandwich" | ¥850

Since first opening in 1960, Hi-Lite Shokudo has continued to treasure the taste of home cooking and has continued to evolve that taste over the years to cater to each generation. Its famous katsu sandwich is made with a secret sauce that has kept it unbeaten against other popular eateries in Kyoto, and they've upped the taste for this event.

Kotoka's "Mitarashi-dango" | ¥864 (6 Sticks) 

These dango are made fresh in front of customers and are doused in a rich secret sauce. Their chewy texture is irresistible.

Izuu's Mackerel and Tilefish Assortment | ¥4,455 (3 of each per person)

Izuu is an iconic sushi restaurant in Kyoto that was first established in 1781. This assortment is made with chub mackerel from coastal waters, esumai rice from Shiga Prefecture, and kombu from Hokkaido.。

Yumeya's Fuwafuwa Okonomiyaki | ¥801 (1 portion)

Many people living outside of Kyoto search for the okonomiyaki flavour served by Yumeya. It's made fresh, fluffy, and is topped with lots of ingredients.

Daitokuji Saiki-ya's "Dashimaki Tamago" | ¥648 (1 portion)

Daitokuji Saiki-ya is a specialty store in Kyoto catered food in business for 1933 years. It serves Kyoto-style dashimaki tamago as well as lots of other delicious food that captures the taste of Kyoto.

Gifts Galore as Roppongi Hills Welcomes the Christmas Market Again For 2020

Christmas has sleighed into Roppongi Hills again this year, beginning with the Keyakizaka-dori Illuminations on November 13. The Christmas Market is also set to return to Oyane Plaza on November 28.

2020 marks the 14th run of the Roppongi Hills Christmas market which is inspired by the the famous Stuttgart Christmas Market in Germany. Visitors can sift through around 1,500 miscellaneous Christmas goods, enjoy German mulled wine and sausages, and more.

At the West Walk, visitors will also find an enormous 6.5m tall Christmas tree to complement the warm, cosy, festive atmosphere of the holiday season event.

Information

Roppongi Hills Christmas 2020
Running: November 13, 2020 – December 25, 2020
Location: Roppongi Hills (Keyakizaka-dori, West Walk Floor 2F, Oyane Plaza, and elsewhere)

Christmas Market 2020
Running: November 28, 2020 – December 25, 2020
Times: 11:00-21:00
Location: Oyane Plaza
Roppongi Hills Official Website: https://www.roppongihills.com/en/

sequence SUIDOBASHI: Tokyo's Next-Generation Hotel Opens November 25

Major real estate developer Mitsui Fudosan and Mitsui Fudosan Hotel Management will open "sequence SUIDOBASHI," the third branch of their "sequence" hotel chain, in Chiyoda, Tokyo, on November 25, 2020.

A convenient stay in Tokyo

sequence SUIDOBASHI is just a 1-minute walk from Suidōbashi Station's JR Line and a 6-minute walk from its Toei Subway-Mita Line. Its convenient location puts it near the Tokyo Dome City entertainment complex where you can enjoy sports events, concerts, an amusement park, and more. It also means easy access to other places like Akihabara, Kagurazaka, and Otemachi.

Suidobashi is home to many office buildings, and so to blend in with its environment, sequence SUIDOBASHI features monotone colouring with chic and sophisticated design.

An easy check-in with facial recognition technology

At the hotel entrance is the facial recognition check-in counter. Guests use an app to register in advance and can use facial recognition or a QR code to self check-in easily. The hotel lobby also has a counter table and DJ booth as well as a cafe counter.

One checked-in, guests can enter the hotel to find their rooms or other facilities throughout the building. sequence SUIDOBASHI is the second branch to incorporate facial recognition, which lets the hotel do everything for you from checking-in to entering your room, following sequence KYOTO GOJO. The hotel chain is also the first in Tokyo to incorporate it.

The concept of "MOMENT"

The hotel is built around the concept of a moment, offering a range of spaces for guests to enjoy different moments like the theatre and the lounge, all of which can be experienced with proper COVID-19 precautionary measures in place.

Bar and dining at KANPAI TERRACE

The hotel's bar and dining restaurant KANPAI TERRACE has a spacious open terrace where guests can enjoy a selection of sandwiches, French toast, mains and sides for breakfast and lunch. During bar time, pick from a range of alcohols and pair them with various Japanese, Western, and Chinese foods.

SHUNKAN LOUNGE

Up on the 2nd floor is the guest-only "SHUNKAN LOUNGE," a 40m² mini theatres with an enormous 120-inch screen where guests can enjoy sports, entertainment, and more. They can also take food and drink they bought from KANPAI TERRACE in there.

SHUNKAN LOUNGE also has its own art gallery showcasing art themed on the concept of "MOMENT" from young, up-and-coming artists.

Guest Rooms

There are eight types of rooms to choose from, all of which can accommodate 2+ people. Rooms are compact and functional whether it be for guests' morning routines or for desk work. The hotel has selected black as the base colour for the backstage area while the bed area uses white which softly illuminates with the light to create a chic contrast in the room design. There are also speckles of orange throughout the room which is the brand's colour and adds accent to the overall design.

Floors 3-6 and 12 feature bunk bed rooms perfect for friends and families travelling together. The rooms are compact with everything guests need in there including the washrooms with showers and toilets. There's also a concept room called "Bunk Bed 4 LIVE" which features a projector and BOSE speakers for guests looking for more of a party room.

If you're looking for a place to stay in Tokyo, why not check out the "next-generation" lifestyle hotel sequence SUIDOBASHI?

Gucci's Shibuya Store Collaborates With Cassette Tape Shop waltz

To celebrate one year since opening, the Shibuya PARCO branch of Gucci in Tokyo is collaborating with the Nakameguro-based cassette tape shop waltz from November 20 to December 6.

waltz is a vintage-style boutique with shelves lined with old music and VHS tapes, cassette players, books, vinyl records, fashion and design magazines, stereo equipment, and more. Self-described as the "ultimate destination for retro multi media," the shop is a real nostalgia trip nostalgia, and is one of 13 Gucci Places alongside places like Chatsworth House in the UK and LACMA in Los Angeles.

Gucci Shibuya PARCO features its own booth where people can listen to old cassette tapes from waltz's Secret Room. The song selection includes tracks from the 1970's, which Gucci's Epilogue collection is inspired by, a playlist created by Gucci creative director Alessandro Michele, and more.

Gucci Shibuya PARCO incorporates Shibuya's creative and innovative spirit while lacing it with Gucci's contemporary and eclectic perspective.

Information

Gucci Shibuya PARCO x waltz Special Collaboration
Running: November 20, 2020 – December 6, 2020
Location: Gucci Shibuya PARCO
Gucci Japan Official Website: https://www.gucci.com/jp/ja/

Egyptian God Anime Series Tototsu ni Egypt Kami Announces December 7 Broadcast

It has been announced that the first episode of Frontier Works's upcoming web anime series Tototsu Ni Egypt Kami ("Suddenly, Egyptian Gods") will be posted on December 7, 2020 at 12:00pm (JST).

New promotional video released alongside air date announcement

Check out the newest PV release for the series which introduces each of the main characters.

Web Anime "Tototsu Ni Egypt Kami" PV Long Version


Get a free postcard in Japan

To promote the series, Japanese anime goods chain Animate is holding a campaign where for every ¥1,000 spent on Tototsu Ni Egypt Kami merchandise at Animate stores in Japan customers will receive one of 13 postcards.

Running: December 19, 2020 – January 17, 2021

Participating Stores: Animate / Animate Online / Shosen Grande / Horindo Takadanobaba

AMOCAFE Ikebukuro is also celebrating the release of the anime series by serving up a themed menu as well as selling exclusive merchandise.

Running: November 25, 2020 – December 9, 2020

Location: AMOCAFE Ikebukuro, 1-31-6 Higashi-Ikebukuro, Toshima-ku, Tokyo

Opening Hours: 11:00-19:45 (Reservation Only)

Official Website: https://amocafe-reserve.jp/to_to2ni_cafe/

Who would have thought that the Egyptian gods could be kawaii? Well, that's exactly what they've become in Tototsu Ni Egypt Kami, a series set in Ancient Egypt where the Egyptian deities, like Anubis, Thoth, Bastet, and Ra live laid-back and relaxed lives. The series is adapted from a popular line of character mascots of the same name.

©yuka/とーとつにエジプト神プロジェクト

Information

Tototsu Ni Egypt Kami

Initial Broadcast: December 2020

Watch On: YouTube, GYAO!, Bandai Channel, FOD, ABEMA, d Anime Store, U-NEXT

Official Website: https://to-to2ni-anime.jp

Sanrio Puroland Announces the Release of Sanrio Character Face Masks and Cases

Sanrio Puroland has announced the release of a new Sanrio character face mask and case collection on December 18, 2020.


Original Masks & Cases – Regular Sizes (6 Designs) | ¥1,650 Each (Tax Included)

The face masks and face mask cases feature cute designs of Sanrio characters including Dear Daniel, Badtz-Maru, Kuromi, My Sweet Piano, and Mocha.


Original Masks & Cases – Kids Sizes (3 Designs) | ¥1,320 Each (Tax Included)

There are also kids sizes with My Melody, Kuromi, and a character mix designs so parents and children can look cute together.

Mask Attachments (6 Designs) | ¥1,650 Each (Before Tax)

Sanrio also has a line-up of Hello Kitty, Dear Daniel, My Melody, Kuromi, Pompompurin, and Cinnamoroll attachments for the face masks.

©1976, 2009 SANRIO CO., LTD. ©1976, 1988, 1989, 1990, 1993, 1996, 2001, 2005, 2020 SANRIO CO., LTD.

Luxurious Christmas Desserts Whipped Up at Ginza's SHISEIDO PARLOUR SALON DE CAFE

SHISEIDO PARLOUR SALON DE CAFE in Ginza, Tokyo, is serving up Christmas cheer this year in the form of a delightful selection of desserts from December 1 to 29.

Christmas Angel Parfait | ¥2,300 (Tax Included)

Made with super sweet Le Lectier pears and combined with assorted berries, this parfait is like a gift from the heavens.

Present From The Heavens w/ Drink | ¥2,500 (Tax Included)

A super cute Christmas assortment with a Christmas present made from white chocolate and berry yam, a snowman made from yuzu citrus-laced milk ice cream, and more.

Shiseido Parlour Story w/ Drink | ¥2,600 (Tax Included) *Served weekdays only

Ensemble Chocolate w/ Drink | ¥2,200 (tax Included)

A brownie made from a combination of Belgian, French, and Swiss chocolate surrounded by ganache, ice cream, and more, served with a spread of berry sauce.

Strawberry Parfait | ¥2,000 (Tax Included)

A simple but deliciously sweet parfait made with koiminori strawberries from Nagasaki. It's served with ice cream and sauce but only contains 10g sugar content.

Information

SHISEIDO PARLOUR SALON DE CAFÉ
Address: Tokyo Ginza Shiseido Building 3F, 8-8-3 Ginza, Chuo-ku, Tokyo

TEL: 03-5537-6231 (Reservations Not Required)

Opening Hours:

[Mon-Sat] 11:00-21:00 (Last Orders 20:30)

[Sun & Public Holidays] 11:00-20:00 (Last Orders 19:30)

Closed: Mondays (Except Public Holidays) / New Year Holidays

Official Website: https://parlour.shiseido.co.jp/

Sanrio's Little Twin Stars Kiki & Lala to Feature in Special Christmas Event in Shinjuku

Sanrio's beloved character pair Kiki & Lala, also known as the Little Twin Stars, will feature as part of a special winter event titled "TWINKLE COLOR CHRISTMAS" in collaboration with Odakyu Electric Railway. It will take place at Shinjuku Southern Terrace from December 1 to 25, illuminating the area with beautiful Christmas lights.

Kiki & Lala's Twinkling Christmas Tree

Shinjuku Southern Terrace will dazzle visitors with its pink and blue illuminations as will its towering 4-meter tall Christmas Tree which was made in collaboration with the installation art group MIRRORBOWLER. It will be decorated in countless mirror balls which will reflect beautifully both during the day from the sun and at night with Kiki & Lala's illuminations. The tree will also be adorned with numerous Christmas decorations like clouds, moons, and stars—all very reminiscent of Sanrio's pastel-coloured pair.

Kiki & Lala Food & Drink

Kiki & Lala Ruby Chocolate Latte ¥400 (Tax Included) | Kiki & lala Twinkle Crepe ¥600 (Tax Included)

On weekends, as well as from December 19 up to Christmas Day, a food wagon will make an appearance at the event serving Kiki & Lala food and drink like the pink and fruity Ruby Chocolate Latte and fruit-filled Twinkle Crepe.

Limited-Edition Design Clip

Customers who spend over ¥2,000 (tax included) at the wagon will get themselves a free limited-edition design clip.

Cafe Wagon Schedule
Running: December 5th-6th, 12th-13th, 19th-25th, 2020
Opening Hours: 10:00-19:00

AR Kiki & Lala Tree

Those unable to visit Shinjuku this Christmas can access the "TWINKLE COLOR CHRISTMAS AR TREE" digitally This will have Kiki & Lala's Christmas tree appear on your phone when taking photos. You can access it here.

©'76,'20 SANRIO  著作(株)サンリオ

Information

Little Twin Stars x Shinjuku Southern Terrace TWINKLE COLOR CHRISTMAS
Running: December 1, 2020 – December 25, 2020
Tree Light-Up Schedule: December 1 = 17:00-24:00 / December 2-24 = 16:30~24:00 / December 25 = 16:30-21:00
Address: 2-2-1 Yoyogi, Shinjuku, Tokyo
Entry: Free
Official Website: https://www.sanrio.co.jp/news/ts-odakyu-twinkle-color-christmas-20201119/

Pikachu Caramel Frappes Zap Their Way to Pikachu Sweets by Pokémon Cafe This Holiday Season

Pikachu Sweets by Pokémon Cafe in Ikebukuro, Tokyo, is adding the new "Caramel Pika Pika Frappe" to its menu this holiday season from December 5, 2020 to January 15, 2021.

Caramel Pika Pika Frappe | ¥700 (Before Tax)

The adorable beverage is based on the Japanese custard pudding known as purin. It's laced with caramel sauce, closed off with a squirt of whipped cream, and finished with a sprinkling of chocolate chips for accent.

Pikachu Sleeves

The drink also comes with one of four possible Pikachu sleeves which feature designs in promotion of the upcoming animated film Pokémon the Movie: Secrets of the Jungle (also known as Pokémon the Movie: Coco) which will be released in Japan on December 25, 2020 and in the US in 2021.

© 2020 Pokémon.©1995-2020 Nintendo/Creatures Inc./GAME FREAK inc.
Pokémon, ポケットモンスター, and ポケモン are registered trademarks of Nintendo, Creatures Inc., and GAME FREAK inc.
© Nintendo・Creatures・GAME FREAK・TV Tokyo・ShoPro・JR Kikaku
© Pokémon © 2020 Pikachu Project