McDonald's Japan Reveals Doraemon Yogurt Flavoured McShake®
Last week, McDonald's Japan revealed Part One of its Doraemon collaboration in celebration of the series's 50th anniversary which included a collection of Happy Meal toys. They have now revealed Part Two of the McDonald's Doraemon Festival which will see the arrival of yogurt flavoured McShakes® on August 19 at most McDonald's restaurants in Japan.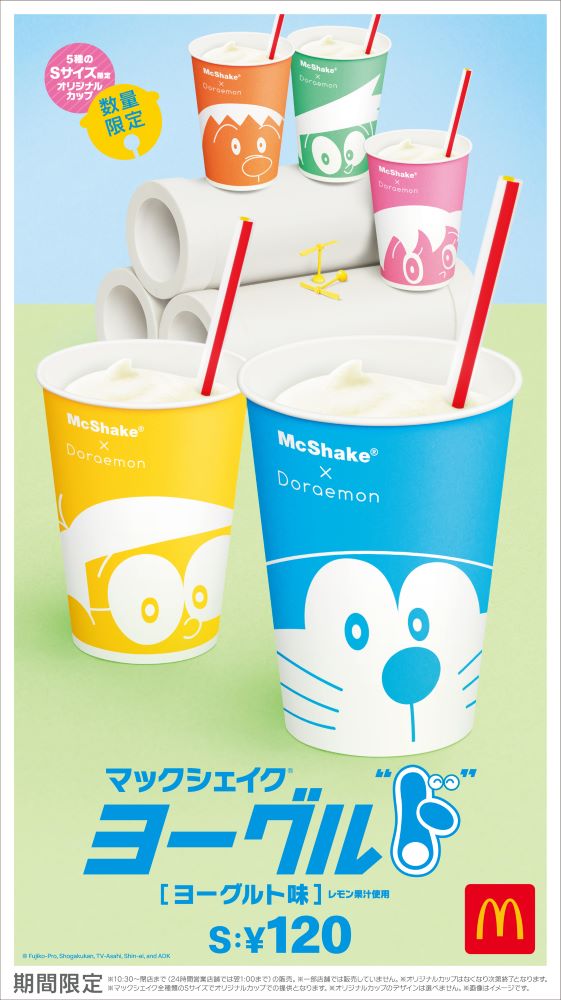 The Doraemon McShake® in Japanese is named "Yogurudo," a portmanteau of "yogurt" and "Doraemon." Its refreshing yogurt flavour is perfect for summertime. Small size cups feature original illustrations of characters from the series, such as Doraemon himself and Nobita. These cups are already being served for vanilla, strawberry, and chocolate flavoured McShakes®.
Don't forget about the science-themed Happy Meal sets either which come with one of nine toys. That includes a secret toy which you have to get in your Happy Meal to find out what it is.
McDonald's Japan is also holding a Twitter campaign for 100 random people to win a ¥2,000 McCard. All you need to do is be in Japan, follow their official Twitter account, and retweet this Tweet with the hashtag #ヨーグル_ドでドひんやり and comment how you want to cool down this summer. The campaign is running until August 18 at 23:59 (JST).
©Fujiko Pro・Shogakukan・TV Asahi・Shinei・ADK
Information
McShake® Yogurudo (Yogurt Flavour)
Running: August 19, 2020 – Mid September 2020
Available: McDonald's restaurants in Japan (Select branches not participating)
Price: Small ¥120, Medium ¥200
McDonald's Japan Official Website: https://www.mcdonalds.co.jp/
RELATED ENTRIES
McDonald's Japan Releases Strawberry and Banana Frappes at McCafe by Barista®

McDonald's Japan released its new Strawberry & Condensed Milk Frappe and Banana Caramel Frappe beverages at McCafe by Barista® branches up and down the country on July 14. The fruity frappes and the perfect choice for the hot summer season.

Strawberry & Condensed Milk Frappe | Regular: ¥490


The strawberry frappe is made with a sweet and tangy strawberry sauce that has fresh strawberry pieces in it as well as juice taken from amaou strawberries grown in Fukuoka which are known for their fresh and sweet taste. Added to the cup is rich condensed milk along with a squirt of whipped cream for a milky and velvety finish.

Banana Caramel Frappe | Regular: ¥490


The banana frappe is filled with a banana puree sauce, banana syrup, and a crème brûlée syrup. It's topped with smooth whipped cream and a drizzle of caramel sauce. The banana and caramel make for a delicious combination.

This Doraemon Eco Bag Collection is Inspired by the Anime Character's Secret Gadgets

Japanese clothing retailer BLACK OJICO released two new eco bags as part of Sanrio's "I'm Doraemon" series on July 2.

Eco Bag・I'm Doraemon Small Light

Eco Bag・I'm Doraemon Time Cloth

The designs are inspired by two of Doraemon's Secret Gadgets: the Small Light which can turn other objects smaller, and the Time Cloth, which can advance or regress an object.

Information

BLACK OJICO "I'm Doraemon" Eco Bag

Released: July 2, 2021

Price: ¥900 Each (Before Tax)

Size: 60cm x 46cm

Material: 100% Polyester
Buy Online: https://www.ojico.net/

McDonald's Japan Releases Pikachu Desserts

Mc Donald's Japan released its new Sweets Trio Fruchu menu on Friday which features a line-up of three fruit-flavoured Pikachu items: the Yellow Peach McShake, Chocolate Banana McFlurry, and Hot Apple Custard Pie.


The menu items comes in limited-edition cups and packaging featuring the adorable Pikachu.




Yellow Peach McShake | Small ¥120 – Regular ¥200 (Tax Included)

A fruity and refreshing summery McShake made with sweet and sour yellow peach with that satisfying creamy McShake texture. Available in small and medium, both sizes come with three different cup designs each for a total of six.

Chocolate Banana McFlurry | ¥290 (Tax Included)

The Chocolate Banana McFlurry is served in an ice cream cup with a fresh squirt of milky rich soft serve and drizzled with banana and chocolate sauces. The ice cream is finished with a sprinkle of crunchy yellow cornflakes. Another perfect choice for cooling down in the hot summer weather. There are three possible cup designs to receive.

Hot Apple Custard Pie | ¥150 (Tax Included)

The apple custard pie is served hot with a crunchy outside and filled with custard cream made with fresh apple and vanilla beans and seasoned with caramel and cinnamon. There are three possible packaging designs to receive.



McDonald's Japan is also serving a Pikachu-style Happy Meal as part of the collaboration which come with one of six possible toys.

New Doraemon and Korosuke Dessert Gets Served at the Fujiko F. Fujio Museum

The Kawasaki-based Fujiko F. Fujio Museum, which is dedicated to the Japanese manga writing duo who created Doraemon, is now serving up its new Doraemon Korosuke Chiffon Sandwich which was added to the menu on Wednesday.

Doraemon Korosuke Chiffon Sandwich | ¥1,280 (Tax Included)

The new arrival sees Doraemon and Korosuke turned into chiffon sandwiches with the beloved blue robot cat made from chocolate and filled with banana cream and his friend filled with mango cream.

Check out some of the other items available on the menu at the museum too.

Doraemon Arrabbiata | ¥1,230 (Tax Included)

French Toast de Anki Bread | ¥980 (Tax Included)

Fork into the Doraemon Arrabbiata with tomato sauce and a Doraemon face made from egg sheets, or a French toast inspired by Doraemon's Copying Tost, one of his many Secret Gadgets.

ⒸFujiko-Pro

Information

Doraemon Korosuke Chiffon Sandwich

Released: April 21, 2021

Where: Fujiko F. Fujio Museum

Address: 2-8-1 Nagao, Tama Ward, Kawasaki, Kanagawa 214-0023, Japan

Opening Hours: 10:00-18:00

Official Website: http://fujiko-museum.com/english/

McDonald's Japan Releases Peach Smoothie and Frappe Made From Three Kinds of Peaches

McDonald's Japan is releasing two new beverages at McCafé by Barista® on April 28 each made with three varieties of peach: the Gorotto Peach Smoothie and Fuwa Fuwa Peach Creamy Frappe.

Gorotto Peach Smoothie: Regular ¥440 / Large ¥480

Fuwa Fuwa Peach Creamy Frappe: Regular ¥490 / Large ¥530

McDonald's Japan's original Peach Smoothie and Peach Frappe beverages first appeared in 2015 and have been slurped up by customers every year since. This year, they return even juicier and more delicious than ever before by being made with three kinds of peach juice: yellow peach, white peach, and for the first time, nectarine.

The Gorotto Peach Smoothie cup is topped with a sauce made from fresh white peach pieces that give an exquisite sweet kick to the richly sweet yellow peach. The nectarine adds a sweet and sour layer to the mix for the ultimate peach combination. The Fuwa Fuwa Peach Creamy Frappe has all of this plus a topping of fluffy whipped cream. And for an extra ¥60, customers can double the amount of sauce they can have on either of these drinks.

While these limited-time drinks are on offer, customers can pick up a stamp card. For every peach frappe or smoothie ordered, they'll get a stamp. Collect all four and get yourself a free regular-sized mango smoothie, green smoothie, chocolate frappe, or espresso frappe. The card is valid from April 28, 2021 to September 30, 2021.

Information

Gorotto Peach Smoothie / Fuwa Fuwa Peach Creamy Frappe

Release Date: April 28, 2021

Where: McCafé by Barista branches of McDonald's in Japan

McDonald's Japan Official Website: https://www.mcdonalds.co.jp/

Doraemon Daytime Umbrellas Release to Celebrate Manga's 50th Anniversary

Japanese rain wear brand Wpc. is celebrating the 50th anniversary of Doraemon with the release of its I'm Doraemon series of daytime umbrellas. The collection dropped on Thursday at Wpc.'s online shop as well as at Wpc. Shinsaibashi PARCO and LOFT, PLAZA, and Mauri stores in Japan.

Shade Doraemon Galore mini | ¥3,400 (Before Tax)

Shade 4th Dimension mini | ¥3,200 (Before Tax)

Shade I'm Doraemon mini | ¥3,200 (Before Tax)

Shade Pass Loop mini | ¥3,200 (Before Tax)

The cute mini umbrella series cutes 99.99% of UV light and offers the same amount of shade.

McDonald's Japan Releases Coffee Jelly Pudding Frappe

McDonald's Japan continues its flurry of delicious releases to its diverse menu with the addition of the new Coffee Jelly Pudding Frappe which hit McCafé by Barista® branches of McDonald's on Wednesday (March 10).

The sweet beverage takes rich-tasting Japanese custard pudding, known as purin, and turns it into a drink. It's topped with fluffy whipped cream and dunked with chewy pieces of coffee-flavoured jelly which sit temptingly at the bottom of the cup waiting to be enjoyed. Together with a drizzle of caramel sauce, the drink is a perfect balance of sweet and full-body. A must-grab for the arrival of the warm spring weather.

McDonald's Japan Serving its Famous Limited-Time Teritama Burgers Again This Spring

Spring is almost here, which means the return of McDonald's Japan's famous "Teritama" series of burgers, a delicious combination of teriyaki sauce and egg. The customer-favourites hit the menu on Wednesday (March 3).

Teritama

Cheese Teritama

Pastrami Beef Teritama

Teritama Muffin

McFizz® Iwate Prefecture White Peach (1% Fruit Juice)

McFloat® Iwate Prefecture White Peach (1% Fruit Juice)

Shaka Shaka Potato® Chicken & Garlic Seasoning

The Teritama burger is a popular order at McDonald's in Japan. First launched in 1996, it lathers a pork patty with a sweet and sour teriyaki sauce that's made from apple and garlic and tops it with a runny egg. The series includes the standard egg and teriyaki pork burger as well as the cheddar cheese-loaded "Cheese Teriyama," and the spring season exclusive "Pastrami Beef Teriyama." This year also sees the return of the "Teriyama Muffin" which was first introduced in 2017.

Don't forget to order the black pepper-covered Shaka Shaka Potato fries that come with a chicken and garlic seasoning. As well as the savoury line-up, sweet tooths can look forward to a McFizz and McFloat made with the juice of white peaches farmed in Iwate Prefecture.

McDonald's Japan also released a series of commercials for the 2021 Spring season Teritama series. Check them out below.

McDonald's Japan Teritama 2021 | 15-Second Commercial

McDonald's Japan Teritama 2021 | 30-Second Commercial

McDonald's Japan Teritama 2021 | 60-Second Commercial

McDonald's Japan Teritama 2021 | 120-Second Commercial

Information

McDonald's Teritama 2021

Released: March 3, 2021

Where: McDonald's Japan branches

Official Website: https://www.mcdonalds.co.jp/

Doraemon Future Department Store to Open Pop-Up Shop in Ginza Mitsukoshi

Benelic Co., Ltd. has announced the opening of a pop-up shop version of Doraemon Future Department Store, the world's first official Doraemon shop, at Ginza Mitsukoshi in Tokyo from March 17.

Doraemon Future Department Store first opened back in December 2019 in Odaiba, Tokyo. Dedicated to the beloved manga and anime character Doraemon, the store has opened various pop-up shops across Japan including Fukuoka, Osaka, and Nagoya. The new pop-up shop will be the first to open in Tokyo and will be stocked with the usual fan must-grabs, items exclusive to the Odaiba shop, Ginza exclusives, pre-sales, and more.

 

Ginza Mitsukoshi Exclusives & Pre-Sales

1. The Exclusives

The Ginza Mitsukoshi pop-up shop will sell four exclusive items including a T-shirt, handy tote bag, and more.

The merchandise will feature an illustration based on the designs of the shopping bags given at Doraemon Future Department Store. Take a look below.

Ginza Mitsukoshi Exclusive T-Shirt (5 Colours) | ¥3,520 (Tax Included)

Sizes: S・M・L

Ginza Mitsukoshi Exclusive 2-Way Tote Bag | ¥2,860 (Tax Included)

2. The Presales

Fans can get their hands on pre-sales of 7 items in the "Flying to Department Store" series of kitchen, cookware, and other items, as well as 12 accessories that both kids and adults alike can enjoy.

 

Flying to Department Store Series – Kitchen Apron | ¥4,400 (Tax Included)

 

Flying to Department Store Series – 21cm Plate | ¥3,850 (Tax Included)

 

Doraemon & Dorami Back Earrings | ¥2,200 (Tax Included)

Customisation Service

The pop-up shop will offer a customisation service which lets customers have different embroideries put into the T-shirts, tote bags, and key rings. The work is done on the spot by hand so you can see the result of what will be a very special item of which only one exists in the world. Perfect for Doraemon fans and gifts to friends and family.

Freshly-Made Dorayaki

The Ginza Mitsukoshi pop-up shop will also serve freshly-baked dorayaki stamped with Doraemon's cute face. They will be made in limited quantities each day.

 

Dorayaki | ¥290 (Tax Included)

Bonus Items For Spending

1. Every purchase at the Doraemon Future Department Store pop-up will earn customers a free sticker. These are available in limited quantities.

2. The first 300 people at the pop-up shop to take their receipts to the main Doraemon Future Department Store in Odaiba between March 17 and 29 will receive a different limited-edition free sticker.

 

Ginza Mitsukoshi Original Doraemon Sticker

 

Odaiba Doraemon Future Department Store Sticker

Information

Doraemon Future Department Store in Ginza Mitsukoshi 2021

Running: March 17, 2021 – March 29, 2021

Where: Ginza Mitsukoshi Shinkan Floor 7F

Address: 4-7-16 Ginza, Chuo-ku, Tokyo

Opening Hours 10:00-20:00 (Until 18:00 on March 29)

Doraemon Future Department Store Official Website: https://mirai.dora-world.com/

Premium Doraemon Cookware Developed by French Brand Le Creuset to Release in Asia, Australia, and New Zealand

Premium French cookware brand Le Creuset Japan is celebrating Doraemon's 50th anniversary by releasing a collection of original cookware items inspired by the characters, colours, and designs from the series.

The line-up will be released not only in Japan but across Asia as well as Australia and New Zealand and can be enjoyed by both kids and adults alike during dinnertime.

Pre-sales of the items in Japan will begin on March 4 at Doraemon Future Department Store, Le Creuset Japan's online shop, Rakuten, and Yahoo! Shopping. The collection will then roll out for general sale at Le Creuset stores and elsewhere in Japan on March 6.

A special pop-up shop will also open from March 4 to 17 on the 5th floor of Shibuya Hikarie in Tokyo where fans can get their hands on all the products in the collection.

 

Special Sets | Prices Include Tax

Le Creuset Japan opened pre-orders for limited-stock item sets on Thursday (February 25) before everything is released digitally with designs based on Doraemon, Dorami, and other characters from the manga and anime series.

The Sets

Doraemon Special Set | ¥53,900

Dorami Special Set | ¥48,400

 

 

Cast Iron

Doraemon | ¥38,500

Dorami | ¥33,000

Doraemon | ¥44,000

Stoneware

Doraemon & Dorami Plate Set | ¥8,800

 

Doraemon & Dorami Oblong Plate Set | ¥6,600

Doraemon All-Stars Stone Plates (5 Included) | ¥14,300

Doraemon All-Stars Stone Tumblers (5 Included) | ¥11,100

Information

Lu Creuset x Doraemon Collaboration

Release Date: March 6, 2021

Where (Japan Locations): Le Creuset, Rakuten, Yahoo! Shopping, Amazon, Mitsukoshi Iseten, Hare no Hi Kitchen, ZOZOTOWN, Doraemon Future Department Store, and elsewhere

Product Page: https://www.lecreuset.co.jp/brand/doraemon/

Doraemon's 50th Anniversary Celebrated With Traditional Limited-Edition Edo Kiriko Cut Glasses

Imperial Enterprise is celebrating the 50th anniversary of Doraemon with the release of a very special glass collection. The glasses, which are limited to just 500 units, are made using the traditional Japanese glass cutting method known as Edo Kiriko. They were released via the online shop PREMICO on Wednesday (February 24).

Doraemon 'Sky Blue Dream' Glass

Dorami 'Future Brilliance' Glass

Special Doraemon & Dorami Glass Boxes

Doraemon's "Sky Blue Dream" glass is cut with some of the blue robot cat's iconic gadgets while his sister, Dorami's "Future Brillance" glass is adorned with her accessories.

The Edo Kiriko Cooperative Association is a long-standing establishment that has been around since 1921. Its artisans craft each and every glass using traditional methods. These Doraemon glasses are no different and come packaged in specially-made boxes.

(c)Fujiko-Pro

Information

Doraemon Edo Kiriko Glasses

Japanese Product Name: ドラえもん 夢切子 江戸切子グラス

Released: February 24, 2021

Delivery: From Early March 2021

Designs: 2

Price: ¥29,800 (Before Tax)

Units: 500 (Limited-Edition)

Official Website: https://iei.jp/doraemon-kiriko/

Doraemon Cherry Blossom Handkerchief Perfect For Springtime Hay Fever

A cute new cherry blossomed collection of Doraemon themed handkerchiefs is set for release in Japan on February 20 in time for the spring season – and perfect for sufferers of hay fever!

Doraemon Handkerchief Collection

Doraemon Towel Handkerchief | ¥1,000 (Before Tax)

The designs see Doraemon playing around and enjoying the Japan's cherry blossom season. The handkerchiefs are on the larger, sizing up at 53cm, making them perfect for wrapping bento and lunch boxes too.

Information

Doraemon Towel Handkerchief
Release Date: February 20, 2021
Available: Department stores and stores selling handkerchiefs in Japan
Kawabe Official Website: https://www.kawabe.co.jp/