Kaori's Easy Recipe: Learn to Make Hello Kitty Strawberry Ice Cream
With just a small bit of ingenuity, turn everyday food into something cute using Kaori's Easy Recipe! With a few simple ideas, an ordinary recipe magically transforms into a cute dish.
Today's recipe will show you how to make a simple ice cream made with frozen strawberries and a blender.
Ingredients

500g frozen strawberries (either store bought or self-frozen)
120ml condensed milk
Sliced white chocolate to make Hello Kitty
1.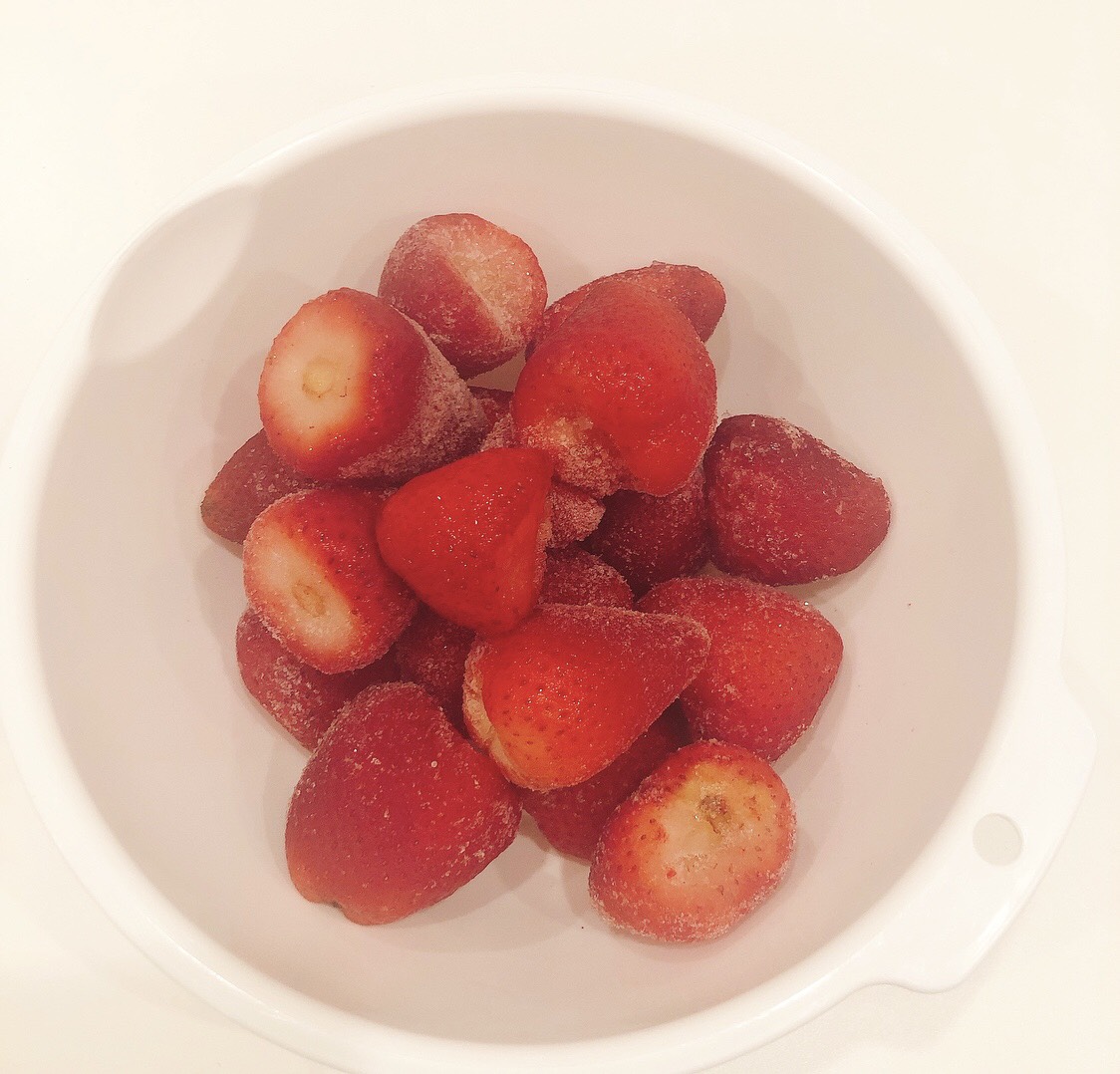 Defrost around 3/10 of the frozen strawberries until they are more soft than frozen, allowing them to be blended more easily.
2.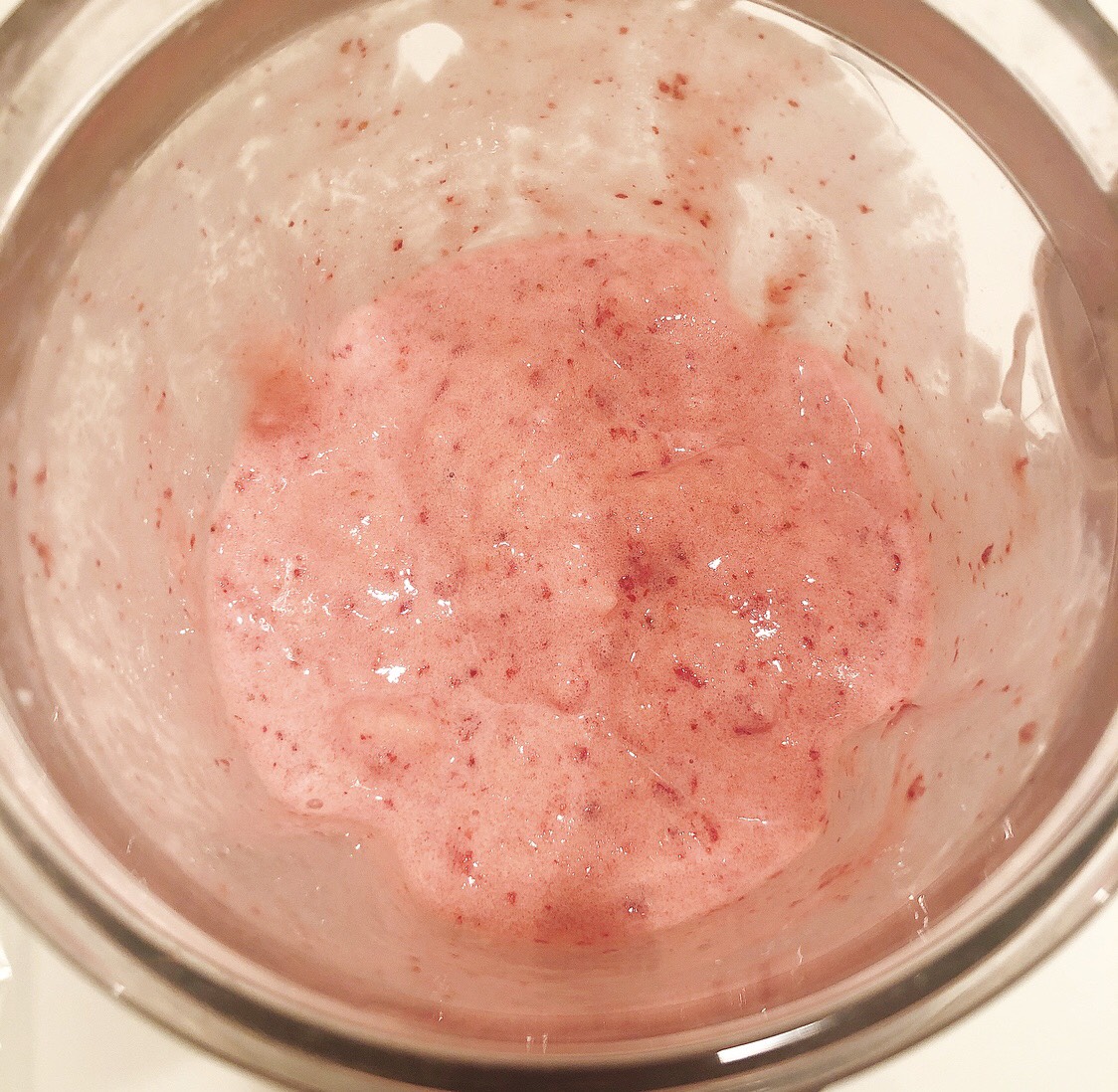 Throw the defrosted strawberries into a blender along with the condensed milk and blend.
3.

Place the blended mix into a ziplock bag and place into the freezer. After about an hour, massage the mix while it's still inside the bag. Repeat this whole process 2-3 times. Doing this will make the ice cream tastier.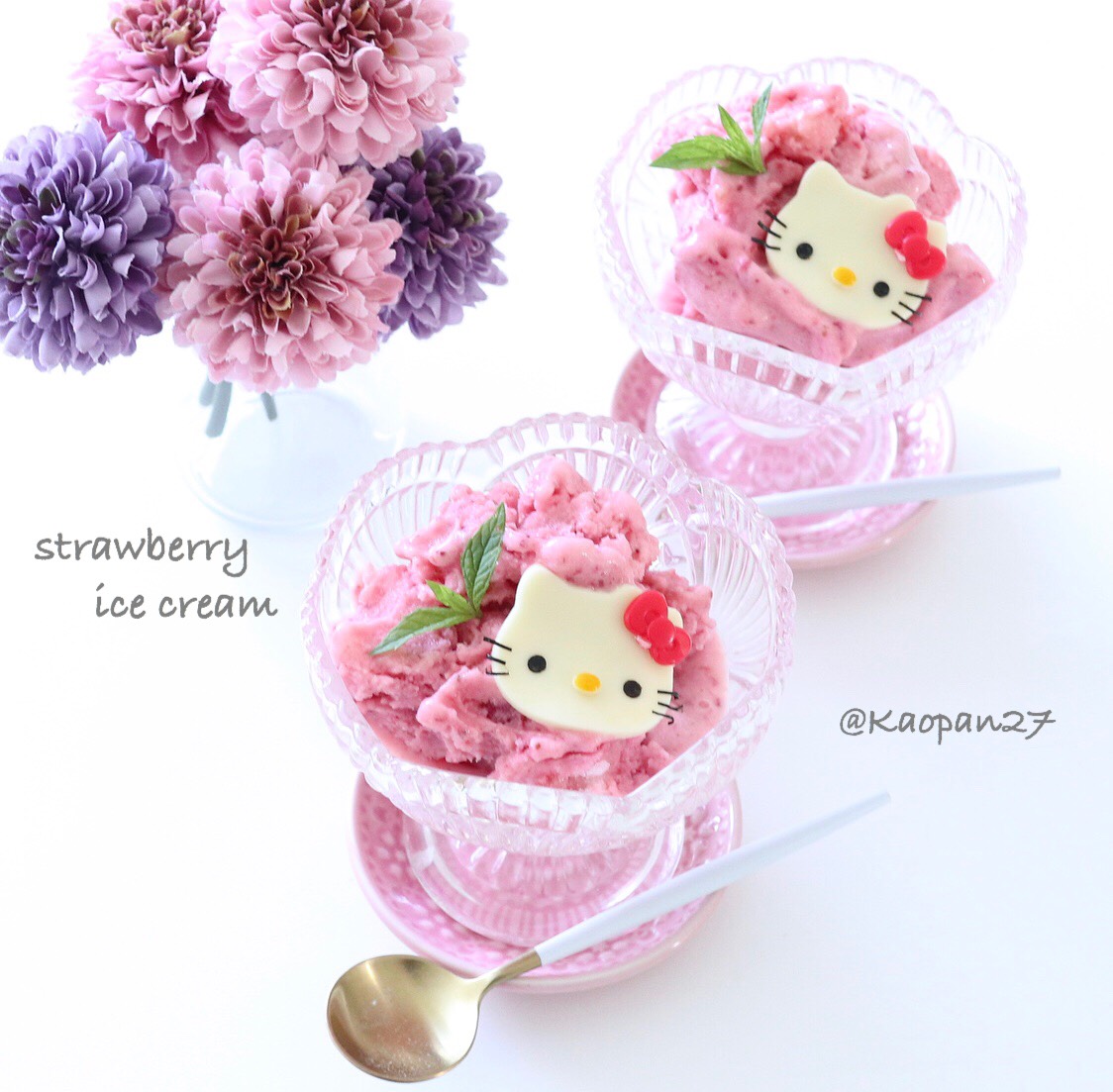 Once fully set, place into a serving cup of your choice, use sliced white chocolate to make your chocolate Hello Kitty, and serve!
Kaori invites you into her world of character-themed food dishes in her recipe series. Be sure to check out her Instagram where she has uploaded many pictures of her character dishes!
Kaori Kubota (@kaopan27)
I live in Hokkaido and I love to make character themed foods, desserts and pastries♡
I want to see my family smile, so I enjoy putting in a bit of effort to make character foods and changing food into something cute♡
You can see more of my character foods and character bento boxes on my Instagram page → @kaopan72
RECOMMENDED ENTRIES
Kaori's Easy Recipe: Learn to Make Korilakkuma Tofu Pudding

With just a small bit of ingenuity, turn everyday food into something cute using Kaori's Easy Recipe! With a few simple ideas, an ordinary recipe magically transforms into a cute dish.

Today, I'll be showing you a dreamy recipe on how to make the healthy Taiwanese snack douhua topped with Yukimi Daifuku mochi ice cream.

Ingredients


400ml soy milk
2-g Lakanto (Zero-calorie natural sweetener)
Pinch of salt
8g gelatin (dissolved in 1 tbsp water)

Pre-preparations


Stick bear-shaped sliced chocolate around the side of a glass and leave to set in the refrigerator.

1.


Warm soy milk and Lakanto in a saucepan until the Lakanto is completely dissolved.

2.


Add the gelatin and mix until fully dissolved.

3.


Leave the mix to cool. Once cooled, remove the glass from the refrigerator and pour the mix into the glass. Place back into the fridge until it sets.

4.


Add sliced almonds and use a chocolate pen on Yukimi Daifuku to create Korilakkuma's face, or a face of your choice.

5.

Remove the glass from the fridge and add the Yukimi Daifuku. Choose your choice of toppings, like soy flour and brown sugar syrup, then enjoy!

Kaori invites you into her world of character-themed food dishes in her recipe series. Be sure to check out her Instagram where she has uploaded many pictures of her character dishes!

Kaori Kubota (@kaopan27)

I live in Hokkaido and I love to make character themed foods, desserts and pastries♡
I want to see my family smile, so I enjoy putting in a bit of effort to make character foods and changing food into something cute♡
You can see more of my character foods and character bento boxes on my Instagram page → @kaopan72

Kaori's Easy Recipe: Learn to Make Pompompurin Cheese Tarts

With just a small bit of ingenuity, turn everyday food into something cute using Kaori's Easy Recipe! With a few simple ideas, an ordinary recipe magically transforms into a cute dish.

In today's recipe, I'll be showing you how I made a batch of Pompompurin cheese tarts made using store-bought tart cups.

Ingredients (Makes 9-10)

9-10 store bought tart cups
200g cream cheese (brought to room temperature)
20-30g sugar
1 egg yolk
50ml fresh cream
8g potato starch (katakuriko)
Vanilla beans to taste (can be substituted for vanilla extract)
1 tbsp lemon juice

Step 1


Pour the following ingredients into a bowl in this order: cream cheese→sugar→egg yolk→vanilla beans→fresh cream→potato starch. Mix well. Make sure when you put the potato starch in last that you sprinkle it thinly.

Step 2
Bake the tart cups in an oven at 180℃ for 15-20 minutes. If you don't have store-bought cups, you can use small cocotte dishes.

Step 3

Leave to cool. Now you can start drawing the face.

For the hat I used sliced chocolate, for the ears sliced cheese, and for the facial features a chocolate pen.

Once you've drawn the face, it's time to tuck in!

Kaori invites you into her world of character-themed food dishes in her recipe series. Be sure to check out her Instagram where she has uploaded many pictures of her character dishes!

Kaori Kubota (@kaopan27)

I live in Hokkaido and I love to make character themed foods, desserts and pastries♡
I want to see my family smile, so I enjoy putting in a bit of effort to make character foods and changing food into something cute♡
You can see more of my character foods and character bento boxes on my Instagram page → @kaopan72
RELATED ENTRIES
Drama Series Zenra Meshi, Starring Yutaro, to Get Official Photo Book in June

The Kansai Television drama Zenra Meshi, starring Yutaro, is getting an official photobook release on June 23, 2023 titled Zenra Meshi Official Photobook -Our Recipes Start Here-.

The unusual romantic comedy follows an elite businessman hiding an incredible secret–he loves to eat naked to relieve his stress. One day, this habit is revealed, and Ichijo finds himself quickly falling in love.

The official photobook will include over 30 pages of gravure photos of Yutaro (Miki Mahiro) and Shori Kondo (Futa Ichijo). Set as an epilogue taking place after the main story shown in the series, Futa and Miki can be seen enjoying a picnic date with a handmade bento and spending cozy time together in PJs at home.

Also included are 20 pages of solo photos of Futa wearing a suit and posing in front of a beautiful night scene and Miki wearing a hoodie in a restaurant that smells of spices. Both shoots were intended to look as though a lover snapped the images. The photobook also includes Mizuchi's Recipe Notebook, highlighting recipes from around the world with comments by popular cookbook author Yummy. Fans can also look forward to plenty of interviews with the cast and crew along with behind-the-scenes filming and production details.

Information

Zenra Meshi Official Photobook -Our Recipes Start Here-
Release Date: June 23, 2023
Price: ¥3,850
Publisher: Tokyo News
*The book may be released on a different date depending on the area.

■Purchase Bonus
Amazon: Limited Edition Cover
We! Premium Limited Store: Photo (Shori Kondo)
Seven Net Shopping: Autographed Photobook (Shori Kondo or Yutaro)

<Notes>
*The start date and time for orders may vary depending on the store. Check each company's website for details.
*Purchase bonuses and limited-edition copies are available while supplies last.
*Additional retailers and special offers may be added in the future.
*Availability will vary by store. Please check with each location for details.

Official Photobook Release Event
Date: June 24, 2023
Venue: Tokyo
More details will be released later in TOKYO NEWS magazine&mook (https://zasshi.tv/)

Report: Kyary Pamyu Pamyu's Tasty Time in Gastropolis Kobe – Sweets Edition

Kobe is filled with famous sightseeing spots like the nostalgic Ijinkan neighborhood and port. The city is packed with fashionable shops and restaurants and is highly regarded for its selection of tasty sweets!

The port city, with over 150 years of history, has fostered a unique and diverse culinary culture.

Recently, Kyary Pamyu Pamyu began starring in a series of promotional videos for the Gastropolis Kobe project. The artist traveled to the city to partake in plenty of delicious treats, and MOSHI MOSHI NIPPON went along for the ride! Here are some of the singer's favorite spots around town.

Kobe, known as a city where East meets West, is lined with sweets shops that are unique to the area.

The tea salon TOOTH TOOTH Dekoboko Sabo opened in 2019 in the Kobe City Museum and offers a menu that mixes Western food and sweets with tea and ingredients from traditional Japanese cuisine. Kyary ordered the Dekoboko Sabo Afternoon Tea Set, a collection of western sweets blended with the essence of traditional Japanese flavors. Guests are invited to enjoy their tea and sweets in a one-of-a-kind space filled with Meiji period flare and retro Western furniture. Those interested will need to make a reservation, so be sure to remember the next time you're in Kobe.

TOOTH TOOTH Decoboco Sabo

Address: 24 Kyomachi, Chuo Ward, Kobe (Inside the Kobe City Museum)

Hours: 9:30-17:30 (Last Order at 16:30) 

Closed Mondays

Official Site: https://toothtooth.com/restaurant/decoboco-sabo

The next stop was Kobe Nankin-machi, one of the three major Chinatowns in Japan. Kobe MILK is known nationwide for its Apricot Pudding, which is made with local ingredients. The raw apricot pudding is mixed with milk brought from the foot of Mt. Rokko and other ingredients from Hyogo Prefecture. Of course, Kyary ordered some, and was amazed by its fluffy texture. You can only enjoy it in Kobe–also, the shop sells other puddings mixed with seasonal fruits, so don't miss those either!

Kobe MILK

Address: Shin-Motomachi Building 1F (1 Motomachi-dori, Chuo-ku, Kobe)

Hours: Weekdays 9:30-19:00 / Weekends 9:30-19:30

Official Site: https://kobe-milk.com

For Kyary's final stop, the singer visited the Moore House, a cafe located in a building with over 100 years of history. Guests are surrounded by greenery, and the Western-style building is incredibly elegant. The Strawberry Mille-feuille Kyary ordered was created by an expert patissier and based on the strawberry mille-feuille recipe from the legendary French restaurant Maxim's de Paris in Ginza. A generous amount of custard cream complements the crispy pie crust and enhances the sweetness of the fresh strawberries. We'd recommend it with a glass of champagne–if you're of age.

Kitano Ijin-kan Moore House

Address: 2-9-3 Kitanocho, Chuo-ku, Kobe

Hours: 11:00-17:00

Closed Tuesdays

Official Site: https://www.kitanomoore.com/cafe/

The streets of Kobe are packed with sweets that you can only enjoy if you visit. Why not come experience these incredible spots like Kyary did?

Kobe Sweets Trailer: https://youtu.be/Sx9B1ZdAvlI

Chiikawa and Sanrio Characters Collaborate for Special Merch Collection

A collection of must-have goods featuring Chiikawa and Sanrio characters has been announced! The items will be available at the Sanrio Online Store on November 24  and Sanrio shops nationwide, including department stores, starting November 25. The popular character Chiikawa, created by illustrator nagano, has been invited into the world of Sanrio, and the results are perfectly adorable. The merch lineup includes 21 items from plush toys to acrylic keychains. Purchase bonuses will also be given to those snagging any of the items on offer.

Goods at a Glance

This marks the second collaboration between Sanrio characters and Chiikawa. Fans will want to grab these limited-edition goods, including fluffy plush toys, a mascot-style brooch set, pouches, tote bags, clear folders, and handy cases perfect for storing small items. These items feature completely original designs. Which one is your favorite?

Sanrio Virtual Festival 2023 in Sanrio Puroland to Bring Fans Into the Metaverse

The Metaverse event that was a smash hit in 2021 will be returning in 2023! Sanrio Virtual Festival 2023 in Sanrio Puroland, one of the world's largest music festivals blending both the real and virtual worlds, will be held starting January 13, 2023.

A lineup of high-profile performers has been announced, including Airi Suzuki, SKY-HI, Yabai T-Shirts Yasan, and Aoi Fuji. Popular Sanrio characters such as Hello Kitty, Cinnamoroll, and Kuromi will also appear, and visitors will be able to experience the virtual Puroland by utilizing unique avatars and taking part in a number of exciting events.

The 2021 event was incredibly popular, and the 2023 version will increase the duration and amount of content available. To do this, Puroland has joined forces with VRChat, a well-known US company and social platform. Artists, VTubers, and Sanrio characters will perform in a massive space on B5 of Virtual Sanrio Puroland, and fans can enjoy live performances while also communicating with other guests!

Highlights of SANRIO Virtual Festival 2023 in Sanrio Puroland

・Inspired by PURO VILLAGE at Sanrio Puroland, VIRTUAL PURO VILLAGE is now available in the Metaverse!

・The popular Sanrio Puroland parade will be performed in the virtual space with an original story!

・Starting January 13, 2023, visitors will be able to chat and play in an open space before the concert, and special events–like radio calisthenics–will be held.

・Guests can enjoy mini concerts featuring Sanrio characters every day from January 14 until January 20 (*Fee required.)

The event can be accessed via smartphone, PC, or other devices. Guests can have fun creating their own unique avatars and immersing themselves in the Sanrio Puroland atmosphere no matter where they are! Come experience this state-of-the-art Metaverse space while you can.

Experience Mini Live Shows Featuring Popular Sanrio Characters Every Day

A daily mini concert will be held daily from January 14 until January 20 with a different Sanrio character appearing each day. 

The mini-concert ticket allows guests to watch all seven mini-concerts and also includes digital items to use with your avatar, including a fan and a T-shirt. 

17 Artists Announced (So Far) to Perform During Virtual Music Festival!

Artists like Airi Suzuki, SKY-HI, and Yabai T-Shirts Yasan will take to the LUNA STAGE (*fee required), with virtual artists including Aoi Fuji appearing on the FUTURE STAGE (*fee required.)

Hello Kitty and other Sanrio characters will also appear at CHILL PARK, each giving a mini live performance. The second artist lineup and performance timetable will be announced in early December.

Free areas will be open to the public. More details and ticket information is available on the official website. 

Information

SANRIO Virtual Festival 2023 in Sanrio Puroland

Running: January 13 – January 22, 2023

Venue: Virtual Sanrio Puroland

Official Site: https://v-fes.sanrio.co.jp

60th Anniversary Sanrio Exhibition: The Beginning of Kawaii to Open at Hokkaido Museum of Modern Art in February 2023

The word 'kawaii' is now commonly used around the world. Sanrio is largely to thank for this, and the beloved company has announced that the 60th Anniversary Sanrio Exhibition will open at the Hokkaido Museum of Modern Art from February 11 until April 2, 2023. Advance tickets will include a discount and will be available until November 14 online. 

"Sanrio celebrated its 60th anniversary in 2020, and the company continues to share Japan's character culture with fans around the world," Sanrio said in a comment. "Kawaii is now a universal language, and this is very much thanks to the over 450 characters that are part of Sanrio's history, from Hello Kitty to My Melody. 

This exhibition traces the history of Sanrio and guests can enjoy seeing rare materials including merchandise, publications, and early designs from the company's founding. We want to continue to grow and develop our characters while valuing communication with our fans, ensuring that our adorable characters are loved by generations to come."

The Sanrio exhibition is something that generations of fans can enjoy, so come immerse yourself in this kawaii world! For more details, visit the official website. 

Information

60th Anniversary Sanrio Exhibition: The Beginning of Kawaii

Running: February 11 – April 2, 2023

Hours: 9:30 – 17:00 (Last entry at 16:30)

Venue: Hokkaido Museum of Modern Art (17-chome Kita 1 Jonishi, Chuo-ku, Sapporo, Hokkaido)

Official Site: https://stv.jp/event/sanrio

Hello Kitty Autumn Event 'Apple Halloween 2022' Running Until October 31

HELLO KITTY SHOW BOX, a theater and restaurant offering Hello Kitty-themed shows and meals on Awaji Island, and HELLO KITTY APPLE HOUSE, an apple-shaped observation theater based on the popular character's home, are both currently holding the Apple Halloween 2022 event until October 31! 

Guests can enjoy a mystery-solving event and some adorable photo spots inspired by apples and the Halloween season. By solving certain riddles, visitors will be rewarded with candy!

Come have fun this Halloween with Hello Kitty, friends, and family!

Started in October, the New Show 'HELLO KITTY THE PARTIES' Gets Rave Reviews

HELLO KITTY THE PARTIES, a new show at the theater and restaurant HELLO KITTY SHOW BOX, will run until December 30, 2022. The show features a new theme each month and currently features a jazz band.

October's theme is Happy Halloween Party, and visitors can listen to a number of famous songs while enjoying tasty and healthy dishes packed with autumn flavors. At the end of the performance, a meet and greet with Hello Kitty will be held. November's theme will be Hello Kitty's Birthday Party, while December will focus on a Christmas Party!

Information

Apple Halloween 2022

Running until October 31, 2022

Hours: 11:00-17:00

Venue: Awaji Hello Kitty Apple Land ( 177-5 Nojimahirabayashi, Awaji, Hyogo)

Official Website: https://awaji-resort.com/hellokittyshowbox/

ANNA'S by Landtmann in Shibuya Scramble Square Now Offering Halloween Sweets

ANNA'S by Landtmann, a cafe located inside +Q Beauty on the 6th floor of Shibuya Scramble Square, has begun selling two Halloween cakes! These spooky sweets will be available until October 31, 2022.

Halloween Mont Blanc

Halloween Poison Apple

Guests will be able to snag the Halloween Mont Blanc and Halloween Poison Apple cakes, available for ¥580 each including tax. The Mont Blanc is filled with pumpkin custard and Chantilly cream. The Poison Apple is a sweet and sour cake featuring a blend of chocolate mousse covered in red glaze and applesauce with apple pulp.

Which of these two adorable cakes would you like to enjoy this autumn?

Second Sylvanian Families Sweets Buffet to Open with a Christmas Theme

Keio Plaza Hotel in Tokyo will hold a special Christmas-themed Sylvanian Families buffet starting November 1, 2022. This is the second Sylvanian Families event following the previous Halloween-themed buffet, which became extremely popular. Some guests even bring their own Sylvanian Families dolls!

Starting in November, visitors can enjoy a full lineup of 20 scrumptious dishes inspired by the cake shop found in Sylvania Village. Some sweets are also inspired by the many beloved characters found in the series, and anyone wanting to get into the Christmas spirit won't want to miss this exclusive event. For those without a sweet tooth, some light lunches will also be available.

The restaurant will also erect a decorative display of Sylvanian Families enjoying a Christmas party and a sweet diorama made exclusively of desserts by the pasty chef. Guests can enjoy tea time while getting lost in this magical world, so get excited about the Christmas season!

1. Sweets Inspired by the World of Sylvanian Families

2. Become Enthralled by a Wonderful Winter World of Sweets

3. Exclusive! Sweets Diorama and Sylvanian Families Photo Spot

4. Light Meals Perfect for Winter and Burgers Featuring Original Illustrations

5. A Special Plan to Enjoy the Buffet with Sylvanian Families Babies

Information

Sweets Collection with Sylvanian Families

Running: November 1 – December 31, 2022

Venue: Keio Plaza Hotel's Jurin Restaurant

Price: ¥5,500 (Adults) / ¥3,000 (Children 4-12) *Children under 3 free

Details/Reservations: https://www.keioplaza.co.jp/event/autumn-sweets/#event02

The #KuromifyTheWorld Project Celebrates First Anniversary with Special Week of Events

The #KuromifyTheWorld campaign is already one year old! Created to share the adorable Sanrio character Kuromi with the world, fans will be invited to celebrate this milestone from October 20 until October 31 with special events in Tokyo, Osaka, and Nagoya. 

Kuromi's Drink Stand will be open for a limited time in Tokyo and Osaka. Customers will be invited to choose the color of their drink according to their mood, and will also be able to customize it with tags, acrylic stands, and stickers! An original photo spot will also be set up beside each drink stand, and those wanting to attend can enter the lottery to win tickets now. 

Sanrio's first and largest Kuromi ad truck will also be driving through the streets of Tokyo, Nagoya, and Osaka during the event week. 

Kuromi will also be teaming up with (G)I-DLE, a popular five-member global idol group from South Korea. Campaigns are planned to appear in Hangzhou, Suzhou, Taiwan, Korea, North America, and Europe.

Kuromi ranked in the top three in this year's Sanrio Character Awards, and her popularity is steadily growing with Gen-Z. Keep an eye out for more Kuromi-inspired events in the future!

Information

#KuromifyTheWorld Week

・Kuromi's Drink Stand: 

Running: 

Shinjuku, Tokyo: October 20 – October 24, 2022

Shinsaibashi, Osaka: October 29 – October 31, 2022

・#KuromifyTheWorld Ad Truck:

Running:
Tokyo: October 20 – October 24

Nagoya: October 26 – October 27

Osaka: October 29 – October 31

Hilton Tokyo Odaiba to Hold Second Touken Ranbu ONLINE Collaboration Sweets Buffet

From October 21 until November 30, 2022, Hilton Tokyo Odaiba will hold the Touken Ranbu ONLINE Special Buffet ~Black & White~ event! This second collaboration with the popular series will be held Grillogy Bar and Grill on the second floor.

Dessert Menu

Drink Menu

Drink Order Bonus: Original Coaster (8 varieties)

At the buffet, guests can enjoy luxurious dishes inspired by characters from the sword-centered game and anime series. The desserts blend Japanese and Western cuisine, and special cocktails will be available during the first phase, each coming with a special coaster as a bonus! In addition, original goods will be on sale at the venue, so don't miss it!

Information

Touken Ranbu ONLINE Special Buffet ~Black & White~

Running: October 21 – November 30, 2022

Reservation Start Dates and Times: 

Lottery Opens: September 16, 12:00~

General Reservations Open: October 6, 12:00~

*Lottery reservations and general reservations will be open
for the first and second runs.

*Please see the official website for the full reservation schedule.

Venue: Hilton Tokyo Odaiba 2F Restaurant, Grillogy Bar and Grill

*Reservations required

Tickets/Details: https://odaiba.site/

Online Shop: https://touken-yorozuya.com/

Sanrio Releases New Collection Inspired by Gyaru from the 90s and 2000s

On September 14, Sanrio will release an adorable new collection of goods inspired by 90s gyaru fashion! Fans of Japanese pop culture may be familiar with the gyaru subculture, and now, you can grab your favorite Sanrio character all dressed up like a fashionable girl on the streets of Tokyo during the Heisei era. These items will be available at Sanrio stores nationwide, Sanrio corners in department stores, and Sanrio online. The lineup includes goods featuring Hello Kitty, My Melody, Kuromi, and Cinnamoroll. 

 

A total of 17 new items will be available, including mascot keychains, accessory cases, and plenty more to show off your gyaru side. Hair clips, which were very popular during the height of gyaru fashion, are perfect to either attach to your head or to your school bag. 

Along with the listed goods, secret straps featuring nostalgic 90s motifs will also be sold at random! These are perfect for hanging on your glove compartment, a mirror in your purse, or your bag.

 

New Products

Mascot Keychain (4 varieties): ¥1,980 each

Each mascot keychain shows a popular Sanrio character dressed in popular Gyaru fashion.

Accessory Case with Hole for Strap (4 varieties): ¥1,100 each 

Hair Clip (4 varieties): ¥990 (Set of 2)

Pouch: ¥2,420

Secret Strap (8 varieties): ¥880 each

Each comes with a strap. The Cell phone can be opened and closed.

*Secret Straps are sold in a blind box.

Yokohama Royal Park Hotel to Hold Halloween Sweets Fair in October

From October 1 until October 31, Yokohama Royal Park Hotel will hold a special Halloween Fair at its delicatessen and lounge Coffret. In addition to six playful sweets from the Halloween Frankenstein to the Halloween Mummy, two types of autumn bread featuring pumpkin and purple sweet potato will be available, allowing guests to enjoy the taste of the season!


Halloween Frankenstein

Halloween Cat

Halloween Mont Blanc

Halloween Mummy

Halloween Pudding

Halloween Pound Cake

Pumpkin Cream Fondue / Halloween Anpan

  

Come enjoy this Halloween with some cute and silly sweets!

Information

Halloween Fair

Running: October 1 – October 31, 2022
Venue: Coffret Delicatessen and Lounge, 1F
Hours: Lounge 10:00-20:00 (*Cakes served starting at 11:00) /
Delicatessen 11:00-20:00
Reservations: 045-221-1111 (Representatives available 11:00-20:00)