Pokémon Shirts Releases Short Documentary On YouTube
Pokémon Shirts was launched back in February 2019 by American custom shirt brand Original Stitch—which offers over one billion design customisations—and the Pokémon franchise. Pokémon Shirts ships worldwide including Europe, Canada, Australia and New Zealand.
A special video was released on the official Pokémon YouTube channel which showcases the laborious efforts takes to make Pokémon Shirts, from the manufacturing, design, and print process until they are in the hands of the customers.
Pokémon Shirts
Pokémon Shirts launched a campaign on September 25 where the first 2,000 customers to buy a shirt from their website will receive a free acrylic key ring. The key rings feature designs taken from the shirt series.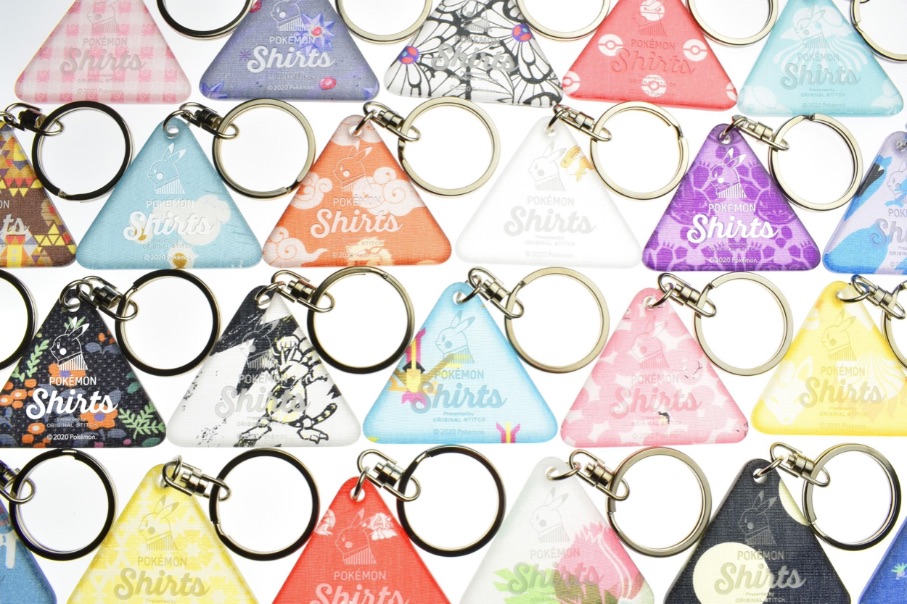 Since the shirts are made-to-order, the company does their best to not waste any materials, but some extra is going to be inevitably leftover. Rather than disposing of this excess fabric, upcycling brand NEWSED took it to create the key rings.
NEWSED
More of these key rings are in the works, and designs featuring the original 151 Pokémon will be released at sometime in the future. Stay up to date via their official website.
Information
Pokémon Shirts
Shipping: Japan, US, UK, Spain, Germany, Italy, France, Canada, Australia, New Zealand, Hong Kong, Taiwan, Singapore, Malaysia, Phillippines, India, Indonesia
Official Website: https://pokemon.originalstitch.com/en/
RELATED ENTRIES
Design Tshirts Store graniph to Release Adorable Pokémon Clothing

graniph Inc.'s clothing brand "Design Tshirts Store graniph" is teaming up with Pokémon to release a line of Pokémon fashion from November 10, 2020.

It has been more than 20 years since the release of Pokémon Red and Blue in 1996. The Pokémon franchise has since become a worldwide craze. The new clothing collection features Pikachu, Eevee, Snorlax, Mr. Mime, Mew and many more of the world's favourite Pokémon. Check out the wide variety of individual designs on a range of items.

Pikachu and Monster Ball

Pikachu can be seen hiding in the hoodie's large kangaroo pocket. The back of the hoodie has an illustration of a Poké ball, a Great Ball and an Ultra Ball on it.

Eievui Embroidery

Eevee's adorable wink is too cute to resist. Check the sleeves for the Eevee's Pokédex number. There is also an illustration of Eevee facing down and striking an adorable pose on the back.

Other Items

T-Shirts: ¥2,750 *¥2,200 from the online store. (Sizes: SS, S, M & L)

Long-Sleeveed T-Shirt: ¥3,520 (Sizes: SS, S, M & L)
Long-Sleeved Sweater: ¥4,950
Long-Sleeved Shirt: ¥7,480 (Sizes: S, M, L)


T-Shirt: ¥2,750/ Long-Sleeve T-Shirt: ¥3,278/ Long-Sleeve Sweater: ¥3,850 (Sizes: 90, 100, 110, 120, 130, 140) Sweater Dress: ¥6,578/ Reversible Blouson Jacket: ¥3,850 (Sizes: 90, 110, 130)


These Pokémon designs are the perfect gift for any Pokémon fan.

©2020 Pokémon. ©1995-2020 Nintendo/Creatures Inc. /GAME FREAK inc.
Pokémon, ポケットモンスター, and ポケモン are registered trademarks of Nintendo, Creatures Inc., and GAME FREAK inc.

Information

Pokémon graniph Clothing
Release Date: November 10, 2020
Available At: graniph shops in Japan, graniph Online Store

Sushiro Partners With Pokémon GO to Become Official PokéStops in Japan and Overseas

Akindo Sushiro became an official partner of Pokémon GO on Tuesday (October 27) which has turned branches of Japan's popular sushi chain restaurant Sushiro into PokéStops and Pokémon Gyms. This includes the 562 branches in Japan as well as those in South Korea, Taiwan, Hong Kong, and Singapore.

Pokémon Go is an augmented reality mobile game developed and published by Niantic in collaboration with The Pokémon Company for iOS and Android devices. Released in 2016, the game has over one billion times worldwide.

Pokémon GO x Sushiro

Around 60% of the Sushiro locations will be PokéStops, while the remaining 40% are Gyms.

PokéStop

PokéStops in Pokémon GO are used for collecting items as well as getting more Poké Balls to capture more Pokémon.

Pokémon Gym

At Gyms in Pokémon GO, players can battle with other rival Trainers.

 ©2020 Niantic, Inc. ©2020 Pokémon. ©1995-2020 Nintendo/Creatures Inc. /GAME FREAK inc.

Pokémon, ポケットモンスター, and ポケモン are registered trademarks of Nintendo, Creatures Inc., and GAME FREAK inc.

Information

Pokémon GO x Sushiro Official Partnership Collaboration

Launched: October 27, 2020

Participating Branches: 562 in Japan / 9 in South Korea / 20 in Taiwan / 5 in Hong Kong / 4 in Singapore

Official Website: https://www.akindo-sushiro.co.jp/pokemongo/

Mister Donut's Pokémon Doughnuts Include Pikachu and Poké Ball Designs

Mister Donut Japan is teaming up with Pokémon this November as it launches "misdo Pokémon," a campaign that celebrates the 50th anniversary of the company and includes the release of limited-edition doughnuts, original merchandise, and more.

This marks the third year of misdo Pokémon, and this year, they're upping the Pika-fun.


This year sees the return of the popular Pikachu and Poké Ball doughnuts , both of which have been made even more breathtaking and delicious, including turning the Poké Ball delight into a fully spherical shape like the real thing.

The company will roll out even more Pokémon doughnuts throughout the campaign. Stay tuned for updates.

©2020 Pokémon.
©1995-2020 Nintendo/Creatures Inc./GAME FREAK inc.

Information

misdo Pokémon

Release Date: Rolling out early November 2020

Mister Donut Japan Official Website: https://www.misterdonut.jp

Travel Japan's Miyagi Prefecture Together With Pokémon's Lapras

Lapras is the official mascot Pokémon of Miyagi and is set to hold a new autumn and winter campaign starting on November 1 to encourage people to travel around Miyagi with the placing of new Poké Lid manhole covers, a stamp rally around the prefecture, and more.

Guidebooks and Posters

Tourist information centres, major tourist facilities, and major stations on the JR East Japan Railway and JR Hokkaido Railway will be selling guidebooks with Lapras showing travellers and sightseers what to enjoy this during this autumn and winter in Miyagi Prefecture.

New Lapras Poké Lids

New Lapras design Poké Lids will be rolled out in 20 towns around Miyagi from early December as part of Japan's ongoing Poké Lid project to place Pokémon manholes around the country. This will bring Miyagi's total count up to 35. Tottori Prefecture recently added Sandshrew and Sandslash lids, and Fukushima welcomed Chansey designs in August.

All of the Poké Lids placed in Japan feature completely original Pokémon designs making each individual one the only one in the world. The Pokémon Company is also working to make each one of them PokéStops for Pokémon GO.

Miyagi Stamp Rally

A stamp rally will be held from November 1, 2020 to March 1, 2020 which will have people travelling around Miyagi Prefecture to collect all the stamps for a chance to receive exclusive prizes.

Miyagi Prefecture x Lapras x Hotel Metropolitan Sendai East

Hotel Metropolitan Sendai East, a hotel which is connected directly to Sendai Station, is now offering a special Lapras hotel plan which offers themed amenities to hotel guests including a giant plush toy

Bookings: Available from October 26, 2020

Start Date: November 1, 2020

Lapras Snow Sledding

Ski resorts in Miyagi will also be offering a Lapras sleds. The locations include Izumigatake Ski Resort, Spring Valley Izumi Kogen, Onikobe Ski Area, Uenono Ski Area, Yakurai Family Ski Area, Miyagi Zao Shiroishi Ski Resort, and Miyagi Zao Eboshi Resort.

©2020 Pokémon. ©1995-2020 Nintendo/Creatures Inc. /GAME FREAK inc.

Pokémon, ポケットモンスター, and ポケモン are registered trademarks of Nintendo, Creatures Inc., and GAME FREAK inc.

Information

Lapras x Miyagi Autumn and Winter Campaign

Location: Miyagi Prefecture

Start Date: November 1, 2020

Official Website: https://laplace-miyagi.jp/

BAPE® Teams Up With Pokémon To Release A Brand New Clothing Collection

Japanese fashion brand BAPE® is collaborating with Pokémon to release a new collection on October 31, 2020.

BAPE® has collaborated with a number of famous entertainment franchises, creating genderless fashion enjoyed by fans all over the world. The new Pokémon collaboration is undoubtedly going to be a big hit to take the world by storm.

 

The new collection features everyone's favourite Pokémon including Pikachu, Bulbasaur, Charmander, Squirtle, Eevee, Snorlax, and many more. With a touch of BABY MILO® style designs, these original graphics are what every Pokémon fan desires.

 

From T-shirts and tops to tote bags and keyrings, there is a large range of Pokémon-themed items that are catered to men, women and children.

Check out this adorable Pikachu hoodie with ears!

Having a strong root in Japanese culture, BAPE® and Pokémon's collaboration continues to enrich the art and fashion culture of Japan. This unique collection should definitely be on your wishlist.

©2020 Pokémon.
©1995-2020 Nintendo/Creatures Inc./GAME FREAK inc.

Information

A BATHING APE® Pokémon COLLECTION
Release Date: October 31, 2020

Available At: A BATHING APE® Clothing Stores, Online Store
Queries: 03-3407-2145
Official Collaboration Website: https://bape.com/pages/pokemon2020

Pokémon Cafe and Pikachu Sweets to Open Online Orders For Christmas Home Party Set

Tokyo's two cafes Pokémon Cafe and Pikachu Sweets by Pokémon Cafe have announced that they will open online orders for their new 'Pokémon Cafe Christmas Home Party Set 2020' on November 17, 2020.

Pokémon Cafe Christmas Home Party Set 2020

The party set comes with a Pikachu-shaped Christmas cake, Christmas tree stand, a set of four wooden chopstick rests shaped like Pikachu's tail, and a set of four paper Pikachu glasses. If you've ever dreamed of a Pokémon Christmas, then who better to spend it with than Pikachu?

Kawaii Pikachu Cake

Pokémon Cafe Christmas Home Party Set 2020 | ¥8,800 (Tax Included)


The cake is a mousse cake made with cream from Hokkaido and sweet white chocolate. Shaped like Pikachu, the cake is made from chocolate and plain sponge which hide secret chocolate chips for added texture and sweetness.

Christmas Merchandise

Decorate for Christmas this year with Pokémon Cafe's original Christmas tree stand, Pikachu tail chopstick rests, Pokémon Christmas Wonderland wreath, and paper Pikachu cups.

© 2020 Pokémon.©1995-2020 Nintendo/Creatures Inc./GAME FREAK inc.
Pokémon, ポケットモンスター, and ポケモン are registered trademarks of Nintendo, Creatures Inc., and GAME FREAK inc.


Information

Pokémon Cafe Christmas Home Party Set 2020
Order Window: November 17, 2020 at 14:00 (JST) to December 11, 2020 at 18:00 (JST)
Available: Via Pokémon Cafe's official website from November 10, 2020 at 14:00

Pick-Up Window
・Pokémon Cafe (Nihombashi, Tokyo)
Pick Up: December 22, 2020 – December 25, 2020
Address: Address: Nihombashi Takashimaya SC East Bldg. 5F, 2-1-2 Nihombashi, Chuo Ward, Tokyo
Business Hours: 10:30-22:00
Official Website: https://www.pokemoncenter-online.com/cafe/

・Pikachu Sweets by Pokémon Café
Pick Up: December 23, 2020 – December 25, 2020
Address: Sunshine City Alpa Floor 2F, 3-1-2 Higashiikebukuro, Toshima City, Tokyo
Opening Hours: 10:00-20:00
Official Website: https://www.pokemoncenter-online.com/cafe/pikachu_sweets/

POKÉMON AIR: The Cute Pikachu Toy That You Can Ride Launches New Orders

Japanese company JAM launched the POKÉMON AIR back on October 1, an adorable 50cm long Pikachu toy that can be sat on, which sold out immediately. Due to its success, it has announced that it will begin a second wave of orders on October 26 at 11:00am (JST) via their online store.

POKÉMON AIR | ¥7,500 (Before Tax)

The big, round, and plump Pikachu has many uses, whether for sitting or leaning on when you want to read or play games, hugging, or using as interior design.

Shipping will roll out in Japan from mid-December just in time for Christmas, so those who missed out on the first batch of orders now have a chance to get their very own Pikachu too.

Cute Pika-Pika Pikachu Designs Featured On Lemon Flavoured Puré Gummies

Japanese confectionery company KANRO has once again joined pika-paws with Pikachu for the third time to feature the beloved Pokémon on the lemon flavour their Puré gummies. They will be released in Japan from October 27, 2020 in limited quantities.

Pikachu Puré Gummies – Third Collaboration

Following the success of the first two collaborations in June and July this year, with buyers expressing how cute they are in Japanese social media, KANRO is at it again, this time with their lemon flavour. There will be eight different Pikachu packet designs for this third collaboration, each with an attractive neon sign logo. The combination of gelatine and pectin is what gives Puré gummies their chewy texture.

Puré Gummy Lemon Pokémon (56g) | ¥130 (Tax Included)

In a packet of these gummies you'll find two shapes: the classic Puré heart shape and Pikachu shape, so you'll always be in for a surprise each time you reach into the bag.

Puré Gummy Pikachu Video

KANRO has released yet another promotional video for this third collaboration. The video for the first collaboration garnered 1 million views in just three days. Check out the adorable video below.

Pika Puré Merchandise Campaign

KANRO is also holding a campaign on their official Twitter page from October 28-30 where you can win a free Pika Puré eco bag.

Additionally, 210 random people who buy Puré gummy products in Japan from October 27 to December 20 will be chosen to win additional merchandise. 10 people will get a big cushion and 200 a big blanket. To enter, purchase select Puré products in Japan and send your receipt to the company via the LINE messaging app.

©2020 Pokémon ©1995-2020 Nintendo/Creatures Inc./GAME FREAK inc.
Pokémon, ポケットモンスター, and ポケモン are registered trademarks of Nintendo, Creatures Inc., and GAME FREAK inc..

Pokémon Cafe and Pikachu Sweets by Pokémon Cafe Reveal New Desserts Including Polteageist Tea Set

Pokémon Cafe and Pikachu Sweets by Pokémon Cafe are releasing a new teatime menu at their respective branches on October 24, 2020.

Pokémon Cafe

Polteageist & Sinistea Tea Party! Fruit Tea Set ~Apple Flavoured~ | ¥1,188 (Tax Included)


Polteageist & Sinistea Tea Party! Fruit Tea Set ~Strawberry Flavoured~ | ¥1,188 (Tax Included)

Pokémon Cafe is serving up two different fruit tea sets based on the Ghost-type Pokémon Polteageist and Sinistea. Customers are free to pour in their desired amount of fruit syrup which changes the colour of the tea. The sets come with a cute cookie too.

Pikachu Sweets by Pokémon Cafe

Left: Polteageist's Tea Party! Fruit Tea ~Mixed Berry Flavour~ / Right: Polteageist's Tea Party! Fruit Tea ~Peach Orange Flavour~ | ¥700 Each (Before Tax)

Pikachu Sweets by Pokémon Cafe is also going to serve up some Polteageist themed fruit teas as well as a selection of desserts like macarons and financier almond cakes which have Pokémon tail and ear designs.

After ordering one of the Polteageist fruit teas, customers can place their cups under the Polteageist tea pot as pictured above and activate the pot to dispense their drink, so it's like Polteageist  really pouring tea for you.

Left: Swirlix Strawberry Macaron | Middle: Pikachu Vanilla Macaron | Right: Galarian Ponyta Pistachio Macaron – ¥500 Each (Before Tax)

Treat yourself to one of the super cute Swirlix, Pikachu, or Ponyta macarons each with designs that tell you instantly which Pokémon they're inspired by.


Polteageist Fruit Tea and & Pikachu Macaron Set

Customers can order a tea and macaron combination set too.

Pikachu Parfaits

Pikachu Glass Parfait Set | ¥1,500 (Before Tax)

An adorable set of Pikachu parfaits, one being caramel banana flavoured and the other chocolate.

Pikachu Tea Party Assortment – Pika Pika Pikavee Set | ¥2,800 (Before Tax)

Another set to share between friends and family, this time with two Pikachu glass desserts as well as Pikachu and Eevee cupcakes.

Pikachu Tea Party Assortment – Ghost Type Set | ¥2,800 (Before Tax)

This set comes with the Pikachu glass desserts as well as Ghost-type Gengar and Litwick mousse cakes.

The Polteageist teapot and Sinistea teacup used at the Pokémon Cafe and Pikachu Sweets by Pokémon Cafe will also be released at Pokémon Center Online in Japan on December 5, 2020.

© 2020 Pokémon.©1995-2020 Nintendo/Creatures Inc./GAME FREAK inc.
Pokémon, ポケットモンスター, and ポケモン are registered trademarks of Nintendo, Creatures Inc., and GAME FREAK inc..

Information

Pokémon Cafe (Nihombashi, Tokyo)
Address: Nihombashi Takashimaya SC East Bldg. 5F, 2-1-2 Nihombashi, Chuo Ward, Tokyo
Business Hours: 10:30-22:00
No Fixed Holidays (Except when Nihombashi Takashimaya SC is closed)
Reservations: https://www.pokemoncenter-online.com/cafe/reservation.html

Pokémon Cafe (Shinsaibashi, Osaka)
Address: Daimaru Shinsaibashi Honkan 9F, 1-7-1 Shinsaibashisuji, Chuo Ward, Osaka, Osaka Prefecture
Business Hours: 10:00-21:30
No Fixed Holidays (Except when Daimaru Shinsaibashi is closed)
Reservations: https://www.pokemoncenter-online.com/cafe/reservation.html

Pikachu Sweets by Pokémon Café 

Address: Sunshine City Alpa Floor 2F, 3-1-2 Higashiikebukuro, Toshima City, Tokyo

Opening Hours: 10:00-20:00
Official Website: https://www.pokemoncenter-online.com/cafe/pikachu_sweets/

*Opening hours subject to change, please check in advance before travelling.

*Food served and duration subject to change without notice.

*Photos are for illustrative purposes only.

*Seat reservations are taken online only – phone reservations not available.

Cute Eevee Piggy Bank Has the Pokémon Stealing Your Coins

Japanese company Shine, which produces the popular coin-stealing piggy banks sold at the MoMA store at The National Museum of Modern Art, Tokyo, has created a new Eevee version which will be released this month.

When you place a coin onto the plate which has a Poke Ball etched into it, Eevee makes its iconic call and then jumps out of the box to steal the coin, pulling it into the box. There are 15 different sounds Eevee will make when appearing.

The design on the front of the box pictures Eevee looking over its neck fluff together with the romaji version of Eevee's name in Japanese.

©Nintendo・Creatures・GAME FREAK・TV TOKYO・ShoPro・JR Kikaku ©Pokemon

Pokémon Illuminations to Shine at Lake Sagami in Kanagawa

Lake Sagami Pleasure Forest, an outdoor multi-resort in Sagamihara, Kanagawa, has announced that the Kanto region's biggest illumination event SAGAMIKO ILLUMILLION is set to return for 2020-2021. The event will see 6 million illuminations light up the area from November 14, 2020 to April 4, 2021.

About SAGAMIKO ILLUMILLION

SAGAMIKO ILLUMILLION is an annual winter event held at Lake Sagami Pleasure Forest. About an hour from the main city, the event takes place up a high slope with the 6 million lights becoming one with the surrounding natural environment. The event uses the latest in lighting technology and has gotten bigger and better every year. In 2018, it was chosen as one of Kanto's three main illumination events.

This year marks the 12th run of SAGAMIKO ILLUMILLION, and this time around it's collaborating with the Pokémon franchise with lots of colourful illuminations set to light up the area and plenty of Pokémon photo spots to take your picture with including Pikachu sleeping in the forest, Charmander taking a nap by an open-air, and more.

As well as the Pokémon illuminations, the 40,000㎡ illumination area will be split into 10 different kinds of illuminations, with each individual area having their own colourful lights. There will also be a 250 meter lift people can ride, amongst lots of other exciting things.

SAGAMIKO ILLUMILLION is being held with all the necessary precautions in place against COVID-19.

Information

SAGAMIKO ILLUMILLION
Address: 1634 Wakayanagi, Midori-ku, Sagamihara, Kanagawa
Running: November 14, 2020 – April 4, 2021

Illumination Times: 16:00-21:00 (Last Entries 20:30)

*Illumination times to begin from 17:00 starting in February

Official Website: https://www.sagamiko-resort.jp/illumillion/

Find Out Which Pokémon You Are With the Official Pokémon Center Quiz

Pokémon Center, the company which runs the official Pokémon shops Pokémon Center and Pokémon Store in Japan, launched a new website on October 1 which tells users which Pokémon evolution they are by taking a quiz.

The Pokémon Personality Quiz

The quiz asks users various questions to determine which Pokémon they will evolve into. Just like how Pokémon evolve to be better and stronger, so too do humans through life experience as they grow more knowledgeable about the world and level up in their career.

Which Pokémon Evolution Will You Become?

Taking the test is simple. All you have to do is select from a list of keywords in Japanese on the official website and it will take that data to let you know what kind of person you will become. You can share your results on social media afterwards!

Which Pokémon Evolution Do You Want to Become?

Pokémon Center is also recruiting people who are looking evolve themselves as people in the future. Users can also choose which Pokémon they want to become like and give a reason.

©2020 Pokémon. ©1995-2020 Nintendo/Creatures Inc. /GAME FREAK inc.
ポケモン・Pokémonは任天堂・クリーチャーズ・ゲームフリークの登録商標です。