Tokyo's Mickey Mouse Exhibition 'THE TRUE ORIGINAL & BEYOND' Previews 5 Japanese Artworks
The Asahi Shimbun and Nippon TV are set to host an exhibition centred on Mickey Mouse at the MORI ARTS CENTER GALLERY in Roppongi, Tokyo, from October 30, 2020 to January 11, 2021, in celebration of 90 years since Mickey Mouse's screen debut. The exhibition will showcase works shown at the Mickey: The True Original Exhibition held in New York in 2018-2019.
Before the exhibition opens, five participating Japanese artists have each revealed their never-before-seen artworks which will be on display.
The Tokyo exhibition will be a travel back through time, looking at Mickey Mouse from the past to the present. It will be split into three zones: "The Origin," "The True Original," and "Beyond." The five artists showcasing their work early will be featured in the "Beyond" zone and include Tomoko Oshima, Kosuke Kawamura, Nana Soeda, Calligrapher MAMI, and WAKU. Below are their featured pieces along with their comments.
Tomoko Oshima | Comment
"What's fascinating about Mickey Mouse is, for reasons I can't begin to work out, how he became a part of each person's life. I was raised in a household that banned cartoon characters, so it always felt like something unobtainable. Mickey Mouse is like a hero to all of us. He's dazzling and radiant, a kind of being I can't look directly in the face of. When working on my Mickey Mouse art [for the exhibition], my concept was to create a Mickey that's special only to me, so I challenged myself to turning that Mickey Mouse that everyone feels happy looking at and loves into my usual art style."
Oheya (Bedroom), Tomoko Oshima
Kosuke Kawamura | Comment
"What I find fascinating about Mickey Mouse is that no matter how old I get, he always transports me away from the real world to a world of dreams. He's an idol of mine. I even have my own collection of merchandise I've been collecting over the years. For the exhibition, I needed to creating something for the Beyond [zone], so I tried shaping Mickey Mouse from how I see him in my head. I've always made sure to balance my artwork in such a way that it can be seen in two ways. When you stand close, you can see the detailed composition, but when you step away, it looks different. This time around I gave myself a little challenge and made the silhouette of his face and hands using flowers. If you get close to it you'll see that it's made up of lots of flowers, but stand from afar and you'll be able to see the facial expressions and his pointing figure. I'd like people to give both a go, so when you've looked at it up close then take a step back."
Untitled, Kosuke Kawamura
Nana Soeda | Comment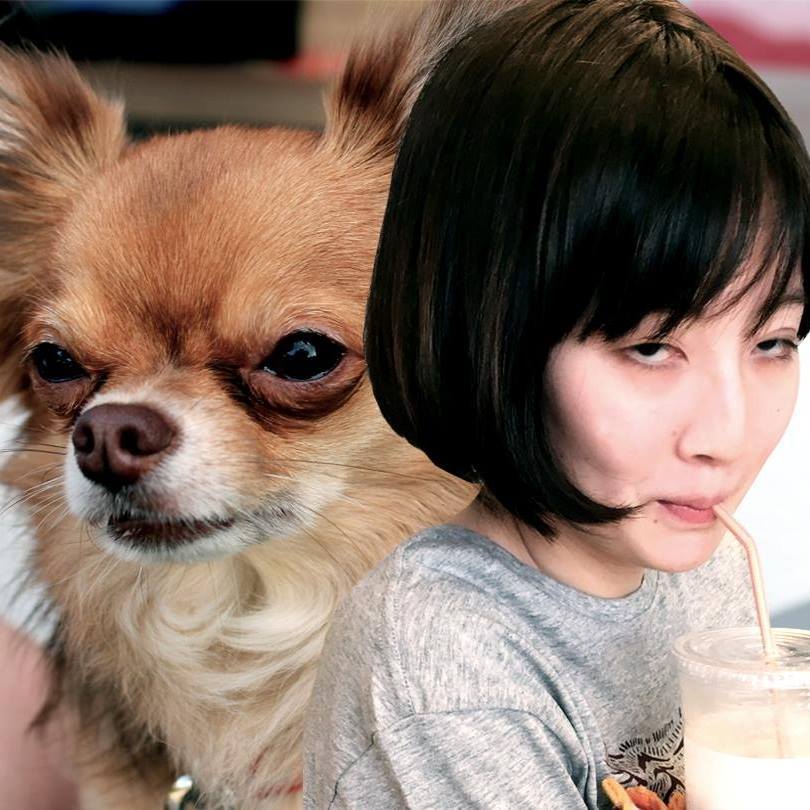 "I feel Mickey Mouse's appeal from his long history and how he has changed overtime, so I tried to express these aspects in the piece I made. The theme for it is centred on Mickey Mouse in the future, so when I was thinking about what he might look like in the future, I looked to past [designs] and tried fixing them up. So in my piece there's a trace of looking back at past Mickey Mouse while giving him an update. Creating those 'futures' made me feel like I was walking through my own past and processes. You can't know exactly what's to come in the future even for someone as internationally popular as Mickey Mouse. But by learning from past memories and mistakes, you can draw on those to create a future, don't you think? That's something I wanted to convey in this piece, and I did so by creating something that's close to the Mickey Mouse of the past with both 2D and 3D surfaces. The Mickey Mouse I drew is the one of ages past that looks completely different to his appearance today. But those look at it might feel something newer about it than older. That, or they might feel uncomfortable seeing him in a way they're not used to. I want people to take their time looking at both and feeling whatever they feel when they do."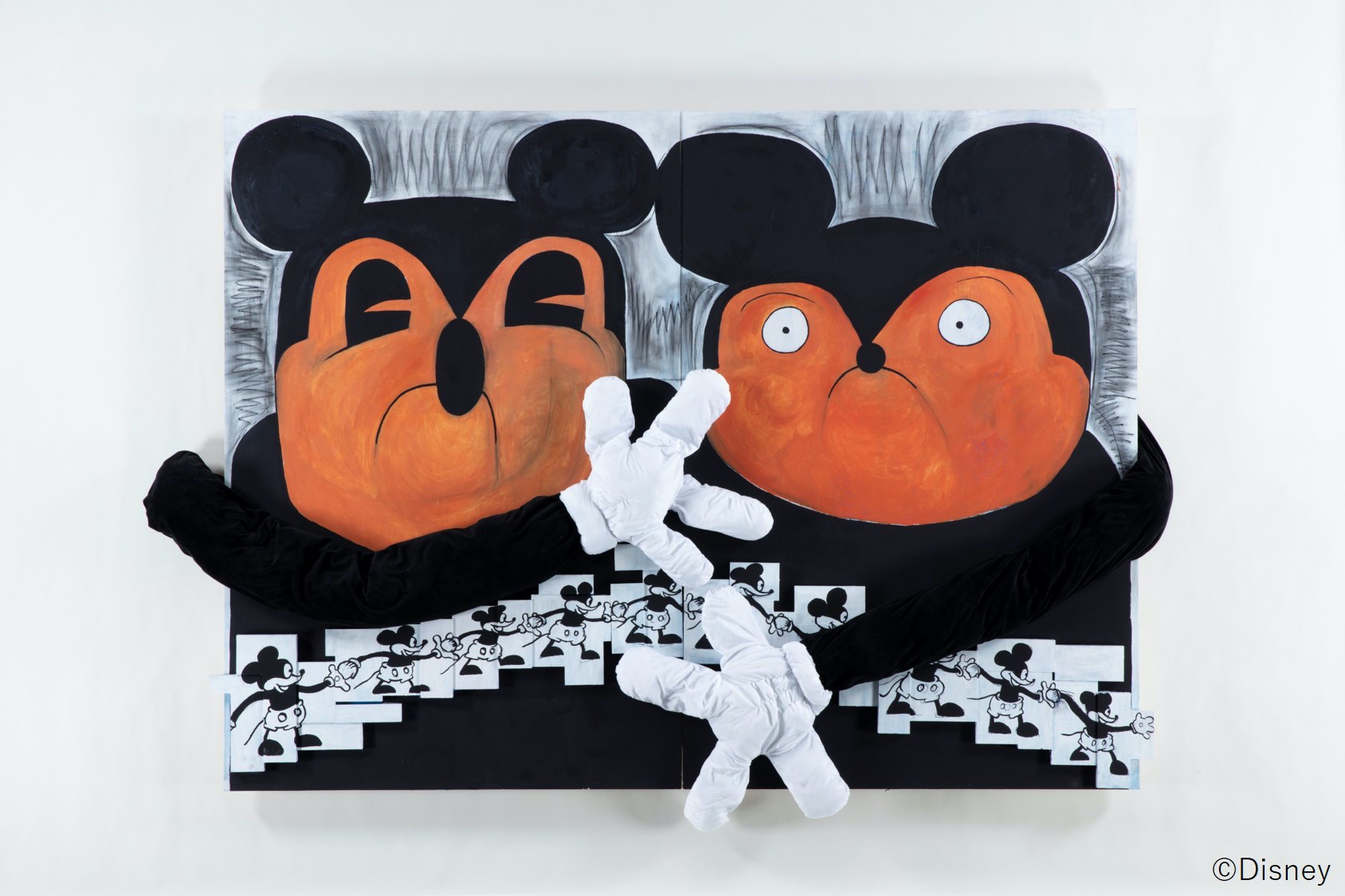 LOVE, Nana Soeda
Calligrapher MAMI | Comment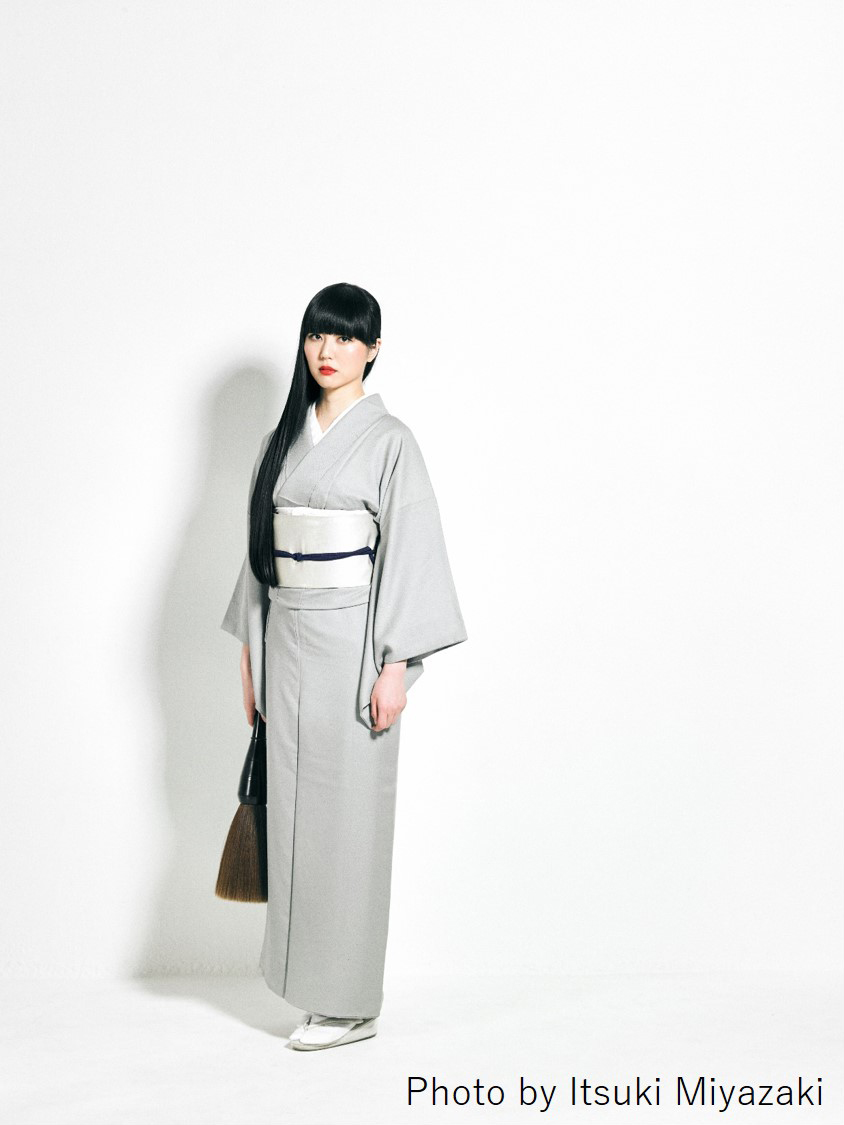 "I've captured Mickey Mouse's silhouette as its own kanji by using calligraphy. His appearance is iconic worldwide, and by making him recognisable through this common language, I've tried to create a new kanji, effectively breaking the language barrier of calligraphy, something which is difficult in itself to overcome for people. Another thing with calligraphy is that you can write the same piece hundreds of times which means it can be fine tuned over and over. I believe that overlaps with Mickey Mouse's design as he has too has evolved for a hundred years. But by no means have his designs he just spring out of existence immediately. He has undergone trial and error through the times, and always shines bright. It's because of everyone who will see my piece as this exhibition that I've been able to create something I can feel from the heart."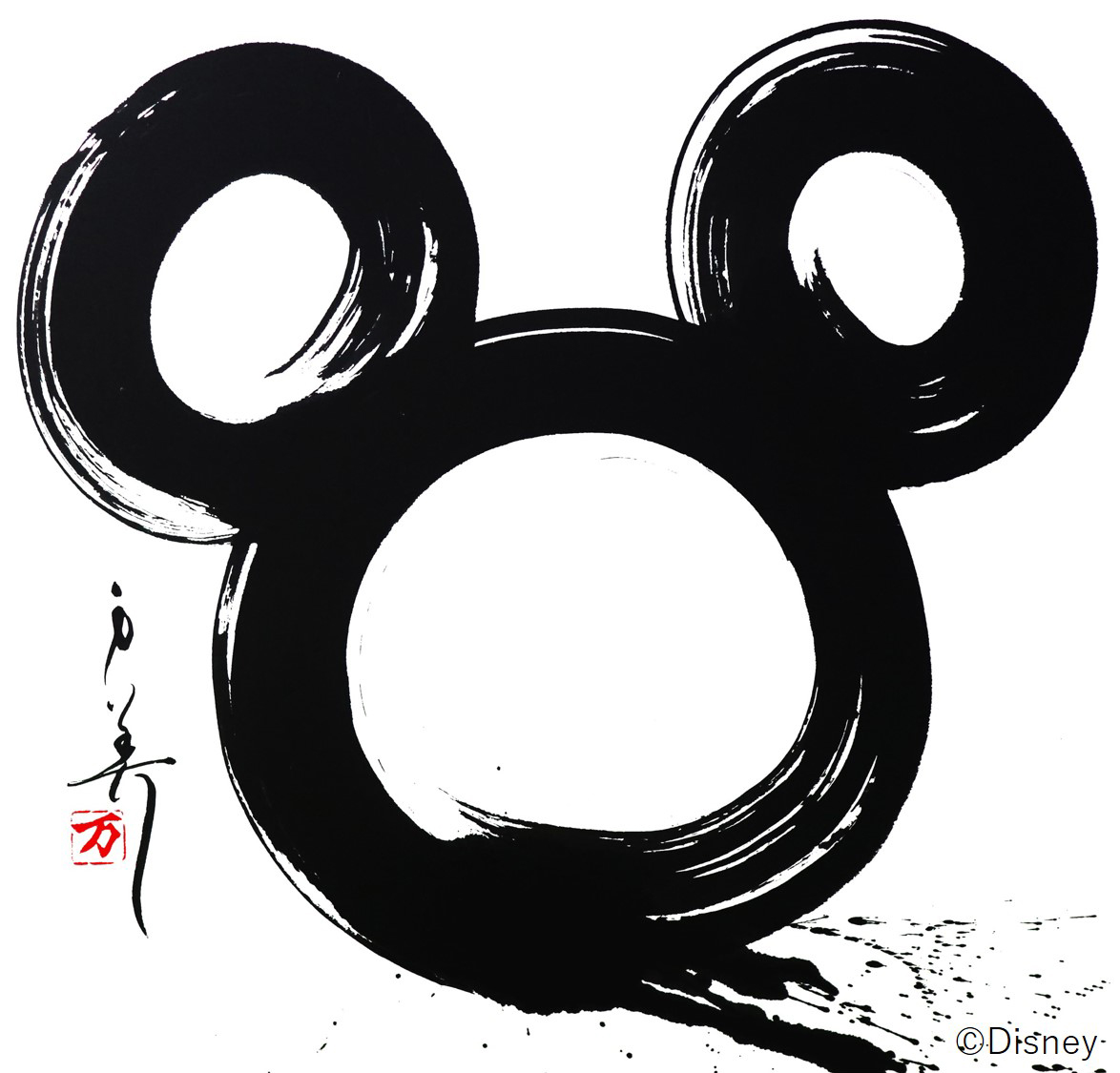 ZEN Mickey, Calligrapher MAMI
WAKU | Comment
"I think the appeal of Mickey Mouse lies in the fact that people around the world all remember him from their childhoods. We form memories during our childhoods, and ever I've been able to recognise those memories inside of me, Mickey Mouse was something that was always close to me. When I see three circles together, Mickey Mouse's face comes into my mind. He might be the first internationally recognisable symbol. I felt that the affinity between symbolism and neon signs is very high. So for my piece, I incorporated the techniques used for traditional Japanese neon signboards, something which I see less of these days. I took that and created the three Mickey Mouse circles using light."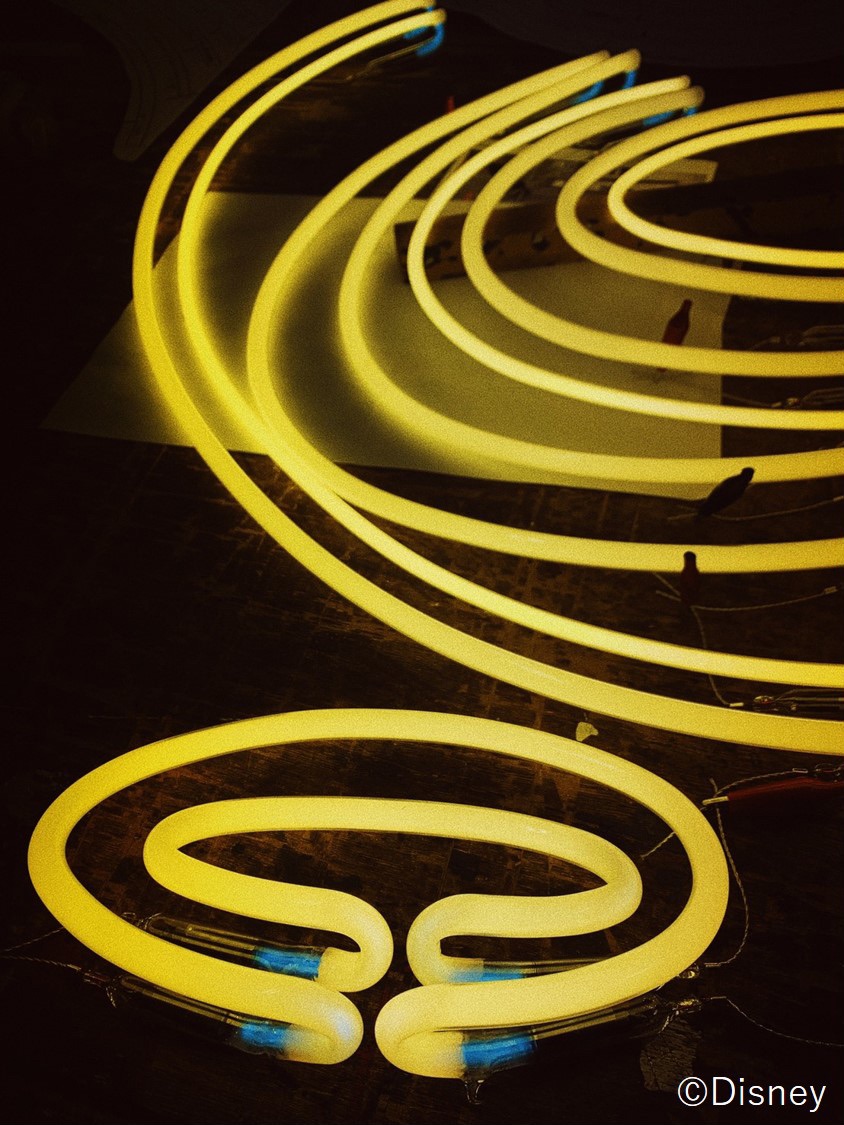 Untitled (Still Being Worked On), WAKU
Information
MICKEY THE TRUE ORIGINAL & BEYOND
Running: October 30, 2020 – January 11, 2021
Time: 10:00-20:00
Venue: MORI ARTS CENTER GALLERY (Roppongi Hills Mori Tower Floor 52F)
Entry Price: General ¥2,800 / Junior & High School Students ¥2,000 / Elementary School Students ¥1,200 / Preschoolers – Free
Official Website: mtob.exhibit.jp
RELATED ENTRIES
Art Gallery Cafe WHAT CAFE to Open New Collaborative Exhibition with the DELTA Project

A new collaborative exhibition is coming to WHAT CAFE in Tokyo! The WHAT CAFE x DELTA EXHIBITION -EXPANSION- will run from September 25 until October 24, and will give guests some incredible pieces to ponder while sipping some warm coffee. 

WHAT CAFE is an art and culture facility opened with the goal of supporting artists with promising futures in the industry. Guests can wander the gallery while enjoying a meal or beverage, with some art being available for purchase.

Flash FINCH – Ji-hae Park

Combination-cut in 2 – Saki Matsumura

Galloping on a Free-floating Planet – Yui Suzuki

real screen – Takuro Sugiyama

This exhibition was inspired by WHAT CAFE's interest in the activities of DELTA, an art project that helps plan and organize art fairs and exhibitions around Japan. It's mission is to create a new place connecting galleries, artists, and collectors, while also breaking the norm and making a space that is more accessible. The WHAT CAFE x DELTA EXHIBITION -EXPANSION- will feature 60 works by 17 cutting-edge artists carefully selected from seven different galleries based in Tokyo, Osaka, and Kyoto. The showing will ask visitors to expand their minds and become more flexible when pondering the meaning behind each of the pieces on display.

Does this art-gallery-meets-cafe sound like your kind of place? 

Museum-Hotel Gajoen Tokyo Releases Seven Artistic Christmas Cakes

Museum-Hotel Gajoen Tokyo will be opening pre-orders for their Patisserie 'Shiori Kyou 1928' 2021 Christmas cake selection between October 1 and December 17.

The theme for this year's Christmas cakes is "Art Temptation," with seven unique, artistic cakes to choose from. The hotel is full of Japanese beauty and artistry, while the cake line-up features gorgeous cultural motifs and traditional crafts. 

Tamatebako *Limited to 10 cakes




First Layer

Second Layer

A shortcake with strawberries from Kayama Farm.

Pralines & Pistachio

Cassis & Fig

Coffee & Tonka

Fromage & Cru

Stollen

This year's lineup, of course, features the standard seasonal products; First is the Tamate Box, a two-tiered box made of chocolate, filled with cakes, gateaux, pound cake, and more. The Kayama Farm Strawberry Shortcake is their most popular product and is covered in high quality brand strawberries. The Stollen, with its spicy accents, is perfect for adults.

Alongside them is a selection of four new products; The Praline & Pistachio cake, which is covered in poinsettia and pine-shaped chocolate, and the Cassis & Fig is formed of four delicate, paper-cutting inspired layers. The Coffee & Tonka has a mature, bitter flavor and is topped with a Christmas tree, while the Fromage & Cru is made of a refreshing combination of cheese and apples.

Enjoy a precious moment that can be enjoyed by both adults and children with these beautiful and artistic cakes!

Information

PATISSERIE 'Shiori Kyou 1928″ Christmas Cakes

Reservation Period: October 1 ~ December 17 2021

Delivery Period: December 22 ~ December 25 2021

Reservation Phone Number: 03-5434-5230 (11:00-20:00)

Online Reservations・Official Site: https://www.hotelgajoen-tokyo.com/lien/xmas 

 

Art Charity Auction Opens to Support the Fight Against COVID-19

Last year, the Pola Museum Annex in Tokyo hosted a charity auction to support the fight against the COVID-19 pandemic breaking out across the globe. As the world continues to feel the effects of the virus, the charity event is returning for a second year, and is set to be held from November 12 until December 5, 2021. The title for this year's art exhibition is 'Find Your Travel.' 

Lemon Tree – Yuka Kashihara. Acrylic and oil on canvas.  2020. 

POLA Dot or snowball ~Based on Tosa Mitsuyoshi's Colored Painting of Yugiri from The Tale of Genji~ – Tetsuya Noguchi. Acrylic. 2020. 

our whereabouts – Moe Nakamura. Camphor, bronze, oil. 2021. 

Philanthropy – Yuko Higuchi. Hemp paper, pen, watercolor. 2020. 

Baby Heel-less Shoes – Noritaka Tatehama. Cowhide, pigskin, dye, metal zipper, coated crystal glass. 2020. 

Last year's charity auction raised over ¥9,145,000 (about $83,000) for the Japanese Red Cross. As the COVID-19 pandemic continues around the globe, and as Japan remains locked down, this year's event hopes to raise even more useful funds to help medical professionals on the front lines. 

 

20 artists are participating in the exhibition, with each creating one work based on the theme of 'travel.' In addition to simply viewing these pieces at the exhibition, a silent auction will also be held online. With travel being severely restricted, these works of art seek to inspire and encourage visitors to imagine a better future, when the world is open once again. All proceeds will once again be donated to the Japanese Red Cross. 

 

 

Information

Find Your Travel Charity Auction

Running: November 12 – December 5, 2021

Hours: 11:00-19:00 (Last entry 18:30) / Admission Free

Address: Pola Museum Annex 3F (1-7-7 Ginza, Chuo-ku, Tokyo)

Official Site: http://www.po-holdings.co.jp/m-annex/

Contemporary Painter Yasunari Ikenaga Opens Shou Inspired New Exhibition in Ginza

Tsutaya Ginza, located inside Ginza Six, will hold an exhibition of new works from artist Yasunari Ikenaga starting September 25, 2021. Titled 'Shonen, Shou,' the pieces in the collection were all inspired by up-and-coming actor and model Shou. 

Physical Education, Shou – Yasunari Ikenaga. 2021. 

Glaring, Honami – Yasunari Ikenaga. 2015

Yasunari Ikenaga is a leading figure in the world of contemporary beauty painting. In 2012, he won Honorable Mention at the 8th Tatehiko Suga Grand Prize Exhibition, which attracted a great deal of attention in the art world and established the genre of contemporary beauty painting. Ikenaga's paintings are characterized by their unique coloring, which is created by using mineral-based pigments. This style, as individual as the models he paints, has a uniqueness and presence that has redefined the art of painting human beings in the Japanese art world. 

'Shonen, Shou' is an exhibition focusing on new model and actor Shou, born in 2006. This is the first time Ikenaga has used a boy as his muse, and various prints of past works will also be on display during the event. 

Hands-On POKEMON COLORS Exhibition Opening in Osaka for Limited Time

The globally-beloved Pokemon franchise is celebrating 25 years throughout 2021. Throughout the year, the POKEMON COLORS exhibition has opened in cities throughout Japan, bringing a barrage of bright colors, fantastic art, and Pokemon-themed activities to fans nationwide. As guests move throughout the event space, various projections and images around them change, with popular Pokemon characters popping up and flooding the world around them in color. Now, the POKEMON COLORS exhibition is set to open in Osaka beginning September 30. 

Exhibition Preview


Concept Video


COLORS ROAD

COLORS LAKE

COLORS FOREST

COLORS CITY

COLORS CIRCLE

Inspired by the more than 800 Pokemon species in the franchise, the POKEMON COLORS project uses sensors placed throughout the event space to track visitors movements, altering the images, music, and lighting accordingly. Meant to be a combination of pop culture and minimalist digital art, it's an experience like no other. 

160 unique goods will be available at the exhibition, from apparel and art pieces to cell phone cases and office supplies. Be sure to check it out if you're in Osaka this fall!

©2021 Pokémon. ©1995-2021 Nintendo/Creatures Inc./GAME FREAK inc.

Information

POKEMON COLORS

Running: September 30 – October 20, 2021

Address: Daimaru Museum Umeda 15F 

Hours: 10:00AM – 8:00PM (Last entry at 7:00PM) 

Official Site:  https://pokemon-colors.com/

Exhibition Opens at Select Animate Stores to Celebrate 30 Years of Mana RPG Series

The Mana series (known in Japan as Seiken Densetsu) began in 1991 as an offshoot of the popular Final Fantasy RPG series. Since release, the twelve original Mana titles released have sold over eight million copies, and to commemorate 30 years, the 'Mana: 30th Anniversary Exhibition in animate ONLY SHOP' will take place at certain Animate locations around Japan. The event will kick off at Ikebukuro animate on October 9, 2021. 

Character Pin Collection HEROS&HEROINES (24 varieties): ¥440 each (Tax Included)

Legend of Mana Character Pin Collection (20 varieties): ¥440 each (Tax Included)

T-shirt – Monster Design: ¥7,150 (Tax Included)

Blanket – Monster Design: ¥4,400 (Tax Included)

Legend of Mana Mini Acrylic Stand Collection (23 varieties): ¥770 each (Tax Included)

Postcard (51 varieties): ¥165 each (Tax Included)




Hardcover Notebook (3 varieties): ¥1,650 (Tax Included)

Legend of Mana Tote Bag: ¥2,750 (Tax Included) 

Mug – Monster Design: ¥1,650 (Tax Included)

What's your favorite game in the Mana series? 


© SQUARE ENIX CO., LTD. All Rights Reserved.

Information

Mana 30th Anniversary Exhibition in animate ONLY SHOP

Where/When: 

Ikebukuro Animate 8F: October 9 – October 31, 2021

Nagoya Animate: November 6 – November 21, 2021

Osaka Nipponbashi Animate O.N.SQUARE 2F: November 27 – December 12, 2021

Fukuoka PARCO Animate: December 18, 2021 – January 10, 2022

Sendai Animate: January 15 – January 30, 2022

Details: https://www.animate.co.jp/onlyshop/419856/

Official Site: https://www.jp.square-enix.com/mana30th/

Kuroko's Basketball Pop-Up Shop in Akihabara to Features New Illustrations

BANDAI NAMCO Amusement is hosting a character pop-up store for anime 'Kuroko's Basketball,' featuring new illustrations of the characters dressed in trad style. The shop will be open from September 16 2021 at the Atre Akihabara Store, stocking original goods using the new artwork.

Kuroko's Basketball Acrylic Stand trad style ver. (7 types): ¥1,980 each (Tax Incl.)

Kuroko's Basketball Can Badge trad style ver. (7 types): ¥540 each (Tax Incl.)

Kuroko's Basketball A4 Acrylic File trad style ver.: ¥550 (Tax Incl.)

Kuroko's Basketball Cloth Poster trad style ver.: ¥1,800 (Tax Incl.)

Kuroko's Basketball Spoon trad style ver. (7 types): ¥1,200 each (Tax Incl.)

Kuroko's Basketball Fork trad style ver. (7 types): ¥1,200 each (Tax Incl.)

Kuroko's Basketball Acrylic Board trad style ver. (7 types): ¥530 per lottery ticket, A Prize

Kuroko's Basketball Jacket Style Acrylic Keychain trad style ver. (7 types): ¥530 per lottery ticket, B Prize

Kuroko's Basketball Can Badge trad style ver. (7 types): ¥530 per lottery ticket, C Prize

Kuroko's Basketball Die-cut Illustration Sheet trad style ver. (7 types): ¥530 per lottery ticket, D Prize (random)

Be sure to check out this limited shop to immerse yourself in the world of Kuroko's Basketball!

©Fujimaki Tadatoshi / Shueisha, Kuroko's Basketball Production Committee 

Hotel New Otani Announces Second PAUL & JOE Collaboration

Hotel New Otani Tokyo has collaborated with PAUL & JOE for the second time to offer a new accomodation plan, which will be available for one-night stays between December 1 2021 and January 4 2022.  The rooms will not be available between December 31 and January 2.

This collaboration room will allow you to surround yourself in the world of PAUL & JOE, a Parisian brand PAUL & JOE that is extremely popular with young women in their 20s and 30s. The initial collaboration was so popular that within just 10 days, all of the available dates within three months were sold out. This Christmas edition will only be available for one month, so be sure to book while you can.

The pink and ivory room features the brand's icon; Designer Sophie's beloved cats, Nunet and Gypsy. The decorations also feature Crisantemo flower motifs.

Not only is the wallpaper covered in PAUL & JOE motifs, but even the smaller pieces such as cushions, curling irons, and brushes are themed too. In addition, to celebrate the festive season, the room will include a special Christmas tree, allowing you to enjoy a special Christmas with somebody special, sharing a view of Tokyo Tower.

The second round of cosmetics is focused on the 2021 CHRISTMAS COLLECTION. The 'Lipstick Treatment' features adorable cats wearing Santa hats, while the 'Lipstick Limited' comes in a luxurious Christmas red – and also features cats in hats! Plus, the new 'Wrapping Hand Cream' will wrap your hands in a fresh moisturising texture. In addition, the best-selling 'Moisturizing Foundation Primer,' which was renewed on September 1, and the P&J skincare selection (oil, lotion, cleansing), each must-haves for the upcoming dry season, have been miniaturized into take-home samples in a limited edition pouch, especially for hotel customers.

Alongside the limited cosmetic samples, there will be matching pajamas and slippers available for purchase and take home, with a that will take you even deeper into the PAUL & JOE world. While these cat-and-floral print PJs are perfect for a girls-only gathering, a men's line has also been released due to popular demand, ideal for spending a romantic Christmas in matching pajamas.

 

 

Why not spend a wonderful Christmas in this PAUL & JOE room?

Information

PAUL & JOE Room ~Christmas~

Reservation Dates:

Friday & Saturday Rooms: September 14 2021~

Weekday & Sunday Rooms: Late October 2021

Room Duration: December 1 2021 ~ January 4 2022

※Unavailable between Dec. 31 and Jan. 21

Location: Hotel New Otani Tokyo

Reservations: https://www.newotani.co.jp/tokyo/stay/plan/paul-joeroom/  *Reservations can only be made online

Back to the Future Exhibition Displays Props from 1985 Film in Japan for the First Time

The Hot Toys flagship store, TOY SAPIENS Tokyo, will begin hosting a free Back to the Future event titled RETRO SAPIENS starting September 18, and running until October 31, 2021. 

Along with the opening of this exciting event, the TOY SAPIENS Tokyo store is also unveiling its new location. The much larger shop is now an easy walk from Shibuya Station and Harajuku Station!

After the event at the Tokyo location concludes, the event will travel to three more TOY SAPIENS stores nationwide, to allow more fans to see these legendary props in person. RETRO SAPIENS will open in Osaka in November 2021, and in Nagoya in February 2022. 

One-of-a-kind props, clothing items, and set pieces from the Back to the Future film will be on display for the first time ever in Japan during this event. If you're a fan, be sure to come and enjoy–admission is free! A number of Back to the Future related merchandise will also be on sale, including figures, apparel, and items only available at the RETRO SAPIENS event. These limited-edition products will also be available online at the TOY SAPIENS Official Online Store starting September 21. 

A special Cosbaby Keychain will also be handed out to guests who clear certain conditions while enjoying the event. Those who purchase Back to the Future merchandise will receive a RETRO SAPIENS-themed shopping bag on a first-come, first-served basis. 

Information

RETRO SAPIENS Tokyo

Running: September 18 – October 31, 2021 *September 18-20 reserved for advanced ticket holders.

Hours: 11:00-19:00 (Last entry at 18:30.) 

Address: TOY SAPIENS Tokyo (Ichigo Jingumae Building 1F, 6-25-16 Jingumae, Shibuya, Tokyo)

Admission: Free

Official Site: http://hottoys-store.jp/retrosapiens/

Zoff Announces New Disney Collection Glasses for 20th Anniversary

Glasses brand Zoff has released a new collection titled the "Disney Collection Zoff 20th Anniversary Line," featuring Mickey Mouse and Minnie Mouse motifs. The collection will be released on September 17 2021 in Zoff stores nationwide and online.

Mickey Mouse Model

Minnie Mouse Model

Case, Glasses Cloth

The very first Zoff store opened 20 years ago. To mark the occasion, a selection of commemorative glasses will be available in their Disney collection, featuring Mickey and Minnie Mouse. The pair are dressed up more than usual, seemingly invited to a fun party. The design is special and full of details, as are all of the models in the Disney Collection.

Be sure to check out these special frames, with their charming Disney features!

Magnificent Work of Art on Display at Sado Island Galaxy Art Festival Until October 2

Sado Island, sitting off the Japanese mainland close to the Niigata coast, has been holding an incredible art festival since August 8, 2021. The highlight of the event is a massive glowing sculpture, made as a collaboration between Koiwa Kanaami Co., Ltd. and the Nobuaki Furuya+Yuri Fujii Laboratory at Waseda University. The eye-catching installment is meant to honor the historical Sado gold mine, one of the largest in the country, and a designated National Historic Site of Japan.

The peak production period of the mine was 400 years ago, between 1615 to 1645. The mines on Sado produced over 400 kilograms of gold and nearly 38 tons of silver each year, making it one of the largest producers in the world at the time. The town of Aikawa, where the mine is located, is now filled with historical and tourist sites, with many buildings preserved and used as museums to teach visitors about mining technology over the years. A number of rail lines once ran around today's Oma Port, carrying ore and other mining materials.

The Sato gold mine was developed by Takato Oshima, one of the most important engineers in Japanese history, and the man also responsible for creating the first blast furnace and Western-style gun in Japan.

Headlining the event, the 'Scene Spinner' installation consists of two spiral concepts: one, based on the spiral pumping machine used to drain water seeping into the mine, and the other inspired by the rail system around Oma Port. These spirals were made by using a wire mesh frame, which resembles the silhouette of the Sado gold mine. Each piece shown at the Galaxy Art Festival is meant to express the remaining historical importance of this often-overlooked area.

The exhibition site, the former Oma Port, marks the location where materials were brought from the mines, and where the remains of the modern mining industry remain today. Oma Port, which has served as the gateway between Sado Island and the mainland, seems the perfect spot to hold this inspiring event, asking visitors to look around and think about the history made on this beautiful island.

Information

Sado Island Galaxy Art Festival

Running Until October 2, 2021

Address: Aikawa, Oma Terminal (16 Aikawa Shibamachi, Sado City)

Official Site: https://www.koiwa.co.jp/sado-art

The National Museum of Modern Art in Kyoto Opens Meiji Era Exhibition

A special exhibition titled 'Japanese Landscapes Discovered: Views from and for the Outside World,' showcasing a private collection of Meiji era paintings, is now on display at the National Museum of Modern Art in Kyoto until October 31, 2021.

Inside the Exhibit

Inside the Exhibit

 

This exhibition is designed to take visitors on a journey through the Meiji period (1868-1912), the beginning of Japan's modern era, through oil and watercolor paintings of the time, and through the landscapes and customs depicted in these pieces of art. During this time, many foreign painters visited Japan, and were inspired to paint the country's beautiful landscapes and unfamiliar customs, bringing these creations back to their countries of origin. Japanese artists studied these unfamiliar painting techniques, and made their own culturally-inspired paintings, often selling them to foreign visitors as souvenirs.

Many works on display in this exhibition have never been shown publicly, with many being brought back to Japan from locations abroad. These include long-lost oil paintings by Kuroda Seiki and a massive newly-discovered work by Tamura Soryu. Other Japanese artists inspired by Western-style on display include Hiroshi Yoshida, Jirokichi Kasagi, Shotaro Koyama, and Ioki Bunsai.

Also on display are works by foreign artists who visited Japan during this period, including British news painter Charles Wirgman, French news painter Georges Bigot, and British landscape painters Alfred Parsons, Alfred East, and John Varley Jr. These three men in particular triggered a watercolor boom in Japan during the late Meiji period. Vibrant female painters such as British watercolorist Ella du Cane, a lover of Japanese gardens, also make an appearance.

Be sure to see these incredible depictions of Japan before they're gone.

Information

Japanese Landscapes Discovered: Views from and for the Outside World

Running: September 7 – October 31, 2021

Hours: 9:30-19:00 (Until 20:00 on Friday and Saturday)

Closed: Mondays, and on September 21. *The museum will be open September 20.

Tickets/Official Site: https://www.momak.go.jp/

*Admission is open until 30 minutes before closing.

*To prevent the spread of COVID-19, hours are subject to change. Please check hours before visiting.