Tokyo's Mickey Mouse Exhibition 'THE TRUE ORIGINAL & BEYOND' Previews 5 Japanese Artworks
The Asahi Shimbun and Nippon TV are set to host an exhibition centred on Mickey Mouse at the MORI ARTS CENTER GALLERY in Roppongi, Tokyo, from October 30, 2020 to January 11, 2021, in celebration of 90 years since Mickey Mouse's screen debut. The exhibition will showcase works shown at the Mickey: The True Original Exhibition held in New York in 2018-2019.
Before the exhibition opens, five participating Japanese artists have each revealed their never-before-seen artworks which will be on display.
The Tokyo exhibition will be a travel back through time, looking at Mickey Mouse from the past to the present. It will be split into three zones: "The Origin," "The True Original," and "Beyond." The five artists showcasing their work early will be featured in the "Beyond" zone and include Tomoko Oshima, Kosuke Kawamura, Nana Soeda, Calligrapher MAMI, and WAKU. Below are their featured pieces along with their comments.
Tomoko Oshima | Comment
"What's fascinating about Mickey Mouse is, for reasons I can't begin to work out, how he became a part of each person's life. I was raised in a household that banned cartoon characters, so it always felt like something unobtainable. Mickey Mouse is like a hero to all of us. He's dazzling and radiant, a kind of being I can't look directly in the face of. When working on my Mickey Mouse art [for the exhibition], my concept was to create a Mickey that's special only to me, so I challenged myself to turning that Mickey Mouse that everyone feels happy looking at and loves into my usual art style."
Oheya (Bedroom), Tomoko Oshima
Kosuke Kawamura | Comment
"What I find fascinating about Mickey Mouse is that no matter how old I get, he always transports me away from the real world to a world of dreams. He's an idol of mine. I even have my own collection of merchandise I've been collecting over the years. For the exhibition, I needed to creating something for the Beyond [zone], so I tried shaping Mickey Mouse from how I see him in my head. I've always made sure to balance my artwork in such a way that it can be seen in two ways. When you stand close, you can see the detailed composition, but when you step away, it looks different. This time around I gave myself a little challenge and made the silhouette of his face and hands using flowers. If you get close to it you'll see that it's made up of lots of flowers, but stand from afar and you'll be able to see the facial expressions and his pointing figure. I'd like people to give both a go, so when you've looked at it up close then take a step back."
Untitled, Kosuke Kawamura
Nana Soeda | Comment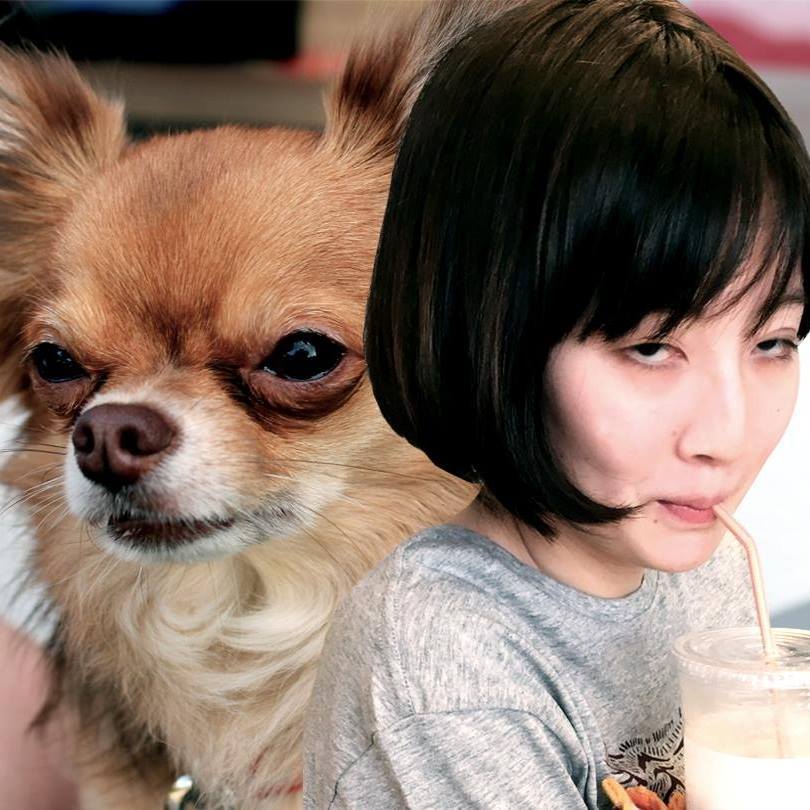 "I feel Mickey Mouse's appeal from his long history and how he has changed overtime, so I tried to express these aspects in the piece I made. The theme for it is centred on Mickey Mouse in the future, so when I was thinking about what he might look like in the future, I looked to past [designs] and tried fixing them up. So in my piece there's a trace of looking back at past Mickey Mouse while giving him an update. Creating those 'futures' made me feel like I was walking through my own past and processes. You can't know exactly what's to come in the future even for someone as internationally popular as Mickey Mouse. But by learning from past memories and mistakes, you can draw on those to create a future, don't you think? That's something I wanted to convey in this piece, and I did so by creating something that's close to the Mickey Mouse of the past with both 2D and 3D surfaces. The Mickey Mouse I drew is the one of ages past that looks completely different to his appearance today. But those look at it might feel something newer about it than older. That, or they might feel uncomfortable seeing him in a way they're not used to. I want people to take their time looking at both and feeling whatever they feel when they do."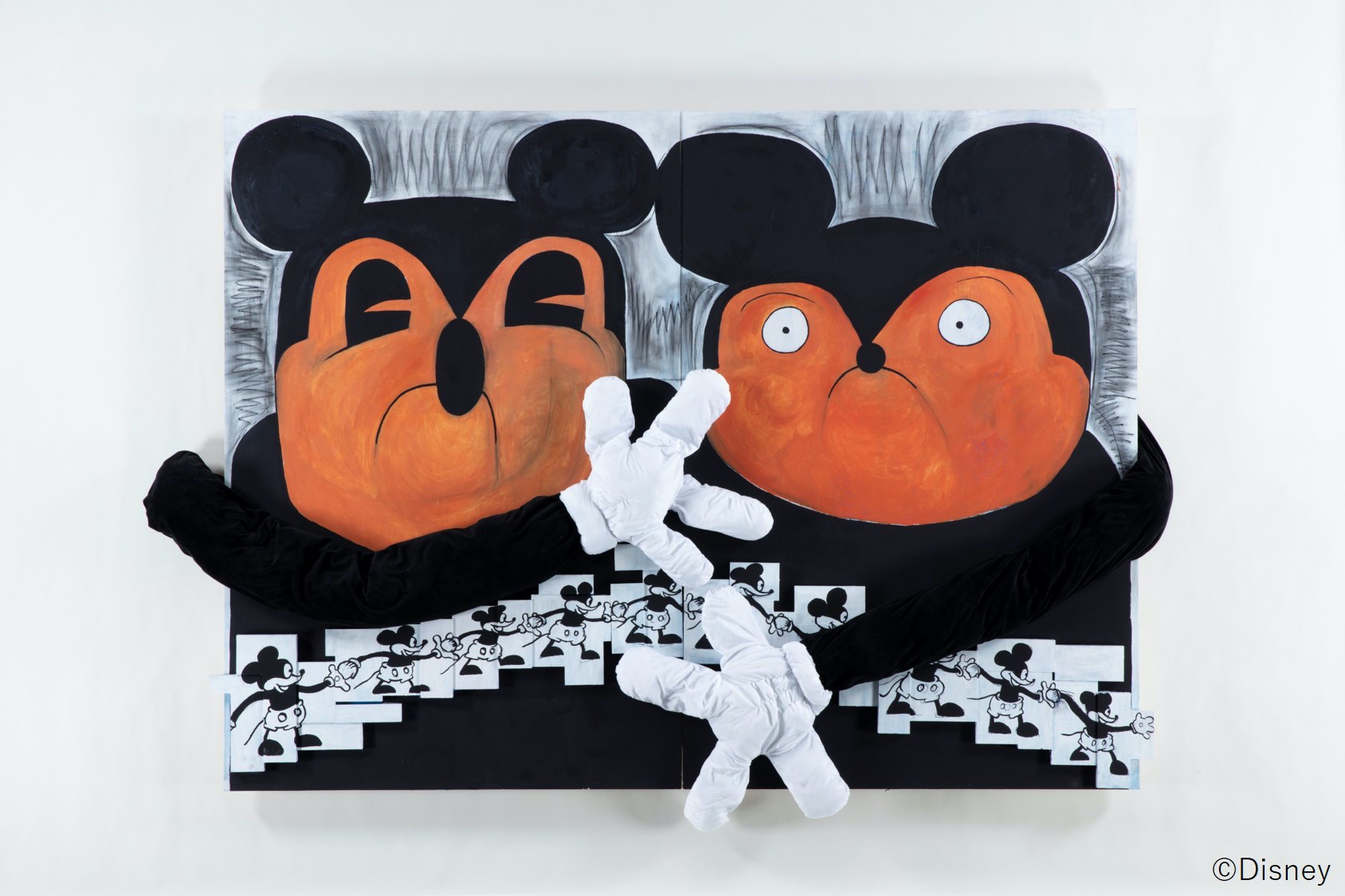 LOVE, Nana Soeda
Calligrapher MAMI | Comment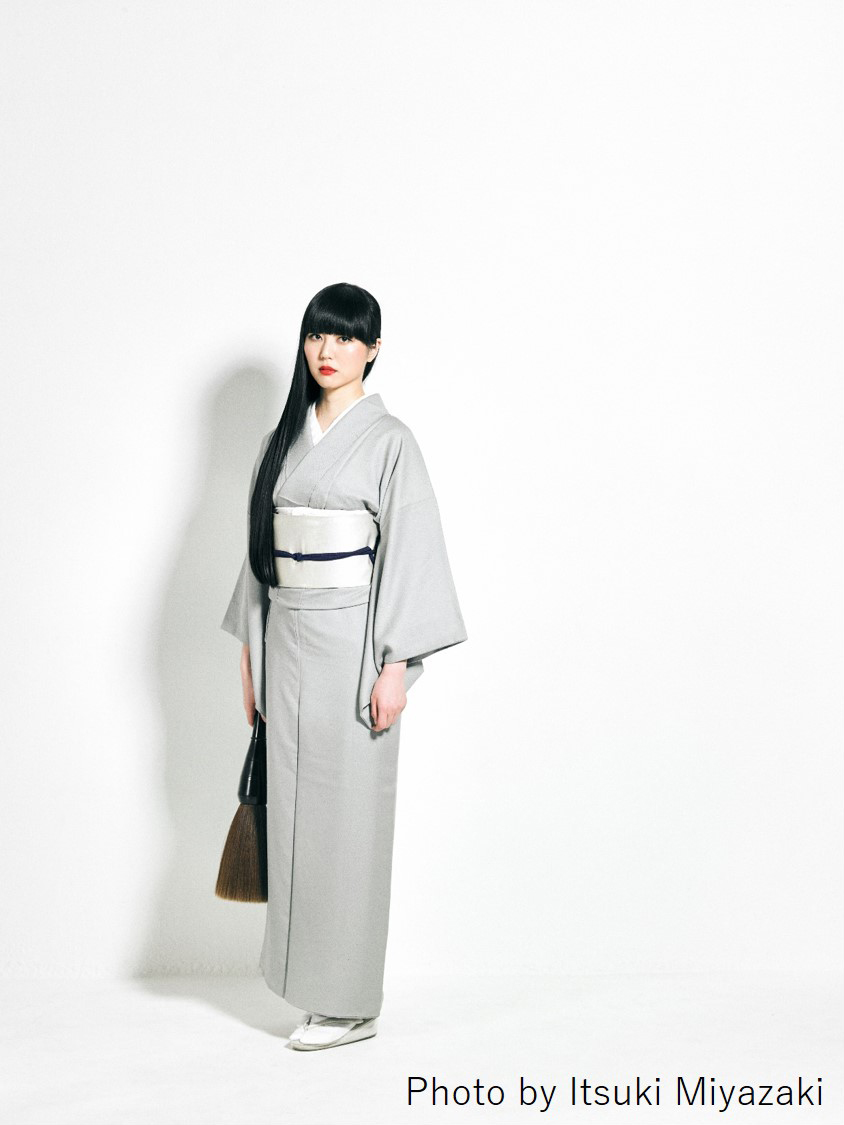 "I've captured Mickey Mouse's silhouette as its own kanji by using calligraphy. His appearance is iconic worldwide, and by making him recognisable through this common language, I've tried to create a new kanji, effectively breaking the language barrier of calligraphy, something which is difficult in itself to overcome for people. Another thing with calligraphy is that you can write the same piece hundreds of times which means it can be fine tuned over and over. I believe that overlaps with Mickey Mouse's design as he has too has evolved for a hundred years. But by no means have his designs he just spring out of existence immediately. He has undergone trial and error through the times, and always shines bright. It's because of everyone who will see my piece as this exhibition that I've been able to create something I can feel from the heart."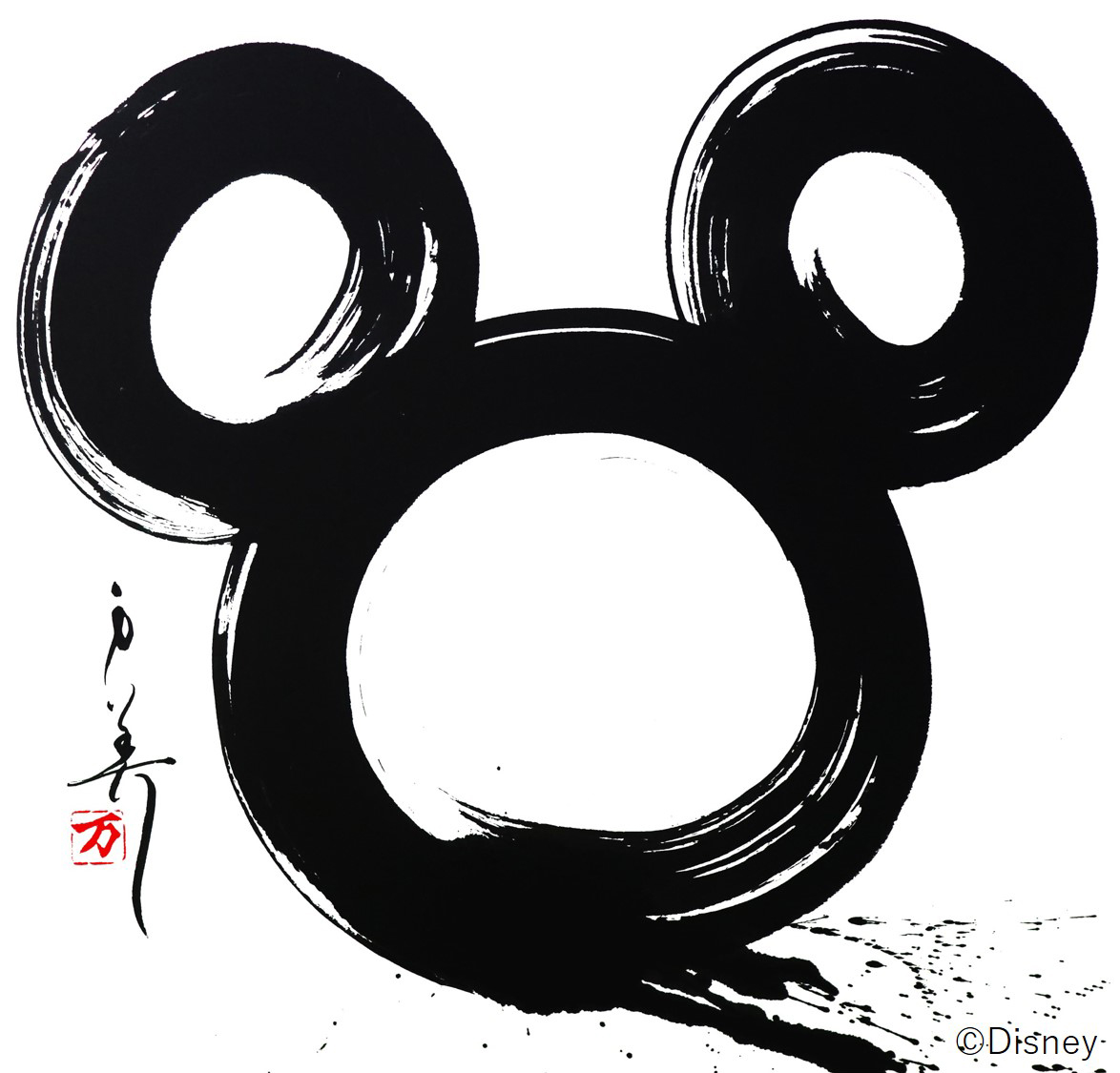 ZEN Mickey, Calligrapher MAMI
WAKU | Comment
"I think the appeal of Mickey Mouse lies in the fact that people around the world all remember him from their childhoods. We form memories during our childhoods, and ever I've been able to recognise those memories inside of me, Mickey Mouse was something that was always close to me. When I see three circles together, Mickey Mouse's face comes into my mind. He might be the first internationally recognisable symbol. I felt that the affinity between symbolism and neon signs is very high. So for my piece, I incorporated the techniques used for traditional Japanese neon signboards, something which I see less of these days. I took that and created the three Mickey Mouse circles using light."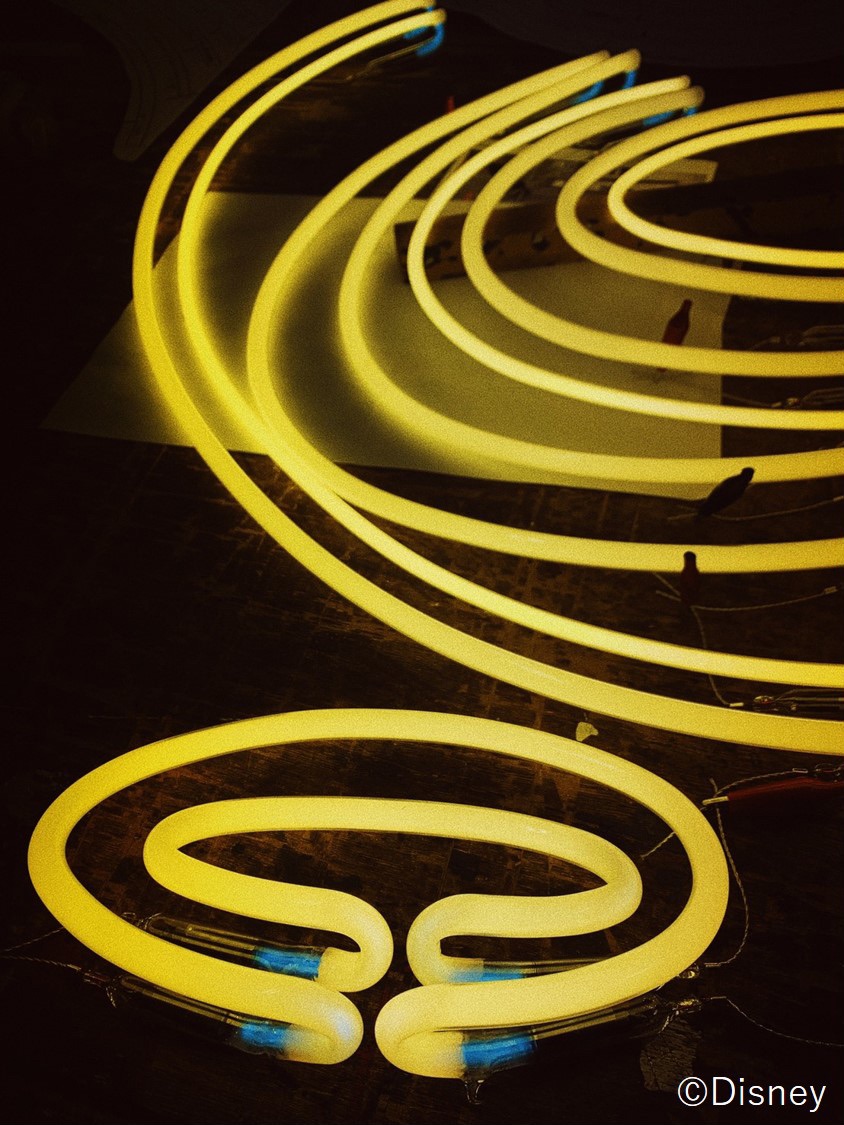 Untitled (Still Being Worked On), WAKU
Information
MICKEY THE TRUE ORIGINAL & BEYOND
Running: October 30, 2020 – January 11, 2021
Time: 10:00-20:00
Venue: MORI ARTS CENTER GALLERY (Roppongi Hills Mori Tower Floor 52F)
Entry Price: General ¥2,800 / Junior & High School Students ¥2,000 / Elementary School Students ¥1,200 / Preschoolers – Free
Official Website: mtob.exhibit.jp
RELATED ENTRIES
Laforet Harajuku Welcomes New Stores For Spring 2021

Starting this month, Laforet Harajuku is readying itself for Spring 2021 with the rollout of items by high-end brands and shops, all with an audience in mind who simply love culture regardless of their age or gender.

4.23 | New Store Opening
《Floor 3.5F》circle in circle

circle in circle welcomes a diverse selection of brands such as l'atelier du savon, CHILD WOMAN, and more. The new store's concept is to act as the perfect place for an appointment with your wardrobe. Every month, the store will collaborate with various different people, and line the shop floor with outfits that will have customers feeling like a kind in a candy store. For its initial opening, circle in circle is collaborating with photographer Kensuke Hosoya.

4.9 | New Store Opening

《Floor 1.5F》LIBERTY TOKYO

"Freedom" is the keyword at LIBERTY TOKYO, where customers are encouraged that it's great to get your hands on the things you want, and great to wear the things you want to wear. The shop stocks a range of apparel and items that combine accessories and fashion. They even sell stickers, merchandise, and more. This custom select shop offers made-to-order products, making each and every one unique and the only one in the world. It also collaborates with artists and other brands.

3.12 | New Store Opening

《Floor 5F》OSEWAYA TOKYO

OSEWAYA TOKYO is an accessory shop offering everything from basics to trends. Their motto is "bring your happiness" which is melded into their range, spanning the latest trends to must-have dailies. They have everything you hope a store specialising in accessories would have.

4.9~6.6 | New Store Opening

《Floor B0.5F》GLAZE KOHL x NUTTY VINTAGE

GLAZE KOHL x NUTTY VINTAGE is a limited-time collaboration shop between chic apparel brand GLAZE KOHL and NUTTY, a vintage shop that first opened in 1995. They line-up features new Spring 2021 items as well as the "GLAZE KOHL add VINTAGE" corner which features a selection of vintage items picked out by designers who themselves are vintage buyers. NUTTY VINTAGE is also offering a huge selection of the best authentic vintage items. Customers can enjoy some little limited-edition gifts when shopping there which are being given out to commemorate the shop's opening.

5.22~6.4 | New Store Opening

《Floor 4F》Mansion Mikura

Mansion Mikura's main store is located at Harajuku Cat Street. This limited-time rendition is a 'mansion' with four tenants – a collection of four second-hand shops including SAUCE which stocks miscellaneous items and second-hand clothes, top ranking vintage name STEP A HEAD, side car charlie which specialises in 'maniac items,' and the long-selling brand vintagesheets.

6.5~7.25 | New Store Opening

《Floor 4F》SAUCE

SAUCE is another vintage store located behind Cat Street. For its limited-time opening, it's selling hats in collaboration with Antage which previously sold out, as well as its own upcycled vintage clothing, as well as vintage clothes, rugs, and more from overseas.

5.22~5.30 | New Store Opening

《Floor 0.5F》vanilla(B0.5F)

vanilla will provide a diverse line-up of unique fashion as well as brands such as att production, room boy pony, phemesaccessories, and more.

5.31~6.6 | New Store Opening

《Floor 0.5F》Ochame Department

At Ochame Department, they believe simply being cute is being, and being the same as others is boring. Their fashion stock and handmade bits and bobs are imbued with the magic to make customers smile.

CLEAN KEEPERS Regular Member Uniforms

CLEAN KEEPERS is a cleaning project that takes place every Saturday at Laforet Harajuku in the hopes of creating a clean town and in turn clean hearts for all. Their uniform worn by regular members has changed into a blouson and one piece produced by ehka sopo on Floor B1F of Laforet. The blouson has a retro feel to it while the one piece has long sleeves and is inspired by 19th century British maids.

CLEAN KEEPERS

Running: Saturdays @ 10:30-12:30 (Booking Required/Cancellation if it rains)毎

Tokyo's Sensorial Experience Cafe INTERSECT BY LEXUS Welcomes The Path of Color Installation

The ground-floor Garage space at INTERSECT BY LEXUS – TOKYO is welcoming the The Path of Color installation in collaboration with the creative unit SPREAD starting on April 28.

Past installation collaborations

Anti-Splash Flag Partitions

After Image installation recreates afterimages seen from the car window

The Path of Color is a kaleidoscopic sensory experience that hangs freely overhead as a 'path' and expresses the energy to make it unto the morrow. This colourful installation features a scarlet net with motifs of life and which is filled with colourful fragments torn by hand. Colours have an influence on the memories and feelings of people, and so by gazing at the rainbow hues of this overhanging fragmented path, visitors' imaginations will be stirred, resulting in recollection and emotional experience. The installation hopes to give people the positivity to make it through to tomorrow during the difficult COVID era.



Each colourful paper fragment was printed using an old-time printer which has created a unique gradation that can only be recreated by such a machine from that time. Together with the relaxing lights of LEXUS, customers are sure to sink into their chairs as they kick back and recall old times. LEXUS is a place that treasures moments of beauty, such as falling cherry blossom petals and the arrival of autumn. This richness will serve as a kick-starter to customers finding their own colourful paths.

SPREAD and INTERSECT have come together on numerous occasions, such as for the bistro/cafe's current flag partitions for creating a safe environment during the pandemic, and for 2019's After-Image installation.

SEGA to Open Love Live! Themed Cafe in Akihabara and Around Japan

GENDA SEGA Entertainment is set to open a themed cafe in collaboration with Love Live! Nijigasaki High School Idol Club on April 29, 2021.

A completely original menu themed on the characters

Fans can tuck into a very special menu inspired by the members of the Nijigasaki High School Idol Club with drinks, desserts, and food. The cafe will run over the course of three periods each of which will also include their own unique menu items.

Drinks | ¥660 Each (Tax Included)

Period ①: Hamburger Plate / Yaki Udon | ¥1,320 Each (Tax Included)

Nikujaga Plate / Clam Chowder | ¥1,320 Each (Tax Included)

Period ②: 1st Year Banana Parfait / 2nd Year Strawberry Parfait / 3rd Year Grape Parfait | ¥1,100 Each (Tax Included)

Period ③ menu exclusives to be revealed

Get some freebies simply by ordering

Period ①: Drinks Coaster / Food Coaster / Parfait Costers

Period ②: Drinks Coaster / Food Coaster / Parfait Costers

Period ③ exclusive freebies to be revealed

Character birthday cards

Kanon Shibuya – May 1, 2021 / Sarah Kazuno – May 4, 2021

Ai Miyashita – May 30, 2021 / Nozomi Tojo – June 9, 2021

Mari Ohara – June 13, 2021

Merchandise to add to your collection

Releasing: April 29, 2021

Acrylic Stands | ¥1,320 Each (Tax Included)

Art Panels | ¥660 Each (Tax Included)

Releasing: May 15, 2021

Chibi Key Rings | ¥770 Each (Tax Included)

Bonus merch for every ¥2,000 spent

Bromides | Available April 29, 2021 – May 14, 2021

Bromides | Available May 15, 2021 – May 28, 2021

©2013 プロジェクトラブライブ! ©2017 プロジェクトラブライブ!サンシャイン!!
©2020 プロジェクトラブライブ!虹ヶ咲学園スクールアイドル同好会 
©2021 プロジェクトラブライブ!スーパースター!!
©GENDA SEGA Entertainment Inc.

Information

SEGA x Love Live! Nijigasaki High School Idol Club Collaboration Cafe
Running: April 29, 2021 – June 13, 2021

Where: SEGA Collaboration Cafe Akihabara 3 (SEGA Akihabara 3 Floor 7F) / SEGA Collaboration Cafe Stand / SEGA Akihabara 4 / Nanbasennichimae / Sendai / Okayama / Fukuoka Tenjin / Sasashima
 

Schedule

Period ①: April 29, 2021 – May 14, 2021

Period ②: May 15, 2021 – May 28, 2021

Period ③: May 29, 2021 – June 13, 2021

Cafe Details: https://sega-collabocafe.com/top/nijigasaki03.html

Love Live! Official Website: https://www.lovelive-anime.jp/nijigasaki/

Enjoy a Healthy Junk Food Menu at Shibuya LOFT's New Cafe 2foods

Shibuya LOFT opened its new '2foods' cafe on April 15 which serves junk food healthily.

2foods uses absolutely no eggs or milk in their menu – everything is plant based and healthy, making it a haven for vegan foodies, especially in Japan where there aren't as many vegan places as other countries. What's better is that everything's reasonably priced too. There are around 60 menu items to choose from, like curry and soba as well as desserts, organic coffees and lattes, cold pressed juice, and more.

Artist's rendition of the cafe

Curry | ¥1,023 (Tax Included)

A hearty and spicy curry served with brown rice which is better for digestion.

Tantanmen Ramen | ¥968 (Tax Included) | Shibuya LOFT exclusive

A ramen soup with 100% gluten free rice flour noodles, soy milk, sesame seeds, peanuts, soy meat, and other healthy and natural ingredients.

Egg Doughnut Sandwich | ¥528 (Tax Included)

A vegan egg sandwich that doesn't use eggs but tastes just like them.

Gateau Chocolate | ¥528 (Tax Included)

A rich chocolate gateau made with brown rice powder and soy cream.

Information

2foods Shibuya LOFT

Opened: April 15, 2021

Address: Shibuya LOFT (Floor 2F), 21-1 Udagawacho, Shibuya, Tokyo
Opening Hours: 11:00-20:00 
TEL: 03-6416-4025 

Official Website: https://www.loft.co.jp/

Music-Eating Space Hamsters BLUE HAMHAM Get Pop-Up Store in Tokyo and Osaka

CHOCOLATE Inc. is set to open the BLUE HAMHAM POP UP STORE at Shibuya PARCO in Tokyo on May 14 and Shinsaibashi PARCO in Osaka on June 4. The pop-up shops are centred on Arimura Taishi's characters BLUE HAMHAM.

BLUE HAMHAM are four music-eating space hamster brothers from a planet called 'Proxima b.' Their animations on Twitter, TikTok, and other social media platforms have garnered over 300 million views worldwide. In 2020, they began collaborating with overseas artists. Their musical animations have garnered popularity across the globe.

At the pop-up shop, fans can get their hands on over 30 new BLUE HAMHAM items. This also marks the brothers' first pop-up shop in Osaka. From exclusives to free novelties, there's plenty to enjoy.

At the store, fans will also be greeted by four 1-meter tall BLUE HAMHAM statues, the only ones in the world. There will be a display showing their animations, a chance to learn about the characters, and more.

©CHOCOLATE Inc.

Information

BLUE HAMHAM POP UP STORE

Tokyo Store: Shibuya PARCO B1F GALLERY X

Address: 15-1 Udagawacho, Shibuya, Tokyo

Running: May 14, 2021 – May 30, 2021

Osaka Shinsaibashi PARCO 10F EVENT SPACE

Address: 1-8-3 Shinsaibashisuji, Chuo-ku, Osaka-shi, Osaka

Running: June 4, 2021 – June 21, 2021

Special Page: https://art.parco.jp/shinsaibashi/detail/?id=656

Stay in Harajuku's New Hotel Produced by Rolling Roster of Artists

India-ink painter CHiNPAN is collaborating with Rokuyon, who is known for helping to create a range of unique accommodations such as MOSHI MOSHI ROOMS, to launch a new kind of hotel experience in Harajuku beginning on April 23, 2021.

The project's name is Harajuku Yofukashi Art Exhibition, with yofukashi being Japanese for 'staying up late.' It will invite a new artist or creator on board every one or two months as an opportunity for them to showcase their works.

One of the art pieces

Wall art

Works displayed in the living space

The bedroom with art pieces against the walls and on the ceiling

Private area

MOSHI MOSHI ROOMS Series

MOSHI MOSHI ROOMS is our own hotel site located in the heart of Harajuku's tourism: it is within walking distance of Takeshita-dori (Takeshita Street), Meiji-dori, the Ura-Harajuku area, and Omotesando. This makes it the ideal place to stay for travellers visiting Harajuku.

SAKURA | More details here

ORIGAMI | More details here

DOSUKOI | More details here

With art events and exhibitions cancelled or severely restricted due to the pandemic, this project serves as a get promotional opportunity for artists to display their works and for art lovers to appreciate them. It aims to grow and become a new way to enjoy art.

Information

Harajuku Yorufukashi Art Exhibition

Japanese Name: 原宿夜ふかしアート展

Start Date: April 23, 2021

Where: Yados Jingumae (Formerly Wind Jingumae)

Address: 2-26-10 Jingumae, Shibuya, Tokyo

Official Website: https://www.chillnn.com/1773daedf52237 

Chibi Maruko-chan x Coji-Coji Pop-Up Shop to Open in Tokyo and Hyogo

Nippon Animation has announced the Maruko & Coji-Coji Fest, two pop-up shops that will open at Kita-Senju Marui in Tokyo and Kobe Harborland umie in Hyogo on April 20 and 29 respectively.

Inside the Kita-Senju Marui store

New merchandise

Acrylic Key Rings | ¥880 Each (Tax Included)

Sticker | ¥385 (Tax Included)

Postcard | ¥275 (Tax Included)

Mugs | ¥2,200 Each (Tax Included)

Bonus Item: Wrapping paper bag

The Maruko & Coji-Coji Happy Fest welcomes an all new series of original artwork themed around snacks and sweets. Fans will be able to enjoy pre-sales of new merchandise, and all who spend over ¥2,000 (tax included) will be given a free wrapping paper bag.

Information

Maruko & Coji-Coji Happy Fest

Tokyo
Running: April 20, 2021 – May 6, 2021

Where: Kita-Senju Marui Floor 2F

Opening Hours: 10:00-20:00

TEL: 03-6876-8600


Hyogo
Running: April 29, 2021 – July 18, 2021

Where: Kobe Mosaic Floor 2F

Opening Hours: 11:00-19:00

TEL: 078-381-5125

Official Website: https://www.nippon-animation.co.jp/

Netflix's Devilman Anime Series Gets Online Virtual Reality Exhibition

An exhibition centred on the Devilman manga series by Go Nagai, the 1972 Devilman anime adaptation, and Netflix's 2018 DEVILMAN crybaby anime adaptation, is set to take place on the online exhibition platform Virtual Utopia from April 28 to May 31.

What to look forward to

*Visuals are of an exhibition still in development

*Visuals are of an exhibition still in development

A devilish experience split into 11 areas

Devilman has been entertaining readers and anime-lovers for almost half a decade. The exhibition will depict the comparisons between humans and demons of the series in 11 different areas, each recreating scenes that are sure to be instantly-recognisable to fans.

Main Area: Heart of a Demon / Heart of a Human

The main portion of the exhibition is split into four areas which fans will find themselves going back to numerous times, and in different orders, giving each visitor their own unique perspectives and interpretations. There's also a hidden area which can only be accessed by those who have seen the 'special exhibit.' There's also a free-to-enter area with messages from the creators.

Go deeper into the VR Devilman Exhibition with the voice guide
Forget your usual guides, this exhibition incorporates voiceover guides to walk people through the exhibition. For an extra fee, fans can have Megumi Han, who plays Miki Makimura in DEVILMAN crybaby, and Tomokazu Seki, who for this exhibition is playing Psycho Jenny, guide them through the different areas.

*Visuals are of an exhibition still in development

Users can download the Virtual Utopia app for free, and the exhibition can be attended even without a VR headset. There will also be talks by the author and other notable people in the industry which can be watched live on YouTube, so anyone can get involved.

Ground Y T-Shirt Collaboration

The exhibition is also collaborating with Yohji Yamamoto's fashion brand Ground Y on six original tees.

 ©永井豪/ダイナミック企画
TVアニメ版「デビルマン」©ダイナミック企画・東映アニメ―ション
DEVILMAN crybaby        ©Go Nagai-Devilman Crybaby Project
©VRデビルマン展実行委員会

Love Live! Super Star!! Official Shop to Open in Harajuku

Anime product and merchandise chain Gamers is set to open an official shop in collaboration with the upcoming anime series Love Live! Super Star!! on May 30.

Pre-Sale Merch

Full-Colour Pass Cases | ¥1,430 (Tax Included)

Luggage Tags | ¥1,320 Each (Tax Included)

Rubber Key Rings | ¥660 Each (Tax Included)

Korokotto Love Live! Super Star!! | ¥990 Each (Tax Included)

Love Live! Super Star!! comes as the latest entry to the Love Live! anime franchise and will begin airing this July. The story follows five girls who aim to become school idols. Fans of the series won't want to miss out on a chance to visit the shop if they're in Tokyo this spring as they get their hands on a selection of exclusive merchandise, pre-sales, and more.

(C)2021 プロジェクトラブライブ!スーパースター!!

Information

Love Live! Super Star!! Official Shop
Location: Harajuku Gamers

Address: 6-16-2 Jingumae, Shibuya-ku, Tokyo, 150-0001
Opening Hours: 12:00-19:00

Official Website: https://www.gamers.co.jp/

Gintama @ Dash Store to Open in Ikebukuro and Osaka This April

The Gintama @ Dash Store pop-up shop is returning to Ikebukuro P'PARCO and Animate Osaka Nipponbashi where fans can get their hands on lots of merchandise of Hideaki Sorachi's manga series Gintama.

Gintama's characters wear blue for the store

Dash Store will sell a range of exclusive items as well as offer pre-sales on upcoming merchandise. The illustration pictured above of the characters in blue hoodies was also drawn exclusively for the store and will feature on a range of items.

For every ¥2,000 (tax included) spent by fans at the store they will receive one of nine possible bromide pictures. And for an extra ¥500, those who buy one or more items can get a special tote bag too.

A look at some of the merch line-up

Acrylic Stands | ¥1,650 Each (Tax Included)

Folders | ¥440 Each (Tax Included)

Acrylic Key Rings | ¥715 Each (Tax Included)

Hoodies | ¥5,500 Each (Tax Included)

©空知英秋/集英社・テレビ東京・電通・BNP・アニプレックス

HOSHINOYA Tokyo Recreates an Edo Period Festival For Summer 2021

This summer, the Japanese ryokan inn HOSHINOYA Tokyo is once again hosting its "Tokyo Midsummer Night's Banquet" event which brings Edo period culture to the modern day in the form of a traditional festival with entertainment and food.

Tokyo Midsummer Night's Banquet: 4 Things to Enjoy

1. The new HOSHINOYA Tokyo Sake Bar

For a limited time only, the new HOSHINOYA Tokyo Sake Bar is opening on the first floor of the inn which will serve an izakaya-style experience to guests who can expect to enjoy Japanese sake together with various otsumami foods to enjoy with alcohol provided by restaurants nearby in Kanda, Nihonbashi, and Ningyocho. There will be old-timey noren entry curtains, lanterns, and other little decorations to give it that Japanese summer festival vibe. Staff will also be clad in traditional happi coats.

2. HOSHINOYA Ennichi

At the inn lobby and entrance, guests will be welcomed straight into the heart of the summer festival experience coupled with Edo culture. When evening settles in, the calm atmosphere will be transformed with the sound of lively music reminiscent of a Japanese matsuri orchestra. Guests can enjoy a range of activities from Edo times, such as 'fishing' for a flower as pictured above.


Location: HOSHINOYA Tokyo lobby and plaza

Times: 17:00-21:00

Price: Free

3. A very special menu for guests staying at the inn

Enjoy a range of Edo period foods like conger eel, refreshing cold sea bream chazuke perfect for the summer weather, and more. Food is served in guest rooms so they can enjoy a private dining experience.

Location: Guest Rooms

Times: 17:00-21:00

 4. Rental yukata service for that real Japanese summer vibe

Use the inn's rental kimono service to pick out a summery yukata and obi sash to look beautiful and get into Japanese summer festival mode. Guests can walk in and around the inn as well as around the local district of Otemachi.

Time: 10:00-18:00
Price: ¥5,000 per person

Bookings: Mandatory
Book Here: https://hoshinoya.com/tokyo/

Information

Tokyo Midsummer Night's Banquet

Running: July 1, 2021 – August 31, 2021

Where: HOSHINOYA Tokyo

Conditions: Guests only

Official Website/Yukata Rentals: https://hoshinoya.com/tokyo/

Stylish Bags and Sneakers Arrive at Camper's Pop-Up Shop in Isetan Shinjuku

Shoe, boots, and sneaker brand Camper opened a pop-up shop at Isetan Shinjuku on Wednesday which is set to run until April 27. The shop is a collaboration with Japanese textile designer Masaru Suzuki who has provided his iconic designs to a collection of bags and sneakers that you can get your hands on. The shop also has a display designed by Suzuki.

Pop-Up Store Line-Up

HOP STEP LIFE | ¥19,800 (Tax Included)

ANIMAL BISCUIT | ¥22,000 (Tax Included)

CHARM POINT | ¥5,500 (Tax Included)

TWINS by MASARU SUZUKI (Women's) | ¥25,300 (Tax Included)

TWINS by MASARU SUZUKI (Men's) | ¥25,300 (Tax Included)

TWINS by MASARU SUZUKI (Kid's) | From ¥12,100 (Tax Included)

Men's Building – "CAMALEON 1975" Pop-Up Store

Men's Building Pop-Up Store Original Novelty

This marks Camper's third long-awaited collaboration with Masaru Suzuki and the first in four years, and this time the series adds shoes to the mix in addition to the popular bags. Suzuki visited Camper's main office in Majorca, Spain, for detailed discussions on the designs.

Suzuki is set to attend the pop-up event on April 17. Customers who spend over ¥5,500 (tax included) on this day will receive a fabric swatch signed by Suzuki. Additionally, the men's building of Isetan Shinjuku is also opening its CAMALEON 1975 pop-up shop once again selling shoes made from recycled materials from Camper. Those who spend over ¥14,300 (tax included) at this shop will receive a free eco-friendly bag made from 100% recycled nylon.

Information

ISETAN x CAMPER Pop-Up Store

Running: April 14, 2021 – April 27, 2021

Where: Isetan Shinjuku

ISETAN x CAMPTER/Masaru Suzuku: Main Building Floors 1F & 2F

CAMALEON 1975: Men's Building Floor B1F
Opening Hours: 10:00-20:00

Official Website: https://www.camper.com/