Osamu Tezuka's 'Phoenix' Original Anime Production and Projection Mapping Showcased at Dogo Onsen
Dogo Onsen, a hot spring located in the city of Matsuyama in Ehime Prefecture, is currently undergoing maintenance work but is still open for business, with customers enjoying their dip in the onsen as usual. While this work is being carried out, the facility has launched the Dogo REBORN Project. As part of the project, Dogo Onsen is collaborating with Osamu Tezuka's manga series Phoenix which includes the creation of an original anime by Tezuka Production along with a projection mapping show in the evenings.
The first episode of the original anime production was posted in May 2019 and the second in February of this year. Earlier this month, on October 1, subtitles in English, Korean, and Traditional/Simplified Chinese were posted on both episodes. The third episode will be shown at Dogo Onsen.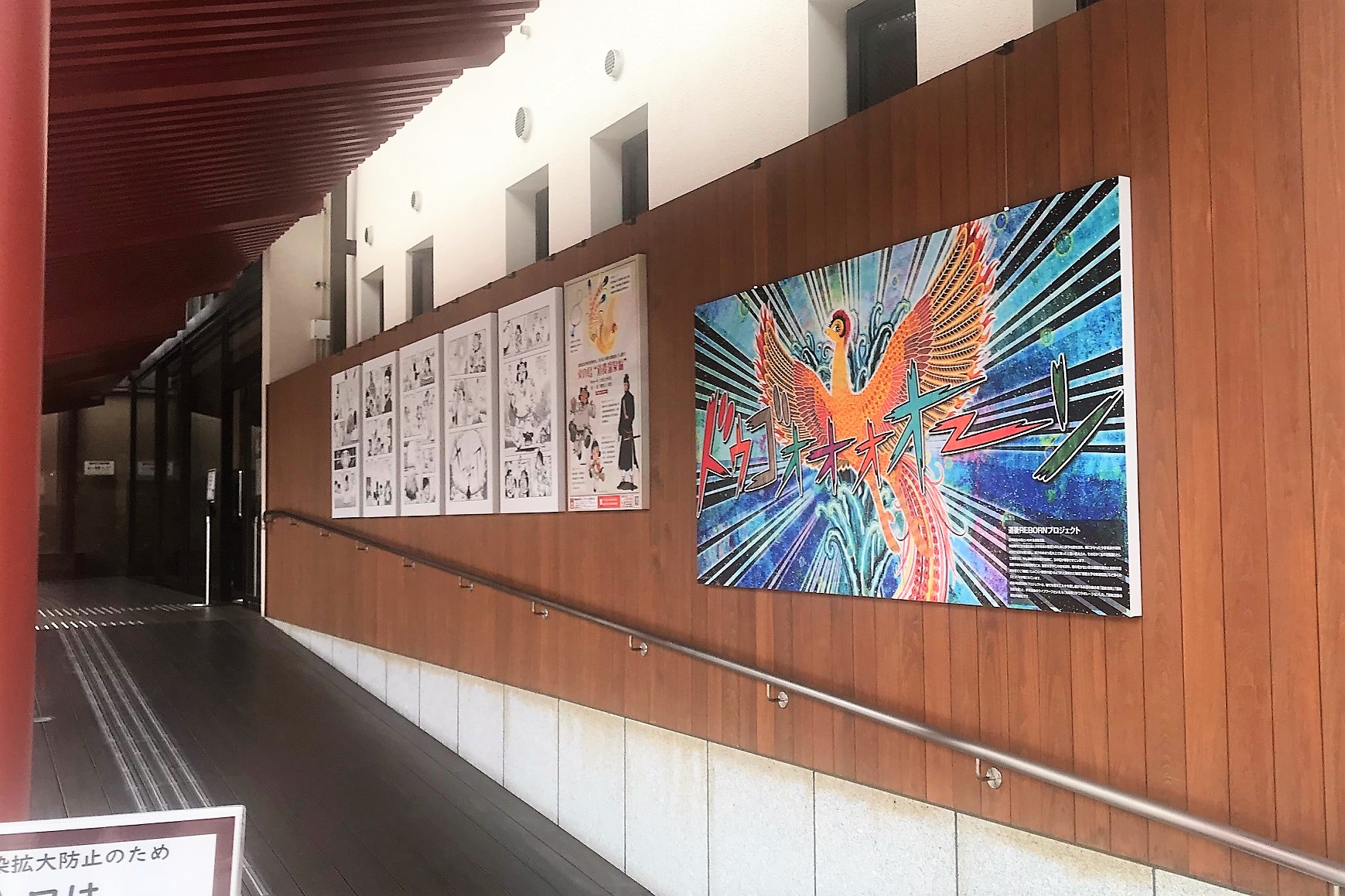 Dogo Onsen launched the "Dogo Reborn 2020 Campaign" on August 7 as a way to show gratitude to frontline medical workers, which included putting up a special art piece called Blue Phoenix along with over pieces of wall art with messages on them.
The Dogo REBORN Project has much more planned going into the future.
©手塚プロダクション/松山市 2020
©TEZUKA PRODUCTIONS
RELATED ENTRIES
Yunohana Onsen Resort Reveals Contemporary Art-Inspired Guest Rooms

Sumiya Kihoan, a cozy inn at Yunohana Onsen in Kameoka City in Kyoto, opened a unique new guest room on April 28, 2022. The room's concept is "where guests can stay in the middle of contemporary art," and was inspired by the works of internationally-acclaimed contemporary artist Yukinori Yanagi. The new room, created as part of the Art Room Project, has been named 'Kofuu.'

The Icarus Corridor Connecting Heaven and Earth

Heavenly Bath Welcoming a Rainbow at Dusk

In-Ground Bath Featuring Oribe Glazed Ceramic

Concept Drawing of the Art Room Project by Yukinori Yanagi


The new room includes an open-air bath where guests can be transported into the world of Yanagi's contemporary art while gazing at the gorgeous Kyoto landscape. Upon entering the inn, guests are greeted by a long corridor leading to the bedrooms, dining room, and two creative open-air baths. The space was created in collaboration with Yanagi and local artists and craftsmen, such as potter Ishii Naoto, obi craftsman Yamaguchi Genbei X, plasterer Kusumi Akira, and Japanese paper craftsman Hatano Wakaru. A delicious menu is prepared by chef Hosoi Kunihiko.

The Ryokan Tokyo Yugawara Opens in Kanagawa Prefecture, Features Hot Spring Bath Cafe

The Ryokan Tokyo Yugawara, a traditional-style Japanese inn and hot spring located in Kanagawa Prefecture, will open on March 18, 2022. The hot springs in the area have a storied history, appearing in the oldest collection of Japanese poems from the year 759 AD and loved by great writers such as Natsume Souseki and Ryunosuke Akutagawa. There is also a cafe inviting visitors to enjoy delicious meals as they relax in the springs.

Onsen Dojo operates and plans hot spring facilities, including the 'Ofuro Cafe' brand, resort facilities, and more. The company also provides support for local business investments. 

Wakura Onsen in Ishikawa Prefecture to Hold Special Illumination, Luxurious Tea Time

The Wakura Onsen Tourist Association is sponsoring a new project to illuminate Seirinji Temple, a nationally registered cultural property. Along with this light show, guests can enjoy a luxurious tea time starting on January 8, 2022. This year, the pavilion and garden will be lit up again, and the entrance will be decorated with traditional local paper lanterns. 

The historic property was built in 1909 as a resting place for Emperor Taisho. Only two such buildings exist in Japan: one in Hamada City, Shimane Prefecture, and the other at Wakura Onsen. Both were registered as Tangible Cultural Properties of Japan in 2017. 

 

Last year, the area was photographed for posters and pamphlets as part of the 'Japanese Beauty Hokuriku' campaign organized by JR East, JR West, and the Central JR Railway.

Each Saturday evening through February 26, guests will be invited to enjoy a different kind of atmosphere while enjoying a very fancy tea time. The program has been very well received by visitors, so it shouldn't be missed!


The light-up of the temple and garden, with its slowly changing colors, will transport guests to another world. The entrance to Seirinji Temple will be redecorated and lit up, and a pathway of lights will be created from the gate to the entrance of the pavilion using paper lanterns.

Information

Seirinji Temple Illuminations & Luxury Tea Time

Running: Saturdays from January 8 – February 26, 2022 

First Seating: 17:00  

Second Seating: 18:00

Address: Seirinji Temple, Wakura Onsen (61 Wakuramachi, Nanao, Ishikawa)

*Available for guests of Wakura Onsen

Official Site: https://www.wakura.or.jp

Tezuka Productions Starts First Official NFT Project "From the Fragments of Tezuka Osamu"

Tezuka Productions has officially started an auction for the company's first NFT project starting on December 1, 2021. These will feature the beloved character Astro Boy, an intrinsic part of Japanese popular culture. 

Manga is a huge part of Japanese pop culture and has impacted people and industries around the world. Osamu Tezuka laid the foundation for the medium's popularity, and is still called "the Godfather of Manga." He studied medicine at Osaka University in his early years but soon decided to become a manga creator, making his debut in 1946. His works had a major impact in postwar Japan, appealing to readers of all ages with easy-to-read dialogue and many themes that spoke to the people, including dignity, the destruction of nature, and the harm of war. In his lifetime, he drew over 150,000 manuscripts and worked on over 700 titles. 

This new NFT project features many of Tezuka's beloved works and will be offered in two forms: Mosaic Art NFTs and Generative Art NFTs. While Astro Boy takes center stage for now, Black Jack and Phoenix will be coming soon. 

In his later years, Tezuka wrote for boys' magazines creating beloved children's stories. It's hard to imagine how the author would have handled the current pandemic sweeping the globe. Certainly, he would have tried to help cheer up the children of the world, and with this in mind, Tezuka Productions will donate 20% of each NFT sold to donate to UNICEF and other organizations benefiting children in Japan.

840 colorful original Tezuka works are available, with the original texture of these creations kept intact. Osamu Tezuka left behind a massive number of manuscripts, with 95% of them being in black and white. Many of these images are very rare and have never been included in any books or magazines. How would you like to own one of these one-of-a-kind tokens?

© 2021 Tezuka Productions, All Rights Reserved.
Produced by double jump.tokyo Inc.

Socially Distanced NAKED Night Walk Art Project to Open in Kaga, Ishikawa

The COVID-19 pandemic has impacted how many people live their lives, with fewer and fewer people venturing outdoors. Now, Japanese creative company NAKED has announced a Night Walk at the picturesque Katayamazu Hot Springs in Kaga, Ishikawa. While practicing social distancing, visitors can explore an illuminated wonderland from December 17, 2021, until January 16, 2022. 

Lights of the Dragon God: Ukimidou

Sunny Spot Baths: Katayamazu Hot Springs Sunahase Park, Aiai Plaza

NAKED Distanced Lanterns: Katayamazu Hot Springs Sunahase Park, Aiai Plaza

NAKED Flower Cleansing: Katayamazu Hot Springs Sunahase Park, Aiai Plaza

The Halo of Life: Aizenji Temple

Crystal-Dyed Paper Lanterns: Aizenji Temple

Guests will be invited to explore the grounds while carrying a NAKED Distanced Lantern–both an art piece, and a way to illuminate your steps. With safety in mind, there will be plenty of space between visitors, so people can enjoy the event with peace of mind. 

The location for the event, Katayamazu Onsen, was recently a runner-up in the Onsen General Election 2018 spectacular scenery category. Surrounded by crystal blue waters and with a beautiful view of Mt. Haku, the location will have guests feeling completely calm by the time their visit comes to an end. 

Information

NAKED Night Walk -Katayamazu Hot Springs-

Running: December 17, 2021 – January 16, 2022

Hours: 17:00-22:00

Address: Katayamazu Hot Springs (Sunahase Park, Aiai Plaza, Yonomoto Park, Aizenji Temple)

Admission: Free

Official Site: https://yoru-sanpo.naked.works/katayamazu/

Gorgeous Project Mapping Event Coming to Yamashiro Onsen in Kaga, Ishikawa

DMM.com will sponsor a projection mapping project titled Yamashiro Night Promenade Fall 2021 on Yamashiro Onsen Street in Kaga, Ishikawa prefecture from October 30 until November 28, 2021. 

The limited-time project is being organized by the Yamashiro Onsen Tourist Association with support from DMM. Under the themes of harmony and local tradition, brilliant images of flowers, water, and geometric patterns will illuminate the hot spring resort while accompanied by music. There will also be traditional Taiko performances during the event. 

Information

Yamashiro Night Promenade Fall 2021

Running: October 30 – November 28, 2021

Hours: 20:20-21:20 (Canceled for rain) 

Address: Yamashiro Onsen Street in front of Hatori Ryokan (17 Onsen-dori, Yamashiro Onsen, Kaga City, Ishikawa) 

Official Site: https://sousei.dmm.com/

Solo One-Day Hot Spring Plan Offers Complete Relaxation and Rejuvenation in Karuizawa

Karuizawa Hoshino Area, a place known for bringing nature and culture lovers together, will be offering a new one-day hot spring spa plan from November 4, 2021, until March 19, 2022. This is the perfect way to unwind from the stresses of the past year while getting away from crowds and responsibilities. Because it's only one day, it's perfect for those who can't take a long vacation, but who are still desperate for some relaxation! The package will include access to hot spring baths, body care, a choice of lunch and drinks, and plenty of skincare amenities.

Tonbo-no-Yu Hot Spring, open since the Taisho era, will serve as the main location for the getaway. The springs themselves are bicarbonate and chloride springs with soft and thick waters in which to achieve the perfect soak and detox. Getting out of the water will leave a veil of salt on your skin, moisturizing it and cleansing every inch of your body. The open-air bath is surrounded by trees, while the indoor baths offer excellent views through oversized windows. 

Five Luxuries to Enjoy on the One-Day Getaway

[Power Up] Proper Bathing Instructions for the Best Hot Springs Experience

For those looking to maximize their hot spring experience, a comprehensive bathing guide will be provided to all guests, including breathing exercises and techniques for a great facial massage. The plan includes rental towers, and guests can feel free to enter the springs as many times as they like. At the reception desk, guests will also be given a bottle of Apple Vinegar Water to help them stay properly hydrated while soaking. 

[New] Gentle Skin Care while Relaxing in the Spring

Those participating in the one-day plan will be given OSAJI amenities to use during their stay. The brand is made up of safe and organic products approved by dermatologists, to be applied before and after bathing. 

[Power Up] Improve Gut Health with Healthy Beverages

When guests get out of the bath, a warm brown rice amazake will be waiting, shown to improve the intestinal environment and boost natural immunity. By using brown rice, the drink contains larger amounts of Vitamin E and dietary fiber than traditional amazake. This tasty drink will be served at Cafe Hungry Spot, adjacent to the springs. 

Relieve Stiff Joints with Attentive Body Care

At Tokoyo, located within the Harunire Terrace in the Karuizawa Hoshino Area, guests will get a 30-minute body care treatment with their choice of foot massage or shoulder and neck massage. Unwind and let go of all of your stress. 

Choose From Six Different Restaurants for Lunch

For lunch, six restaurants in the Hoshino area are at your beck and call, from Japanese cuisine to Italian. There's no need to make reservations in advance; choose what you're craving the day of, and don't stress! 

Information

Solo One-Day Hot Spring Spa Plan

Running: November 4, 2021 – March 19, 2022 (Excluding Dec. 29 – Jan. 3 and Jan. 11 – 20)

Reservations: https://www.hoshino-area.jp (Reservations required by 18:00 the day before) 

Location: Tonbo-no-Yu, Karuizawa, Nagano

CAPCOM vs. Tezuka Osamu CHARACTERS' Exhibition Coming to Ikebukuro PARCO

Originally held as a special exhibition at the Osamu Tezuka Manga Museum in Takurazuka, the CAPCOM vs. Tezuka Osamu CHARACTERS' Exhibition is coming to the Kanto Region for the first time starting October 1. The event will be held on the 7th floor of Ikebukuro PARCO until October 18, 2021.

The collection features characters from Tezuka's many manga works, and pits them against many popular characters from Capcom properties, including Street Fighter, Resident Evil, Monster Hunter, and more. Seeing popular personalities from Astro Boy and Black Jack with these modern video game characters is quite a sight!

This year's event will feature new main event illustrations, new Devil May Cry and Ace Attorney exhibits, and an updated layout.

In addition to the products previously sold in Takarazuka, new merchandise will also be available for purchase at the venue.

©CAPCOMCO.,LTD.ALLRIGHTSRESERVFD.

©TEZUKAPRODUCTIONS

Information

CAPCOM vs. Tezuka Osamu CHARACTERS' (Dash)

Running: October 1 – October 18, 2021 (11:00-20:00)

Where: PARCO FACTORY (Ikebukuro PARCO 7F)

Official Site: https://art.parco.jp/parcomuseum/detail/

Satoyama Jujo THE HOUSE IZUMI: Rent Out a Renovated Japanese House in Niigata

Japanese design company Jiyujin launched its new Satoyama Jujo THE HOUSE chain of accommodations this month which offer a single group of guests a one-night stay in an entire house.

The first branch to open is IZUMI which features a fully-renovated Japanese-style house located in the city of Uonuma in Niigata. A gorgeous outlook is offered from the house with an unbroken view of lush forests, rice fields, and Mt. Makihata, which is listed as one of the '100 Famous Japanese Mountains.'

A breathtaking view awaits guests from the open-air bath

The spacious living room

Fully renovated from a 150-year-old private house, the building is supported by beautiful wooden beams and columns, and in the middle the oe, a sunken hearth. This, along with the beams and sashigamoi joints, are made from keyaki Japanese zelkova which is an elm-like tree. This species of tree is rare even in a tree-covered region such as Uonuma. The lumber used for this house was cut, preserved, and dried out for a number of decades before being processed into building material for the house. The heart in the middle of the living room is reminiscent of a time when large families would gather around one and serves to recreate that lifestyle.

The Nishiyama region is known for is production of delicious rice. IZUMI in fact looks out over Kabanosawa, a special and important place of rice production in Nishiyama. This vantage point also gives guests an opportunity to appreciate the hot and cold temperatures of the daytime and evening, the rivers, the shape of the land, and the earth the city sits on. The drastic change in temperatures in the day and night are especially noteworthy as this, along with the basin between the mountains, gives rise to a sea of clouds.

IZUMI sits on a hill that overlooks the rice paddies, making it a perfect location for spotting the sea of clouds. Minamiuonuma's sea of clouds has over a 70% chances of appearing in the autumn and spring seasons.

The number one reason why Japan's old, long-standing, and precious private houses are demolished is due to the cold getting in and it being too dark inside. Even those who want to see them preserved for tradition, including those who live in them already, would rather live in a modern home. That's why Jiyujin has begun a renovation project instead of a demolition one. By refurbishing the houses, the ancient framework can be fixed up and preserved while a range of contemporary amenities are incorporate to fit with modern lifestyles. The Satoyama Jujo accommodations are built so they can be used for over 100 years.

For dinner, there are three options for guests. The first is a dinner at SANABURI which earned itself a Michelin star in Michelin Guide Niigata 2020. The second is a meal at a restaurant that earned the status of Bib Gourmand in the same guide. The third is to prepare your own meal in the house. There are plenty of shops around the station nearby where you can buy local ingredients.

After a delicious meal, guests can take a soak in the open-air tub and enjoy gazing out across the fields and the beautiful mountains which stand almost 2,000 meters high.

Information

Satoyama Jujo THE HOUSE IZUMI

Japanese Name: 里山十帖 THE HOUSE IZUMI

Address: 671-1, Amanosawa, Minamiuonuma, Niigata, 〒949-6433, Japan

Official Website: Opening early July 2021

Access: 7-minutes by car from Jōetsu International Skiing Ground Station (JR Joetsu Line) / 16-minutes by car from Shiozawa-Ishiuchi IC

KYARY PAMYU PAMYU meets IMABARI: A Visit to the Historical Sea Route

Imabari is a city in Ehime Prefecture that faces the Seto Inland Sea. Since olden times, it has flourished as an important location for marine traffic. It's home to a bounty of recognised national treasures and historical heritage sights, and is also famous for its production of citrus fruits such as mikan. Japanese pop star, model, and icon Kyary Pamyu Pamyu took a trip to this ancient city to discover its wonder and beauty.

A Visit to the Historical Sea Route

Oyamazumi Shrine

A 'power spot' revered by prominent people

Oyamazumi Shrine has been revered by prominent figures throughout history as a place dedicated to the god of the mountain, god of the ocean, and the god of war. It's home to numerous Important Cultural Properties which are available for viewing by the public such as the armour worn by the military commander Minamoto no Yoshitsune when the Minamoto clan won the Genpei War (1180-1185), armour worn by women, and more. The shrine is also a notable power spot for the ancient tree that has stood there for 2,600 years and is now recognised as a natural monument of Japan. Power spots are places in Japan where the spiritually-inclined draw energy from.

Information

Oyamazumi Shrine

Address: 3327 Omishimacho Miyaura, Imabari, Ehime 794-1393, Japan

TEL: 0897-82-0032

Opening Hours: Sunrise to 17:00

National Treasure Building: 8:30-17:00 (Last Entries 16:30)

Official Website: https://oomishimagu.jp/

Kurushima Kaikyo Service Area

Lip-smacking food aplenty

If you're one for great views, then the Kurushima Kaikyo service area is a must-visit, offering a panoramic look at the Kurushima Strait of the Seto Inland Sea. The service area is very well know particularly for the Jaguchi Mikan Juice, something of a city legend in Ehime where you can enjoy fresh mikan juice straight from a tap. You can also tuck a rice bowl dish made with tachiuo hairtail caught in the Seto Inland Sea that's made to look like Kurushima Kaikyō Bridge, or try Imabari's soul food dish: the Imabari Yakibuta Tamago Meshi, a pork, egg, and rice bowl. Don't pass up the chance to snap a photo at the designated photo spot with the Seto Inland Sea in the back either like Kyary above.

Information

Kurushima Kaikyo Service Area

Address: 3-9-68 Ohamacho, Imabari, Ehime, 794-0002, Japan

Food Court: [Weekdays] 8:00-21:00 / [Weekends & Holidays] 7:00-22:00

Shops: [Weekdays] 8:00-21:00 / [Weekends & Holidays] 7:00-22:00

Outside Shopping Area & Cafes: [Weekdays] 9:00-17:00 / [Weekends & Holidays] 9:00-18:00

Official Website: https://www.jb-highway.co.jp/sapa/kurushima.php

Murakami Suigun Museum

Dedicated to the Imabari heroes who protected the ocean




Murakami Suigun Museum is dedicated to kaizoku—pirates, or lords of the sea—something which conjures to mind villainy or bad guys, but the Murakami pirates were also considered heroes who helped maintain order and protect the sea during the Sengoku warring period of Japan. The museum features many displays of Murakami family treasures including the battle surcoat which the pirate leader wore over his armour, proudly bearing the Murakami family crest. Visitors can wear replicas of this coat, which Kyary tired herself: "Now I'm sorta like a military commander too," she said.

Information 

Murakami Suigun Museum

Address: 1285 Miyakubocho Miyakubo, Imabari, Ehime 794-2203, Japan
TEL: 0897-74-1065

Opening Hours: 9:00-17:00

Closed: Mondays (or Tuesday if the Monday falls on a public holiday) / New Year Holidays (Dec 29-Jan 3)

Official Website: https://www.city.imabari.ehime.jp/museum/suigun/

Roadside Station Yoshiumi Iki-iki-kan

A bundle of fun and entertainment in one place

Roll on up to Roadside Station Yoshiumi Iki-iki-kan to enjoy a shichirin BBQ feast with fresh seafood caught in the Seto Inland Sea while gazing out across Kurushima Kaikyo. This building complex serves as a resting spot and is also the perfect place to purchase local souvenirs including Ehime specialty products. It's also famous for its offering the chance to board a boat to ride around Kurushima Kaikyo, renting out bicycles, and more. You'll also be able to meet Koro-chan, a popular fish who has lived there for 30 years.

Information

Roadside Station Yoshiumi Iki-iki-kan

Address: 4520-2 Yoshiumichomyo, Imabari, Ehime 794-2114, Japan

TEL: 0897-84-3710

Opening Hours: 9:00-17:00

Restaurant: 10:00-16:00 (Last Orders 15:00)

Closed: New Year's Day (and certain days in winter)

Official Website: http://www.imabari-shimanami.jp/ikiiki/

Dolphin Farm Shimanami

Meet the cute and friendly dolphins

Dolphin Farm Shimanami, which is connected to Hakata Beach, is the best and biggest place in Japan to interact with dolphins. Visitors can get close to them and the dolphins will show off their tricks and skills. There's even a car camping area you can stay at.

Information

Dolphin Farm Shimanami

Address: 1673 Hakatacho Kanoura, Imabari, Ehime 794-2302, Japan

TEL: 0897-72-8787

Opening Hours: 9:00-17:00

Closed: On days with bad weath

Official Website: https://www.df-shimanami.com/

Hakata Beach

A white sandy beach rolling out 200-meters 

Hakata Beach is located at the base of Oshima Bridge in Hakata. The beach is famous for its salt which is best tried on their popular sweet-tasting sea salt ice cream.

Information

Hakata Beach

Address: 1668-1 Hakatacho Kanoura, Imabari, Ehime 794-2302, Japan

Sea Bathing: Early July – Late August

Official Website: https://www.city.imabari.ehime.jp/kanko/spot/?a=198

Imabari Towels

High quality towels woven with tradition and technique

Imabari is the biggest producer of towels in Japan. Even their white towels alone have countless types you can choose from, allowing you to pick which level of softness and comfort you want. The iconic brand logo is also impactful, capturing the quality, production, and enthusiasm that the makes have for the product. Kyary herself uses them all the time!

Information 

Imabari Towel

Official Website: https://www.imabaritowel.jp/

Sunrise Itoyama

Need a bike?

Sunrise Itoyama, located in the Imabari Central Cycling Terminal, is a rental bicycle service that has bikes and helmets for everyone's needs. Rent out a bike and ride the Shimanami Sea Route which connects Ehime and Hiroshima with a series of bridges that hop across the islands of the Seto Inland Sea.

Information 

Sunrise Itoyama

Address: 2-8-1 Sunabacho, Imabari, Ehime 794-0001, Japan

TEL: 0898-41-3196

Rent-a-Cycle Details: https://www.sunrise-itoyama.jp/archives/rentacycle/

Official Website: https://www.sunrise-itoyama.jp/

Marutomi

The famous restaurant known to every local

If you want the real experience of Imabari's yakitori soul food, you should visit Marutomi, a yakitori eatery. Imabari yakitori is different from the usual Japanese yakitori as it doesn't come skewered. Instead, the chicken is cut into small pieces and fried that way. One of the most popular ways to have it is with the skin on so the outside is crunchy and the inside succulent. It goes perfect with a cup of sake too.

Information 

Marutomi

2-3-6 Katayama, Imabari, Ehime 794-0063, Japan

TEL: 0898-23-2740

Opening Hours: 17:30-22:00

Closed: Wednesdays

Official Website: https://maru-marutomi.jp/

Imabari Castle

A castle by the sea

Imabari Castle, built by the daimyo Tōdō Takatora, is known famously as one of Japan's three "Castles on the Sea" and was also listed in Japan's Top 100 Castles. When it was first constructed, boats could enter the moat from the ocean. It's a site that breathes the prosperity that Imabari has enjoyed as a significant location for maritime traffic, the same Imabari that the Murakami pirates sought to protect. Head on up to the top of the castle to stand on the observation deck and gaze at an unbroken view of the city.

Information

Imabari Castle

Address: 3-1-3 Toricho, Imabari, Ehime, 794-0036, Japan

TEL: 0898-31-9233

Opening Hours: 9:00-17:00

Closed: December 29 – December 31

Official Website: https://www.city.imabari.ehime.jp/museum/imabarijo/

Kirosan Observatory Park

A breathtaking spectacle to remember

Kirosan Observatory Park is officially recognised by Setonaikai National Park. Standing atop the observation deck fills the eyes with wonder as they gaze upon a panoramic stretch of Imabari, the Seto Inland Sea, and Kurushima Kaikyo all at once. Kyary wrapped up her time in Imabari here as the sunset coloured the sky and sea in warm evening hues.

Information 

Kirosan Observatory Park

Address: 487-4 Yoshiumicho Minamiura, Imabari, Ehime 794-2115, Japan

No Fixed Holidays

Open 24-hours a day

Official Website: https://www.city.imabari.ehime.jp/kanko/spot/?a=182

Imabari Tourism Information: https://www.city.imabari.ehime.jp/kanko/

We hope you enjoyed joining Kyary on her adventures across Imabari, and perhaps she even got you a little curious in wanting to visit the city yourself. It's a treasure trove filled with vistas by the sea, in nature, and in the city itself with its Important Cultural Properties. Food is also a big part of travel for many people, so you can rest assured that your belly will be satisfied in Imabari as you try their speciality mikan, fresh seafood fished in the Seto Inland Sea, and more.

Be Surrounded by Glowing Fireflies With Kissho Yamanaka's New Hotel Plan

Kissho Yamanaka, a hot spring hotel in Kaga, Ishikawa, is now offering a firefly-viewing experience as part of a new guest plan until June 15. This gorgeous resort, situated by the Daishoji River in the Kakusenkei Gorges, was awarded three Michelin stars in the Ryokan category of Michelin Guide Hokuriku 2021 Special Issue.

The firefly tour arrives as early summer is soon to begin. As part of the hotel plan, guests can also enjoy a dazzling Firefly Cocktail too.

Feel the rays of early summertime at Kissho Yamanaka.

Information

Firefly & Sunset Hotel Plan

Address: Kissho Yamanaka, 1 Chome-14−3 Yamanakaonsen Higashimachi, Kaga, Ishikawa 922-0114, Japan

Official Website: https://kissho-yamanaka.com/

Bathe With Real Ducks at Tamagawa Onsen in Saitama

As part of their 10th anniversary event, Tamagawa Onsen, a Showa retro-style bathhouse in Saitama, opened their 'Real Duck Baths' on May 29 which lets people bathe with real ducks. The experience is available on weekends and public holidays only.

Forget bathing with bright yellow toy ducks – now you can have the real thing. These ducks were hatched and raise from ducklings by the bathhouse manager Arai at their home. The ducks are still small so the hours when they will be out are not set in stone, but the bathhouse hopes that guests will watch their and support their growth as they mature over time.

Information

Real Duck Bath
Running: Weekends and public holidays from May 29, 2021

*Subject to cancellation on any day depending on the condition of the ducks
Where: Tamagawa Onsen

Address: 3700 Tamagawa, Tokigawa, Hiki District, Saitama 355-0342, Japan
TEL: 0493-65-4977
Official Website: https://tamagawa-onsen.com/