Fujikawaguchiko Autumn Leaves Festival 2020 Begins This November
The Fujikawaguchiko Tourism Association will host this year's Fujikawaguchiko Autumn Leaves Festival, which will be the 22nd run, to help support the tourism industry in the northern region of Fuji which has seen a great impact as a result of the COVID-19 pandemic.
With much less people travelling to Japan during the pandemic, and the virus having continued for a long time, the Fujikawaguchiko Tourism Association is instead focusing on travellers within the country by hosting various events that can be enjoyed at Fujikawaguchiko.
All the necessary precautions will be taken at this year's festival, including taking people's temperature upon arrival, the mandatory wearing of face masks, alcohol gel being available at the site, and more. This will protects not only the locals but sightseers too, and so cooperation is being asked of everyone visiting.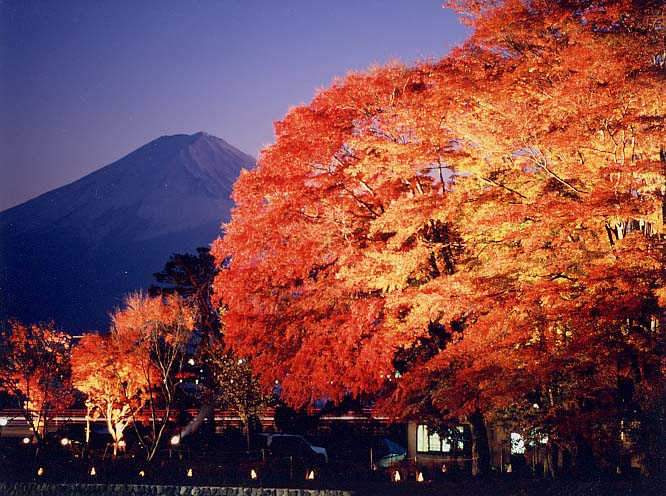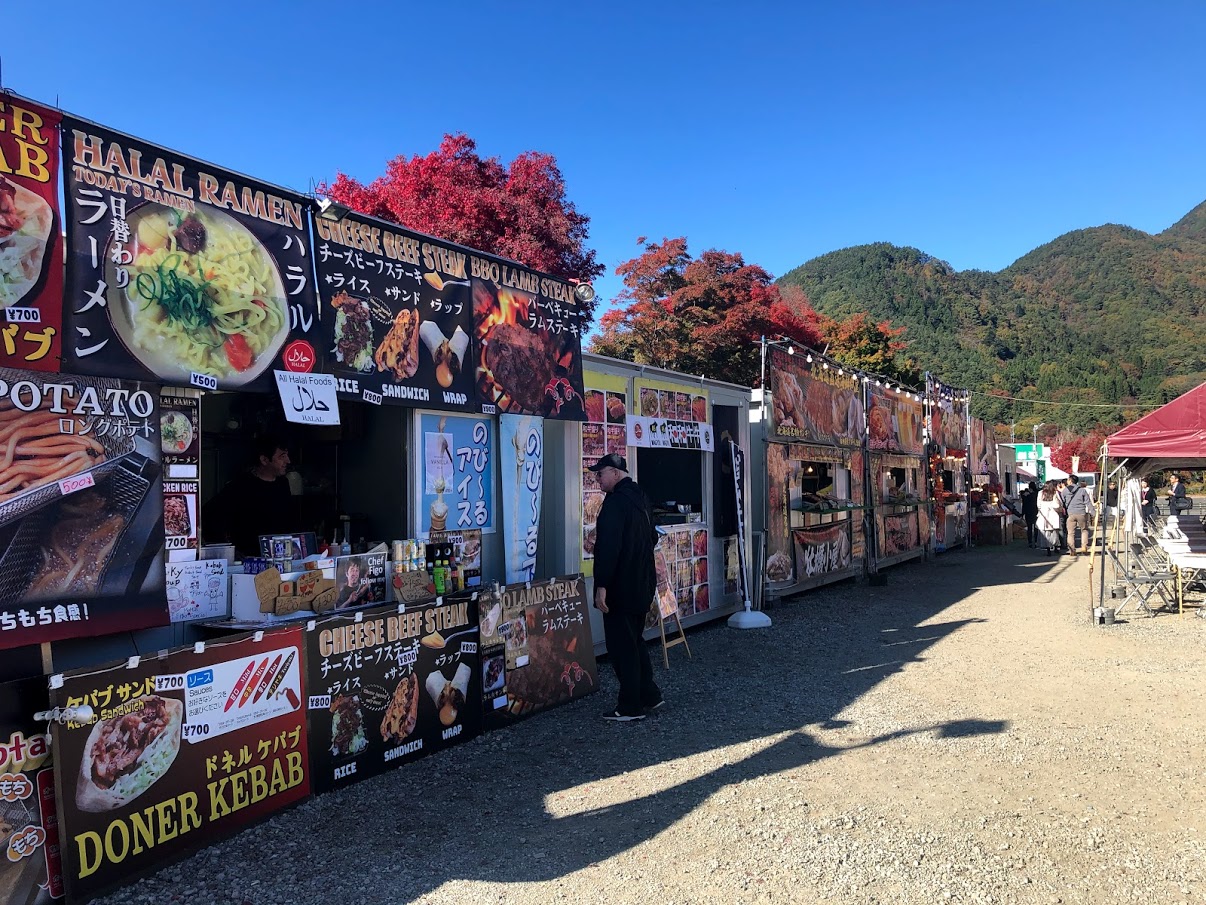 At this year's festival, visitors can look forward to the popular Momiji Tunnel of maple trees which will be lit up at sunset until 10:00pm. The beautiful autumn colours can be enjoyed with Mount Fuji in the background. There will also be food, souvenirs, and a variety of activities to be enjoyed.
The Momiji Tunnel is an absolute must-see for anyone visiting Yamanashi during autumn and is nothing less than Instagram-worthy.
Information
22nd Fujikawaguchiko Autumn Leaves Festival
Location: Around Lake Kawaguchi
Running: November 7, 2020 – November 29, 2020
Opening Hours: 9:00-19:00 (Light up is from sunset to 22:00)
Access: 25 mins from Kawaguchiko Station by bus (nearest bus stop: Itchiku Kubota Art Museum Stop)
Entry: Free
*Please observe social distancing and government guidelines in relation to COVID-19.
*Fujikawaguchiko is a World Heritage Site and recognised as a place of natural beauty. Please take your trash home with you.
RELATED ENTRIES
Kurobe Gorge Trekking Tour Offers Breathtaking Two-Day Trolley Journey

The Kurobe Gorge Trolley in Toyama will offer a special two-day journey through the fall foliage on October 29 and November 1, 2021. 

Atobiki Bridge

Okukane Bridge

Promenade

Babadani Jigoku

On the day of the tour, guests will enjoy a leisurely journey through nature as a Kurobe Gorge tour guide explains the features of the surrounding environment. 

Outdoor Music and Craft Festival Creema YAMABIKO FES 2021 Announces Second Round of Artists

Creema YAMABIKO FES 2021 has announced the second round of participating musical acts! The event features live performances on an impressive outdoor stage with Mt. Fuji in the background, along with a number of craft markets, workshops, and a two-day 'sauna village,' where guests can enjoy outdoor saunas while sampling some fantastic local fare. 

Twelve live performances are scheduled during the event, with the full timetable scheduled to release in late October. The second announcement lists Hanaregumi, DENIMS, YONA YONA WEEKENDERS, Strange Reitaro, island echo, and Super VHS as participating acts. 


DAY 1 (November 6, 2021)


Clammbon, never young beach, Humbert Humbert, DENIMS, YONA YONA WEEKENDERS, island echo

DAY 2: (November 7, 2021)
SPECIAL OTHERS, TENDRE, D.W. Nicols, Hanaregumi, Strange Reitaro, Super VHS

This year's event will have a new kid's area, along with a new outdoor area featuring 15 stores selling a wide variety of camping gear. There will also be a place to custom order items and a hammock area. The kid's area will offer workshops for children led by expert staff, a stamp rally, and other content to keep the little ones busy. 

The popular coffee roaster LEAVES COFFEE ROASTERS from Kuramae, Tokyo, will be participating in the event, serving up some delicious beverages. Japan's champion barista Taka Ishitani will be participating in the coffee drinking competition, so don't miss it!

Are any of your favorite bands playing at this year's event? 

Information

Creema YAMABIKO FES 2021

Dates: November 6 and 7, 2021

Venue Hours: 10:00-17:30 (Concerts from 10:30-17:00)

Address: Gotemba Kogen Toki no Sumika OUTDOOR HILL VILLAGE
(719 Koyama, Gotemba, Shizuoka)

Official Site: htttp://www.yamabikofes.jp/

Kyoto's Kurodani Temple, Typically Closed to the Public, to Accept Visitors for Limited Time

Constructed in 1175, the Kurodani Temple is one of the head temples of the Jodo Sect of Buddhism. Though typically closed to the public, the grounds will open for a short period to allow guests to experience some beautiful autumn scenery beginning November 12, 2021. This temple is associated with the Shinsengumi and served as the headquarters of the Aizu Clan at the end of the Edo period, so those interested in history won't want to miss out on this incredible opportunity. 

[Night] Shiun Garden

[Day] Autumn Leaves at the Main Gate

[Day] Shiun Garden

[Night] Autumn Leaves at the Main Gate

Temple Grounds at Sunset

The Tiger's Room

Ohoujou Garden

Founders Hall

Live Koto Performance

Gokoushiyuiamidabutsu, 'Afro Buddha' 

Guests will be able to enjoy the gorgeous autumn temple scenery during both daytime and nighttime, with the night viewing also offering some traditional Japanese live music. Visitors can also see various temple treasures and historical items, as well as the Tiger Room, known for its painted doors. The unique and aptly named Afro Buddha will also be on display. After training for an extremely long period of time, the Buddha's hair piled up, giving him this strangely modern appearance. 

On a clear day, guests will be able to see clear to the Abeno Harukas building in Osaka. Vividly painted ceilings and other statues will completely surround visitors in spiritual history. At night, traditional Japanese music will be played at three different times in the front gardens. On Friday, Saturday, and Sunday, the temple will offer a Premium Plan, allowing interested guests to enter the grounds 30 minutes before general admission starts. (This will require reservations made on the official website.) This will also include a guided tour!

How would you like to experience this piece of Japanese history while surrounded by unforgettable autumn foliage? 

Information

Special Autumn Viewing

Kudodani Temple, Kyoto – The Head Temple of the Jodo Sect of Buddhism

Address: 121 Kurodanicho, Sakyo-ku, Kyoto

Night Viewing Details: https://www.kurodani.jp/lightup/

Day Viewing Details: https://www.kurodani.jp/sp_daytime/

Daytime Viewing

Running: November 12 – December 5, 2021

Hours: 10:00-16:30 (Final Admission at 16:00)

Special Viewing Areas: Mikado, Daihojo, the Gardens, two locations at the main gate

Night Viewing

Running: November 12 – December 5, 2021

Hours: 17:30-20:30 (Final Admission at 20:00)

Live traditional Japanese music will be performed in the garden located in front of the Main Hall at 17:45, 18:30, and 19:15

Applause Square Nagoya to Offer Autumn Dinner with Birthstone-inspired Sweets

Wedding venue Applause Square Nagoya will be opening a limited-time restaurant for eight days only during October and will offer some of the most artful desserts you've ever seen. The wedding hall is not normally open to the public, so this will be an opportunity to see this incredible mansion up close while savoring some unique fall flavors. 

Jewel Art Topaz Parfait, made with Rum Raisin and Iced Chestnut Mont Blanc with Orange Parfait, and three Chocolate Bonbons

Six hors-d'oeuvres, each a vibrant and unique color

Sea Bream Vapeur with Eggplant and Chips that resemble Autumn Leaves, paired with Hot consommé soup scented with sherry and served in front of guests

Roasted Chita Pork with Tomato Chutney Sauce and Ginger, covered with Brown Mushrooms


Each of the six hors d'oeuvres were inspired by birthstones. Following are a number of luxurious meat and fish dishes, followed by a rich and abundant parfait filled with autumn flavors.

Changes Made to November's OMNIBUS Music Festival in Tokyo

As part of the Tokyo Art & Live City project, the OMNIBUS music festival will take place on November 6 and 7 in Japan's capital. Rather than being held at Shinjuku Central Park, the November 7 concert will now take place at Hulic Hall Tokyo. Originally, this concert was named The Park #Assembly, though this has now been changed to The Hall #Space. For those holding tickets with the original name, don't worry–your ticket will still be valid at the new venue. 

Those who want a refund due to the venue change should head to the official website by October 9. The November 6 concert titled The Circuit #Excursion will be held as scheduled. 

Additional tickets for the festival went on sale on October 2, 2021. Schedules for the events will be released soon, so stay tuned for more details!

Information

OMNIBUS

The Circuit #Excursion 

When: November 6, 2021 / Venue Opens at 12:00, Show Starts at 12:30

Locations: Shinjuku ACB HALL / Shinjuku Marz / Shinjuku Marble / Shinjuku Motion / Shinjuku Zirco / Shinjuku Red Cross / Shinjuku ReNY

Performers: asobi, Wez Atlas, ODD Foot Works, Campanella, kiki vivi lily, Kvibaba, Kai Kubota, Kuro, (sic)boy, SUKISHA, Suzuki Mamiko, Sleepless Sheep, Saboten, sooogood!, dongurizu, PEAVIS, VivaOla, YOSA&TARR, YonYon, and more

The Hall #Space

When: November 7, 2021 / Venue Opens at 15:30, Show Starts at 16:30

Location: Hulic Hall Tokyo 11F (2-5-1 Yurakucho Center Building, Yurakucho, Chiyoda-ku, Tokyo)

Performers: Sohei Oyamada, GLIM SPANKY (Acoustic ver.), Koji Shimotsu, and more

Tickets: 

Lawson Ticket: https://l-tike.com/omnibus/ (L Code: 74447)

Ticket Pia: https://w.pia.jp/t/omnibus/ (P Code: 203-026)

Official Site: https://omnibus-tokyo.com/

'Shiseido Parlour Ginza Salon de Cafe' Reveals Limited Autumn Dessert Menu

The 'Shiseido Parlour Ginza Salon de Cafe' has announced that between October 1 and October 31 2021, customers can enjoy a limited edition Autumnal sweets menu. This year their menu includes the Jersey milk 'Japanese Chestnut Mont Blanc Parfait from Kyushu' and the 'Shine Grape Fruit Sandwich.' There will also be two special additions to the menu to celebrate the 96th Azuma Odori.

Japanese Chestnut Mont Blanc Parfait from Kyushu using Jersey Milk: ¥2,500 (Tax Incl.)


 

Strawberry Parfait using "Koihime" strawberries from Nagano's Hatake Kobo: ¥2,100 (Tax Incl.)

 

Weekday / Limited Quantity Products

Shiseido Parlour Story: ¥2,600 (Tax Incl.) (Drink Incl.)


Shine Grape Fruit Sandwich with grapes from Iizuka Orchard: ¥1,700 (Tax Incl.)

Shinbashi Color Ice Cream Soda: ¥1,150 (Tax Incl.)


The Japanese Chestnut Mont Blanc Parfait is made using Jersey milk ice cream, chestnut cream, and fresh cream, along with the "Koihime" Fruit Sandwich, made using Kashu "Koihime" Strawberries are available on both the regular and limited Shiseido Parlour Ginza menus. Meanwhile, the luxurious Shiseido Parlour Story and the seasonal Shine Grape Fruit Sandwich, filled with various Autumnal fruits and centred around the grape, are only served on weekdays and holidays in limited quantities.

In the late Meiji Era, Shinbashi geisha were often seen wearing blue and green kimonos, with the color combination being coined Shinbashiiro (Shinbashi Color.) The elegant and retro Shinbashi Color Ice Cream Soda recreates the iconic look using green apple syrup, lemon, and ginger ale, topped with a traditional vanilla ice cream.

 

 

 Immerse yourself in the season with a feast of Fall sweets in Ginza.

Information

Shiseido Parlour Ginza Salon de Cafe

Address: Tokyo Ginza Shiseido Building 3F, 8-8-3, Ginza, Chuo-ku, Tokyo

Opening Hours:

Tuesday to Saturday:  11:00 ~ 21:00 (L.O. 20:30)

Sunday, public holidays: 11:00 ~ 20:00 (L.O.19:30)

Closures: Mondays (excluding public holidays), New Year 

Junei Hotel Kyoto Adds New Plan Allowing Guests to Reserve Entire Property

The Junei Hotel Kyoto Imperial Palace West, a small luxury hotel located in the heart of Japan's ancient capital, has revealed a new plan allowing guests to rent out the entire premises. Imagine being in a hotel with only your closest family and friends!

The Junei Hotel Kyoto Imperial Palace West – Guest Room

The Junei Hotel Kyoto Imperial Palace West – Bathroom

The Junei Hotel Kyoto – Bamboo Suite

The Junei Hotel Kyoto – Bamboo Suite Bathroom

The Junei Hotel Kyoto – Standard Room

The Junei Hotel Kyoto – Standard Bathroom

The Junei Hotel Kyoto – Breakfast at Futago

The Junei Hotel Kyoto – Futago Restaurant Interior

The Junei Hotel Kyoto – Dinner at Futago

Arashiyama Yusaitei

Arashiyama Yusaitei

Kibune Riverbed

Hozucho River Boat Ride

The Junei Hotel Kyoto Rooftop View of Kiyomizu-dera Lights

The Junei Hotel Kyoto Rooftop Garden Moon Viewing

With two locations in Kyoto, guests will be able to enjoy the entirety of the hotel in complete privacy while still enjoying hotel hospitality. With between 8-11 rooms, this would be the perfect spot for a family gathering, wedding reception, graduation trip with friends, corporate meeting place, or even for overseas guests!

The Junei Hotel Kyoto Imperial Palace West opened in 2017 as a community-based luxury hotel with only eight rooms, with a single mission: bringing the beauty of Japan to the world. Beyond simply finding a place to sleep for the night, the hotel wants guests to experience something special and to provide an unforgettable experience. By partnering with local tourism associations, the Junei Hotel hopes to accurately convey the traditions and singular culture of the city of Kyoto. 

In March 2020, a second location opened. The Junei Hotel Kyoto is surrounded by bamboo, and in fact, the theme of the hotel itself is bamboo and the moon. Each of the guest rooms is decorated with traditional and local bamboo crafts, and every detail is pulled from the natural beauty of Higashiyama, Kyoto. 

The restaurant attached to the hotel, Futago, is the perfect place for adults to unwind and recharge. The kappo-style course menu features Kyoto vegetables and seasonal ingredients, blending the delicious with the nutritious. Chefs will cook each dish using a variety of methods, and guests will be amazed by how the flavor of the meat changes from course to course. The menu changes each month, so be sure to come back throughout the year!

Guests can also rent out Arashiyama Yusaitei, a gorgeous building deep in the forests of Kyoto perfect for wedding receptions, photoshoots, tea ceremonies, and more. The rooftop garden offers a stunning view of Kiyomizu-dera and is also perfect for moon viewing. Those wanting to get even closer to nature can enjoy a boat ride down the Hozucho river, and for those craving desserts, a Japanese sweets-making class is also available!

Who would you take with you on a private stay at the Junei Hotel Kyoto? 

Matsue Excel Hotel Tokyu in Shimane to Hold 2021 Matsue Water Lantern Festival

A number of beautifully decorated paper lanterns are currently on display in the lobby of the Matsue Excel Hotel Tokyu in Shimane prefecture until October 31. 

Normally, the event is held around Matsue Castle, with lanterns lighting up the streets and stalls set up to allow guests to design their own lanterns. Due to the current pandemic, the popular yearly event was abruptly canceled, and the Matsue Excel Hotel Tokyu stepped up, with the support of the Matsue Tourism Association, hosting the event in its first-floor lobby. 

For the past three years, the hotel has continuously hosted events and activities to help guests learn more about Matsue, including hosting trips to the area around Matsue Castle and cruises on the Horikawa River. For this year's event, hotel staff created their own lanterns based on these attractions, for a total of 17. If you could attend, how would you decorate your lantern? 

Universal Studio Japan to Expand Super Nintendo World with Donkey Kong Area

Since opening in March, Super Nintendo World at Universal Studios Japan has caught the world's attention, leading global game fans to pray even harder for Japan to reopen for tourism. Now, the park is scheduled to level up with a new Donkey Kong-themed area scheduled to open in 2024. 

Currently, Super Nintendo World is filled with Mario-inspired attractions, dining options, and shops, recreating some of the most memorable parts of the franchise in a larger-than-life way. The new Donkey Kong area will feature a roller coaster and more interactive experiences, as well as themed merchandise and food options. Guests will be able to walk through lush jungles, where Donkey Kong and his friends live. The creation of the new area will more than double the size of Super Nintendo World. 

Launched as an arcade game by Nintendo in 1981, Donkey Kong quickly took the world by storm, with games continuing to be released on Nintendo systems from the SNES to the Nintendo Switch. As of March 2021, the series has sold over 65 million units worldwide.

Comment from Nintendo's Shigeru Miyamoto

"I am very happy to be able to make the world of Donkey Kong a reality following the world of Mario. I am looking forward to creating a thrilling Donkey Kong experience with the amazing team at Universal. It will take some time until it is completed, but it will be a unique area for not only people who are familiar with Donkey Kong games but for all guests."

WIZARDING WORLD and all related trademarks, characters, names, and indicia are © & ™ Warner Bros. Entertainment Inc. Publishing Rights © JKR. (s21)
Minions and all related elements and indicia TM & © 2021 Universal Studios. All rights reserved. TM & © Universal Studios & Amblin Entertainment. TM & © Universal Studios. All rights reserved. © Nintendo

Three Unique Japanese Cafes You'll Want to Visit Again and Again

Most of us have been spending more and more time at home over the past year. It's time to get out for a change of scenery, and what better activity than cafe hopping! Check out these unique cafes around Japan, each offering a safe and relaxing space to enjoy a day out. 

[Saitama] Bath Cafe BIVOUAC

This cafe located in Kumagaya City offers a full range of bath and sauna facilities, as well as a restaurant featuring healthy dishes filled with local, freshly-picked veggies. 

Details: https://www.moshimoshi-nippon.jp/497213

[Gifu] Activity Cafe Takayama Zenko-ji

Set inside a Buddhist temple, this cafe invites anyone, regardless of faith or nationality, to enjoy a cup of tea while experiencing traditional culture. It's also a great space to work remotely, with free Wi-fi!

Details: https://www.moshimoshi-nippon.jp/484296

[Tokyo] NANARIDA

Filled with plants and light, NANARIDA has been dubbed a digital detox cafe, not allowing smartphones or laptops each Sunday. Leaving your phone with the staff will grant you a free beverage, so come enjoy some tea and conversation. 

Details: https://www.moshimoshi-nippon.jp/493631

TEXT: Natalie(MOSHI MOSHI NIPPON)

Editor's Choice! 3 Best Exhibitions to Visit Before Time Runs Out

Autumn has shaped up to be a great time for art lovers to explore Japan, with a number of inspiring exhibitions of all different genres popping up around the country. The editorial team at Moshi Moshi Nippon has taken special notice of three must-visit events still open now, so be sure to check these out while you still can!

[Tokyo] 'Shonen, Shou' 

Yasunari Ikenaga, a leading figure in the world of contemporary beauty painting, is currently holding an exhibition featuring portraits of the up-and-coming actor and model Shou. Pay special attention to the delicate techniques the artist utilizes to capture the subject's expressions. 

Running: Until October 15, 2021

Details: https://www.moshimoshi-nippon.jp/497728

[Fukuoka] teamLab Forest

Art collective teamLab has opened a permanent museum in Fukuoka City! Those wanting to see the interactive exhibits transformed for autumn, however, better hurry before the event ends.

Now Open

Details: https://www.moshimoshi-nippon.jp/500506

[Saitama] Machi Tawara: #JustOneLike – From Salad Anniversary to Size of the Future

Japanese poet Machi Tawara, the winner of the Kadokawa Tanka Award in 1986, is a powerhouse in the world of prose. Her 1987 book Salad Anniversary sold over three million copies, and 35 years later, the writer is still at the forefront of her field. This exhibition depicts her life in words and is sure to inspire. 

Running: Until December 5, 2021

Details: https://www.moshimoshi-nippon.jp/500300

Text: Natalie (MOSHI MOSHI NIPPON)

Starry Night Bonfire Event in Nikko Invites Guests to Relax Under the Full Moon

Nikko-Yumoto, a hot spring hotel located near the picturesque Nikko National Park, will hold a limited-time event starting October 6. On select nights in October and November, guests are invited to sit around a bonfire and enjoy the full moon, new moon, and meteor showers while learning about astrology!

Harvested throughout the autumn months, Natsuotome strawberries grown in nearby Senjogahara are used to make a hot fruit wine to enjoy while gazing at the night sky. A warm drink will be perfect for cold nights in Oku-Nikko, located over 1,500 meters above sea level. In October, the night temperature can be as low as 40 degrees Fahrenheit! For those not wanting something alcoholic, feel free to enjoy some tasty hot cocoa. 

What's the first thing you think of when you see a bonfire? Roasting marshmallows, of course! During the event, a bag of magical powder will be tossed into the fire, turning the flames into different colors. Don't worry–the powder itself contains no harmful substances and is safe for both humans and the environment. 

Information

Starry Night Bonfire

Dates: October 6, October 9, October 20, October 21, November 5, November 18, November 19 / 19:30-20:30

Fee: Free *The event may be canceled in the case of inclement weather. 

Official Site: https://www.qkamura.or.jp/nikko/activity/