teamLab Borderless to Turn Tokyo's Odaiba Into Digital Winter Wonderland
MORI Building DIGITAL ART MUSEUM: EPSON teamLab Borderless in Odaiba, Tokyo, is set to welcome a world of wonderful winter artworks this year.
teamLab Borderless is a group of artworks that form one borderless world. Artworks move out of rooms, communicate with other works, influence, and sometimes intermingle with each other with no boundaries.
Sketch Christmas
This December, teamLab invites children to create a Christmas world from their own pictures. When they draw a picture of Santa Claus on a piece of paper, he will appear in a town right in front of their eyes as if by magic.
Forest of Resonating Lamps
Throughout December and into January, the lamps at the art museum's Forest of Resonating Lamps area will be changed to blue, inspired by the Blue Grotto sea cave in Italy. Going into January, they will turn red to be inspired by flames.
Proliferating Immense Life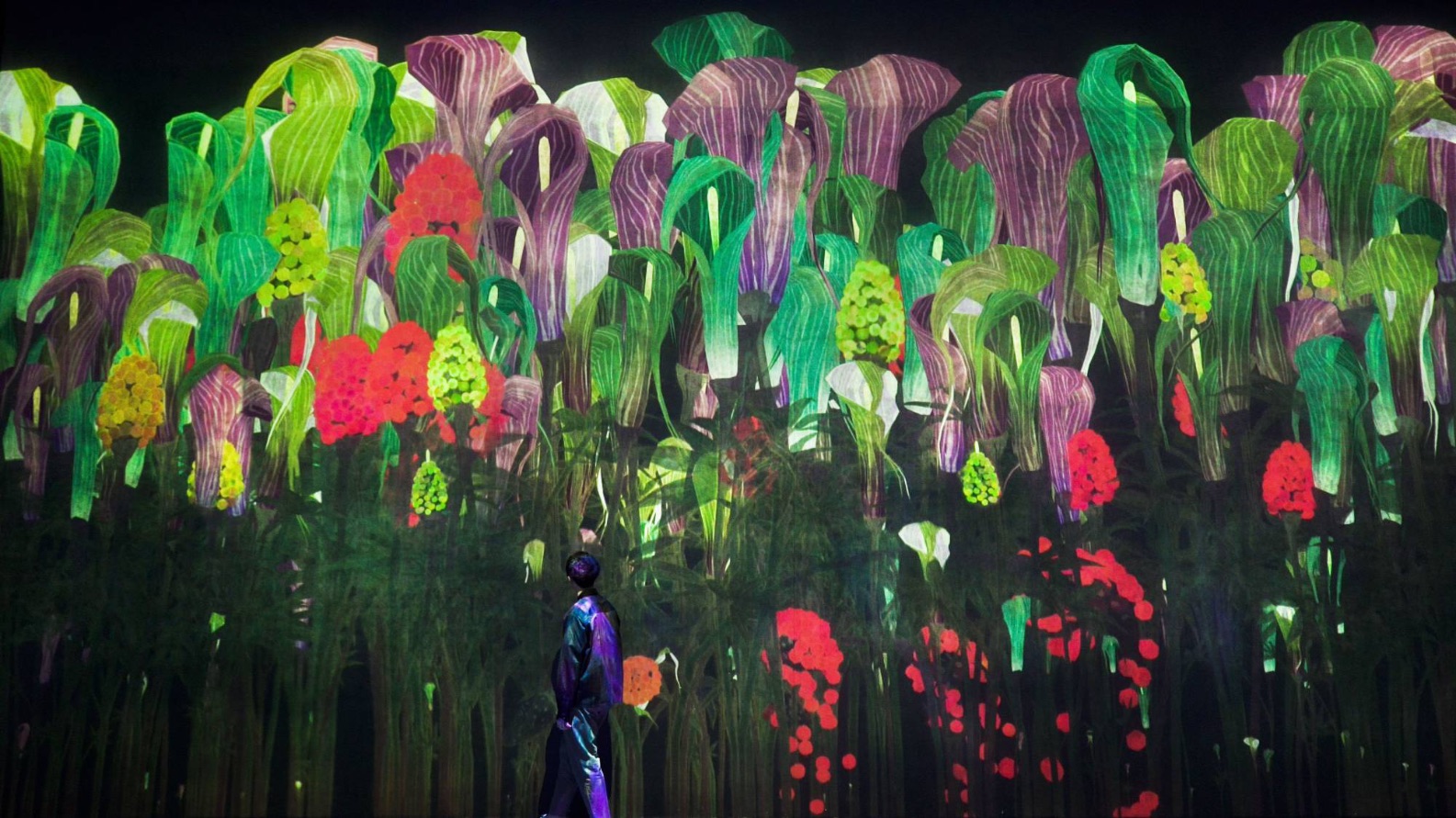 The museum's immense flower art piece Proliferating Immense Life – A Whole Year per Year will welcome numerous winter flowers over the next few months including Jack-in-the-pulpits in December, Chinese aster in January, and Asian bleeding-heart in February. When people touch the flowers they scatter, wither, and die, before being reborn. 100,000 flowers will scatter at once, creating a breathtaking display.
Memory of Topography
This artwork installation depicts a rural mountain landscape of varying elevations. For winter, it will depict wintertime scenery starting from December, from powdery snow to snow storms, kantsubaki midwinter camellias, plum blossoms, and more.
EN TEA HOUSE GENKA-TEI
Enter teamLab Borderless's cafe where flowers bloom inside your cup. The tea house will make tea with a variety of winter flowers like chrysanthemums and cyclamens until December before switching to daffodils and plum blossoms from January to March.
Experience winter like never before at MORI Building DIGITAL ART MUSEUM: EPSON teamLab Borderless.
Information
MORI Building DIGITAL ART MUSEUM: EPSON teamLab Borderless
Location: Odaiba Palette Town
Address: 1-3-8 Aomi, Koto Ward, Tokyo
*Opening hours subject to change depending on the season, check the official website for the latest information
teamLab Borderless Official Website: https://borderless.teamlab.art/
RELATED ENTRIES
teamLab Opens Art-Filled Nighttime Botanical Garden Exhibition in Osaka

Art collective teamLab will open a permanent nighttime exhibition at the Nagai Botanical Garden in Osaka starting July 29, 2022. On-site video footage shows off several new works, such as Sculptures of Dissipative Birds in the Wind, a digital work impacted by the environment. Birds flying around the work and the wind's strength impact how the art moves.

Life is Flickering Light Floating in Darkness – Sunflowers

In summer, 20,000 sunflowers bloom in the Life Garden, where seasonal flowers are transformed into an interactive space filled with illumination. This was opened to the public for a limited time to celebrate the exhibition's opening and will be open until August 5.

The Nagai Botanical Garden covers 240,000 square meters and is home to roughly 1,200 species of plants. teamLab has transformed the space, with the digital art pieces changing according to the behavior of guests. 

In the future, teamLab plans to introduce seasonal works, making use of plants that bloom in spring, summer, fall, and winter.

Resonating Microcosms in the Common Camellia Garden – Liquified Light Color, Sunrise and Sunset

Floating Resonating Lamps on Oike Lake

teamLab's art project Digitized Nature explores how nature can become art. The concept of the project is that non-material digital technology can turn nature into art without harming it.





Field of Light Color – Muhlenbergia Capillaris

 

teamLab Botanical Garden Osaka is a botanical garden by day and an art space by night. The art space transforms interactively, influenced by wind and rain, as well as by the behavior of the people and birds in it. People become a part of the artworks along with nature, and a part of the long continuity of time. The artworks, people, and nature; the self and others; the past, present, and future; all form a continuity without boundaries.

Come soothe your soul in the heart of Osaka.

©チームラボ

teamLab Botanical Garden in Osaka Debuts Illuminated Nighttime Sunflower Field and More

Art collective teamLab will open a permanent nighttime exhibition at the Nagai Botanical Garden in Osaka starting July 29, 2022. Tickets for teamLab Botanical Garden Osaka are on sale now at the official website, and a new group of exhibits take full advantage of the beautiful setting. In summer, 20,000 sunflowers bloom in the Life Garden, where seasonal flowers are transformed into an interactive space filled with illumination. As the flowers change each season, so will the art.

Resonating Microcosms in the Common Camellia Garden – Liquified Light Color, Sunrise and Sunset 

Life is Flickering Light Floating in Darkness – Sunflowers

Other works on display include Life is Continuous Light – Bald Cypress and Life is Continuous Light – Crepe myrtle, both taking advantage of the natural environment. The 240,000 square meter park will be completely transformed, with the digital art pieces changing according to the behavior of guests. More exhibits will be added in the future.

Crepe myrtles at Nagai Botanical Garden

Nagai Botanical Garden opened in 1974, and had its reopening on April 1, 2022 following extensive efforts to create an environment where plants can thrive and grow into the future, involving tree thinning, replanting of trees in anticipation of root growth, and soil improvement.

Nagai Botanical Garden's Bald Cypress

 

teamLab's art project Digitized Nature explores how nature can become art. The concept of the project is that non-material digital technology can turn nature into art without harming it.

Floating Resonating Lamps – One Stroke

Universe of Fire Particles – Secondary Forest

teamLab Botanical Garden Osaka is a botanical garden by day and an art space by night. The art space transforms interactively, influenced by wind and rain, as well as by the behavior of the people and birds in it. People become a part of the artworks along with nature, and a part of the long continuity of time. The artworks, people, and nature; the self and others; the past, present, and future; all form a continuity without boundaries.

Come visit another dimension right in the heart of Osaka!

©チームラボ

teamLab's 'A Forest Where Gods Live' Exhibition Returns to Mifuneyama Rakuen Park in Saga for Eighth Year

From July 15 until November 6, the popular teamLab exhibition A Forest Where Gods Live will be returning to Mifuneyama Rakuen Park in Saga Prefecture! This year, a new work titled Ephemeral Solidified Light will be on display, with rainbow-colored lights swirling and shining across the gorgeous landscape. The exhibition is being sponsored by Volvo. 

Ephemeral Solidified Light makes it seem like the lights themselves have come to life. Visitors will be tempted to reach out and touch them, but they'll only find normal water against their fingertips.

teamLab <Ephemeral Solidified Light> ©teamLab

The exhibition will be held for the eighth year at Mifuneyama Rakuen Park, which opened in 1845 and spans an enormous 500,000 square meters. teamLab hopes to use digital technology to transform the natural environment into something new and unique. The company uses the rocks, caves, and forests to encourage contemplation of the meaning of life through their digital art which is non-material and does not harm nature in any way.

The massive event is held each summer and fall and was named CNN World's 'Best Outdoor Art Exhibition to Visit' in 2021. 


teamLab <Drawing on the Water Surface Created by the Dance of Koi and Boats> ©teamLab

 

Mifuneyama Rakuen Park is also home to Mifuneyama Rakuen Park Hotel which has won awards for its beautiful sauna facilities. How would you like to visit this unique event?

Private Jet Package Now Available in Toyama Offering Spectacular View of Tateyama Mountains

Mizu to Takumi, a company associated with the Toyama West Tourism Promotion Association, has teamed up with SKYTREK to offer guests a once-in-a-lifetime chance to visit the area via private jet. Reservations for the incredible experience began on June 17, 2022.

Offering an entirely new tourism experience in Toyama Prefecture, visitors can see the area's natural wonders from miles above the Earth. The program also aims to share local culture and more about traditional craftsmanship and cuisine.

Toyama Prefecture boasts dramatic topography, from the massive peaks of the Northern Alps and the Tateyama Mountains to the deep waters of Toyama Bay. To better allow visitors to see the sights, these private jet tours will be chartered on special courses different from standard airlines.

After the flights, guests will be welcomed to explore Takaoka's deep history and culture. Kane no Sanzun, a restored and preserved inn, will welcome visitors, offering a relaxing and rejuvenating time.

Visitors can also book optional excursions to further explore the area, such as a Zen meditation experience at a famous temple in Takaoka, a traditional crafting workshop, and a tour and tasting of the only whiskey distillery in the Hokuriku region.

Come enjoy a trip to Toyama with a whole new perspective!

teamLab Borderless to Close Odaiba Location in August, Tickets Available Through Final Day

teamLab Borderless, a digital art museum currently housed in Odaiba's Mori Building, will be moving to a more central location in Tokyo in 2023. In preparation for the move, the Odaiba location will close on August 31, and tickets for July and August are available now. Each ticket must be purchased ahead of visiting, and each specifies a date and time for entry. Tickets are available while supplies last. 

 teamLab 'Forest of Resonating Lamps – One Stroke' ©teamLab


teamLab Borderless opened in Odaiba in June 2018 and features a group of artworks that form one borderless world. Artworks move out of rooms and communicate with other works, influencing other pieces and sometimes intermingling with each other with no boundaries. They also shift depending on the season. In its first year, the museum attracted 2.3 million visitors, surpassing the Van Gogh Museum in the Netherlands to become the most popular single artist's museum in the world. People from over 160 countries and regions visited, and in 2019, teamLab Borderless broke a world record for the most visitors to a museum showcasing art from a single artist. Borderless received numerous national and international awards, including being named one of the World's Greatest Places 2019 by Time Magazine and receiving a Thea Award for Outstanding Achievement at the 25th Annual Thea Awards.


Highlight Video: https://youtu.be/VowWhpZzH24

 

The 10,000 square meter complex will be open until August 31, offering visitors a singular experience through a borderless world of art. Expectations are high for the museum's new location, scheduled to open in central Tokyo in 2023. 



teamLab Planets TOKYO DMM will be open in Toyosu until the end of 2023. 

Information

Mori Building Digital Art Museum: Epson teamLab Borderless

Address: Odaiba Palette Town 2F (1-3-8 Aomi, Koto-ku, Tokyo)
Tickets on Sale Now
Designated Admission Times from July 1 until August 31, 2022
Official Site: http://borderless.teamlab.art/jp

Airbnb Reveals Top 10 Most Popular Summer Destinations in Japan

Airbnb boasts one of the largest travel communities in the world, filled with users offering up lodging and those eager to visit somewhere new. The Japanese subsidiary of the company has revealed the top spots added to Japanese users 'Favorites (Wish Lists)' from May 1 to May 17, 2022. Where will travelers in the country be headed this summer?

Golden Week is long gone and users are starting to think about where to visit during the hottest part of the year. This national 'Wish List' might make it easier to pick a spot, with many locations highlighting lesser-known areas!

Gujo Hachiman Villa, Limited to 1 Couple Per Day (Gifu)

This completely private rental villa was made for sauna enthusiasts. One lucky pair per day can book this suite along the Yoshida River flowing through Gujo Hachiman, known as the "City of Water and Dance." Currently booked through the end of August, reservations for September and beyond will be available in early June. Book a stay to enjoy the gorgeous autumn foliage!

A House Surrounded by Lush Greenery in the Countryside (Tottori)

Hosted by a family of musicians and architects, this guesthouse invites guests to enjoy gorgeous Nordic-inspired interiors and the serene quiet of the countryside. For those looking to escape the hustle and bustle of the city, this is the perfect spot.

Hoshina Satomachi, Limited to 1 Couple Per Day (Nagano)

There's nothing like spending the summer in a traditional Japanese home. Enjoy a barbeque on the terrace and relax on the massive lawn. This is the perfect spot for families with children or pets!

Coastal Cabin (Chiba)

You can't have summer without a pool. This luxurious coastal retreat boasts a 15-meter pool, outdoor Jacuzzi, bonfire space, and a barbeque. Relax by the pool while listening to your favorite songs or soak in the outdoor bath as you watch the waves crash along the shore.

An Elegant and Peaceful Log Cabin (Nagano)

Located at 1,300 meters above sea level on the Iizuna plateau, this log cabin is situated in the midst of a dense forest. A perfect space for couples, families, or small groups of friends, guests are welcome to enjoy hiking through this gorgeous landscape in the center of Japan!

Izu, the Setting for Laid-Back Camp, Now Offering Travel Plans

JR Tokai Tours has released a new travel plan for fans of Laid-Back Camp Season 2, which aired from January to March 2021. The tour will take place in the Izu area, which was heavily featured in episodes 10, 11, and 12. Guests can enjoy a travel plan with single lodging and original goods starting May 23 until June 29, 2022.

Original Stickers

 

The slice-of-life series Laid-Back Camp is currently serialized in COMIC FUZ.

 

Set in Yamanashi and Shizuoka Prefectures, Laid-Back Camp is a relaxing series following a group of high school girls going camping and enjoying their daily lives. The series is based on the author Afro's personal experiences and interviews, and since serialization in 2015, the series has attracted fans from around the world. The original comic has sold over 7 million copies. In 2018, the first anime series premiered, inspiring a spin-off Room Camp in 2020 and a second season in 2021.


Four years after it was announced in 2018, a Laid-Back Camp animated film will arrive in theaters this summer.

teamLab to Open Art-Filled Botanical Garden in Osaka This Summer

Art collective teamLab will open a permanent nighttime exhibition, 'teamLab Botanical Garden Osaka,' at Nagai Botanical Garden in Osaka in the summer of 2022.

The Nagai Botanical Garden, which originally opened in 1974, reopened on April 1, 2022, after tree thinning, tree rearrangement and replanting to accommodate new root growth, and soil improvement to create an environment where plants can thrive and grow in the far future. The garden covers over 240,000 square meters and is home to 1,200 species of plants, flowers, and trees.

This summer, teamLab will transform the garden into an art space where the past, present, and future intersect, blending with nature's changing seasons and the presence of guests.

TeamLab's environmentally friendly art project, 'Digitized Nature,' aims to show "nature itself becoming art in its natural state" by using only digital technology. Nothing in the gardens needs to be destroyed to create art.

At teamLab Botanical Garden Osaka, the daytime botanical garden will become an art space at night. The space will be transformed by actual wind and rain, as well as by the behavior of the birds and the actions of visitors to the site. 

Come enjoy an illuminated garden filled with art on a warm night this summer!

©チームラボ

EMOCAL, a Project to Support Japanese Regions, Releases Music Using Local Sound Samples

The EMOCAL project aims to support small-town areas of Japan. As a new initiative in the project, specific soundscapes only found in certain areas of the country have been combined with music to create some unique tracks. A selection of musical artists have collaborated with the project to bring these songs to life!


EMOCAL was created by ZOWA's original label, CatchyStuck. The project supports local regions and communities by using ASMR soundscape videos recorded in each region to convey their particular charms to all of Japan. The sounds recorded in each place are considered to be very valuable and are intended to serve two purposes: to bring tourism back after the pandemic and to provide fans of ASMR a way to experience these areas from afar.



Check out each of these unique ambient tracks created by four up-and-coming musicians! Each song is available on viviON's ASMR platform ZOWA and on Spotify.

Ube, Yamaguchi Prefecture / Ikkyuu x Hige Driver, I Love Ikkyuu

Beard Driver created this ambient track with sounds recorded inside of Ikkyuu, a ramen shop.

ZOWA: https://zowa.app/play/20019
Spotify: https://open.spotify.com/track/1RP4RcpJwMrFzoYQbnfDYm?si=f1f1e816adb14db0


Odawara, Kanagawa Prefecture / Miyuki no Hama x Powerless, Seiren

Powerless created this track, inspired by the sounds of waves crashing at Miyuki no Hama, a seaside recreation area 20 minutes from Odawara Station.

ZOWA: https://zowa.app/play/20016
Spotify: https://open.spotify.com/track/5DkQ9FeM7jQBacUf7Nbuxc?si=c7d771e73ddd44b6

Shizuoka, Shizuoka Prefecture / Wasabi Field x baker, On the silent hill

Utogi in Shizuoka city is surrounded by incredible nature. Known as the birthplace of wasabi cultivation, baker used sounds recorded in the area to create this ambient track.

ZOWA: https://zowa.app/play/20017
Spotify: https://open.spotify.com/track/0oIU4x7MjVKmpouRwEPaXZ?si=04dcb805cea540b7

Ibusuki, Kagoshima Prefecture / Cape Tara x SeA0, Akushu

Cape Tara is a popular spot featuring an 800-meter-long sandbar at low tide. The sounds captured here were used by artist SeA0, and this track is sure to make you miss the water.

ZOWA: https://zowa.app/play/20018
Spotify: https://open.spotify.com/track/1Utz5j0oB4GmSDOMVdUcXU?si=eafa1949b3ea44d0

teamLab Opens 8th Annual Art Exhibition at Mifuneyama Rakuen in Saga Prefecture

From July 15 until November 6, 2022, the 'teamLab: A Forest Where Gods Live' exhibition at Mifuneyama Rakuen, an ancient forest at the Takeo Hot Springs in Saga Prefecture. The massive event is held each summer and fall and was named CNN World's 'Best Outdoor Art Exhibition to Visit' in 2021 and one of the Top 10 Art Installations in the world by DesignboomMagazine in 2017.

Works on Display

Universe of Water Particles on a Sacred Rock, 2017

Drawing on the Water Surface Created by the Dance of Koi and Boats – Mifuneyama Rakuen Pond, 2015

Ever Blossoming Life Rock, 2017

 Life is Continuous Light – Azalea Valley, 2017

Rock Wall Spatial Calligraphy, Continuous Life – Five Hundred Arhats, 2017

Split Rock and Enso, 2017

Resonating Forest – Cherry Blossoms and Maple, 2017

Megaliths in the Bath House Ruins, 2019

Graffiti Nature – Living in the Ruins of a Bathhouse, Red List, 2017-

Resonating Forest in the Ravine, 2019

Abstract and Concrete – Forest Entrance, 2018

Flowers Bloom in an Infinite Universe inside a Teacup, 2016

Forest and Spiral of Resonating Lamps in the Forest – One Stroke, Summer Forest, 2018

Mifuneyama is said to have risen from the Ariake Sea 3 million years ago. The 500,000 square meter Mifuneyama Rakuen Park was created in 1845, at the end of the Edo period. The park is home to megaliths, caves, and forests that have been slowly shaped over thousands of years. teamLab believes that the shapes and textures of these objects are important, serving as traces of ancient people and natural changes over time.  The concept of the project is that non-material digital technology can turn nature into art without harming it.


The creative team will be holding a number of other high-profile exhibitions this year, including installations in Paris, Tallinn, Shanghai, and Geneva. Their sauna collaboration with TikTok for teamLab Reconnect in Roppongi made huge waves in 2021–guests would take alternating hot and cold baths to experience intense physical sensations while surrounded by digital art.

'Teamlab: Tea Time in the Soy Sauce Storehouse' Exhibition in Okayama Extended

The 'Tea Time in the Soy Sauce Storehouse' exhibition by teamLab has been extended! Located at the Fukuoka Soy Sauce gallery, those interested can now come and see this incredible work of art until March 31, 2023.

 Tea in Spontaneous Order – Dynamic Equilibrium Color. ©teamLab

 

The former Fukuoka Soy Sauce Building was built in the Meiji era and was once used for soy sauce production. The basement is now a tea room filled with black water with lanterns floating on top. Touching one will cause it to light, and will cause a spontaneous order phenomenon. A spontaneous order phenomenon occurs when different rhythms are influenced by each other and become aligned. Examples include when the pendulums of two clocks gradually begin to swing together when many fireflies gather in one tree and all start flashing at the same time.

The exhibition has been incredibly popular since it opened on April 15, 2021. Due to the ongoing effects of the pandemic, teamLab wants more people to be able to come to experience this unique art performance, hence why the exhibition has been extended.

Information

Teamlab: Tea Time in the Soy Sauce Storehouse

Running: April 15, 2022 – March 31, 2023
Details: https://www.teamlab.art/jp/e/teatime/
Location: Fukuoka Soy Sauce Gallery (17-35 Yuminocho, Kita-ku, Okayama)

Banyan Tree Rooftop Bar Opens on Japan's Southernmost Island

The Banyan Tree Rooftop Bar, located at Hoshino Resort Risonare Kohamajima on Japan's southernmost island, is holding a special stargazing event until April 20, 2022. Visitors can enjoy a cocktail as they gaze at the countless twinkling stars overhead.

Kohama Island is located within the Yaeyama Islands. With a warm climate, it's comfortable to spend long hours outside, even at night. Kohamajima was also the first island in Japan to be protected by the IDA (International Darkness Association), meaning that no bright manmade lights can interfere with stargazing. Visitors can see 84 of 88 constellations! 

Enjoy a Boundless Starry Sky

The Banyan Tree Terrace will bring guests together to feel the sea breeze and taste colorful mojitos as they enjoy the pleasant weather. Why not spend a relaxing time in a fantastic space lit with faintly glowing candles as you stargaze?

Taste Colorful Mojitos

A limited number of colorful mojitos will be available at a bar counter set up on the terrace for this event only. You can also enjoy Okinawan original mojitos with made with Okinawa lime, brown sugar instead of sugar, non-alcoholic mojitos for children, and tropical fruit mojitos with pineapple and passion fruit.

Munch on Snacks Perfect to Pair with Cocktails

Guests can also enjoy a snack set with salty nuts perfect for enjoying with alcohol!

Information

Banyan Tree Rooftop Bar

Open: March 1 – April 20, 2022
Hours: 19:00-20:00
Location: Banyan Tree Terrace

Official Site: https://risonare.com/kohamajima/