Tokyo's Fate/Grand Order 2021 Event to Take Place at Ikebukuro Sunshine 60
To promote the upcoming anime film adaptation of mobile RPG Fate/Grand Order's popular episode "6th Singularity: Camelot," an event will take place at SKY CIRCUS Sunshine 60 Observation Deck and Sunshine Aquarium in Ikebukuro, Tokyo from December 4, 2020 to January 31, 2021.
New artwork displayed for the event
A collection of new artwork has been drawn specially for the event. Fans will find life-sized cut-outs of Bedivere, Mashu Kyrielite, Lion King, Gawain, and Lancelot at the observation deck and Ozymandias, Nitocris, and Arash at the aquarium. There will also be voiced panels at the observation deck with newly-recorded lines by Mamoru Miyano (Bedivere) and Takehito Koyasu (Ozymandias). Different voice recordings will be rolled out throughout the duration of the event. This info can be found by following the venue on Twitter @skycircus60.
Anime photos and signed exhibits
The observation deck will also feature photos taken from scenes in the anime series as well as exhibits signed by the character voice actors.
Original Merchandise
Stickers
Pins
Both the observation deck and aquarium will sell their own original merchandise, so fans will want to visit both venues.
Keyword Rally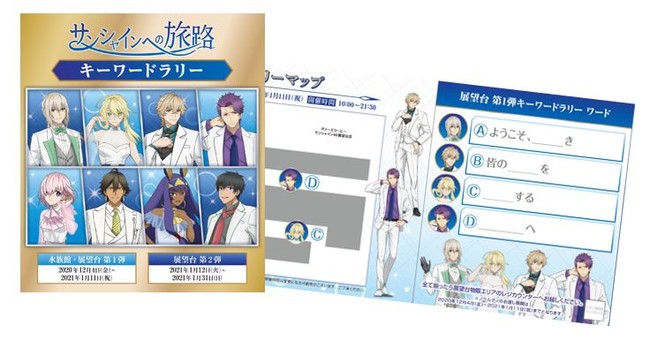 Keyword Rally answer sheet
Both venues will host a keyword rally where fans will have to fill out their answers of the correct words on the sheets in Japanese. Clearing each one will get them an original card with five different designs from the observation deck and three from the aquarium.
Answer sheets can be bought for ¥600 each from the 60th floor ticket counter at the observation deck and next to the annual passport counter at the aquarium.
Tully's Coffee Collaboration
Tully's Coffee coasters
Both venues have their own branches of Tully's Coffee, a cafe chain. For every ¥800 spent on a transaction you will receive one of eight possible coasters chosen randomly.展
Movie ticket campaign
If you go to see the upcoming Fate/Grand Order movie in Japan and show your movie ticket at either the observation deck or aquarium you can get 20% off your entry to the event.劇
More original merchandise
Starting on December 4, the observation deck will begin selling merchandise tickets in addition to regular entry tickets which include both admission and a piece of merchandise.
©TYPE-MOON / FGO6 ANIME PROJECT
Information
Fate/Grand Order x SKY CIRCUS Sunshine 60 Observation Deck x Sunshine Aquarium
Venues: SKY CIRCUS Sunshine 60 Observation Deck / Sunshine Aquarium
Address: Sunshine City, 3-1 Higashi-Ikebukuro, Toshima-ku, Tokyo
Dates
Observation Deck: December 4, 2020 – January 31, 2021
Aquarium: December 4, 2020 – January 11, 2021
SKY CIRCUSSunshine 60 Observation Deck Official Website: https://sunshinecity.jp/observatory/
RELATED ENTRIES
Cup Noodles Celebrate 50 Years with Goods from Fashion Brand niko and…

Popular Japanese fashion brand niko and…will release a number of items in collaboration with globally-beloved Cup Noodle starting October 6, 2021. Preorders are now open on the official online store, so be sure to check it out before everything's gone!

Collection at a Glance

Cushion & Blanket: ¥4,180 (Tax Included) / Apron: ¥3,080 (Tax Included) /  Coat: ¥5,390 (Tax Included) 

Storage Box: ¥2,200 (Tax Included) / Tote Bag: ¥2,750 (Tax Included) / Shoulder Bag: ¥2,420 (Tax Included)

Cup Noodles originally hit the market in 1971, and in the past 50 years, the product has become incredibly popular as an affordable meal around the world. Blending the worlds of food and fashion, this collaboration with niko and…will offer people a chance to show off their noodle love with some fashionable items. The illustrations featured on the limited-time collection were provided by German artist Stefan Marx. The lineup has plenty of variety, with fashion items and household items galore, offering something for everyone!

Maison de Fleur Launches Eighth Anniversary Collaboration with Sanrio's Wish Me Mell

Japanese accessories brand Maison de FLEUR is celebrating eight years with another collaboration, this time with Sanrio's bunny character Mell. A number of special items are now available to preorder on the STRIPE CLUB e-commerce site until October 3, 2021. 

Double Ribbon Tote Bag: ¥5,819 (Tax Included) 

Side Pocket Tote Bag: ¥5,819 (Tax Included) 

Mini Pouch: ¥3,949 (Tax Included) 

Face Pouch: ¥3,949 (Tax Included)

Drawstring Pouch: ¥4,389 (Tax Included) 

Lining Design

The character Mell is also celebrating an anniversary, turning ten this year. Items went on presale on September 20, which also happens to be the little rabbit's birthday. The character was designed by Miyuki Okumura, more famously known as the designer of Cinnamoroll. 

These pink bags and pouches feature a classy salmon pink color, and the adorable inner lining is sure to make any Sanrio fan smile, showing Mell and her friends from Merci Hills surrounded by balloons. The canvas material makes these perfect for everyday use. 

Look closely at Mell's bunny ears to see the Maison de FLEUR logo! Will you be grabbing any of these items?


ⓒ'21 SANRIO APPR.NO.L629405

AZUL BY MOUSSY Selling Tokyo Revengers Collab Merch at Tokyu Square Flagship Store

The Minatomirai Tokyo Square AZUL BY MOUSSY shop is now selling collaboration merch inspired by the popular anime series Tokyo Revengers! The items will only be on sale until September 26, so if you're in the area, be sure to stop by before the event ends. 

Draken S/S Shirt: ¥9,900 (Tax Included) 

Revengers Tee: ¥4,400 each (Tax Included) 

Scene Photo Tee: ¥4,400 each (Tax Included) 

Revengers Crewneck: ¥8,250 each (Tax Included) 

Revengers Sweatpants: ¥8,800 each (Tax Included) 

Scene Photo L/S Tee: ¥5,500 each (Tax Included) 

Revengers Cap: ¥3,300 each (Tax Included) 

Revengers Rubber Keychain: ¥660 (Tax Included) 

Revengers Coin Case: ¥1,650 (Tax Included) 

Revengers Acrylic Stand (3 varieties): ¥1,650 each (Tax Included) 

Revengers Clear File (3 varieties): ¥550 each (Tax Included) 

 

Revengers Sticker: ¥1,100 (Tax Included) 

Revengers Ribbon Keychain (3 varieties): ¥1,100 (Tax Included) 

Revengers Reversible Face Mask: ¥1,980 (Tax Included)

Revengers Pin: ¥550 each (Tax Included)

The AZUL BY MOUSSY flagship store at Tokyu Square is the only place to get these limited-edition goods. This shop opened in spring 2021 and calls itself the nation's only 'Radical Store' filled with the unique elements of space, sound, fragrance, culture, person, and black. Those might be strange descriptors, but these words completely embody the AZUL BY MOUSSY brand concept. 

A part of the shop will feature brand-new illustrations of Takemichi, Mikey, and Draken clad in some of the new merch. Talk about breaking the fourth wall!

Tokyo Revengers is currently popular worldwide. The original manga series was written and illustrated by Ken Wakui and has been serialized in Weekly Shonen Magazine since March 2017. The anime series just wrapped, and a live-action film was released in Japan in July. Over 20 million copies of the manga have been sold to date. 

©和久井健・講談社/アニメ「東京リベンジャーズ」製作委員会

Information

AZUL BY MOUSSY x Tokyo Revengers

Available: September 17 – September 26, 2021

Where: AZUL BY MOUSSY Minatomirai Tokyu Square Location

Official Site: https://www.minatomirai-square.com/

JUSTIN DAVIS Collaborates with UNDERCOVER to Produce 20th Anniversary Jewelry

To commemorate the brand's 20th anniversary, JUSTIN DAVIS has announced a new collaboration jewelry collection with UNDERCOVER.

The collection is made up of three items; UNDERCOVER's iconic Giraapple has been transformed into a ring and earrings, while the blindfolded bear has transformed into a carabiner. The three new pieces will be available to preorder through the JUSTIN DAVIS stores nationwide and online, and in the UNDERCOVER Aoyama store.

GILAPPLE RING

GILAPPLE EARRING

BEAR CARABINER

 

This is the brands first collaboration with UNDERCOVER since 2014 when the blindfold bear necklace was released, which is still on sale to this day. In 2014, and now again in 2021 SS, it was designer Takahashi Jun who put forward the offer to collaborate on jewelry.

 

 

Be sure to check out these cute motifs and charming jewelry pieces! 

 

Information

JUSTIN DAVIS x UNDERCOVER

Release Date: September 17 2021

Available Stores:

JUSTIN DAVIS Official Online Store

Laforet Harajuku

ISETAN Shinjuku

Hankyu Umeda

Nagoya PARCO

Sendai PARCO

Hakata Hankyu

Sapporo PARCO

______

UNDERCOVER Aoyama

 

Official Site: https://justindavis-online.com/ 

Official Site:https://justindavis-online.com/

THE STRINGS Omotesando Introduces New 'Violet Halloween Afternoon Tea'

THE STRINGS Omotesando will be offering a new and limited 'Violet Halloween Afternoon Tea' at the 'Cafe & Dining ZelkovA' 1F between October 5 and October 31 2021.

 

The Halloween themed afternoon tea offers a selection of cute sweets, including black monster themed Maritozzo and purple taro Mont Blanc cream puffs topped with witch hats.

The cool Autumnal menu is made up of sweet and savory violet snacks, with purple potatoes, cassis, blueberries and more. You'll find yourself able to taste the season, with the rich fig cheesecake and sweet chestnut scones.

Enjoy bottomless drinks with a selection of 16 herbal and flavored teas, coffees and lattes. You can even enjoy a cup of tea from TWG, a luxury brand from Singapore.

This adult-aimed afternoon tea is full of luxurious ingredients, such as parfait-like organic vegetables and salmon micuy, roasted Angus beef, and violet desserts. Spend your afternoon relaxing on the French and Italian crafted sofas while you take a break from the hustle and bustle of the city.

 

  

Why not spend an elegant Autumn afternoon enjoying a luxurious afternoon tea, watching out over the iconic zelkova-lined streets of Omotesando?

The Jellyfish Kaleidoscope Tunnel Transforms for Halloween at 'HALLOWEEN in Sumida Aquarium' Event

Between October 1 and 31 2021, Sumida Aquarium will be hosting the 'HALLOWEEN in Sumida Aquarium' event, where you can enjoy an exciting Halloween alongside the Jellyfish. 

 

A workshop will be held at the event, teaching guests all about the floaty, mysterious and ghost-like jellyfish.

The aquarium's famous 50m 'Kaleidoscope Tunnel,' which is formed of 5,000 mirrors, will be transformed into a Halloween wonderland for the 'Jellyfish and Halloween' event. Eight aquariums are embedded into the walls, with colorful background panels which feature Halloween motifs such as witches and pumpkins. The jellyfish look just like festive ghosts!

Moon Jellyfish Aquarium in the Kaleidoscope Tunnel 

Each aquarium introduces seven mysterious facts about jellyfish – For example, did you know that jellyfish have no heart, and have tons of eyes?

The mysterious tunnel wall is covered in images of cute jellyfish that transform into ghosts and jack-o-lanterns, while Halloween themed music plays in the background.

A jellyfish comparison workshop


A jellyfish comparison workshop will also be held at the aquarium's Aqua Academy. Young children can participate in the workshop which explains the visual differences between different types of jellyfish, while crafting a cute jellyfish mobile under staff supervision.

Spend this Halloween at the incredible Sumida Aquarium!

Maison Kitsuné Reveals Collaboration Mask with PITTA MASK

Maison Kitsuné, a popular Parisian lifestyle brand that produces unique music and fashion items, has collaborated with Japanese mask brand PITTA MASK, a brand which has become famous for its extraordinary outlook. The trendy mask was unveiled at NYFW: The Shows on September 10 2021. 

The collaboration combines the creative direction of both Maison Kitsuné and PITTA MASK, working together to transform the typical mask, which has become a daily necessity, into something fun and stylish, all while maintaining the spirit of each individual brand.

PITTA MASK and Maison Kitsuné, a lifestyle brand known for combining fashion and music,  have collaborated to create a stylish and colorful mask that goes beyond just protecting the face, both practical and fashionable.

The two collaboration masks, which were unveiled during New York Fashion Week, will be presented as a free gift to customers who spend over ¥8,000 (Excl. Tax) in Maison Kitsuné stores in New York, Tokyo, Kyoto, and Osaka from the end of September. The set is made up of two masks, in navy and white.

 

Quantities are limited, so be sure to check out the latest information on social media!

Information

Maison Kitsuné x PITTA MASK Collaboration Face Mask

Gift Campaign Period: Late September 2021 Onwards (scheduled)

Maison Kitsuné Official Instagram: www.instagram.com/maisonkitsune/ 

Demon Slayer and J-League Team ALBIREX Collaboration Goods Now Available

A new collaboration is bringing sports and demon-slaying together! For the SPORTS2021 x Demon Slayer event, the popular series is partnering with three sports leagues: the NPB, J-League, and B.League. Goods are now available for the long-awaited collaboration between Niigata's ALBIREX soccer team and Demon Slayer, so sports and anime fans should snag some merchandise before it's all gone!

Items are available to pre-order online now until 2:00 on September 27, 2021. 

ALBIREX x Demon Slayer T-Shirt: ¥3,600 (Tax Included)

ALBIREX x Demon Slayer Face Towel: ¥2,100 (Tax Included)

ALBIREX x Demon Slayer Mini Towel: ¥600 (Tax Included)

ALBIREX x Demon Slayer Ribbon Magnet: ¥1,980 (Tax Included) 

ALBIREX x Demon Slayer Mug: ¥1,800 (Tax Included) 

Don't miss out on these one-of-a-time items!

New Tokyo Tourism Center 'Have a Nice TOKYO!' Opens to Promote Local Attractions

Have a Nice TOKYO! (HanT), a new tourist communication center promoting both local and nationwide events and attractions, celebrated its grand opening on September 14, 2021. 

This new facility aims to provide assistance and guidance to both domestic and international visitors, helping with matters relating to sightseeing, culture, food, and technology. It's three main functions are tourism assistance, providing useful and necessary information, and selling goods from around the country. As the COVID-19 pandemic has brought a major blow against the country's tourism industry, this new venture was opened in a conveniently-located space, well-suited for the important task of helping the local and nationwide economies when the country opens to travel once again. The nearby Marunouchi Happ. Stand & Gallery, a cafe, will act as a partner facility and will offer a special menu linked to the project. 

Tourism Advice & Guidance

Information Counter

The information counter provides helpful information for tourists regarding events, stores, and facilities in the area. In the future, a variety of tours will be available to choose from, highlighting the attractions of the region, as well as providing ticket sales, luggage storage, and sightseeing vehicles such as buses and rentable bikes. 

Travel Information & Assistance

POP UP ZONE

In the POP UP ZONE, visitors can experience all sorts of unique things from around Japan using the five senses! See, hear, and taste different areas of the country using crafts, food, and technology, and get personalized recommendations regarding where to explore next!

Sale of Goods

SHOP ZONE


See, smell, or taste something you liked in the POP UP ZONE? The SHOP ZONE will offer tons of different specialty products from all around Japan!

Be sure to stop by the next time you're in Tokyo!

Information

Have a Nice TOKYO!

Address: Mitsubishi Building 1F (2-5-2 Marunouchi, Chiyoda-ku, Tokyo)

Hours: 9:00-21:00 Weekdays, weekends, and holidays. (Hours subject to change.)

Access: 3-minute walk from Tokyo Station, 3-minute walk from Tokyo Station on Tokyo Metro Marunouchi Line, 1-minute walk from Nijubashimae Station on Tokyo Metro Chiyoda Line

Official Site: https://haveanice.jp/

Experience the World of Demon Slayer with New AR Experience from au

Starting September 23, Japanese cell phone company au will be releasing a new collaborative project with the globally popular Demon Slayer: Kimetsu no Yaiba series! 

The new experience will allow users with a smartphone to transform into characters from the show, and reenact popular battle scenes from both the anime series and film. The collaboration is taking place to celebrate the return of the series in 2021 for it's second season. 

Demon Slayer x au AR Experience

Augmented Reality: Become Your Favorite Character!

Using a special Instagram AR filter, users can mix different backgrounds and effects from the Demon Slayer series to make it feel as though you're a part of the action!

Famous Quotes from the Series

By pressing a button on the special collaboration site, users can enjoy a collection of 45 random vertical videos featuring their favorite characters saying their famous lines. Take a screenshot of these clips and use one as your wallpaper!

Online Puzzle Game Escape Mission: Escape from the Mugen Train

In this fun escape game, users become a member of the Demon Slayer Corps sent to the Mugen Train to help rescue passengers. 

©吾峠呼世晴/集英社・アニプレックス・ufotable

*「煉獄」の「煉」は「火+東」が正しい表記となります。

Hard Rock Cafe at Ueno Station to Sell Goods Commemorating Birth of Twin Pandas at Ueno Zoo

American music-themed restaurant Hard Rock Cafe has locations across Japan, and the Ueno location is now selling some very cute black-and-white goods. At the nearby Ueno Zoo, the oldest in Japan, two giant pandas were recently born, and that's cause for celebration! Limited quantities of these goods will be on sale at the physical location and online starting September 18, 2021!

Twin Pandas Pin #1

Twin Pandas Pin #2 (Only available at Online Shop.) 

These two original pins depicting the two newly-born pandas with the Hard Rock's signature guitar are available in gold (online only) and silver. 

Panda T-shirt

Grab one of these before they sell out–they're going quick! This cute original design will look perfect as you walk through the zoo gates, ready to show your love for pandas and rock music. 

Guests presenting an Ueno Zoo ticket stub or annual pass at the Ueno Hard Rock Cafe location will receive 10% off. (Full details available on the Hard Rock Cafe website.)

Congrats to the happy family!

Information

Hard Rock Cafe Ueno Station Tokyo – Twin Giant Panda Commemorative Goods

On Sale: 

Ueno Station Tokyo Location: September 18, 2021 

Address: atré Ueno 1F (7-1-1 Ueno, Taito-ku, Tokyo)

Official Online Shop: Preorders begin September 17, 2021 10:00AM

Official Online Shop: https://hrcjapan.official.ec/

Art Gallery Cafe WHAT CAFE to Open New Collaborative Exhibition with the DELTA Project

A new collaborative exhibition is coming to WHAT CAFE in Tokyo! The WHAT CAFE x DELTA EXHIBITION -EXPANSION- will run from September 25 until October 24, and will give guests some incredible pieces to ponder while sipping some warm coffee. 

WHAT CAFE is an art and culture facility opened with the goal of supporting artists with promising futures in the industry. Guests can wander the gallery while enjoying a meal or beverage, with some art being available for purchase.

Flash FINCH – Ji-hae Park

Combination-cut in 2 – Saki Matsumura

Galloping on a Free-floating Planet – Yui Suzuki

real screen – Takuro Sugiyama

This exhibition was inspired by WHAT CAFE's interest in the activities of DELTA, an art project that helps plan and organize art fairs and exhibitions around Japan. It's mission is to create a new place connecting galleries, artists, and collectors, while also breaking the norm and making a space that is more accessible. The WHAT CAFE x DELTA EXHIBITION -EXPANSION- will feature 60 works by 17 cutting-edge artists carefully selected from seven different galleries based in Tokyo, Osaka, and Kyoto. The showing will ask visitors to expand their minds and become more flexible when pondering the meaning behind each of the pieces on display.

Does this art-gallery-meets-cafe sound like your kind of place?