Handmade Double-Wall Miffy Glass Releases at Chiba LOFT in Japan
GOODGLAS Japan is expanding its range of products at Chiba LOFT this Saturday (November 28) which includes the return of last year's popular Miffy glass as well as a Christmas series.
Glass products at GOODGLAS are all handmade and use the traditional glass blowing method. The company has released many different double-wall glass designs including Hello Kitty, shiba inu, and more.
Miffy Glass at Chiba LOFT
miffy ©Mercis bv | ¥3,900 (Before Tax)
A Miffy glass made with traditional glass blowing that captures her adorably long ears, something which the company expressed was difficult to get right and took numerous trial and error attempts.
Christmas season glasses
Christmas Tree & Snowman | ¥6,500 (Before Tax)

Rudolph | With Snow ¥3,300 (Before Tax), Without Snow ¥3,200 (Before Tax)
For the Christmas series, GOODGLAS has crafted Christmastree, snowman, and Rudolph designs. The Rudolph glass is like a snow globe with snow in it.
Gon, the Little Fox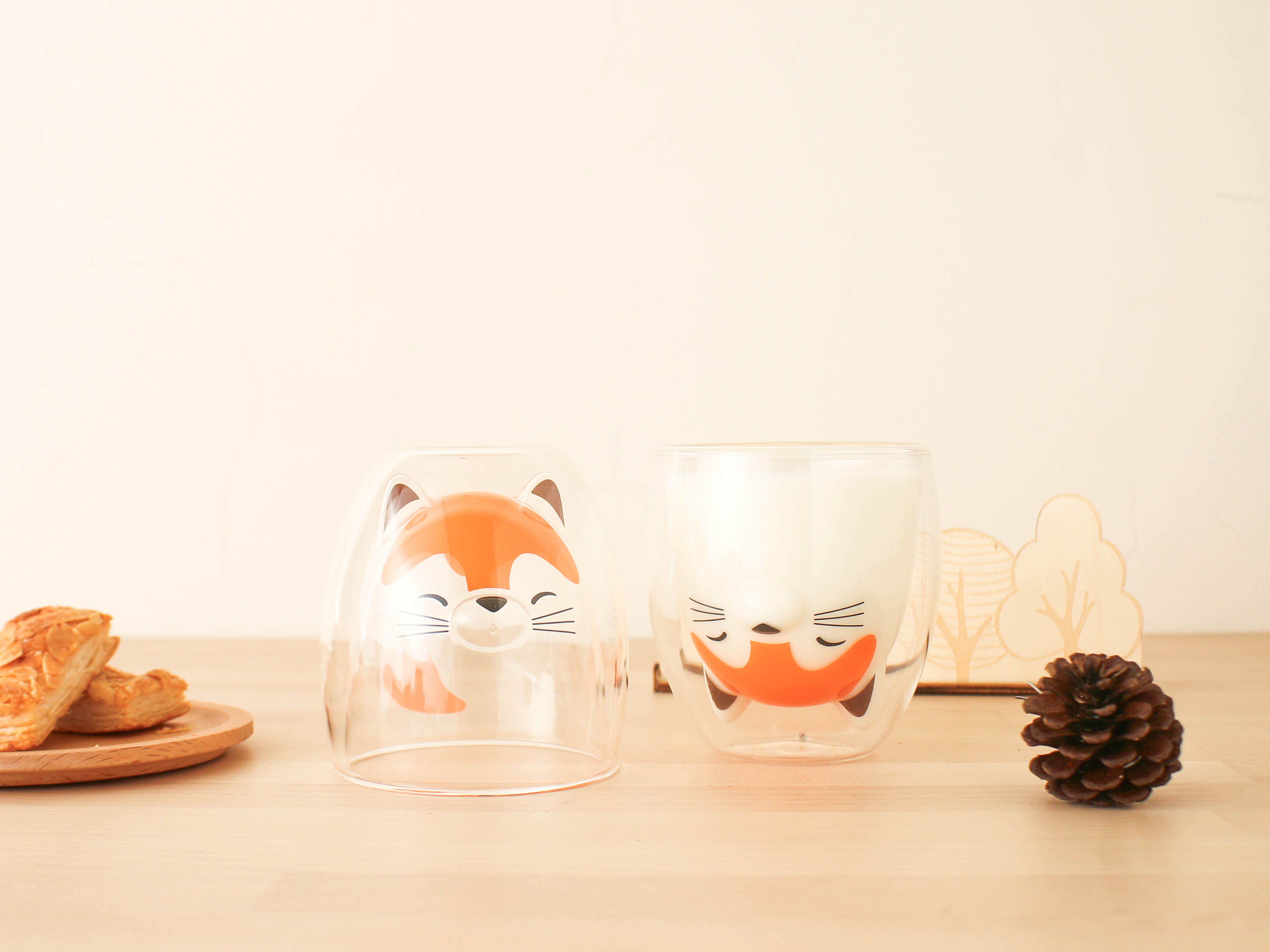 Gon, the Little Fox | ¥3,200 (Before Tax)
This glass is inspired by Gon, the Little Fox, a Japanese children's story. It was created in collaboration with Handa, the town where the story's author Niimi Nankichi was worn and where he wrote the story.
Year of the Ox
GOODGLAS is also planning to release a cow-themed glass to represent the 2021 Year of the Ox.
Information
GOODGLAS New Products
Release Date: November 28, 2020
Available: Chiba LOFT (Floor 8F)
Address: 1-6-2 Sakuragicho, Omiya-ku, Saitama
GOODGLAS Official Website: https://www.r-kj.com/about-2
RELATED ENTRIES
Miffy Eco Bag Series Features Simple and Stylish Dull Colour Line-Up

The online Japanese shop CONCIERGE NET is now taking orders for its new "Dick Bruna" collectors series of Miffy eco bags. Released on Friday, these simple yet stylish bags come in dull colours. They are lightweight, can be used as a secondary bag at work or outdoors, and are eco-friendly. There's a matching pouch for each one too to complete the collection. 

The Line-Up

Collectors Sack

Brown

Pink

Mint

Blue

The bag can be wrapped up

Collectors Pouches

The pouches are a compact and convenient A4 size and match with their corresponding tote bags. The bags also come with a cute ribbon which can be used to tie them up smaller for storing at home or in your main bag. Each is also fitted with a loophole which you can attach keyrings and charms to. The straps are nice and long so fit over the shoulder comfortably.

Get your own cute Miffy tote bag with this new series.

Miffy x Tabio Sock Collection to Release in Super Cute Designs

Japanese sock company Tabio is set to release a cute sock collection in collaboration with Miffy on May 17.

The Line-Up

Miffy Short Socks | 3 Colours | ¥1,430 (Tax Included)

Miffy Embroidered Socks | (2 Colours) | Women's ¥1,430, Children's ¥1,210 (Tax Included)

Miffy Short Socks | 3 Colours | ¥1,430 (Tax Included)

Miffy Embroidered Socks | (2 Colours) | Women's ¥1,430, Children's ¥1,210 (Tax Included)

Limited-Edition Novelty




The sock collection arrives with four different sock models featuring adorable Miffy designs. Those who spend over ¥3,300 on the collection will also receive a free Miffy memo pad.

Miffy Plushies by BON TON TOYS Release in Japan-Exclusive and New Colours

BON TON TOYS released three new coloured Miffy plush toys as part of its Miffy Corduroy Collection, one of which is exclusive to Japan, on April 28. All 15 of the new toys are available at all interior and lifestyle shops and online at marcs STORE in Japan.

Light Stone (Japan Exclusive)

Light Stone

Buttercream

Pumpkin

BON TON TOYS is a Dutch toymaker established in 1933. The brand is focused on helping to create a more sustainable world and protecting the environment for the future of children.

The Miffy Corduroy Collection is one of BON TON TOYS' most popular in the Netherlands too. The new colours include Light Stone, which is available only in Japan, and Buttercream and Pumpkin, both of which remind one of gentle springs. The line-up also includes key chains which are just 10cm in size and serve as trusty companions on your bag or elsewhere.

Over 1,000 Pieces of Miffy Merchandise Arrives at SOGO Omiya

SOGO Omiya Store in Saitama is currently holding the Miffy zakka Festa, an event centred on the cute character Miffy which is running until May 5. Over 1,000 items are available to buy including exclusive merchandise, bonuses on certain purchases, a special photo spot where visitors can snap a picture against a wall covered in Miffy art, and more.

A4 Folder | ¥495 (Tax Included)

Slim Pouch | ¥990 (Tax Included)

 

Acrylic Clock | ¥6,050 (Tax Included)

Soft Mascots | ¥330 Each (Tax Included)

Orange Earl Grey Tea | ¥1,100 (Tax Included)

 

Bonus Item

For every ¥3,300 spent on anything in the merch line-up, customers will receive the above-pictured four pieces of A4 wrapping paper.

Miffy Wall Photo Spot

Take a commemorative picture with Miffy at the designated wall photo spot.

If you love all things kawaii, the Miffy zakka Festa is a must-visit this spring for stocking up on your collection.

Information

Miffy zakka Festa

Running: April 23, 2021 – May 5, 2021

Where: SOGO Omiya Store

Address: 1-6-2 Sakuragicho, Omiya Ward, Saitama-shi, Saitama

Entry: Numbered entry tickets will be given on the first floor of SOGO Omiya on the station side between 9:30-9:55

SOGO Omiya Store Official Website: https://www.sogo-seibu.jp/omiya/

Chibi Maruko-chan Meets Miffy in Cute Merchandise Collaboration

The beloved Chibi Maruko-chan from the manga of the same name is joining hands (or paws) with the Dutch children's book character Miffy at the upcoming Maruko Meets Miffy fair that will be held at 16 branches of Miffy Style and 19 branches of KIDDYLAND in Japan for the whole month of May.

The creator and author of Miffy, Dick Bruna, was actually a friend of Momoko Sakura, the creator and author of Maruko-chan. They first met in 1999 when Sakura visited Dick Bruna's atrium in Utrecht for an interview on her book Fujisan. 20 years later, their works come together at this special event that pays homage to their meeting and works.

Over 100 pieces of merchandise will be sold at the event, from stationery to gadgets, plush toys, and more. The exclusive cute artwork designed for the event is also sure to make fans feel warm and fluffy inside.

A small look at just some of the items on sale

<Clockwise> Socks ¥418 / Small Clear Case ¥748 / Memo Pad ¥495 / Mirror ¥1,485 / Blue Key Ring ¥528 / Yellow Key Ring ¥528/ Flat Pouch ¥1,320

<Clockwise> Square Glass Phone Case ¥3,168 / Plushie ¥3,850 / Wireless Charger ¥3,278 / Mechanical Pencil & Two-Colour Ballpoint Pen ¥550 / AirPods Pro ¥2,178 / Mascot Key Ring ¥1,980 / 4000mAh Lithium Ion Polymer ¥4,378

<Clockwise> Mug ¥1,650 / 5.5 Inch Plate ¥1,100 / 8.5 Inch Plate ¥1,760 / Bowl ¥1,210

Get a free bonus item

Fans who spend over ¥2,000 (tax included) on any of the Maruko Meets Miffy merchandise will receive this free mini notebook too!

Pokémon, My Melody, Moomin and More Valentine's Day Chocolates Arrive at Daimaru Tokyo

The Hoppe Town area of Daimaru Tokyo is currently celebrating Valentine's Day up to February 14 with the release of a selection of gift chocolates by six brands in collaboration with popular characters.

Pokémon Chocolate Set (Large Box) | ¥1,404 (Tax Included)

My Melody x Goncharoff Chocolates (Contains 21) | ¥2,160 (Tax Included)

Moomin x Merry Chocolate's Hattifatteners Chocolates (Contains 11) | ¥1,188 (Tax Included)

Dick Bruna by Morozoff: Picture Book Chocolates (Contains 15) – ¥864 (Tax Included) / Miffy Pouch Chocolates (Contains 8) – ¥1,320 (Tax Included)

Chatrois Kitten Tiny Plain Chocolates | ¥783 (Tax Included)

Katanukiya Angel Panda | ¥684 (Tax Included)

Which of these cute and tasty-looking treats has caught your eye the most?

©Nintendo・Creatures・GAME FREAK・TV Tokyo・ShoPro・JR Kikaku ©Pokémon
©1976,2021 SANRIO CO,LTD.APPROVAL NO.L613374
©Moomin Characters™

Information

Daimaru Tokyo Valentine's Sweets
Running: January 27, 2021 – February 14, 2021

Location: Hoppe Town on Floor 1F of Daimaru Tokyo
Official Website: https://www.daimaru.co.jp/

Miffy Cookies Get Baked Up by Netherlands Confectionery Theo Blom at Dick Bruna TABLE

The popular wine bar Dick Bruna TABLE, where customers can enjoy a glass of wine with a meal together with illustrations by Dick Bruna, the creator of Miffy, is now selling a batch of Miffy cookies created by the popular confectionery Theo Blom located in Utrecht, Netherlands.

Miffy Cookies & Chocolate | ¥4,000 (Before Tax)

Miffy Cookies | ¥4,000 (Before Tax)

Utrecht is the birthplace of Miffy author and creator Dick Bruna, and Theo Blom is a place that Bruna himself actually often visited. The confectionery is known for its tins which can be reused after the contents are eaten. The cute Miffy tins are definitely keepers.

Information

Dick Bruna TABLE – Miffy Cookies & Chocolate
Released: Mid December 2020
Location: Dick Bruna TABLE
Address: 3-1-1 Sannomiyacho, Chuo-ku, Kobe
Opening Hours:
[Weekdays] 11:00-15:00 (Last Orders 14:00) / 17:00-23:00 (Last Orders 22:00)
[Saturdays] 11:00-23:00 (Last Orders 22:00)
[Sundays/Public Holidays] 11:00-21:00 (Last Orders 20:00)
Access: 078-333-3332
Official Website: https://dickbrunatable.com/

Cute Cow Double Wall Glass by GOODGLAS Releases For the 2021 Year of the Ox

GOODGLAS Japan is releasing a new cow design double wall glass this month for the New Year as 2021 will mark the Year of the Ox. This is the third in the company's Chinese zodiac design, following from their boar and rat designs, and like those will be available in a limited quantity of 500.

Zodiac Series – "Cow" | ¥3,200 (Before Tax)

Glass products at GOODGLAS are all handmade and use the traditional glass blowing method. Perfect for hot drinks and dessert, the cow design also makes as a great New Year's decoration.

GOODGLAS has released many cute designs in the past such as Hello Kitty, a Shiba Inu, Miffy, and more.

Cute Miffy Travel Merchandise to be Sold at Pop-Up Store in Shibuya

Pinkoi, the company that runs Asia's biggest global e-commerce site of the same name, has announced a collaboration with Dick Bruna's popular character Miffy, who is celebrating her 65th anniversary this year. A special pop-up store that will open up at Hotel Koe Tokyo from November 19 to December 6.

Miffy fans can look forward to getting their hands on 180 different exclusive items made in collaboration with designers from Taiwan, Hong Kong, Thailand, China, and Japan

Pinkoi x Miffy 〜TRAVEL with Miffy〜

"TRAVEL with Miffy" is the name of the collaboration which features a collection of travel-themed Miffy goods.

Merchandise (Sample)

Re-Mask (Hong Kong) | Face Masks

Face masks have become a normal part of everybody's life this year as a result of the pandemic, so why not go for a cute design? These cotton masks were made by a face mask company in Hong Kong and come in a variety of colours such s white, pink, and navy.


agooday (Taiwan) | Food Eco Bag

An eco-bag perfect for taking to the supermarket when grocery shopping. The inside of the bag is made from vinyl so can be washed. Its small size also makes it conveniently compact for carrying around.


一帆布包 (Taiwan) | Drink Holder

This drink sleeve has a strap on it so you can carry around your hot or cold beverage like a handbag. These are made by a Taiwanese bag brand which has been going for over 30 years.


pupupu (Japan) | Bags

Cute bags with minimalist designs and made from warm and fluffy material perfect for the winter season. Miffy's ears are actually the handles.


寺沼麻美 (Japan) | Mobiles

These cute Miffy mobiles are all handmade, with swaying stars and clouds to help you drift you off to sleep.

Limited Edition Presents

Stickers / Tote Bag / Handkerchief

There's also a selection of goodies visitors can get their hands on. If they post on Twitter, Instagram, or Facebook using the hashtag #pinkoixmiffy while at the pop-up store they can get some Miffy stickers. If they spend over ¥8,000 they'll get the tote bag. Pinkoi members will get one of four possible Miffy handkerchiefs.

Special Website

A special page for the pop-up store will open on Pinkoi's official website on November 12 less than a week before the pop-up store opens so Miffy fans can order items online early.

Information

Pinkoi x Miffy 〜TRAVEL with Miffy〜 TOKYO Pop-up Store
Running: November 19, 2020 – December 6, 2020

Opening Hours: 11:00-19:00 (Open from 14:00 on November 19)

Location: hotel koe tokyo 2F pop up space

Address: 3-7 Udagawacho, Shibuya, Tokyo
Access: 5-minutes on foot from Shibuya Station's A6b Exit

Pinkoi Official Website: https://jp.pinkoi.com

Hello Kitty Double Wall Glasses by GOODGLAS Are Perfect For Dessert Servings

Japanese glass company GOODGLAS re-released the red versions of its Hello Kitty double wall glasses on Friday after they sold out in just two months when they first went on sale on July 20.

Handmade Hello Kitty Double Wall Glass

Hello Kitty Double Wall Glass (Red) | ¥3,600 (Before Tax)

Glass products at GOODGLAS are all handmade and use the traditional glass blowing method.

Not just cute but practical too

Limited Edition Blue Colour

The glasses can be used for beverages too. Winter is on the horizon, so this is the perfect vessel to sip a cosy hot drink from.

Enjoy a tea break at home with Hello Kitty

限定カラーゴールド

When you pour either your hot or cold drink into the glass, Hello Kitty's face stands out even more—and depending on the beverage you pour inside, you can create different looks.

©︎1976, 2020 SANRIO CO., LTD.TOKYO,JAPANⓁ

Information

Hello Kitty Double Wall Glass Red
Re-released: October 23, 2020
GOODGLAS Japan Official Website:  https://www.r-kj.com/

KIDDYLAND Harajuku to Celebrate Miffy's 65th Anniversary

KIDDYLAND Harajuku, a fun and cheerful shopping centre in Harajuku, Tokyo, has announced that it is celebrating the 65th anniversary of Dick Bruna's popular character Miffy from October 10 to March 19 with a different theme every month. Visitors can expect to get their hands on a range of merchandise, freebies, and more.

CARROT

Running from October 10, 2020

A selection of autumn-coloured and carrot-themed Miffy merchandise will be sold. If you head on up to miffystyle on floor 4F of KIDDYLAND Harajuku right, and spend more than ¥1,000, you'll also receive a special Miffy shopping bag completely free (available now). These are limited in stock though so you'll want to get your paws on them quick!

KIDDYLAND x miffystyle Christmas Fair 2020

Running from November 7, 2020

miffystyle and KIDDYLAND are hosting a Christmas fair this year themed on animals. A special range of merchandise with designs of Dick Bruna's animals will be sold. Customers who spend over ¥1,000 at the fair will also receive a free shopping bag, and if they spend more than ¥2,000 some special pink wrapping paper. These are both limited in stock.

A must-grab at the Christmas Fair


Miffy GOODGLAS | ¥3,900 (Before Tax)

One must-get item at the Christmas fair is the cute double-wall glass made by GOODGLAS. Perfect as a gift to yourself or someone else this Christmas. As you pour your drink into it, Miffy's face will appear.

Enjoy the autumn and winter this year with Miffy in Harajuku.

Illustrations Dick Bruna © copyright Mercis bv,1953-2020 www.miffy.com

Cute Miffy Merchandise Inspired by Huis Ten Bosch in Nagasaki Released

Huis Ten Bosch, a theme park in Nagasaki which recreates the Netherlands with copies of Dutch-style buildings, is now selling a new line of Miffy merchandise in two different collections: "Kingdom Star Miffy" and "Kingdom Flower Miffy," both of which are available until the end of December this year.


Miffy's simple yet colourful appearance has won him love the world over. Dick Bruna, the Dutch creator of Miffy, has his ties to Huis Ten Bosch back when the area was known as Nagasaki Holland Village, the former theme park.


The Netherlands flag-holding Miffy is now an indispensable figure at Huis Ten Bosch.

Kingdom Miffy arrives as a new line of Miffy merchandise with a kingdom theme to it with such motifs as castles and crowns. The original collection comes in cute pastel colours.


The Kingdom Flower Miffy line-up features beautiful purples and pinks and is reminiscent of the tulips and roses planted at Huis Ten Bosch.

Kingdom Star Miffy is coloured in yellow and orange and features star motifs. Miffy is also wearing a crown.

The merchandise can be bought at Huis Ten Bosch's Dick Bruna shop Nijntje, but the items are also available online for those unable to travel during the pandemic. The line-up includes everything from plush toys to pouches, stationery, and more.

Kingdom Miffy Plushies

Exclusive to Huis Ten Bosch, pick between the tulip Kingdom Flower Miffy or the crown-topped Kingdom Star Miffy.


Kingdom Miffy Towels

Made in Japan, these soft towels feature castle designs, with the Kingdom Flower towel in a cute pink colour and the Kingdom Star version dotted with stars.

Kingdom Miffy Mugs

The mugs, too, incorporate these designs. They are sold in special boxes.

Illustrations Dick Bruna © copyright Mercis bv. 1953-2020 www.miffy.com