Doraemon Future Department Store to Open Pop-Up Shop in Osaka and Nagoya
Doraemon's official shop Doraemon Future Department Store, which is located in Odaiba, Tokyo, is celebrating its 1st anniversary of opening this December by opening two limited-time shops in Osaka and Nagoya this month and January respectively. Fans can get their hands on a selection of exclusive merchandise and more.
Customise Service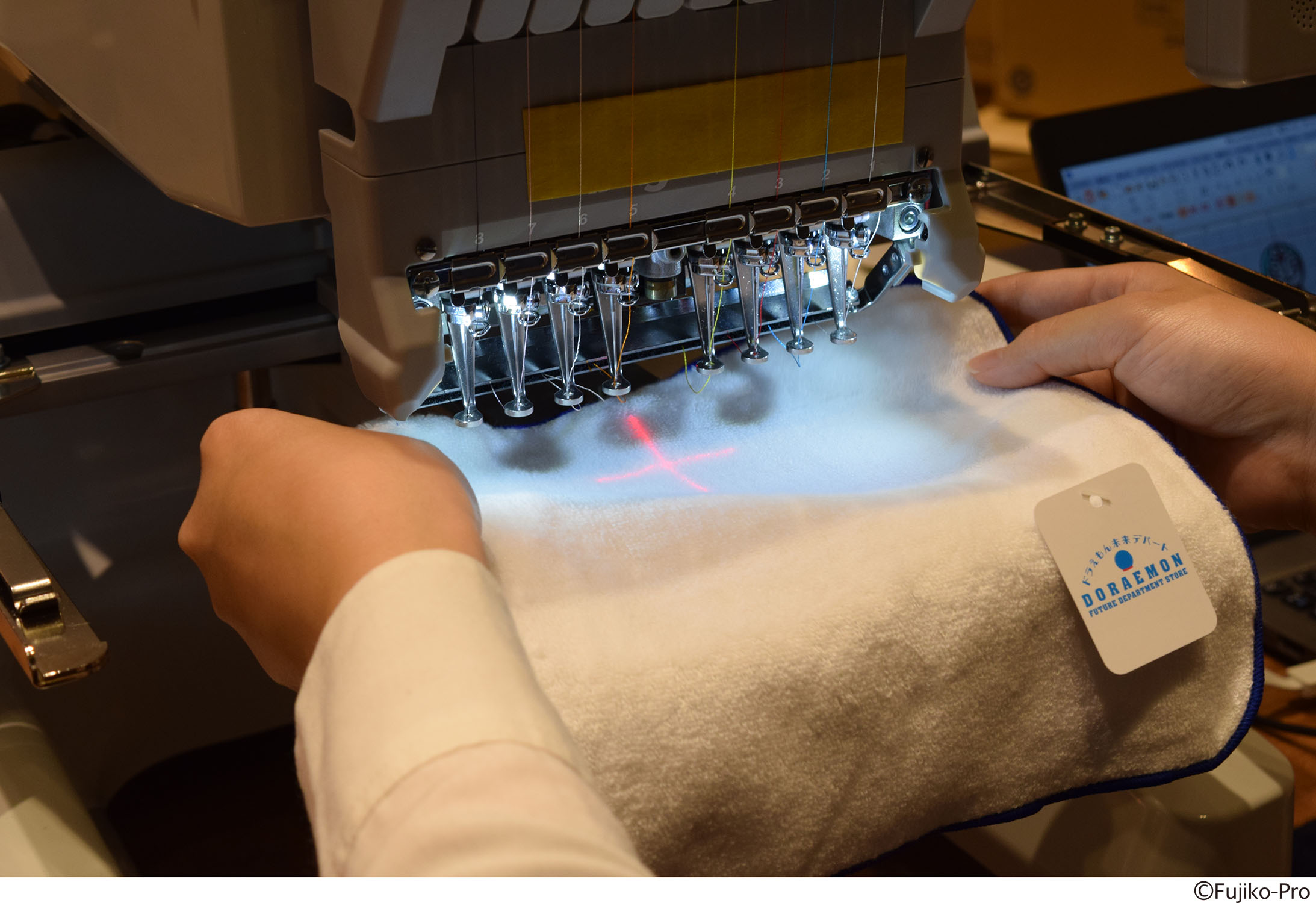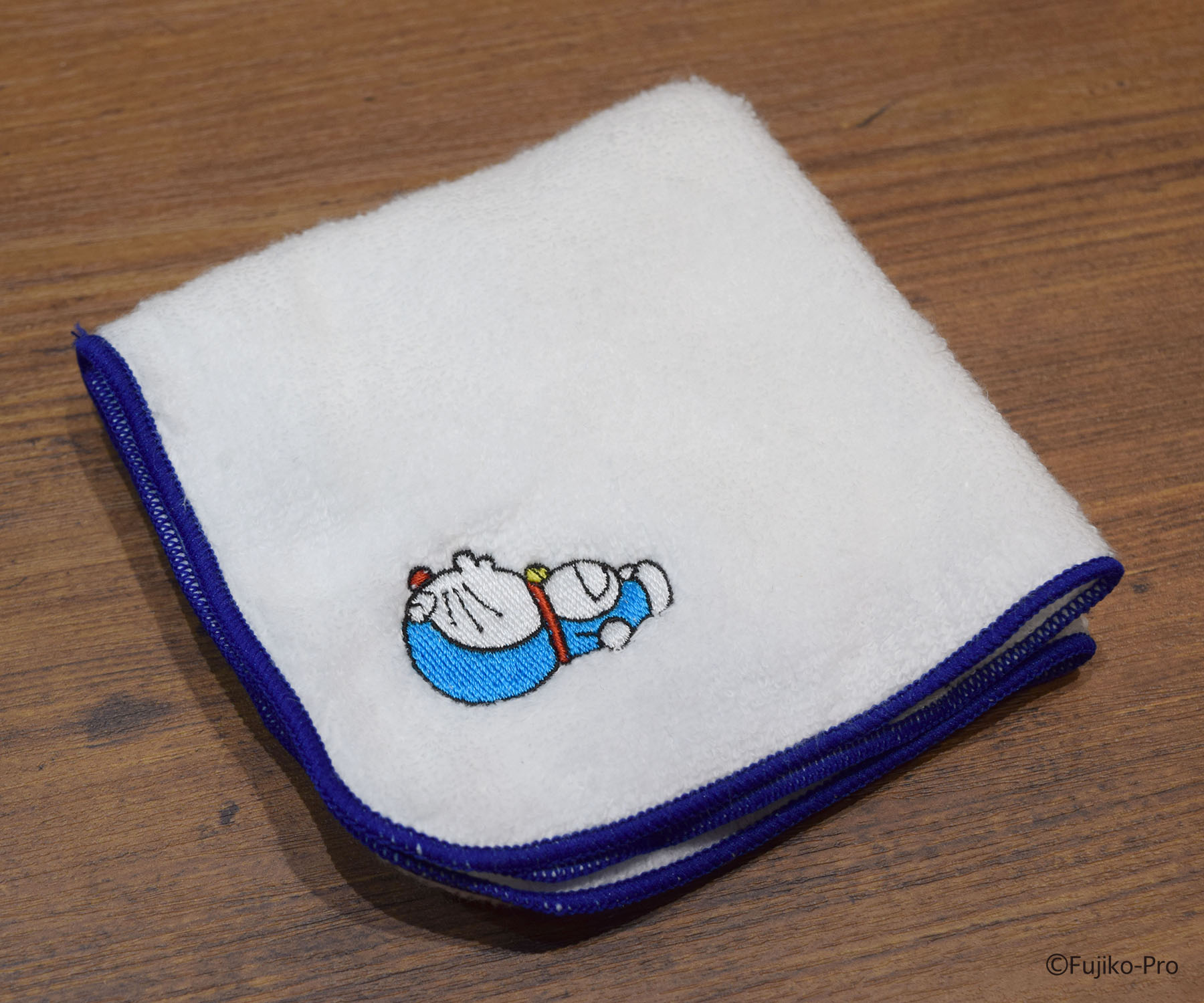 The pop-up shops will offer a customisation service which lets customers have different embroideries put into the T-shirts, tote bags, and other merch they buy. The work is done on the spot by hand so you can see the result of what will be a very special item of which only one exists in the world. Perfect for Doraemon fans and gifts to friends and family.
Post Office
The shop will offer a postal service for sending off Doraemon letters and postcards with original Doraemon stamps.
Bonus Items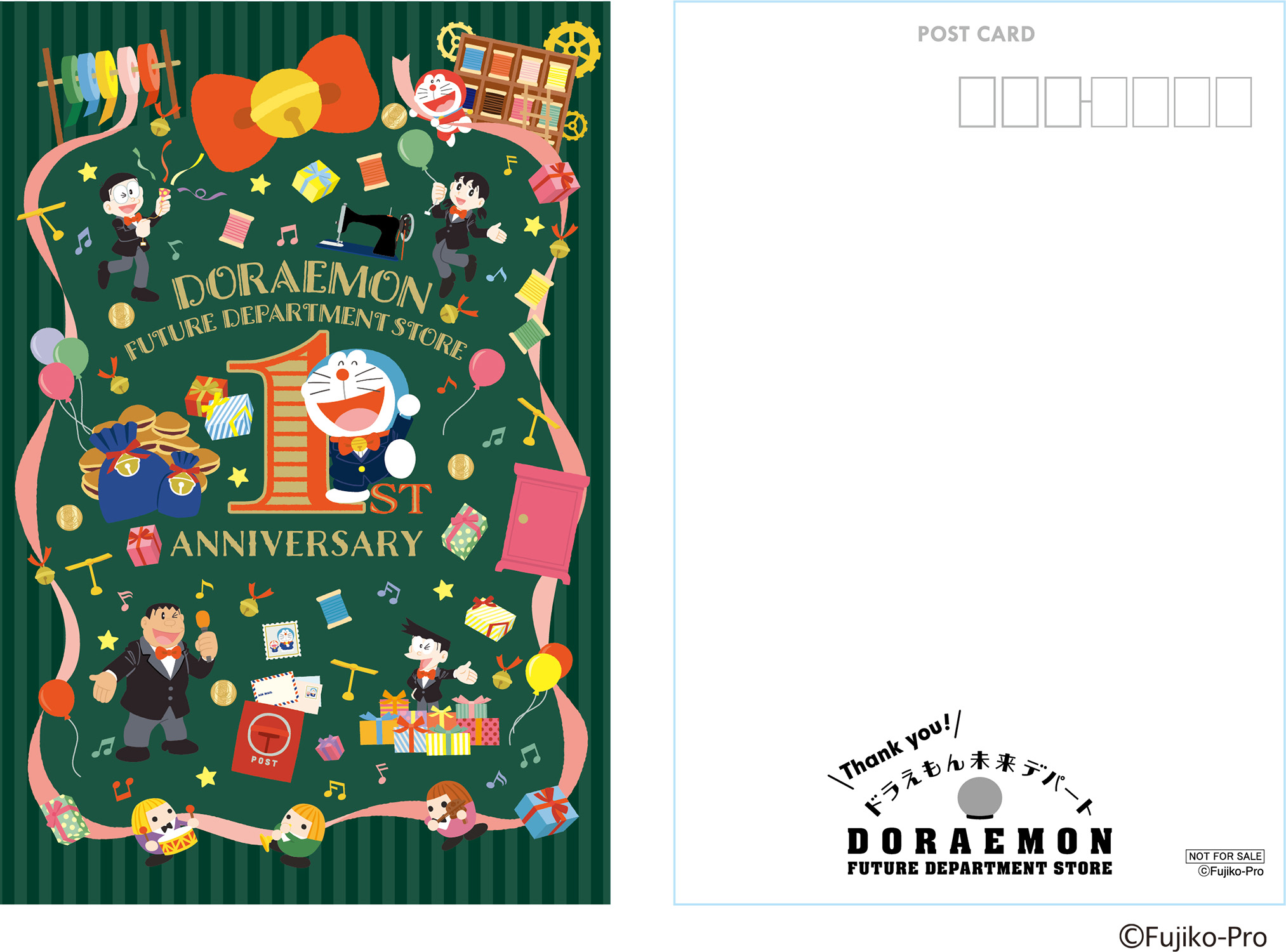 1st Anniversary Postcard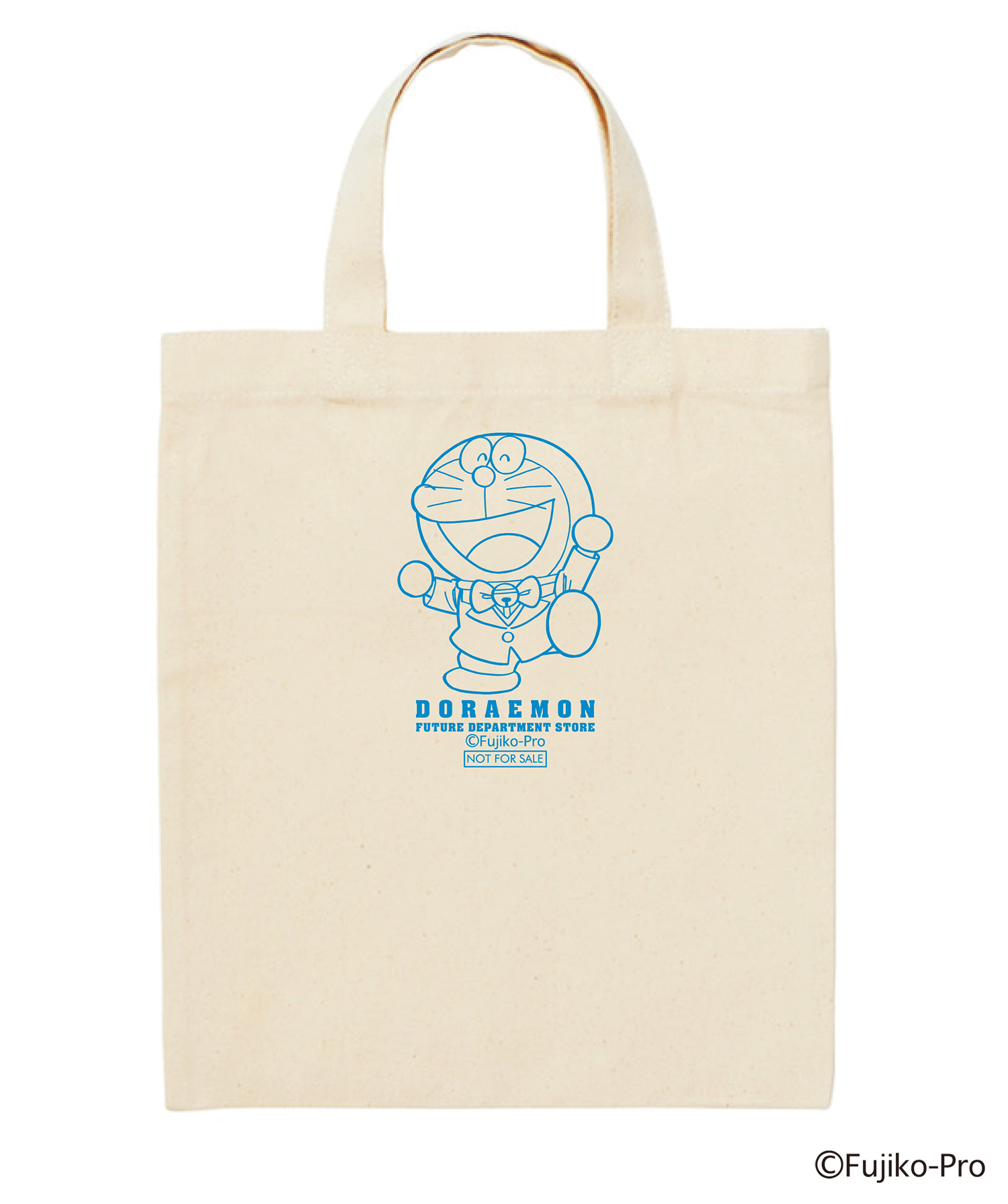 Mini Tote Bag

Those who buy anything from the department stores will receive a free 1st anniversary postcard. And for every ¥5,000 spent (tax included) they'll get a mini tote bag. These are all limited in stock so you'll want to get them while they're hot.
If you're in Osaka or Nagoya over the New Year be sure to pay a visit to the Doraemon Future Department Store pop-up shops.
©Fujiko-Pro
Information
Doraemon Future Department Store in Abeno Harukas Kintetsu 2021
Location: Abeno Harukas Kintetsu, Wing Building Floor 4F
Running: December 30, 2020 – January 17, 2021
Opening Hours: 10:00-20:00 (until 18:00 on January 17)
Closed: January 1, 2021
Doraemon Future Department Store in Takashiyama Gate Tower Mall 2021
Location: Takashiyama Gate Tower Mall (Nagoya), Rose Terrace on Floor 7F
Running: January 8, 2021 – January 26, 2021
Opening Hours: 10:00-21:00
*Opening hours subject to change
RELATED ENTRIES
Chiba City Museum of Art Brings Ukiyo-e Exhibition to Osaka's Takashimaya Department Store

New Prints: The Evolutionary Beauty of UKIYO-E, featuring pieces from the Chiba City Museum of Art, will be held at Takashimaya Osaka from September 15-27, 2021. 

Ukiyo-e, or woodblock prints, were exceptionally popular as a Japanese art style from the 17th to the 19th centuries. Now, a new exhibition coming to Osaka is highlighting the 'Shin-hanga' movement, which took place during the early 20th century and focused largely on the creation of pieces to sell to foreign markets. The man behind this movement was Shozaburo Watanabe, who commissioned artists to design prints blending traditional Japanese techniques with unique elements of Western paintings at the time, such as shadowing and different perspectives. 

The exhibition will contain 120 works selected from the Chiba City Museum of Art's Shin-hanga collection, ranging from early masterpieces such as Goyo Hashiguchi's 'Woman at her Bath,' Ito Shinsui's 'Before the Mirror,' as well as rich depictions of Japanese landscapes by Hasui Kawase and international landscapes by Hiroshi Yoshida. 

Selection of Featured Works

Twelve Months of Tokyo: Evening Glow at Yanaka – Hasui Kawase. 1921. 

 

The Twelve Months in Tokyo series consists of twelve paintings based on sketches made by Kawase between December 1920 and October 1921. While twelve pieces were planned, only four circular pieces and one square piece were completed. Evening Glow at Yanaka depicts a five-story pagoda glowing faintly in the light of the setting sun. Kawase has stated that as he finished sketching the piece, he heard the sound of a bell, and for some reason, he had the uncanny feeling that he needed to straighten his collar. 

Sailing Boats in the Morning: Inland Sea – Hiroshi Yoshida. 1926.

 

Yoshida began work on the Sailing Ship trilogy in 1921 under Shozaburo Watanabe, but all of his woodblocks and most of his works were lost in the Great Kanto Earthquake. Five years later, Yoshida decided to tackle the project again, this time deciding on six pieces. In contrast to the originals under Watanabe, these pieces tackled more nuanced periods of time and give a stronger sense of tranquility. Pay attention to the slight variations in color and light. 

Before the Mirror. Ito Shinsui. 1916. 

This is the first Shin-hanga work by Ito Shinsui. The piece only uses three colors: red, black, and white, and utilizes serrated carving to give the impression of shadows. Using layers of rare high-quality red paint, this work has been deemed a masterpiece by fans of the movement, conveying Shinsui's subtlety when depicting the feminine figure. 

Fashions of the Modern World: Tipsy – Kiyoshi Kobayakawa. 1930.

This portrait of a modern lady is one of six in the Fashions of the Modern World series by Kobayakawa, and is regarded by many as the best in the bunch. Produced between 1930 and 1931, the artist portrayed the unique personalities of women, rather than sticking to tradition. The woman in this portrait isn't demure or quiet, but instead shows off her short hair, a cigarette, rings, and a cocktail in her hand, showing a different side to the Japanese women of the period. 

Combing the Hair. Goyo Hashiguchi. 1920. 

With her overflowing black hair and elegant appearance, the subject of Combing the Hair makes it clear why this is Hashiguchi's most representative work. The woman's name is Tomi Kodaira, and she modeled for many of the artist's works, being discovered by him as she was modeling at a nearby art school. The pose is said to be inspired by Rossetti's Lady Lilith, but her expression is unique to Hashiguchi and the typical style of ukiyo-e. 

Noseden Artline Festival 2021 Bringing Light, Sound, and Food to the Kawanishi Area

A celebration of light, sound, and food, the biennial Noseden Artline 2021 Festival will take place from October 30 until November 23, 2021. Set in one city and three towns along the Nose Electric Railway, the regional art event began in 2013 to celebrate the 100th anniversary of the rail line, and brings local artists and residents together. 

The festival will be in Kawanishi and Inagawa in Hyogo Prefecture, as well as in Toyono and Nose in Osaka Prefecture, with Mt. Myoken marking the center point. Each part of the event will connect the history, industry, and tradition of the area with new and engaging creations. 

The theme of the 2021 Noseden Artline Festival is 'Enlarged Mentality.' By taking things that are subjective, like an artist's thoughts and senses, and applying them to the objective world that can be shared, it creates a one-of-a-kind way to connect fully with others. The event will feature local cuisine and music, as well as art focused on light, inspired by the North Star. After a year of solitude due to the pandemic, the festival hopes to remind people to cultivate, nourish, and preserve local relationships. 

Art can make life more enjoyable, so why not come and see what the area has to offer?

 (C)Kousei Ikeda(SPEKTRA)

Information

Noseden Artline Festival

Running: October 30 – November 23, 2021

Location: Nose Electric Railway Line ~ Near Summit of Mt. Myoken

Official Site: http://noseden-artline.com/2021/

9th Installment of Anime-Inspired Cooking Project AniCook Features Bungo Stray Dogs

AniCook, a project using anime to make cooking more fun, is already holding it's 9th collaboration with a popular series. This time, characters from the popular anime series Bungo Stray Dogs are coming to cook up some fall treats at Shinsaibashi PARCO in Osaka from October 1 until October 26! 

Menu

Sticker gifted to guests who purchase a meal or dessert (8 varieties) / Postcard gifted to guests ordering a drink (8 varieties) 

Original Merchandise

Acrylic Stands (8 varieties) / 8-pack set

Pins (8 varieties) / 8-pack set

Acrylic Keychain (8 varieties) / 8-pack set

Acrylic Muddler (8 varieties) / 8-pack set

100 Limited-Edition pouches (2 varieties) available by lottery: Those spending over ¥5,000 at the cafe will be entered.

CookpadTV is behind the cafe, and continues to lead the way in quality collaboration cafes across Japan. This time, popular characters from Bungo Stray Dogs are serving up their favorite autumn-themed foods, inspiring visitors to enjoy cooking just a little more. Themed meals and sweets will be available, while the beverages are each themed on the character's abilities. Be sure to grab some of the limited-edition merchandise only available during the event! These can now be pre-ordered on the cookpadLive cafe Online Store. 

Which character would you like to see in the kitchen? 

Hands-On POKEMON COLORS Exhibition Opening in Osaka for Limited Time

The globally-beloved Pokemon franchise is celebrating 25 years throughout 2021. Throughout the year, the POKEMON COLORS exhibition has opened in cities throughout Japan, bringing a barrage of bright colors, fantastic art, and Pokemon-themed activities to fans nationwide. As guests move throughout the event space, various projections and images around them change, with popular Pokemon characters popping up and flooding the world around them in color. Now, the POKEMON COLORS exhibition is set to open in Osaka beginning September 30. 

Exhibition Preview


Concept Video


COLORS ROAD

COLORS LAKE

COLORS FOREST

COLORS CITY

COLORS CIRCLE

Inspired by the more than 800 Pokemon species in the franchise, the POKEMON COLORS project uses sensors placed throughout the event space to track visitors movements, altering the images, music, and lighting accordingly. Meant to be a combination of pop culture and minimalist digital art, it's an experience like no other. 

160 unique goods will be available at the exhibition, from apparel and art pieces to cell phone cases and office supplies. Be sure to check it out if you're in Osaka this fall!

©2021 Pokémon. ©1995-2021 Nintendo/Creatures Inc./GAME FREAK inc.

Information

POKEMON COLORS

Running: September 30 – October 20, 2021

Address: Daimaru Museum Umeda 15F 

Hours: 10:00AM – 8:00PM (Last entry at 7:00PM) 

Official Site:  https://pokemon-colors.com/

Rihga Royal Hotel x YOURS BOOK STORE New Accommodation Plan to Discover Your New Favorite Book

Osaka's Rihga Royal Hotel is collaborating with book direction brand YOURS BOOK STORE to produce a one-room one-day accommodation plan titled "Once in a Lifetime ~ Professionals Choose Your Book~." The limited-time plan will be available between September 15 and November 30, 2021.

The lounge on the executive floor, known as The Presidential Towers, was reformed in March 2020 to include a library of 1,000 books, with themes including Osaka, refreshing, relaxing, and children's books. It was then that the room plan collaboration with YOURS BOOK STORE, who was involved in the initial book selection, was proposed.

In the "Once in a Lifetime ~ Professionals Choose Your Book~" accommodation plan, a professional will discuss with the guest to learn more about their taste, with the book director offering 3 personalized book choices per person. The guest can also take full advantage of the hotel library.

Following your trip, a book chosen especially for guests will be sent to your home, with a message card describing how your books were selected. This unique accommodation plan allows you to bask in the afterglow of your trip while waiting to see what kind of book you receive.

Why not check out this unique plan where you can receive your own personalized book recommendation?

Hotel W Osaka x PIERRE HERMÉ PARIS Unveil Limited Halloween Dessert Menu

Opening in March 2021, Japan's first luxury lifestyle Hotel W Osaka works with PIERRE HERMÉ PARIS to produce the 'MIXup' Art & Pastry Bar, which has unveiled a new Halloween themed dessert course and  à la carte cake, available from September 15.

Pumpkin & Choux Cream / Ghost Montblanc / Frankenstein Cheesecake

Rock'n'Roll

Osaka is said to be the birthplace of Japanese cuisine, and in a similar vein,  this unique  'MIXup' dessert course serves 'CHEEKY' sweets which are finished one-by-one in front of the customer. The counter-style serving has proven popular since it began in May of this year, known for the playful presentation and customer participation.

This Autumn, the menu has been transformed into the 'TRICKY CHEEKY HALLOWEEN' course, with eight playful new desserts available to try. The desserts feature well-known Halloween monsters, and incorporate the taste of Autumn with pumpkin, chestnut, and pear, among other seasonal flavors.

The take-out Halloween sweets lineup includes a matcha and red bean Frankenstein Cheesecake, a spooky Ghost Montblanc, jack-o-lantern shaped Pumpkin Choux Creams, and more. A limited Halloween variation of the bar's iconic rose and raspberry Rock'n'Roll cake is also available! The recipe and baking techniques are based on the methods of PIERRE HERMÉ PARIS, with arrangements by The W Osaka.

Try out some scarily tasty sweets this Halloween with The W Osaka and PIERRE HERMÉ PARIS!

Popular Chichiyasu Chi-bou Fair 2021 Returns to LOFT Locations After Two Years

Household goods shop LOFT is teaming up with beverage company Chichiyasu for the Chichiyasu Chi-bou Fair 2021 at four locations nationwide. The event will run from September 16 until September 29 at Shibuya LOFT, and from October 20 until November 3 at Nagoya LOFT, Umeda LOFT, and Tenjin LOFT. Chi-bou is the name of the adorable character on the Chichiyasu logo.

Chi-bou Drawstring Bag (Set of 2): ¥1,650 (Tax Included)

Chi-bou Gauze Handkerchief: ¥770 each (Tax Included)

Chi-bou T-shirt: ¥2,200 each (Tax Included) *Only available at Shibuya LOFT and Umeda LOFT.

Chi-bou Pouch: ¥1,650 (Tax Included)

Chi-bou Rubber Keychain (Set of 2): ¥1,650 (Tax Included)

Chi-bou A5-size Notebook: ¥385 each (Tax Included)

Chi-bou Mug: ¥1,650 each (Tax Included)

Chi-bou Eco Bag (with Pouch): ¥2,200 (Tax Included)

Chi-bou Masking Tape (Chichiyasu Milk/Boxed Milk): ¥495 each (Tax Included)

 

The Chichiyasu Chi-bou Fair was a popular event held at Shibuya LOFT in 2018 and at Yokohama and Umeda LOFT locations in 2019.

How would you like to buy some of this adorable merchandise?

Information

Chichiyasu Chi-bou Fair 2021

Locations:

Shibuya LOFT 1F, Masaka Stage
Nagoya LOFT 5F, Variety Goods Section

Umeda LOFT 1F, Loft Market

Tenjin LOFT 5F, Variety Goods Section

Running:

Shibuya LOFT: September 16 – September 29, 2021

Nagoya LOFT, Umeda LOFT, Tenjin LOFT: October 20 – November 3, 2021

Hours: Same as LOFT business hours *Shibuya LOFT and Umeda LOFT to close at 18:00 on the final day.

Official Site: https://www.loft.co.jp/

The Guests are Actors Too in the HOTEL SHE, OSAKA's 'Theatre While You Stay' Performance

The HOTEL SHE, OSAKA has announced a new form of evening entertainment that allows the guests to take part in their 'Theatre While You Stay' performances of The Indigo Restaurant, held between November 11 and 30 2021. Tickets sales start on September 3.

 

The food and drink menu can be enjoyed from the comfort of your room.

All guest rooms come furnished with a record player.


The boutique hotel brand HOTEL, SHE are leading hotels into the new era with their contemporary services, collaborating with poet Saihate Tahi to create the "Poet Hotel" and live-streaming a performance by artist SIRUP.

The 'Theatre While You Stay' is a form of evening entertainment where guests can enjoy and take part in a stage show that is set in the hotel, both planned and produced by HOTEL, SHE.

They were inspired by the "immersive theatre" technique which has become popular in New York's Broadway, allowing you to freely move around the hotel in your role as you enjoy the show, breaking the boundaries between audience and performer – You aren't just watching the show, but becoming a part of it.

The term "immersive theatre" was coined in London during the early 2000s and refers to a form of theatre that is based on the audience experience. It breaks down the traditional roles of the audience and performers, creating a new relationship between the guests and the show.

 

 

Set throughout the entire hotel building, the lobby, guest rooms, corridors, and courtyard are full of mysterious sounds and lights. The "story experience" starts as you check in, with no set start or end time.  All phones, mobile devices and watches that tell the time are confiscated upon checking in, causing the guests to lose their sense of time and wander the hotel throughout the long evenings. 

 

After watching, the whole story is gradually revealed by talking about the scenes that each experienced while drinking cocktails in the bar lounge and guest rooms.  We want you to enjoy the limited food menu and sweets based on Asian dishes such as Taiwan.

After the show, you can enjoy cocktails in the bar lounge and discuss the scenes you watched as the story is gradually revealed. The delicious limited-time menu is full of sweet Asian dishes and desserts from Taiwan and beyond.

Information

Theatre While You Stay – The Indigo Restaurant

Duration: November 11 ~ November 30 2021 

※Cancelled on November 18 and 25. 

Check In: 19:30 ~ 20:00 (VIP TWIN ROOM Check In is 19:15 ~ 20:00)

Check Out: 12:00 the following morning 

Location: HOTEL SHE, OSAKA

Address: 1-2-5 Ichioka, Minato-ku, Osaka City, Osaka

Ticket Sales:

Primary Ticket Sales (Lottery): September 3 at 20:00 ~ September 12 at 23:59

Secondary Ticket Sales (Lottery): September 14 at 18:00 ~ September 20 at 23:59

General Ticket Sales (First-Come, First-Serve): Undecided

Tickets/Official Site: http://aiirohanten.com/

RIHGA Royal Hotel Osaka to Offer Extremely Limited Halloween Accommodations

The RIHGA Royal Hotel Osaka has announced a spectacularly limited Halloween accommodation plan, titled 'A Terrifying Banquet in the Mysterious Lord's Castle.' Only one lucky person per day can book the decorated room, which features in-room meals and more treats to discover. Reservations are open through October 28, and the room will be available from September 10 until October 31.

'A Terrifying Banquet' Dining Table

Living Room

Skeletons in hotel uniform, ready to greet guests in the front room

This spooky setup will be held in the Fontainebleau suite, themed as a French palace. Guests will enjoy a western dinner course in the comfort (or discomfort) of the room. Decorated with black cats, ever-watchful owls and skeletons, guests can also look forward to taking plenty of photos at a designated photo spot on the sofa.

As the COVID-19 pandemic continues to keep people in their homes, the hotel created this room as a way to experience a new kind of cozy Halloween getaway. Visitors will enjoy plenty of other perks, including free parking, soft drink coupons, and breakfast the following morning.

Would you be able to sleep in this room filled with skeletons and specters?

Information

Special Halloween Room: 'A Terrifying Banquet in the Mysterious Lord's Castle'

Reservations Open: September 1 – October 28, 2021

Room Available: September 10 – October 31, 2021

*Reservations accepted until 8:00AM, 3 days in advance.

Official Site: https://www.rihga.co.jp/osaka/stay/plan/halloween2021

'UCC CAFE@HOME' Release Coffee to Match Doraemon & Dorami's Favorite Snacks

UCC Ueshima Coffee is currently developing the Food with Coffee themed 'UCC CAFE@HOME' selection, pairing snacks with a perfectly matching coffee. Doraemon is the latest to appear in the CAFE@HOME series in the new collaboration, designed by Sanrio. The new series features coffee and gifts based on the Doraemon characters' favorite snacks and was released on September 3, Doraemon's birthday.

CAFE@HOME Doraemon Series

UCC CAFE@HOME DORAEMON Dorayaki Suited Coffee VP10g: ¥281 (Tax Incl.)

UCC CAFE@HOME DORAMI Melon Pan Suited Coffee VP10g: ¥281 (Tax Incl.)




UCC CAFE@HOME NOBITA Caffeine-free Coffee VP10g: ¥281 (Tax Incl.)

Gifts

UCC CAFE@HOME Doraemon Secret Gadget Print 6-piece Set: ¥1,901 (Tax Incl.)


UCC CAFE@HOME Doraemon Open Lot Printed 6-piece Set: ¥1,685 (Tax Incl.)

Goods

Doraemon Mug (Dorayaki): ¥1,540 (Tax Incl.)

Doraemon Cotton Handkerchief (Yellow) ¥990 (Tax Incl.)

Present Campaign Freebie: Original Coaster

CAFE@HOME, main product and cafe brand of UCC Group's COFFEE STYLE UCC, are releasing a lineup of Doraemon themed coffees, each to be drank with the characters' favorite snacks: One to go with Doraemons beloved Dorayaki, one for Dorami's preferred Melon Pan, and a caffeine-free blend for the sleep-loving Nobita.

UCC has been researching coffee and food combinations for many years, using taste sensors to analyze both the coffee and food before diagnosing the comparability rating between each product. The company has patented their 'Food Matching System' technology, which has now been used to find out which coffee would be best suited to Doraemon's Dorayaki.

 

An in store campaign has been announced to celebrate the release of CAFE@HOME's Doraemon series, starting on September 3. During the campaign, customers who spend over ¥3,000 on CAFE@HOME's Doraemon series will receive a free coaster. The coasters are only available in store and are limited in quantity.

 

Taste the world of Doraemon for yourself with UCC CAFE@HOME's special coffee technology!

 

Marvel Superhero Cafe to Open in Osaka for Limited Time

A limited-time Marvel themed cafe is coming to Umeda, Osaka from September 16 until October 17. Produced by OH MY CAFE, the concept is centered on themes such as power, courage, talent, justice, and friendship, and the menu will be filled with items inspired by the many heroes of the Marvel universe.

The cafe menu features original items representing the worlds of Spider-Man, Iron Man, Captain America, Thor, and Black Widow. All dishes are healthy, low-sodium, and low-sugar. Various original pieces of merchandise will also be available for fans of American comics!

Menu

Marvel Paprikash: ¥1,759 (Tax Included)

<Spider-Man> The Best Chicken Sandwich in Queens: ¥1,650 (Tax Included)

<Captain America> American Tomato Pasta: ¥1,979 (Tax Included)

<Thor> Hammer Curry in the Desert: ¥2,089 (Tax Included)

<Black Widow> Jet-Black Squid Ink Gratin: ¥1,869 (Tax Included)

<Iron Man> Evening Donut-style Bagel Sandwich: ¥1,979 (Tax Included)

<Captain America> Ramune Soda: ¥1,209 (+¥770 for coaster) (Tax Included)

<Iron Man> Cherry Soda:  ¥1,209 (+¥770 for coaster) (Tax Included)

Marvel Cafe Latte: ¥989 (+¥1,650 for mug) (Tax Included) 

Marvel Tea Bottle: ¥769 (Tax Included) / Bottle and Charm: ¥1,320 (Tax Included)

Customers who make a reservation in advance will receive one random original mask case (7 designs). 

Original Merchandise

 

Acrylic Keyring (6 designs): ¥825 (Tax Included)

Square Pins (13 designs, random): ¥495 (Tax Included) / Marvel Case: ¥1,100 (Tax Included)

A5-size Clear Folder (7 designs, random): ¥385 (Tax Included)

Tote Bag: ¥1,100 (Tax Included) / Marvel Bandana Handkerchief: ¥1,650 (Tax Included)

Menu Art Series A4-size Clear Folder: ¥440 (Tax Included) / Menu Bandana Handkerchief: ¥1,650 (Tax Included) / Acrylic Magnets (6 designs): ¥715 (Tax Included)

Avengers: Endgame Clear Folders (5 designs, random): ¥550 (Tax Included) / Avengers: Infinity War Postcards (8 designs, random): ¥275 (Tax Included)

Ⓒ 2020 MARVEL

Adorable Halloween Dessert Buffet to be Served at Conrad Osaka

Hotel Conrad and Sebastian Masuda, known worldwide for his 'kawaii' works, are collaborating for the second year for a scrumptious Halloween event. Titled OWNER OF A COLORFUL HEART Halloween Sweets Buffet, the tasty treats will be available starting September 2. The buffet was held in Tokyo last year, but is moving to Osaka for 2021.

Guests can enjoy a variety of colorful Halloween sweets, created by Executive Pastry Chef Jimmy Boulet and supervised by Sebastian Masuda!

「OWNER OF A COLORFUL HEART」Halloween Sweets Buffet

Sweet Potato Mille-feuille

Orange Cupcake with Cassis Chantilly Cream

Spider Mousse Cake

Caramel and Persimmon Bellini

Crash the Halloween

Colorful Palette

Galaxy

Daisy Celebration

Halloween Caterpillar

Playful Macaroon

Blueberry Mousse and Fig Compote with Sesame Pralines

Black Cardamom Chocolate and Pear

Colorful Curries & Stews

The buffet tables are decorated with dark purple tones and welcome guests with Bouley's playful collection of sweets. His iconic mille-feuille uses ample amounts of cream and purple yams, with a chocolate spider web on top. The spider mousse cake, with its gentle shortcake-like texture and unusual combination of coffee and mango, is sure to surprise. Each treat uses autumn ingredients, and will surely have guests enjoying Halloween to the fullest.

Though the sweets buffet is sure to be filling enough, Conrad Osaka also serves a variety of savory items. For this event, five different colorful curries and stews from India, Thailand, and Hungary will be available. Along with naan bread, diners can sample Udon, French baguettes, rice crackers, waffles, and countless other goodies.

Anyone who comes to the event dressed in Halloween attire can post a photo with the hashtag #ownerofacolorfullheart on Instagram to receive a free glass of sparkling wine. A photo booth will also be on site, and guests can take pictures with some of Sebastian Masuda's most popular works.

Which goodies would you be picking up from the buffet?