Doraemon Future Department Store to Open Pop-Up Shop in Osaka and Nagoya
Doraemon's official shop Doraemon Future Department Store, which is located in Odaiba, Tokyo, is celebrating its 1st anniversary of opening this December by opening two limited-time shops in Osaka and Nagoya this month and January respectively. Fans can get their hands on a selection of exclusive merchandise and more.
Customise Service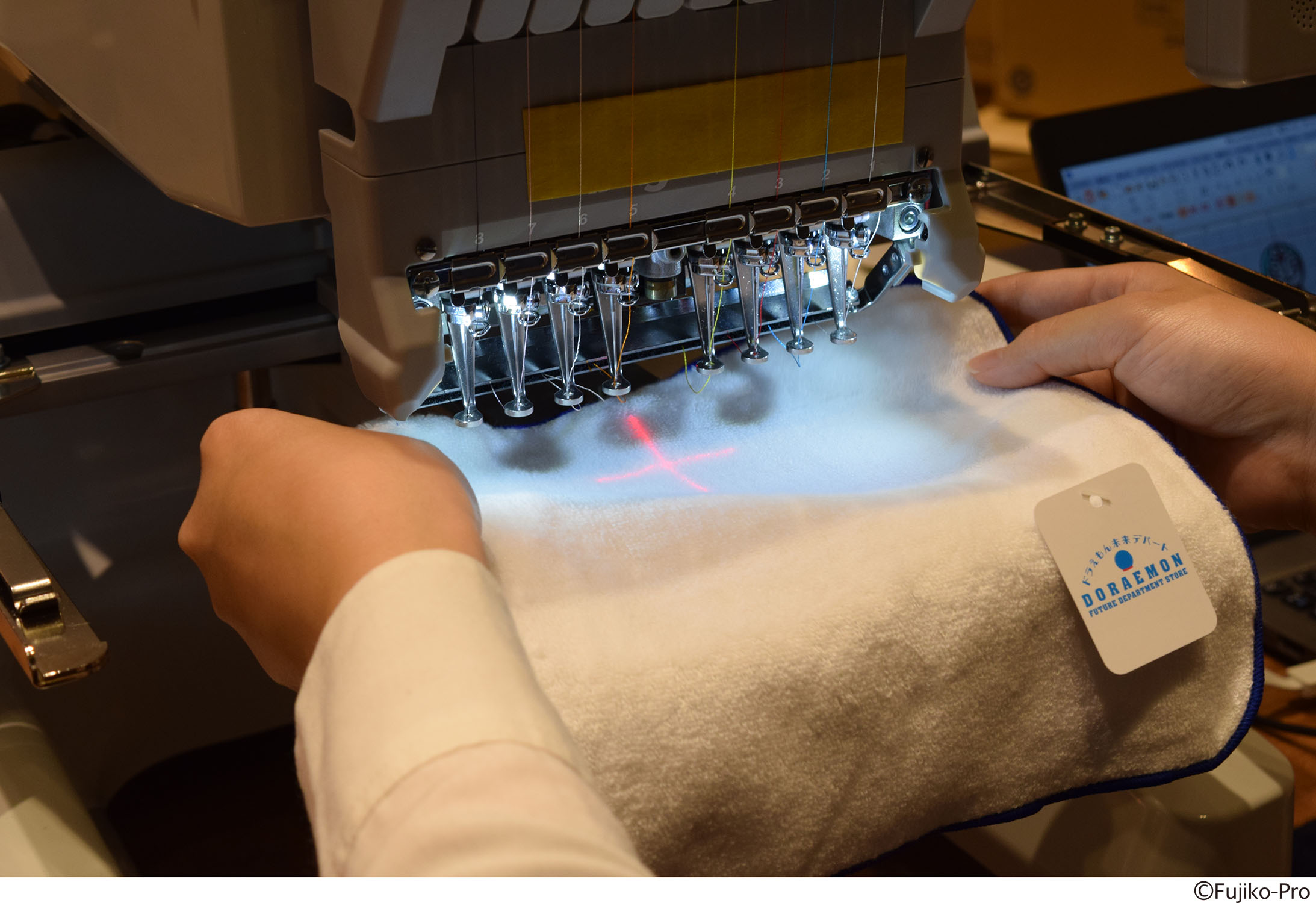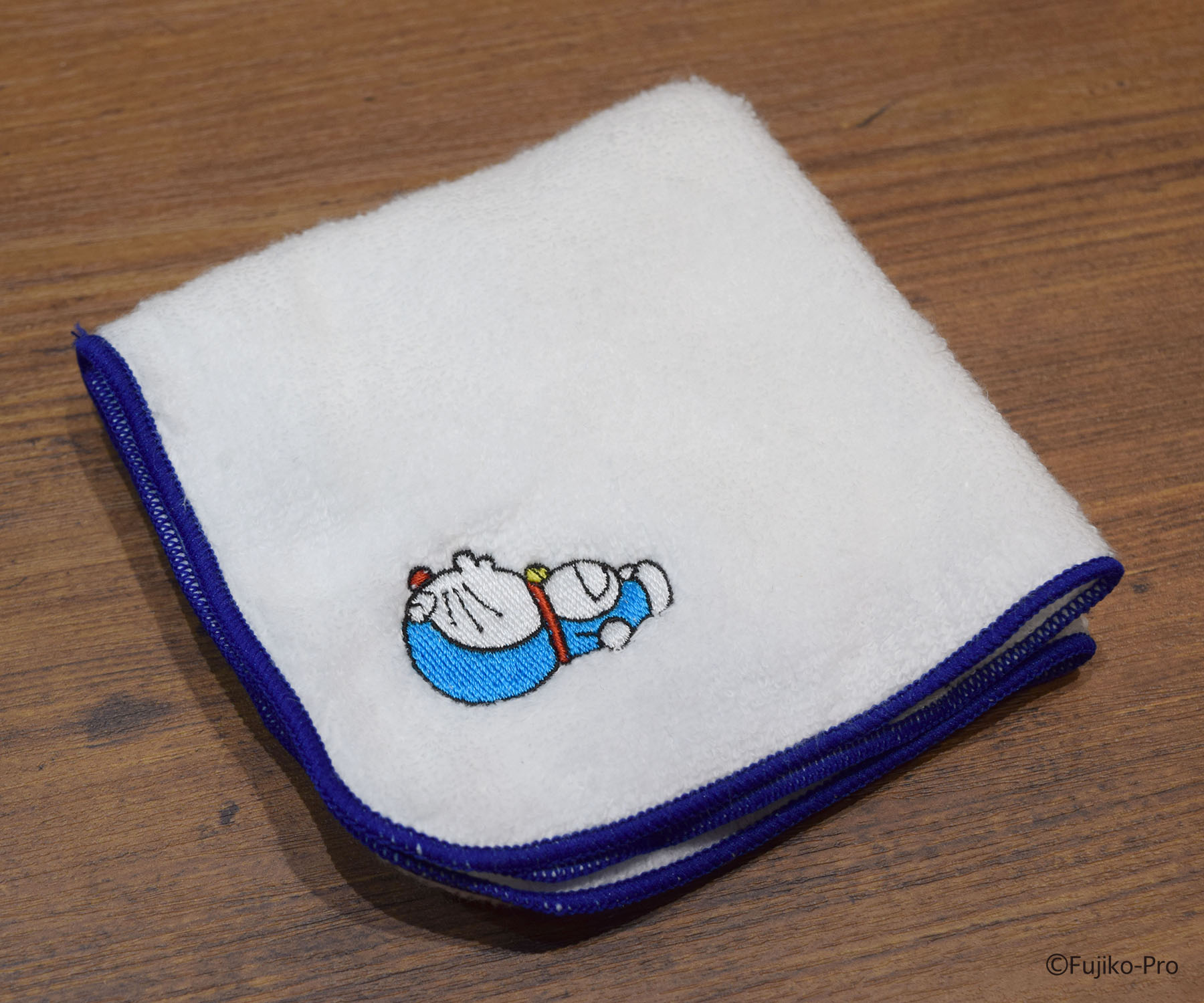 The pop-up shops will offer a customisation service which lets customers have different embroideries put into the T-shirts, tote bags, and other merch they buy. The work is done on the spot by hand so you can see the result of what will be a very special item of which only one exists in the world. Perfect for Doraemon fans and gifts to friends and family.
Post Office
The shop will offer a postal service for sending off Doraemon letters and postcards with original Doraemon stamps.
Bonus Items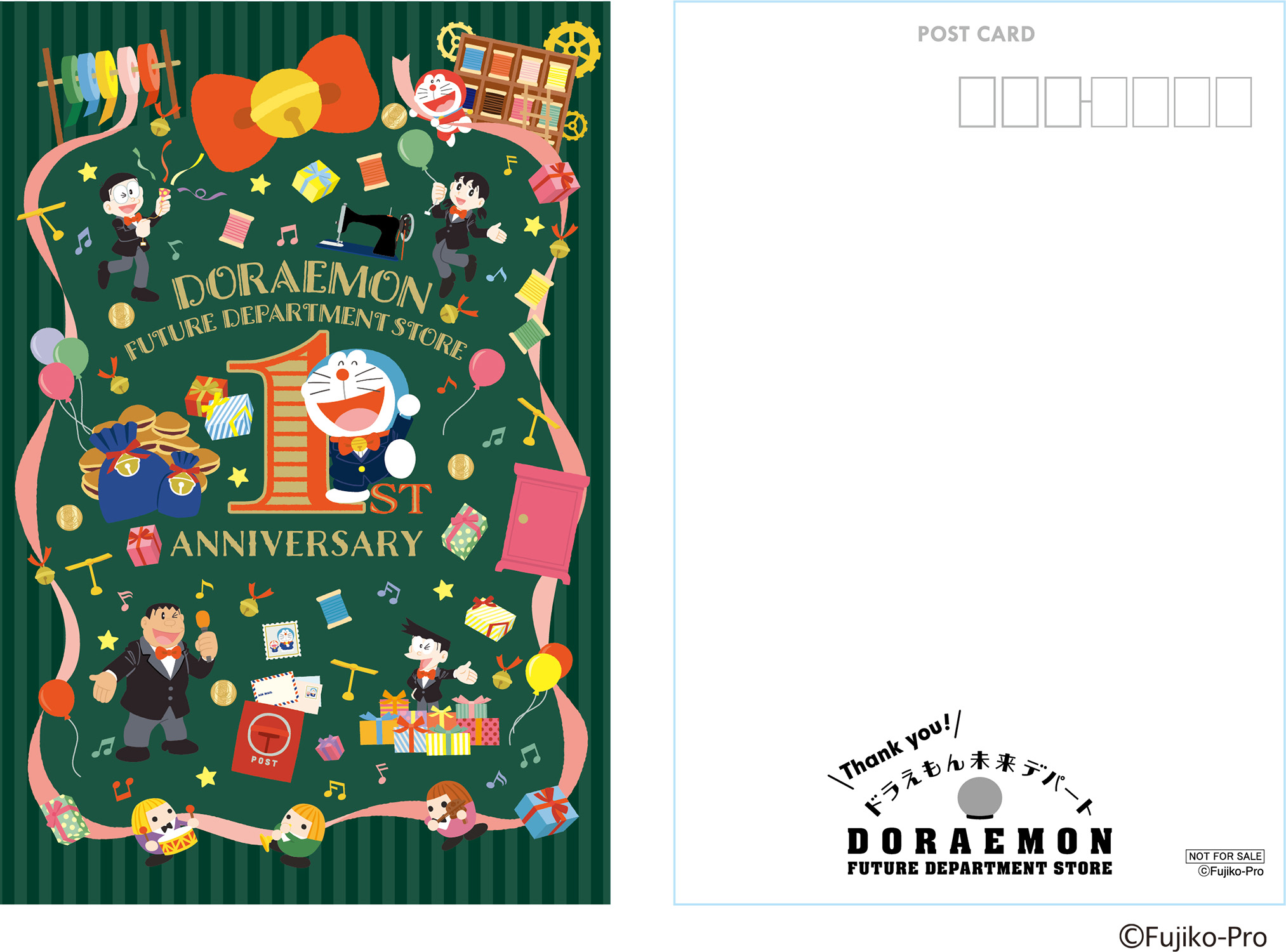 1st Anniversary Postcard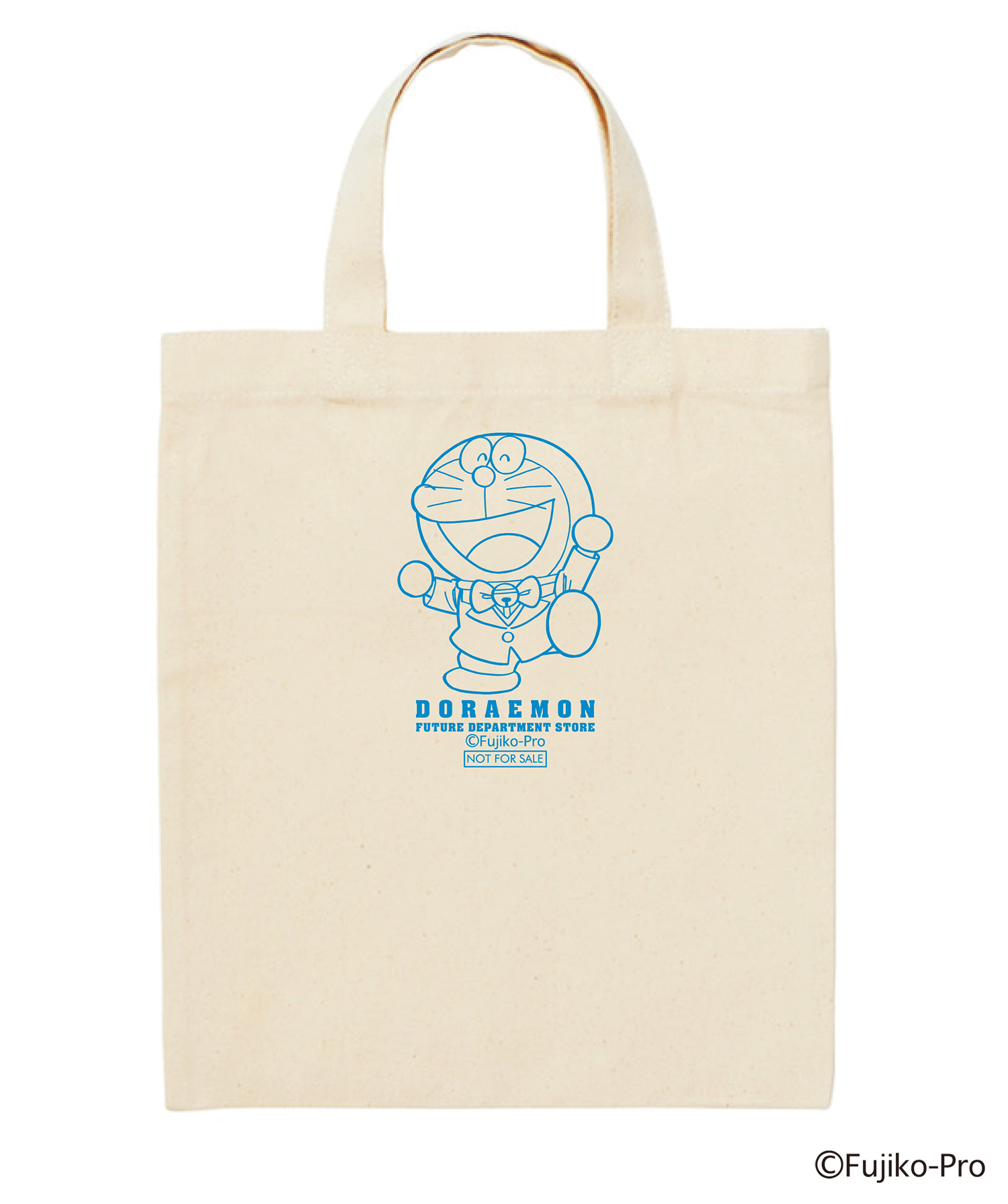 Mini Tote Bag

Those who buy anything from the department stores will receive a free 1st anniversary postcard. And for every ¥5,000 spent (tax included) they'll get a mini tote bag. These are all limited in stock so you'll want to get them while they're hot.
If you're in Osaka or Nagoya over the New Year be sure to pay a visit to the Doraemon Future Department Store pop-up shops.
©Fujiko-Pro
Information
Doraemon Future Department Store in Abeno Harukas Kintetsu 2021
Location: Abeno Harukas Kintetsu, Wing Building Floor 4F
Running: December 30, 2020 – January 17, 2021
Opening Hours: 10:00-20:00 (until 18:00 on January 17)
Closed: January 1, 2021
Doraemon Future Department Store in Takashiyama Gate Tower Mall 2021
Location: Takashiyama Gate Tower Mall (Nagoya), Rose Terrace on Floor 7F
Running: January 8, 2021 – January 26, 2021
Opening Hours: 10:00-21:00
*Opening hours subject to change
RELATED ENTRIES
CreepHyp to Bring 10th Anniversary Exhibition to Nagoya PARCO

From February 11 to February 26, an exhibition inspired by the popular rock band CreepHyp will be held at the PARCO GALLERY on the 6th floor of the Nagoya PARCO West Building. The event is being held to celebrate the 10th anniversary of CreepHyp.

The exhibition is themed around a 'Museum of Voices.'

A person's voice is said to be a true expression of their personality. This exhibition will give fans a new sense of what CreepHyp is and will feature their music, their MC content, and various radio appearances.

Visitors will be able to listen to the member's voices, but they'll also be able to step on them, dive into them, look at them, and experience plenty of other ways to enjoy the band's content. Completely immersed in this world of voices, this experience promises to be like no other. Come experience it while you can!

The exhibition was largely created by CHOCOLATE, the creative team behind CreepHyp's past exhibitions. Exclusive merchandise will also be available on-site.

Fans Asked to Name Blimp Inspired by the Upcoming Film 'Doraemon: Nobita's Sky Utopia'

The film Doraemon: Nobita's Sky Utopia will be released on March 3, 2023. The 42nd Doraemon movie follows Doraemon, Nobita, and his friends as they venture off to find Utopia, a perfect land in the sky where everyone lines in joy and happiness. They do so using an airship with a time warp function on their adventure, and to commemorate the film's release, the Flying Doraemon Project began on January 14. A real-life 17-meter-long Doraemon blimp will soon appear in the sky, and fans are being asked to decide on a name for the craft.

The blimp, inspired by the Doraemon movie, will feature popular characters including Nobita, Shizuka, Suneo, and Gian. The blimp is the largest unmanned airship in Japan.

The message of the Flying Doraemon Project is to convey the feeling that in this day and age, children and adults alike can once again look upward and move forward toward their hopes and dreams.

Fans are asked to contribute ideas for the blimps name during the application period. Check the website for more details!

Atarashii Gakko! to Perform Solo at Zepp Venues in Tokyo and Osaka in Spring 2023

Atarashii Gakko! will hold solo concerts at Zepp venues in Tokyo and Osaka in April and May of 2023.

These performances will be held almost a year after the girls held their solo concert at Zepp DiverCity in Tokyo last May. This year's events will be held at Zepp Osaka Bayside on April 30 and Zepp Shinjuku in Tokyo on May 2.

ATARASHII GAKKO! – HANAKO (Official Music Video)


ATARASHII GAKKO! – Pineapple Kryptonite (Official Music Video)


Information

Atarashii Gakko! at Tokyo & Osaka Zepp
-We're working on some amazing new songs and we're dying for everyone to see our newest evolution (Tentative title)-
April 30, 2023 – Zepp Osaka Bayside
May 2, 2023 – Zepp Shinjuku (Tokyo)
Fan's Presale Tickets (Starting January 1)
https://www.fansnet.jp/leaders

Original Doraemon Shirt Inspired by Nobita's Room Now Available

Shogakukan's online store has released a long-sleeve shirt inspired by Nobita's room from the long-running Doraemon series. Released on December 15, the fashionable and fun item is sure to be a fan favorite.

Shirts Inspired by Nobita's Room!

The shirt was developed in collaboration with Kawatani Shirt, a Tokyo-based brand dating back to 2011 specializing in casual shirts for adults. 

 

The green stripes were inspired by the tatami mats found in Nobita's room, and the simple back is white with a slight checker pattern at the top.

 

Part of the inner lining is even decorated with Doraemon's Take-copter!

The button at the neck is bright yellow, inspired by Doraemon's signature bell.

The lining of the left breast pocket features an embroidered Doraemon as well. 

As expected, Nobita can also be seen lounging on the bottom right of the shirt. 

The shirt is available in four sizes from S to XL. Made from 100% cotton, this is a comfortable piece of clothing perfect for wearing all year round. Why not add this playful shirt to your rotation?

 ©Fujiko-Pro

Information

Doraemon Long-sleeve Shirt 'Nobita's Room'

Release Date: December 15, 2022

Sizes: S, M, L, XL

Price: 14,300 (Tax Included)

Doraemon Sleeping Bag and Neckwear Perfect for Bringing on a Winter Camping Trip

Doraemon fans who also love the great outdoors will be able to grab some new goods for their winter outings. A Doraemon-inspired sleeping bag created by down maker NANGA and neckwear made by Spanish brand BUFF are now available at the Shogakukan online department store!

NANGA is one of Japan's leading down manufacturers, beginning as Yokota Sewing in 1941 in Maibara, Shiga Prefecture, a famous production center for cotton futons. The down used in this new sleeping bag has been cleaned and refined using the newest technology, promising that this bedding will last for years to come.

Sleeping Bag

In addition to the blue, white, and red Doraemon-inspired coloring, the character's famous collar also makes an appearance. Covered head to toe in motifs from the series, this bedding is also highly functional and warm.

Neckwear

The included storage bag is compact and able to fit in a backpack, measuring approximately 20cm x 40cm. Will you be adding these items to your camping pack this winter?

©Fujiko-Pro

Hirosaki and Hakodate to Begin Winter Tourism Campaign with Snow Miku Starting December 2022

The cities of Hirosaki and Hakodate in Hokkaido have announced that they will team up with Hatsune Miku's popular iteration Snow Miku to promote tourism in the area this winter. A number of activities will begin in December 2022.

[Snow Miku x Hirohako] Collaboration Project

■Hirohako Winter Tourism Campaign Poster Featuring Snow Miku

・Period: Mid-November~February 28, 2023

・Locations: Facilities in both cities, tourist facilities, hotels, shopping areas

■Snow Miku Illustration Contest Exhibition Event

Over 50 illustrations have been submitted under the theme of Snow Miku and Hakodate / Snow Miku and Hirosaki. These will be on display through the winter!

・Running: December 1, 2022 – February 28, 2022

・Venues: Hirosaki Municipal Tourist Center (Hirosaki)
                    Kanemori Red Brick Warehouse (Hakodate)

■Snow Miku Photo Spot

Snow Miku panels featuring shamisen and apples from Hirosaki will be on display, while the Hakodate version will include references to squid fishing and footbaths. 

・On Display: December 1, 2022 – February 28, 2022

・Locations: JR Hirosaki Station, Chuohirosaki Station (Hirosaki)
                        JR Hakodate Station, Hakodate Airport (Hakodate)

■Digital Stamp Rally Using the Mikunavi App

A number of panels will be installed at five checkpoints in Hirosaki and Hakodate. A total of 1,000 people–500 in each city–will win original merch including a Snow Miku mask case and decorated masking tape. All you need to do is check in!

・Available: December 1, 2022 – February 28, 2022

・Locations: (Hirosaki) Hirosaki Municipal Tourist Center, Hirosaki City Machinaka  Information Center,

                         Hirosaki Tourist Information Center, Hirosaki Castle Information Center, Tsugaru-han Neputa Village

      (Hakodate) Kanemori Red Brick Warehouse, Yunokawa Hot Spring Footbath, Goryōkaku Tower,

Hakodate Green Plaza C Block (Hakodate Lumi-Pop), Old Public Hall of Hakodate Ward

■Hirohako Winter Tourism Campaign Theme Song and Music Video 

The tourism theme song will get a new music video that will be broadcast on YouTube, at local tourist facilities, and on TV and radio!

・On Air: December 1, 2022~

・Theme Song: Mahou no Keshiki (Lyrics/Composition: ryuryu)

■Snow Miku Welcome Announcements to be Broadcast at Tourism Facilities, etc. 

A one-minute welcome announcement by Snow Miku will air at tourist facilities!

・Running: December 1, 2022 – February 28, 2022

・Locations: Tourist areas in both cities

■Snow Miku Filters Using AR

When each barcode is scanned with a smartphone, Snow Miku will appear on the screen! Visitors can take pictures with Snow Miku to commemorate their winter trip to Hirosaki and Hakodate.

・Available: December 1, 2022 – February 28, 2022

Doraemon's Official Store Launches Limited Edition Dorayaki-Flavored Black Tea

Doraemon's Mirai Department Store, Doraemon's official shop, has announced a limited edition black tea flavored with the character's favorite food: dorayaki! The tea and four special themed plates will be available starting November 11, 2022. The tea itself is provided by the tea specialty shop LUPICIA. 

Doraemon's Mirai Department Store Black Tea (Dorayaki Flavor)

Doraemon's Mirai Department Store is now offering this special tea in an adorable themed tin.

The flavor of the tea is inspired by Doraemon's favorite food, dorayaki, a sweet Japanese pastry filled with red bean paste. The gorgeous blue and red toppings blended into the tea leaves were inspired by Doraemon himself, and fans will want to enjoy a cup as they lose themselves in the classic manga or anime series.

Doraemon's Mirai Department Store Tasty Plate (4 varieties)

These 14cm square plates are perfect for snacks with tea. Dishwasher-safe, fans can pick from four designs, each showing Doraemon enjoying some tasty treats. 

©Fujiko-Pro

Nagoya Castle to Hold Special Autumn Night Art Viewing for a Limited Time

The historic Nagoya Castle will hold a special nighttime viewing event for 14 days only, from November 25 until December 8, 2022. During this period, Honmaru Palace will be open to the public at night, and the Chrysanthemum Corridor inside will be open to visitors for the first time. 


The Ninomaru Garden will also be illuminated and will transport guests to a different place and time by showing a space only possible during dark hours.

Inspired by the relationship between light and shadow, this event focuses on changes that occur over time and the creation and emergence of new ideas and things.

Honmaru Palace, Typically Closed to the Public, to be Open at Night

Nagoya Castle's Honmaru Palace was completed in 1615 and served as the primary residence of the Lord of the Owari Domain and as the Domain's government office. The interior of the palace was lavishly decorated with paintings and other art pieces and was praised as a masterpiece. Sadly, it was destroyed by an air raid in 1945. Restoration work began in 2009 and was completed in 2018 with unparalleled accuracy. The Honmaru Palace gives off a completely different aura at night. 

First Public Viewing of the Jodan-no-ma in the Joraku-den

The Joraku-den was added to Nagoya Castle to accommodate the third Shogun, Iemitsu, on his way to Kyoto. It is the most luxurious of all the Honmaru Palace buildings, and this event marks the first time that the Chrysanthemum Corridor on the north side will be open to the public. Visitors are welcome to admire the golden-blue paintings as they stroll through the historic site.

See Spectacular Paintings when Entering the Tsugi-no-ma Room

During this period, visitors can enter the Tsugi-no-ma room to view classical period paintings, giving a more clear idea of how people acted and dressed during this time in history.

[Ninomaru Garden Special Viewing] 


~Witness a Never-Before-Seen Feudal Lord's Garden through a Spacial Presentation~

Scenography for this unique show was provided by the creative label PERIMETRON. In order to show another side of the Ninomaru Garden at night, the company focused on light's characteristics, from reflection and transmission to refraction and absorption. Light and shadow intertwine in various ways, and guests will be transfixed by this curious showing.

Information

Nagoya Castle: Autumn Night Special Viewing ~KEI~

Running: November 25 – December 8, 2022

Viewing Hours: 9:00-19:30 (Gates close at 20:00)

Official Site: https://www.nagoyajo-kei.jp/

Doraemon's Official Shop Opens for a Limited Time at Daimaru Umeda

From December 1, 2022 until May 28, 2023, Doraemon's official shop will appear at Daimaru Umeda! Doraemon's Mirai Department Store will offer a variety of limited-edition products for this brief period. 

Doraemon's Mirai Department Store Exclusive Goods (Selection)

Chenille Embroidered Tote Bag (Doraemon and Mini Doraemon): ¥3,520 (Tax Included)

This tote bag is decorated with lasting embroidery and is sure to brighten any Doraemon fan's day. The shoulder-length handles are practical and each bag has excellent storage capacity!

Doraemon Striped Socks (Red/Green): ¥2,420 each (Tax Included)

These thick socks are sure to keep your feet warm during the cold winter months. The simple lines and chic colors make these a great gift for any age.

Come check out these exclusive items that you can only find here!

©Fujiko-Pro

Information

Doraemon's Mirai Department Store in Daimaru Umeda 2022-2023

Running: December 1, 2022 – May 28, 2023
Venue: Daimaru Umeda 13F (3-1-1 Umeda, Kita-ku, Osaka)

Hours: 10:00-20:00
Doraemon's Mirai Department Store Official Site: https://mirai.dora-world.com/

NAKED FLOWER TOWER AUTUMN to Add Color to Nagoya's Nightscape

Creative company NAKED is currently holding the NAKED FLOWER TOWER AUTUMN event at the Chubu Electric Power Company MIRAI TOWER Sky Deck in Nagoya until December 2, 2022. 

The historic MIRAI TOWER, formerly the Nagoya TV Tower, opened in 1954. On October 12, 2022, the tower was registered as a tangible cultural property, and many companies have collaborated with the structure over the years. Now, NAKED's digital art is creating a new night experience for visitors and residents of Nagoya!

 

The NAKED FLOWER TOWER event which began this summer invited guests to enjoy Nagoya's evening views with all five senses. The tower's Sky Deck was decorated with fresh flowers, given that Aichi Prefecture is the nation's largest flower producer. It was also brought to life with a special projection mapping performance, and guests could enjoy original drinks as they gazed out at the illuminated city.

 

This event has now been reimagined for autumn, with fall flowers and grasses brightening the space. During the projection mapping show, a massive full moon is projected on the glass. You won't want to miss it!

Information

NAKED FLOWER TOWER AUTUMN
Running until December 2, 2022

Venue:
Chubu Electric Power MIRAI TOWER (formerly the Nagoya TV Tower)
Sky Deck 90m Indoor Observation Deck

Official Site: https://www.nagoya-tv-tower.co.jp/nakedinc/


13th BT21 Cafe to Open in Tokyo, Yokohama, Nagoya, Osaka, and Sapporo

The 13th iteration of the BT21 Cafe will open at six venues in five cities around Japan. Fans in Tokyo, Yokohama, Nagoya, Osaka, and Sapporo will want to visit this exclusive event titled ~MAGICAL TIME~. The first cafe opens in Shibuya on November 3. In celebration of BT21's 5th anniversary, this special cafe is filled with joy and excitement and aims to give fans the best possible experience.

Cafe Menu

Magical Tea Time Set

Food Plate

Food Plate (7 varieties)

Dessert Plate

Dessert Plate (7 varieties)

Drinks

Magical Milk Tea

Black Tea

Iced Coffee / Hot Coffee

Original Goods

Acrylic Keychain (7 varieties, Random)

Acrylic Clip (7 varieties, Random)

Satin Sticker (7 varieties)

Clear Folder (2 varieties)

Handkerchief (7 varieties)

Tote Bag

Mug

Masking Tape / Balloon on a Stick

Dolomite Coaster (2 varieties) / Mirror (2 varieties)

[Online Store Exclusive] Acrylic Keychain (7 varieties, Random)

The cafe's new menu includes afternoon tea, perfect for warming the body and soul during the cold winter months. The colorful food items and desserts are sure to be a hit on social media, and fans will enjoy the Magical Milk Tea and other dishes inspired by the popular BT21 characters.

 

In addition to new merchandise and bonuses featuring newly-drawn art, a photo spot will welcome guests to the cafe and invite them to celebrate this five-year milestone. 


Why not take a break from everyday life to enjoy a magical time with these cute characters?

©BT21

Information

BT21 Cafe #13 ~MAGICAL TIME~

Venue/Dates


■Shibuya, Tokyo:

BOX cafe&space SHIBUYA109

Running: November 3 – December 10, 2022

Address: SHIBUYA109 B2F (2-29-1 Dogenzaka, Shibuya-ku, Tokyo)

■Oshiage, Tokyo:

BOX cafe&space Tokyo Solamachi

Running: January 13 – February 19, 2023

Address: Tokyo Skytree Town, Solamachi 1F (1-1-2 Oshiage, Sumida-ku, Tokyo)

■Yokohama, Kanagawa:

Collabo_Index Lumine Yokohama

Running: January 13 – February 5, 2023

Address: Lumine Yokohama 6F (2-16-1 Takashima, Nishi-ku, Yokohama, Kanagawa)

■Nagoya, Aichi:

BOX cafe&space Nagoya LACHIC #1

Running: December 2, 2022 – February 5, 2023

Address: LACHIC B1F (3-6-1 Sakae, Naka-ku, Nagoya, Aichi)

■Shinsaibashi, Osaka:

Shinsaibashi contact

Running: November 11 – December 18, 2022

Address: 1-6-24 Kitahorie, Nishi-ku, Osaka

■Sapporo, Hokkaido:

Cafe Interlude, Coach & Four Shinakawa

Running: November 3 – December 29, 2022

Address: 18-chome 3-jo, Kita-ku, Sapporo

Reservations: https://box-cafe.jp/



Online Shop

Open: November 3, 11:00 – December 4, 23:59
https://box-cafe.jp/online_store/

Doraemon Ukiyo-e Series Reimagines Popular Characters in Classic Hiroshige Work

A Doraemon version of Hiroshige's 1833 ukiyo-e painting Fifty-Three Stations of the Tokaido Hoeido Edition (Rainstorm) will be available to order on October 29!

This work is said to be one of the most famous paintings by the artist, who was considered the last great master of ukiyo-e.


 

The painter was best known for his depiction of rainscapes, and many of his paintings pushed the envelope of traditional art.

 

This painting shows Ise Province, what is now present-day Mie Prefecture. 

Doraemon and his friends have been expertly placed into the famous piece of art, desperately climbing a steep hill during a sudden evening shower.

 

For Doraemon and Nobita, the rain is a chance to have fun. Looking at the piece, viewers can see an image of hope in tough times and can remember that with friends, anything is possible and any difficulties can be overcome. 

The piece is made from high-quality materials, and you won't want to miss ordering one of these rare works of art!

Information

Doraemon Ukiyo-e / Fifty-Three Stations of the Tokaido Hoeido Edition (Rainstorm)

Orders Open: October 29, 2022 at 12:00
Price: ¥45,000 (Excluding tax and shipping charges)
Number Available: 300
Echizen-Manufactured Washi Paper Provided by Iwano Ichibei
Online Shop: http://ukiyoework.com/