Brown Sugar Syrup Matcha Latte Arrives at Tully's Coffee in Japan On Christmas Eve
Tully's Coffee Japan is adding a new seasonal drink to its menu on December 26: the "Brown Sugar Syrup & Soy Flour Matcha Latte."
Brown Sugar Syrup & Soy Flour Matcha Latte (Hot/Iced) | Tall ¥520 (Before Tax)
Matcha beverages at Tully's Coffee are all made with Uji matcha from Kyoto. The powder is prepared in-house at Tully's Coffee, ensuring that the original taste and fragrance of the matcha is fresh. Their new seasonal beverage takes their classic Uji Matcha Latte and sweetens it with brown sugar syrup and Hokkaido soy flour.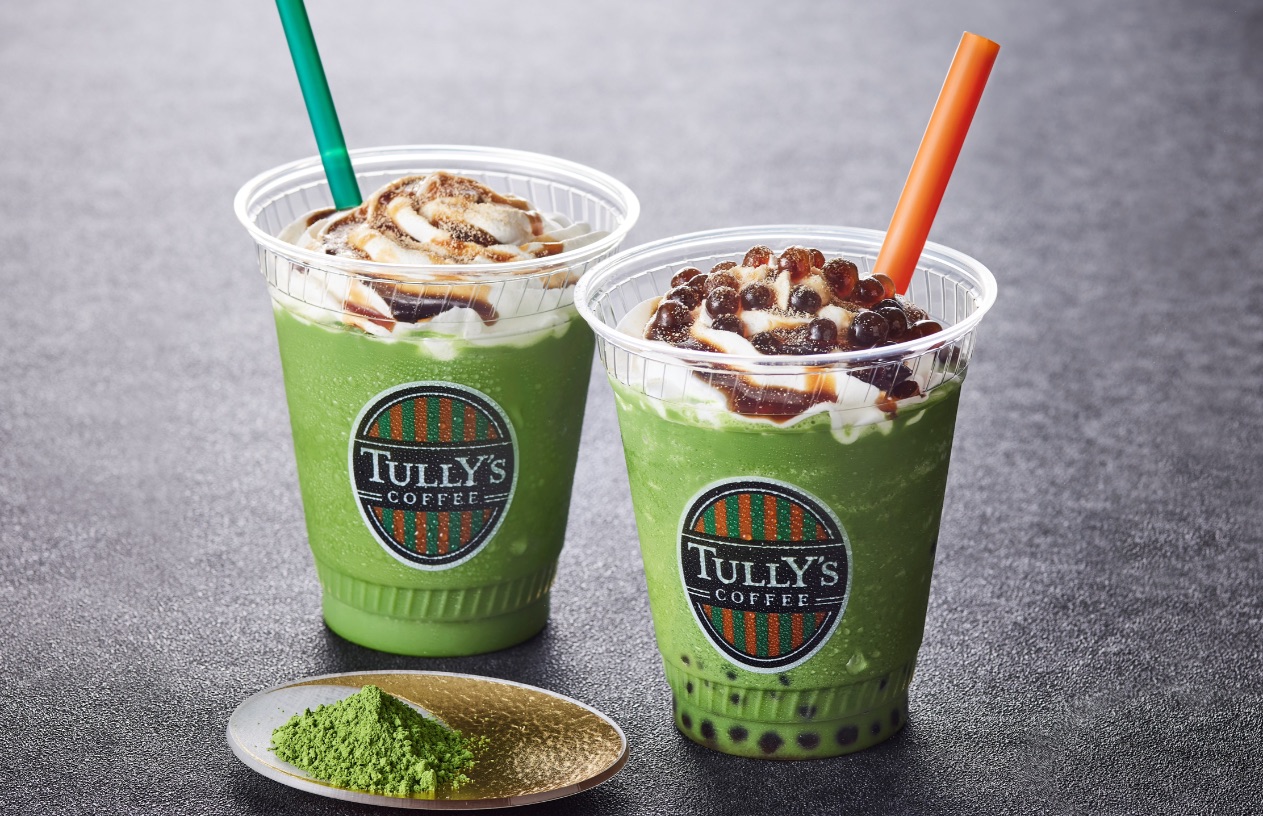 Brown Sugar Syrup & Soy Flour Matcha Suwakuru® (Frozen) | Tall ¥540, with tapioca +¥100 (Before Tax)
Adding tapioca pearls creates a perfect combination with the syrup and soy flour, creating a taste and texture that's like the traditional Japanese confection warabimochi.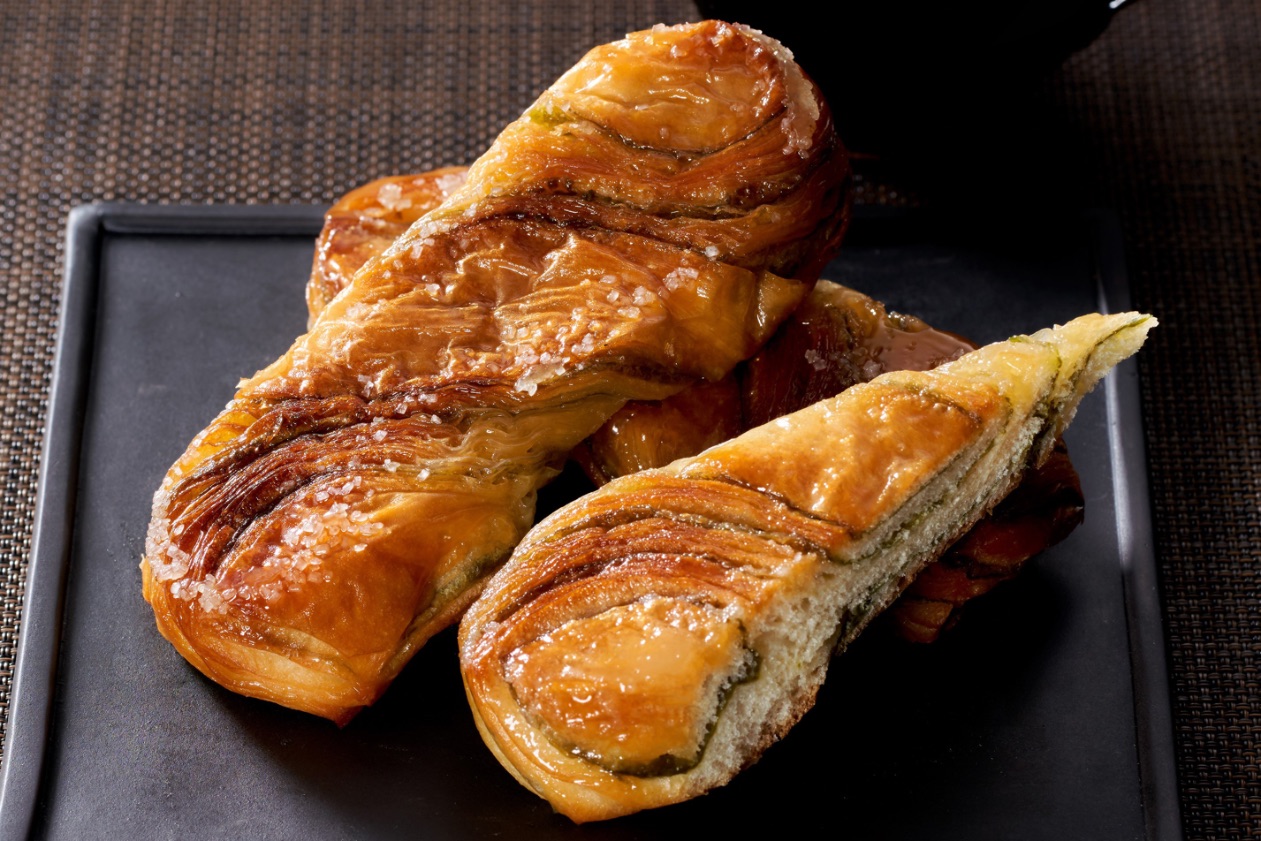 Uji Matcha Kouign-amann | ¥290 (Before Tax)
Tully's Coffee is also baking up some seasonal treats, like a Japanese-style Kouign-amann and red bean paste-filled doughnuts.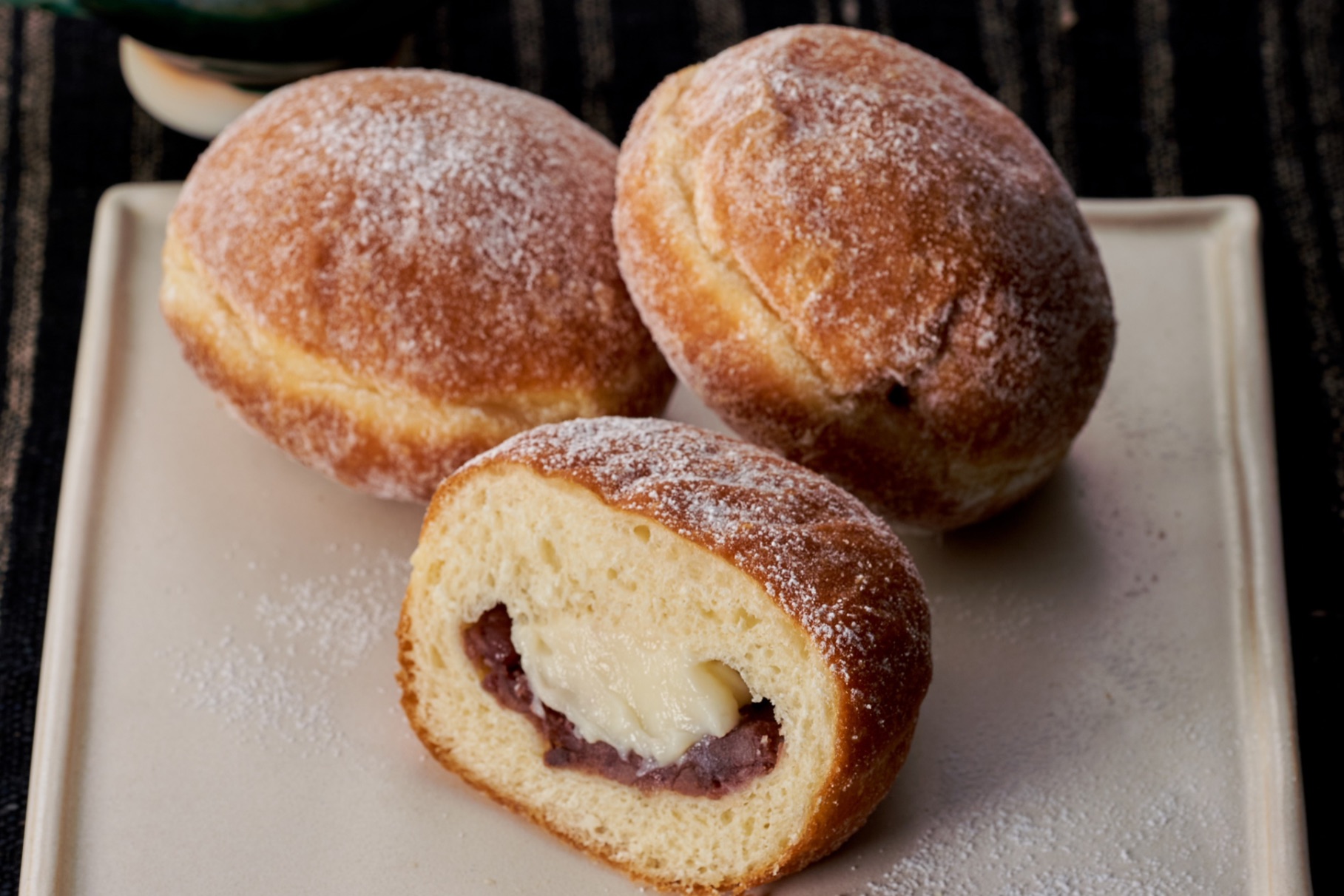 Milk Red Bean Paste Doughnuts | ¥300 (Before Tax)
The doughnuts are also made with milk from Hokkaido.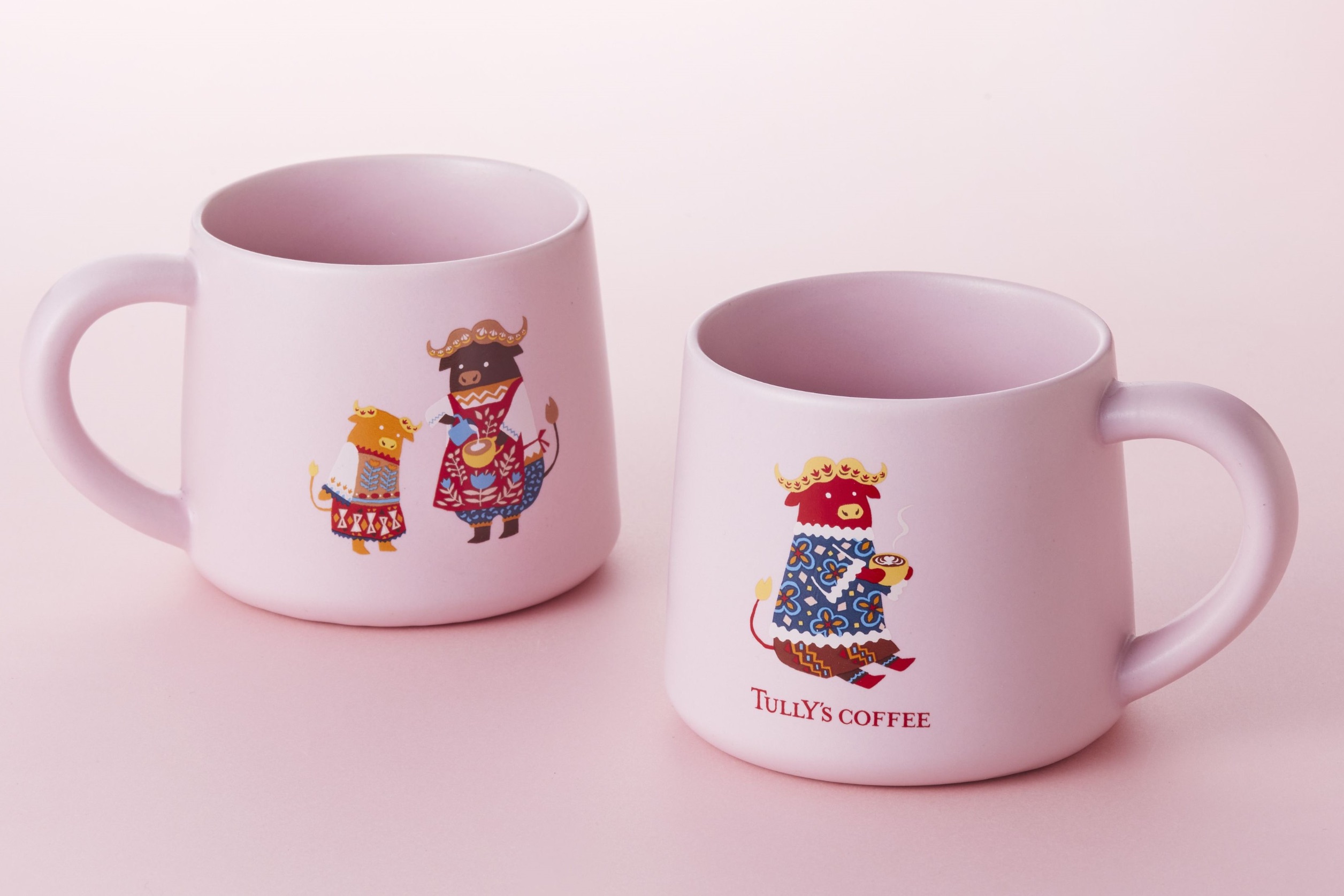 2021 Year of the Ox Mug | ¥1,500 (Before Tax)
And to celebrate the upcoming Year of the Ox, the coffee chain is also rolling out a cute ox-themed mug.
Information
Brown Sugar Syrup & Soy Flour Matcha Latte
Release Date: December 26, 2020
Official Website: https://www.tullys.co.jp
RELATED ENTRIES
Pompompurin Themed Desserts and Drinks Now Being Served Up in Osaka

The Osaka-based fruit parlour and bakery Season&Co., which is located on the first floor of LINKS UMEDA, is celebrating the 25th anniversary of Sanrio's popular character Pompompurin with a themed menu of desserts and drinks until April 12, 2021.

Menu item names have been translated from Japanese by MMN.

Pompompurin Peeking From the Nabe Hot Pot | ¥1,000 (Before Tax)

Pompompurin's Specially-Made Parfait | ¥1,600 (Before Tax)

Pompompurin's Strawberry Omelette | ¥1,600 (Before Tax)

Pompompurin's Pudding Juice | ¥730 (Before Tax)

Pompompurin's Mixed Juice | ¥730 (Before Tax)

NMB48 x Pompompurin's Chocolate Cake | ¥700 (Before Tax)

NMB48 x Pompompurin's Osaka Cupid | ¥500 (Before Tax)

The menu includes a range of Pompompurin themed drinks and desserts as well as merchandise. There's also two items made in collaboration with NMB48.

For every order, customers will receive a free lunch mat, and if they spend over ¥1,000 (before tax) on anything on the menu, including the merch, they'll get a free sticker.

Information

Season&Co. x Pompompurin Collab Cafe
Running: January 27, 2021 – April 12, 2021
Where: FRUITS PARLOR+BAKERY Season & Co.

Address: LINKS UMEDA 1F, 1-1 Ofukacho, Kita-ku, Osaka-shi, Osaka
Opening Hours: 9:30-20:00 (Last Orders 19:30)
Official Website: https://season-co.shop

The Perfect Valentine's Day Treats in Japan Can Be Found at Tokyo's Hotel Metropolitan Edmont

Hotel Metropolitan Edmont, a hotel situated in Chiyoda, Tokyo, will celebrate Valentine's Day with an angelic line-up of sweet treats that will be sold from February 1 to 14.

The Chocolates

Truffle au Chocolat – Box of 4: ¥1,200 (Before Tax) / Box of 6: ¥1,800 (Before Tax) / Box of 10: ¥3,000 (Before Tax)​

Indulge in a luscious assortment of four chocolates: the citrus-filled 'Grand Marnier,' the slightly bitter 'Rum,' the full-bodied and tangy 'Raspberry,' and the Uji-matcha packed 'Matcha.'

Orangette (Contains 15) | ¥2,000 (Before Tax)

If you love chocolate combined with fruit, then the Orangette will be your poison, filled with fresh and bitter orange peel and coated in chocolate. It has a distinct refreshing fragrance to it which expands across the taste buds with every bite.

Raisin Chocolat | ¥1,200 (Before Tax)

Love rich, full-bodied flavour? These raisins are soaked in French Sauternes wine and covered in dark chocolate. Their fruity flavour makes them a perfect accompaniment to a glass of whisky or bourbon.

The Cakes & Pastries

Eme | ¥600​

A perfect pick for Valentine's Day: a heart-shaped mousse containing rich, velvety chocolate that's jam-packed with fresh raspberry jelly.

Brioche Chocolat | ¥260

Enjoy taking a bite out of this brioche made from butter and egg that's laced with custard cream and chocolate.

Popular Japanese Tart Bakery Tartine Launches Valentine's Day 2021 Products

Tartine, a tart shop in Japan which enjoys long lines of customers from its opening hours, revamped its website for an early Valentine's Day celebration on Friday (January 22). For the next two weeks, it will serve up a special selection of items for the loving holiday.

VALENTINE'S DAY 2021

Nikoru Chocolate Biscuit Tin

Nikoru Pouch

The brand's name Tartine, is a portmanteau of the Japanese kanakana words for 'tart' and 'twin.' The Valentine's Day line-up is inspired by the Tartine twin sisters and their everyday lives. There's also a special biscuit tin with a design of the brand's handsome bear Nikoru.

Check out Tartine's official website for the full line-up. A new batch will be added over the next few days.

Information

Tartine Valentine's Day 2021
Valentine's Day Special Site: Running from January 22, 2021 for 2 weeks
Official Website: https://www.tartine.jp

Japan's New Snack Collection Box snaq.me Baked With Assorted Cookies

Japanese confectionery company snaq.me released a new assorted box of cookies on Thursday (January 21).

Cooked up for the winter season, the box contains 11 of snaq.me's most popular baked cookie treats in the 5 years they have been running. These subtly sweet delights are made in Japan by Japanese patissiers and will go well with a hot cup of coffee or tea on those cold winter days.

snaq.me Winter Happiness Cookie Tin | ¥2,980 (Tax Included)

Cookies include the Boule de Neige Rich Vanilla, which is made with a fragrant vanilla extract drawn from organic vanilla beans, and tasty butter. This exquisite treat was voted No. 1 favourite by snaq.me users. There's also the Royal Milk Tea Cookie, which has been one of the most popular items on the company's confectionery menu since it first established. This cookie is perfect for those who aren't sweet-tooths, packed with earl grey tea leaves which lend a fresh taste. They are crunchy and thick so you'll be able to savour them – not eat them all at once! Best of of all, they are made with rice-bran oil so they're not fatty or too rich.

Another must-mention is the Cocoa Marble Cookie, a marbled morsel made with organic cocoa and plain flour. Each is handmade which results in unique marbling effects for each one. Unrefined sugar and cane sugar is used when baking this cookie which is a healthier option for the body, and the cocoa beans are 100% organic, meaning less fat.

snaq.me's mission is to make snack time that much more enjoyable which I think we can agree they have done with this ensemble of baked goods.

Information

snaq.me Fuyu no Shiawase Cookie Tin

Japanese Product Name: 冬のしあわせクッキー缶
Released: January 21, 2021

Contents: 11 Cookies (Croquem Chocolat/Maple Chouqette/Cocoa Marble Cookie/Boule de Neige Rich Vanilla/Donguri Cookie Cacao Nib/Donguri Cookiei Ginger/Garitto Biscuit Brown Sugar/Biscotti Almond Chocolate/Rasberry Jam Cookie/Unsalted Butter & Okinawan Sugar Sable/Royal Milk Tea Cookie)
Order Here (Japan): https://chat.snaq.me/store/cookie2021
snaq.me Official Website: https://snaq.me/

Disney Princess Cakes at Ginza Cozy Corner Tickles the Hearts and Taste Buds of Princesses

Ginza Cozy Corner will open orders for its new Disney Princess Cakes on January 29.

The Little Mermaid Cake (Serves 5-6) | ¥3,500 (Before Tax)

Cake Box

Decorate the cake yourself with the accompanying parts

Beauty and the Beast Collection (9 Cupcakes) | ¥2,500 (Before Tax)

Cupcake Box

Rapunzel Princess Cake | ¥450 (Before Tax)

Ariel Princess Cake | ¥450 (Before Tax)

Tangled Dress Cake (Serves 5-6) | ¥3,500 (Before Tax)

Pick from a variety of cakes inspired by popular Disney Princess like Rapunzel and Ariel. The cake based on The Little Mermaid is limited to just 3,000 cakes. There's also a special selection of Beauty and the Beast cupcakes.

Loving Valentine's Day Chocolates Tempt at The Peninsula Boutique & Café in Tokyo

Peninsula Merchandising Limited is set to capture hearts this Valentine's Day with the announcement of a desiring new collection of chocolates which will be served at two branches of The Peninsula Boutique & Café in Shin-Marunouchi Building and Isetan Shinjuku from February 1.

Sweetheart | ¥3,400 (Before Tax)

Macarons (6 Included) | ¥2,860 (Before Tax)

Truffle Truffle | ¥1,500 (Before Tax)

Strawberry Bear Ruby Chocolate Bar | ¥1,750 (Before Tax)

Eponge | ¥560 (Before Tax)

Croquembouche | ¥720 (Before Tax)

Rose Rouge | ¥1,500 (Before Tax)

Love Lock Key Ring | ¥5,000 (Before Tax)

The romantic line-up features an assortment of lovingly-crafted confections, from ruby chocolate to colourful macarons, a rose-topped chocolate, and more—all available for the season of love. The boutique cafes will also sell a special heart-shaped key ring for lovers to express to their special someone that they complete them.

Disney's Mickey and Minnie Mouse Feature on Lotte's Choco Pie Chocolate Treats

Japanese confectionery company Lotte is joining white gloves with Mickey and Minnie Mouse to collaborate on their popular chocolatey Choco Pie treats. The tie-up will roll out in Japan from January 26.

Lotte Choco Pie Heartful W Strawberry

Lotte Choco Pie Heartful W Chocolate

Try and find the Mickey head on the packaging

Get your hands on one of 10 packaging designs

Line up these two to make it look like Mickey and Minnie kissing

 

Handmade Choco Pie Art

This marks Choco Pie's first collaboration with Disney's characters with Mickey and Minnie appearing in ten different designs. Each design has a hidden Mickey head to find (like in Kingdom Hearts III). Lotte is has also showcased some unique designs you can make for Valentine's Day with the Choco Pies, so get creative!

ⓒDisney

Information

Lotte Choco Pie Mickey & Minnie Design
Release Date: January 26, 2021
Official Website: https://www.lotte.co.jp/

K Confect released a batch of its new 'SNOW SAND' chocolate sandwich cookies for the winter season on Wednesday (January 20) made with ingredients from Hokkaido and within just 30-minutes the online stock sold out. The company has now been launching a new limited batch every day since January 21st. All orders come with an original polar bear postcard.

Front and back of polar bear postcard

The SNOW SAND sandwich cookie brings some warm and cosy love this cold winter season with its delicious combination of butter made in Hokkaido, wheat flour, and sugar. The cookie packaging comes in two designs based on two works of art by Japanese painter Otani Kazuyoshi.

Japan declared a state of emergency on January 5, 2021 in response to the COVID-19 pandemic, and so those unable to make it to the company's pop-up shops at Daimaru Sapporo and Daimaru Tokyo, which will open on January 27, can order the cookies online too.

Information

SNOW SAND Raw Chocolate Sandwich Cookie
Online Orders: From January 20, 2021

Buy Here: https://www.snowsand.jp/

Daimaru Pop-Up Shop Orders: January 27, 2021 to February 14, 2021

Daimaru Official Website: https://www.daimaru-matsuzakaya.jp/valentine/

Daimaru Pop-Up Shops
Daimaru Tokyo: Available on Floor 1F's sweets section

Daimaru Sapporo: Available on Floor 1F's Valentine's section

Opening Hours: 10:00-20:00

*Those who spend over ¥3,160 (Tax Included) will receive an original mini tote bag – available while supplies last

TALENT PROFILE

Ema Tanioku

"Emaeri" is the nickname for models Ema and Eri Tanioku, who are Aomoji fashion model twins. Ema and Eri Tanioku specialise in twin fashion coordination. Over the years their fanbase has increased due to their cute looks. Ema Tanioku spreads Harajuku culture within Japan as well as overseas and works as a Harajuku Tourism Ambassador. Starting off as a model, Ema has broadened her talent range from fashion magazines to TV, and from playing the lead role in dramas to movies.

Valentine's Day Treats Cooked Up at The St. Regis Osaka

The St. Regis Osaka, a hotel located in Chuo, Osaka, is seducing couples with the reveal of its luxurious Valentine's Day dessert line-up which will be sold at the hotel's Italian restaurant La Veduta from February 1 to 14.

2021 Valentine's Collection Line-Up

Valrhona Chocolate Bark | Single Bag: ¥1,200 (Before Tax)

A bag of irresistible chocolates made using chocolate by the French premium chocolate brand Valrhona. It's available in three flavours: Milk (Hazelnut/Miso), Dark (Almond/Soy Sauce), and White (Macadamia/Sake Lees).

Extra Dark Chocolate Gateau Chocolat | ¥2,800 (Before Tax)

A truly full-bodied chocolate experience made with 61% chocolate that can be indulged chilled or warmed up.

Valentine's Edition Valrhona Guanaja & Jivara Lactee Chocolate Éclairs | ¥750 (Before Tax)

A chocolate cake strip loaded with thick ganache and topped with chocolate-covered hazelnuts to create a bite-sized éclair.

St Regis Signature Brioche | Set of 3: ¥1,000 (Before Tax)

A set of three of St Regis's signature brioches: the extra dark Valrhona chocolate "Danish," the Valrhona Guanaja & Jivara Lactee chocolate "Ganache," and the Valrhona "Passion Fruit Inspiration."

La Veduta's Italian Valentine's Day Menu

Dinner For Two | ¥32,000 (Before Tax)

The menu line-up at La Veduta features a dinner for two which includes an amuse-bouche, marinated Japanese amberjack, heart-shaped ravioli capresi, Tournedos Rossini beef fillet with tai sea bream, a strawberry tiramisu, and tea snacks.

This is a real indulgence for couples looking for a romantic dining experience or treat.

Information

The St. Regis Osaka Valentine's Day
Running: February 1, 2021 – February 14, 2021
Address: 3-6-12 Honmachi, Chuo-ku, Osaka-shi, Osaka
Opening Hours: [Mon] 8:00-14:00 / [Tue-Sun] 8:00-18:00

La Veduta
Running: February 10, 2021 – February 14, 2021
Opening Hours: 17:30-21:00 (Last Orders 19:30) *Closures at 20:00 until February 7
Enquiries: 06-6105-5659 (10:00-19:00)
The St. Regis Osaka Official Website: https://www.marriott.co.uk/hotels/travel/osaxr-the-st-regis-osaka

Delicious Parfait and Smoothie Made With Strawberries From Fukuoka Serving at Ginza Cozy Corner

Ginza Cozy Corner released a new parfait and smoothie made with amaou strawberries from Fukuoka Prefecture at its 12 cafes and restaurants on Saturday (January 23).

The amaou strawberry is known for its plump form, rich sweetness, and refreshing flavour. Ginza Cozy Corner has taken this delicious fruit to whip up a parfait topped with strawberry gelato, vanilla ice cream, and fresh cream, as well as a smoothie made from a whole bunch of blended amaou strawberries and milky ice cream.

Left: Fukuoka Amaou Parfait – ¥1,380 (Tax Included) | Right: Fukuoka Amaou COZY Smoothie – ¥1,000 (Tax Included)

The parfait is loaded with four deluxe-size strawberries so you can enjoy their fresh, soft texture together with the ice cream, gelato, and fresh cream combo, while a straw-sip of the ice-mixed smoothie will tickle taste buds sweetly with the sherbet hidden at the bottom.

Information

Ginza Cozy Corner Amaou Parfait & Smoothie
Serving: January 23, 2021 – Early March 2021
Ginza Cozy Corner Official Website: https://www.cozycorner.co.jp/

Hello Kitty Valentine's Day Chocolates by Bicerin Are Sure to Surprise Your Lover

Café Al Bicerin released a special collection of chocolates in Japan for Valentine's Day on Wednesday (January 20) in collaboration with Hello Kitty.

Café Al Bicerin is a cafe in Torio, Italy, that first opened back in 1763. It has a long history and is a place that was enjoyed by the likes of Friedrich Nietzsche and Ernest Hemingway.

Bicerin × Hello Kitty Love Assortment | ¥2,160 (Tax Included)

Bicerin × Hello Kitty Love Assortment | ¥2,160 (Tax Included)

Valentine's Baci di Dama (Includes 5) | ¥1,350 (Tax Included)

© 2021 SANRIO CO., LTD. APPROVAL NO. L617585

Information

Bicerin x Hello Kitty Valentine's Collection
Released: January 20, 2021
Available: Bicerin Japan (Ginza SIX, Takashimaya Shinjuku, Midland Square, Hankyu Umeda, Roppongi Hills, Tokyo Midtown Hibiya)
Official Online Store: https://shop.bicerin.co.jp/
Official Website: http://www.bicerin.co.jp/

McDonald's KitKat McFlurry to be Whipped Up in Japan

McDonald's Japan is teaming up with Nestlé next week to bring back last years' customer-favourite McFluffy® KitKat® for a limited time starting on January 27.

McFlurry KitKat | ¥290

The delicious dessert combines McDonald's tasty soft service ice cream with crushed KitKat and finishes it with a drizzle of special sauce made with couverture chocolate. Mix everything together for pure chocolatey heaven goodness.

McFlurry Oreo | ¥290

McDonald's Japan also serves the McFlurry Oreo, a regular item on the menu, and right now is the only time you can enjoy comparing the tastes and textures between both the Oreo and KitKat McFlurries.

Which one has you drooling more?

Information

McFlurry® KitKat®
Running: January 27, 2021 – Late March 2021

Available: McDonald's Japan (Select branches not participating)
Serving Times: 10:30 until closure
Official Website: http://www.mcdonalds.co.jp/

*KitKat is a registered trademark of Nestlé Group.