Suntory's Flagship Single Malt Whisky 'Yamazaki' Gets Limited-Edition Bottle
Suntory has announced the release of a special edition of its single malt whisky, Yamazaki Limited Edition 2021, which will be released in Japan in limited quantities from May 25, 2021.
The whisky comes from Japan's first and oldest malt distillery, multi-layered with fruit and Mizunara aromas. It is rich in Japanese nature and craftsmanship and has gone on to become one of the most popular whiskies in Japan for its delicate flavour. The prestige of the drink has also led it to be praised by whisky lovers around the world. The malt is carefully aged over the years and throughout the four seasons in its casks.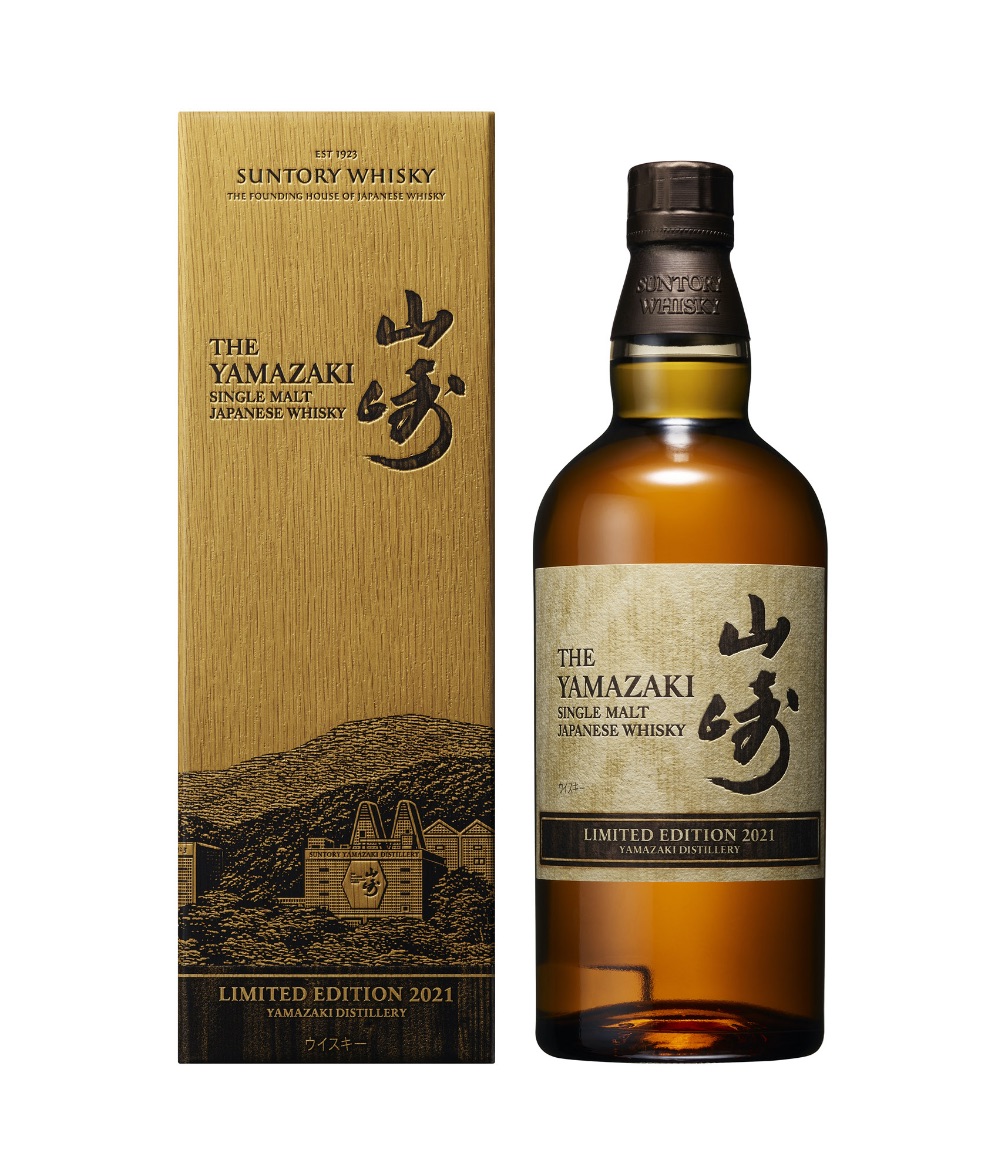 The new limited-edition version has been prepared in new Mizunara malt casks and is perfect as a gift. It's also limited in stock making it a rare must-grab for drinkers of the brand.
RELATED ENTRIES
New Sake '&Soda' Made Exclusively to be Mixed with Soda Water

Shiragiku Sake Brewery will release a special sake made exclusively to mix with soda water on October 1, 2022. The beverage will be available in Okayama Prefecture.

The company's interest in creating a new sake culture led them to develop &Soda, a delicious sake made to be mixed with soda. This may be helpful for those who don't know much about sake, or who may feel intimidated by the many different types. Being able to mix it with soda will make sake drinking feel more casual. 

Sake Made Exclusively for Mixing with Soda Water, '&Soda'

"Many people may like to mix sake with soda water or drink it on the rocks. By doing this, however, a nice sake may lose its flavor, and the drinker might be wasting a nice sake for the sake of a more easy-drinking beverage. &Soda was made exclusively to be mixed. Using Asahi Rice, a specialty in Okayama Prefecture, and water from the brewery, we've created a sake that has the proper aroma and sweetness. These characteristics will come through even after being mixed! The alcohol content has been increased to 18 percent, and the package will make the product easy to find and understand," a statement from the brewery reads.

For more information on how to enjoy &Soda, please see the special website below!

Information

Sake Made Exclusively for Mixing with Soda Water, '&Soda'

Release Date: October 1, 2022

Official Site: http://www.andsoda.jp/

Long-Established Sake Brewery in Yamagata Prefecture Helps Create SAKE COLA

Aiming to create a new kind of drinking culture, Aika in Gunma Prefecture has started preorders for SAKE COLA, a new cola liquor, on the crowdfunding site Makuake. 

People love cola for its strong carbonation, sweetness, and distinctive spicy flavor. SAKE COLA has a complex, multi-layered aroma and refreshing sweetness offering a unique taste that no one has tasted before.

In creating SAKE COLA, the company attempted to keep the authentic sweetness of sake. To this end, they decided to work with Rokkasen, a long-established sake brewery in Yamagata. 

Rokkasen's authentic rice-based shochu Goujoppari is brewed in the cold like sake and distilled like a ginjo sake. It has a beautiful citrus aroma and tastes similar in sweetness despite having zero sugar.

 

Using Goujoppari as a base, malted rice is used to produce a mild, natural sweetness, and the spices added to the drink meld with the citrus scent to create a flavor defying imagination.

The flavor and aroma of SAKE COLA spread in the mouth, with the spices and herbs lingering on the tongue. The spices were mixed by Hayashi Oki, who studied in Alsace, France before working as a pastry chef at one of Tokyo's top patisseries. 

Mace, the key spice, is characterized by its sweet and somewhat pungent aroma. It's used to recreate the caramelized taste that is found in most cola.

 

Along with that, tonka beans, containing the natural sweeteners Vanillin and Coumarin, were blended into the mix to create a soft, lingering flavor. Customers are sure to enjoy it from the first sip to the last.




SAKE COLA can be enjoyed at any time. It's perfect for enjoying as an aperitif, and it can also be enjoyed with a meal, like beer or wine. 

 

Like whiskey, it can also be enjoyed while relaxing after a meal. At Christmas time, it can be added to warm red wine or served as an affogato with ice cream and a splash of liqueur. How would you like to try this unique creation?

Kyary Pamyu Pamyu Collaborates with 252-year-old Tsujun Brewery for LOCAL POWER JAPAN Project

Celebrating the 10th anniversary of her major label debut, Kyary Pamyu Pamyu is having a busy year. The artist will perform at this year's Coachella, one of the largest music festivals in the United States, and released her first full-length album in three years 'Candy Racer' in October 2021.  On January 16, Kyary embarked on the largest tour of her career, 'Kyary Pamyu Pamyu 10th ANNIVERSARY JAPAN TOUR 2022 CANDY WAVE,' which will see the singer performing 30 shows across Japan. In conjunction with the nationwide tour, the "LOCAL POWER JAPAN Project" was launched to energize Japan through the appeal of regional towns and cities, and has been attracting major attention. After concluding her performance in Kumamoto on March 6, Kyary is now collaborating with a local business in the area.

 

In the center of Yamato, a city in Kumamoto, lies the Tsujun Bridge, an important cultural property. The local Tsujun Brewery derived its name from this landmark and has been in business for 252 years. A special collaboration logo has transformed the breweries logo into an homage to Kyary's 2014 third original album, Pika Pika Fantajin. Commemorative T-shirts featuring the new logo are also on sale! 

A special beverage inspired by Kyary is also available. Despite coming from a brewery, this amazake is alcohol-free!

While the beverage is branded with Kyary's likeness, this particular Ama-no-Tamuzake Hotarumaru is a big seller for the brewery. Made from Kumamoto rice and purified at a nearby shrine, this sweet beverage is sure to lift your spirits, just like Kyary's music. This drink is also more nutritious than other alcohol, containing no sugar or additives, and can be enjoyed by children. Each purchase also comes with an original shopping bag, making it the perfect souvenir!

VTuber Group 'Sake Boys' Features Alcohol-inspired Talents, Holds Competition Between Members

Sake Boys, a VTuber project that reimagines alcoholic beverages as cute virtual personalities, held a team competition on February 25, 2022. Information about the new male trainees has also been released! Those who did well during the competition will be recognized as fully-fledged Sake Boys. 

Teams

Kuro Team

[From Left: Kuro (Kensho Ono), Alfie (Ryo Muraoka), Rico (Daiki Kobayashi)]

Kuro, a cat who happens to be the God of Alcohol, leads this team. The feline always does things by the book, but the other members hope to improve their skills by taking on tons of new challenges!

Shiro Team

(From Left: Yasaka (Sonosuke Hattori), Draft (Daisuke Mannami), Shiro (Toru Itoga), Shaoxing (Mizuki Chiba)]

Fellow God of Alcohol Shiro tends to do whatever he wants, and this team isn't exactly what you'd call 'cohesive.' This group sticks together for the sake of music, as they often are in charge of music projects and singing videos.

Chacha Team

[Left: Cassieh (Akira Orihara), Trights (Masaru Ino), Soubi (Norihito Hase), Chacha (Yu Mizushima)]



Led by God of Alcohol Chacha, this group is made up entirely of geniuses. With lovely voices, these boys are in charge of talk radio.

 

Sake Boys includes characters inspired by alcohol from around the world. These are the perfect VTubers to watch while enjoying a drink, and will keep you from feeling lonely or sad if you're at home drinking alone! Personifying these characters has been a joy for this talented cast and aims to bring joy to those still having trouble with the current state of the world.

 

On the Sake Boys YouTube channel, viewers can enjoy the many unique talents of these 11 members, including singing, chatting, quiz shows, and cooking. As the name would suggest, they also explain the intricacies of brewing! Be sure to check it out! 

 © Imagineer Co., Ltd.

Information

Sake Boys 'Heavenly Tasting Challenge'

Official YouTube: https://www.youtube.com/channel/UC0aN-lCr_sF1o3Zs-D4en8Q
Official Twitter: https://twitter.com/sakedanshi_ch

Official Site: https://sakedanshi.jp/

Schedule

March 4 – Cha-Cha Team Round 1 Assignment Due

March 8 – Kuro Team Round 1 Assignment Due

March 11 – Shiro Team Round 1 Assignment Due

March 13 – Exam

March 15 – Cha-Cha Team Round 2 Assignment Due

March 18 – Kuro Team Round 2 Assignment Due

March 22 – Shiro Team Round 2 Assignment Due

March 25 – Announcement of Exam Results

March 29 – Announcement of Heavenly Tasting Challenge Results

Aomori's Be Easy Brewing and UNITED ARROWS Release Collaborative Craft Beer

UNITED ARROWS has released its first craft beer in collaboration with Be Easy Brewing, located in Hirosaki City, Aomori Prefecture. The brew is available at the UNITED ARROWS BOTTLE SHOP, which sells select alcoholic beverages from both Japan and abroad. 'Apple Pie Ala Mode' went on sale starting January 2 at the UA BAR on the first floor of the UNITED ARROWS Harajuku flagship store, H BEAUTY AND YOUTH, and the California General Store. 

Be Easy Brewing offers a selection of unique and constantly changing beers using ingredients found in Aomori like apples, strawberries and Tsugaru rice. From IPAs to wheat ales, the company is always experimenting with different styles. This strange collaboration was born after UNITED ARROWS expressed a fascination with the high quality and incredible taste of Be Easy Brewing's beers.

'Apple Pie Ala Mode' is a Berliner Weisse with a slightly sour taste combining apple juice, cinnamon, and vanilla. 

Information

Apple Pie Ala Mode
Price: ¥770 (Tax Included)
Size: 350ml
ABV: 5.5%
Where to Buy: UA BAR(UNITED ARROWS Bar Harajuku 1F), H BEAUTY AND YOUTH, California General Store

※The UA BAR will serve the beer on draft for a limited time.
※There will be no lottery for in-store sales. The beer will be available to purchase starting January 2, 2022.
※Available while supplies last.

Popular SNS Character 'Yosi Stamp' Opens Pre-Orders for Limited Milk Liquor Collab

Popular social media character 'Yosi Stamp' has collaborated with liquor store  'KURAND' to produce a limited edition drink. The 'Yosi Stamp's 100% Milk Liquor,' which features a brand new 'Yosi Stamp' illustration on the label, will be available to pre-order for a limited time until November 7 at 17:00.

The natural milk liquor is free of preservatives, colorings, and additives, and comes with a unique illustrated label, where the rabbit and chick characters have been transformed into cows! For a limited time, customers will also receive a free 'Yosi Stamp' original glass, so be sure to nab it while you can.

Information

Yosi Stamp's 100% Milk Liquor

Availability: October 8 at 17:00 ~ November 7 2021 at 17:00 

Delivery Period: Scheduled to start in late November

Retail Selling Price: ¥4,500 (Tax Incl.)

Bonus: Yosi Beads Original Glass

Details: https://kurand.jp/products/yosistamp 

Official Site: http://yosistamp.co.jp/ 

Lottery Open to Snag ALIENS GALAXY 2021, a Sake That Traveled Through Space

Want a bottle of sake that's been to space? Liquor Innovation is opening a lottery through October 16 to snag a bottle of ALIENS GALAXY 2021, and as you would imagine the number of these items is extremely limited. 

ALIENS GALAXY 2021 started brewing on October 1, 2005, also known as 'Sake Day.' Using Kochi-grown yeast and rice, this brew then spent ten days orbiting the Earth on the Russian spacecraft Soyuz. This is only the second year ALIENS GALAXY 2021 will be available, after an incredibly positive response in 2020. With a refreshingly light and dry taste, the sake is a great example of Kochi's dry sake culture, and showing up to a party with this in hand is sure to have people talking! 

Far Yeast Brewing Opens Branch in Taiwan's East District, Serving Japanese Craft Beer

Far Yeast Brewing Co., Ltd., a craft beer maker that shares original Japanese beer with the world  beer, will be opening their first directly managed overseas store in Taiwan. The Far Yeast Taiwan Craftbeer Gasteopub will be celebrating its grand opening in Taipei City, Taiwan on October 16 2021. 

The Far Yeast Taiwan Craftbeer Gastropub is the fourth directly managed store following the Tokyo-Gotanda, Shizuoka-Atami, and Fukuoka branches, as well as the first overseas location.

The Far Yeast Taiwan Craftbeer Gastropub" will have 15 taps, offering not only the core brands Kawa KAGUA and Far Yeast, but also their special Japanese craft beer that can't be found anywhere else in Taiwan. You can enjoy the beer alongside a selection of modern Japanese-themed meals.

Far Yeast Lychee Haze 

To commemorate the opening, the company has brewed the Fruited Hazy IPA 'Far Yeast Lychee Haze' in collaboration with Taiwanese brewery UGLY HALF BEER, using Taiwanese lychee to flavor. The drink will be pre-released in Japan, available from  September 30 with preorders opening from 13:00 on September 21.

The combination of Nelson Sauvin hops with a grape-like aroma and the tropical scent of the citrus and coconut Sabro hops compliment the gentle and sweet flavor of lychee, enticing all craft beer enthusiasts to Taipei.

Far Yeast Taiwan Craftbeer Gastropub is expected to have an international customer base, as the gastropub is located in Taipei's East District, an area with a high population of foreign nationals and business people. Now that overseas travel has become much harder, the new branch will allow customers to enjoy the varied tastes of Japanese craft beer and the richness of Japanese food.

Information

Far Yeast Taiwan Craftbeer Gastropub 源流台灣精釀啤酒餐酒館

Address: No. 322, Guangfu South Road, Da'an District, Taipei City,Taiwan 106

Access: A four minute walk from Taipei Metro (MRT) Bannan Line's Sun Yat-Sen Memorial Hall Station

Opening Hours: 11:30 ~ 14:30 (LO 14:00)

17:30 ~ 24:00 (LO 23:30)

*Opening hours subject to change

Open daily

Instagram: https://www.instagram.com/faryeasttaiwan/ 

 

Far Yeast Lychee Haze

Sales Start Date: September 30 2021

Retail Price: Subject to retailer

Purchase Online: https://faryeast.stores.jp/ 

The Westin Tokyo Hotel to Offer Premium Autumn Parfaits for Limited Time

Three delicious desserts are coming to The Westin Tokyo for a limited time! Beginning October 1, visitors to the hotel can enjoy a collection of premium parfaits filled with seasonal ingredients and western liquors unique to the executive bar, simply named The Bar. These will be available until November 28, on Friday, Saturday, Sunday and holiday nights only.

Chocolate Parfait with Figs and Red Berries

Chestnut and Apple Parfait

Chestnut and Hazelnut Mont Blanc Parfait

The chocolate parfait includes whole figs and bright red berries, and is finished with rich port. Calvados was added to the Chestnut and Apple Parfait, allowing guests to enjoy a refreshing combination of nuts, fruits, and mascarpone. The Mont Blanc Parfait includes a fragrant rum from Martinique, and has a richer dessert flavor.

The executive pastry chef carefully layers each parfait by hand, and these unique treats combining flavors of both east and west can only be found at The Westin Tokyo!

Information

Premium Autumn Parfait

Available: October 1 – November 28, 2021 (Only available Friday, Saturday, Sunday & Holidays)

Hours: 16:30-20:00

Price: ¥3,000 each (Tax and Service Charge Included)

Location: Executive Bar "The Bar" (1F)

Reservations: 03-5423-7285

Official Site:www.westin.com

Tottori Prefecture's White Rabbit of Inaba Wins Top Prize in Japan's Indie Souvenir Contest

From July 29 to August 11, over 320,000 people from around Japan voted for their favorite lesser-known local souvenir. Sponsored by Japanese e-commerce site Mercari, the contest highlighted 47 unique goods from around the country, one for each prefecture. The winners have been announced, and the White Rabbit of Inaba from Tottori Prefecture has won first place, receiving more than 60,000 votes.

A music video-style web commercial featuring the winning product is now being produced to support the shop and particular region of Tottori. The music will be performed by electro-pop group Frasco.

In Japan, the rabbit is known for bringing good fortune, and has been a beloved symbol since ancient times.  The white rabbit in particular, featured in the local Izumo myth 'The White Rabbit of Inaba,' plays a major role in connecting the characters Onamuchi-no-kami and Princess Yakami. In 1968, the famous confectionery 'White Rabbit of Inaba' was created in the hopes of bringing good luck to those visiting the area.

Much like how an indie music group has a small group of hardcore fans but may not be well-known outside of small circles, these indie souvenirs are popular with locals, but may not be known to those outside the community. On the official website, fans can see their favorite treats displayed on what looks like album covers as an homage to this fitting comparison.

On social media, there was incredible support for the project from all kinds of people: those who made the souvenirs in the first place, those who love their local area, and those who were seeing these treats for the first time and dying to try them.

Which of the 47 souvenirs would you be most happy to receive?

Disney's Mickey & Friends Teams Up With Tokyo's Souvenir Sweet Tokyo Banana

Disney SWEETS COLLECTION by Tokyo Banana, a joint confectionery shop between GRAPESTONE and Tokyo Banana, released its new Mickey & Friends collection on Thursday.

Tokyo Banana Mickey & Friends Collection | ¥1,300 (Tax Included)

Mickey, Minnie, Donald, Daisy, Goofy, and Pluto join hands in a heart-warming new collection of Tokyo Banana, a cream-filled sponge cake and the official souvenir sweet of Tokyo's official souvenir sweet: Tokyo Banana.

 

Mickey & Friends arrive in all the colours of the rainbow

The colourful packaging features the Disney group of best friends including Mickey, who loves his friends, his girlfriend Minnie, the anger-prone Donald, stylish Daisy, silly Goofy, and trusty Pluto.

Six cute patterns decorate the sponge cakes

There are six super cute Mickey & Friends designs you could get in your Tokyo Banana, and each one is random. They are filled with chocolate banana-flavoured custard cream.

Collect all the postcards

All boxes of these treats come with two of eight possible postcard designs which you can use for sending to someone or even as room decoration.

 © Disney

Pokémon x Tokyo Banana Expands Across Japan

The Pokémon Tokyo Banana confection series launched its first two products that it ever released at Yume Town, Yume City, LEC, and Yume Mart branches in the South-west most part of Honshu, Shikoku, and Kyushu on May 14.

Pikachu Tokyo Banana (Banana Flavour) | Includes 2 | ¥292 (Tax Included)

Eevee Tokyo Banana (Caramel) | Includes 2 | ¥292 (Tax Included)

Heart-shaped tail ends

Six different packaging designs each for Pikachu and Eevee

Tokyo Banana are popular cream-filled cakes and are the official souvenir sweet of Tokyo. The Pokémon series turns these fluffy treats into cute confections for you to enjoy with your favourite Pokémon during snack time.

Pikachu was the first to enter the Pokémon Tokyo Banana series who was turned into a banana custard cream-filled sponge cake. The second was Eevee with the fluffy sponge a delicious caramel macchiato flavour and filled with sweet banana custard cream

The confections are both branded with adorable heart-shaped tails, and each comes with one of six possible packaging designs.

©2021 Pokémon. ©1995-2021 Nintendo/Creatures Inc./GAME FREAK inc.
ポケットモンスター・ポケモン・Pokémonは任天堂・クリーチャーズ・ゲームフリークの登録商標です。