Japanese sock brand Tabio is teaming up with the popular South Korean brand 'she said that' to release a collaborative new collection of socks. Pre-sales will open on Tabio's online store on January 22 with general sales rolling out in-store at Tabio on January 29.
she said that is a South Korean brand that mainly focuses on accessories such as bags and iPhone cases. The brand's owner and designer Lee Yezi is also popular in Japan for their pop illustrations.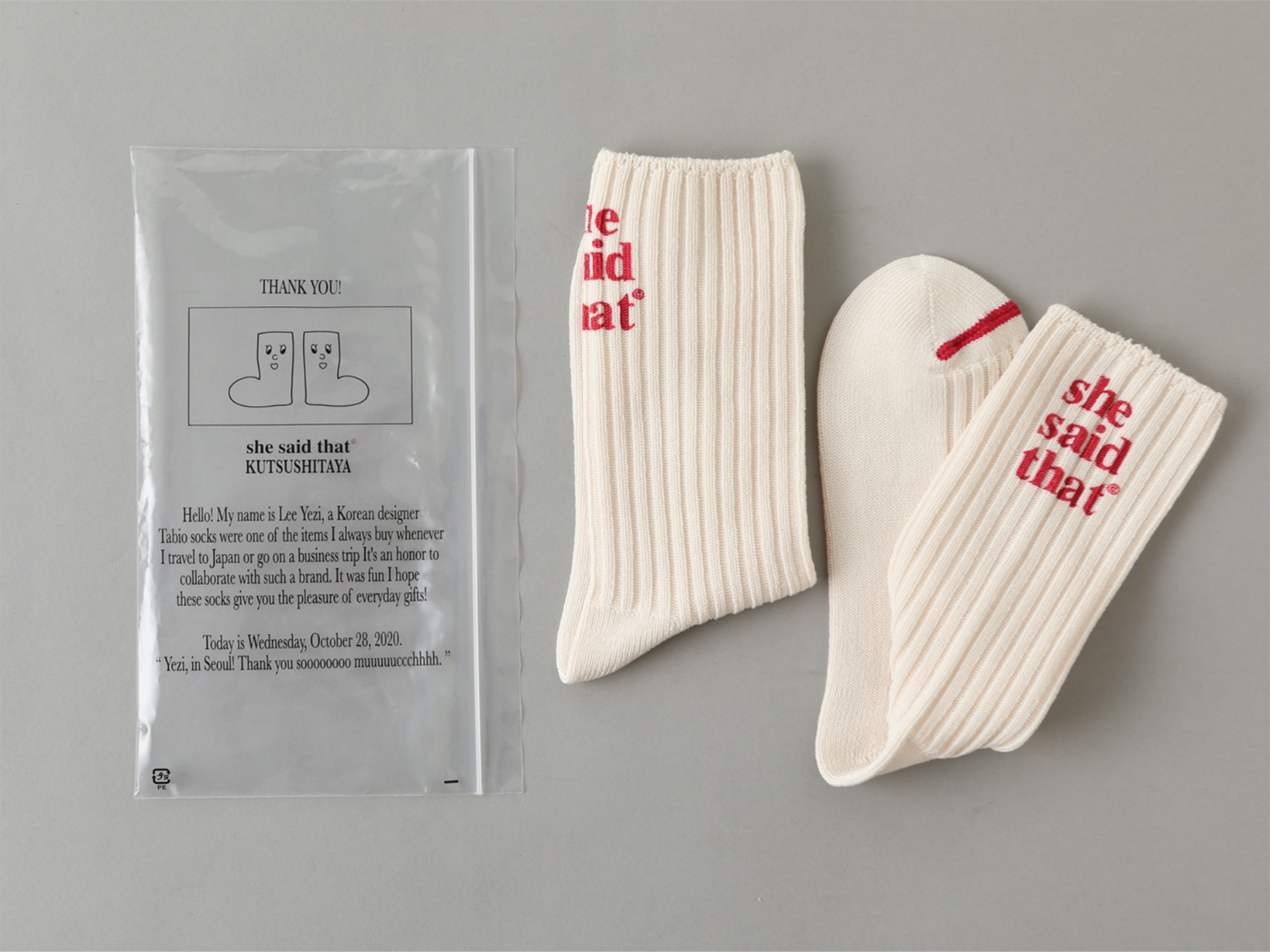 she said that Logo Print Socks | ¥1,600 (Before Tax)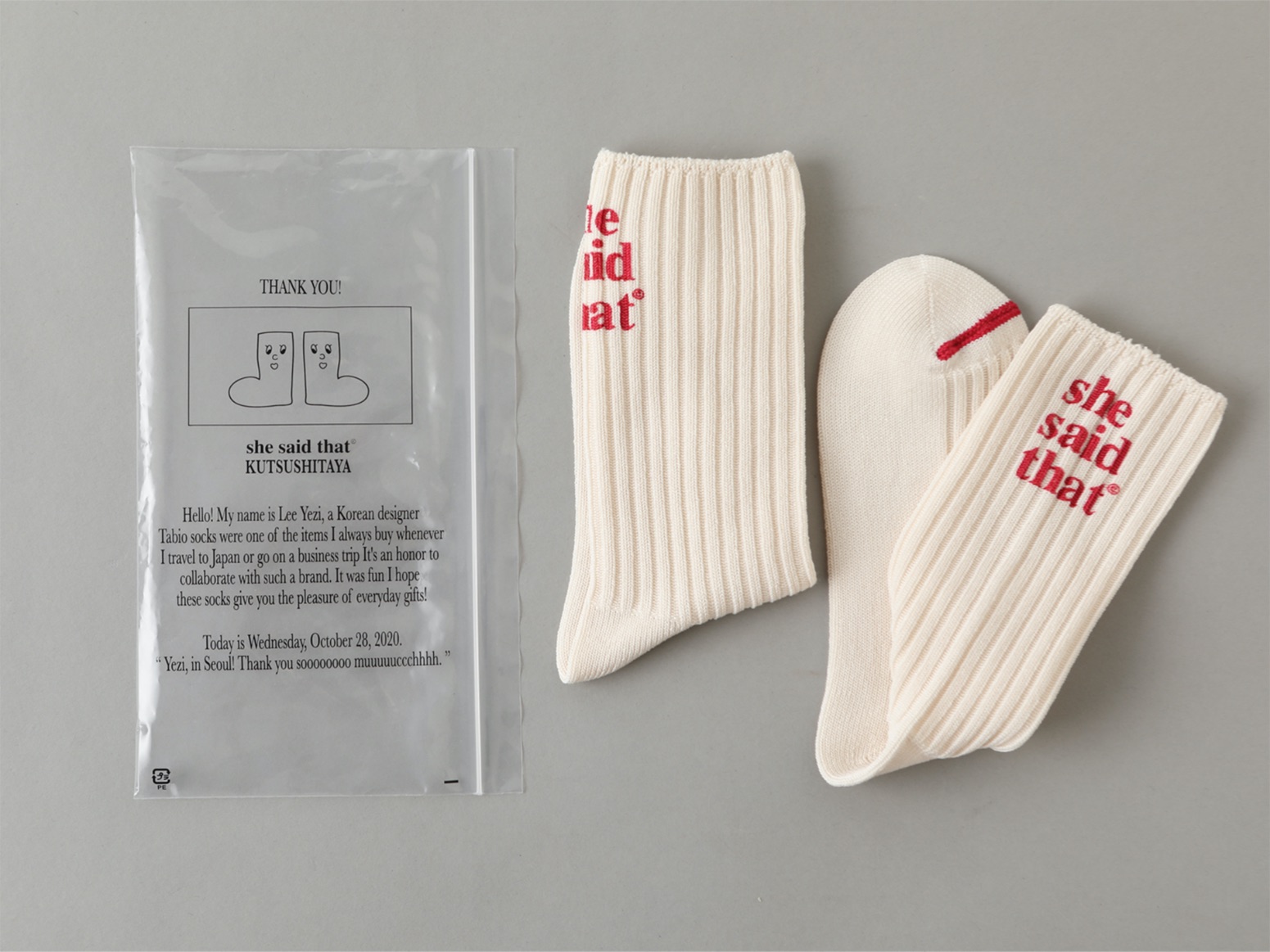 she said tha Logo Embroidered Socks | ¥1,400 (Before Tax)
The line-up includes two different sock types which are packaged in an original design bag.
Stickers

Original Cotton Pouch
For every pair bought customers will receive a novelty sticker, and if they spend over ¥3,000 on the socks they'll get an original cotton pouch designed by Lee Yezi too. These novelty items are available while supplies last.
Information
she said that x Tabio Sock Collab
Pre-Sales: January 22, 2021 (Online only)
General Release: January 29, 2021 (Tabio exclusive)
Tabio Online: https://tabio.com/jp/
RELATED ENTRIES
Miffy x Tabio Sock Collection to Release in Super Cute Designs

Japanese sock company Tabio is set to release a cute sock collection in collaboration with Miffy on May 17.

The Line-Up

Miffy Short Socks | 3 Colours | ¥1,430 (Tax Included)

Miffy Embroidered Socks | (2 Colours) | Women's ¥1,430, Children's ¥1,210 (Tax Included)

Miffy Short Socks | 3 Colours | ¥1,430 (Tax Included)

Miffy Embroidered Socks | (2 Colours) | Women's ¥1,430, Children's ¥1,210 (Tax Included)

Limited-Edition Novelty




The sock collection arrives with four different sock models featuring adorable Miffy designs. Those who spend over ¥3,300 on the collection will also receive a free Miffy memo pad.

Tabio has teamed up with Yasuko Furita's fashion brand TOGA to release a special new collection of winter socks on Sunday (December 10). They are available to purchase via the companies' official websites as well as Tabio stores in Japan.

The Line-Up

STYLE 1: TOGA Front See-Through Socks | ¥1,600

Colours: 12 Beige / 44 Dark Red / 74 Green / 86 Navy Black
Sizes: 22.5cm~24.5cm

STYLE 2: TOGA Colour Block Reversible Socks | ¥1,800

Colours: 42 Red / 74 Green / 87 Orange
Sizes: 22.5cm~24.5cm, 25cm~27cm

STYLE 3: TOGA Front Logo Socks | ¥1,800

Colours: 22 Brown / 42 Red / 74 Green / 86 Navy
Sizes: 22.5cm~24.5cm, 25cm~27cm

STYLE 4: TOGA Line x Tiger Print Socks | ¥2,000

Colours: 09 White / 20 Beige / 47 Burgundy
Sizes: 22.5cm~24.5cm, 25cm~27cm

STYLE 5: TOGA Socks | ¥2,000

Colours: 09 White / 12 Black / 47 Burgundy / 74 Green
Sizes: 22.5cm~24.5cm, 25cm~27cm

Packaging

Add some style and colour to your feet with the new TOGA x Tabio collaboration.

Information

TOGA x Tabio
Released: December 20, 2020
*STYLE 3 available from December 23, 2020 only at Tabio stores in Japan and its online store

Participating Stores
Official Online Store: https://tabio.com/jp/
7 Tabio Stores (Tabio GINZA SIX, Tabio Omotesando Hills, Tabio Shibuya Scramble Square, Tabio NEWoMan Yokohama, Taibo Roppongi Hills, Tabio Nagoya LACHIC, Tabio Grand Front Osaka), TOGA stores, TOGA Online Store @ https://store.toga.jp/

Barbapapa Design Socks to be Released in Collaboration With Tabio

Japanese sock manufacturers Tabio, which manages numerous stores like KUTSUSHITAYA, Tabio and Tabio, has revealed a new sock collection to celebrate the 50th anniversary of Barbapapa, the popular children's picture book by the French-American couple Annette Tison and Talus Taylor. Pre-sales for the socks will begin on Tabio's official website on September 25 with general sales heading to select branches in Japan on October 2.

The socks capture the cute and colourful world of the Barbapapa characters, with different designs for each member of the family.

Barbapapa (Pink), Barbazoo (Yellow), Barbabelle (Purple) | ¥1,815 (Tax Included)


Barbabeau (Black), Barbalib (Orange), Barbabright (Blue) | ¥1,815 (Tax Included)


Barbalala (Green), Barbapapa (Pink), Alphabet Design | ¥1,815 (Tax Included)


Barbabravo (Red), Barbamama (Black), Alphabet Design | ¥1,815 (Tax Included)

There are a total of four sets with three colours in each set. Each person who buys a set will also received an original Barbapapa pouch.

Coordinate your autumn and winter looks this year with this cute collaboration!

Information

Tabio x Barbapapa
Pre-sales: September 25, 2020

General Released: October 2, 2020

Available: Tabio online store and select Tabio branches in Japan

Tabio Online Store: https://tabio.com/jp/brand/kutsushitaya/

Hello Kitty and Sanrio Character Socks Released in Collaboration With Tabio

Japanese sock manufacturers Tabio, which manages numerous stores like KUTSUSHITAYA, Tabio and TabioMEN, has collaborated with Sanrio and released a collection of character socks on August 21. The socks are available on Tabio's official website and at Tabio stores in Japan.


The cute sock designs feature popular Sanrio characters such as Hello Kitty and come in a variety of colours to add to your wardrobe.

HELLO KITTY Box Logo Socks | ¥1,200 (Before Tax)

These colourful socks feature a subtle illustration of Hello Kitty's ribbon on the logo.

HELLO KITTY Logo Name Glitter Short Socks | ¥1,200 (Before Tax)

A cute collection of basic colour socks with glitter on them, also featuring Hello Kitty's ribbon on the heel.

SANRIO CHARACTERS Collaboration Print Low Crews | ¥2,300 (Before Tax)

This pair features a sushi design with Hello Kitty, Keroppi, Hangyodon, Badtz-Maru, Gudetama, and Cinnamoroll.

Fans who buy a pair of any of these socks will receive a free mirror. Available on a first-come, first-served basis.

Demon Slayer's Made to Order Character Socks Now Available to Buy in Japan

Japanese sock manufacturer Tabio has teamed up with the TV anime series Demon Slayer: Kimetsu no Yaiba to release an original collection of character socks this autumn. Made to order, pre-orders for this limited edition socks opened on August 11, 2020 via Tabio's official online store, Premium Bandai, and Tabio's Rakuten page.

Tanjiro Kamado socks


Full line-up of embroidered designs | ¥1,350 Each (Before Tax)

There are six character designs in total, each with two different colours to pick from, and are sized at 22cm-24cm. Designs include Tanjiro Kamado, Nezuko Kamado, Zenitsu Agatsuma, Inosuke Hashibira, Giyu Tomioka, and Shinobu Kocho.

Which design would you go for?

The upcoming anime film Demon Slayer: Kimetsu no Yaiba the Movie: Mugen Train is set for release on October 16, 2020. It serves as a direct sequel to the 2019 anime series adapted from Koyoharu Gotouge's manga series Demon Slayer: Kimetsu no Yaiba and is being animated by ufotable.

©Koyoharu Gotouge/Shueisha・Aniplex・ufotable

Colorful and pop-looking socks using traditional patterns of Amamioshima, Kagoshima Prefecture – "Oshima Tsumugi" are now on sale.

Abicom Design which runs businesses such as graphic design businesses in Amamishi, Kagoshima will sell a pair of colorful socks named, "Tsumugi POP Kyokyu Wata Socks 2017 Autumn/Winter Model" using the traditional patterns of "Oshima Tsumugi" from the 11th of November (Sat.) at their EC site.

Tsumugi POP is already selling products using standard patterns of "Oshima Tsumugi" such as "Tatsugo" and "Akiina Rose." This time, they have designed colorful and pop-looking socks such as a pair of socks with the dotted Marijuana leaf pattern, a pair of socks with the union-jack styled three colored gingham pattern and a pair of socks with the dazzle painted nepheline.

The high-quality cotton, "Masyuko" similar to Oshima Tsumigi is used as the fabric. The socks are very soft and comfortable to wear.

 

 "Oshima Tsumugi" is a traditional craft of Minami Oshima which is gaining high reputation because of its quality technology and its comfortableness. Why not try using these Japanese-styled socks!

An item that brings luck! "Detarame Kutsushita (socks)" will be sold ahead of any other store.

Fukuske has started to sell an item that brings luck called "Detarame Kutsuhista" on "Fukuske ecute Omiyaten" from the 15th of September 2017 (Fri.). The item can be bought at the Fukusuke online store from the 13th of October (Fri.).

 "Detarame Kutsuhita" is a pair of socks made with the motif of "Tai" (Pagrus major) which is known as an auspicial fish. The item was created with the creators' concept, "we want our customers to make a fresh start in their life transitions" and has been gathering much popularity since their release (autumn, winter of 2014).

 The new product consists of seven colors which are the image colors of the "Shichi Fukuske figure," who's an official character of Fukuske Corp. Furthermore, this item can be purchased in a gift box (sold separately) which has an illustration of the happiness bringing, Mt. Fuji.

Why not give these socks that bring luck to your friends or family members!

■Information 

Brand: Fukuske

Product name: Detarame Kutsushita

Lineup: Ladies – four types / men – four types

※A cutout that uses the image colors of the "Shichi Fukuske figure," "mameshibori" (dot pattern), "stripe pattern" and "heart-shaped pattern" are available.

Price: 1,500 yen for each (tax not included)

Available dates: Fukuske ecute Omiyaten September 15th (Fri.)

Fukuske Online Store  October 13th (Fri.) http://shop.fukuske.com/