Cells at Work! Themed Japanese Sake Promotes Anime's Second Season
If you love the Cells at Work! manga and anime series, and enjoy a cup of Japanese sake, then you won't want to miss out on a bottle of this sake released by Nexus in collaboration with the sake brand Junmai Daiginjo Baibaikin on January 26.
Junmai Daiginjo Baibaikin | ¥6,600 (Tax Included)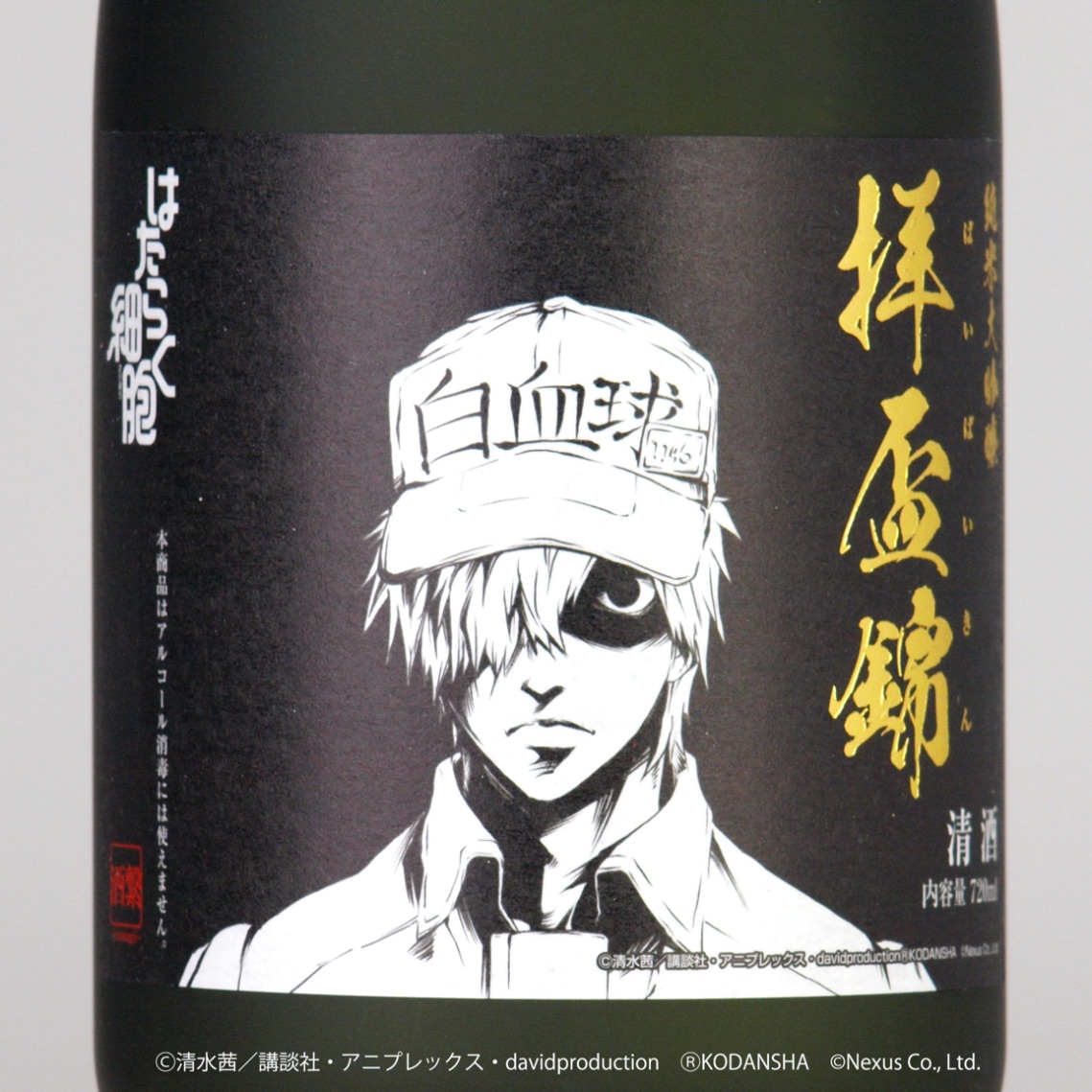 Original label design
Original box
Junmai Daiginjo Baibaikin is a brand of refined sake made from carefully-selected rice milled down to 39%.It has a fruity taste of mango and black currant making for a delightful balance of sweetness and acidic kick. The bottle is wrapped with an original label design made in the traditional Japanese sumiefuu ink painting style and with an illustration of White Blood Cell from the Cells at Work! series.
Ⓒ清水茜/講談社・アニプレックス・davidproduction ⓇKODANSHA ©Nexus Co., Ltd.
Information
Junmai Daiginjo Baibaikin Collaboration
Japanese Product Name: 純米大吟醸 拝盃錦
Orders: From January 26, 2021
Shipping: Late February 2021
Buy Here (Japan): https://saketsunagi.base.shop
RELATED ENTRIES
Gelato Pique Announces Collaboration with Twin Pandas Xiao Xiao and Lei Lei

The Japanese loungewear brand gelato pique has launched a new series inspired by the twin pandas Xiao Xiao and Lei Lei living at Ueno Zoo! The adorable new items went on sale on May 12, 2022. 

The Ueno Zoo is the oldest zoo in Japan. Located in Taito-ku, it was first opened in March 1882.

To commemorate Xiao Xiao and Lei Lei's first birthday, gelato pique has created an incredible collection of loungewear and sundries. A portion of the proceeds will be given to the Giant Panda Conservation Support Fund to support education regarding pandas and conservation activities at the zoo.

Xiao Xiao & Lei Lei Collaboration

Roomwear Set

Panda Blanket

Panda Multi-use Cover

gelato pique Original Panda Series

Panda Hoodie & Shorts Set

Panda Print T-Shirt / Shorts / Dress

Panda Glass

Small Panda Reuseable Bag

Online Exclusives

3-piece Panda Set

gelato pique Sleep

3-piece Panda Print Bed Set (Single) / Pillow Case with Panda Ears / Panda Nightcap / Panda Rug

The Panda Series celebrates both the cute twin pandas at Ueno Zoo and all other pandas around the world. Still an endangered species, gelato pique wants to help these big animals however they can. The new collection's theme is "happy time at home."

Panda lovers shouldn't miss grabbing something cozy from this new collection!

Touhou Project and One Night Werewolf Collaboration Items Now Available

ARMA BIANCA, an online store specializing in original goods, is now taking orders for limited-time collaboration items between Touhou Project and One Night Werewolf!

Lineup

One Night Werewolf Collaboration – Pixel Art Ver.

Acrylic Stand

Preorder Purchase Bonus

Acrylic Keychain

Preorder Purchase Bonus

Pin

Preorder Purchase Bonus

T-Shirt

Hoodie

Clear Folder

Mug

Pen

 

One Night Werewolf is a card game where players take on the role of a Villager, a Werewolf, or a number of special characters with unique abilities. The goal is to figure out who the Werewolves are and to kill at least one in order to win!

The Touhou characters featured in the collaboration include Reimu Hakurei, Marisa Kirisame, Cirno, Youmu Konpaku, Sakuya Izayoi, Satori Komeiji, Koishi Komeiji, Remilia Scarlet, Flandre Scarlet, and Kagerou Imaizumi. 

A BATHING APE Releases Dragon Ball Z Majin Buu Collection

Japan's top streetwear brand A BATHING APE is releasing a new collection inspired by Dragon Ball Z! The two first collaborated in 2016 starting with imagery inspired by Son Goku's childhood. In June 2020, the company released a collection themed around the Cell arc.

Lineup

The newest collection was inspired by the final arc of the series, the Buu Saga, expressed in the style of BABY MILO.


The main characters from the series–Goku, Vegeta, Majin Buu, and Piccolo–are all depicted in BABY MILO style. In addition, characters such as Mr. Satan and Uub appear, perfect for more hardcore fans wanting to see lesser-known characters represented.


The lineup includes a coach jacket and hoodie featuring newly-drawn illustrations inspired by the final episode. Don't miss this special collaboration!

Information

A BATHING APE x Dragon Ball Z

Release Date: May 21, 2022
Where to Buy: A BATHING APE Authorized Retailers, BAPE.COM Web Store

For Preorder
Coach Jacket

Preorders start May 21, 2022 (Preorders will end when the item is sold out.)
Item to ship in early July
*Regular items and preorder items cannot be purchased in one order.

Official Site: https://bape.com/pages/dragon-ball-z

Ariake Garden at Izumitenku Bathhouse in Tokyo Collaborates with Love Live! for the Third Time

Ariake Garden at the Izumitenku public bath facility in Tokyo will be teaming up with Love Live! Nijigasaki High School Idol Club for the third time! The new collaboration will begin on June 6, 2022, and will include towels decorated with brand-new illustrations of the girls in yukata. Special drinks will also be for sale.

Original Merchandise

Love Live! Nijigasaki High School Idol Club Towel

Izumitenku Bathhouse Original Bath Salts (Set of 2, Yukata version) / Includes random sticker (Yukata version)

Original Drawstring Bag

Collaboration Drinks

Why not come enjoy the world of Love Live while relaxing in a natural hot spring?

HARAJUKU App Launches Collaboration with Love Live! Super Star!! at Famous Takeshita-dori

From May 20 until June 5, 2022, AppBank is bringing fans of Love Live! Superstar!! a special treat in collaboration with the HARAJUKU app! By launching the app at a check-in spot in Harajuku, users can win a limited-edition Love Live! toy at random, such as acrylic keychains or pins.

App Splash Page

HARAJUKU Map

Random Toy Screen

For those winning a toy, the item can be picked up in front of the CUTE CUBE HARAJUKU Love Live! Superstar!! Wall Panel or at YURINAN Harajuku Takeshita-dori Yu-rin An. In celebration of the event, CUTE CUBE HARAJUKU will be featuring Love Live wall panels during this period, so be sure to go get some great pictures!

XLARGE Releases Dragon Ball Collaboration Collection Featuring Popular Characters

Fashion brand XLARGE has announced a new collaboration to commemorate the upcoming release of Dragon Ball Super: Super Hero in theaters. The film will see the return of the Red Ribbon Army, which Gohan, Piccolo, and other popular characters will have to defeat. Check out the collection below–is your favorite fighter in the lineup?

Collection

XLARGE×DRAGON BALL GOHAN S/S TEE

XLARGE×DRAGON BALL PICCOLO S/S TEE

XLARGE×DRAGON BALL CAPSULE CORP JUMPSUIT

XLARGE×DRAGON BALL ANDROID18 S/S TEE

XLARGE×DRAGON BALL BULMA S/S TEE

XLARGE×DRAGON BALL TRUNKS S/S TEE


The collection includes T-shirts featuring Gohan, Piccolo, Bulma, Android 18, and Trunks. Items will be available online and in select stores nationwide!


Information

XLARGE x Dragon Ball

Online Store
https://calif.cc/blogs/feature/220518xl_dragonball

Lottery: May 18, 12:00 – May 19, 11:59

*Winners to be Announced on May 20, 12:00

ZOZO
https://zozo.jp/shop/xlarge/
Available May 21, 12:00~

Available in-store: 

XLARGE locations nationwide, XLARGE/X-girl locations (excluding outlets)

May 21~

*The XLARGE x DRAGON BALL Capsule Corp Jumpsuit will only be available at the calif online store and ZOZOTOWN.

Niponbashi Takashimaya's Le Cafe de Joel Robuchon Collaborates with Gaspard and Lisa on Limited Time Menu

Le Cafe de Joel Robuchon, located inside Niponbashi Takashimaya, is now offering a special menu in collaboration with the French children's book characters Gaspard and Lisa! These items will be available until May 31, 2022.

Collaboration Menu

Gaspard and Lisa Plate

Strawberry Galette with Gaspard and Lisa (Served with coffee or tea)

Exclusive Merchandise

Original Pouch

Coaster

 

Visitors can enjoy a Gaspard and Lisa plate complete with two adorable mini-burgers served with fries and strawberry panna cotta. Those wanting a dessert can grab a buckwheat flour galette covered in strawberries!

The location will be decorated with Paris-themed illustrations from the Gaspard and Lisa picture books during the collaboration, and customers will receive an original pouch and limited edition coaster as order bonuses. Be sure not to miss this little slice of France in Tokyo! 

©2022 Anne Gutman & Georg Hallensleben / Hachette Livre

BTS, New Era, and MLB Collaboration Items Available at BAYFLOW

Lifestyle brand BAYFLOW has launched a triple collaboration collection! Stores nationwide are now selling items created by the popular South Korean idol group BTS, headwear and fashion brand New Era, and the MLB, the world's premier professional baseball league.

Dynamite 

Butter

Black Swan 

The designs in this collection incorporate the coloring and artwork found on the covers of the BTS singles Black Swan, Dynamite, and Butter, with the MLB logo. Fans can grab baseball caps, bucket hats, and t-shirts inspired by each song.

BAYFLOW began selling these new items in stores nationwide starting May 13, 2022. In addition, two New Era pop-up shops are open for a limited time at BAYFLOW Kichijoji and AEON Mall Kawaguchi!

Information

BTS x New Era x MLB
Release Date: May 13, 2022
Where to Buy: BAYFLOW stores nationwide
List of Stores: https://www.dot-st.com/m/bayflow/CSfMbStoreListPage.jsp

*Not available at the web store, ZOZOTOWN, or Rakuten.

New Era Pop-up Store
Locations: BAYFLOW Kichijoji, AEON Mall Kawaguchi

Dates:
At BAYFLOW Kichijoji until May 31
At AEON Mall Kawaguchi until June 6

Official Site: https://www.bayflow.jp/

Graniph Releases Items Inspired by Upcoming Dragon Ball Super: Super Hero Film

Japanese apparel brand Graniph has revealed two collaborative t-shirts inspired by the upcoming Dragon Ball Super: Super Hero film! The items are available at the Graniph online store and in select Graniph locations in Japan.

Lineup

'Superhero' T-shirt

'Fusion' T-shirt


The Dragon Ball Super film series has been a huge hit worldwide. The first film, Dragon Ball Super: Broly, was released in 2018. The upcoming film features a completely new story, in which the Red Ribbon Army is reformed and threatening the world yet again. Can our favorite fighters stop the bad guys before they unveil the ultimate evil weapon? Be sure to check out the film when it releases in June, and grab one of these t-shirts to wear to the theater!

ⓒバード・スタジオ/集英社
ⓒ「2022 ドラゴンボール超」製作委員会

Information

Graniph x Dragon Ball Super: Super Hero

Release Date: April 22, 2022

Where to Buy:

Graniph Online Store: https://www.graniph.com
Select Graniff Stores (Excluding some locations for kids)

30th Anniversary Crayon Shin-chan Cakes Available from Cake.jp

Mail order cake shop Cake.jp has unveiled three original cakes celebrating the 30th anniversary of Crayon Shin-chan! The sweets are available to order now.

Crayon Shin-chan Action Kamen Cake

Crayon Shin-chan Shin-chan Family Cake

Crayon Shin-chan: Mononoke Ninja Chinpūden Cake

Crayon Shin-chan is a slapstick comedy series detailing the hilarious daily life of five-year-old Shinnosuke Nohara and his family. 

 

The original manga series began serialization in 1990 and an anime series began airing in April 1992. 2022 marks the 30th consecutive year of the anime series. 


The original manga series has sold over 134 million copies worldwide, and the anime has been dubbed in 30 languages and aired in 45 countries. Shinnosuke has now become a popular character around the world and one that represents Japan.

 

Cake.jp is offering three brightly colored cakes, each depicting different aspects of the Crayon Shin-chan anime series and the most recent film. The cakes are packed with strawberries and are perfect for both adults and children to enjoy!



Crayon Shin-chan: Mononoke Ninja Chinpūden debuted in theaters on April 22, 2022.

©臼井儀人/双葉社・シンエイ・テレビ朝日・ADK
©臼井儀人/双葉社・シンエイ・テレビ朝日・ADK 2022


Kyary Pamyu Pamyu Collaborates with Shelter Nanyo Hall in Yamagata for LOCAL POWER JAPAN Project

Last month, Kyary Pamyu Pamyu performed on the Gobi Stage at Coachella, one of the largest music festivals in the United States. The singer has now returned to Japan for the second half of her 'Kyary Pamyu Pamyu 10th ANNIVERSARY JAPAN TOUR 2022 CANDY WAVE,' seeing the singer performing 30 shows across Japan. The tour will conclude with a solo performance at Budokan in October. 

In conjunction with the nationwide tour, the LOCAL POWER JAPAN Project was launched to energize Japan through the appeal of regional towns and cities and has been attracting major attention. Kyary's newest collaboration in Yamagata has been announced ahead of her concert there on May 13!

The singer will be collaborating with Shelter Nanyo Hall in Nanyo, Yamagata, a small town of only around 30,000 people. The hall is the world's largest wooden concert hall, made entirely from laminated local cedar. It uses the most advanced fire-resistant technology for wood in Japan and was certified as the world's largest by Guinness World Records in December 2015. The multi-functional hall can seat over 1,400 people, and the property also features a Japanese-style tea room, meeting rooms, an open tree-growing space, and more.

"I want the local population to be incredibly proud of this magnificent wooden structure," said Norihito Shimanuki, the hall's director. "Through this concert hall, we'd like to promote Nanyo and Yamagata Prefecture both domestically and internationally." 

The collaboration logo for the newest partnership was inspired by the 'KPP NANDA COLLECTION LIVE in HAWAII' visual. The one-night-only concert was held in July 2014. Since the main focus of this team-up is 'wood,' the visual's palm tree has been transformed into a cedar tree!

A collaborative T-shirt is also on sale featuring the new logo and the singer's 10th-anniversary logo. The shirt is available on the LOCAL POWER JAPAN Project website for two weeks only starting May 12. Support Japanese businesses and pick one up while you can!

Information

Shelter Nanyo Hall Yamagata (Nanyo City Cultural Hall) x Local Power Japan Project

Collaboration T-shirt

Price: ¥3,300 (Tax Included)

Available: May 12 – May 25, 23:59

Where to Buy: 

LOCAL POWER JAPAN Project Online Shop

https://store-localpowerjapan.com/

Shelter Nanyo Hall (Nanyo City Cultural Hall): https://nanyoshi-bunkakaikan.jp

Tour Details: https://kpp10.jp/japantour2022/

Official Site: https://localpowerjapan.com 

*Please allow two weeks to one month after order for product to ship. All items are made-to-order.

*A portion of shirt sales will be donated to local development and social programs. 

Popular Australian Artist MULGA to Collaborate with CA4LA for Second Time

Hat brand CA4LA is collaborating with popular Australian artist MULGA on a new collection! Mulga is celebrating the 10th anniversary of his first solo exhibition. Items from the collection will be available at CA4LA stores nationwide (excluding outlet stores), the CA4LA online store, and ZOZOTOWN starting May 13, 2022.

Lineup


This marks the second collaboration between the two. Items in this collection are perfect for summer, with bright and colorful decorations commonly found in MULGA's works. Customers will receive a commemorative 10-year anniversary MULGA magnet with each hat purchase. Each magnet was designed by the artist to express his gratitude to his fans for supporting him for the last decade.


The artist will also be holding a canvas exhibition at CA4LA's Shibuya store from May 13 until May 31, 2022. Those visiting the exhibition will be able to purchase artwork, so be sure to attend if you have the chance!

Information

MULGA × CA4LA
Release Date: May 13, 2022
Where to Buy: CA4LA shops nationwide (excluding outlet stores), CA4LA Online Shop, ZOZOTOWN

MULGA Canvas Art Exhibition
Running: May 13 – May 31, 2022
Venue: CA4LA Shibuya (Frame Jinnanzaka Block H, 1-2F, 1-18-2 Jinnan, Shibuya-ku, Tokyo)