Monster Strike x World Trigger Collaboration Launches in the Mobile Game
XFLAG launched and in-game collaboration for the popular hunting RPG mobile game Monster Strike on Tuesday (February 2) in which players have the chance to obtain several characters from the anime series World Trigger.
World Trigger Characters to Appear in Gacha
Osamu Mikumo
Yūma Kuga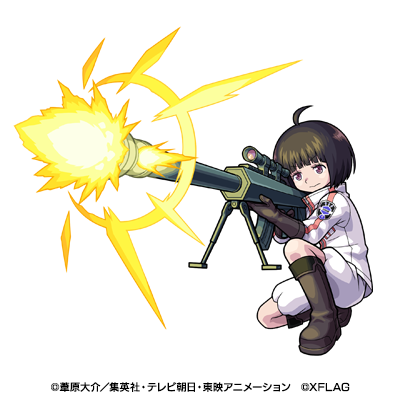 Chika Amatori
Yūichi Jin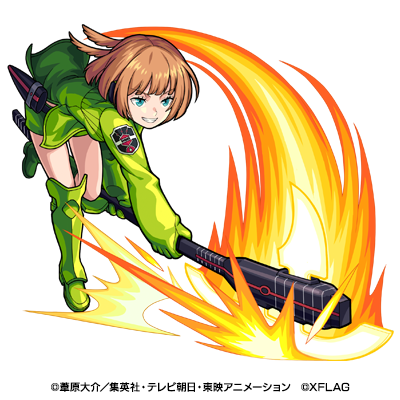 Kirie Konami
World Trigger Characters to Appear in Quests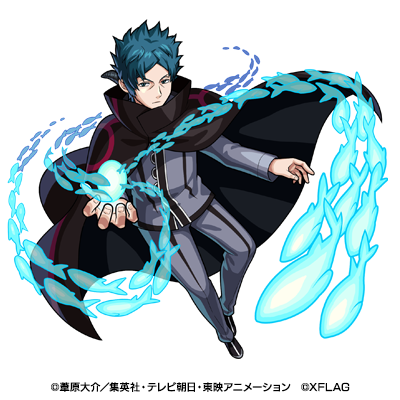 Hairein
Viza
Lamvanein
Hyuse
Enedra
World Trigger is an ongoing sci-fi action manga series written and illustrated by Daisuke Ashihara. It is serialised in Jump Square. The series received its first anime series in 2014 with a second season that began airing last month. The collaboration features a line-up of heroes and villains from the series entering the world of Monster Strike.
"ミクシィ", "mixi", the mixi logo, "XFLAG", the XFLAG logo, "モンスターストライク", "モンスト", and "MONSTER STRIKE" are registered trademarks of mixi, Inc.
RELATED ENTRIES
'World Trigger' Anime Series Is Getting A Third Season

The first season of the anime World Trigger by Toei Animation consisted of 73 episodes and aired between October 5, 2014 and April 3, 2016. The original sci-fi action manga was created by Daisuke Ashihara and featured in popular manga magazines such as Weekly Shōnen Jump and Jump Square (Shueisha Inc.). From its days in the Weekly Shōnen Jump to when it moved to Jump Square, the manga kept accumulating large numbers of fans, becoming one of the most popular stories out there. It has been announced that the anime is getting a second season and this is set to air on January 9, 2021 on TV Asahi Keiretsu. The broadcastings are scheduled to occur every Saturday from 1:30am.

A Third Season Has Also Been Announced

A third season is also scheduled to be made. In the second season, members of Galopoula from the Planet Nation attack the border agency. In the B Rank Battles Arc, Yūma, Osamu and the gang sharpen their skills to become B-rank agents. The third season is bound to be filled with even more thrilling content.

Right now we know that season two will air from January, however, more information on the broadcasting schedule for season three is yet to be released. It's not long now until we can finally enjoy season two!

©Daisuke Ashihara/Shueisha Inc., TV Asahi/ Toei Animation

Information

World Trigger Anime Season 3

Broadcast: TBA

World Trigger Anime Season 2

Broadcast: January 9, 2021 on TV Asahi Keiretsu NUMAnimation (Every Saturday from 1:30am)

Official Website: http://www.toei-anim.co.jp/tv/wt/

Masayoshi Ōishi to Perform New Monster Strike The Movie: Lucifer Zetsubō no Yoake Anime Film's Main Theme

It has been announced that Masayoshi Ōishi's new song Eiyū no Uta ("Song of Heroes") will be used as the opening theme for the upcoming anime film Monster Strike The Movie: Lucifer Zetsubō no Yoake which is set to premiere this June. The film will be the third in the Monster Strike anime film series.

Masayoshi Ōishi has written and performed song for numerous anime series, including Kemono Friends and SSSS.GRIDMAN. His new song, Eiyū no Uta, will form one half of his upcoming double A-side single alongside the track Sekai ga Kimi wo Hitsuyo to Suru Toki ga Kitanda, which will release on May 20, 2020. First Press copies of the single are coupled with a Blu-ray which features the music video for Sekai ga Kimi wo Hitsuyo to Suru Toki ga Kitanda as well as Ōishi's performance of Gakuten Toshi held at Zepp DiverCity in Tokyo on July 11 last year.

Masayoshi Ōishi is in charge of the theme song for Animelo Summer Live 2020ーhappening from August 28-30 this yearーthe world's biggest anime song event which sees over 80,000 attendees over its 3-day period each year. He will also perform solo at LINE CUBE SHIBUYA on May 21, 2020.

Masayoshi Ōishi | Comment

"I've been tasked with the main theme song for the [new] Monster Strike movie! A lot of monster heroes make an appearance in this one. I called the song 'Eiyū no Uta' [Song of Heroes], and I hope it uplifts all of you as well as all of the monster heroes we're all so familiar with! Look forward to the film's release!"

Information

Sekai ga Kimi wo Hitsuyo to Suru Toki ga Kitanda / Eiyū no Uta

Release Date: May 20, 2020

First Press Limited Edition (CD+Blu-ray): ¥1,900 (Before Tax) [PCCG-0190]

Regular Edition (CD-Only): ¥1,273 (Before Tax) [PCCG-01907]

Masayoshi Ōishi Solo Concert – "Sekai ga Kimi wo Hitsuyo to Suru Toki ga Kitanda"

Date: May 21, 2020

Venue: LINE CUBE SHIBUYA

Anisong Singer Masayoshi Releases Cop Craft and Monster Strike Anime Theme Songs

Anisong singer Masayoshi Oishi released his new CD single called Paradise City (Rakuen Toshi) on August 21.

The single consists of two songs: Paradise City, which is the opening theme song for Cop Craft, and Hero, which is the opening theme song for anime Monster Strike: Noah Hakobune no Kyūseishu, which is currently being broadcast every Saturday from 7pm on YouTube.

In addition, the single will also include the song "Departure", which is featured in Monster Strike. Masayoshi will be commemorating the release of his single with two live performances which are free to attend: One at Abeno Q's Mall, Osaka on August 24 and another at DiverCity Tokyo Plaza, Tokyo on August 25. The CD single will be available to purchase at both events. Those who purchase one will be in for a treat as they will receive a signed poster directly from the hands of the singer himself. 

 

A statement from Oishi Masayoshi

My new song Paradise City is the opening theme song for the anime Cop Craft. It is a latin jazz-style song with a touch of nostalgia from the Showa Era. This song truly is a winner. Please have a listen!

Information

Paradise City (楽園都市)

Release: August 22, 2019 

Regular Edition

Product Number: PCCG.01806

Price: ¥1,250 + tax

Anime Single Jacket Version

Product Number: PCCG.01805 

Price: ¥1,250 + tax

Download and Subscription Services: https://lnk.to/ParadiseCityPR

Release Events

Osaka:

Date/Time: August 24, 2019 (start: 14:30)

Venue: SKY COURT, floor 3, Abeno Q's Mall

Tokyo:

Date: August 25, 2019 

<Part 1> Entry: 12:30 / Start: 13:00

<Part 2>Entry: 15:00/ Start: 15:30

Venue: DiverCity Tokyo Plaza

Masayoshi Oishi's Official Website CLUB014:  https://www.014014.jp/

Anime Cop Craft Official Website: http://copcraft.tv

My Hero Academia X Monster Strike Collaboration Commemoration Café Menu Release

To commemorate the collaboration between mobile game Monster Strike and manga My Hero Academia, XFLAG STORE SHIBUYA, SHINSAIBASHI and +(PLUS) HANEDA are releasing a new limited period café menu, which includes brand new drinks that come with original sleeves for the cups.

Character Sodas: Izuku Midoriya, Katsuki Bakugou, Shoto Todoroki, Ochaco Uraraka, Tenya Iida

Price: ¥750 each (before tax)

If you order any drink from this café menu, you will be presented with an original badge that is chosen at random. During the commemoration period, the café space will be decorated with special illustrations and there will be special videos running for visitors to enjoy. 

Information

Limited Café Menu

Running: July 17 ー August 4, 2019 

Available at:

XFLAG STORE SHIBUYA

XFLAG STORE SHINSAIBASHI

XFLAG STORE +(PLUS) HANEDA

TV Anime Cop Craft Opening Theme 'Rakuen Toshi' to be Performed by Masayoshi Ōishi

It has been revealed that anime song singer Masayoshi Ōishi will release his new single Rakuen Toshi on CD on August 21, 2019.

The title track will be used for the opening theme of the opening TV anime series Cop Craft which is set to premiere on TOKYO MX this July. The CD also includes the song Hero which will be used for the new season of Monster Strike the Animation.

Cop Craft is an adaptation of Japanese light novel series Cop Craft: Dragnet Mirage Reloaded written by Shoji Gatoh and illustrated by Range Murata. Six volumes have been published by Gagaga Bunko with over 200,000 copies sold. The anime is being directed by Shin Itagaki and adapted by Millepensee.

Monster Strike the Animation was first released on YouTube on October 10, 2015. This omnibus-style series follows the stories of multiple characters that feature in the mobile game Monster Strike.

Fans who purchase Rakuen Toshi on CD at select stores will receive various bonus items. Full list below.

Masayoshi Ōishi will release his new album Kariuta II on June 26. His will embark on a tour on July 6 to promote its release.

©Shoji Gatoh・Shogakukan / STPD ©︎XFLAG

Information

Rakuen Toshi

Release Date: August 21, 2019

Regular Edition: ¥1,250 (Before Tax) [PCCG.01806]

Anime Edition: ¥1,250 (Before Tax) [PCCG.01805]

Bonus Item Store List

Animate (Including Online) – Signed bromide

Gamers (Including Online) – Bromide

Comic Toranoana (Select Branches Not Participating) – Bromide

TSUTAYA RECORDS (Select Branches Not Participating) / TSUTAYA Online – Bromide

Rakuten Books – Bromide

Getchu (Getchu.com) – Bromide

AmiAmi – Bromide + Pin Badge (44mm)

Seven Net Shopping – Bromide

Gyokkodo・Vanda Records / Lion-dō – Bromide

Neowing – Bromide

Amazon.co.jp – Large CD cover

Canime – Signed bromide

Masayoshi Ōishi Official Website: https://www.014014.jp/

Cop Craft Official Website: http://copcraft.tv

Monster Strike Official Website: https://anime.monster-strike.com/

Ennosuke Ichikawa IV to Attend Monster Strike Exhibition in Tokyo & Osaka

It has been announced that kabuki actor Ennosuke Ichikawa IV will take place in planning as creative director of the upcoming Monster Strike Exhibition, a new interactive art event set to begin on September 28.

The theme of the event is "The day from when you downloaded Monster Strike." Users will have the chance to relive the experiences of each and every monster.

Over 50 popular artists are collaborating with the event. NAKED have also produced an interactive event using projection mapping that will allow people to experience extreme quests in real life.

Ennosuke Ichikawa IV is also involved creating a kabuki outfit based on the character Ishikawa Goemon which will be displayed at the exhibition.

Comment: Ennosuke Ichikawa IV

"Originally, it was men who would perform in kabuki theatre, so at first I felt it would be extremely difficult to pull off the monster Ishikawa Goemon. But I also thought that it is value in making sure to not ruin the image of the character while incorporating into it a kabuki atmosphere. You probably think that my point is she's female. I racked my brain to find a way to get away from the Ishikawa Goemon we know and instead bring out her femininity, vividness and colour. I hope that people will think this unconventional combination of kabuki and Monster Strike goes together well."

There will also by sculptures of the monster characters exhibited at the event created by art director and artist Sebastian Masuda, the visionary mind behind the fashion design of XFLAG Entertainment Partner Kyary Pamyu Pamyu.

*Illustration is a work in progress

Additionally, attendees of the exhibition will receive illustrations of Avalon SP drawn my Japanese manga artist Masakazu Katsura.

More details regarding the event will be released on the official exhibition website, Monster Strike website and Monster Strike YouTube channel.

■Information

Monster Strike Exhibition

Venues/Access

Tokyo Exhibition: Daimaru Tokyo 11F, 1-9-1 Marunouchi, Chiyoda Ward, Tokyo

Closest Station: Right outside the Yaesu North Exit of Tokyo Station via JR

Osaka Exhibition: Daimaru Shinsaibashi 14F Event Hall, 1-7-1 Shinsaibashisuji, Chuo Ward, Osaka, Osaka Prefecture

Closest Station: Directly connected to Shinsaibashi Station (South-North Gate/South-South Gate) via Osaka Metro Midosuji Line

Time/Date

Tokyo

September 28, 2018 – October 8, 2018

Monday-Wednesday & Weekend: 10:00am-8:00pm / Thursday-Friday: 10:00am-9:00pm (Last entries 30 minutes before closing time)

Osaka

October 19, 2018 – October 28, 2018

10:00am-8:30pm (Last Entries 8:00pm)

Tickets

XFLAG TICKET: https://event.xflag.com/events/monst_exhibition_1

*XFLAG ID neeced to purchase ticket

*Tickets are first-come, first served

Tickt Price: ¥1,980 (Tax Included)

・One purchase of up to 4 tickets per XFLAG ID.

・Tickets not required for pre-school children .

*Up to 3 people allowed for those with pre-school children.

Artist Line-Up (As of September 20)

Inio Asano, Keita Amemiya, Ishibashi Yosuke, Ennosuke Ichikawa IV, Ichimaru Kisuke, isuZu, Otagaki Yasuo, Kasukabe Akira, Kosawa Takumi, 桂福蔵, Masakazu Katsura, Kafun, COGA, Kotoyama, GODTAIL, Yoshinobu Saito, Takashi Shiina, Kazuhiko Shimamoto, Sekiyayu Rie, Taiki, Takahashi Shin, Takahashi Noboru, Hiroyuki Takei, Katsumi Tatsuzawa, Natsuki Tanihara, Arina Tanemura, Choboraunyopomi, Chirori, 豊井祐太, 名央, Nagi Ryo, Aoi Nishimata, Yoshiyuki Nishi, Masaharu Noritsuke, Yūichi Hasegawa, Hida Keiji, hippo, ひと和, Yuji Himukai, Hyogo Nosuke, Shinji Hiramatsu, Rei Hiroe, Fukuda Hiroshi, Tooru Fujisawa, Takuya Fujima,Kamui Fujiwara, Boichi, Hiro Mashima, Sebastian Masuda, Susumu Matsushita, Haruhiko Mikimoto, Misaki Kurehito, 326, Mifune Takashi, Suzuhito Yasuda, lack, LAM, 竜徹

*Line-up subject to change

Exhibition Website: https://event-info.xflag.com/monst-exhibition/

Monster Strike Website: https://www.monster-strike.com/

Kyary Pamyu Pamyu's New Song 'Kizunami' to Feature as Monster Strike The Movie: Sora no Kanata's Main Theme

2018 is the year of Kyary Pamyu Pamyu, who released her new song Kimino Mikata earlier this year and recently concluded her 4th world tour. Excitement and anticipation surrounding the singer has been high, and this has become even more so with the recent announcement of her first new album in four years. Titled Japamyu, the brand new record will drop on September 26.

In more recent news, it's just been announced that one of the new songs on the album, Kizunami, will be used as the main theme song for the upcoming anime film Monster Strike The Movie: Sora no Kanata set for release on October 5. The film is an original anime adaptation of the hit mobile game Monster Strike which has over 45 million players worldwide.

The new song Kizunami will be released as a standalone single on September 7 ahead of the album's release.

The feature film was created by XFLAGTM, who produce entertainment under their slogan Ketahazure na Bouken o ("Embarking on an Exceptional Adventure"). It is produced by Orange who are one of the foremost leading studios in the production of gorgeous CG animation. The film is graced by an exceptional voice cast including Masataka Kubota who plays protagonist Kanata, Alice Hirose who plays the heroine Sora, and voice actor veteran Kōichi Yamadera who plays Senju.

■Monster Strike The Movie: Sora no Kanata Music Video


The story takes place in a world where 13 years ago, part of Tokyo suddenly breaks away and floats up into the sky. Our protagonist Kanata (Masataka Kubota) is your every day high school student who began living with his grandmother after his parents passed away. He encounters Sora (Alice Hirose), a mysterious girl who came from the sky. The two of them work together to help save the citizens whose worlds are fated to war. Kanata, who still doesn't know exactly who he is, must learn to mature alongside Sora and his allies as they navigate through the war.

The film's main theme song Kizunami was written by music producer Yasutaka Nakata who ensured to maintain the story's theme of strong friendship. It's an oriental and jaunty track in which you can very much feel Kyary's essence and outlook. A collaborative music video was also released that features the song together with scenes of the movie.

Kyary Pamyu Pamyu's Comments
In the movie, the protagonist Kanata meets characters like Sora and the vampire siblings Tōya and Yūna who he fights and grows alongside while discovering the importance of the bond between friends. I think the lyrics [of the song] convey things like how it's good to have friends and how wonderful it is to be connected to the heart of those important to you you want to protect. I particularly love the title 'Kizunami.' I believe it's a heartwarming pop song that makes you think about the people precious to you.

The full tracklist has also unveiled, including new songs like Oto no Kuni and Enka Natrium, as well as a cover of CAPSULE's famous song Koi no Hana (2001). They are all songs that Yasutaka Nakata himself has much confidence in. Digital pre-orders for the album will open on the iTunes Store on September 7 so be sure to check it out.

Kyary Pamyu Pamyu will hold a special live event at LakeTown's 10th Anniversary Special Live on September 30 at 4:00pm to promote the release of the album.

It's time to get excited about the next big release from one of Japan's most internationally celebrated artists.

■Information

"Japamyu"

On Sale: September 26, 2018

・First Press Limited Edition: CD+DVD – ¥4,800 (Pre-Tax) [WPZL-31480/1]

*First press limited edition includes digipak packaging, special photo book and 23-track live DVD at "KPP Japan Iyahoi Tour 2017."

・Regular Edition: CD – ¥3,000 (Pre-Tax) [WPCL-12900]

"Kizunami" Standalone Release

On Sale: September 7, 2018
Download Link:  https://kyary.lnk.to/Kizunami

Monster Strike The Movie: Sora no Kanata
Release Date: October 5, 2018
Cast: Masataka Kubota, Alice Hirose, Kōichi Yamadera, Yoshimasa Hosoya, Aoi Yūki
Theme Song: "Kizunami" by Kyary Pamyu Pamyu

Album Release Event
LakeTown 10th Anniversary Special Live – "Kyary Pamyu Pamyu Original 4th Album 'Japamyu' Commemorative Special Event"
Venue: AEON LakeTown mori
Date: September 30, 2018
Time: 4:00pm
Location: mori 1F (Ki no Hiroba courtyard)
Programme: Mini live show and handshake session
*Free to watch
Full Details (Japanese): https://wmg.jp/kyary/news/82084/

Tour Schedule
Kyary Pamyu Pamyu JAPAMYU HALL TOUR 2018 "Hoshikuzu": http://2018hall.kyary.asobisystem.com

Kyary Pamyu Pamyu Official Website: http://kyary.asobisystem.com/