Kyary Pamyu Pamyu Appointed as "XFLAG Entertainment Partner"
Kyary Pamyu Pamyu has announced a partnership with XFLAG™ who deliver a range of media beginning with "Monster Strike," a game app with an international user base of over 4 million people, as well as video content, e-Sports and more. She has been appointed as an XFLAG Entertainment Partner.
It was recently announced that Kyary Pamyu Pamyu will release a new song titled Kimino Mikata, her first digital single of 2018, on April 11th. The singer and Japanese icon also unveiled an all-new artist photo that showed herself in a new light the likes of which fans have never before seen, embracing a more mature look.
As an XFLAG Entertainment Partner, not only will Kyary be responsible for expanding the possibilities of entertainment created by XFLAG, she will also pursue and bring to life "exceptional" entertainment together with the company that no-one has yet experienced.
Kyary Pamyu Pamyu has continued to captivate fans with her creative world and expression that flows with originality. In total, her music videos on YouTube far exceed 400 million views. She has also performed to over 90,000 fans across the world in Europe, the US and Asia during her three world tours. Her prominent recognition worldwide is the reason for her selection as a partner. She will pursue the possibilities of higher entertainment, and in one year from now, will reveal various initiatives together with XFLAG.
Her first job as an XFLAG Entertainment Partner was her surprise appearance at B.LEAGUE 21: Chiba Jets vs. Sun Rockers Shibuya Powered by XFLAG, a basketball match held at Funabashi Arena on March 3rd and XFLAG's first crown game.
When the match's halftime show began, a video played onscreen in the venue where Kyary Pamyu Pamyu enthusiastically announced her appointment as an XFLAG Entertainment Partner: "I will challenge myself to new things that I've never done before. I want to set about working on various things together with XFLAG."
Once the video had finished, a long line of dancers appeared and a big box was carried onto the court all of a sudden as a 'delivery' from XFLAG. The moment the spotlight shone on stage, the box was thrown open and out stepped Kyary Pamyu Pamyu! The roars of 5,000 or so people filled the venue at her sudden appearance.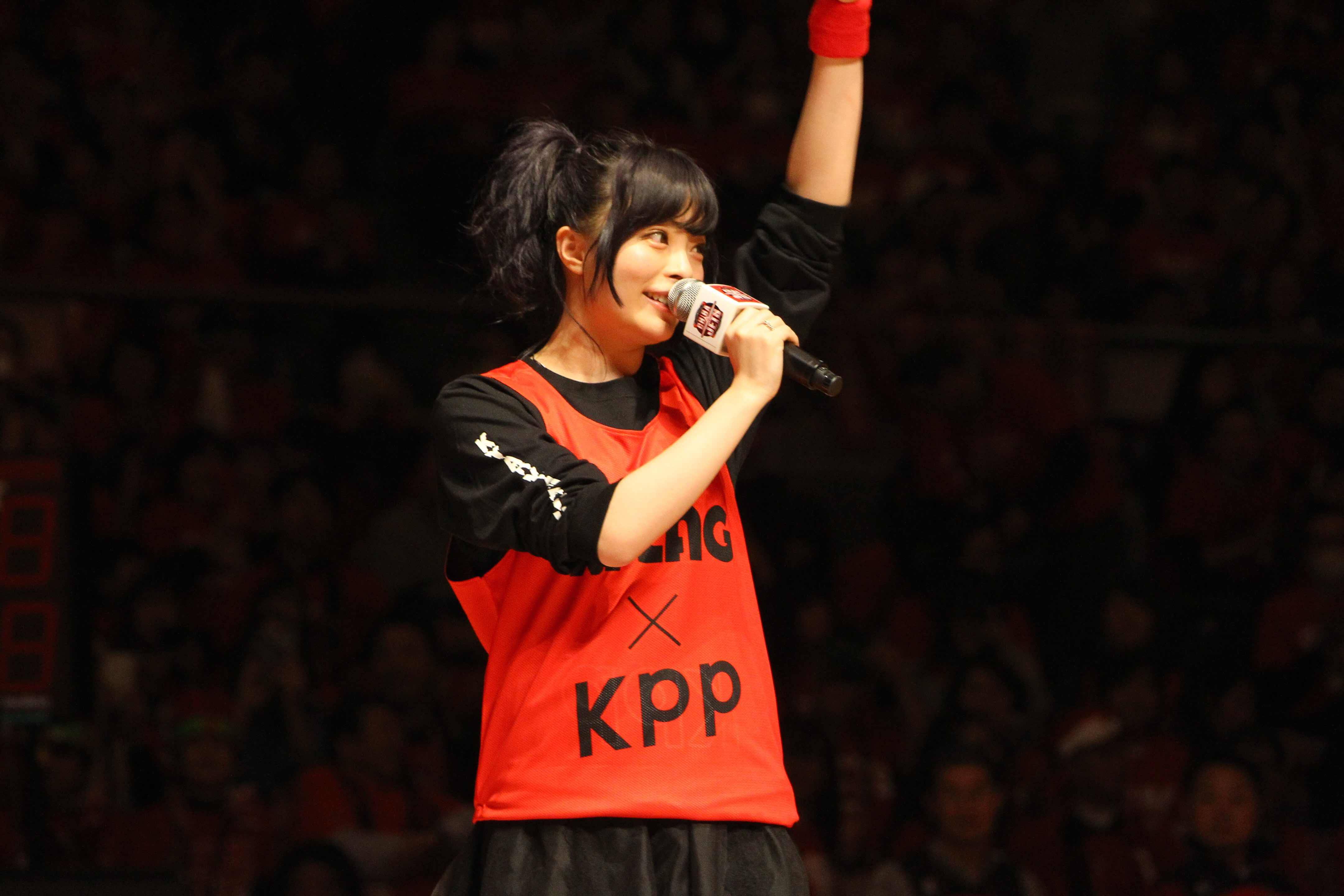 Kyary Pamyu Pamyu responded to the cheers with a wave of her hand and commented, "The enthusiasm of all the Chiba Jets Booster's* here is amazing, it's exciting. I'm having fun too!" She went on to say, "I'm here to deliver a special halftime show for everyone!" The hitting of the start button signaled the beginning of the show. An international acrobatic basketball team appeared from the darkness dressed in body suits that sparkled with the LED lights to put on an enchanting and powerful dance performance.
[Translator's Note: "Booster" is the name given to fans of the Chiba Jets.]
Kyary Pamyu Pamyu recently announced her 4th world tour scheduled for 2018. Last year, she held her first ever Halloween solo concert themed on "Japanese haunted houses," titled THE SPOOKY OBAKEYASHIKI ~PUMPKINS STRIKE BACK~. Kyary is taking the show overseas for her international fans in her new world tour.
2018 is looking to be another year where Kyary spreads Japanese culture to the world even more with her unique outlook. It's time to get excited about Kyary delivering "exceptional" entertainment in Japan and overseas in her new partnership with XFLAG.
■Information
Kyary Pamyu Pamyu – "Kimino Mikata"
On Sale: 11 April 2018
World Tour Schedule:
Kyary Pamyu Pamyu performed her first Halloween solo concert THE SPOOKY OBAKEYASHIKI ~PUMPKINS STRIKE BACK~ at the Tokyo Metropolitan Gymnasium on October 28th and 29th last year. Inspired by Japanese haunted houses, she performed in front of 15,000 people. The concert made headlines in Japan from many angles, including the horror movie inspired trailer that was released to advertise it, as well as the performance itself. Now, Kyary's Halloween show is heading overseas on a world tour! Kyary will deliver an original performance for her international fans who have been awaiting her return!
For full details regarding the tour schedule and information regarding each concert date, please visit the official website below:
http://tso.kyary.asobisystem.com
Kyary Pamyu Pamyu World Tour 2018
THE SPOOKY OBAKEYASHIKI
-PUMPKINS STRIKE BACK-
■05.20 @ LONDON – England – KOKO
■05.22 @ GERMANY – Berlin – COLUMBIA THEATRE
■05.23 @ GERMANY – Köln – Die Kantine
■06.18 @ USA – New York – Playstation theater
http://www.playstationtheater.com
■06.20 @ USA – San Francisco – The Regency Ballroom
http://www.theregencyballroom.com
■06.22 @ USA – Los Angeles – The Fonda Theatre
Kyary Pamyu Pamyu Official Website:
RELATED ENTRIES
Kyary Pamyu Pamyu's Fragrance Brand Nostalgia Syndrome Releases Lily & Jasmine Series

Nostalgia Syndrome opened pre-orders for its new Lily & Jasmine series of fragrances on March 31. The products will be released on April 22.

Nostalgia Syndrome is a fragrance brand produced by Kyary Pamyu Pamyu which launched last year. The new Lily & Jasmine series will be available to purchase online and will also be sold at two brand pop-up shops in Tokyo and Osaka. Those who spend over ¥10,000 online or at either of the stores (tax included) will receive a free Nostalgia Syndrome novelty – these are available in limited supply.

Online Store Novelty: Original Thermal Bottle

Pop-Up Store Novelty: Original Big Eco-Bag

Lily & Jasmine Series

Eau de Toilette | ¥8,250 (Tax Included)

Room & Fragrance Spray | ¥3,300 (Tax Included)

Aroma Diffuser | ¥7,150 (Tax Included)

Bath Salts | ¥3,410 (Tax Included)

Hand Soap | ¥3,520 (Tax Included)

Scented Candle | ¥8,140 (Tax Included)

Eau de Toilette Two-Set (9mL)

Kyary Pamyu Pamyu | Comment

"This is Nostalgia Syndrome's second fragrance release. After mixing together various ingredients, I was finally able to catch the right scent. The theme for this one is 'travel fragrance.' Because of COVID, our time spent outdoors has gone down dramatically, but smells tied to our memories make up part of us all. And smelling them brings back those memories. This is a blend of sweet, sophisticated lily and refreshing jasmine, so it's a really easy one to use that can be enjoyed by both guys and girls. We're also opening our first pop-up shop so please be sure to drop by to try out!"

Lily and jasmine are vibrant fragrances and perfect for the spring season. Order yours today!

Information

Nostalgia Syndrome Lily & Jasmine

Pre-Orders: March 31, 2021 (Shipping from April 22)

Release Date: April 22, 2021

Pop-Up Stores

・+SPBS (SHIBUYA SCRAMBLE SQUARE 2F)

Running: April 22, 2021 – May 26, 2021

Where: +SPBS, SHIBUYA SCRAMBLE SQUARE Floor 2F, 2-24-12 Shibuya, Shibuya-ku, Tokyo

Opening Hours: 11:00-21:00

・Shinsaibashi PARCO

Running: May 13, 2021 – May 20, 2021

Where: Shinsaibashi PARCO Floor B1F, 1-8-3 Shinsaibashisuji, Chuo-ku, Osaka-shi-, Osaka

Opening Hours: 10:00-20:00

Nostalgia Syndrome Official Website: https://www.nostalgia-syndrome.com/

Kyary Pamyu Pamyu's New Song 'GUM GUM GIRL' Features in Nintendo Switch's Ninjala Commercial

This year marks the 10th anniversary since Japanese pop star Kyary Pamyu Pamyu made her debut, and to kick off 2021, she has announced the release of a new single titled GUM GUM GIRL which will hit music streaming and download platforms on January 29, 2021.

The GUM GUM GIRL single artwork painted by Kyary

The cover art for GUM GUM GIRL was painted by Kyary herself on a canvas using acrylic paints. Kyary painted with passion for her 10th anniversary year.

The singer also unveiled a new look which features metallic silver paper to represent the inside of gum packaging. Her magical makeup sees her face lined with rhinestones, serving stylish, futuristic vibes.

Kyary has been involved in the promotion of the Nintendo Switch title Ninjala, and in the game's latest commercial, she makes an appearance alongside Japanese comedy trio Yonsen Toshin to play the game. You can also hear a snippet of GUM GUM GIRL in the commercial. Check it out below.

Ninjala Commercial feat. Kyary Pamyu Pamyu

Ninjala is a popular title across the globe having been downloaded over 5 million times. In June 2020, a remix of Kyary Pamyu Pamyu's hit song Ninja Re Bang Bang was released by Steve Aoki in collaboration with the game. The song was also made available in-game in October.

Kyary is once again teaming up with Ninjala to feature her new single GUM GUM GIRL in-game, and a special GUM GUM GIRL T-shirt is being released for player avatars. These will be available from January 29 to February 18. Ninja Re Bang Bang Steve Aoki Remix, the clothing item, and dance emote released for that song will also be re-released during this time.

Kyary will premiere a brand new music video for GUM GUM GIRL on her YouTube channel at the stroke of midnight (JST) when January 28 turns to January 29. In the meantime, fans can check out Kyary discussing ideas for the music video with Yasutaka Nakata and her team. The can be watched in Japanese below.

The Making of "GUM GUM GIRL"

Kyary Pamyu Pamyu shows her gratitude for her 10th anniversary year with the release of GUM GUM GIRL which is sure to brighten up anyone's day who has been feeling down during the COVID-19 pandemic. Stay tuned for the official release.

Kyary Pamyu Pamyu Unveils Shiseido Beauty Square Spring 2021 Look

Following her Winter 2020 look for Shiseido Beauty Square, Japanese pop icon Kyary Pamyu Pamyu is serving something different with the unveiling of her look for Spring 2021.

The theme of this look is "2021: A Beauty Odyssey" with her hair, makeup, and outfit fusing together space and Harajuku-style beauty. It serves a romantic future full of hopes and dreams for the present.


The look was once again made in collaboration with top Shiseido hair and makeup artist Tadashi Harada.

If you're in need of makeup ideas for the New Year, and are in Tokyo this winter, be sure to pay a visit to Shieido Beauty Square where you're sure to discover a new you.

Information

Shiseido Beauty Square

Address: WITH HARAJUKU Floor 1F, 1-14-30 Jingumae, Shibuya, Tokyo

Opening Hours: 11:00-20:00

No Fixed Holidays
TEL: 03-5413-7717

Official Website: https://beautysquare.tokyo/

*Website available in English, Japanese, and Chinese

Kyary Pamyu Pamyu Adorns Shiseido Beauty Square in Harajuku With New Winter Look

Following her Halloween-inspired look for Shiseido Beauty Square, Japanese pop icon Kyary Pamyu Pamyu returns to the beauty facility with a new white and snowy winter look which was unveiled on Monday (November 2).

Shiseido Beauty Square

Kyary Pamyu Pamyu became the ambassador for Shiseido Beauty Square when it opened back in June. The concept of the beauty facility is centred on having people discovering their beauty, having fun, sharing experiences, and learning the latest in the scene

Winter Key Visual

Kyary's winter look for 2020 features a breathtaking headdress inspired by snowy skies, silver flowers, and powdery snow. The look was made in collaboration with top Shiseido hair  and makeup artist Tadashi Harada.

If you're stuck on what makeup to wear for winter, and are in Tokyo this holiday season, be sure to pay a visit to Shieido Beauty Square where you're sure to discover a new you.

Information

Shiseido Beauty Square

Address: WITH HARAJUKU Floor 1F, 1-14-30 Jingumae, Shibuya, Tokyo

Opening Hours: 11:00-20:00

No Fixed Holidays
TEL: 03-5413-7717

Official Website: https://beautysquare.tokyo/

*Website available in English, Japanese, and Chinese

Concert Review: Kyary Pamyu Pamyu Performs Halloween Concert Online For Fans Worldwide

Kyary Pamyu Pamyu's first-ever online concert "THE FAMILY 10.31" was held on October 31, aka Halloween Day, where she performed on the streaming site SHOWROOM. Kyary wanted to make this one-night-only concept concert like a movie, and so incorporated elements from horror films as Kyary herself is a horror fanatic.

The show began with a creepy looking man appearing on the screen who called himself the Butler. The scene was set deep inside a forest which houses a certain residence. This residence belongs to The Family who decided to live in the forest to hide form humans.

Fans watching the stream became part of the concert. In the story, viewers find themselves lost in the forest at the residence, and must pretend to be monsters so as to not be found out by The Family who detest humans. They are invited to a banquet hosted by The Family's Master and Mistress and also meet a roster of other characters including the Twins and of course the eldest daughter who is accompanied by a black cat. The daughter was played by none other than Kyary Pamyu Pamyu who wore dark and smoky makeup and donned a black dress with a white cross and frills down it. The stage itself was themed on the residence's reception hall where Kyary performed hits such as Fashion Monster and Kira Kira Killer.

On another stage, fans who had purchased special tickets could be seen at home enjoying the concert using the streaming platform's SHOWROOM Arena (β) function.

Kyary Pamyu Pamyu also performed Ninja Re Bang Bang Steve Aoki Remix live for the first time with fans cheering in the back. The song was remixed by DJ Steve Aoki for the Nintendo Switch™️ global title Ninjala. The song is an arrangement of Kyary's hit song and made to be more dance and club. Fans at home waved their penlights and towels to the track.

Kyary changed into a different red and black outfit which looked like a rafflesia and performed more hit numbers like Invader Invader, Mondai Girl, and Harajuku Iyahoi.

Kyary was also able to do multiple things she wouldn't normally be able to at an ordinary concert, like taking screenshots, or being reflected in the mirror as she sat in front of the dresser in the middle of the stage while performing Chami Chami Chaming. The entire set was a spook-filled Halloween extravaganza from the mind of Kyary.

The final song of the main set was of course Kyary's Halloween anthem Crazy Party Night ~Pumpkin no Gyakushu~. Kyary wrapped up her show by changing into a T-shirt to perform Kamaitachi for the first time as the encore, surprising fans as she so likes to do.

The entire set was an incredible 18 songs which were packed full of creepy-cute fun for fans to enjoy.

Photo © AKI ISHII

Kyary Pamyu Pamyu's 'Ninja Re Bang Bang Steve Aoki Remix' Now Available On Nintendo Switch's Ninjala

The developers of the hit Nintendo Switch™ title Ninjala have collaborated with Kyary Pamyu Pamyu once again by putting Steve Aoki's remix of her song Ninja Re Bang Bang into the game on October 29, 2020.

In the colourful world of Ninjala, players blow bubble gum to craft different weapons and fight using the fighting style of ninjutsu. Players can also transform into nearby objects, and they must use parkour to traverse different landscapes while aiming to take down their opponents. Released on June 25 this year, the game has been downloaded over 5 million times.

Steve Aoki released his remix of Kyary Pamyu Pamyu's hit track Ninja Re Bang Bang back in June. The track was subsequently used to promote Ninjala in commercials as well as an animated music video. The song proved so popular it made it onto numerous huge music playlists. The song is now available in-game for a limited time via the in-game Select Shop where it can be purchased to be played as part of the game's BGM.

But that's not all, as players can also purchase Kyary Pamyu Pamyu's outfit from the original Ninja Re Bang Bang music video including her costume and accessories. There's also an Emote that recreates the choreography from the song's chorus in the music video as well as a Ninja Re Bang Bang costume Ippon decoration.

Kyary will perform live on the SHOWROOM video streaming service on Halloween day with a special concert entitled "THE FAMILY 10.31." This themed show tells the story of a family living in a house in the woods. This one-night-only concept show will be streamed worldwide, and will see Kyary's first-ever live performance of Ninja Re Bang Bang Steve Aoi Remix.

Kyary Pamyu Pamyu | Comment

"I'd like to congratulate Ninjala on reaching 5 million downloads! People all around the world are enjoying the game right now, so I would love for them to get to hear 'Ninja Re Bang Bang Steve Aoki Remix' while playing the game! The 'Ninja Re Bang Bang' clothes and dance in the game are super cute, so you're sure to enjoy them! I'll also be performing the song live for the first time at my first online show, 'THE FAMILY 10.31,' on October 31! It's gonna have a different vibe from anything I've done, so look forward to it."

Information

Ninjala x Kyary Pamyu Pamyu "Ninja Re Bang Bang Steve Aoki Remix" Collab

Running: October 29, 2020 – November 26, 2020 at 10:59 (JST)

Official Website: https://ninjalathegame.com/jp/collab/kyary/​

Kyary Pamyu Pamyu Online Halloween Live 2020 – "THE FAMILY 10.31"
Date: October 31, 2020

Time: Open 16:30 (JST) / Start 17:30 (JST)

Ticket Window: October 1, 2020 at 13:00 (JST) to October 28, 2020 at 23:59 (JST)
Buy Tickets: https://kyary.net/store?groups=THE%20FAMILY%2010.31

Ticket Types
①Regular Ticket. Includes access to the live show only. Cost: ¥3,000 (Before Tax).
②Special Ticket. Includes access to the live show, SHOWROOM Arena (β), two limited-edition items, and access to the post-show talk. Cost: ¥12,000 (Before Tax).
Ticket Enquiries: https://kyary.net/inquiry

Kyary Pamyu Pamyu Official Website: http://kyary.asobisystem.com

Nintendo Switch's Ninjala Adds Kyary Pamyu Pamyu's 'Ninja Re Bang Bang Steve Aoki Remix' to the Soundtrack

The developers of the hit Nintendo Switch™ title Ninjala announced in Dev Diary #10, which was posted on their official YouTube channel today, another collaboration with Kyary Pamyu Pamyu.

In the world of Ninjala, players blow bubble gum to craft different weapons and fight using the fighting style of ninjutsu. Players can also transform into nearby objects, and they must use parkour to traverse different landscapes while aiming to take down their opponents.

Steve Aoki release a remix of Kyary Pamyu Pamyu's hit track Ninja Re Bang Bang back in June. The track was subsequently used to promote Ninjala in commercials as well as an animated music video. The song proved so popular it made it onto numerous huge music playlists. The song is now set to be released on Ninjala on October 29, 2020 for a limited time via the in-game Select Shop where it can be purchased to be played as part of the game's BGM.

Be sure to check out the full Dev Diary episode for details on the upcoming Season 3 as well as updates and more.

© GungHo Online Entertainment, Inc.

Information

Ninjala

Platform: Nintendo Switch™

Official Website: https://ninjalathegame.com/en/

*Company names, logos, product names and service names are trademarks and registered trademarks of their respective companies.

*Nintendo Switch and the Nintendo Switch logo are trademarks of Nintendo.

Experience Shinjuku's Famous Halloween Event Online at Virtual Shibuya

The Virtual Halloween Committee has announced that it will host an online Halloween event inside Virtual Shibuya as a result of the pandemic and to mitigate crowded streets in Shibuya, a place which becomes a sea of people during the spooky holiday season.

The event, titled Virtual Shibuya au 5G Halloween Fes, will begin on October 26 and run up to Halloween Day. It is being promoted with the hashtag #StayVirtual.


Shibuya 5G Entertainment Project launched its new digital platform "Virtual Shibuya" back in May of this year. Officially recognised by Shibuya City, Virtual Shibuya comes in response to the effects of the novel coronavirus (COVID-19) which has brought tight restrictions to the economy and people's way of life. It will enable people to continue enjoying entertainment from the comfort of their homes by participating in a whole host of virtual events and activities. The project aims to deliver content from Shibuya with live performances from artists, art exhibitions, talks, and more. The use of 5G and the latest cutting edge technology will connect the real Shibuya to a virtual space, combining the realms of the digital and real world.

The Halloween event is inviting a host of Japanese artists and comedians to perform inside the virtual space, which itself will be littered with all things Halloween like Jack-o'-lanterns, bats, and more. Users will also be able to dress their avatars in the appropriate clothing in line with the holiday season of scares. All of this aims to deliver the famous Shibuya Halloween experience that the people of Tokyo are so used to.

Virtual Shibuya au Halloween Fes

Virtual Shibuya is evolving and will be updated for the upcoming Halloween event. Users can look forward to a host of music events and talk events during this age of the 'new normal.'

au 5G Presents Kyary Pamyu Pamyu: Virtual Mini Live

Virtual Shibuya will host its very first virtual live concert to open the Halloween festival. Japanese pop star Kyary Pamyu Pamyu is included in the performance line-up, who will be serving a very special one-night-only Halloween themed show inspired by horror movies. Titled "Kyary Pamyu Pamyu Online Halloween Live 2020 THE FAMILY 10.31," you can find out more about the concert here.

au 5G Presents BiSH: Virtual Live

Japanese idol group BiSH will also be playing a special Halloween show at the event.

au 5G Presents "Everyone's 5G" – Comedy Duo Wagyu Perform

Japanese comedy duo Wagyu will perform live using 5G technology which will render them in high-speed, high quality holograms.


The rest of the line-up and more details about the event will be announced in the coming weeks.

Kyary Pamyu Pamyu to Perform Online Live Show On Halloween Day

Due to the ongoing pandemic, Kyary Pamyu Pamyu's schedule has been put on hold, with Coachella having been cancelled this year where she was set to perform for the first time, and the numerous summer festivals she plays at each year having been cancelled, as well as her nationwide Japan tour.

But not all is lost however, as the Japanese pop star has big plans for the coming holiday season.

Kyary will perform live on the SHOWROOM video streaming service on Halloween day with a special concert entitled "THE FAMILY 10.31." This themed show tells the story of a family living in a house in the woods. This one-night-only concept show will incorporate lots of elements from horror movies, since Kyary is a horror movie fanatic.

And to make fans feel more like they at the show and enhance the live experience, those who tune in to the concert can will be shown on the big screen at the venue at which Kyary will perform. After the show, Kyary will also host her very first post-concert talk event too.

Kyary Pamyu Pamyu is bringing special spooks to fans this year for Halloween.

Kyary Pamyu Pamyu | Comment

"This will be my first solo show in a while, and it's my first ever online performance, so I'm feeling the nerves, but I'm also super excited and looking forward to it. It's Halloween after all, so I want this show to be like watching an entire horror movie, so I'll be putting my all into it. So tune in and enjoy from the comfort of your home!"

Information

Kyary Pamyu Pamyu Online Halloween Live 2020 – "THE FAMILY 10.31"
Date: October 31, 2020

Time: Open 16:30 (JST) / Start 17:30 (JST)

Ticket Window: October 1, 2020 at 13:00 (JST) to October 28, 2020 at 23:59 (JST)
Buy Tickets: https://kyary.net/store?groups=THE%20FAMILY%2010.31

Ticket Types
①Regular Ticket. Includes access to the live show only. Cost: ¥3,000 (Before Tax).
②Special Ticket. Includes access to the live show, SHOWROOM Arena (β), two limited-edition items, and access to the post-show talk. Cost: ¥12,000 (Before Tax).
Ticket Enquiries: https://kyary.net/inquiry

Kyary Pamyu Pamyu Official Website: http://kyary.asobisystem.com

Kyary Pamyu Pamyu's Halloween Look Decorates Shiseido Beauty Square in Harajuku

Following her firework-inspired summer promotion look for Shiseido Beauty Square, Japanese pop icon Kyary Pamyu Pamyu has returned to the beauty facility with an all-new Halloween look, first revealed on Friday.


Kyary is serving a dark romantic world in Harajuku this Halloween, with Gothic hair and makeup that delivers us spook fantasy mixed with a bewitching, fairy tail-like sweetness. The look was brought to life thanks to Shiseido's top hair and makeup artist Tadashi Harada.

Kyary Pamyu Pamyu became the ambassador for Shiseido Beauty Square when it opened back in June. The concept of the beauty facility is centred on having people discovering their beauty, having fun, sharing experiences, and learning the latest in the scene

Information

Shiseido Beauty Square
Opened: June 18, 2020

Address: WITH HARAJUKU Floor 1F, 1-14-30 Jingumae, Shibuya, Tokyo

Opening Hours: 11:00-20:00

No Fixed Holidays
TEL: 03-5413-7717

Official Website: https://beautysquare.tokyo/

*Website available in English, Japanese, and Chinese

Kyary Pamyu Pamyu Launches New Fragrance Brand 'Nostalgia Syndrome'

A new fragrance brand produced by Kyary Pamyu Pamyu was released on September 12, 2020, and is available to purchase via the brand's official website.

The brand was backed by a crowdfunding campaign in February 2020 for Kyary who wanted to turn her favourite scent, fragrant olive, into a fragrance. The music artist highlighted how it's a difficult scent to get your hands on. "There are so many people that like the smell of fragrant olive, so why is it so rare?" Kyary worked with fragrance experts to create a scent that smells like fully bloomed fragrant olive.

Nostalgic Syndrome Osmanthus – Eau de Toilette | ¥8,250 (Tax Included)

Nostalgic Syndrome Osmanthus – Body Cream | ¥5,500 (Tax Included)

The first goal of the crowdfunding campaign was to fund the perfume and the second body cream which Kyary overwhelming support for, leading to it becoming a reality.

Nostalgic Syndrome Osmanthus – Hand Cream | ¥1,870 (Tax Included)

Nostalgic Syndrome Osmanthus – Aroma Diffuser | ¥7,150 (Tax Included)

The success of the crowdfunding campaign led to the establishment of Nostalgic Syndrome and subsequently its first series, Osmanthus, which includes not only the perfume and body cream but hand cream, hair oil, aroma diffuser, and home & fabric spray too.

To celebrate the launch of Nostalgia Syndrome, the first 300 people who spend over ¥10,000 on products will receive an original eco bag. More details can be found on the brand's official website.

Kyary Pamyu Pamyu | Comment

"I've always loved fragrances. Before every live performance I do I like to calm myself with my favourites. Fragrances help me to relax no matter the time, I really feel like they're something that have saved me. So, for all the people working hard day to day, and for those with stresses piled up right now, I want them to take a deep breath with this scent of fully bloomed fragrant olive. It would make me happy if this fragrance can create a relaxing space for you."

"It's all thanks to everyone's support that I was able to launch the Nostalgia Syndrome brand. I'm filled with gratitude. Thank you so much, and I hope you continue to support [the brand]."

Kyary Pamyu Pamyu Spends Summer Eating Noodles With Fans in First Online Fan Meeting

Kyary Pamyu Pamyu hosted "KPP ONLINE MEETING VOL.1" on August 16, 2020, her first online event exclusive to members of her fan club "KPP CLUB."

Kyary Pamyu Pamyu's new Japan solo tour, scheduled summer festival and event performances, and bus tour—the latte of which had been held up until last year for fan club members only—were unfortunately cancelled as a result of the COVID-19 pandemic. But Kyary still wanted to find a way to have fun with fans, which led to the creation of "KPP ONLINE MEETING." The first meeting saw around 500 fans which Kyary could see all of on the 10 screens she had prepared in front of her for the live stream.

Fans donned their Kyary merch on stream and prepared some original Kyary-themed backgrounds for the online meeting. The fans who got to attend, chosen by Kyary herself, enjoyed a close-up chat with Japan's queen of pop.

In the run up to the event, Kyary posted a question on Twitter asking people what they wanted to do during the online meeting. The option of dancing together was adopted, and so after teaching fans the choreography to her song KAMAITACHI which dropped in April this year, fans danced together with her, making it feel like a live show.

Kyary also had her own idea she wanted to try out with fans, which was eating somen noodles together with everyone. Everyone prepped their own somen and made a toast with their bowls. Other fun things Kyary got up to with fans included a drawing challenge, scavenger hunt, a lottery where fans could win something of Kyary's, and more.

At the end of the event, Kyary took a photo together with all 500 fans on the 10 screens. Kyary could feel the energy and warmth from fans through the screen, and ended the event with a huge smile on her face. She plans to continue holding these online meetings for fan club members going forward.

During the stream, Kyary also announced a DVD and Blu-ray release of her tour from last year, Oto no Kuni Live Tour 2019. Kyary originally had a Japan nationwide hall tour scheduled for this autumn. When she watched the footage of "Oto no Kuni Live Tour 2019," she said, "When I thought about how I can't do a show like this at present time, I cried."

The DVD and Blu-ray includes two performances: Maboroshi no Utopia ~Izumo-taisha no Yoru~ which was held at Izumo Grand Shrine in Shimane—and which Kyary spoke about in our interview with her last year—and her kabuki themed show Kyary Kabuki Kabuki held in Kyoto at Minami-za, the oldest theatre in Japan. The DVD and Blu-ray are available for everyone to buy, including non fan club members.

Next year will mark 10 years since Kyary Pamyu Pamyu's music debut. Stay tuned for the latest updates and information.

Information

Oto no Kuni Live Tour 2019 (Izumo Grand Shrine/Minami-za) DVD/Blu-ray

Order Window: August 16, 2020 at 20:30 (JST) to August 30, 2020 at 23:59 (JST)

Shipping Window: Early-Mid October 2020

DVD (2 Discs) w/Staff Pass Key Ring: ¥5,500 (Before Tax) [KMGI-0004]
Blu-ray w/Staff Pass Key Ring: ¥6,500 (Before Tax) [BD KMGI-0005]
DVD (2 Discs): ¥4,000 (Before Tax) [KMGI-0002]
Blu-ray: ¥5,000 (Before Tax) [KMGI-0003]

*All Limited Pressing Edition copies

Buy Here: https://kyary.net/store
*Available to all, including non-members of KPP CLUB

Kyary Pamyu Pamyu Official Website: http://kyary.asobisystem.com/