Doraemon Future Department Store to Open Pop-Up Shop in Hakata
Doraemon's official shop Doraemon Future Department Store, which is located in Odaiba, Tokyo, has announced that it will open a pop-up shop in Hakata, Kyushu, from February 18 to March 7. Fans can get their hands on a selection of exclusive merchandise and more.
Not Only Merchandise, But Services Too
1. Customise Service

The pop-up shops will offer a customisation service which lets customers have different embroideries put into the T-shirts, tote bags, and key rings. The work is done on the spot by hand so you can see the result of what will be a very special item of which only one exists in the world. Perfect for Doraemon fans and gifts to friends and family.
2. Post Office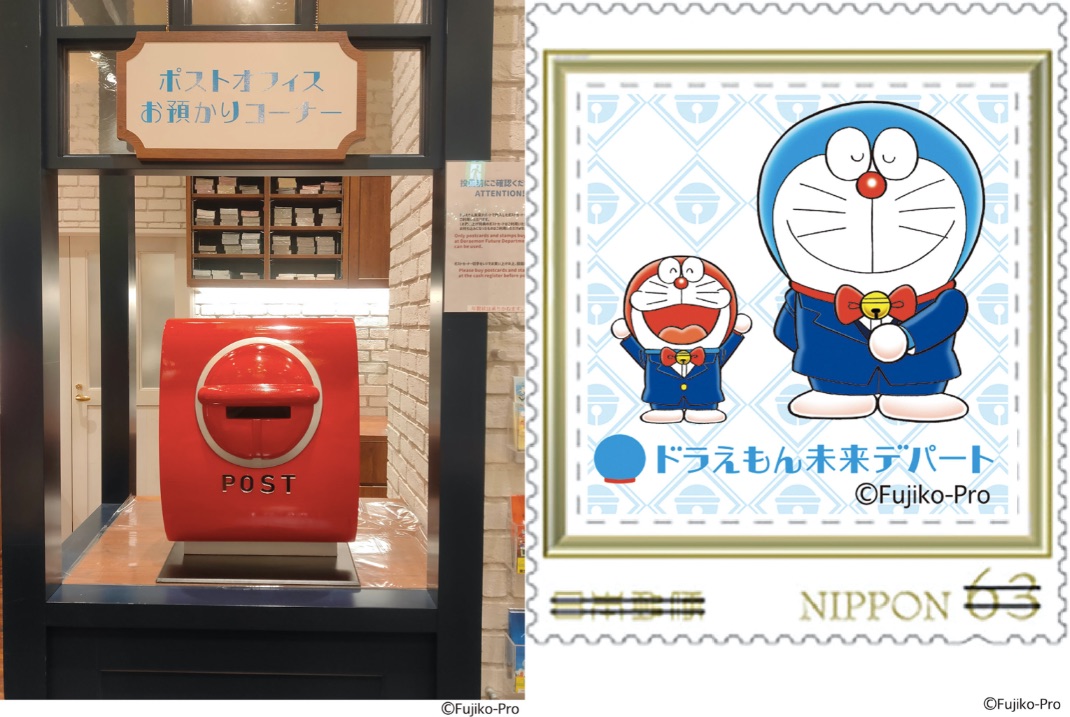 The shop will offer a postal service for sending off Doraemon letters and postcards with original Doraemon stamps.
Bonus Items: 1st Anniversary Postcard / Mini Tote Bag
There are also bonus items for fans to get their hands on depending on how much they spend.
1. Customers who buy anything from the pop-up store will receive a free 1st anniversary postcard. One per transaction, available while supplies last.
2. Customers who spend over ¥5,000 (tax included) in a single transaction will receive a free tote bag. One per transaction, available while supplies last.
Universal Points Card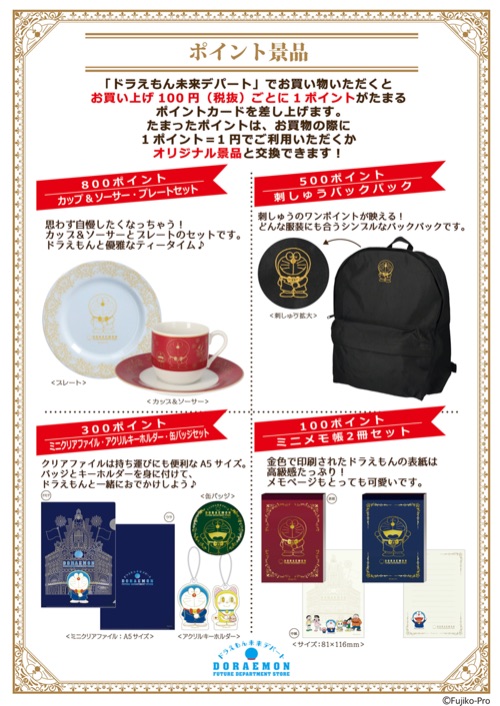 Points cards will be available which allow fans to buy additional exclusive merchandise as well as receive discounts. 1 point = ¥1 discount. Points are gained during transactions. These cards can be used not only at the pop-up shop but the main store in Odaiba as well as online. There's also a handy app tied to the card.
Information
Doraemon Future Department Store in JR Hakata City 2021
Running: February 18, 2021 – March 7, 2021
Where: JR Hakata City AMU EST Floor 1F POPUP STAGE
Address: 1-1 Hakata Station Central Gate, Hakata-ku, Fukuoka-shi, Fukuoka
Opening Hours: [Mon-Sat] 10:00-21:00 / [Sun & Holidays] 10:00-20:00
Doraemon Future Department Store Official Website: https://mirai.dora-world.com/
RELATED ENTRIES
Fans Asked to Name Blimp Inspired by the Upcoming Film 'Doraemon: Nobita's Sky Utopia'

The film Doraemon: Nobita's Sky Utopia will be released on March 3, 2023. The 42nd Doraemon movie follows Doraemon, Nobita, and his friends as they venture off to find Utopia, a perfect land in the sky where everyone lines in joy and happiness. They do so using an airship with a time warp function on their adventure, and to commemorate the film's release, the Flying Doraemon Project began on January 14. A real-life 17-meter-long Doraemon blimp will soon appear in the sky, and fans are being asked to decide on a name for the craft.

The blimp, inspired by the Doraemon movie, will feature popular characters including Nobita, Shizuka, Suneo, and Gian. The blimp is the largest unmanned airship in Japan.

The message of the Flying Doraemon Project is to convey the feeling that in this day and age, children and adults alike can once again look upward and move forward toward their hopes and dreams.

Fans are asked to contribute ideas for the blimps name during the application period. Check the website for more details!

Original Doraemon Shirt Inspired by Nobita's Room Now Available

Shogakukan's online store has released a long-sleeve shirt inspired by Nobita's room from the long-running Doraemon series. Released on December 15, the fashionable and fun item is sure to be a fan favorite.

Shirts Inspired by Nobita's Room!

The shirt was developed in collaboration with Kawatani Shirt, a Tokyo-based brand dating back to 2011 specializing in casual shirts for adults. 

 

The green stripes were inspired by the tatami mats found in Nobita's room, and the simple back is white with a slight checker pattern at the top.

 

Part of the inner lining is even decorated with Doraemon's Take-copter!

The button at the neck is bright yellow, inspired by Doraemon's signature bell.

The lining of the left breast pocket features an embroidered Doraemon as well. 

As expected, Nobita can also be seen lounging on the bottom right of the shirt. 

The shirt is available in four sizes from S to XL. Made from 100% cotton, this is a comfortable piece of clothing perfect for wearing all year round. Why not add this playful shirt to your rotation?

 ©Fujiko-Pro

Information

Doraemon Long-sleeve Shirt 'Nobita's Room'

Release Date: December 15, 2022

Sizes: S, M, L, XL

Price: 14,300 (Tax Included)

Doraemon Sleeping Bag and Neckwear Perfect for Bringing on a Winter Camping Trip

Doraemon fans who also love the great outdoors will be able to grab some new goods for their winter outings. A Doraemon-inspired sleeping bag created by down maker NANGA and neckwear made by Spanish brand BUFF are now available at the Shogakukan online department store!

NANGA is one of Japan's leading down manufacturers, beginning as Yokota Sewing in 1941 in Maibara, Shiga Prefecture, a famous production center for cotton futons. The down used in this new sleeping bag has been cleaned and refined using the newest technology, promising that this bedding will last for years to come.

Sleeping Bag

In addition to the blue, white, and red Doraemon-inspired coloring, the character's famous collar also makes an appearance. Covered head to toe in motifs from the series, this bedding is also highly functional and warm.

Neckwear

The included storage bag is compact and able to fit in a backpack, measuring approximately 20cm x 40cm. Will you be adding these items to your camping pack this winter?

©Fujiko-Pro

Doraemon's Official Store Launches Limited Edition Dorayaki-Flavored Black Tea

Doraemon's Mirai Department Store, Doraemon's official shop, has announced a limited edition black tea flavored with the character's favorite food: dorayaki! The tea and four special themed plates will be available starting November 11, 2022. The tea itself is provided by the tea specialty shop LUPICIA. 

Doraemon's Mirai Department Store Black Tea (Dorayaki Flavor)

Doraemon's Mirai Department Store is now offering this special tea in an adorable themed tin.

The flavor of the tea is inspired by Doraemon's favorite food, dorayaki, a sweet Japanese pastry filled with red bean paste. The gorgeous blue and red toppings blended into the tea leaves were inspired by Doraemon himself, and fans will want to enjoy a cup as they lose themselves in the classic manga or anime series.

Doraemon's Mirai Department Store Tasty Plate (4 varieties)

These 14cm square plates are perfect for snacks with tea. Dishwasher-safe, fans can pick from four designs, each showing Doraemon enjoying some tasty treats. 

©Fujiko-Pro

Doraemon's Official Shop Opens for a Limited Time at Daimaru Umeda

From December 1, 2022 until May 28, 2023, Doraemon's official shop will appear at Daimaru Umeda! Doraemon's Mirai Department Store will offer a variety of limited-edition products for this brief period. 

Doraemon's Mirai Department Store Exclusive Goods (Selection)

Chenille Embroidered Tote Bag (Doraemon and Mini Doraemon): ¥3,520 (Tax Included)

This tote bag is decorated with lasting embroidery and is sure to brighten any Doraemon fan's day. The shoulder-length handles are practical and each bag has excellent storage capacity!

Doraemon Striped Socks (Red/Green): ¥2,420 each (Tax Included)

These thick socks are sure to keep your feet warm during the cold winter months. The simple lines and chic colors make these a great gift for any age.

Come check out these exclusive items that you can only find here!

©Fujiko-Pro

Information

Doraemon's Mirai Department Store in Daimaru Umeda 2022-2023

Running: December 1, 2022 – May 28, 2023
Venue: Daimaru Umeda 13F (3-1-1 Umeda, Kita-ku, Osaka)

Hours: 10:00-20:00
Doraemon's Mirai Department Store Official Site: https://mirai.dora-world.com/

Doraemon Ukiyo-e Series Reimagines Popular Characters in Classic Hiroshige Work

A Doraemon version of Hiroshige's 1833 ukiyo-e painting Fifty-Three Stations of the Tokaido Hoeido Edition (Rainstorm) will be available to order on October 29!

This work is said to be one of the most famous paintings by the artist, who was considered the last great master of ukiyo-e.


 

The painter was best known for his depiction of rainscapes, and many of his paintings pushed the envelope of traditional art.

 

This painting shows Ise Province, what is now present-day Mie Prefecture. 

Doraemon and his friends have been expertly placed into the famous piece of art, desperately climbing a steep hill during a sudden evening shower.

 

For Doraemon and Nobita, the rain is a chance to have fun. Looking at the piece, viewers can see an image of hope in tough times and can remember that with friends, anything is possible and any difficulties can be overcome. 

The piece is made from high-quality materials, and you won't want to miss ordering one of these rare works of art!

Information

Doraemon Ukiyo-e / Fifty-Three Stations of the Tokaido Hoeido Edition (Rainstorm)

Orders Open: October 29, 2022 at 12:00
Price: ¥45,000 (Excluding tax and shipping charges)
Number Available: 300
Echizen-Manufactured Washi Paper Provided by Iwano Ichibei
Online Shop: http://ukiyoework.com/

teamLab Forest Fukuoka's Interactive Digital Art Installation Gets Autumn Theme

Starting September 23, teamLab Forest Fukuoka will be transformed for the autumn season! The interactive digital art installation will feature animals made entirely of fall foliage, and guests can enjoy red and orange leaves fluttering through the one-of-a-kind 3D world. 

teamLab's prolific works are known for changing with the seasons. This autumn version of the popular exhibition will only be on display for a limited time, and visitors can use their
smartphones in the Catching and Collecting Forest to catch and collect the animals on display! The forest and ocean scenery will change as you explore, and starting on September 23, the trees will begin to show off beautiful autumn colors.

In the Forest of Movement, guests can enter the 'Shifting Valley, Living Creatures of Flowers, Symbiotic Lives' exhibit, where creatures made of autumn flowers exist in a three-dimensional space. The space is meant to make guests think about the cycle of death and rebirth, as flowers blossom and die each and every year.

The 'Soft Terrain and Granular Topography' will display tons of colorful grains raining down on visitors, while the 'Flutter of Butterflies, Ephemeral Life' will change the usual butterflies to have autumn colors as they fly around guests. This is a kind of autumn scenery you can't see anywhere else, so be sure to come to Fukuoka during this beautiful season!

Information

teamLab Forest Fukuoka – SBI Securities Co., Ltd.

Venue: BOSS E・ZO FUKUOKA 5F (Next to Fukuoka PayPay Dome)

Address: 2 Chome-2-6 Jigyohama, Chuo-ku, Fukuoka

Official Site: https://www.teamlab.art/jp/e/forest/

Popular Manga Series Chainsaw Man Gets Pop-Up at Iwataya in Fukuoka

Jewelry brand Tasaki has announced a special collaboration pop-up with the popular manga Chainsaw Man from September 7 until September 13, 2022 at KIRAMEKI BOARD on the first floor of the Iwataya Department Store in Fukuoka. The pop-up is being held to celebrate new items in the 'danger' line, one of Tasaki's new iconic items.

At the venue, guests can peruse a selection of Tasaki's fine jewelry, including the new 'danger' collection which was inspired by the beauty of insectivorous plants. This is a perfect mix with Chainsaw Man, which has captivated audiences around the world with its unique plot, savage content, and one-of-a-kind characters. Special visuals of the main characters wearing jewelry from the 'danger' collection will be on display, drawn by the original author of the series Tatsuki Fujimoto. Also on display at the venue will be a special Pochita figure, whose chainsaw will be lavishly set with pearls.

Exterior ©TASAKI 

To celebrate the collaboration, unique jewelry inspired by Chainsaw Man, Pochita, and Power will be on sale exclusively at the pop-up venue. These will only be available in limited quantities.

Fans of the series who are looking for some gorgeous new drip shouldn't miss this curious crossover event!

McDonald's Japan Launches Festive Doraemon-Themed Summer Sweets

On August 5, McDonald's Japan will begin selling some summer-only sweets! The McShake Doraemon Ramune and Doraemon Choco Banana Pie items are based on a summer festival, and the packaging will feature adorable Doraemon imagery. 

These treats will bring back memories of summer festivals, with popular flavors like chocolate banana and ramune. Each sweet will be available in a total of six newly-designed packages, so you might need to buy a few until you get your favorite character!

McShake Doraemon Ramune

The McShake Doraemon Ramune features the nostalgic flavor of ramune and a creamy texture. Two types of ramune flavors were used to create a taste that will keep you coming back for more, and citrus flavors were added to create a refreshing flavor perfect for summer. This tasty treat is available in three versions–Doraemon, Nobita, and Gian.

Doraemon Chocolate Banana Pie

The Doraemon Chocolate Banana Pie consists of a crispy pie crust packed with banana filling and a rich chocolate sauce. Fans of Doraemon can grab this pie in three different sleeves–Dorami, Shizuka, and Suneo.

※Product images for illustration purposes only. Actual products may vary.

Happy Meal

Round 1: August 5 – August 11

Round 2: August 12 – August 18

In addition, Doraemon-related items will be packed with every Happy Meal starting August 5.

Kirby Cafe Tokyo and Fukuoka Reveal Peach-Inspired Summer Menu

Kirby Cafe TOKYO and Kirby Cafe HAKATA will begin selling special summer-themed food and drink items on July 7. The Kirby Cafe Summer 2022 event will introduce seven peach-themed goodies to the menu through September 11. 

Menu

Transform! Carby Cake ~WELCOME TO THE NEW WORLD!~

Kirby's Peach♡Peach Parfait

Summer Souvenir Parfait Glass

Awoofy's Footsteps in the Desert Pizza

Waddle Dee's Friendly Rice Croquettes

King Dedede's Full Tummy! Massive Beast King Plate

Rolling ♪ Peach Soda

(Includes Summer Souvenir Parfait Glass)

Rolling ♪ Summer-Colored Pineapple Soda

Summer Souvenir Acrylic Muddler (3 varieties)

Visitors to the two cafe locations can enjoy peach-flavored treats like Kirby's Peach Parfait and an adorable cake based on the pink puffball's Carby form seen in the new game Kirby and the Forgotten Land. Those wanting something more savory can enjoy Waddle Dee's Friendly Rice Croquettes and the absolutely huge King Dedede's Full Tummy! Massive Beast King Plate. 


Come enjoy the warmer months with Kirby and friends!

Story

Summer is returning to the Kirby Cafe. Thinking of the warmer months, Chef Kawasaki has created a special menu! As a Waddle Dee, filled with great excitement, wandered through the forest…it saw tons of lush, ripe peaches. 

"Huh? That pink, round peach reminds me of something…" 

Then came Kirby, who was looking forward to the summer menu more than anyone else. 

"Ah, that's right! The peach looks just like Kirby!"

Happy to have solved the riddle, Kirby smiled brightly at Waddle Dee. Gazing at this glorious summer scene with tons of juicy peaches ready to be eaten, he couldn't help but imagine tons of tasty treats! Peach parfait, sparkling soda, blue jelly sparkling like the ocean…not wanting to forget these ideas, Kirby and Waddle Dee gathered the peaches and began cooking.

Please come and enjoy this summer with Kirby and his friends under the dazzling sunshine!

©Nintendo / HAL Laboratory, Inc.

Information

Kirby Cafe Summer 2022

Available: July 7 – September 11, 2022

Locations: Kirby Cafe TOKYO, Kirby Cafe HAKATA

Official Site: https://kirbycafe.jp

BT21 Amusement Park Event to Open in Tokyo, Osaka, and Fukuoka

NAMJATOWN, a theme park located in Ikebukuro, Tokyo, will be holding a special BT21 event from May 14 until June 12, 2022! The 'BT21 MerryLand ~Welcome to our Dreamy World!~' event celebrates the popular LINE FRIENDS characters, and guests can enjoy lots of games and treats!



The event recreates MerryLand, an amusement park in the BT21 member's dreams. Guests can participate in three unique mini-games inspired by amusement park attractions, along with a stamp rally and riddle-solving game! Original merchandise and menu items will also be available.

Original Mini-Games

BT21 MerryLand Spinning Ferris Wheel / BT21's  Whirling Teacups ♪ / The Full Stomach Yum-yum Wagon

Mini-Game Prizes

A Prize: Relaxing Cushion (7 varieties)

B Prize: Bandana (7 varieties)


C Prize: Mini Acrylic Stand (7 varieties, random)


D Prize: Character Pin (7 varieties, random)

*The design for A Prize and B Prize will differ depending on the mini-game.
(Guests can choose the design for each game.)
*For C Prize and D Prize, the design is the same for all mini-games.

Venue Exclusive Project! Rally Game

Rally Game Prizes

Participation Prize: Mascot Rubber Charm (7 varieties, random)
*Prizes are the same for each Rally Game.

Original Merchandise

Original Food & Drinks

Soft Drink with Acrylic Coaster / Fortune Latte (14 varieties) / Icing Cookie (7 varieties)


Those unable to attend the event can head to the Namco Parks Online Store to play some web-based mini-games offering the same prizes! Certain pieces of merchandise will also be available for purchase online.

Following Tokyo, the event will head to HEP FIVE in Osaka from July 2 until July 24 and Canal City Hakata in Fukuoka from August 5 until August 28.

©Bandai Namco Amusement Inc.

Information

BT21 MerryLand

Tokyo Event
Venue: NAMJATOWN
Address: Sunshine City World Import Part Building 2F/3F (3-1-3 Higashi-Ikebukuro, Toshima-ku, Tokyo)
Running: May 14 – June 12

Osaka Event
Venue: Hugood! from NAMJATOWN
Address: HEP FIVE 9F (5-15 Kakudacho, Kita-ku, Osaka)
Running: July 2 – July 24, 2022

Fukuoka Event
Venue: Namco Canal City Hakata
Address: Canal City Hakata South Building B1F (1-2-74 Sumiyoshi, Hakata-ku, Fukuoka)
Running: August 5 – August 28, 2022

Online Sales / Online Lottery Wheel

 https://parks2.bandainamco-am.co.jp/ 
Sales Period: May 16, 11:00 – June 13, 23:59

Official Site: https://event.bandainamco-am.co.jp/cx/bt21-merryland/ 

Tea-focused Starbucks Scheduled to Open at AMU Plaza Hakata City

Starbucks will open the first Starbucks Tea & Cafe location in Kyushu at AMU Plaza Hakata on April 27, 2022. This spin-off shop specializes in colorful, aromatic tea-based beverages, and has locations in Tokyo, Toyama, and Osaka. 

 

Starbucks Coffee AMU Plaza Hakata, the first Starbucks Tea & Cafe to open in the Kyushu area, is a new store on the second floor of Amu Plaza Hakata directly connected to JR Hakata Station.

Yuzu & Citrus Lavender Sage Tea / Japanese Chai Tea Latte / Strawberry & Passion Tea Frappucino®

Starbucks Tea & Cafe will offer a lineup of 13 types of tea-based beverages, including tea lattes and tea frappuccinos made with seasonal ingredients. The Japanese Chai Tea Latte is new this season and includes hojicha with spices like yuzu peel, ginger, Japanese pepper, and cinnamon. 

Come enjoy this cozy space and enjoy a warm cup of tea at this unique Starbucks where tea is the main attraction!

Information

Starbucks Coffee AMU Plaza Hakata 2F
Address: JR Hakata City 2F (1-1 Hakataekichuogai, Hakata-ku, Fukuoka)
Hours: 8:00-22:00

Opening April 27, 2022

Official Site: https://www.starbucks.co.jp/