Sailor Moon Eternal's Second Anime Film Promoted With Luna Shaped Bread
Japanese bakery Neko Neko Shokupan is promoting the release of the second in the two-part anime film series Sailor Moon Eternal by baking up a bread inspired by everyone's favourite feline: Luna. The bread will be sold from February 11 to March 25.
Neko Neko Shokupan Luna Bread w/ Chocolate Pen | ¥1,200 (Before Tax)
The bread is made of pastry laced with black cocoa powder. Luna's ears are strawberry flavoured and she  of course has her iconic crescent moon atop her forehead. She arrives safely packaged in a cube-shaped box decorated in night sky stars and the moon. This box is placed in an eye-catching bag with little Sailor Moon details that are sure to be familiar to any fan, including Luna herself as well as Artemis.
The bread is available in-store at Neko Neko Shokupan branches and via the online store All Hearts Mall in Japan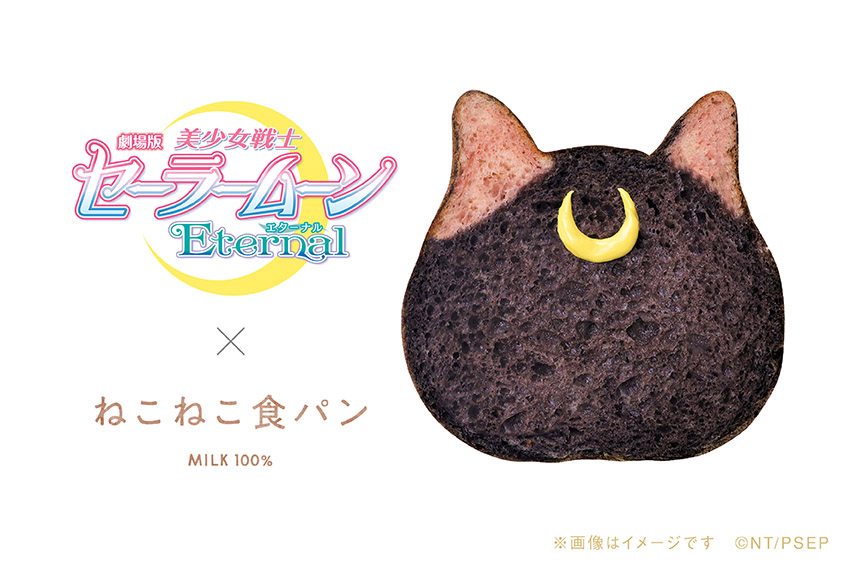 The first film in the Sailor Moon Eternal series was released on January 8, 2021, and the second on February 11, 2021.
©武内直子・PNP/劇場版「美少女戦士セーラームーンEternal」製作委員会
RELATED ENTRIES
X-Girl x Dr. Martens Launch Second Collaboration

The second collaboration boot models by Dr. Martens and X-GIRL released in Japan on Saturday, serving impactful, stereotype-breaking silhouettes.

Dr. Martens X-GIRL Jadon Max | ¥37,400 (Tax Included)

Dr. Martens X-GIRL Strap Sandals | ¥24,200 (Tax Included)


Freedom to move. Freedom from stereotypes. X-girl has always been interested in creating "real clothing" that allows girls to dress on their own terms. Kim Gordon and Daisy von Furthbrand's iconic brand made its debut in 1994 on a fashion runway and has since seen support not only from the industry but art and music too. Similarly, Dr. Martens has also enjoyed overwhelming love from artists and activists for over 60 years.


The JADON MAX X-GIRL is built with a Black canvas upper with a leopard-print canvas lining — a flexible material that will move as much as you do. The boots are customisable with black or white laces. Dual branding throughout is finished with a DIY-inspired brushed silver Dr. Martens x X-girl dog tag. The Jadon Max X-girl stands tall on our sky-high Smoke Quad Max sole — for unflinching, unmissable impact. ​

The STRAP SANDAL X-GIRL's black velvet upper is contrasted with a Purple X-girl footbed and a leopard-print-lined vamp strap. The sandal's dual branding is also finished with a brushed silver dog tag. The Strap Sandal X-Girl features our tallest sandal sole yet — the towering Zebrilus Quad, featuring a padded comfort collar around the ankle.

Pompompurin's 25th Anniversary Celebrated With Limited Edition Dessert at FamilyMart

Sanrio teamed up with the convenience store chain FamilyMart to commemorate the 25th anniversary of their popular character Pompompurin with a special soufflé and macarons that hit shelves up and down Japan on June 8.

Pompompurin Soufflé Pudding | ¥276 (Before Tax)

Pompompurrin & Cinnamoroll Macarons | ¥350 (Before Tax)

Pom's Kitchen Campaign

The Japanese pudding-style soufflé is made with smooth and velvety custard and caramel. It's sold in a cup in three different original designs. Also available as part of the celebration is a set of macarons made to look like Pompompurin as well as Cinnamoroll, another one of Sanrio's most popular characters. They are wearing cute king and queen crowns respectively.

A campaign is also being held where you can win some special Pompompurin merchandise by posting a photo of a rice dish inspired by Pompompurin on social media. More details can be found on the campaign website below.

McDonald's Japan Releases Pikachu Desserts

Mc Donald's Japan released its new Sweets Trio Fruchu menu on Friday which features a line-up of three fruit-flavoured Pikachu items: the Yellow Peach McShake, Chocolate Banana McFlurry, and Hot Apple Custard Pie.


The menu items comes in limited-edition cups and packaging featuring the adorable Pikachu.




Yellow Peach McShake | Small ¥120 – Regular ¥200 (Tax Included)

A fruity and refreshing summery McShake made with sweet and sour yellow peach with that satisfying creamy McShake texture. Available in small and medium, both sizes come with three different cup designs each for a total of six.

Chocolate Banana McFlurry | ¥290 (Tax Included)

The Chocolate Banana McFlurry is served in an ice cream cup with a fresh squirt of milky rich soft serve and drizzled with banana and chocolate sauces. The ice cream is finished with a sprinkle of crunchy yellow cornflakes. Another perfect choice for cooling down in the hot summer weather. There are three possible cup designs to receive.

Hot Apple Custard Pie | ¥150 (Tax Included)

The apple custard pie is served hot with a crunchy outside and filled with custard cream made with fresh apple and vanilla beans and seasoned with caramel and cinnamon. There are three possible packaging designs to receive.



McDonald's Japan is also serving a Pikachu-style Happy Meal as part of the collaboration which come with one of six possible toys.

Rascal the Raccoon x Datsugoku Gokko Crossover Launches

UUUM has joined paws with the popular Japanese character Rascal the Raccoon to roll out a second collaboration inside the mobile online multiplayer game Datsugoku Gokko. The crossover, which launched last Friday, is running until July 25.

Pick from a colourful line-up of Rascal skins

Battle against giant Rascal in the crossover raid

Give your character a fluffy tail like Rascal with this limited-edition accessory

Clear a certain challenge and receive a Maple backpack

Datsugoku Gokko is a multiplayer game that launched in September 2019 and has over 6 million downloads as of April 2021. Featuring over 30 different game modes, the game is a mix of werewolves and escape.

In this special crossover event with Rascal the Raccoon, players can enjoy a variety of themed content from accessories to an all-out raid against Rascal himself. A line-up of Japan-exclusive merchandise is also available as part of the collaboration. More details will roll out on the game's official Twitter @DatsugokuGokko.

Information

Rascal x Datsugoku Gokko

Running: June 4, 2021 – July 25, 2021

Free Accessory: Rascal Tail

Challenge Clear: Maple Backpack

Store Item: Rascal Backpack

Sarutahiko Coffee x BE@RBRICK Limited-Edition Bear Figure Releases

Sarutahiko Coffee reached its 10-year milestone on June 8. To celebrate, the Japanese coffee chain launched a 10 year anniversary promotion on the same day.

The coffee giant released its 10th Anniversary Mocha No.1 Blend and 10th Anniversary Mocha No.1 Superior Java Blend for its first rollout of the promotion. For its second release, Sarutahiko is teaming up with MEDICOM TOY's popular BE@RBRICK figure series to release an original model at its Ebisu and The Bridge Harajuku Station branches as well as its online store.

The palm-sized figure is coloured Sarutahiko's iconic blue colour and features a brown logo on its chest. It's a simple but cute design and is a perfect gift to coffee lovers.

Information

BE@RBRICK x Sarutahiko Coffee Figure

Released: June 8, 2021

Price: ¥1,800 (Tax Included) *Max. 2 per person

Available: Sarutahiko Coffee Ebisu / Sarutahiko Coffee The Bridge Harajuku Station / Sarutahiko Coffee Online Shop

Sarutahiko Coffee Online Shop: https://shop.sarutahiko.co

Sarutahiko Coffee Official Website: https://shop.sarutahiko.co/
*Available while supplies last

Baskin-Robbins Japan Releases T-Shirt Collection Inspired by 9 Ice Cream Flavours

Japanese fashion brand LEPSIM teamed up with Baskin-Robbins to release a t-shirt collection at LEPSIM stores and the online shop .st on June 2.

The Line-Up

Baskin-Robbins Flavour T | ¥3,850 (Tax Included)

Baskin-Robbins Recipe T | ¥3,850 (Tax Included)

Multipurpose Pouch

LEPSIM is a fashion brand specialising in clothes, cosmetics, lifestyle goods, maternity ware, and more, all of which is aimed at "making women smile." This ties in with Baskin-Robbins' motto of "We make people happy" which it does so in Japan with its 1,200 branches. The tee collection features two different kinds of t-shirts inspired by nine ice cream flavours you can order at Baskin-Robbins. The 'Flavour T' includes classic vanilla, azuki bean, colourful orange sorbet, and musk melon colours, as well as 2 tie-dye designs based on their Caramel Ribbon and Love Potion 31. The 'Recipe T' line-up is a more stylish and sophisticated take with ice cream colours and sleek typography. Each t-shirt also comes with a vinyl multipurpose pouch which is perfect for storing cosmetics, face masks, and other little bits and bobs.

Mizkan Launches Gudetama Egg on Rice Collaboration With Sanrio

Mizkan launched a social media campaign last Tuesday in collaboration with Sanrio's popular character Gudetama. As part of the campaign, the lazy egg character is featuring on the packaging for Mizkan's 'Tamago Shoyu Tare,' an egg soy sauce topping for rice. There are eight designs in total, and all limited in stock.

The campaign invites foodies to make their best version of N-TKG, that's an abbreviation of natto tamago kake gohan, or natto egg on rice. 30 lucky people have the chance to win an original Quo card featuring a Gudetama design. All they need to do is follow Mizkan on Twitter and post their creation along with the Japanese hashtag #マイベストNTKG ("My Best NTKG") while quoting the campaign tweet.

N-TKG Recipe Maker

Mizkan have created a special N-TKG maker where you can make your own digital natto egg on rice. You enter six alphabetical letters which will give you a variety of toppings to creating your own dish. You can then use this as reference for actually making it in real life.


How to Make
1. Enter 6 letters into the recipe maker
2. Make your own original N-TKG using the toppings chosen by the letters you pick
3. Try making the dish yourself!

Information

#マイベストNTKG Campaign
Submission Period: June 1, 2021 – July 31, 2021
Official Website/N-TKG Recipe Maker: https://mizkan-ntkg.com/  


Hololive x Capcom Net Catcher Release Second Merch Collection

Capcom's online crane game Capcom Net Catcher released its second merch collection in collaboration with Hololive on Saturday. This time, they have a line-up of items featuring the VTuber Tokoyami Towa including acrylic smartphone stands, mouse pads, and tapestries.

The Line-Up

Acrylic Smartphone Stand (2 Designs)

Mouse Pad (2 Designs)

Tapestry (2 Designs)

The artwork for the merch was designed by Mitsuki Yano and LAM who are known as the character designers for the Hololive VTubers Airani Iofifteen and Kureiji Ollie.

Featured Hololive Character

Tokoyami Towa

In order to become an archdemon, she joined the human society for further studies. She should be studying but is now addicted to gaming. She realized that the method commonly known as "streaming" is also a way to communicate with humans. She is now in the "trial and error" process.

YouTube: https://www.youtube.com/channel/UC1uv2Oq6kNxgATlCiez59hw
Twitter: https://twitter.com/tokoyamitowa (@tokoyamitowa)

Mitsuki Yano


A Hokkaido-based illustrator who designed the Indonesian VTuber Airani Iofifteen. Illustratrates for games, light novels, TCG, and other media.


Twitter: https://twitter.com/mituk1 (@mituk1)
Website: http://nanairo-box.blogspot.com/p/blog-page.ht

LAM


An up-and-coming illustrator working in character design, visual work, book illustrations, and more. Designed the Indonesian VTuber Kureiji Ollie. Held their first exhibition, 'Eyes and Thunder,' in 2020.

Twitter: https://twitter.com/ramdayo1122(@ramdayo1122)

Kizuna AI x Alaina Castillo Perform 'down 4 u' Song Collaboration

American singer Alaina Castillo released her debut album parallel universe pt. 1 on May 29. The Japanese release of the album includes the song down 4 u performed in collaboration with the world famous virtual YouTuber Kizuna AI.

After amassing hundreds of thousands of subscribers on YouTube, Alaina Castillo was noticed by RØMANS, the Grammy-nominated producer known for working with such artists as Alicia Keys, John Legend, Demi Levato, Lewis Capaldi, and others. Since 2019, Alaina has released a string of singles and as well as an EP. She also made it onto Spotify RADAR, an emerging artist program which helps up-and-coming artists with exposure. Her hit single just a boy was also picked up by V of BTS.

Alaina is a fan of Japanese anime and anime characters. In the music video for her single wishlist which dropped last year, Kizuna AI made an appearance. Alaina herself repaid the favour by performing as a guest at the final show of Kizuna AI's 'Virtual US Tour' in New York on May 30. The two artists came together once more by performing down 4 u feat. Kizuna AI, a track sung in English and Japanese. Comments from excited fans around the world flooded into the live stream.

At the end of the show, the two danced to Kizuna AI's AIAIAI feat. Yasutaka Nakata.

This marks Alaina's first collaboration with another artist as well as Kizuna's first collaboration with an artist from the US.

Alaina's new album parallel universe pt. 1 features seven tracks including pocket locket, parallel universe, make it rain, and down 4 u.

Kumamon Promotes Strawberry and Whipped Cream Pastry For Pasco Kumamoto Project

The Pasco Kumamoto Prefecture Project is a collaboration between the Japanese pastry company Pasco and Kumamoto Prefecture which has appointed Kumamon, the mascot of Kumamoto, as its head to promote local foods.

The project was started as a reconstruction and restoration effort to help support Kumamoto after the devastating earthquake that struck in 2016 and the 2018 Japan floods. For every select product sold, 0.5 yen is donated to the relief effort to aid victims of the disasters.

The Pasco Kumamoto Prefecture Project is set to run until end end of September this year. It released two items on April 1 as part of the project. It is now releasing two new products: the "Strawberry Jam & Milk Whipped Cream" pastry and "Pancake Omelette Custard & Milk Whipped Cream." The milk, strawberries, and eggs used for these confections are all sourced from Kumamoto

The pastry recipe creates whipped cream from milk and layers it with a strawberry jam made from yuubeni, a popular brand of strawberry grown in Kumamoto, before baking. The pancake omelette is a combination of Jersey milk, eggs, and custard cream to create a fluffy dessert.

Pasco carefully selects ingredients as part of Kumamon's promotional products

The ingredients used in the recipes for these food products are all carefully selected to go deliciously well with Pasco's bread. This includes milk, eggs, and yuubeni strawberries. Pasco plans to used Kumamoto-grown rice for a new product in August.

 

Scan the code on the packaging and meet Kumamon!

A special Kumamon AR service has also been created as part of the project. If you scan the code on the packaging of these products using a smart device, you can take a photo together with Kumamon as pictured above. He has the same design as on the packets.

Information

Pasco Kumamoto Prefecture Project – 2nd Release

Running: June 1, 2021 – July 31, 2021

Available: Supermarkets and shops in Japan

Pasco Official Website: https://www.pasconet.co.jp/

Identity V x Death Note Crossover Launches

NetEase's multiplayer horror game Identity V is currently holding a crossover event with the anime series Death Note. Running until June 27, fans of the series can look forward to seeing some familiar faces in thrilling mind battles.

Death Note is a manga series written by Tsugumi Ohba and illustrated by Takeshi Obata which was serialised in Weekly Shonen Jump from 2003-2006. The manga has over 30 million copies in circulation. Its anime adaptation aired from 2006-2007. The story tells of a notebook called the Death Note where if you write someone's name in it they die. It is one of the most well-known series both in Japan and overseas. One of the aspects of the series that draws people in most are the mind battles between its two intellectual protagonists; Light Yagami and L.

Ryuk is a Shinigami, or Death God, and is the one who drops his Death Note into the human world which is eventually found by the protagonist Light Yagami. He did this on on purpose because he was bored one day and wanted to see what would happen if a human had a Death Note. In the game, he will pursue the Survivors.

Light Yagami, the protagonist of Death Note, finds the notebook one day and after discovering its secrets, decides to rid the world of criminals and people he deems villains under the guise of Kira. He will try to escape the Hunters in the game.

L is the second main character of Death Note. Known as the world's greatest detective, he is tasked with trying to discover why so many people are dying randomly in Japan and who this mysterious Kira is. He will fight against the Hunters.

Misa Amane is a fashion model and supporter of Kira. She also has her own Death Note and eventually becomes the Second Kira. In the game she will take on the role of an engineer and use her skills to make changes to the Manor.

A range of accessories, character actions, furniture, and more themed on Death Note are also rolling out as part of the crossover. Items include apples which are Ryuk's favourite, Misa's Death Note, Light's pen, L's handcuffs, and more.

Discover all kinds of mysterious during the event

The game is littered with mysterious to be discover and solved. Players can complete daily sign-ins to receive rewards such as Crossover Essence, collecting clues with L by participating in matches, and much more.

©大場つぐみ・小畑健/集英社・VAP・マッドハウス・NTV・D.N.ドリームパートナーズ

Studio Chizu Releases 5th T-Shirt For 10th Anniversary

Since January, Studio Chizu has been teamed up with the Japanese apparel brand Graniph to release a new t-shirt design every month in celebration of their 10th anniversary. The fifth and final design was released on May 26.

Studio Chizu's past works have enjoyed great success both in Japan overseas and include Wolf Children (2012), The Boy and the Beast (2015), Mirai (2018), and the highly-anticipated forthcoming entry Belle (2021). All the films are directed by the Academy Award-nominated Mamoru Hosoda.

Mirai x tupera tupera

The past four t-shirt designs have included The Girl Who Leapt Through Time, Summer Wars, Wolf Children, andThe Boy and the Beast, each illustrated by a different popular artist. The fifth and final design is for Mirai which was drawn by tupera tupera and features Mirai, Kun, the mother, the father, and the pet dog Yukko.

Graniph posted an interview with tupera tupera on their YouTube channel which you can watch below in Japanese.

tupera tupera Interview

(C)2018 スタジオ地図
(C)STUDIO CHIZU