Japanese Organic Face Mask Sprays Ensure Your Mask Stays Smelling Fresh
Japanese company Global Product Planning released a collection of face mask sprays on February 10 which are made using naturally-derived ingredients.
The sprays are made for daily use and ensure any unpleasant odours on your mask are erased and replaced with a fruity fragrance.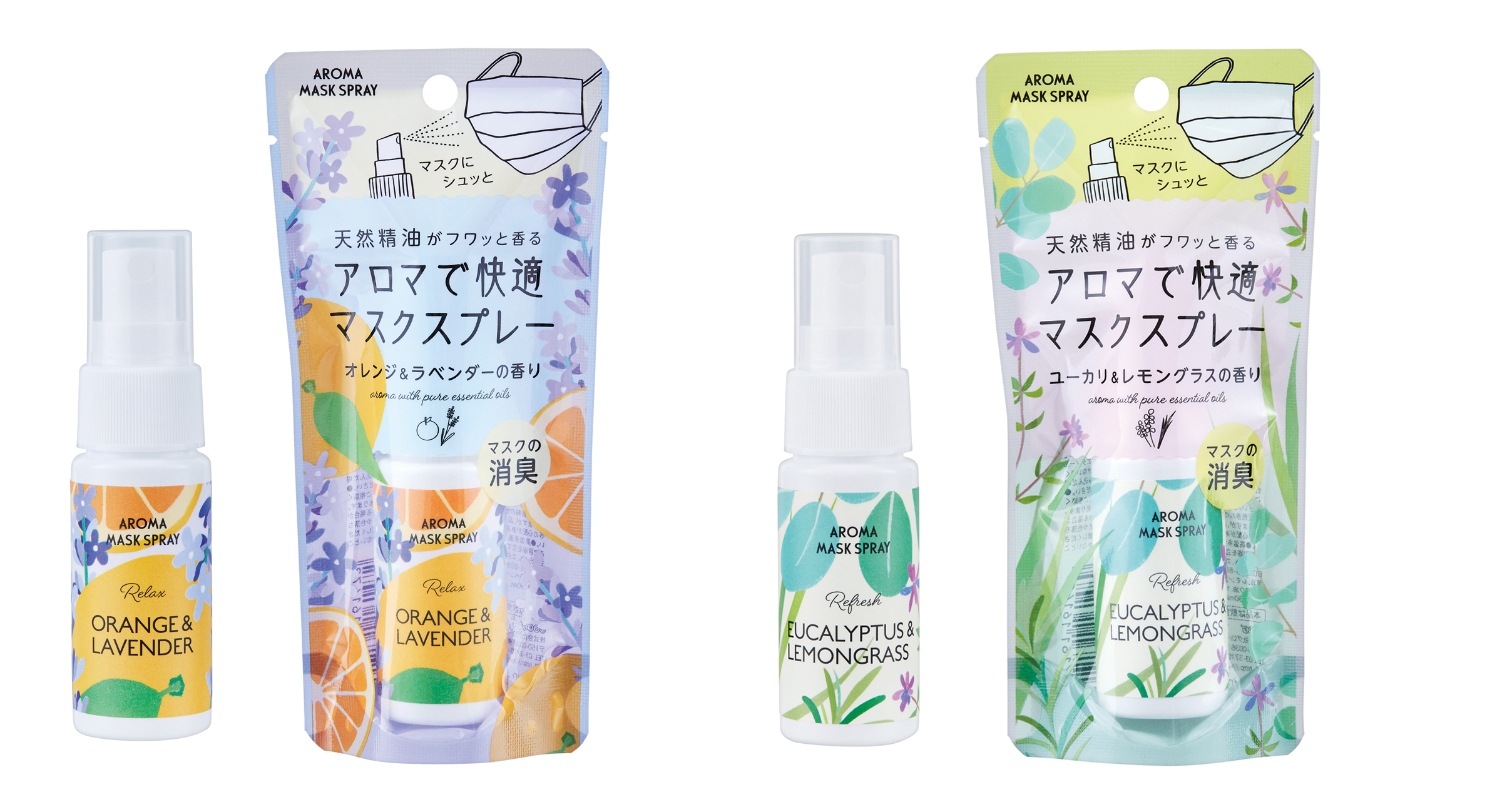 Left: Orange & Lavender / Right: Eucalyptus & Lemonrass – ¥980 (Before Tax)
Both fragrances are made with a mix of 100% natural essential oils and menthol, resulting in a refreshing finish.
Orange & Lavender: Orange Skin Extract, Lavender Oil, Menthol
Eucalyptus & Lemongrass: Eucalyptus Leaf Extract, Lemongrass Oil, Rosemary Leaf Oil, Menthol
And since these sprays are applied to an item that touches the skin, the fragrances are made with 99% naturally-derived ingredients.
How to Use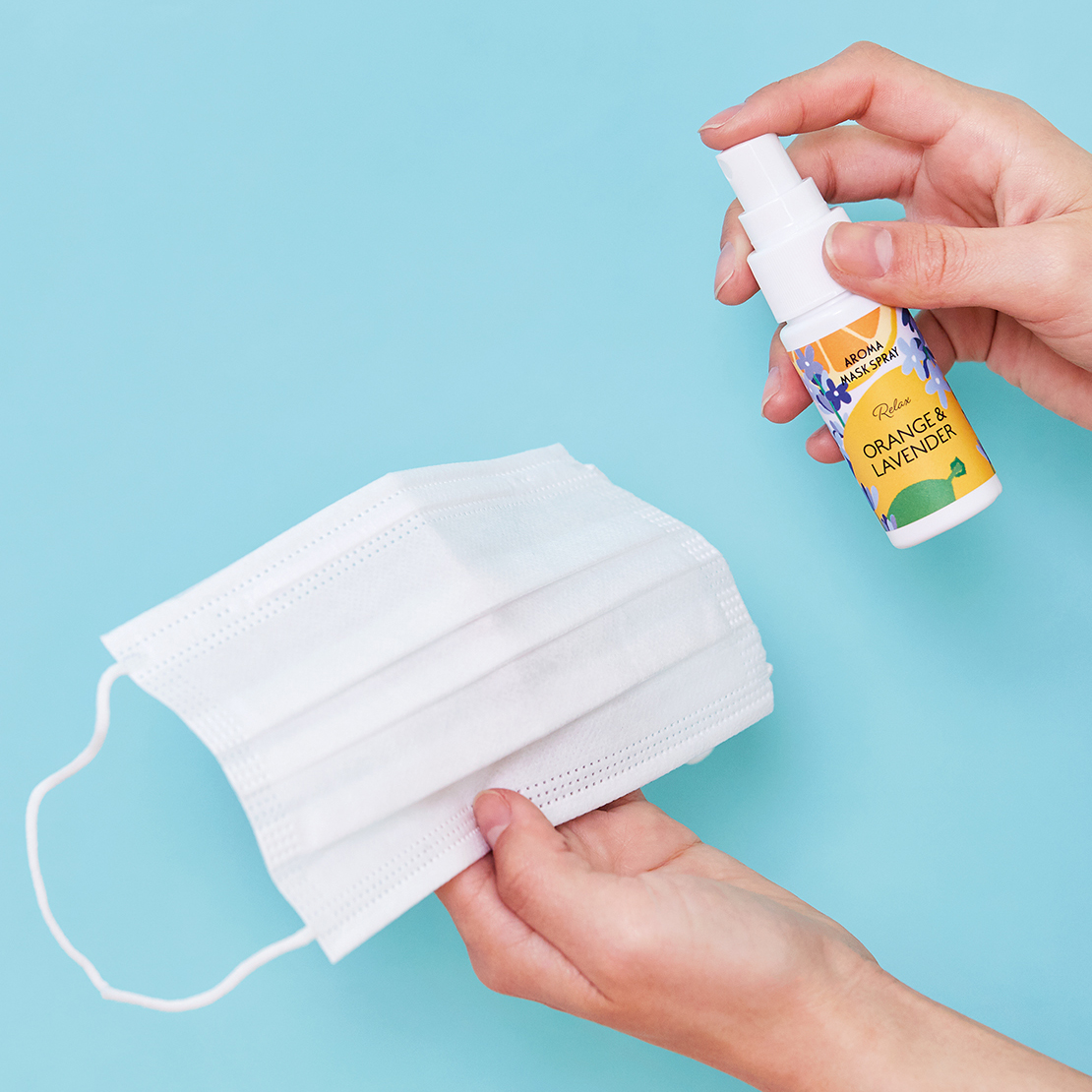 Spray 2-3 times onto the mask from a 10cm distance. After spraying, allow to dry, and you're ready to go.
RELATED ENTRIES
ROSE LABO Reveals Luxury No-Pesticide Rose Products

"Become beautiful, healthy, and happy with edible roses." That's the concept of ROSE LABO, a brand that promotes a beautiful lifestyle for women. The company has revealed two new makeup products, the Rose Booster Serum and Rose Barrier Lotion, both of which will have pre-sales at Isetan Shinjuku beginning on March 17, 2021.

The Line-Up

 

Rose Booster Serum | ¥4,950 (Tax Included)

 

The Rose Booster Serum is a skincare liquid made with edible roses that are grown without any pesticides by ROSE LABO. The serum is a mix of 20 high quality plant-based ingredients, extracts of 7 different plants, vitamin C, 5 ceramides, komenuka rice bran, and more, all of which lead to a beautiful finish on the face. It gently hones in on areas of the face that are affected by external factors and stress to support the skin's rhythm and have it bloom like a beautiful rose itself. You are left with a healthy complexion and shining gleam that is sure to have you double-taking in the mirror. Plus, you can enjoy the faint scent of rose to finish.

 

Rose Barrier Lotion | ¥3,080 (Tax Included)

The Rose Barrier Location is a face lotion also made with edible roses that are grown without any pesticides by ROSE LABO. It contains a mix of 10 ingredients such as rose water and rose extract. It hydrates and moisturises the skin while also protecting it, making it stronger, and more flexible. This product also has a faint rose scent.

If you're looking for organic, plant-based beauty products, then you won't want to miss ROSE LABO's line-up.

Information

ROSE LABO New Rose Products

Pre-Sale Release Date: March 17, 2021

Where: Isetan Shinjuku Floor B2F Beauty Apocathery

Address: 3-14-1 Shinjuku, SHinjuku-ku, Tokyo

Pre-Order Sign-Up: Opens on March 6, 2021 at midnight via ROSE LABO's official website. Products will be delivered to customers in order. Products will also release at other select stores.

ROSE LABO Official Website: https://www.roselabo.com/

Harajuku's New Cosmic Girl Cafe Serves Organic Drinks & Desserts

A new art cafe has opened in Harajuku based on Cosmic Girl, a character created by Barcelona-based artist Okokume.

All items on the menu are made with organic ingredients, and the colouring of the cakes are made with naturally derived colours from superfood meaning parents can rest assured their children won't be putting anything bad into their bodies.

The menu features a line-up of healthy treats including blue cupcakes made using spirulina, superfood beets and more.

Spirulina

Spirulina, which is used in the colouring of the food, is said to be one of the oldest life forms on earth. It contains over 50 healthy and nutritional minerals including amino acids, vitamins, unsaturated fatty acids, dietary fibres and more. Because of this it has been eaten as a food since ancient times.

The cafe also sells lots of Okokume merchandise, so be sure to stop by the next time you're in Harajuku.

Information

Cosmic Girl Cafe

Address: 1-9-6 Jingumae, Shibuya, Tokyo

Opening Hours: 11-00-19:00

No Fixed Holidays.

TEL: 03-6812-9306

Cosmic Girl Cafe Facebook Page: https://www.facebook.com/cosmicgirlcafe/

Travel Japan #4: Magic Items to Heal My Tired Skin and Body

After my stroll around Kyoto I head back to my hotel for a break and think back over my day. My curiosity is piqued – I want to know more about the history of this place.

Laid sprawled across my bed I picture myself walking through the city, the seasons changing, giving a sideways look at an elegant temple. The vivid cherry blossoms of spring, the cool riverbeds in summer, the autumnal orange hues, and the snow-beds of winter. All of these moments provide a spectacle that cannot be overlooked.

I feel that more wonderful things are still yet to occur. It's nighttime, and my mind wanders at these thoughts, so I can't sleep.

I take out the Kyoto guidebook from my baggage. I trace the path I traveled today in my head which vividly brings the sights I saw to my mind's eye.

I let my body sink gently into the bed and absorb myself in reading, checking all the nooks and crannies of the book.

This ancient city boasted by the island country of Japan, which I crossed the sky and sea to arrive at, is more wonderful than I expected. The orderly townscape makes me sit up and feel tense, in a good way.

My mind becomes clear. It feels as if I have been looking far into the distance for a long time.

"I feel the path I am heading for is beyond that beautiful landscape."

My heart beats fast at that hope.

I walked a lot today, so I give myself a treat.

I bask in the aromas of the cool sheets I place on my legs and heal my body to the core.

I add to that a touch of permeating organic oil that's both moist and gentle on the skin. When my skin is happy my heart too benefits.

The night is still young. I enjoy some me-time with my makeup-less skin and heart. Resting like this is another important part of travel.

I flick through the guidebook over and over again and visualise the routes of the places I want to visit. A magic-imbued miracle occurs and I feel this room directly connecting to the places I wish to go to.

Afterwards I enjoy a late-night retro movie. I am sure my coming to love alone-time is thanks to this trip. I also feel I have become a little stronger than I was. I try praising myself as my heart throbs at my favourite scenes which I watch over and over.

Model / Mala Morgan

Give your tired body the luxury time it deserves

TOPVALU Leg & Calf Adhesive Cooling Sheet


¥460 (Before Tax) / ¥496 (Tax Included) – 18 Sheets (14cm x 10cm)

On days where my legs become swollen from walking I like to massage my legs in the bath. I then use ÆON TOPVALU's calf sheets which refresh my legs with the power of their aroma and give them care for the next day. I step into a new world with this body.

TOPVALU GURINAI Organic  geo organics Moisturizing Lotion
¥1,800 (Before Tax) / ¥1,944 (Tax Included) – 150ml

TOPVALU GURINAI Organic geo organics Pure Oil Macadamia
¥1,800 (Before Tax) / ¥1,944 (Tax Included) – 27ml


This Geo Organics certified skin location uses orange fruit extract as its base which moisturises and is astringent. It steadily permeates the skin and leaves it glowing. I use it together with the organic certified Pure Oil Macadamia. It maintains a balance of normal bacterial flora of the skin and contains lots of palmitoleic acid which is said to enhance barrier function. The power of the macadamia nuts also grants lively skin. I don't want to mess up tending to my skin even when traveling.

We are handing out coupons for the products mentioned here. Be sure to use them the next time you visit ÆON for great discounts.

🎁 5% Coupon:https://www.welcome-aeon.com/coupon/web_coupon.html

ÆON Store Search: https://www.welcome-aeon.com/storesearch/index.html

Information

About ÆON Group

ÆON Group is a retail corporate group based in Japan that has established 21,742 branches (as of February 2018) in 13 countries across Asia.

Its private brand TOPVALU sells high-quality products at an affordable price. The TOPVALU GURINAI range for example stocks a myriad of products crafted with the utmost care through various production techniques, and of the ingredients used only the best are selected.

The GURINAI range is divided into three parts that give customers the opportunity to easily purchase organic products and ingredients. 'TOPVALU GURINAI Organic' offers organic foodstuffs marked with the official organic stamp of approval. 'TOPVALU GURINAI NATURAL' provides fresh meat that, as a general rule, is farmed using no chemicals. 'TOPVALU GURINAI free from' stocks processed foods with additives, raw materials and ingredients taken into strict consideration.

ÆON Group Private Brand TOPVALU: https://www.topvalu.net (Japanese only)

Travel Japan #1: An Organic Morning Welcomes Me to Kyoto

Passing over the crystal blue ocean and through the snowy white clouds, I finally arrived in the country I had longed to visit.

The destination I chose is a town in located in the west of Japan, one steeped in history. The first morning to welcome me in Kyoto came through the steam of my mug which rose beautifully, almost transparent. It all appeared mysterious. Just what was I going to discover on this trip?

This is the story of one girl who came to visit Japan from her home country.

The morning coffee I will drink in my hotel room is like a good luck charm. It's a requisite ritual of all my mornings, something that gives me a bit of courage.

"I hope today is like no other."

Whispering this quietly to myself, I pour the hot water into the filter.

As the water slowly drips I smell the rich notes of the coffee.

The heat from the mug warms me up from the inside like a gentle caress.

Right now, in this moment, I want to tear the view outside the window and put it in my coat pocket.

I sip my coffee as I feel gratitude for the beautiful morning and anticipate the adventure that is about to begin.

The light, the warmth and the smell. Just quietly admiring this scene – that's my morning ritual.

"I have to get going already," I murmur. I look to myself in the future a little.

I wear a small handbag with my mint coloured coat. Let's put this morning scene in one of them, because it was a fitting and refreshing start to the start of my trip.

I swing my eyes to the view outside the window once more and leave my room.

"I feel that I'll have become a different me when I return to this room."

Model: Mala Morgan

These are the organic items for my morning in Japan.

TOPVALU GURINAI – Organic Original Blend Drip Coffee:¥298 (Before Tax) /¥321 (Tax Included) 64g(8g×8count)

The green items sold by AEON's private brand TOPVALU are good for both me as well as the environment. Organic drinks are like good luck charms that make your body healthy and beautiful from the inside. This organic drip coffee has a full-bodied flavour, and it's easy to make, making it perfect for mornings when travelling.

TOPVALU ORGANIC ORANGE 100 – 100% Straight Organic Orange Juice:¥298 (Before Tax) /¥321 (Tax Included) 750ml

If my body craves fruit the moment I wake up, I sometimes go for orange juice. The refreshing sour taste of 100% organic orange juice makes me feel a little indulgent. Organic oranges that have been squeezed within 24 hours of picking are rich and very delicious.

We are handing out coupons for the products mentioned here. Be sure to use them the next time you visit ÆON for great discounts.

🎁 5% Coupon:
https://www.welcome-aeon.com/coupon/web_coupon.html

ÆON Store Search: https://www.welcome-aeon.com/storesearch/index.html

Information

About ÆON Group

ÆON Group is a retail corporate group based in Japan that has established 21,742 branches (as of February 2018) in 13 countries across Asia.

Its private brand TOPVALU sells high-quality products at an affordable price. The TOPVALU GURINAI range for example stocks a myriad of products crafted with the utmost care through various production techniques, and of the ingredients used only the best are selected.

The GURINAI range is divided into three parts that give customers the opportunity to easily purchase organic products and ingredients. 'TOPVALU GURINAI Organic' offers organic foodstuffs marked with the official organic stamp of approval. 'TOPVALU GURINAI NATURAL' provides fresh meat that, as a general rule, is farmed using no chemicals. 'TOPVALU GURINAI free from' stocks processed foods with additives, raw materials and ingredients taken into strict consideration.

ÆON Group Private Brand TOPVALU: https://www.topvalu.net (Japanese only)