BEAMS JAPAN x Fukushima Prefecture's Fukushima Mono Mappu Project Heads to Kyoto
Fukushima Mono Mappu, a project run in collaboration with BEAMS JAPAN and Fukushima Prefecture, has set up to shop in Kyoto for the first time at BEAMS JAPAN KYOTO where their line-up of products will be available for purchase until March 14.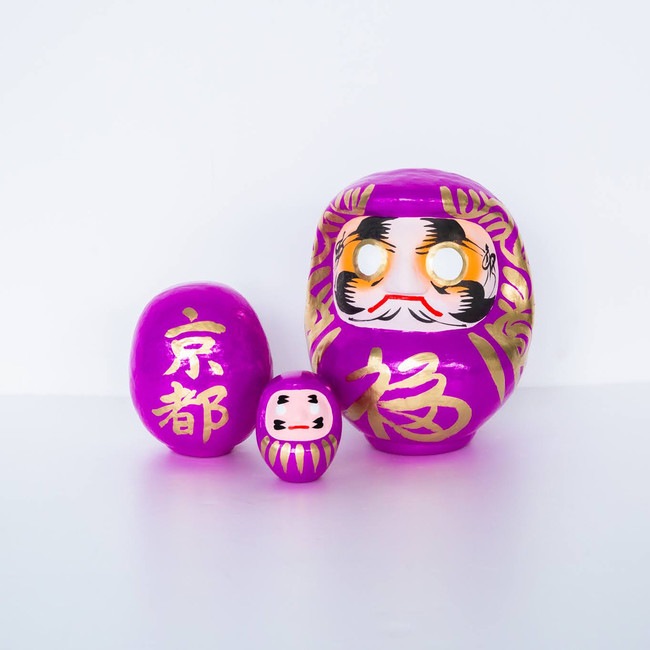 Shirakawa Daruma BEAMS JAPAN KYOTO Exclusive Model (Purple) | Small ¥900, Medium ¥1,800, Large ¥4,500 (Before Tax)
The Fukushima Mono Mappu project launched in January 2018 as a way to promote Japan's prefecture of Fukushima across the country. The collaborative project has released many different items, and now the people of Kyoto will be able to enjoy what the prefecture has to offer. To celebrate its first time in Kyoto, BEAMS JAPAN KYOTO will also be selling an exclusive purple daruma.
Information
Fukushima Mono Mappu – Peko Taro's City Trip 
Japanese Event Title: ふくしまものまっぷ べこ太郎の都旅
Running: February 17, 2021 – March 14, 2021
Location: BEAMS JAPAN KYOTO
Opening Hours: 11:00-20:00
Address: Shinpuhkan, 586-2 Banocho, Nakagyo Ward, Kyoto, 604-8172
TEL: 075-708-6848
Official Website: https://www.beams.co.jp
RELATED ENTRIES
Kyoto Tower Hotel Celebrates 110th Anniversary of Randen Tramway Service With Special Hotel Plan

In commemoration of the Randen tramway service's 110th anniversary, Kyoto Tower Hotel introduced an exclusive new one-night hotel plan on Friday at one of its rooms. The Kyoto Tower Hotel Train Room is a themed guest room experience and celebration of Randen's long history.

A look at the Randen Kitano Line

Randen tram photos decorate the guest room

Old train tickets and platform signs

A tatami area, train handles, and train priority seat

Randen Train Room souvenirs for guests

Randen was founded in 1910 and remains the only tramline in Kyoto. It's part of Keifuku Electric Railroad and runs from Shijo-Omiya to Arashiyama. The Randen Train Room is a trainspotter and train otaku's paradise. Inside, guests will find historical photos of trams that have run as part of the Randen service, as well as other train-related motifs like a Randen priority seat chair, carriage handles, and more. There's also a little tatami seating area which is perfect for sitting on and planning your next day's trip, putting out souvenirs you've picked up, or just relaxing. Guests can also watch a DVD on the TV that looks at footage of Randen trains, and even listen to a CD that has train sounds on it.

Information

Randen Train Room

Location: Kyoto Tower Hotel (Room 820)

Running: June 11, 2021 – June 10, 2022

Ace Hotel Kyoto Commemorates 1st Anniversary With Yu Nagaba Exhibition

Ace Hotel Kyoto marked its 1st anniversary on June 11 since opening. In celebration of hitting the milestone, the hotel is collaborating with Japanese artist Yu Nagaba by displaying his work at its gallery until June 30. The works displayed are of the sights and people that Nagaba saw and penned in a memo pad while staying at Ace Hotel Kyoto. All of the illustrations were made for this exhibition and so they are being exhibited for the first time. One of the pieces is also being sold at stickers in the hotel's shop.

Yu Nagaba's work

Yu Nagaba | Comment

"After I heard whispers that Ace Hotel was setting up in Kyoto, I hoped I could do something, so I was happy to take part in this project, but I also spent my time wondering what I could draw, and no ideas came to mind. After pondering I went to find inspiration by deciding to stay at Ace Hotel. I drew what came to mind during my time there as I walked the streets of Kyoto and spent time at the hotel. I drew a total of 49 illustrations in my memo pad. I painted six of my favourites on canvas. I hope people can get a feel for my experiences of Kyoto in these pieces."

Information

Ace Hotel Kyoto x Yu Nagaba

Running: June 7, 2021 – June 30, 2021

Location: Ace Hotel Kyoto (Floor 1F Gallery Space)

Entry: Free
Official Website: https://www.acehotel.com/kyoto/

BEAMS Showcase Their Historical Fashion Archive at The National Art Center in Tokyo

BEAMS is celebrating its 45th anniversary this year. At such an important milestone, it's important to take a look back at where the brand has come from, and so BEAMS is taking part in the Fashion in Japan 1945-2020 exhibition that opened at The National Art Center, Tokyo, last Wednesday. Followers of the Japanese fashion are able to see their early products when they first opened in the late 1970's to their Shibuya Casual style, known as Shibu-Kaji, from the late 80's. It's an historical, nostalgic throwback across their archive. Exclusive merchandise is also being sold featuring the 'American Life Shop BEAMS' logo which they branded upon establishing the brand.

A look at just some of the exhibits on display

BEAMS shopping bag from 1977

Shibu-Kaji outfit from late 1980's

Exhibition-exclusive souvenir merch inspired by vintage BEAMS

This exhibition follows the unique trajectory of Japanese clothing, especially in post-World War Ⅱ Japan, as seen from both sides: that of designers who transmit culture by creating clothes and ideas, and that of users who receive it by wearing the clothes and at times create era-defining grassroots fashion movements. It offers a comprehensive overview that references the predominant media of each era, such as newspapers, magazines, and advertisements.

In the mid to late 1970's, BEAMS was at the forefront of spreading casual wear to people, stocking some of the country's most notable brands and designers. BEAMS opened its first store in Harajuku in 1976 where it sold shirts, shoes, and other items. In 1977 they introduced their own shopping bag, and the following year opened up their first BEAMS F selling traditional men's style clothing. It was around this time that beams released their POPEYE magazine too. All of this and more is explore at the exhibition along with commentary.

A talk event titled "Lifestyle Tips: POPEYE & BEAMS" will also take place on July 3 at the museum.

Information

Fashion in Japan 1945-2020
Running: June 9, 2021 – September 6, 2021

Venue: The National Art Center, Tokyo

Address: 7-22-2 Roppongi, Minato-ku, Tokyo
TEL: 03-5777-8600
Opening Hours: 10:00-18:00 (Until 20:00 on Fridays and Saturdays)

*Last entries 30 minutes before closure

*Exhibition content subject to change
Official Website: https://www.nact.jp/english/exhibitions/2020/fij2020/


Talk Event
Title: Lifestyle Tips: POPEYE & BEAMS
Date: July 3, 2021

Time: 14:00-15:30
Venue: The National Art Center, Tokyo

Experience a Bath Like Never Before in a Luxurious Private Space at Yadoru KYOTO HANARE

Yadoru KYOTO HANARE is a hotel in Kyoto that blends seamlessly into the town, offering a stay experience that's like living there. For guests who use their baths, they have introduced a new selection of five ingredients to be put into the bath like bath salts. Each comes with a different effect, enhancing your bathing experience beyond getting clean.

Yadoru KYOTO HANARE is continuing to enforce precautions against the spread of COVID-19 so guests can enjoy getting away from home to relax and unwind safely. The hotel has and continues to enjoy many guests during this time who are seeking out some healing. One of the biggest selling points for guests is the hotel's bathing experience. With that in mind, they have set up the Yadoru YUAMI service which allows guests to try a variety of bathing products made by local Kyoto businesses.

'Yuami' is an old Japanese expression for getting in the bath. The word 'yadoru' in the hotel's name is also an old phrase meaning 'to stay at a lodging on your travels.' Yadoru KYOTO HANARE is wanting to have its site feel even more like a traditional Kyoto townhouse for guests to experience, so they are now using the word 'YUAMI' as part of their services.

With Yadoru YUAMI, guests can pick from five different bath products, each wrapped in pouches. Each offers a completely different bathing experience with different benefits and fragrances.

1. Sake Lees

Sake lees from Kyoto's long-standing and historical sake brewery Sasaki Shuzou. Massage the lees in the bathtub while they are still in the pouch to create a milky white water that fills the bathroom with the fragrant smell of sake lees. The ingredients in the lees have a moisturising effect, improve blood circulation, and leave skin looking beautiful.

2. Gyokuro Green Tea

The Kyoto Distillery stands as Japan's first establishment specialising in gin. One of their gins is called Ki no Bi, a Japanese craft gin. Its smell and taste is the result of a combination of 11 kinds of botanical products including gyokuro green tea, junpier berry, and hinoki cypress, all of which are featured individually on this list. Gyokuro is a type of high-grade Japanese green tea and contains theanine which stimulates relaxing, making it perfect for unwinding after a long day.

3. Juniper Berry

Juniper berry is an indispensable ingredient in making craft gin. This bathing product is made with the type that's actually used in making Ki no Bi craft gin. When submerged in the water, the air is filled with the woody, relaxing, and inviting scent of gin.

4. Hinoki Cypress

This bathing powder is also made with the same hinoki cypress used in Ki no Bi which, when put in the water, emits the smells of a forest. Hinoki cypress contains phytoncide which has a relaxation effect, calming the autonomic nervous system and blood pressure.

5. Matcha

Matcha is the quintessential flavour of Kyoto. Guests who check in at Yadoru KYOTO HANARE are offered a cup. They can also bathe in it with Yadoru YUAMI.

Information

Yadoru YUAMI

Release Date: June 1, 2021

Price: ¥1,000 (Before Tax)

Location: Yadoru KYOTO HANARE (Participating Branches: Washi no Yado/Kanade no Yado/Mizunoe no Yado/Roji no Yado)


Book by Telephone: 03-4510-8671
Book by E-mail: kyoto@yadoru.me

*Exclusive to Yadoru KYOTO HANARE guests

These Disney Ceramic Teacups and Plates Are Traditional Kiyomizu Wares From Kyoto

Asahido is now selling a collection of Disney-inspired ceramics made using a traditional Japanese pottery technique known as Kiyomizu which originated in Kyoto.

Winnie the Pooh Hundred Acre Wood Teacup

This collection of teacups features hand drawn designs of Winnie the Pooh and his friends relaxing in their home of the Hundred Acre Wood. They are dyed indigo using a traditional dyeing technique known as gosu which makes the colour run deep into the design. There are cups to pick from, one big and one small and both with different designs. More details here (in Japanese).

Mickey & Minnie Traditional Dyed Pattern Mugs

These smiley teacups are made using the same dyeing technique and feature Mickey and Minnie made from collages of traditional Japanese patterns that have long been used in Kyoto.

Disney Princess Plates

Seven Disney Princesses have been feauted in this hand-painted Kiyomizu ware plate collection, all of which are lined with gorgeous colours including gold. They make for beautiful decorations for any Disney fan's room.

Mickey & Minnie Kiyomizu Dolls

"Rakuyaki" is the name of the hand-mouldered pottery technique used to crafts these Mickey and Minnie Mouse dolls, one which has been used since the Taisho Period. Compared to the other ceramics on this list, these dolls are baked at a lower temperature, giving the colours a softer look. Red and black are classic colour combinations used in this technique, so Mickey and Minnie were the perfect candidates. Only 100 of each will be sold.

The Promised Neverland x Hotel Keihan Room Plan Collaboration Begins

Hotel Keihan launched a new guest room plan in collaboration with the anime series The Promised Neverland at its Tokyo, Kyoto, Osaka, Nagoya, Sendai, and Sapporo branches on Tuesday. It also released a collection of exclusive merchandise which can be bought at each hotel's front desk.

Guest Rooms

Exclusive Merch Line-Up

Pins | ¥550 Each (Tax Included)

Key Rings | ¥550 Each (Tax Included)

Lobby display

The hotel plan was originally scheduled to take place for three months but has been extended by a further month to accommodate for travel restrictions as well as guest demand. New prices have also been introduced to make it more accessible to people. Fans of the anime series can get their hands on a range of items not available anywhere else too including pins, key rings, folders, and more.

The hotel room designs are inspired by both seasons of The Promised Neverland and come with life-size panels, wall decorations, and more, so fans can look forward to getting sucked into the world of the anime series.

(C)白井カイウ・出水ぽすか/集英社・約束のネバーランド製作委員会

Michelin Star Restaurant and Sushi Bar in Kyoto Get Added to Hometown Tax Service

Furunavi, a Japanese website that offers the hometown tax service, has added two restaurants in Kyoto to its listings. Hometown tax allows taxpayers to donate to any municipality and receive tax cuts.

Due to COVID-19, the number of tourists and travellers in Kyoto has meant that major tourist sites and restaurants have seen a lack of visitors. In response to this, Furunavi is collaborating with Kyoto City using its 'Furunavi Gourment Point' scheme that lets people dine at restaurants and eateries in the city while enjoying tax deductions.

Kikunoi Roan and Sushi Rakumi are two restaurants that have been added to Furunavi's service.

Kyoto x Kikunoi Roan

Kikunoi Roan is a Michelin two-star restaurant located just a little down from Shijo-dori and Kiyamachi-dori by the business district of Takase River. When stepping through the noren entrance curtain of the concrete building, you're met with a quiet tranquility that makes you forget you're even in the big bustling city. The restaurant's counter seats are popular as you get to watch the chefs prepare the food before you. It's a compact space that brings customers close together. More details on Furunavi here.

Kyoto x Sushi Rakumi

Sushi Rakumi is a Michelin one-star sushi restaurant situated beside Shirakawa River. This counter-style sushi bar seats just eight people at a time. The chefs are skilled in many different forms of sushi making, all of which capture the delicious taste of Kyoto cuisine. The sushi toppings are all sourced from Kyoto, Toyosu, and Yaizu. Enjoy a unique selection of innovative sushi courses. More details on Furunavi here.

Information

Furunavi x Kyoto Restaurants

Kikunoi Roan

Address: 118 Saitocho Kiyamachidori 4-Jo Sagaru, Shimogyo-Ku, Kyoto 600-8012 Kyoto Prefecture

Sushi Rakumi

Address: 332-6 Miyoshichō, Higashiyama Ward, Kyoto, 605-0081

Furunavi Official Website: https://furunavi.jp/

Kyoto's Ace Hotel Celebrates 1 Year Anniversary With Special Hotel Plan

Ace Hotel Kyoto will commemorate its first anniversary on June 11, 2021. The hotel opened on the site of the historical former Kami Branch of the Kyoto Central Telephone Office which was completely renovated and refurbished. The hotel takes on an 'East Meets West' theme with elements of art and culture found throughout. As part of the celebration, the 98-year-old Samiro Yukino, a dyer and the man responsible for creating the hotel's logo, has made sign posters and will display 242 photos from his immense collection of 17,000 photographs he has taken over the years in 10 guest rooms as part of the special hotel plan.

Ace Hotel Kyoto Tatami Suite

Ace Hotel Kyoto Standard Twin

Samiro Yunoki

Ace Hotel displays works of art from artists from both Japan and abroad all around the building, from the hotel's iconic logo to dye work, paintings decorating the guest rooms, eye-catching tapestries, and more. Despite the pandemic which began last year, Ace Hotel has enjoyed many guests staying there. In celebrating of their first anniversary, they are releasing offering their 'We Are One' package for guests booking Suite rooms.

Ace Hotel ranked No. 9 in the 'Most Popular New Hotels' in TripAdvisor's 2021 Traveller's Choice Best of the Best Hotels. It was also the only Japanese hotel to rank in the list.

Information

Special Hotel Package – "We Are One"

Location: Ace Hotel Kyoto

Start Date: June 11, 2021

Guest Rooms: Exclusive to just 10 rooms

Booking/Details Here: https://www.acehotel.com/kyoto/

The Taiwanese castella cake shop Pong Pong and Japanese bubble tea brand Mottram teamed up to release their new 'Pong Pong on the Mottram Milk' beverage at the Kawaramachi branch of Pong Pong in Kyoto on Tuesday.

Pong Pong is a shop specialising in the Taiwanese-style of castella, a type of cake originating from Japan. It has stores at Osaka Namba, Kobe Sannomiya, Osaka Kuzuha Mall, and Kyoto Kawaramachi. The castella are made fresh, are fluffy like a cloud, and never fail to sell out.

The castella are made with lots of meringue and are airy. They are cooked slowly for 90-minutes and have a rich eggy flavour with a fluffiness akin to a chiffon cake.

Pong Pong x Mottram's Menu


Pong Pong on the Mottram Milk | ¥860 Each (Tax Included)

The store is limiting the Pong Pong on the Mottram Milk to just 50 servings per day. There are two types: one made with brown sugar milk and another with Uji matcha milk.

Machi Bura Pong Pong (Plain) | ¥400 (Tax Included)





Machi Bura Pong Pong (Matcha) | ¥450 (Tax Included)

The Machi Bura Pong Pong are perfect for snacking on while strolling around Kyoto.

May and June exclusive Pong Pong


Matcha White Chocolate Pong Pong | ¥860 (Tax Included)

Cooked slowly for 90 minutes with specially-selected matcha and white chocolate for a tasty and fluffy finish.

Fuwa Shuwa Taiwan Castella Pong Pong | ¥700 (Tax Included)

A large-size plain castella baked slowly for 90 minutes. Hot, fluffy, and kids will love it too.

 

Moko Shuwa Cream Castella – Fresh Cream Pong Pong | ¥860 (Tax Included)

This one is stuffed with smooth fresh cream to create a different kind of castella experience.

If you're in Kyoto, be sure to visit Pong Pong in Kawaramachi to try the 'Pong Pong on the Mottram Milk' collab beverage.

Information

Pong Pong on the Mottram Milk

Released: May 18, 2021

Where: Taiwan Castella Pong Pong Kawaramachi Sanjo (Limited to 50 Per Day)

Address: 33 Daikokuchō, Nakagyo Ward, Kyoto, 604-8031, Japan

Opening Hours: 11:00-21:00 

No Fixed Holidays

Pong Pong Official Instagram: https://www.instagram.com/pongpong_of/

Kate Spade New York x BEAMS Reveal Sustainable Capsule Collection

BEAMS COUTURE, an upcycle and handmade fashion label by BEAMS, is set to collaborate with Kate Spade New York to release a limited-edition capsule collection on May 27, 2021

Kate Spade New York × BEAMS COUTURE

The Line-Up

cherry tote | ¥80,300


bella plaid tote | ¥80,300

american plaid tote | ¥99,000

cherry small pouch wristlet | ¥49,500 – american plaid small pouch wristlet | ¥66,000 – bella plaid small pouch wristlet | ¥49,500

furoshiki clutch | ¥16,500

patchwork dress | ¥110,000

The collection was conceived by BEAMS COUTURE designer Romi Mizukami who wanted to decrease the amount of fabric waste by creating something sustainable and long-lasting like quilts. It includes a tote bag, bath bag, pouch, and dress, each inspired by American quilts. The items feature assorted deadstock print and incorporate elements of Japanese tradition.





The collection is a display of Japanese craftsmanship, combining embroidery, wasou Japanese clothing, and other techniques to create a wholly unique capsule collection. Those interested can purchase the line-up from select BEAMS JAPAN branches, Kate Spade New York stores, and online, in Japan. The collection is also available outside Japan at Kate Spade New York branches in the US and the brand's US online store.

 

Don't miss out on this sustainable Japanese ensemble by Kate Spade New York and BEAMS COUTURE.

Information

Kate Spade New York x BEAMS COUTURE

Release Date: May 27, 2021 @ 11:00am (JST)

Buy in Japan

BEAMS JAPAN: BEAMS JAPAN, BEAMS JAPAN Shibuya, BEAMS JAPAN Kyoto

Online: https://www.beams.co.jp

Kate Spade New York: Ginza, Ginza Mitsukoshi, Roppongi, Lumine Shinjuku, Seibu-Ikebukuro, Isetan Niigata, JR Nagoya Takashimaya, Nagoya Midland Square, Namba Parks, Iwateya)

Online: https://www.katespade.jp/contents/sp_beams.html

*Pre-orders opened May 12, 2021

Buy in US

Kate Spade New York stores

Kate Spade New York Online: https://www.katespade.com

Parfait Inspired by Kyoto Zen Garden Arrives at AMAN KYOTO

The Kyoto-based luxury resort and spa AMAN KYOTO is now serving a special parfait for spring and early summer until June 30 which is inspired by traditional Japanese zen gardens.

Zen Garden Parfait

The Living Pavilion by Aman

Situated quietly in a secret garden at the heart of a forest, AMAN KYOTO is just a stone's throw from Kyoto's famous golden Kinkaku-ji Temple. This secluded spot is home to abundant nature with green filling your vision at every turn.

The Zen Garden Parfait is enjoyed at the resort's dining space, The Living Pavilion. The sponge of the cake and the cookies are made with matcha and made to look like the moss of a zen garden. The delicious 'stones' are made from houjicha tea cookies, while the crunchy cocoa-flavoured cat tongue biscuits are reminiscent of trees. White chocolate sits hidden underneath the garden panna cotta while fragrant matcha tiramisu, which is made from organic matcha from Uji, helps to complete that garden look. Other sweet additions include rich matcha cream, a nine-layered tiramisu, yuzu ice cream, yuzu jam, and more.



The parfait is served in an original matcha bowl made by Japanese ceramics artist George Nakamura.

Information

Zen Garden Parfait
Available: Until June 30, 2021
Price: ¥5,300 (Tax Included)
TEL: 075-496-1335 (9:00-18:00)
Book Online: https://www.aman.com/ja-jp/resorts/aman-kyoto/dining/living-pavilion-aman
*Bookings required

*Limited number of parfaits per day

*Parfait available as an additional dessert with lunch, dinner, and afternoon tea courses

*Those ordering the parfait on its own as a visitor must book for 3:00pm or 3:30pm

Hydrangea Matcha Parfait Gets Served For Spring at Kyoto Tea Shop

Japanese Uji tea shop Itohkyuemon broughr back its seasonal Hydrangea Parfait to the menu at three of its stores last Monday.

Hydrangea Parfait

Hydrangea Tea Party

Kyoto's city of Uji, where Itohkyuemon's main branch is based, is home to Mimuroto Temple which is famous for its hydrangea flowers. The temple always bustles during the springtime rainy season. It's around this time that people can be waiting up to 3 hours for a seat at Itohkyuemon. Their Hydrangea Parfait is their most popular parfait, never failing to create a buzz on Japanese social media. It contains hydrangea-flavoured mashed sweet potato, hydrangea jelly, leaf-shaped matcha cookies, blueberries, and more, all capturing the swaying hydrangeas during the downpour of the rainy season. They are limited in stock and are not re-added to the menu until the following year once they run out.

Customers can order the parfait on its own, with a cup of tea, or with both tea and warabimochi. The tea set and tea party versions come with a free hydrangea coaster.