Cute and Colourful T-Shirt Collection by AEON Collaborates With Popular Brands
AEON has revealed a collection of 31 T-shirts that will be released via their casual fashion brand Doublefocus in collaboration with popular brands in Japan at 300 AEON and AEON Style stores across Japan on Friday (February 19).
Doublefocus Collaborative T-Shirt Collection
The pandemic forcing many people to stay at home has seen an increase in demand in Japan for more casual clothes and loungewear. Doublefocus, a casual fashion brand managed by AEON, has been collaborating with food companies, stationery makers, and other businesses since 2016. It has collaborated with over 100 brands to date and has seen much popularity from its fun and colourful line-up of T-shirts.
Doublefocus is now releasing a new collection of unisex T-shirts in six sizes, from SS to 3L, featuring iconic logos from famous brands in Japan. Let's take a look.
The Line-Up
Releasing Late March 2021
 Country Ma'am / Nectar / Milky / LOOK – ¥880 Each (Before Tax)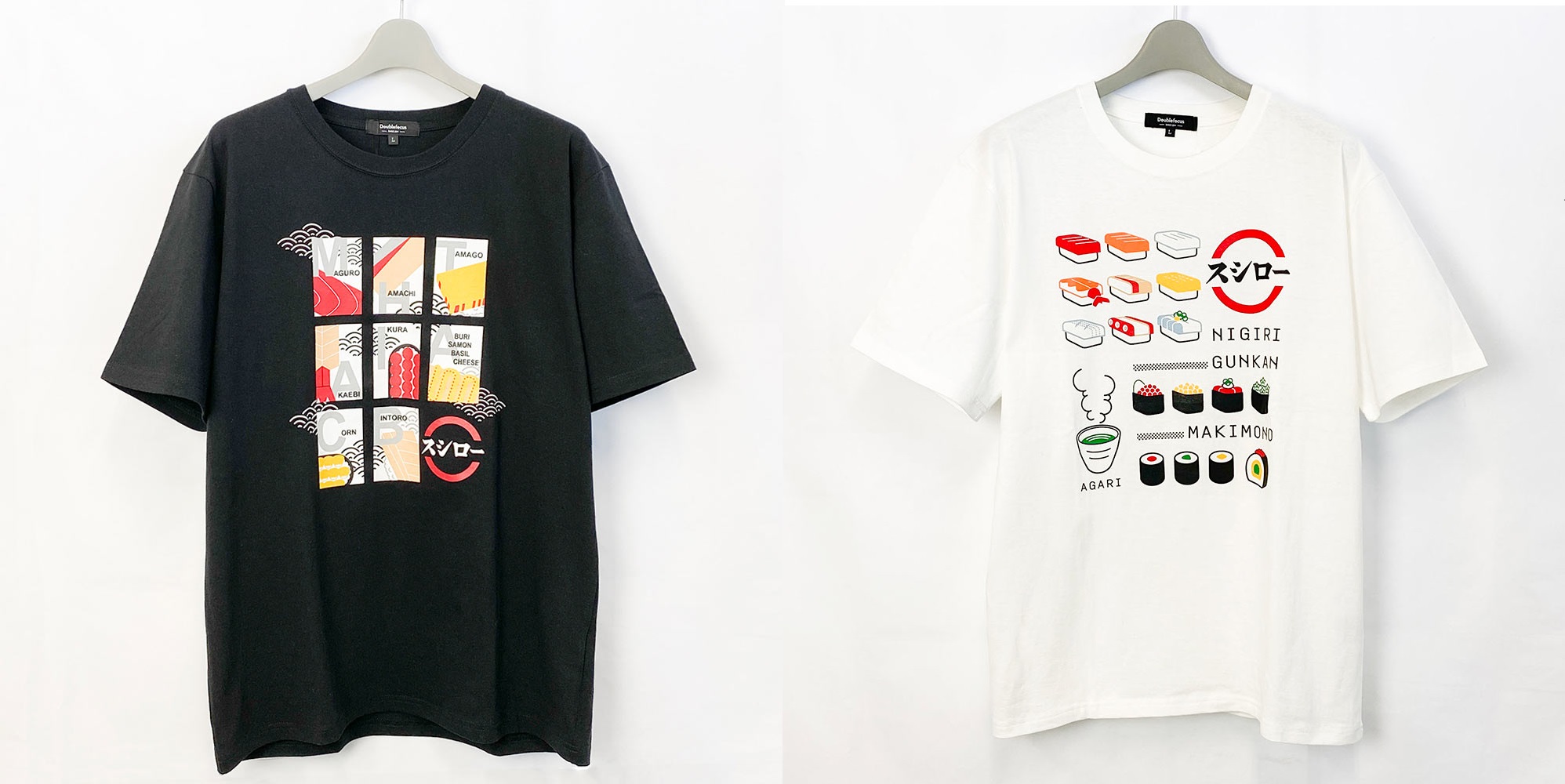 Sushiro A / Sushiro B – ¥880 Each (Before Tax)
Lotteria Shrimp Burger / Lotteria Zeppin Ultimate Cheeseburger – ¥880 Each (Before Tax)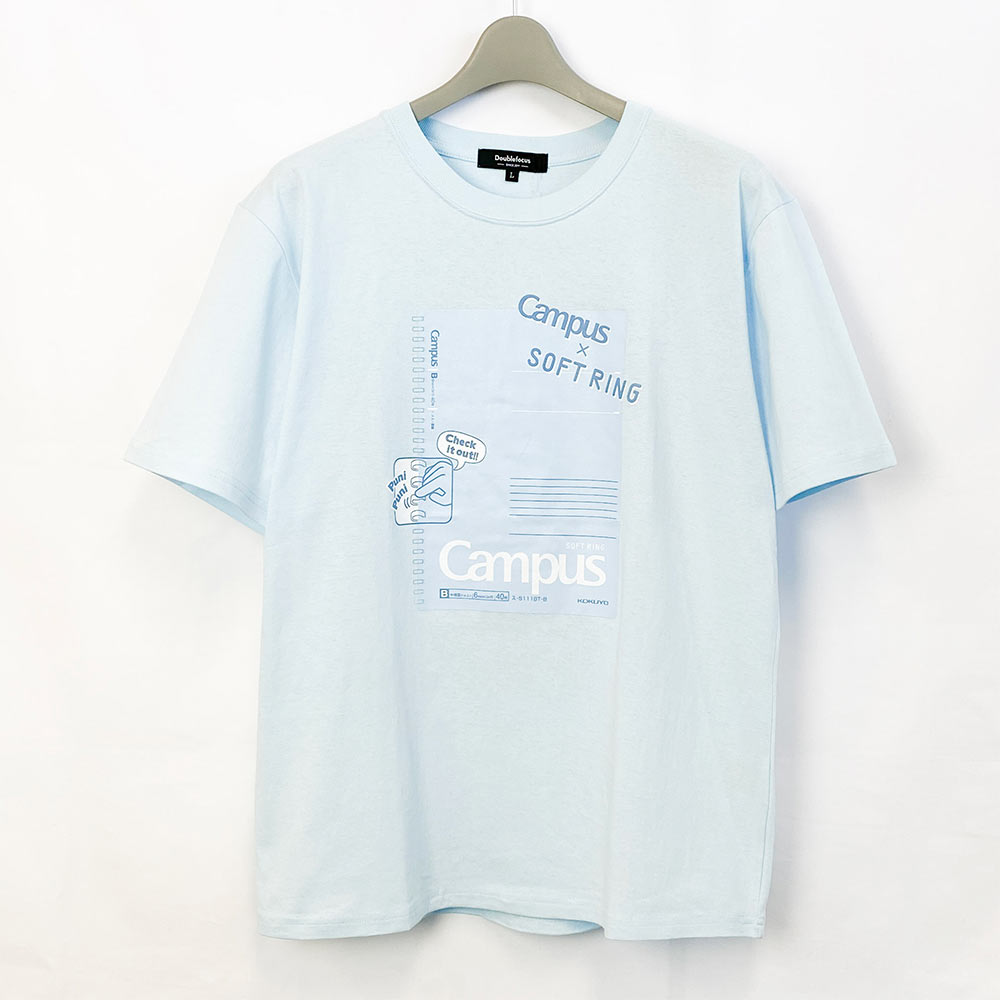 Campus x Soft Ring Notebook – ¥880 Each (Before Tax)
Coupy Pencil / Craypas – ¥880 Each (Before Tax)
This is just a select look at the diverse line-up of fun T-shirts to be released. Check out the links below for the full list.
RELATED ENTRIES
Demon Slayer: Kimetsu no Yaiba T-Shirt Collection Releases at Animo

Japanese anime and manga merch website Animo is selling a limited-edition collection of t-shirts based on the characters from Demon Slayer: Kimetsu no Yaiba. The line-up of six tees is available to buy until July 22.

Tanjiro Kamado Long Sleeve T-Shirt | ¥3,900 (Before Tax)

Zenitsu Agatsuma Long Sleeve T-Shirt | ¥3,900 (Before Tax)

Kyojuro Rengoku Long Sleeve T-Shirt | ¥3,900 (Before Tax)

Tanjiro Kamado Big Silhouette T-Shirt | ¥4200 (Before Tax)

Zenitsu Agatsuma Tanjiro Kamado Big Silhouette T-Shirt | ¥4200 (Before Tax)

Kyojuro Rengoku Tanjiro Kamado Big Silhouette T-Shirt | ¥4200 (Before Tax)

© 吾峠呼世晴/集英社・アニプレックス・ufotable

Ibuki Sakai x atmos pink T-Shirt Collection Releases

Japanese sneaker select shop atmos pink has teamed up with model and artist Ibuki Sakai to release two t-shirts at atmos pink stores and their official website.

atmos pink x sakai ibuki collaboration raglan tee | ¥4,500 (Before Tax)

atmos pink × sakai ibuki collaboration safari long sleeve tee | ¥4,900 (Before Tax)

The two tees take on a 90's design with sticker collage motifs, something which Ibuki is known for. In promotion of the release, a special installation has been set up at atmos pink's flagship store in Harajuku where it will be displayed until July 25.

The installation is a collection of handmade original accessories, stickers, and other items selected by Ibuki. Additionally, those who purchase her artbook at TSUTAYA will receive a paper doll poster, available on a first-come, first-served basis.

Information

Ibuki Sakai x atmos pink
Installation: July 16, 2021 – July 25, 2021
Location: atmos pink flagship Harajuku

Address: 6-5-3 Jingumae, Shibuya, Tokyo

Peta Peta Kai Event
Tickets: Available from July 16, 2021

Location: atmos pink flagship Harajuku

*Open to those who purchase either of the collaborative t-shirts

Event Date: July 25, 2021 @ 13:00-18:00

1st Slot: 13:00-15:00

2nd Slot: 15:00-17:00
Price: ¥1,000 (Tax Included)
*Max. 15 people per slot

BABY MILO® x HELLO KITTY Collaborative T-Shirt Collection Drops

A BATHING APE's® mascot character BABY MILO® has joined paws with Sanrio's Hello Kitty to release a collaborative t-shirt collection at A BATHING APE® stores and their online store. Hello Kitty first appeared in 1974 and has gone on to become an instantly-recognisable icon and symbol of kawaii culture across the world. Merchandise of Hello Kitty is available in 130 countries globally.

Adult Tees

Shoes

Mug

Kid's Line-Up

BAPE.COM WEB STORE/BAPEXLUSIVE™ Aoyama Branch

BABY MILO® and Hello Kitty have collaborated to fans delight numerous times in the past. This cute collection is actually a re-release and features the same original graphics. There are also some exclusives in the collection along with a kid's line-up.

© 2021 SANRIO CO., LTD. APPROVAL NO. L629192

DIET BUTCHER x Kendai Release Embroidered T-Shirt Collection

Apparel brand DIET BUTCHER and embroidery artist unit Kendai released a new t-shirt collection at DIET BUTCHER Flagship Shop and their online store on June 26.

T-Shirts (3 Colours) – ¥13,200 Each (Tax Included) / White Image Only Custom Version – ¥17,600 (Tax Included)

Embroidered patches made to order priced ¥4,400-¥11,000 (Tax Included)

The embroidery patch designs include DIET BUTCHER's iconic character Mr. Butcher. These large, fully handmade patches can be stitched onto the left breast of this wide silhouette tee collection. Additional patches can also be added for more customisation.

Information

DIET BUTCHER x Kendai

Released: June 26, 2021

Where:  DIET BUTCHER

Address: MS Bldg. B1, 1-19-7 Aobadai, Meguro-ku, Tokyo

TEL: 03-5728-4765

Online Store: https://dietbutcher.jp/

NO COFFEE x JARUJARU Release Special Collaborative Fashion Collection

JApanese comedy duo JARUJARU has paired up with Fukuoka-based coffee shop NO COFFEE to release a clothing and accessory collection branded with the name 'NO JARUJARU.'

NO JARUJARU T-Shirt | ¥4,620 (Tax Included)

NO JARUJARU Mask | ¥1,760 (Tax Included)

NO JARUJARU Sticker | ¥660 (Tax Included)

NO JARUJARU Key Chain JARUJARU TOWER 2021 ver. G&F | ¥1,210 (Tax Included)

Comments


Goto (JARUJARU)


"We had actually planned to collaborative with NO COFFEE back in 2020 for our live show, but it unfortunately had to be cancelled, so we weren't able to. But now our prayers have finally been answered and we get to collaborate! NO JARUJARU replaces 'COFFEE' with our name. Like coffee, we want to become comedians that are a close part of everyone's lives."


Fukutoku (JARUJARU)


"NO JARUJARU!? It's actually a wonderful piece of copy, don't you think! We want to give you even more JARU, so much you'll be saying NO JARUJARU!"


NO JARUJARU launched on June 19, the same day as the comedy duo performed their 'JARUJARU TOWER 2021' live show in Fukuoka. The collection is available at the JARUJARU MRKET online shop. NO COFFEE has collaborated with multiple brands before but this is their first time teaming up with comedians.



JARUJARU MARKET will roll out even more products in the near future, with NO JARUJARU arriving as the first release. JARUJARU's official YouTube channel 'JARUJARU TOWER' has over 600 million views, and they even have an English subtitled channel called 'JARUJARU OVERSEAS.' The duo are only continuing to expand.



Gyoza no Ohsho x JOURNAL STANDARD Releases Exclusive Kyoto T-Shirt

Gyoza no Ohsho has teamed up with JOURNAL STANDARD to release a special t-shirt featuring a design inspired by the uniforms worn by staff at Gyoza no Ohsho. The tee released on June 19.

Gyoza no Ohsho is a Japanese restaurant chain serving gyoza and a range of other Chinese cuisine-inspired foods.

GYOZA OHSHO TEE | Sizes: M-XXL | ¥4,400 (Before Tax)

These limited-edition tees are exclusive to JOURNAL STANDARD's Kyoto branch.


Ramen Inspired T-Shirt Collection Cooks Up in Collaboration With Tenkaippin

This year marks the 50th anniversary of Japanese ramen restaurant chain Tenkaippin. To celebrate, they have joined hands with men's apparel brand MONO-MART to release a collection of ramen-inspired t-shirts in collaboration with Japanese illustrator Isogai Hitohisa. The limited-edition collection dropped on ZOZOTOWN on June 10.

Tenkaippin | Comment

"Thanks to all of our customers, Tenkaippin turns 50-years-old this year. It's a turning point for us, and so we've decided to develop products in collaboration with an apparel brand for the first time. We hope it helps to spread word of the Tenkaippin name amongst the youth. Designs include photos of when we first opened, illustrations drawn for us, and more. Please enjoy Tenkaippin through these super rare tees!"

Each t-shirt in this collection is branded with Tenkaippin's logo along with their 'KOTTERI' logo. There's another with a photo of the brand's legendary founder Tsutomu Kimura, another with the encouraging message 'Righht effort,' and more. Other designs include illustrations by Isogai Hitohisa on the back, various photos, and so on.

YOASOBI x UNIQLO UT T-Shirt Collab Collection Releasing This July

UNIQLO's UT collection is a line of tees created in collaboration with other brands, anime, shows, and more. On July 2, UNIQLO is teaming up with the Japanese music duo YOASOBI to release an exclusive new collection.

YOASOBI, which is comprised of Ayase and ikura, made their debut in 2020 with their hit song Yoru ni Kakeru. Since then, their music has continued to top charts in JApan.

The collection is a fusion of fashion and music in women's and kids designs featuring stills taken from seven of the duo's iconic music videos including Yoru ni Kakeru, Halzion, Tabun, Gunjo, Haruka, Encore, and their new track Sangenshoku.

The Line-Up

Women's Tees | 7 Designs | ¥1,500

Kids Tees | 5 Designs | ¥990

To promote the collaboration, YOASOBI will also hold a free YouTube livestream on July 4 2021 at 6pm (JST). The online event is called "SING YOUR WORLD" and will see them perform live.

©藍にいな ©ラビットマシーン ©すばこ舎・山中琴美・村山辰徳・細矢祐輔 ©南條沙歩 ©しなの ©牧野惇
©古塔つみ ©むつき潤
©伊豆見香苗・すばこ舎・山中琴美・村山辰徳・細矢祐輔 ©文・すばこ舎・山中琴美・村山辰徳・細矢祐輔

UNDERSON UNDERSON x GELATO PIQUE HOMME Release T-Shirt Collection Made From Washi Paper

Lifestyle brand UNDERSON UNDERSON teamed up with luxury loungewear brand GELATO PIQUE HOMME to release a new collection of men's t-shirts via their online stores and at USAGI ONLINE on Wednesday.

Ivory

Pink Beige

Lilac / Silver

The luxury line-up is made with WASHIFABRIC®, a specially type of fabric that's made from 99.9% Japanese washi paper which is soft on the skin. A fusion of both of the brands' visions, the tees feature modern designs laced with GELATO PIQUE HOMME's ice cream motif.

The tees are made with two thin layers of light fabric so they are soft to touch. Each features a casual silhouette with nuanced colours and prints that have a glossy finish.

Baskin-Robbins Japan Releases T-Shirt Collection Inspired by 9 Ice Cream Flavours

Japanese fashion brand LEPSIM teamed up with Baskin-Robbins to release a t-shirt collection at LEPSIM stores and the online shop .st on June 2.

The Line-Up

Baskin-Robbins Flavour T | ¥3,850 (Tax Included)

Baskin-Robbins Recipe T | ¥3,850 (Tax Included)

Multipurpose Pouch

LEPSIM is a fashion brand specialising in clothes, cosmetics, lifestyle goods, maternity ware, and more, all of which is aimed at "making women smile." This ties in with Baskin-Robbins' motto of "We make people happy" which it does so in Japan with its 1,200 branches. The tee collection features two different kinds of t-shirts inspired by nine ice cream flavours you can order at Baskin-Robbins. The 'Flavour T' includes classic vanilla, azuki bean, colourful orange sorbet, and musk melon colours, as well as 2 tie-dye designs based on their Caramel Ribbon and Love Potion 31. The 'Recipe T' line-up is a more stylish and sophisticated take with ice cream colours and sleek typography. Each t-shirt also comes with a vinyl multipurpose pouch which is perfect for storing cosmetics, face masks, and other little bits and bobs.

Studio Chizu Releases 5th T-Shirt For 10th Anniversary

Since January, Studio Chizu has been teamed up with the Japanese apparel brand Graniph to release a new t-shirt design every month in celebration of their 10th anniversary. The fifth and final design was released on May 26.

Studio Chizu's past works have enjoyed great success both in Japan overseas and include Wolf Children (2012), The Boy and the Beast (2015), Mirai (2018), and the highly-anticipated forthcoming entry Belle (2021). All the films are directed by the Academy Award-nominated Mamoru Hosoda.

Mirai x tupera tupera

The past four t-shirt designs have included The Girl Who Leapt Through Time, Summer Wars, Wolf Children, andThe Boy and the Beast, each illustrated by a different popular artist. The fifth and final design is for Mirai which was drawn by tupera tupera and features Mirai, Kun, the mother, the father, and the pet dog Yukko.

Graniph posted an interview with tupera tupera on their YouTube channel which you can watch below in Japanese.

tupera tupera Interview

(C)2018 スタジオ地図
(C)STUDIO CHIZU

Saori Kimura Produces Disney Volleyball T-Shirt

Japanese former professional volleyball player Saori Kimura has teamed up with HER7 to release two special volleyball-themed t-shirts in collaboration with Mickey & Friends. The tees released on HER ONLINE STORE on May 26.

"I've loved Mickey since I was a kid," explains Kimura, "and even now, after becoming an adult, I frequent the Disney Store, so it has been a great honour and made me really happy to produce this."

She continues: "The theme is Mickey and volleyball, so I ummed and ahhed about various things. One thing I really wanted to express was the teamwork that goes into volleyball, so I was able to have an illustration of the Friends on there. The picture is taken to look like everyone getting together to snap a photo after a fun volleyball game."

"Another thing I wanted was for Mickey Mouse to be playing volleyball. He's someone loved by people around the world. He's doing a blocking pose. (He looks happy, like he's saying, 'I did it!')."

"Both types capture the fun you can have in volleyball, so I really like them!"

Both t-shirts feature an apple logo specially designed by Kimura.

The Mickey & Friends design comes in two colours – khaki and sand beige. They are available in six sizes: M, L, and XL for adults and 110, 130, and 150 for kids.

The Mickey design comes in two colours – charcoal and grey. They are available in seven sizes: S, M, L, and XL for adults and 110, 130, and 150 for kids.

Both tees are oversized as designed by Kimura.