greet up Releases Antibacterial and Anti-Odour Face Mask Spray
Japanese brand greet up has launched its new antibacterial and anti-odour "Jia Shi AL" (次亜シーAL®) spray for face masks. The bottles are a convenient 50ml size so can be carried anywhere and everywhere.
Jia Shi AL is an antibacterial spray co-developed by Environmental Science Laboratory and Himawari Clinic, a leading medical clinic located in Ono, Hyogo.
In the regular electrolysis process, chlorine (CL2) is used which is poisonous, but no chlorine is used in the making of Jia Shi AL. It contains antibacterial alcohol and hypochlorous acid solution which is kind to the skin, including those with more fragile skin. It also eliminates pollen making it a perfect accomplice alongside those who suffer from hay fever. It can also be used on disposable face masks that can't be washed to disinfect them.
The Line-Up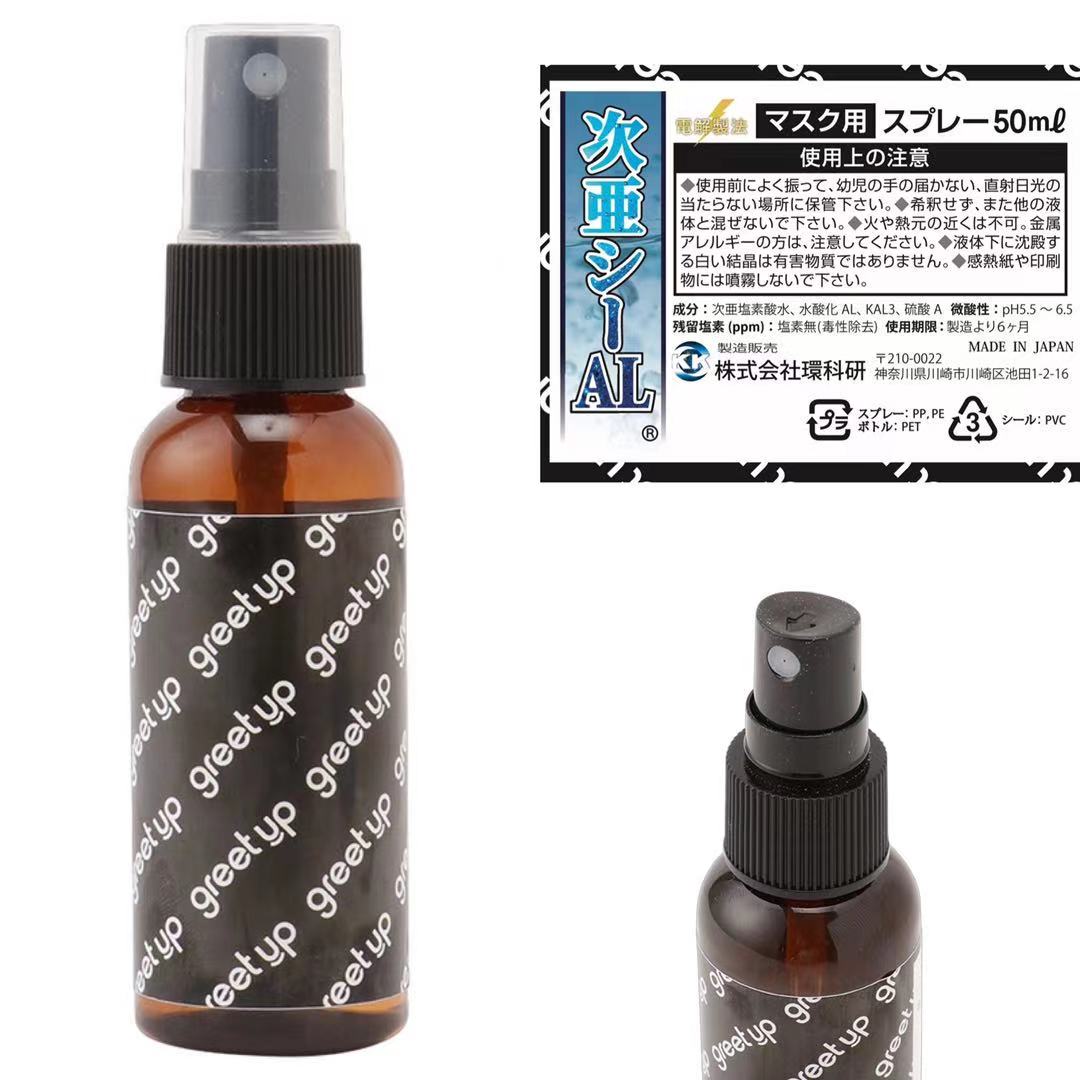 Jia Shi AL Original Bottle 50ml | ¥550 (Tax Included)
Face Mask Sets
evolvetogether Set: 7 Face Masks (4 Colours) + Jia Shi AL 50ml Bottle Set | ¥1,980
Mask Colours: Amazonia, NYC, Milan, Tokyo
The spray is gentle on skin and safe to use on children and pets.
Jia Shi AL can be used for many things including:
Hands/Masks/Electronics
Pollen/House Dust Elimination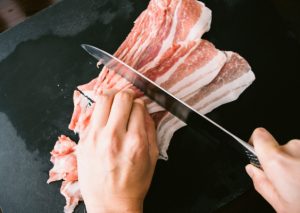 Kitchen/Wet Areas/Tableware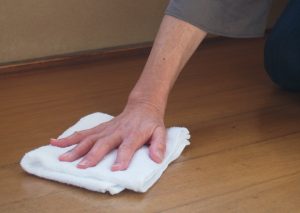 Furniture/Living Space
Inside Humidifiers To Cleanse Air
Information
Jia Shi AL Original Bottle 50ml
Japanese Product Name: 次亜シーAL® オリジナルボトル 50ml
greet up Official Website: https://greet-up.com/
RELATED ENTRIES
Stylish Taiwanese Face Mask Brand JIUJIU Releases in Japan

The popular Taiwanese face mask brand JIUJIU was released in Japan for the first time on Friday (February 26) via the company's new Japanese website.

We now live in a time where face masks are a part of everyday life when commuting, going to the shop, walking in public places, working at the office, and so on. Japan is no stranger to face masks as they were always a part of the culture for hygienic reasons in the workplace when an employee is ill, as a fashion statement, for those suffering from hay fever, and so on, but even there has seen a major increased demand for face masks since the pandemic began.

JIUJIU's face masks are used in medical professions in Taiwan. They are noted for not only they quality but fashion sentiment too, with over 60 style variations available. These masks are now available to buy in Japan in packs of 5.

Information

JIUJIU Face Masks

Released: February 26, 2021 (Japan)

Price: Pack of 5 – ¥548 (Tax Included)

Online Store: https://jiujiu-jp.com/

Sanrio Design Face Masks by Maison de FLEUR Keep You Stylish and Safe

Maison de FLEUR has revealed a new collection of face masks created in collaboration with Sanrio which will be released in Japan on February 23.

Sanrio Character Collab Masks | ¥2,200 Each (Tax Included)

My Melody

     Cinnamoroll

Little Twin Stars

Pompompurin

Kuromi

The masks are designed from the popular Sanrio characters My Melody, Cinnamoroll, Little Twin Stars, Pompompurin, and Kuromi. The parts that hook over your ears are fitted with a big, cute satin ribbon, and the front of the masks feature a gold leaf print matte design.

The masks can be used both as a fashion item and for protection against COVID-19.

Information

Maison de FLEUR x Sanrio Character Collab Masks

Release Date: February 22, 2021 at 20:00 @ STRIP CLUB / February 23, 2021 @ Maison de FLEUR stores

STRIPE CLUB Official Website: https://stcl.page.link/Z3cE

ZOZOTOWN: https://zozo.jp/

Face Mask Shop to Open in Osaka On February 8

Japanese children's clothing brand BABYDOLL has announced that it will open up a shop selling only face masks in Namba, Osaka on February 8, 2021. The store is called #Jibun Iro Mask ("Mask in My Colour") and will sell the newest face masks in the popular MASK DEPOT series which have sold over 150,000 units in Japan.

Pick your colour and size

There's a line-up of around 200 original masks available in different colours and sizes. Customers take a "colour assessment" where they answer four questions and pick from 20 different colours to find their perfect match, resulting in a mask made for them. There's also an option to gift wrap the masks to be given as presents to people. And for the store's grand opening, those who purchase 3 or more masks will receive another mask free of charge. This offer is available from February 8 to 14.

New Limited-Edition Sakura Cherry Blossom Beauty Face Masks Released by LuLuLun

Japanese face mask and beauty brand LuLuLun released its new limited-edition cherry blossom scented face masks on Monday (February 1) to welcome in the Spring 2021 season early.

Spring 2021 Premium LuLuLun (Cherry Blossom Scent) | ¥1,600

Combined with springtime's beauty ingredient

Spring is the season when flare ups can happen and we need to be careful of UV light, humidity, and pollen. LuLuLun's products pride themselves on their moisturising properties, and their new cherry blossom face masks are no exception. They are combined with cherry blossom petal extract, lending a fragrant scent while leaving the skin smooth and beautiful.

Rape blossom oil for even smoother skin


The rape blossom is another of Japan's popular flowers as they blossom and transform fields into rolling carpets of bright yellow. The face masks contain oil extracted from rape blossom seeds for an extra blanketing of smooth skin.

Coltsfoot extract equals healthy texture


Also in the ingredient list is extract from the coltsfoot flower, a strong plant that is able to withstand winters to make it into the spring where it can finally reveal its delicate form. It serves to create a healthy complexion on the skin.

Cute Hello Kitty and Little Twin Stars Face Masks Release in Sanrio Collaboration

Japanese sneakers select shop atmos pink teamed up with Sanrio to release a cute collection of face masks on Thursday (January 28).

KIKI&LALA★atmos MASK Colours: White/Blue – ¥1,400 (Before Tax)

HELLO KITTY♡atmos MASK Colours: White/Pink – ¥1,400 (Before Tax)

The masks can be washed and are durable, fast-drying, block pollen, and cut UV. Face masks are part of everyday life now, so why not add a little fun to routine?

Sanrio's My Melody, Pompompurin, and Little Twin Stars Keep Your Face Masks Safe

Sanrio released pre-sales of its new Sanrio Characters Mask Bags for face masks via the online shop Asunarosha on Wednesday (December 9).


Following the success of the Hello Kitty and Cinnamoroll face mask bags released in September, all of which sold out, Sanrio is adding new designs into the mix. The bags are washable and allow you to carry your mask around conveniently and hygienically.

My Melody, Pompompurin, Little Twin Stars (Kiki & Lala) | ¥700 Each (Before Tax)

The new designs include the popular characters My Melody, Pompompurin, and Little Twin Stars (Kiki & Lala).


Hello Kitty, Cinnamoroll | ¥700 Each (Before Tax)

Hello Kitty and Cinnamoroll are also making a return so fans can pick from 5 different designs.

Sanrio Puroland is also releasing a cute collection of face mask and mask cases on December 18.

©1976, 1996, 2001, 2020 SANRIO CO., LTD.

Sanrio Puroland Announces the Release of Sanrio Character Face Masks and Cases

Sanrio Puroland has announced the release of a new Sanrio character face mask and case collection on December 18, 2020.


Original Masks & Cases – Regular Sizes (6 Designs) | ¥1,650 Each (Tax Included)

The face masks and face mask cases feature cute designs of Sanrio characters including Dear Daniel, Badtz-Maru, Kuromi, My Sweet Piano, and Mocha.


Original Masks & Cases – Kids Sizes (3 Designs) | ¥1,320 Each (Tax Included)

There are also kids sizes with My Melody, Kuromi, and a character mix designs so parents and children can look cute together.

Mask Attachments (6 Designs) | ¥1,650 Each (Before Tax)

Sanrio also has a line-up of Hello Kitty, Dear Daniel, My Melody, Kuromi, Pompompurin, and Cinnamoroll attachments for the face masks.

©1976, 2009 SANRIO CO., LTD. ©1976, 1988, 1989, 1990, 1993, 1996, 2001, 2005, 2020 SANRIO CO., LTD.

Face Masks Made From Recycled Organic Cotton to be Released at Muji

Ryohin Keikaku Co., Ltd. has announced the release of three cloth face masks—made from recycled organic cotton obtained from leftover materials during the manufacturing of autumn and winter apparel—which will be released at Muji stores across Japan from mid-October this year.

Face masks have become an essential part of peoples' daily lives across the globe, with many people now opting for reusable cloth masks over disposable ones due to their reusability by simply washing them, feeling soft on the face, and reducing waste.

Muji too is on board this more environmentally-friendly approach and released reusable three-layered face masks back online in May.

Face Mask (Fleece) – ¥999 (Tax Included)

Face Mask (Flannel) – ¥999 (Tax Included) / Face Mask (Corduroy) | ¥999 (Tax Included)

Muji's new masks will release in fleece, flannel, and corduroy designs.

All the masks are made from organic cotton leftover from Ryohin Keikaku manufacturing their hoodies, shirts, trousers, and other clothing items for the autumn/winter season.

Sanrio's Cute Face Mask Bags Keep Your Mask Safe With Hello Kitty and Cinnamoroll

Pre-sales for Sanrio's new face mask bags opened on Wednesday (September 9) on Asunarosha's online shop. There are two bag designs, one with Hello Kitty and another with Cinnamoroll.

Hello Kitty Face Mask Bag ¥700 (Before Tax) / Cinnamoroll Face Mask Bag ¥700 (Before Tax)

Now you can store your masks safely and hygienically wherever you go and make it look cute.

The bags are made from TPU plastic and combines the strength of plastic with the lightweightness of silicone, so your mask won't get dusty and even if the bag gets wet or dirty, the face mask stays safe and in tact.

The bags also take on an adorable rainbow colour when the light hits them, adding a bit of fun to the face mask routine.

©1976, 2001, 2020 SANRIO CO., LTD.

Universal Studios Japan to Release Snoopy, Elmo and Other Cute Character Face Masks

In an effort to ensure the safety and protect the health of guests and staff, Universal Studios Japan (USJ) introduced strict measures to prevent the spread of COVID-19 on June 8, 2020, such as limiting the number of people who could enter the park each day and enforcing thorough cleaning routines. This enabled the park to reopen after its temporary closure. It has since been able to deliver its scope of fun and excitement to guests, albeit in a more structured way.

USJ wants to make wearing masks more fun too, and so it is releasing a range of character-inspired face masks, such as Snoopy, Elmo and the Cookie Monster, on August 7. Part of the money made from sales of these masks will be donated to the USJ Wonder Kids Program which helps support children in need.

Universal Studios Japan original design masks

The masks' unique designs take the mouths of each character. These can be worn together with each respective characters' headband which are also sold at USJ. Designs include Elmo, Cookie Monster, Snoopy, Tim, Jurassic Park, and Jaws.

Photos provided by Universal Studios Japan.
HARRY POTTER characters, names and related indicia are © & ™ Warner Bros. Entertainment Inc. Harry Potter Publishing Rights © JKR. (s20)
Minions and all related elements and indicia TM & © 2020 Universal Studios. All rights reserved.
TM & © 2020 Universal Studios.
© 2020 Peanuts
© '76, '20 SANRIO
© 2020 Sesame Workshop
TM & © Universal Studios & Amblin Entertainment
TM & © Universal Studios.
TM Universal Studios.

Information

Universal Studios Japan Original Design Face Masks
Release Date: August 7, 2020
Price: Single Mask – ¥900 (Tax Included) / Set of Two – ¥1,500 (Tax Included)

Universal Studios Japan Official Website: https://www.usj.co.jp/

Pokémon Cosmetic Series: New Face Masks Keep Pokémon Trainer's Skin Moisturised

Monosense is set to release the third collection of face masks in the popular Pokémon Cosmetic Series on June 19, 2020.

The Pokemon cosmetic series has been a huge success in Japan since it launched, spanning face masks, hand cream, lip cream, lip gloss, point packs, mirrors, and body gel. The face masks however have proven the most popular, having sold over 600,000 of them. Now, Pokémon Trainers can look forward to the third collection in an all new 2020 version.

Until now, the face masks themselves have had an entire print of a single Pokémon face on them. This time, however, they have a new design with many of that Pokémon on them, along with colours that remind one of that Pokémon.

Skin can get pretty dry when summer rolls around, so these made-in-Japan face masks will keep Trainers' skin moisturised thanks to the collagen, hyaluronic acid, and shea butter in them.

There are four Pokémon to choose from: Pikachu, Eevee, Psyduck, and Mew. Who will you choose?

Kirby Face Masks Take Care Of Your Skin While at Home

Japanese cosmetic brand Lovisia has shipped over 1.1 million products, including the super popular Pokémon Cosmetic Series which we have covered in detail.

Now, to celebrate the 28th anniversary of HAL Laboratory and Nintendo's video game Kirby's Dream Land this year, Lovisia has revealed its new "Kirby's Dram Land Face Masks" which will go on sale at variety shops, online sites like Tokyu Hands and Village Vanguard, and elsewhere in Japan on June 19, 2020.

"Pink Lush" is the concept behind the cute pink-coloured masks. The masks themselves are like the characters from the game. Lovisia previously released eye shadow, lipstick, and a mirror as part of the same series in April which proved popular amongst fans.




There are three designs in total: Kirby, Waddle Dee, and Meta Knight, all of which are Instagram-worthy and great as a treat to yourself or a gift to friends.

The masks are made in Japan, and contain collagen, hyaluronic acid, and shea butter, all for their moisturising effects. Each has a soap scent, which will leave your skin smelling fresh and looking cute and soft. The perfect accompaniment to enjoy at home right now.

©Nintendo / HAL Laboratory, Inc. KB20-P2210