The low sugar content Chinese noodles, "Tohshitu Nibun-no-ichi Soba" will be sold from "Ippudo" on May 10th for a limited time.
The low sugar content Chinese noodles, "Tohshitu Nibun-no-ichi Soba" will be sold at 21 "Ippudo" stores from May 10th for 3 weeks.
This item was developed to answer the needs of people who want to eat yummy Chinese noodles even though they are on a diet. This item called "1/2PPUDO" was first released in Shinjuku and later in Kumamoto Shimo Dohri and after that for 2 weeks at the end of the year throughout Japan at the "Tohshitsu Ni-bun-no-ichi Shiromaru." The product was very well received by many customers.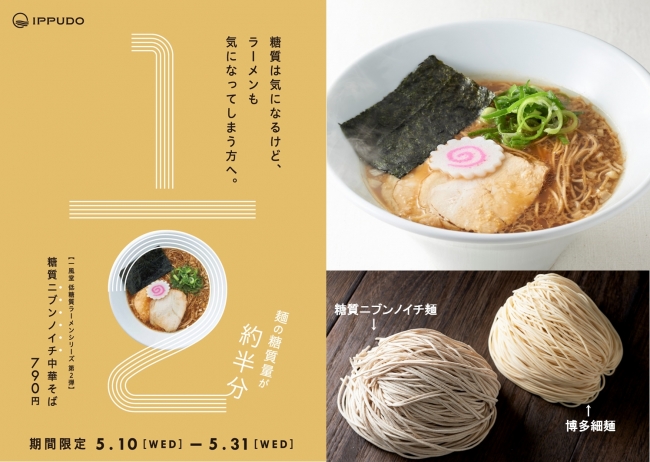 "Tohshitu Nibun-no-ichi Men's" main ingredients are bran, starch and rice- bran which are combined with 11 other grains including barley and rye. By using these ingredients, they were able to reduce the sugar content to half of that of normal noodles.  
This is the ideal food product when you are worried about the sugar content in your diet but you really want to eat some Chinese noodles!
Check out the nostalgic taste of soy sauce flavored Chinese noodles! These noodles will be served for a limited 3-week period only. So, don't miss this chance.
■Information:
"Tohshitu Nibun-no-ichi Chuka Soba" ¥790 (tax included)
Quantity of sugar 46.6g, 549Kcal per bowl of this ramen
Normal ramen 96.5g, 811 Kcal, respectively.
Selling period: May 10th to 31st
Selling at the following 21 stores
【Kanto area 】Ebisu、Ginza, Gotanda higashiguchi ,Meidaimae, Kichijoji、Uenohirokoji, Machida, Queen east, Kannai, Tama plaza, Honatugi miload east
【Kansai area】Nanba, Abeno nini, Himeji
【Chugoku, Shikoku area】Hiroshima fukuromachi, Matuyama
【Tokai area】Honchodori, Nagoya sakae brossa
【Koshinetu, Hokuriku area】Nigata, Toyama
【Hokkaido】Sapporo tanuki koji
【Fukuoka】Tenjin nishi dori stand ※It will become a standard menu from May 15th
−−−
Related article:IPPUDO opens their second branch in Louvre, Paris to spread Japanese food culture through their delicious ramen!
Related article:The Michelin Star ramen restaurant "Japanese Soba Noodles Tsuta" sets up shop overseas for the first time!
RELATED ENTRIES
"Haikei, Dick Bruna" (Dear Dick Bruna) is a fashion project that was launched to celebrate the 65th anniversary of Miffy, a character created by Dutch author and illustrator Dick Bruna. Pre-sales for items in the line dropped on May 1, 2020 on the online shop MEETSCAL STORE and sold out instantly.

Now, pre-orders for a new summer collection is on its way and will arrive on June 19, 2020 at 14:00 (JST) on the website. In-store sales are being planned for release at a later date.

Summer Season Collection

Summer One Piece Shima Shima Blue (1 Size): ¥9,700 (Before Tax)


Summer T-Shirt Shima Shima Red/Blue (1 Size): ¥7,200 (Before Tax)

Two items perfect for wearing beneath the sun rays this summer.

Exhibition-exclusive T-Shirt, will be sold at an upcoming exhibition

The above-pictured T-shirt will also be sold featuring an illustration of Miffy from the picture book Miffy's Letter. The front features Miffy writing his letter while the back includes the book's title written in Dutch.

"Zero" T-Shirt: ¥3,900 (Before Tax)

The final orders for the popular Spring Collection also opened on June 1, 2020 at noon (JST).

Illustrations Dick Bruna©copyright Mercisbv, 1953-2020 www.miffy.com

Information

MEETSCAL STORE x ACID GALLERY
Release Date: June 25, 2020
Stores: Shibuya PARCO (Floor 4F), Ikebukuro PARCO (Floor 1F), Nagoya PARCO (Floor B1F), Shizuoka PARCO (Floor 1F), LUCUA Osaka (Floor 2F), Hiroshima PARCO (Floor 1F), Fukuoka PARCO (Floor 1F)

MEETSCAL STORE Online: https://meetscal.parco.jp/special/miffy

Miffy 65th Anniversary Exhibition
Official Website: https://miffy65.exhibit.jp/

Stunning Hydrangea Parfait Now Being Served at Itohkyuemon's Cafe in Kyoto

Kyoto-based tea company Itohkyuemon is now serving its gorgeous new "Hydrangea Parfait" at each of its cafes.

Hydrangea Parfait: ¥1,290 (Tax Included) / With Drink ¥1,690 (Tax Included)

In Kyoto's city of Uji, where Itohkyuemon's cafes are based, lies Mimuroto Temple which is famous for its hydrangeas. The temple bustles with tourists and sightseers during Japan's rainy season who flock to see the gorgeous gardens. During this season, wait times for the cafe can last up to three hours.

The Hydrangea Parfait is made with mashed sweet matcha hydrangea, hydrangea-coloured crushed jelly, tea leaf-shaped matcha cookies, blueberries, and more.

Itohkyuemon will also be serving a special "Hydrangea Chakai" tea set for ¥1,900 (tax included) which sees the parfait topped with warabimochi. You also get a drink of your choice.

Information

Hydrangea Parfait
Serving: From May 19, 2020 until stock sells out
Available: Itohkyuemon Uji Honten / Itohkyuemon JR Uji Station / Itohkyuemon Gion-Shijo

Official Website: https://www.itohkyuemon.co.jp/corporate/

Naruto Themed Hotel Room Opens at GRAND CHARIOT Hokutoshichisei 135° in Japan

GRAND CHARIOT Hokutoshichisei 135°, a hotel and glamping facility located in Awaji, Hyogo, opened its new Naruto-themed room on June 1, 2020.

The room, called "Hokage no Bessou" (Hokage's Villa), is renovated from one of the resort's buildings, and aims to plunge guests into the world of ninjas.

The room takes inspiration from the Hidden Leaf Village and its characters, with references to the series and recreated scenes littered throughout. It also offers exclusive amenities for guests to enjoy.

Guests who stay in the Naruto room will receive a free ticket to the popular "Naruto & Boruto Shinobi Zato" attraction at the anime theme park Nijigen no Mori on Awaji Island where the hotel is located.

ⒸMasashi Kishimoto Scott / Shuiehsa・TV Tokyo・Pierrot

Information

Naruto Collaboration Room "Hokage no Bessou"

Grand Opening: June 1, 2020

Time: Check In 15:00-18:30 / Check Out 11:00

Capacity: 5 people

Price: From ¥93,000 (Before Tax/Service Charge Charged Separately)

Official Website: https://awaji-grandchariot.com/

Kyoto Neko Neko: Cat Shaped Desserts and Pastries Served at Kyoto's New Bakery

ALL HEARTS COMPANY, a Japanese company that develops bakeries and patisseries across Japan, opened its new bakery and confectionery shop Kyoto Neko Neko in Shijo, Kyoto on June 1, 2020. There, they are serving cat-shaped pastries and desserts including Kyoto-exclusive products from their Neko Neko Bread brand and Neko Neko Cheesecake shop.

Kyoto Neko Neko Danish Bread: ¥1,200 (Before Tax)

This butter-loaded Danish pastry is folded into a braid shape and baked which keeps the pastry moist. It's topped with a sprinkling of sugar, leaving it glistening. It's recommended that you first try the pastry as it is—soft and moist. You can then try lighting toasting it which gives it a crispy texture and brings out the delicious aroma of the butter.

Products are packaged in a cute box making them a great gift idea.


Kyoto Neko Neko Cheesecake (On sale from mid-June 2020)

This cheesecake is made with Brie de Meaux cheese and is laced with black cocoa. The luxurious cheese combined with black soy beans and brown sugar syrup jelly makes for a marriage between Japanese and Western flavours. You get an extra layer of deliciousness too with a dusting of soy flour.

Kyoto Neko Neko Bread (Plain): ¥550 (Before Tax)

This Kyoto version of the Neko Neko Bread is still made without water, but rather than using only milk, Kyoto Neko Neko has added soy milk made using soy beans from a tofu shop in Kyoto, lending a smooth and rich flavour to the bread. And instead of mascarpone cheese, Kyoto Neko Neko uses soybean cream, and instead of dairy butter a soy cream butter.

Kyoto Neko Neko Bread (Houjicha): ¥680 (Before Tax)

Kyoto Neko Neko Bread (Matcha): ¥680 (Before Tax)

There's also a houjicha flavour made with houjicha tea and white chocolate, as well as a matcha flacvour combined with black soybean.

Information

Kyoto Neko Neko Shioji
Address: 578 Obiyamachi, Tachiuri Nakanocho, Shimogyo Ward, Kyoto
Grand Opening: June 1, 2020
Opening Hours: 10:30-18:00
No Fixed Holidays (Closed: New Year's Holidays)
TEL: 075-221-1001

Official Website: https://nekoshoku.jp/

Clean Japanese Cosmetics Shop MAKANAI to Open in Kagurazaka

Kagurazaka-based Japanese 'clean' beauty brand MAKANAI are set to open up a store in Kagurazaka, Tokyo on June 5, 2020.

The shop interior was designed by up-and-coming Japanese artists and is based around gold leaf.

The decor features gold leaf-incorporated wall and ceiling art, as well as fragments taken from Kutani ware that became damaged when it was being forged in Ishikawa Prefecture. MAKANAI is a place that prides itself on sustainability.

The main centre table, called the "Ritual Bar," is made using the stump of a lime tree that is hundreds of years old. It is on this luxurious table that various beauty products are to be displayed. The interior designs, which makes use of wood grain, gives the shop a natural feel to it and feels nice to touch together with the products. It's a simple yet relaxing and welcoming aesthetic that will have you staying in there for a long time without noticing.

The shop has a smart mirror which uses AI to diagnose your skin type, and there are also workshops too such as "Pure Beauty Rituals" where MAKANAI will teach you how to care for your skin. MAKANAI plans to introduce other exciting things too.

Grand Opening Commemoration Set w/ Tote Bag: ¥10,000 (Before Tax)

To commemorate the store's opening, customers can purchase a set which comes with face lotion, moisturising oil, and face cream. Normally, all of this would cost ¥13,000 (before tax), but for the opening it will be offered at the special price of ¥10,000. It's a great MAKANAI starter kit.

Experience MAKANAI's brand concept of clean Japanese cosmetics for yourself at the official store when it opens on June 5.

Attack on Titan Season 4 Trailer Reveals Final Battle and Film Officially Announced

The first trailer for the highly-anticipated season four of Attack on Titan is finally here along with a new key visual. With the animation efforts moved to MAPPA, the new staff have also been revealed including Yuichiro Hayashi as the final season's director.

The following five statements were released from staff alongside the new trailer, including from Attack on Titan author Hajime Isayama, the final season director Yuichiro Hayashi, the season one director and seasons 2-3 chief director Tetsurō Araki, MAPPA's CEO Manabu Otsuka, and WIT STUDIO's CEO George Wada. All comments translated from Japanese by MMN.

Hajime Isayama (Author, Writer and Illustrator, Attack on Titan)

"With this, the entirety of Attack on Titan has been adapted into anime. For that, I give my heartfelt thanks to all of the readers who have supported the series up to now. The manga has been serialised more than 10 years, so we've been together for quite some time now. To director [Tetsurō] Araki, WIT STUDIO, everyone in the Storyboard Corps, and everybody else, I would like to thank you for giving me so many happy memories—so many I could die! I would like to continue making more amazing memories together with director [Yuichiro] Hayashi and everyone at MAPPA for the continuation of the Attack on Titan anime!"

Yuichiro Hayashi (Director, Attack on Titan: The Final Season)

"I have been given the responsibility of director for the final season. My heart has been pounding since we're in the middle of a battle in the anime, and because this is such a huge series. We've kindly received full cooperation from everyone at WIT as well as director [Tetsurō] Araki. They have set everything up for us up this point. The quality of the series up to now is thanks to them. The staff have poured blood and sweat into their work. We will continue that as much as possible, and put our utmost best into what we do. So please look forward to the final season of Attack on Titan!!"

Tetsurō Araki (Director, Attack on Titan Season 1 / Chief Director, Attack on Titan Seasons 2-3)

"Our beloved anime series Attack on Titan will continue with an incredible battle formation formed of MAPPA and director Yuichiro Hayashi. We've been mutually exchanging information with them and holding meetings for quite a long time now. I'm positive they will piece this out, no doubt about it. We are also really looking forward to seeing the continuation of Eren and everybody else's journey!"

Manabu Otsuka (CEO, MAPPA)

"Attack on Titan is a series loved by countless fans. It will continue with a great studio, and a team of outstanding creators. I feel motivated at the fact that the studio will be part of the series's final season. I look forward to us freely forging the final battle."

George Wada (CEO, WIT STUDIO)

"The final season of Attack on Titan has finally been announced!! It has taken a long time for us to prepare for this, but first and foremost, I'm extremely happy that we have arrived at this point. We laid the foundations for the greatest manga ever, and the greatest team ever will be adapting the final season. I have nothing but high hopes. To all of you out there, please look forward to it!!"

The final chapter of Attack on Titan is nearly upon us. It seems only yesterday that the first season aired and took the world by storm.

In the lead up to the final season, a movie entitled Attack on Titan: Chronicle has also been announced. Releasing on July 17, 2020, it will cover everything in the first three seasons of the anime series.

Attack on Titan: Chronicle Trailer


Attack on Titan: The Final Season Trailer

©諫山創・講談社/「進撃の巨人」The Final Season製作委員会

©諫山創・講談社/「進撃の巨人」製作委員会

Miyuna Releases New Song & Lyric Video 'Soleil' and Announces Live Stream On 18th Birthday

17-year-old singer-songwriter Miyuna released her hit track Kan Biiru (Canned Beer) last year which has garnered over 1.5 million views on YouTube. Right now, during the lockdown, Miyuna has been posting a series of videos entitled "Miyuna's Bedroom" in which she takes comments posted by fans as the basis for lyrics and shows herself making songs from them.

Her album Yurareru dropped last year and charted in at number one on the Chinese music streaming service Netease Cloud Music in the J-pop album category. She was also chosen to as a member of Gibson Generation Group (G3), a program run by musical instrument makers Gibson which endorses its members.

The gap between Miyuna's musical creativity and her age has built her up a fan base of people both inside and outside Japan. Her music isn't tied to one genre: it ranges from encouraging messages to the youth to funk, R&B, and beyond.

Her new song, Soleil, was released today, and will be the final song she releases as a 17-year-old. She posted the following comment on the song's lyric music video.

-Message from Miyuna–

When I return to my beloved hometown, I feel so much at ease, and it gives me that push to work hard again.

That's what Miyazaki [Prefecture] is to me.

I ask all of you to think back upon your own home towns or your favourite place. I'm sure it will make you feel warm at the chest.

And that's what this song is about. It flows with that affection and sense of fun.

I look forward to feeling lively together with all of you with this song.

Look forward to hearing it as well as watching the drama series.

*Translated from Japanese by MMN

The song serves as the main theme for the Japanese television drama series Himawari: Miyazaki Legend which will air today and is set in the birth place of Miyuna, Miyazaki Prefecture.

Miyuna has also announced that she will hold a live stream on June 7, 2020 at 20:00 (JST) which is the day of her 18th birthday.

Be sure to stream Soleil and see the singer perform live at 18-years-old for the first time this Sunday.

Pokémon Camping Items Released in Collaboration With Pokémon Center and LOGOS

Outdoor brand LOGOS has teamed up with the official Pokémon shop, the Pokémon Center, for the first time to release a new collection of Pokémon-themed camping gear. The items went on sale at Pokémon Center and its website in Japan on May 30, 2020.

The 10 items feature cute retro designs of familiar Pokémon and can be used for outdoor life and everyday use.

The line-up includes a sun shade that can be easily assembled by just taking it out of the bag and opening it, two types of chairs for adults and children, a lightweight cushion, two different floor blankets, a compact and foldable basket, a drinks cooler, a food cooler, and a mini table. The two-person LOGOS pop shade will be released on August 8.

Enjoy a Pokémon picnic or camping trip with this cute new collection from LOGOS and Pokémon Center!

Grapes For Wine Now Being Picked at Shiojiri Station's Platforms

Shiojiri is a city in central Nagano with a population of 67,000 (as of April 2020). As a tourist destination, it's a place that goes under the radar, but it's actually home to the best quality grapes for wine in Japan, and also boasts 17 wineries (as of April 2020).

Shiojiri is a place with many tourist attractions, such as the historical town of Narai-juku whose streets still echo the Edo Period, Kiso-Hirasawa lacquerware, the Hiraide ruins which are one of Japan's three biggest ruins, Takabotchiyama which has become known for appearing in anime and Japanese drama series in recent years, the local dish "sanzokuyaki" (large fried chicken), and more.

In 1988, the city of Shiojiri began growing grapes at Shiojiri Station to promote the city's grapes and wine. It has gone on to become famous as the only station in Japan with grape production. They grow Merlot and Niagara grapes.

The station encourages volunteers to help pick the grapes. The first picks of this year's season began on May 29, and the efforts are being posted about on the city's official social media accounts and website. The Merlot wine made from the grapes picked in August last year is also ready and will be posted about soon too.

Information

Shiojiri Station
Platforms 3 & 4
Shiojiri Tourism Association Official Website: https://tokimeguri.jp/

TV Anime The Rolling Girls to be Released in 5th Anniversary Blu-ray Box

The Rolling Girls is an anime series produced by Wit Studio that aired in 2015. In celebration of the 5th anniversary of the girly, road movie-like series, the anime will be released in a special Blu-ray box in Japan on December 16, 2020.

The box cover is designed by the series's character concept artist tanu. The box contains a digipak by character artist Katsuhiko Kitada, a CD featuring new cover songs, and more which is TBA.

The Rolling Girls Blu-ray Box Commercial
https://youtu.be/S-otc_Wfko8

A new 5th anniversary animated work is also in production which will feature commemorative illustrations from creators who were involved in the show. It will be produced by Wit Studio and released in autumn this year.

The anime's writer Yasuyuki Muto as well as the main voice cast Ari Ozawa, Rina Hidaka, Risa Taneda, and Yumiri Hanamori released the following comments regarding the Blu-ray box release. All comments translated from Japanese by MMN.

Yasuyuki Muto (Writer) | Comment

"In the time since this anime aired, even while developing the [Blu-ray] box, the voices of the many fans who supported the staff spin-off reached a lot of people. I don't think we've ever had an example of that before. All of us will work hard to deliver to you a fun little package filled with our gratitude for your support over the past 5 years!"

Ari Ozawa (Voices: Nozomi Moritomo) | Comment

"Congratulations on 5 years! It feels like it's come around so fast since people have continued to show their love for The Rolling Girls since it finished airing. This Blu-ray box takes the shape of both our love and all of your love for the series. I want to convey my thanks to all staff involved and each and every one of you. Really, thank you so much. I myself will continue to work hard to become a pillar for all of you who are working hard too!"

Rina Hidaka (Voices: Yukina Kosaka) | Comment

"[Yasuyuki] Muto has continued to stir up excitement around The Rolling Girls even after it finished airing. To everyone running the official Twitter account who have continued to send messages of support to keep working hard. To the mob of people who have always loved and cared about The Rolling Girls, even as so many new series have come out in recent years. And to everyone in the staff who have taken on everyone's enthusiasm and shaped it. Thank you so very much! The characters in this series live their lives as daredevils without being involved in any mobs or gangs. They are incredibly cool. I think they're sure to lift you up. Here's hoping that The Rolling Girls wheel continues to spin!"

Risa Taneda (Ai Hibiki) | Comment

"I love this series. From the main show to the spin off, and even the music, everything about it livens me up and gives me courage. Five years on, Ai and the rest of the gang's adventures feel far from having grown stale. I feel from the bottom of my heart that this series is evolving into something even more vivid and fun. I couldn't recommend it enough to those who have yet to see it, so I hope you use the box release as an opportunity for us to go on this Rolling Girls journey together!"

Yumiri Hanamori (Chiaya Misono) | Comment

"I'm one person in this mob of girls who continue to roll and who continue to encourage me even to this day. Meeting Chiaya was the best encounter I've ever had. It's made me who I am today. And that's why I myself am able to roll recklessly [like her] today. And I will continue to roll so that I can become matcha green for someone someday, just like Chiaya and Nonsuke! I will work hard, and so will you!"

©2015 The Rolling Girls Production Committee

Information

The Rolling Girls Blu-ray BOX (*Tentative Title)

Release Date: December 16, 2020

Price: ¥18,000 (Before Tax)

Stock Number: PCXP.50785

The Rolling Girls 5th Anniversary Animation

Release Date: Autumn 2020

The Rolling Girls Official Website: rollinggirls.com

MAXPLAN AZABU10: The New Landmark of Tokyo's Azabu Juban District

MAXPLAN Co. is set to open MAXPLAN AZABU10 on October 22, 2020 which is set to become the new symbol and a landmark of Tokyo's Azabu Juban District. The building will offer many unique and extraordinary experiences.

Nakamura Suzuko (CEO, MAXPLAN Co.) | Comment

"This project borrows the strength of internationally-active architect Kengo Kuma. I am overjoyed to have the opportunity to be a driving force together with him once again. This building, which is the 'Azabu Juban Development Project,' will be a place that creates and discovers new collective value between companies and individuals. A place of creative symbiosis. It aims to offer well being for companies that brings about a sense of cultural values. It will be a creative space for companies and individuals to resonate, bounce ideas off, and flow with one another. I pray from the bottom of my heart that these things will serve as a connection to how we want to live in the future."

Kengo Kuma (Architect) | Comment

"Azabu Juban is Tokyo's intersection between tradition and the future. I wanted to create a symbol for this district of 'fluctuations' around its crossroads. Combining panels of varying sizes with different heights, thicknesses, and textures expresses the district's diversity and energy. I wanted the building to blend in as part of the 'fluctuations,' as well as create a small 3D city which itself has 'fluctuations' […]"

We look forward to seeing how this new landmark and symbol of Azabu Juban brings together the traditional and the futuristic.

Information

MAXPLAN AZABU10
Building Site: 4-1-1 Azabu Juban, Minato Ward, Tokyo
Access: 1-minute on foot from Azabu Juban Station (via Tokyo Metro Namboku Line and Toei Oedo Line)
Grand Opening: October 2020 (subject to change)

Sailor Moon Area to Arrive at Miniature Theme Park SMALL WORLDS TOKYO in June

The world's biggest miniature theme park SMALL WORLDS TOKYO has announced that the highly-anticipated Sailor Moon area will open on June 5, 2020.

The Sailor Moon area gives people the chance to be turned into miniature 1/80 scale figurines and live there. In the run up to the grand opening, members of the official Sailor Moon fan club "Pretty Guardians" will have early access to this program from May 29, 2020.

What is SMALL WORLDS TOKYO?

SMALL WORLDS TOKYO is a miniature theme park that opened Ariake district of Tokyo earlier this spring. The park covers an 8,000 square meter area which is split into seven different areas made up of moving miniature models: the Kansai International Airport, the Space Center, World Streets, Sailor Moon, Neon Genesis Evangelion Tokyo-3, and Neon Genesis Evangelion Evangelion Cage.

What is the Sailor Moon figurine program?

The Pretty Guardian Sailor Moon series is set in Tokyo's Azabu-Juban district, which is the setting for the area in SMALL WORLDS TOKYO. During the day, the series heroines, including Usagi Tsukino, live a lively life in Azabu-Juban. At night when the street lights turn on, the girls transform into Sailor Guardians under the moonlight.

On the opposite side of Azabu-Juban district you can see Crystal Tokyo, a future capital city in the 30th Century which also appears in the original series.

In the exclusive Pretty Guardians fan club area of the exhibit, members will find miniature figurines of themselves, making it feel like they really live in the world of Sailor Moon. More details on this program can be found on the official fan club website.

Information

Pretty Guardian Sailor Moon Area w/ Figure Program
Price: Adults ¥19,800 (Tax Included) / High School Students and younger ¥17,600 (Tax Included)

On Sale: June 5, 2020

*Available to Pretty Guardians fan club members from May 29, 2020

Pretty Guardians Official Website:
https://prettyguardians.com/

Pretty Guardian Sailor Moon Area w/ Figure Program Ticket Website:
https://smallworlds-sailormoon.jp/
*Open from June 5, 2020 at 13:00 (JST)

SMALL WORLDS TOKYO

Address: Ariake Butsuryu Center, 1-3-33 Ariake, Koto Ward, Tokyo

Opening Hours: 9:00-21:30 (Subject to change on weekends, holidays, and certain periods)

Official Website: http://www.smallworlds.jp/