Blue Bottle Coffee's Kyoto Cafe Announces New Lounge Area Opening
Blue Bottle Coffee Japan has announced that its new lounge space The Lounge -Kyoto- will open on the second floor of its Kyoto cafe on March 20, 2021.
An Exclusive Course at The Lounge -Kyoto-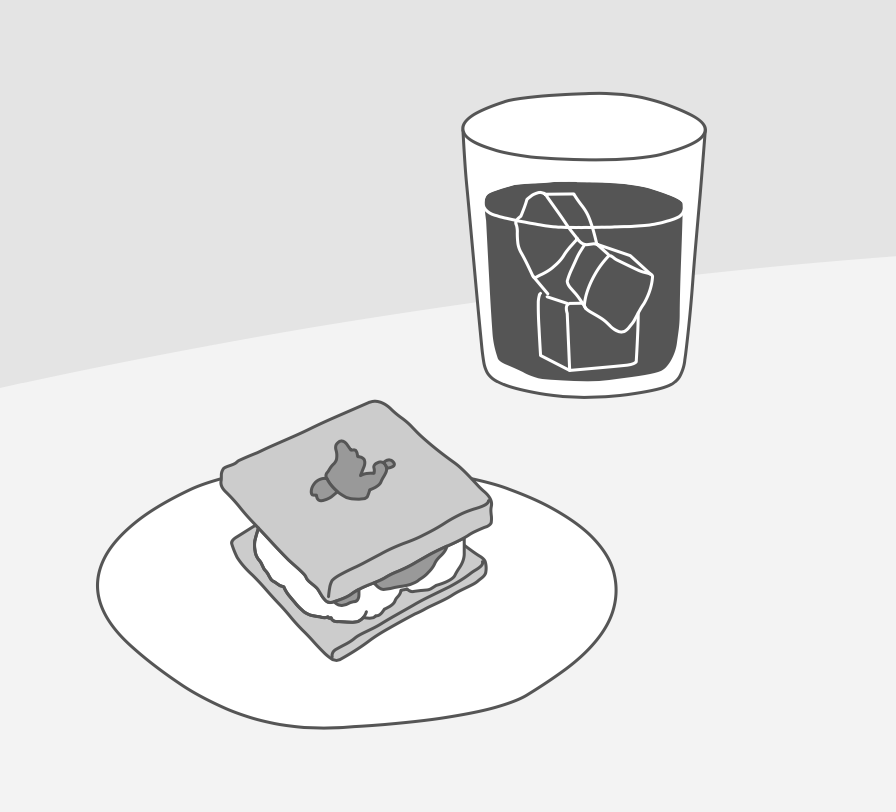 KYO-TO-TO x Blue Bottle Coffee Original Hand Towel
¥1,700 (Exclusive to Blue Bottle Cafe Kyoto)
Blue Bottle Coffee opened its Kyoto-based cafe in March 2018 as its eighth branch. The first by the coffee chain to open in the Kansai region of Japan, the cafe is located near the famous Nanzen-ji Temple. The cafe building itself is renovated from a traditional two-storey Kyoto-style house which has a history spanning over 100 years. Blue Bottle Cafe retained many of the building's traditional charms like the thick beams and pillars which are both rough yet refined and tasteful.
The Lounge -Kyoto- is also a renovation that maintains the warmth and welcoming atmosphere of the Kyoto-style house. This exclusive area seats just seven people, with seats needing to be booked in advance. Customers can enjoy Blue Bottle Coffee's new coffee course menu which includes three different freshly-made coffees and two seasonal desserts. The cafe recommends trying each coffee as it is first to enjoy the flavour before customising it.
If you're heading through Kyoto this spring or in the future, be sure to book seats at Blue Bottle Coffee's new lounge space.
RELATED ENTRIES
Hot-Pot Party-Themed Gorogoro Nyansuke Cafe Opens in Ikebukuro

Gorogoro Nyansuke, a popular character featured on LINE stickers, will get his own cafe in Ikebukuro for a limited time! The nabe (hot-pot) party-themed location will be open from December 2, 2021 until January 23, 2022. In Japan, it's popular to enjoy nabe with friends and family during the winter months to warm up!

Reservation Bonus

Menu

Refreshing Lemon Nabe

Tomato Nabe

Soy Milk Nabe

Black Sesame Parfait

Dorayaki Pancakes with Japanese Sweets

Red Bean Paste Covered in Snow

Warm and Cozy Kotatsu Cake

Nyansuke Float (Melon Soda)

Nyansuke Float (Anzu Soda)

Nyansuke Float (Roasted Green Tea and Milk)

Nyansuke Sake

Cafe Latte: ¥660 (Tax Included)

Original Merchandise

Acrylic Keychain (Random, 10 varieties)

A4-size Clear Folder (Set of 2)

Mug

The adorable kitty-cat has become popular on LINE and social media and was designed by Tsumugi Murasato. Her first manga was published in October 2020 with merchandise following, and she has become more and more popular since!

© MIND WAVE INC. / GORO GORO Nyansuke ®

DANDELION PROJECT Comes to Kosho-ji Temple in Uji, Kyoto for Limited Time

NAKED'S DANDELION PROJECT has popped up at seven different locations around Kyoto, including the famous Kiyomizu-dera and Heian Shrine. From December 3 until December 5, the participatory art project for peace will come to Kosho-ji Temple at nighttime. 

Kosho-ji Temple is famous for its autumn foliage and is designated as a place of scenic beauty by Kyoto prefecture. The gently sloping path from the front gate along the Uji River to the temple gate is called Kotozaka, because the flowing freshwater sounds like a Koto, the national instrument of Japan. The event will include a nighttime viewing of the temple along with lights around the grounds and gardens. The Uji Light Path will line the streets of the town with lanterns based on The Tale of Genji. 

NAKED's popular attractions–the NAKED Distanced Lanterns and NAKED Flower Cleansing–will also be available to participate in during the event.

Information

DANDELION PROJECT in Uji, Kyoto

Address: Kosho-ji Temple (27 Yamada, Uji, Kyoto)

Running: December 3 – December 5, 2021 

Hours: 17:30-20:00 (Last Entry at 19:00)

Admission: ¥1,000

Official Site: https://naked.co.jp

gelato pique café Releases its Christmas Collection Including New Menu and Goods

gelato pique café launched its Christmas collection for limited time only from November 24 to December 26.

Brown Bear Caramel Crêpe

Raspberry Caramel Cheesecake Crêpe

Caramel and Hazelnuts Hot Chocolate

Eco Bag with Chocolate Bear (Small Size) 

Mug with Chocolate Bear

The theme for gelato pique cafe's Christmas Sweets 2021 is "Brown Bear Caramel Christmas – With Pique Bear and Rich Caramel- and three new sweets and drinks are available, including a crepe topped with an adorable chocolate "Pique Bear". As well as the food menu, two types of original goods, eco-bags and mugs, featuring the chocolate bear topping are available at gelato pique cafes nationwide and gelato pique official online store.

Furniture Maker Karimoku Releases Collaboration Collection with Blue Bottle Coffee

Blue Bottle Coffee Japan is collaborating with furniture maker Karimoku for a new collection scheduled for release on December 1, 2021. The items will be available at select Blue Bottle Coffee Cafes, at the Blue Bottle Coffee online store, and at pop-up store locations.

Karimoku is one of Japan's leading wooden furniture manufacturers. Each of the three items in the collection was not only designed to be easy to use but to be pieces of interior decoration. Karimoku has also produced furniture for some of Blue Bottle Coffee's cafes in the past, with their pieces being well-received for their design and comfort. 

Karimoku x Blue Bottle Coffee Morning Collection

Dripper Stand

Filter Case

Cutting Board

Blue Bottle cafes are known for their simple designs, and these items exemplify that, using soft curves perfect for adding warmth to any room. These items are completely sustainable and long-lasting, so why not snag one as a holiday gift?

Information

Karimoku x Blue Bottle Coffee Morning Collection

Release Date: December 1, 2021

Where to Buy: Participating Blue Bottle Coffee Cafes (Kiyosumi-Shirakawa Flagship, Shibuya, Ginza, Minatomirai, Kyoto, Umeda Chayamachi, Kobe) / Blue Bottle Coffee Official Online Store / Pop-up Store

Official Site: https://store.bluebottlecoffee.jp/

Banana Fish Collaboration Cafe and Bar Coming to Tokyo and Osaka

While the Banana Fish anime series will make you cry, this new collaboration cafe will have guests smiling from ear to ear. This stylish New York-inspired cafe and bar will be open from November 25, 2021, until January 16, 2022, in Tokyo, and from December 2, 2021, until January 30, 2022 in Osaka. Guests can enjoy dishes and drinks inspired by the show's characters and can grab some limited merchandise too. 

Banana Fish began as a manga series in 1985 and was created by Akio Yoshida. Set in New York City, the series follows the teenage gang leader Ash Lynx as he tries to overcome his painful past and solve the mystery of 'banana fish,' a strange drug that drove his brother mad during the war in Vietnam. He is joined by Eiji Okumura, a Japanese college student and photographer's assistant who arrives in America to help with a story about gang violence. 

Menu

Tofu and Salmon Salad Bowl

His Main Dish for the Night

N.Y. Style Tacos

Grilled Banana Waffle

Chinese Sweets Plate

Chocolate Fondue

N.Y. Style Cheesecake with Caramel Nuts

Ash, Eiji, Shorter

Hot Cocoa, Hot Cafe Latte

Original Merchandise

Acrylic Pin (7 varieties, random)

Aurora Sticker (7 varieties, random)

Acrylic Stand (7 varieties, random) 

Acrylic Keychain (6 varieties, random)

Clear Folder Set (Includes two folders)

Acrylic Stand (Ash, Eiji, Shorter)

Acrylic Board

Cork Coaster (Ash, Eiji) / Cup Sleeve

Glass (Ash, Eiji) / Plate

Bonus for Advanced Reservation Holders: Paper Ornament (8 varieties, random)





How would you like to spend some time with these characters in a swanky New York-style cafe?

© 吉田秋生・小学館/Project BANANA FISH

Information

Banana Fish Cafe and Bar -New York Night-

Tokyo 

BOX cafe&space Omotesando Hills B3F (4-12-10 Jingumae, Shibuya, Tokyo)

Running: November 25, 2021 – January 16, 2022

Osaka

BOX cafe&space Umeda LOFT 1F (16-7 Chayamachi, Kita-ku, Osaka)

Running: December 2, 2021 – January 30, 2022

Reservations now open

Reservation Fee: ¥715 (Tax Included) *Includes reservation bonus

Official Site: https://bananafish-cafebar.jp/

Online Shop

Open: November 25, 2021 at 11:00 – January 30, 2022 at 23:59

Birth Book Coffee in Tokushima Offering Santa & Reindeer Inspired Daifuku

Located in Tokushima, Birth Book Coffee specializes in both a tasty cup of joe and a delightful selection of dango and fruit daifuku. Daifuku is a Japanese sweet made of small round mochi filled with sweet filling, typically red bean paste. It's the perfect snack to have with a warm drink, and now, Birth Book Coffee has unveiled some Christmas-themed sweets!

Christmas

Chinese Zodiac

Chinese Zodiac

Character Daifuku

Character Dango

Matcha Chocolate Strawberry Daifuku

White Chocolate Strawberry Daifuku

If Christmas isn't your thing, the shop is also selling sweets shaped like animals from the Chinese zodiac. 

Birth Book Coffee is a sweets shop, a coffee shop, and a book shop all in one. Employees make the sweets by hand each day, and invite guests to curl up with a nice story as they enjoy the calming environment. Each Daifuku is made using Shiga Habutae Mochi Rice, one of the three most glutinous rice varieties in Japan. It's stickier and sweeter, making for a more rich treat. The reindeer Daifuku is flavored with caramel milk, and the Santa with red bean paste. Be sure to take a shot of them for social media, or give them as a gift!

The Matcha Chocolate Strawberry and White Chocolate Strawberry Daifuku are only available during winter, so try to snag them before they're gone!

Information

Dango & Birth Book Coffee

Address: Inside Marunaka Tokushima (1-6-1 Nishishinhama-cho, Tokushima)

Immersive Art Event Now Open at Kyoto World Heritage Site Nijo Castle

Nijo Castle in Kyoto is one of seventeen Historic Monuments of Ancient Kyoto, built by the Tokugawa Shogunate. It's worth a visit on a trip to the old capital of Japan, but a new event is making it even more exciting! From November 5 until December 12, 2021, guests to the castle at night can enjoy projection mapping across the castle grounds and a collection of food from Kyoto's most famous restaurants.

The giant interactive light show will take over 400 square meters, and was created by the company Creative AI. By analyzing environmental information such as density and location of visitors and surrounding weather, the art will change to engage the senses. Shifting light and sound will enhance Nijo Castle's beauty–guests should pay special attention to the Karamon Gate, an Important Cultural Property, and the Ninomaru Garden. This is the first of these evening parties held in Kyoto, meant to infuse traditional Japanese culture with modern innovations.

Kyoto is a city that has been based around Feng Shui since ancient times, with a local saying claiming that the water flowing beneath Nijo Castle carries good energy. These thoughts resonated with the historical figures that lived in Kyoto during the construction of the castle, and they believed that the spot was special. The Ninomaru Garden is the perfect location to use this new technology to bring this energy to life!

Information

One to Ten: Evening Party at Nijo Castle

Running: November 5 – December 12, 2021 *Closed on December 8

Hours: 18:00-21:20 (Grounds close at 22:00)

Address: Nijo Castle (541 Nijojocho, Nakagyo-ku, Kyoto)

Tickets/Event Details: https://yakai.1-10.com/nijojo/

SSS by applibot Illustrator Sevnzel Opens Second Solo Exhibition at atmos Kyoto

The Kyoto location of Japanese sneaker shop atmos will begin hosting a solo exhibition by Sevnzel, an illustrator associated with the creative group SSS by applibot! The event will take place between October 30 and November 7, 2021. 

Lineup

Sevnzel #424D99-BLISTER PACK GOSPEL 01 atmos Ver.

Sevnzel #424D99-BLISTER PACK GOSPEL 01

atmos × Sevnzel Collaboration L/S TEE NAVY

atmos × Sevnzel Collaboration L/S TEE WHITE 

Sevnzel has worked on character designs for Pokemon Sun & Moon and Tensai TV Kun hello, and also created the animated mascots for the NEC LAVIE VEGA laptop. The artist has been posting pages from a new full-art comic titled #424D99 on his Twitter page for some time, and the long-awaited first paperback volume has just been released. 

At Sevnzel's first solo exhibition in September, the artist displayed and sold oversized printed panels of each page of the new comic. A performance at the atmos Sendagaya store also utilized projectors and monitors, with the artist completely taking over the space. 

During the exhibition at the atmos Kyoto location, unique blister packs featuring the first volume of his comic will be on sale. These will come in two versions: a standard version and an atmos collaborative version, which has only been produced in limited quantities. Collaborative T-shirts will also be available during the event period. 

Guests can also enjoy oversized posters of pages from the manga, as well as newly drawn works of characters from the series from other SSS by applibot members including representative Masafumi Takagi, Mai Yoneyama, BUNBUN, Taiki, PALOW., ISSSAI, and NAJI Yanagida. 

Information

atmos x #424D99 EXHIBITION GOSPEL 01 JAPAN TOUR

Running: October 30 – November 7, 2021

Address: atmos Kyoto (420 Sakuranocho, Nakagyo-ku, Kyoto)

Hours: 11:00-19:00

Official Site: https://www.atmos-tokyo.com

no mark.Café in Tokyo Collaborates with Parent-Child Art Unit Musee du Aouvre

Located in an old traditional Japanese house in Kiyosumi Shirakawa, no mark.Café has a cozy ambiance for guests looking to escape the hustle and bustle of the city. From October 15 until November 30, the cafe is collaborating with the parent-child art unit Musee du Aouvre, and thirteen works from the group's blog will be on display throughout the building. A campaign will also be held, giving visitors the chance to receive some original coasters and a small wind God figure to sit on the side of a coffee cup. 

Campaign Present A. Aouvre Coaster / B. Aouvre Wind God Figure

The cafe aims to be a place where guests can enjoy art as they relax, and to further this idea, they will be collaborating with a number of artists in the 'CAFE DE ART' project. 

The first collaboration is with Musee du Aouvre, an art unit consisting of a father and son duo who copy famous works of art. These aren't just any forgeries–they are incredibly adorable and pay proper homage to the original creations. Thirteen works will be selected from the pair's blog and will be exhibited under the title 'The no mark.Café Great Counterfeit Exhibition.' A 2022 calendar and postcards of the works will be on sale at the store, and videos will provide information about the original works of art. Visitors can also participate in the Twitter and Instagram campaign to win a special collaborative item!

Enjoy a Weather and Time-based Cream Soda at the Newly Opened 'Cafe Amayadori'

The Oarai Tourism Omotenashi Promotion Council opened Cafe Amayadori, a rain and healing themed coffee shop, on September 18 2021. The shop was opened as a challenge and is located in the Umimachi Terrace Tourist Information Center.

Cafe Amayadori

Cafe Amayadori Menu

Cafe Amayadori Tote Bag

You can clearly hear the sound of the rain from inside the store, while the served cream soda changes based on both the weather and the time. On clear days where the sun is shining, you can order the traditional green-color  'Blue Sky Cream Soda,' while on rainy days you can order the blue 'Rain-color Cream Soda.'

The cafe also serves a wide variety of Japanese and Western meals and desserts, each cooked using local Oarai produce. Morning and lunch specials are also available, meaning you can easily work your visit around your own schedule.

The concept of the cafe is "Rain." You can dash into the cafe as if you're looking for shelter from the weather before sitting down to eat and drink in the calm space, emphasized by the soothing music that plays in the background. While the soundtrack depends on the day, the sound of rain is often played. However, the sounds played on rainy days are a little different to the usual. True to its name, the cafe can create a comfortable Amayadori (lit. rain shelter) no matter what the weather!

'rain coat studio' is a group of creators who have been working on 'rain' themed events and designs since 2016. The group was formed with the idea that "when it rains, our activities are limited due to the dull weather. On the other hand, the rain represents the season and soothes those who listen to it's sound." 

The group aims to create music, events, artwork, and more, that are cool like the rain but still convey a kindness. The 'rain coat studio' came up with the idea of a coffee shop as a way to try creating a restaurant business that followed their ideals.

The signature item on Cafe Amayadori's menu is the 'Weather Cream Soda.' The flavor depends on whether the weather is clear, rainy, and after-rain, but can also depend on the time – They even offer special drinks for 'Morning Fog' and for drinking in the evening, along with a limited-time 'Seasonal Cream Soda. 

The cafe doesn't just serve Cream Soda! Customers who would like a full meal can also order from a selection of Japanese food, Western food, and desserts. A limited edition tote bag is currently on sale to commemorate the opening of the cafe.

Why not try relaxing on a rainy day at Cafe Amayadori?

Information

Cafe Amayadori

Address: Uramichi Terrace, 301 Sakuramichi, Oarai-cho, Higashi-Ibaraki-gun, Ibaraki *Directly connected to Oarai Station

TEL: 029-352-2715

Opening Hours: 09:00 ~ 17:30 (subject to change) 

Closed: Mondays, Holidays (subject to change) 

Official Site: http://rain-sound.com/cafe

'Kyoto Yura Hotel M Gallery' New Halloween Menu Features Adorable Monster Motifs

The '1F Lounge & Bar 1867' at the Kyoto Yura Hotel M Gallery will be hosting a Halloween themed afternoon tea from October 1 2021, with tea sets and cocktails available. The premium hotel is owned by Accor, a Paris, France based group that owns over 5,000 hotels and resorts in 110 countries.

The Halloween-themed afternoon tea has been made by Jennie Chiu, a pastry chef who grew up in America, the home of Halloween. The afternoon tea features cute and playful monster motifs, including a witch-hat Mont Blanc, a Cassis and Chestnut Cake topped with a small ghost, and a spider-web topped Raspberry and Chocolate Mousse. For savory treats, Chef Nishimura Niki has prepared Foie Gras soaked in Salted Koji, plus two luxurious lobster dishes.

The creative Halloween cocktails were brainstormed by Yamazaki Sousei, who ranked in the Japan Top 10 category of bartending competition 'WORLD CLASS 2021.' The Halloween and apple pie inspired lineup was inspired by Scotland and the Celtic people, looking back to when Halloween was first celebrated. 

Enjoy some adult-only time in this retro-modern "family mansion" themed space. 

Information

Halloween Afternoon Tea Set

Availability: October 1 ~ October 31 2021

Location: Lounge & Bar 1867 

Serving Hours: 12:00 and 15:00 *Please reserve your table by 17:00 on the day prior to your arrival

Halloween Cocktails

Availability: October 1 ~ October 31 2021 

Price: ¥1,900
Location: Lounge & Bar 1867

Serving Hours/Opening Hours: 11:30 ~ 21:00 (L.O. 20:30) 

Official Site:  https://kyotoyurahotel-mgallery.com/ja

Sumikko Gurashi Themed Cafes Open in Tokyo, Osaka, and Aichi to Commemorate Second Theatrical Movie

To commemorate the release of the their second movie, 'Sumikko Gurashi: Aoi Tsukiyo no Mahou no Ko,' Sumikko Gurashi will be opening the limited-time 'Night Party with Sumikko' cafe in Osaka on October 20, Tokyo on October 21, and Aichi on November 11.

 

(Advance Reservation Benefit Only) Original Invitation with Postcard (Five types)

Menu

Tokage's Night Party Curry: ¥1,430 (Tax Incl.)

Shirokuma's Warming Hot Rice Casserole: ¥1,430 (Tax Incl.)

Five's Recommended Children's Lunch: ¥1,650 (Tax Incl.)

Magician's Party ~Açai Bowl~: ¥1,430 (Tax Incl)

Aoi Tsukiyo's Fruit Punch: ¥1,100 (Tax Incl.) + ¥220 for one mini ice cream

Sumikko's Pudding Ice Cream: ¥880 each (Tax Incl.)

Starry Drink: ¥990 each (Tax Incl)

Dolomite Coaster

Hot Café Au Lait: ¥880 (Tax Incl.)

Original Goods

Acrylic Keyholder (Random out of five): ¥770 (Tax Incl.)

Phosphorescent Sticker (Random out of eight): ¥605 (Tax Incl.)

Acrylic Stand (Random out of five): ¥880 (Tax Incl.)


Muddler (Three types): ¥1,100 each (Tax Incl.)

Mug Cup: ¥1,980 (Tax Incl)

Purse: ¥1,100 (Tax Incl.)

Fluorescent Pen Set: ¥1,100 (Tax Incl.)

A5 Clear File Duo: ¥605 (Tax Incl.)

Bandanna: ¥1,870 (Tax Incl.)

The Sumikko Gurashi characters are beloved by both adults and children for their gentle touch and tone. Their first movie, 'Sumikko Gurashi Tobidasu Ehon to Himitsu no Ko' was released in November 2019 and received great popularity. The sweet story of the Sumikko's adventures through a story-book world attracted over 1.2 million viewers across Japan.

The heartwarming cafe menu includes "Tokage's Night Party Curry," "Shirokuma's Warming Hot Rice Casserole," Five's Recommended Children's Lunch,""Magician's Party ~Açai Bowl~," "Aoi Tsukiyo's Fruit Punch," "Starry Drink," and more. The cute, Instagrammable dishes feature the characters who feature in the movie, which tells a mysterious story that begins under a blue moon in the Sumikko's hometown. A lineup of limited edition goods and perks will also be available, adding to the movie excitement.

 

Enjoy a cute, social-media friendly meal and original merchandise at the exciting Sumikko Gurashi cafe!

©2021 Japanese Sumikko Gurashi Association Film Club

Information

Sumikko Gurashi Cafe

Date/Store

Tokyo: BOX cafe&space Tokyo SolaMachi (Previously TOKYO BOX cafe&space Tokyo SolaMachi)

October 21 ~ December 5 2021

1-1-2 Tokyo Sky Tree Town Solamachi 1F, Oshiage, Sumida-ku, Tokyo

Shinsaibashi, Osaka: kawara CAFE&DINING Shinsaibashi

October 20 ~ December 5 2021

1-4-3 Shinsaibashi OPA 9F, Nishishinsaibashi, Chuo-ku, Osaka City, Osaka

Aichi & Nagoya: BOX cafe&space Nagoya LACHIC 1F (Previously NAGOYA BOX cafe&space A) 

November 11 ~ December 12 2021

3-6-1 LACHIC Basement 1F, Sakae, Naka-ku, Nagoya City, Aichi

Reservation Fee: ¥650 (¥715 incl. tax) *Reservation comes with benefits *Up to four seats can be reserved per application.

Cafe Online Shop opens November 11 12:00 until December 12 at 23:59

Reservations & Official Site: https://sumikkogurashi-movie-cafe.jp 

Official Twitter: https://twitter.com/cafe_sumikko 

Online Shop: https://sumikkogurashi-movie-cafe.jp/online_store