The world's biggest anime event, AnimeJapan, is heading online for 2021 where it will run on March 27 and 28 in JST. The full program for the AJ Stage and AJ Studio has been released, both of which will featured in a paid stream online. The AJ Stage will feature 33 events while AJ Studio will have 21. Both days will also be archived for 24 hours for those unable to watch the stream live.
The theme for AnimeJapan 2021 is "Connection," which is captured in the key visual for the event featuring popular anime characters. This exclusive illustration will also be featured on merchandise sold at the event.
The full stream list for the AJ Stage and AJ Studio can be viewed on AnimeJapan 2021's official website.
Lots of exciting content to be binged online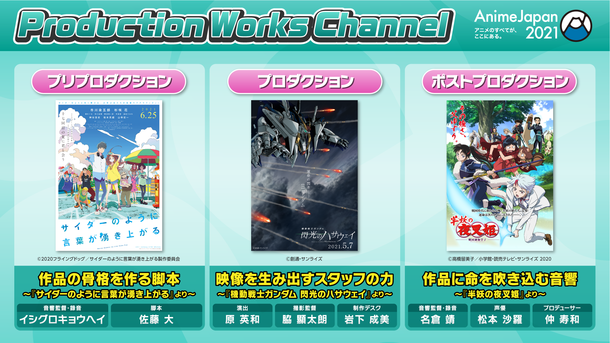 ProductionWorksChannel
Three special streams will be hosted by ProductionWorksChannel which will look into the processes of creating anime. Their themes are as follows:
Pre-Production
The preparatory steps taken before actually beginning production, i.e. writing the script which will act as the framework for the project. This episode will look at the pre-production phase of the 2020 romance anime film Cider no Yō ni Kotoba ga Wakiagaru.
Production
This episode will dive into what staff do in a Japanese animation studio and what elements are layered together to create the visual piece. It will use Mobile Suit Gundam: Hathaway's Flash as reference.
Post-Production
The final episode will look at the sound work that takes place in post-production by using the TV anime series Yashahime: Princess Half-Demon as reference.
Cosplayer's World
A program created by Japanese cosplay magazine COSPLAY MODE will showcase how to cosplay. It will cater to beginners wanting to get into cosplay to experts, so there'll be something for everyone. It will shine a spotlight on Sword Art Online and Detective Conan cosplays with outfits provided by ACOS.
4th Manga We Want to See Animated Ranking
Every year, AnimeJapan's official website holds a fan vote of the manga they most want to see turned into an anime adaptation. This year's ranking, taken from February 18 to 28, will be showcased at the event.
This is just a small look at what's to come at AnimeJapan 2021. For the full schedule, be sure to visit the official website.
Information
AnimeJapan 2021
Running: March 27, 2021 – March 28, 2021
Japanese Website: https://www.anime-japan.jp/
English Website: https://www.anime-japan.jp/en/
Tickets: March 27, 2021 / March 28, 2021 for ¥3,800 each (tax included), or ¥7,200 for both days (tax included)
March 27 Showcase: 09:00-23:59 (JST)
March 28 Showcase: 09:00-23:59 (JST)