Cafe Product Design Brand COFFEE TIME WITH VAUGHAN Releases New Items
COFFEE TIME WITH VAUGHAN released a new collection of items in collaboration with Koffee Mameya and Rokuyosha on Wednesday.
Just how coffee serves as a tool to help create a relaxed atmosphere when people get together to chat, so too do products like handkerchiefs, bags, and other sundries play a part in people's bonds. It's this concept that gave rise to the cafe design line-up of COFFEE TIME WITH VAUGHAN, which its releasing a new collection with Koffee Mamya of Tokyo and Rokuyosha of Kyoto.
Vaughan was born in Melbourne, Australia, aka the home of coffee. He is an enthusiast of Japanese cafes and has visited countless branches for over 10 years, shining a light on them through this unique lens through a variety of media, at events, and more. And no matter what he may be doing, whether it's something new or something old, he has a profound respect for both.
COFFEE TIME WITH VAUGHAN Collection
Gauze Handkerchief | ¥1,100 (Tax Included)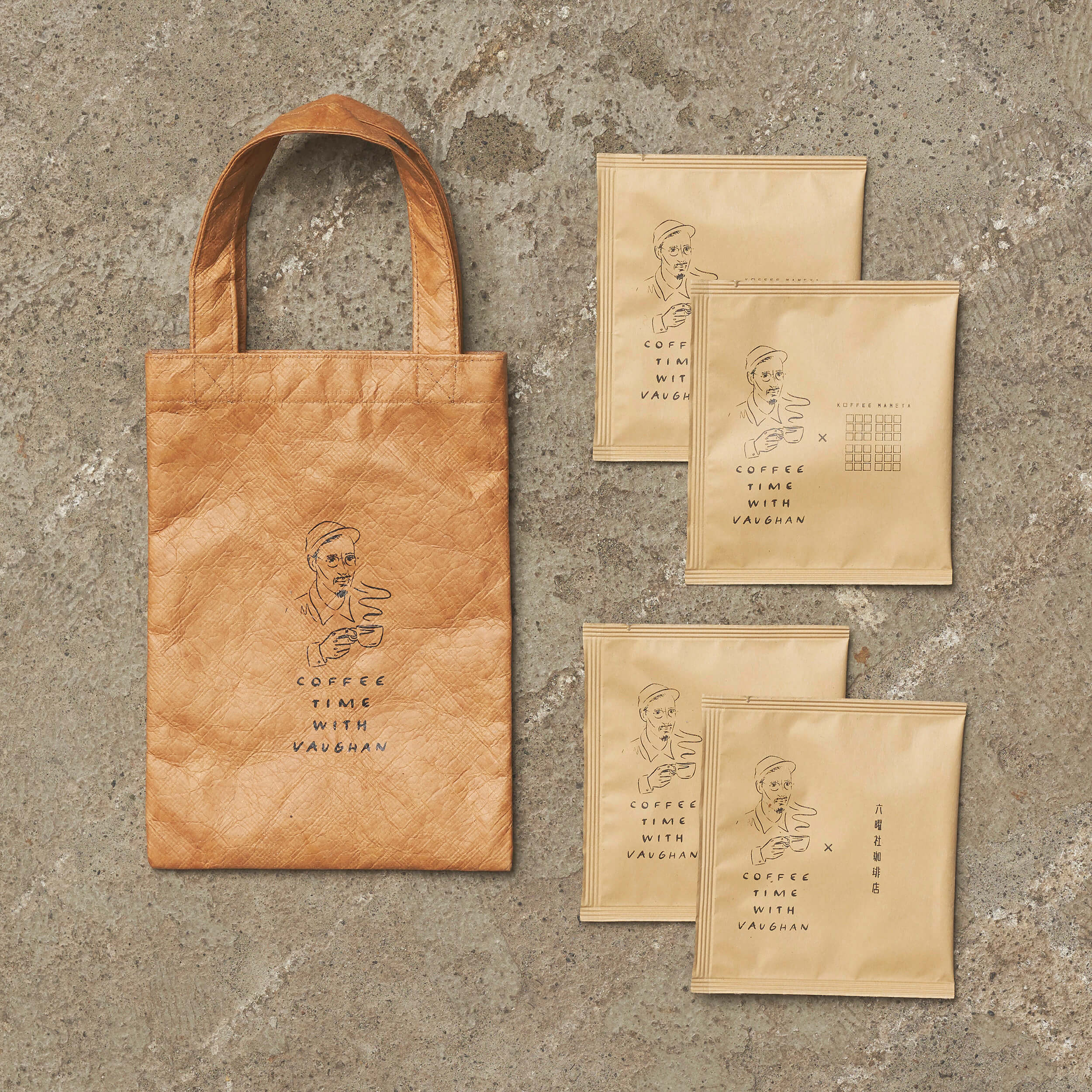 Drip Coffee Bag Set | ¥1,650 (Tax Included)
A set of original drip coffees by Koffee Mameya and Rokuyosha.
KOFFEE MAMEYA
Koffee Mameya is a coffee bean shop that first opened in 2017 with a desire to help improve the quality of coffee we drink at home. The owner, Kunitomo, is a legendary barista and pioneer of thrusting baristas into the limelight. He has help produced many cafes throughout his career.
At Koffee Mameya, the barista hears from the customer what kind of coffee and tastes they like and choose a coffee bean for them based on that information. This creates an intimate one-on-one conversation between the barista and customer.
COFFEE TIME WITH VAUGHAN x KOFFEE MAMEYA Collection (Excerpt)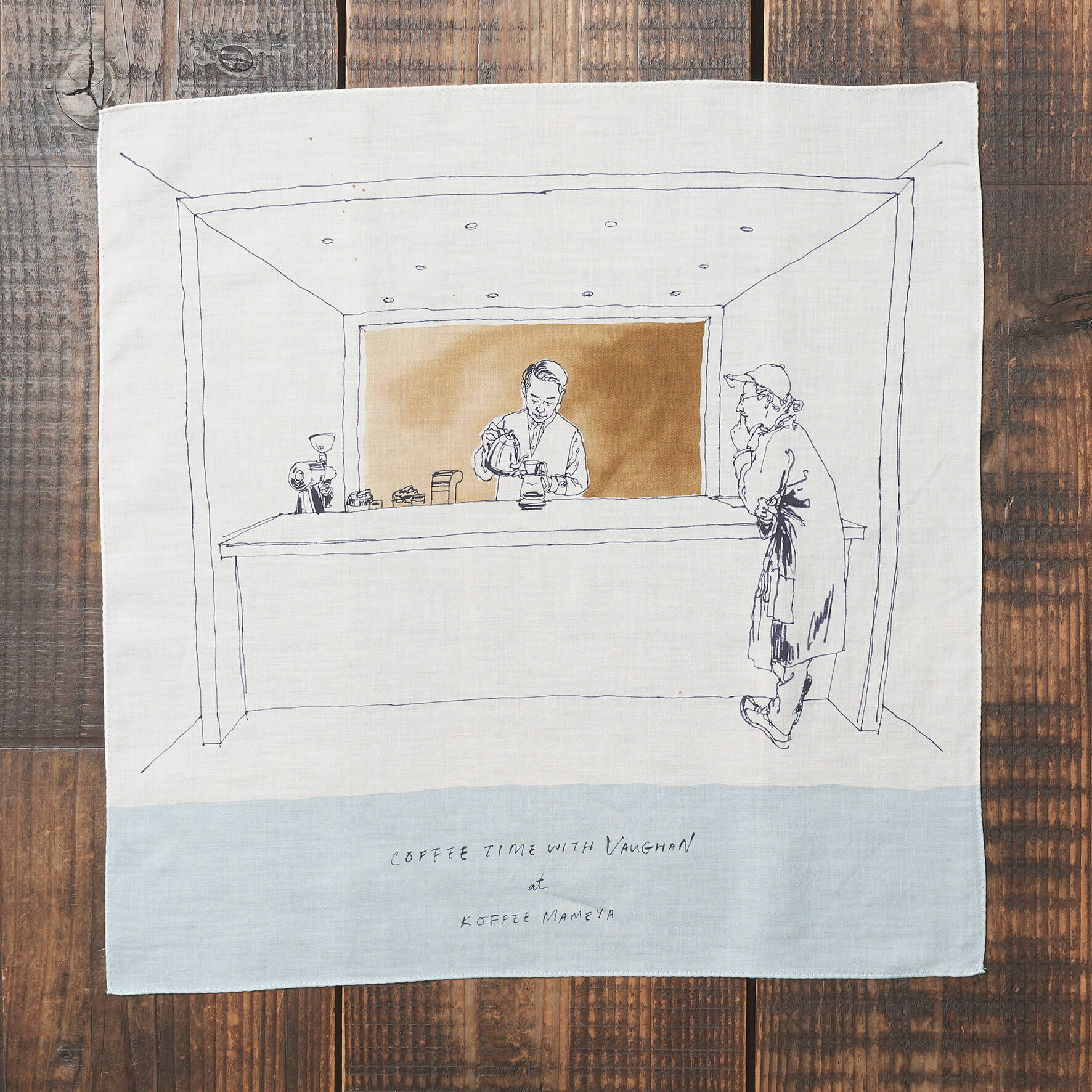 Handkerchief | ¥1,100 (Tax Included)
Tote Bag | ¥3,300 (Tax Included)
Rokuyosha
Rokuyosha is an old-time coffee shop first established in 1950. Serving classic and authentic coffees, the cafe is just a 5-minute walk from Sanjo Station in Kyoto. Its building exterior has a nostalgic feel to it that makes you instantly recognise it as a classic cafe. On the first floor, they served filter coffee that's filtered through cloth. Downstairs, customers can enjoy some in-house straight coffee blends made with paper drips. The cafe wishes has always preserved the time spent over coffee and wants to continue to.
COFFEE TIME WITH VAUGHAN x Rokuyosha Merchandise (Excerpt)
Handkerchief | ¥1,100 (Tax Included)
Tote Bag | ¥3,300 (Tax Included)
Information
COFFEE TIME WITH VAUGHAN Collaboration Merchandise
Released: March 31, 2021
Where: Department stores, handkerchief stores, and online in Japan
COFFEE TIME WITH VAUGHAN Official Website: https://www.coffee-twv.com/
RELATED ENTRIES
Columbia x SHIPS Drop Outdoor and Streetwear Style T-Shirt Collection

Innovative outdoor-wear brand Columbia and select shop SHIPS have come together to release their new limited-edition RED HILL BUTTE TEE t-shirt collection.

The line-up makes use of Columbia's Omni-Freeze Zero technology which keeps wearers cool in hot, humid, and sweaty, environments, and Omni-Wick which pulls moisture away from the body so sweat can evaporate quickly. Whether it be for camping or regular everyday use this spring and summer, the collection is a must-have for the hot weather.

RED HILL BUTTE TEE | ¥6,050 (Tax Included)

Colours: Black / Beige / Navy

Sizes: S / M / L

Embroidery on left of chest

The design weaves in Columbia's DNA, taking inspiration from their fishing gear archive.

Back print

A fusion of nature and the city, paying homage to Portland, Oregon.

OMNI – FREEZE ZERO

Jujutsu Kaisen Themed Sento Bath House Merchandise to be Released

Japanese bath house chain Gokuraku-yu, which is known for its diverse line-up of baths from open-air to jet, will launch a campaign in collaboration with the anime series Jujutsu Kaisen on April 23.

Jujutsu Kaisen x Gokuraku-yu RAKU SPA Collab Campaign

RAKU SPA Ticket + Jujutsu Plus Set

Those who buy the Jujutsu Kaisen ticket set at RAKU SPA (¥760) will receive one of 4 possible hand towels

Merchandise Batch ①

Pins (8 Designs) | ¥500 Each (Tax Included)

Acrylic Stands (8 Designs) | ¥780 (Tax Included)

Hand Towel | ¥780 (Tax Included)

Pouch | ¥1,320 (Tax Included)

Pin Set | ¥1,980 (Tax Included)

Acrylic Stands (4 Designs) | ¥1,650 Each (Tax Included)

Acrylic Key Ring | ¥980 (Tax Included)

Bag | ¥1,680 (Tax Included)

Sticker Set | ¥1,280 (Tax Included)

T-Shirt | ¥1,980 (Tax Included)

Die-Cut Postcard Set (2 Designs) | ¥1,580 Each (Tax Included)

Folder Set | ¥890 (Tax Included)

Merchandise Batch ②

Key Rings Each ¥480 (Tax Included) / Flags ¥1,080 Each (Tax Included)

Online Shop Exclusives

A1 Poster ¥1,680 (Tax Included) / A2 Poster ¥1,480 (Tax Included) / Four Posters Set ¥1,980 (Tax Included)

Themed Food (10 Items)

Drinks (4 Flavours) | ¥770 Each (Tax Included)

Coasters (12 Designs)

Fans can stock up on a range of sento bath house-related merchandise featuring both chibi and normal designs of their favourite Jujutsu Kaisen characters. A second batch of merchandise will also be added on May 14. There's even themed food to be enjoyed at Gokuraku-yu restaurants which comes with a free coaster.

Gokuraku-yu branches will be decorated with pictures and tapestries of Jujutsu Kaisen for the duration of the collaboration, and there will be photo spots where fans can snap pictures at the bath houses. The campaign can be followed on Japanese social media with the hashtags #極楽じゅじゅやすみ #極楽湯 #らくスパ.

(C)芥見下々/集英社・呪術廻戦製作委員会

Upcoming Fate/Grand Order Anime Film Paladin; Agateram to Collaborate With First Kitchen

Japanese fast food chain First Kitchen is launching a collaboration on April 19 with the upcoming anime film Fate/Grand Order: Shinsei Entaku Ryouiki Camelot 2 – Paladin; Agateram at First Kitchen and Wendy's First Kitchen branches in Japan. The film is set for release on May 5, 2021.

Exclusive limited-edition presents 

For every ¥900 spent at First Kitchen during the campaign, customers can receive a selection of merchandise freebies when they show the official campaign tweet on Twitter or the campaign's website to the restaurant staff. This includes one of 8 possible folders which are available from April 19 to May 3, and one of 8 possible pins which are available from May 3 to 16.

Additionally, if customers show staff that they are following First Kitchen on Twitter and have retweeted the campaign post, they'll be entered for a chance to win a B2-size poster.

12 branches of First Kitchen will also be decorated with pictures and posters from the anime film.

Information

First Kitchen x Fate/Grand Order Collaboration Campaign

Start Date: April 1 9, 2021

Where: First Kitchen / Wendy's First Kitchen

First Kitchen Official Website: https://www.first-kitchen.co.jp/

Chibi Maruko-chan Meets Miffy in Cute Merchandise Collaboration

The beloved Chibi Maruko-chan from the manga of the same name is joining hands (or paws) with the Dutch children's book character Miffy at the upcoming Maruko Meets Miffy fair that will be held at 16 branches of Miffy Style and 19 branches of KIDDYLAND in Japan for the whole month of May.

The creator and author of Miffy, Dick Bruna, was actually a friend of Momoko Sakura, the creator and author of Maruko-chan. They first met in 1999 when Sakura visited Dick Bruna's atrium in Utrecht for an interview on her book Fujisan. 20 years later, their works come together at this special event that pays homage to their meeting and works.

Over 100 pieces of merchandise will be sold at the event, from stationery to gadgets, plush toys, and more. The exclusive cute artwork designed for the event is also sure to make fans feel warm and fluffy inside.

A small look at just some of the items on sale

<Clockwise> Socks ¥418 / Small Clear Case ¥748 / Memo Pad ¥495 / Mirror ¥1,485 / Blue Key Ring ¥528 / Yellow Key Ring ¥528/ Flat Pouch ¥1,320

<Clockwise> Square Glass Phone Case ¥3,168 / Plushie ¥3,850 / Wireless Charger ¥3,278 / Mechanical Pencil & Two-Colour Ballpoint Pen ¥550 / AirPods Pro ¥2,178 / Mascot Key Ring ¥1,980 / 4000mAh Lithium Ion Polymer ¥4,378

<Clockwise> Mug ¥1,650 / 5.5 Inch Plate ¥1,100 / 8.5 Inch Plate ¥1,760 / Bowl ¥1,210

Get a free bonus item

Fans who spend over ¥2,000 (tax included) on any of the Maruko Meets Miffy merchandise will receive this free mini notebook too!

SNIDEL x PUMA Collaborate on Clothing Collection

Japanese women's fashion brand SNIDEL released a new collection of clothing in collaboration with PUMA on April 16.

SNIDEL x PUMA Crew Neck Sweater | ¥8,800 (Tax Included)

SNIDEL x PUMA Sneakers | ¥11,000 (Tax Included)

SNIDEL x PUMA Jacquard Dress | ¥9,900 (Tax Included)

The collection features light sporty and streetwear colours and materials with feminine details added to every piece for a laid-back and stylish look.

Retro Street Fighter Clothing Collection Releases in Collaboration With HUF

Fashion brand HUF, which was established in San Francisco back in 2002, has released a new Street Fighter Collection featuring vintage, 8-bit designs.

 The collection is sure to be a nostalgia fest for fans of Capcom's iconic series, with designs featuring characters, stages, and more from Street Fighter in the form of shirts, tees, socks, hats, fleeces, and accessories.

The two resort shirts feature the background art of memorable stages from the games as well as Blanka's Electric Thunder and more. There's also a skateboard deck series for collectors which include references to the bonus stages.

A special HUF X hoodie featuring a Street Fighter arcade machine has also been added to the line-up amongst other must-grabs.

Jujutsu Kaisen Collaborates With Bakauke Rice Crackers

Japanese snack company Befco, which is known for a range of different products like Bakauke, Hoshi Tabeyo, Seto Shio, and more, is collaborating with the anime series Jujutsu Kaisen on its Bakauke rice cracker snacks. The items went on pre-sale at select convenience stores on April 12 and will roll out elsewhere on April 19.

Jujutsu Kaisen x Bakauke Soy Sauce Flavour | ¥120 (Before Tax)           

Following the success of the first collaboration in February, Befco is coming together with Jujutsu Kaisen again with all-new packaging for the soy sauce flavour of its bite-sized Bakauke senbei rice crackers.

Each bag also comes with one of the five stickers pictured above.

©芥見下々/集英社・呪術廻戦製作委員会

Information

Jujutsu Kaisen x Bakauke

Pre-Sale: April 12, 2021 / General Sale: April 19, 2021

Befco Official Website: https://www.befco.jp/

TETRIS® Gummy Candy Releases in Japan

Japanese candy company UHA Mikakuto has collaborated with the video game TETRIS® to launch pre-sales on their new Tsumu Gummy TETRIS® which hit shelves on Monday (April 12) in Japan.

Tsumu Gummy TETRIS® | ¥370 (Before Tax)

The colourful gummies arrive in seven different forms, shaped and coloured like the blocks in TETRIS®, meaning you can stack them as well as eat them. They are an assortment of green grape, red grape, orange, and strawberry flavours, and one pack weighs in at 180g.

Tetris ® & © 1985~2021 Tetris Holding.

KEEN x Murasaki Sports Collaborate on Footwear Release

Murasaki Sports and outdoor/footwear brand KEEN released a new limited-edition model of KEEN's NEWPORT H²O shoes, the NEWPORTのH2, on April 10.

KEEN x Murasaki Sports Limited Edition "NEWPORT H2"

The designer for the alternative models is GRINDLODGE garage project who have captured the gorgeous ocean with the sun and trees reflected on the water surface on them. This design is created using the company's grinder tool which makes each and every pair of shoes unique. The footwear is equipped with KEEN's Newport H2 technology so they can be worn both in and out of the water.



Murasaki Sports is donating 10% of the proceeds made from these limited-edition models to Umi Sakura to help keep Japan's oceans clean. Additionally, Umi Sakura, Murasaki Sports, and KEEN will begin rolling out their two-month #ACTIONFORCHANGE campaign this month in the run up to World Oceans Day which begins on June 8, 2021.


Murasaki Sports aims to teach more people engaged in sports such as surfing about importance preserving the environment through this campaign and footwear release. The brand is one supported by the youth of Japan, so the campaign hopes to pass down these messages of sustainability to young people.

Information

KEEN x Murasaki Sports Limited Edition Newport H2

Released: April 10, 2021 (Limited Edition)

Where: Murasaki Sports

Online Store: https://bit.ly/3cJmKAR

#ACTIONFORCHANGE Instagram Campaign

Running: April 5, 2021 – June 30, 2021

Present for Participating: Special tongs that can be used for picking up trash, camping, and more

How to Participate

・Method A: Post a photo of you in action

Take a photo of you that captures making the ocean beautiful and post on Instagram with the hashtag #アクションフォーチェンジ and/or #ACTIONFORCHANGE and tag Umi Sakura @umisakura_official

・Method B: Repost the official campaign posts

Repost the posts on Umi Sakura @umisakura_official, KEEN @keen_japan, and Murasaki Sports' @murasakisports_official, that have the hashtag #アクションフォーチェンジ on them along with the hashtag #アクションフォーチェンジ and tag Umi Sakura in your post.


*Winners will receive a DM from Umi Sakura's official Twitter account (@umisakura_official)

Umi Sakura: https://umisakura.com/

Harajuku's Pompompurin Maid Café to Open on April 14

Akihabara's premiere maid café chain "@home café" announced last month the opening of a permanent maid café themed on Sanrio's popular character Pompompurin. The café is set to open along Harajuku's famous Takeshita Street on April 14, 2021.

 © 2021 SANRIO CO., LTD.  APPROVAL NO. S620028

@home café has collaborated with many of Sanrio's popular characters in the past at its Akihabara-based café branches such as Hello Kitty, My Melody, Cinnamoroll, and of course Pompompurin, but this time the collaboration is flying out of Akiba and straight into the heart of Japanese pop culture: Harajuku.

This new Pompompurin Café is themed on Pompompurin throwing a party for everyone—that's you and your friends. It's a place for Purin to deliver happiness to all who visit in the form of cute and tasty food.

Of course, the @home café maids will also be present, and all wearing original maid uniforms coloured like Pompompurin.

A little look at some things on the menu

The Food

Soufflé Omurice | ¥1,450

Butter Chicken Curry | ¥1,300

The Desserts

Pompompurin Pudding | ¥700

Chocolate Banana Mountain Waffle | ¥1,200

The Drinks

Custard Pudding Latte | ¥850

Muffin's Caffe Mocha | ¥850

Take a commemorative photo

For just ¥550, you can take a chekki photo at the café. It comes with café-original stickers and paper. For an extra ¥300, you can take a photo with one of the maids.

Pompompurin Birthday Party

 

April 16 is Pompompurin's birthday, so on that day the café will have a special dessert prepared (which you can see below) along with novelties for customers, new decorations, and more.

Pompompurin's Birthday Dessert

Special Birthday Parfait | ¥1,700 | Serving: April 14, 2021 – April 30, 2021

Birthday Novelty

To commemorate Pompompurin's birthday and the opening of the café, all visitors will receive the pin below for free.

Pompompurin will visit the café

On the evening on April 16, Pompompurin will visit the cafe for his birthday to celebrate with everyone. Details and bookings can be found here in Japanese.

Information

Pompompurin Cafe x @home cafe

Grand Opening: April 14, 2021

Where: CUTE CUBE HARAJUKU Floor 3F, 1-7-1 Jingumae, Shibuya, Tokyo

Opening Hours: [Weekdays] 11:00-22:00 / [Weekends] 10:00-22:00

No Fixed Holidays

Pompompurin Cafe Official Website: https://pompompurincafe.com/

@home Official Website: http://www.cafe-athome.com/

Renai Mangaka Drama Series Gets Themed Cafe in Tokyo

Fuji TV's ongoing drama series Renai Mangaka opened a theme cafe in Ebisu on April 8 with dishes inspired by the series.

The Menu

Renai Pancakes | ¥1,892 (Tax Included)

Renai Fondant Chocolate | ¥1,122 (Tax Included)

Renai Lemon Sour | ¥660 (Tax Included)

Renai Strawberry Milk | ¥990 (Tax Included)

Renai Bread Gratin | ¥2,805 (Tax Included)

Renai Bread Dessert | ¥990 (Tax Included)

Renai Dessert Plate | ¥1,232 (Tax Included) | Available Early May 2021

Renai Omurice | ¥1,452 (Tax Included) | Available Early May 2021

The story of Renai Mangaka follows Karibe Seiichiro, a manga artist who's not the best at socializing. He rarely goes outdoors and has a strange way of thinking. One day, he meets his late-brother's former girlfriend Kuon Aiko, and asks her to be his pseudo-romance partner.

Information

Cafe Accueil Ebisu x Renai Mangaka Collaboration Cafe

Opened: April 8, 2021

Where: Cafe Accueil Ebisu

Address: 2-10-10 Ebisunishi, Shibuya-ku, Tokyo

Opening Hours: 11:00-21:00 (Last Orders 20:00)

Official Website: http://www.fujitv.co.jp/

Mister Donut Japan Releases 2nd limited- edition Gion Tsujiri Matcha Doughnuts

Mister Donut Japan released its new tasty collection of limited-edition doughnuts in collaboration with Gion Tsujiri, the famous tea shop in Kyoto from April 9. 

The Line Up

Fluffy Uji Matcha Mochi with Black Honey 

Fluffy Uji Matcha Mochi with Soybean Whipped Cream 

Fluffy Uji Matcha with Azuki Red Beans Mochi 

Pon de Double Uji Matcha

Pon de Double Uji Matcha with Black Honey Mochi

Pon de Double Uji Matcha with Soybean Whipped Cream and Azuki Red Beans 

Uji Matcha Chocolate, Azuki Red Beans and Rice Cake Balls Pie

Special Edition: Mister Donut Voucher Card with Masaki Sudaミ

The 1st edition of collection released on March 12 with the theme of colouration 

that enhances the colour of matcha. The new edition launching this time was developed with the theme of Japanese ingredients such as black honey that brings harmony with matcha.  "Fluffy Uji Matcha" series consist of 3 flavours made of luxurious Kyoto Uji Matcha with fluffy donut which marks its first appearance of this year. "Fluffy Uji Matcha with Black Honey" is a glossy doughnut coated with matcha chocolate with black honey filling. A wide variety of doughnut featuring 7 combinations of matcha and Japanese ingredients are unbearably delicious and unmissable. 

Mister Donut holds a promotional campaign in collaboration with the Japanese movie God of Kinema starring Masaki Suda, current image model of the brand. 

During the campaign, follow Mister Donut's official Twitter account and upload pictures of the collection with hashtag  "#ミスドでつや抹茶" and 428 lucky customers can win a voucher worth ¥500 with exclusive design features Masaki Suda.  Additionally, 67 lucky customers who have also participated in the 1st edition of Mister Donut ×Gion Tsujiri collection campaign previously can receive a voucher worth ¥2,000. 

Enjoy popular limited-edition doughnuts with Gion Tsujiri until your heart's content.