Karuizawa's New Apple Farm Opens in Collaboration With Hoshino Resorts and Local Farmers
The Karuizawa-based hotel and hot spring complex Hoshino Onsen Tombo-no-yu joined hands with local apple farmers last year to help support apple cultivation for their apple hot springs. This is now being taken to the next level with the opening of Ringo Tsuchi, an apple farm that Tombo-no-yu staff helped to build. The farm opened on March 19, and locals will be able to visit part of the farm for free starting on April 26.
The project ties in with the global Sustainable Development Goals (SDGs) initiative, specifically the 12th goal: "Responsible Consumption and Production," which looks to ensure sustainable consumption and production patterns. Karuizawa is located in Nagano Prefecture which is ranked as the 2nd biggest producer of apples in Japan. When growing apples, those fruits which incur any kind of damage or grazing isn't shipped to the country's supermarkets or stores. It's these not-so-perfect apples that Tombo-no-yu uses for its apple hot spring experience. Though it may just be a small step towards that goes, it still goes a small incremental way towards achieving it.
Free entry to Ringo Tsuchi
The main raw materials at Ringo Tsuchi ("Apple Earth") are the apples used in the apple hot springs and fallen leaves from around the Hoshino area. In addition to compost and water, the materials are fermented, which adds the necessary nutrients to growing apples and creates soft and breathable soil. And since compost is added, it creates an environment where gardening tools can be used in the earth without any prior preparation.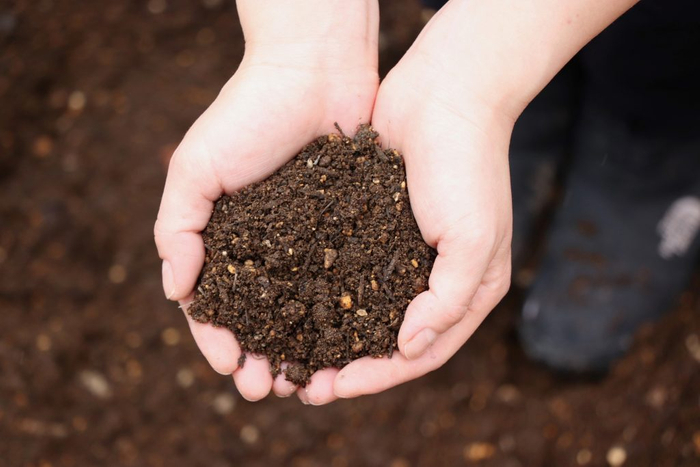 The completion of Ringo Tsuchi
In the mid-October last year, work was carried out at Nomoto Kajuen Orchards in Mimakigahara Okubo, Nagano, to carefully select picked apples and not-so-perfect apples. These apples were used for the apple hot springs at Tombo-no-yu over a three day period from October 23 to 25. The apples are placed in both the male and female hot springs to float on the water.
After that three-day period, the apples were collected, washed, and cut to be used for compost. Since fermentation removes water content, the staff also had to add water twice a month to manage the compost.
Working with the locals
Katsuya Nomoto is a representative of Nomoto Kajuen Orchards, a farm that grows apples, prunes, and more. The farm takes advantage of the area's high altitude and takes pride in its work to cultivate produce that is healthy to the body and environment using soil microbes as an organic fertiliser. It's also officially recognised as a farm dedicated to supporting Nagano's environment, and carries out school trips for children to visit, creating ties with the local community.
RELATED ENTRIES
Limited Time Atami Plum Cafe Opens at Risonare Atami Resort

Hoshino Resort Risonare Atami will open the Atami Plum Cafe from January 6 until March 11, 2022. Guests can experience the early arrival of spring beneath the plum blossoms, and at the cafe space on the top floor of the hotel, visitors can feast on a number of plum-inspired dishes. 

The Atami Plum Garden, located near the resort, is one of the most famous places in Japan to see plum blossoms early. The first blossoms usually open up in late November or early December, and this event will get people excited about welcoming the warmer spring months.

A false plum tree will welcome visitors to the cafe, and the ceiling will also be covered in lavender blossoms. The tables, chairs, and garlands are all themed to welcome spring, and the terrace will feature a plum-shaped kotatsu. Guests sitting beneath it can stay warm while gazing out at the vast ocean.

The Plum Gelato Plate features three varieties made with plum pulp, jam, and paste. Why not give it a try?

Plum Gelato Plate: ¥2,000 (Tax Included) *5 available per day

Information

Atami Plum Cafe

Running: January 6 – March 11, 2022
Hours: 10:00-22:00 (Last Order at 21:30)
*Adults Only (12 and up) after 21:00
Free Entry
Capacity: 40 seats 
*Visitors must be staying in the hotel. 

Official Site: https://risonare.com/atami/

Video Released of Winter Event at Hoshino Resort's Banta Cafe in Okinawa

Located in wonderfully warm Okinawa, Hoshino Resort is the perfect getaway for those wanting a warmer winter. The Banta Cafe overlooks the ocean, and from December 1, 2021, until January 31, 2022, the cafe is putting on the 'Illumi-Banta: Night Lights by the Sea' event. Of course, Illumi-Banta is a portmanteau of the words 'Illumination' and 'Banta,' but the Okinawan word iyumibanta means 'a cliff overlooking the fish.' The entire location, from the top of the cliff all the way to the sea, will be bathed in otherworldly light. A special menu is available during the event period, serving up food perfect for eating as guests wander by the seaside. A number of Okinawan workshops have also brought local craftsmen to the site to show off their creations.

Okinawa is warm in the winter, and this event has been perfect for those wanting to avoid being chilled to the bone during the holidays. For those unable to attend, the video above was filmed using a drone and shows the incredible heart of this event. Who knew that water could be so blue?

A Fantastic World of Light and Ocean Life

Banta Cafe sits on a cliff above the water, and the waters beneath it hide gorgeous coral reefs. Watch the sea come to life, as the ocean, white sand beach, and rock formations are illuminated. The lights will change colors during the daily light show along with the tides, giving a different impression depending on the time of day. The pavilion on the seaside terrace is also illuminated with motifs inspired by traditional Okinawan textiles.

Playful Plant Shadows

On the large roof deck located at the entrance, large fern and palm leaves have been arranged to welcome guests along with other plants local to Okinawa. Using lights, the shadows from these plants reach massive heights on the 4-meter high Ryukyu limestone walls. This takes shadow puppets to a whole new level!

Enjoy a Lantern-Lit Night Picnic

The night cafe will be selling a special Strolling Soup Set menu, inviting guests to venture out onto the sandy shore with a lantern in hand to enjoy a meal beside the sea. Guests can choose two of the available four soups along with a crispy baguette and herb butter.


Hours: 18:00-20:30 (Last Order)
Price: Strolling Soup Set for Two, ¥2,600

The Night Light Market, a Gathering of Proud Okinawan Artists

On Saturday nights from January 8 to January 29, the Night Light Market will bring various artists and craftsmen from Okinawa to the Hoshino Resort. These artists will be excited to share the culture of Okinawa and will offer a range of products made of locally sourced materials. Guests can even try their hand at local crafts at the indoor Gorogoro Lounge!

Running: Every Saturday Night from January 8 – January 29, 2022

Hours: 18:00-21:00

Information

Illumi-Banta
Running until January 31, 2022
*Running every Thursday during the event period except December 23 and 30. Closed December 17-21. 
Hours: 18:00-22:00 (Last Drink Order at 21:00)

*Event may be canceled in case of inclement weather.
Admission: Free admission with purchase at cafe or grill.

Official Site: https://banta-cafe.com

Hoshinoya Karuizawa Unveils Special Anniversary Plan on the Ice

Each Hoshinoya location has its own unique theme, and all offer an extraordinary experience. Hoshinoya Karuizawa, a resort in Nagano Prefecture, has opened reservations for the Starry Winter Anniversary Plan, allowing couples to celebrate their love away from the hustle and bustle of the city beneath the dazzling winter sky. The staff at the resort will assist couples in celebrating the special day at various locations around the resort, and a custom-made photo tour will also be included!

Surrounded by rich nature at the foot of Mt. Asama, Karuizawa reaches low temperatures in winter, creating beautiful scenery dotted with icy trees and snow glistening in the sunlight. This plan is perfect for those who want to escape the stresses of the current pandemic. 

A Special Seat on the Ice

The Karuizawa Wild Bird Sanctuary is located directly beside Hoshinoya Karuizawa and houses the Kera Pond at the entrance. Used as an outdoor skating rink during the winter months, a large two-person seating area is erected on the ice which can only be reserved for couples. Lovebirds can enjoy champagne, dried fruits, and cheese as they gaze up at the starry sky. 

Guest Rooms Decorated for the Celebration

With rooms offering spectacular nature views, couples can enjoy herbal tea, sweets, and flower arrangements only included in this special plan. The flowers may be taken home, and the sweets include florentines made with miso, a specialty of the Shinshu area. They are said to be 'sweets that bring happiness,' and may be the key to many more happy years together!

Custom-Made Photo Tour

The landscape around the resort pays homage to traditional Japanese landscaping and includes terraced rice paddies, rivers, and unique vegetation. The custom-made photo tour is a private tour limited to one group, in which couples stroll around the grounds with a photographer to take photos at these spectacular locations. These will be made into an album with the Hoshinoya Karuizawa logo. 

Artist Maki Ohkojima Collaborates with UpcycleLino to Create Sustainable Items

Artist Maki Ohkojima is inspired by life and the environment. UpcycleLino is creating completely recyclable products that produce zero waste. It makes sense that these two would collaborate, and their new items ask people to think more about their relationship with nature. With a theme of 'circulation,' these items will be on sale at participating shops around Japan and online. 

UpcycleLino × MANDALĀJU Big Band Collared Shirt

UpcycleLino × MANDALĀJU Sketched Tote Bag

UpcycleLino × MANDALĀJU Scarf

The 'Tree of Life' project is inspired by the theme of coexistence between the environment and all living things. It is important to protect limited resources for future generations. UpcycleLino is a completely sustainable company, using fabric scraps from other projects to create brand new clothes. 

People, animals, insects, plants, and all other living things exist in the circle of life, and this is the message conveyed through Maki Ohkojima's art. What can we do to better coexist with the planet? 

©角川武蔵野ミュージアム

Information

Kadokawa Musashino Museum 'Maki Ohkojima Art Exhibition – Perforated Spiral' 

Date: October 8, 2021 ~

Address: Kadokawa Musashino Museum (3-31-3 Higashi Tokorozawa, Saitama)

Hours: Sunday-Thursday: 10:00-18:00 (Last Entry at 17:30) / Friday, Saturday: 10:00-20:00 (Last Entry at 19:30)

Official Site: https://kadcul.com/

Collaboration Items

October 8, 2021~

Where to Buy: 

Kadokawa Musashino Museum Shop

nest Robe: https://store.nestrobe.com/nestrobe/ / CONFECT Online Shop and the following shop locations: Omotesando, Ginza, KITTE Marunouchi, Takasaki, Umeda, Kyoto, Nagoya, Okayama, Hiroshima, Fukuoka, Osaka Takashimaya

Hoshino Resort's Banta Cafe in Okinawa to Open Limited-Time Night Cafe During Winter

Located in wonderfully warm Okinawa, Hoshino Resort is the perfect getaway for those wanting a warmer winter. The Banta Cafe overlooks the ocean, offering unmatched views. From December 1, 2021, until January 31, 2022, the cafe will hold the 'Illumi-Banta: Night Lights by the Sea' event. Of course, Illumi-Banta is a portmanteau of the words 'Illumination' and 'Banta,' but the Okinawan word iyumibanta means 'a cliff overlooking the fish.' The entire location, from the top of the cliff all the way to the sea, will be bathed in otherworldly light. A special menu will also be available during the event period, serving up food perfect for eating as guests wander by the seaside. A number of Okinawan workshops will also bring local craftsmen to the site to show off their creations. Why bundle up when you can enjoy a warm winter by the ocean? 

A Fantastic World of Light and Ocean Life

Banta Cafe sits on a cliff above the water, and the waters beneath it hide gorgeous coral reefs. Watch the sea come to life, as the ocean, white sand beach, and rock formations are illuminated. The lights will change colors during the daily light show along with the tides, so don't miss it!

Light Show Times: 18:30, 20:00, 21:00 *Each show lasts about five minutes.

Playful Plant Shadows

On the large roof deck located at the entrance, large fern and palm leaves have been arranged to welcome guests along with other plants local to Okinawa. Using lights, the shadows from these plants reach massive heights on the 4-meter high Ryukyu limestone walls, and guests are encouraged to try making some fun shadow puppets for the perfect snapshot!

Enjoy a Lantern-Lit Night Picnic with the Strolling Soup Set

The night cafe will be selling a special Strolling Soup Set menu, inviting guests to venture out onto the sandy shore with a lantern in hand to enjoy a meal beside the sea. Guests can choose two of the available four soups along with a crispy baguette and herb butter. 

Hours: 18:00 – 20:30 (Last Order)

Price: Strolling Soup Set for Two, ¥2,600

Includes: Two types of soup and bucket for two people, lantern and basket rental

Four Types of Soup

・ Minestrone
Filled with colorful vegetables, such as tomato, bitter melon, and yellow carrot

・Clam Chowder

Packed with seafood flavor and a unique mix of Okinawan spices

・Consomme with Yushi Tofu
A lightly-salted soup made with Okinawa's fluffy Yushi Tofu and thick-cut bacon

・Yam and Cauliflower Potage
Creamy potage with white cauliflower and brightly colored yam

The Night Light Market, a Gathering of Proud Okinawan Artists

On Saturday nights from January 8 to January 29, the Night Light Market will bring various artists and craftsmen from Okinawa to the Hoshino Resort. These artists will be excited to share the culture of Okinawa and will offer a range of products made of locally sourced materials. Guests can even try their hand at local crafts at the indoor Gorogoro Lounge!

Running: Every Saturday Night from January 8 – January 29, 2022

Hours: 18:00-21:00

Wouldn't you prefer a warm Okinawan winter? 

Information

Illumi-Banta

Running: December 1, 2021 – January 31, 2022 (Closed from January 17-21)

Hours: Sunset – 21:30

Official Site: https://banta-cafe.com/

Solo One-Day Hot Spring Plan Offers Complete Relaxation and Rejuvenation in Karuizawa

Karuizawa Hoshino Area, a place known for bringing nature and culture lovers together, will be offering a new one-day hot spring spa plan from November 4, 2021, until March 19, 2022. This is the perfect way to unwind from the stresses of the past year while getting away from crowds and responsibilities. Because it's only one day, it's perfect for those who can't take a long vacation, but who are still desperate for some relaxation! The package will include access to hot spring baths, body care, a choice of lunch and drinks, and plenty of skincare amenities.

Tonbo-no-Yu Hot Spring, open since the Taisho era, will serve as the main location for the getaway. The springs themselves are bicarbonate and chloride springs with soft and thick waters in which to achieve the perfect soak and detox. Getting out of the water will leave a veil of salt on your skin, moisturizing it and cleansing every inch of your body. The open-air bath is surrounded by trees, while the indoor baths offer excellent views through oversized windows. 

Five Luxuries to Enjoy on the One-Day Getaway

[Power Up] Proper Bathing Instructions for the Best Hot Springs Experience

For those looking to maximize their hot spring experience, a comprehensive bathing guide will be provided to all guests, including breathing exercises and techniques for a great facial massage. The plan includes rental towers, and guests can feel free to enter the springs as many times as they like. At the reception desk, guests will also be given a bottle of Apple Vinegar Water to help them stay properly hydrated while soaking. 

[New] Gentle Skin Care while Relaxing in the Spring

Those participating in the one-day plan will be given OSAJI amenities to use during their stay. The brand is made up of safe and organic products approved by dermatologists, to be applied before and after bathing. 

[Power Up] Improve Gut Health with Healthy Beverages

When guests get out of the bath, a warm brown rice amazake will be waiting, shown to improve the intestinal environment and boost natural immunity. By using brown rice, the drink contains larger amounts of Vitamin E and dietary fiber than traditional amazake. This tasty drink will be served at Cafe Hungry Spot, adjacent to the springs. 

Relieve Stiff Joints with Attentive Body Care

At Tokoyo, located within the Harunire Terrace in the Karuizawa Hoshino Area, guests will get a 30-minute body care treatment with their choice of foot massage or shoulder and neck massage. Unwind and let go of all of your stress. 

Choose From Six Different Restaurants for Lunch

For lunch, six restaurants in the Hoshino area are at your beck and call, from Japanese cuisine to Italian. There's no need to make reservations in advance; choose what you're craving the day of, and don't stress! 

Information

Solo One-Day Hot Spring Spa Plan

Running: November 4, 2021 – March 19, 2022 (Excluding Dec. 29 – Jan. 3 and Jan. 11 – 20)

Reservations: https://www.hoshino-area.jp (Reservations required by 18:00 the day before) 

Location: Tonbo-no-Yu, Karuizawa, Nagano

10-Day Sustainability Themed Event 'Love Earth, Love Us' to Open at Sendai PARCO

Sendai PARCO will begin a 10-day event focusing on the idea of sustainability starting September 17 and concluding September 26, 2021. 'Love Earth, Love Us' will highlight sustainability-related products and services available at the shops within Sendai PARCO, and a web page has already been opened to get people thinking about this important subject. Those purchasing or using any of these products and services will receive certain added bonuses, as a way to raise awareness and give back to those making an effort to support the health of the planet. 

The main visual used in promoting the event was drawn by Toshiya Nakashima, and depicts Mount Vinicunca in Peru, often called Rainbow Mountain. The drawing was commissioned by Heralbony, an art gallery featuring pieces by those with intellectual disabilities, who will also hold a limited-time pop-up shop inside Sendai PARCO during the event. The shop will sell unique items, including hand towels featuring this gorgeous portrait of Rainbow Mountain, so don't miss out!

Japanese Lifestyle Brand athletia to Launch in UK in October

Eco-friendly Japanese skincare and lifestyle brand athletia will release its products in the UK market this October. The UK version of the brand's website, including an e-shop, is planned to be available to consumers on October 6.

athletia was launched by Kao Group's cosmetics manufacturer e'quipe in February 2020, and prides itself on using only environmentally friendly ingredients, containers, and packaging.

At the time of launch, the company will adopt the DTC model, concentrating on e-commerce and social media in order to show transparency and build trust within the community. During the following year, athletia aims to specifically include other companies' e-commerce sites in its sales strategy, due to the changes the retail world has experienced due to COVID-19.

European consumers have high standards when it comes to sustainable products, social contributions, and corporate transparency, and athletia is confident it can meet the level of excellence needed for further growth in the region. Using the UK as a foothold, athletia plans to expand to other European countries within three years.

The Meguriwa Exhibition to Touch on Sustainability in Japan

Meguriwa, a project promoting sustainability in Japan, will hold a two-day market and exhibition on November 12-13, 2021. The venue for the event isn't a large convention center, but rather an old house forgotten by time in southern Shibuya, surrounded by new development. The space blends traditional Japanese atmosphere with a modern Western style, and promises a sense of nostalgia to all who attend. 

The event will bring together a large collection of artwork, products, and materials from creators and companies all over Japan who focus on recycling-centric creation. This includes products made from wood sourced from forest thinning, as well as those using a portion of proceeds to support environmental conservation efforts. In the midst of major societal changes, humans must continue to coexist with natural phenomena like climate change, viruses, and earthquakes. With this in mind, Meguriwa hopes to share their vision of a 'circular bioeconomy,' in which mankind doesn't separate themself from nature, but instead both fears and appreciates it. 

The event is advertised as a place where people can both learn and have fun while considering our impact on nature, and how we can impact the future. An online seminar, 'The Meguriwa Study Hall,' will take place each week for a month prior to the event!

This event is for a great cause. Get to know local craftsmen and more about long-term sustainability this November!

Information

Meguriwa Exhibition

Dates/Times: 

November 12, 2021   10:30-19:00
November 13, 2021   10:30-18:00

Location: OLD HAUS (An old house with a garden near Namikibashi)

Address: 1-26-32 Higashi, Shibuya, Tokyo

Price: Entrance Free
① Free Ticket: Free
② Priority Admission (Priority Entry): ¥1,000

Details: https://peatix.com/event/1833758/

Hoshino Resort Tomamu Offers Limited-Time Salmon Themed Package

One of the largest resorts in Hokkaido, Hoshino Resort Tomamu will be offering a 'Family Salmon Trip' package starting on September 4, 2021. This two-day, one-night plan will be available until October 31, 2021, and features a salmon-themed room complete with salmon pajamas! The accompanying meal plan includes dishes made from different parts of salmon, complete with a challenge: try your hand at making salmon roe, and enjoy your creation at breakfast the next day! Who knew that a salmon-themed getaway was even possible? 

Salmon Room

Bath inspired by a salmon roe bowl

Salmon Roe making experience

Children's Salmon Plate

Salmon Dinner

Breakfast 'Salmon and Roe Oyako-don'

Why the salmon theme? The source of the Mukawa River is located near the resort, and where salmon are said to migrate, leaping upstream. Starting in September 2017, the salmon travel plan was introduced to inspire visitors to enjoy this fish at peak season. During the two-day, one-night stay, guests can surround themselves with all things salmon, going so far as to feel like one themselves! This 'Family Salmon Trip' was launched to give children a chance to experience the fun, based on one of Hokkaido's most beloved dishes. 

The plan includes a room decorated from floor to ceiling in fishy furnishings, including salmon curtains, mugs, figures, and cushions. The bedroom is inspired by the salmon's difficult trek up the river, with a bed frame depicting father and son bears attempting to make a catch. Children will have a blast transforming into a salmon in their special pajamas, complete with a nightcap. The whirlpool tub offers stunning views, but that's not all–with the help of bath salts, the bathtub transforms into a bowl of salmon roe, with a new salmon fillet float to make the experience even more memorable!

Families can change into a cook's coat and try their hand at preparing salmon roe, which will then be used in next day's 'Salmon and Roe Oyako-don' breakfast. The 'Children's Salmon Plate' features a collection of unique salmon dishes on a fish-shaped plate, while adults can enjoy the featured Salmon Dinner, which uses every part of the salmon, from the nose to the tip of the tail!

How do you feel about a salmon-themed family vacation? 

Information

Family Salmon Trip

Running: September 4, 2021-October 31, 2021 until check-in
Details/Reservations (up to 10 days in advance): https://www.snowtomamu.jp/ 

Art For Social Change Project Launches in Japan Using Waste to Create Art

Innovation Design launched its new 'Art For Social Change' project at haishop in Shibuya Scramble Square on July 21 which sees artwork made from waste.

According to Japan's Ministry of the Environment, 42.74 million tonnes of garbage has been thrown out since 2019. That's the equivalent of around 115 Tokyo Domes, or 918g of waste per person everyday. The waste cannot be exported, and so real action is required to reduce the amount of waste create on the island country of Japan, especially when thinking 20 years down the road.

That's where haishop comes in. Using caps from detergent, which are actually no longer sold, as well as plastic caps and other materials resulting from waste, it will create a new identity for waste together with consumers in the form of art. Art For Social Change aims to send a message to society to make real transformations in the world through the medium of art.

It's easy to imagine what happens when creating a product up to its completion, but considering what happens to it after it's been used is a lot more difficult. Every year, the available capacity at final disposal sites decreases more and more. The important topic at hand is getting everyone in Japan to really treasure the products they buy, to conceive ideas on how to prolong longevity of the things that people purchase, and construct a new society centred on recycling and reusing. And this isn't just a Japan problem – it's a global one. That's the message which Art For Social Change carries.

 

The only conditions on participating with the project is that you agree with its goal and that you use materials on sale at haishop. Everyone is invited regardless of age or gender.

The artworks in action


4th year students from Nitobe Bunka Elementary & Junior High School used waste materials to create 'souvenir' theme products which the children are helping to sell at the shop. The proceeds go back to the school itself while helping teach children about new ways of reusing and recycling.

Souvenirs created by the students of Nitobe Bunka Elementary & Junior High School

Mascara bottles made using caps from detergent bottles

Jambuka Pancakes Get Tossed and Loaded With Fresh Cream and Fruits in Osaka

Jambuka Abeno Q's Mall is the only place in Osaka where locals can enjoy the incredible pancakes created by the fresh cream desserts specialist shop MILK. This summer, they are now serving a new seasonal treat: the 'Sweet Summer Mikan & Lemon Pancakes.'

Sweet Summer Mikan & Lemon Pancakes | ¥1,089 (Tax Included)

Fresh Cream Milk Pancakes | ¥858 (Tax Included)

Fresh Cream Strawberry Milk Pancakes | ¥1,089 (Tax Included)

Fresh Cream Chocolate Banana Milk Pancakes | ¥979 (Tax Included)

All pancakes are made-to-order and are covered in a rich, creamy sauce made from fresh cream from Hokkaido. Enjoy them plain or topped with fresh fruit.

Information

Sweet Summer Mikan & Lemon Pancakes

Running: July 15, 2021 – August 31, 2021

Location: Jambuka Abeno Q's Mall
Address: Abeno Q's Mall Floor 4F, 1-6-1 Abenosuji, Abeno Ward, Osaka, 545-0052, Japan
Opening Hours: 11:00-21:00
TEL: 06-6636-0555
Official Instagram: https://www.instagram.com/jambuka_abeno/