Stay at Nagasaki's Hirado Castle as it Opens as a Hotel Site
Hirado Castle in Nagasaki comes as the first castle in Japan to open as a permanent accommodation site. The service launched on April 1, 2021, at the ancient castle, which was listed as one of the 100 Fine Castles of Japan by the Japan Castle Foundation in 2006.
The Guest Rooms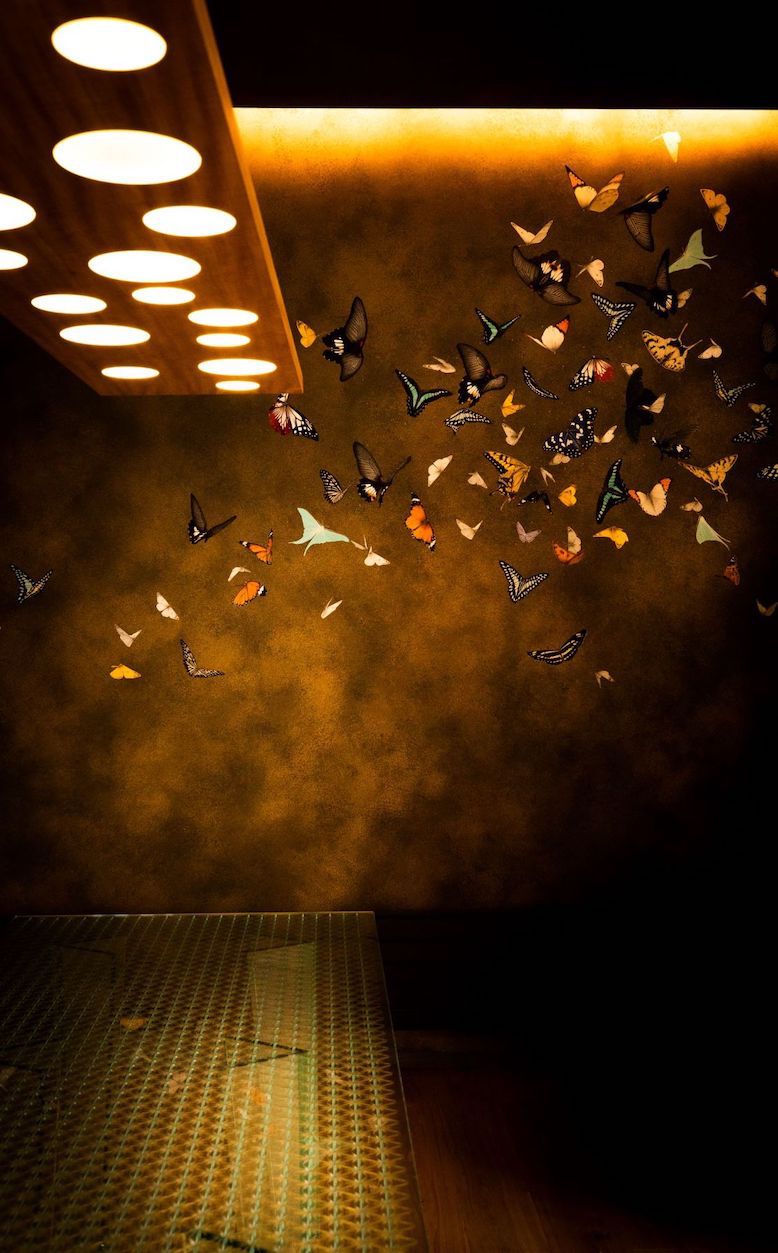 A breathtaking art piece by Takahide Komatsu decorates the living and dining room
A jewel-inspired design in the living and dining room
Takahide Komatsu's cherry blossom wall art blooms up the stairs leading to the guest rooms
Hirado Castle was built in 1559 by Matsura Shigenobu, a lord of the Hirado Clan. However, Matsura burned down the castle in 1613 to show his loyalty to the Tokugawa shogunate. The castle was rebuilt in 1718. Its gorgeous decor and incredible surrounding natural environment draw tourists and sightseers every year.
Guests at Hirado Castle will stay on the second floor which was rebuilt in 1977 after being formerly used as a storehouse. The decor is a fusion of the traditional and the modern, expressing not only the Japanese aesthetic but embodying Hirado. With this castle stay, guests can enjoy the cuisine of Hirado, get in touch with the local nature with spots like Hirado Bridge and Hirado Island, enjoy traditional music at the tea ceremony, and much more.
Information
Hirado Castle – Castle Stay
Rooms: 1
Capacity: One group of up to 5 people
Address: 1446 Iwanouecho, Hirado, Nagasaki 859-5121
Official Website: https://www.castlestay.jp/en/
RELATED ENTRIES
Nagasaki's 112 Year Old Hotel Nampuro Opens Terraces With Panoramic Ocean and Sky Views

The 112-year-old Hotel Nampuro in Nagasaki is set to open the new Sky Terrace and Ocean Terrace this month. These vistas offer breathtaking, unbroken views of the sea and sky that make it feel as if you're floating on the ocean with rolling skies ahead that stretch to the horizon.

Observation Terrace (1)

Observation Terrace (2)

Infinity Pool-Style Open-Air Bath

Silky Bath

Beautifying Bubble Baths

Jacuzzi Bath (Male Only)

Children's Bath

Hinoki Sauna & Steam Sauna

Iyashi Onsen Cafe

Rental Open-Air Bath

The observation terrace offers an incredible panoramic view of the great Ariake Sea that offers a picturesque spectacle at all times of the day. Guests can enjoy seeing the morning, noon, and night skies which merge together with the ocean for an unbeatable result. There's also a "no talking" rule on the terrace so guests can fully soak up what's in front of them as they take a luxirous soak in the warm baths.

The infinity pool-style open-air bath offers a refreshing view while making it seem as if you are part of the ocean. The silky bath uses delicate micro bubbles which become an air cushion and promote good blood circulation using massage. The jacuzzi bath relaxes the entire body with stimulating bubbles, while the children's bath allows kids to get in on the fun too. Both saunas are a change to unwind fatigue and the tired body. The steam sauna is set at a lower temperature than your usual high-temperature dry sauna which ensures it doesn't have as much strain on the body so guests can sweat it out comfortably. The freshly-brewed coffee available at the hot spring is also exclusive to the hotel's Onsen Cafe.

Japan's Pixar Bullet Train Project 'GO! WAKU WAKU ADVENTURE with Pixar' Details Announced

JR Kyushu has signed a promotional license agreement with Walt Disney Japan to launch the "GO! WAKU WAKU ADVENTURE with PIXAR" project, which will see the shinkansen bullet trains decorated in characters from the Pixar animated filmography starting on September 12, 2020.

The project comes at a time when Pixar celebrates the 25th anniversary of the original Toy Story film, which released back in 1995 as the first entirely computer-animated feature film.

New details have been released for the upcoming project, including the unveiling of the key visual, the content of the collaboration, campaigns that will be held, and limited-edition merchandise which will be sold.

Key Visual

The key visual is a colourful Pixar creation which is shaped to look like the seven prefectures that make up Kyushu—Japan's south-westernmost island where the JR Kyushu WAKU WAKU ADVENTURE Shinkanen bullet train will run.

Character Visuals

Poster Design

All major stations along the JR Kyushu Line display the key visual along with the above-pictured poster featuring various Pixar characters. Each of Kyushu's seven major prefectural train stations listed below will also have additional posters for different Pixar films.

Hakata Station: Toy Story
Saga Station: Up
Nagasaki Station: Finding Nemo
Oita Station: The Incredibles
Kumamoto Station: Cars
Kagoshima-Chūō Station: Monsters, Inc.
Miyazaki Station: Wall-E

Tabloid Distribution

For illustrative purposes only. Distribution from September 12, 2020.

At all major stations running the JR Kyushu Line, commuters can get their hands on a free tabloid inspired by the "My Adventure Book" from the Pixar film Up. The content of the tabloid features information related to the collaboration and where you can find Pixar characters at stations throughout Kyushu, so you too can have your own adventure.

Photo Spots

Cars photo spot

The seven JR Kyushu prefectural stations will also have their own photo spots where you can snap a picture. You'll also spot Woody and Buzz dolls and Hakata Station and Sully and Mike ones at Kagoshima-Chūō Station.

Participating Stations: Hakata Station, Saga Station, Nagasaki Station, Oita Station, Kumamoto Station, Kagoshima-Chūō Station, Miyazaki Station

Special Site & Official Instagram

A special site opened which features the departure schedule for the JR Kyushu WAKU WAKU ADVENTURE Shinkansen, details on campaigns, the latest details on the collaboration, and more. Waku Waku ADVENTURE now also has its own Instagram page which includes reports on event, pictures of merchandise, and other details.

Special Movie

A special collaborative movie will be released in September centred on the themes of Pixar's movies such as bonds between people, family, friends, and adventure. It will be shown at JR Kyushu stations and the special site.

Campaign: Find the Pixar Ball

Original sticker designs

If you spot a station staff member at any of the JR Kyushu prefectural stations wearing a Pixar ball badge, call out to them and they'll give you one of seven possible Pixar stickers as pictured above. All seven can be put into your "My Adventure Book," so try collecting them all!

Participating Stations: Hakata Station, Saga Station, Nagasaki Station, Oita Station, Kumamoto Station, Kagoshima-Chūō Station, Miyazaki Station

*Depending on the time, platform staff may not be wearing the badges

*Stickers are available while supplies last

GO! WAKU WAKU ADVENTURE Digital Stamp Rally

A digital stamp rally will be held on the official JR Kyushu app. Board the JR Kyushu WAKU WAKU ADVENTURE Shinkansen, visit JR Kyushu Stations, and get some original stamps.

1st Stamp Rally: September 12, 2020 – January 31, 2021

Limited Edition Merchandise

Merchandise lineup

A special collection of merchandise has been created featuring designs of Kyushu and the Pixar characters. The items will be sold at shops around JR Kyushu stations and online in Japan.

Release Date: September 12, 20202
Merchandise List: https://www.jrkyushu.co.jp/train/wakuwaku-adventure/goods/

Those who ride the very first departing train will receive an original Pixar design train ticket. The Tsubame 363 train bound for Kagoshima-Chūō Station will depart from Hakata Station at 12:19 on September 12, 2020.

©Disney/Pixar

3 Must-Visit Cherry Blossoms Spots in Nagasaki Prefecture's Hirado City | Spring 2020

Spring has arrived in the city of Hirado, Nagasaki, which has been dyed a cherry blossom pink colour from the blossoming of the cherry trees. A simple glance at the signs of spring there is enough to have one feeling elated. It has also made the news that the budding of the cherry blossoms in Hirado has arrived earlier than usual.

We've made a list of 3 popular spots to enjoy Hanami in Hirado this spring.

Jigenzakura


Jigenzakura is a single sakura tree that stands proud and majestic. Aged 140 years old, the tree is listed as a National Treasure of Hirado. It's close to the Oshima variety of cherry tree, and was planted by Catholics who migrated to Japan at the beginning of the Meiji Period. A visit to Jigenzakura offers a splendid sight to behold as it blossoms in the ravine. The best time to see it in full bloom last year was March 31.

Address: Kigatsucho, Hirado, Nagasaki (35-minutes from Hirado Bridge)

Nagasaki Tabi Net: https://www.nagasaki-tabinet.com/guide/51690/

 

Kameoka Shrine / Kameoka Park


Kameoka Park is a famous cherry blossom site that's adjacent to Hirado Castle. It's home to around 1,000 sakura trees, which are best seen from the end of March to early April. It also has a very rare type of cherry blossom called the nidozaki-zakura which blooms twice. You can see these around mid-April at Kameoka Park.

Address: 1458 Iwanouechō, Hirado, Nagasaki (7-minutes from Hirado Bridge)

Nagasaki Tabi Net: https://www.nagasaki-tabinet.com/guide/370/

Tabira Park


Tabira Park is just over Hirado Bridge, and is a place where you can look out at both Hirado Bridge and Hirado Seto while gazing at the rows of cherry trees.

Address: 823-1 Tabirachō Kotedamen, Hirado, Nagasaki (Next to Hirado Bridge)

Official Website: http://nagasaki-park.or.jp/free/tabira

Hirado is easy to get to, and is a must-visit not just for Hanami, but for the food and its rich history too.

5 Must-Visit Beautiful and Romantic Lantern Festivals in Japan | 2020 Edition

The season for Japan's enchanting and romantic lantern events has finally arrived, and the line-up this year is diverse, from events where lanterns are the main attraction to lantern-lined festivals and Japanese matsuri festivals.

Hankyu Travel International compiled a list of these events , and we've pulled out some of the best ones for you.

Hanamaki Hoshi Meguri no Yoru | Iwate Prefecture

This year marks the third run of "Hanamaki Hoshi Meguri no Yoru," an event held during winter for guests staying at Hanamaki Onsen. The event is comprised of many elements, including fireworks, folk entertainment, and more. People will also write wishes and messages or draw pictures on their lanterns before sending them up into the winter night sky. Afterwards, they can enjoy a dip in the hot springs at Hanamaki Onsen to warm themselves up and unwind from the day.

Running: January 26, 2020/February 22, 2020/February 11, 2020/February 16, 2020/February 24, 2020

Location: Namari Ski Center
Address: Nakadaira-36-1 Namari, Hanamaki, Iwate

▼Hanamaki Hoshi Meguri no Yoru Tour
https://www.hankyu-travel.com/kokunai/keyword/%E3%81%AF%E3%81%AA%E3%81%BE%E3%81%8D%E6%98%9F%E3%82%81%E3%81%90%E3%82%8A%E3%81%AE%E5%A4%9C/?p_baitai=9599

China Lantern Festival | Chiba Prefecture

Tokyo German Village is hosting its second China Lantern Festival, inspired by the typical traditional festivals held in China during spring. A selection of 30 lantern installations of varying sizes made by the world's biggest lantern maker Lantern Group have been set up in the 50,000 square meter area. Pieces include lanterns over 10 meters long and high, lanterns floating on the water, moving lanterns, and more.

Running: November 23, 2019 – April 5, 2020

Location: Tokyo German Village

Address: 419 Nagayoshi, Sodegaura, Chiba

▼Tokyo German Village Tour
https://www.hankyu-travel.com/kokunai/keyword/%E6%9D%B1%E4%BA%AC%E3%83%89%E3%82%A4%E3%83%84%E6%9D%91/?p_baitai=9599

Tsunan Yuki Matsuri | Niigata Prefecture

Since 2012, the people of Tsunan in Niigata have raised sky lanterns into the sky to pray for the revival from the disaster that the Tohoku earthquake brought in 2011. It is a two-day festival, with the first day of the event taking place at night, and the second being the main day of the festival. The festival is so popular that tickets never fail to sell out quickly every year. It brings with it a host of events, from the lanterns to the snowboard straight jumping tournament, the hanging of snow lanterns, snowmobile rides, and more.

Running: March 14, 2020 (There will also be a lantern event the night before on March 13, 2020)

Location: New Greenpia Tsunan

Address: 12300 Akinari, Tsunan, Nakauonuma-gun, Niigata

▼Niigata Tsunan Sky Lantern Festival Tour
https://www.hankyu-travel.com/chubu-hokuriku/niigata/lantern/?p_baitai=9599

Nagasaki Lantern Festival | Nagasaki Prefecture

This festival was originally held during the Chinese New year by the people of Nagasaki Chinatown, but in 1994 it was given the name "Nagasaki Lantern Festival." To date, it has been attended by over 1 million people. This year, around 15,000 lanterns of varying sizes are set to light the streets. Taking place across several areas, some standout pieces include the peach-coloured lanterns at Nagasaki Chinatown, the ceiling lanterns at Hamanomachi Arcade, the water lanterns at Nagashimagawa Park, and more. On weekends, there are also parades, traditional Chinese performance, and other exciting events. And if you head to Nagasaki Confucian Shrine (also known as Koshi-byo), you can offer a love lantern to pray for happiness in your relationship.

Running: January 24, 2020 – February 9, 2020
Locations: Nagasaki Chinatown/Central Park/Tojin Yashiki/and elsewhere
Address: Various places throughout the city of Nagasaki

▼Nagasaki Lantern Festival

Hankyu Travel International Tour: Hankyu Travel International

Nagasaki Tourism Page: https://travel.at-nagasaki.jp/en/what-to-see/62/

Ryukyu Lantern Festival 2019-2020 | Okinawa Prefecture

Murasaki Mura Ryukyu Kingdom Theme Park is known for having originally been used as the set for several historical drama series, and was subsequently turned into a theme park after filming was finished. The Ryukyu Lantern Festival welcomes a variety of different lanterns, including Chinese lanterns, paper lanterns, various Asian lanterns, and more, each of which bring a completely different atmosphere depending on the area you are in. This year sees the welcome return of the annual lantern contest where 45 individual lantern pieces are exhibited. There are also different street performances every day on the Night Lantern Stage, as well as projection mapping displays, the Night Lantern Cafe, and more.

Running: December 1, 2019 – March 31, 2020

Location: Murasaki Mura Ryukyu Kingdom Theme Park

Address: 1020-1 Takashiho, Yomitan, Nakagami-gun, Okinawa

Murasaki Mura Official Website: https://murasakimura.com/

Be part of one of Japan's many beautiful lantern festivals this year and witness some seriously breathtaking night scenes.

Toshio Suzuki & Studio Ghibli Exhibition Bound For Nagasaki This Summer

The second run of the Toshio Suzuki & Studio Ghibli Exhibition is set to take place at Huis Ten Bosch in Nagasaki from July 13 to September 23. The event is focused on longtime Studio Ghibli producer Toshio Suzuki and centres on specific "words" he wishes to convey through this work.

The exhibition had its first run in Tokyo back in April this year. We covered that event in detail so be sure to give it a read.

The enormous 3-meter tall Yubaba & Zeniba centrepiece will return at the Nagasaki exhibition. Visitors can draw omikuji fortunes from the display which have Suzuki's keywords written on them along with his explanation of them. You can take these home with you―a perfect addition for your Studio Ghibli collection!

An extremely special merchandise shop will also open at the site with exclusive items and products on sale and decor and decorations that will have you feeling you have stepped right into an enchanting world woven by Studio Ghibli.

Fan: ¥702 (Tax Included)

Get your hands on an official Spirited Away fan to cool yourself down at the event this summer. On one side is an illustration of Yubaba and on the other some powerful words from Suzuki.

Tote Bag: ¥1,620 (Tax Included)

Express your love for Studio Ghibli everyday with this tote bag featuring the same illustration of Yubaba―which is the main visual for the exhibition―on the side. It's big enough to be worn on your shoulder making it a convenient day-to-day item.

Tea-Towel: ¥1,296 (Tax Included)

This beautiful tea towel is made in collaboration with dyed goods company Chikusen who have been around since the Edo period. It has a traditional indigo blue colour and is made from high quality material. A perfect gift and souvenir for any fan of Studio Ghibli.

We can't forget the themed food menu either. You'll find it on the first floor of Huis Ten Bosch at the Tea Salon.

Bath House Dessert: ¥850 (Tax Included)

A fitting dessert for any guest of the Spirited Away bath house, look forward to a bamboo charcoal-black chocolate-sprayed vanilla ice cream, colourful sugar candy and a cookie. It's also served with iced corn tea.

Toast For Adventure Lovers: ¥650 (Tax Included)

Served with a glass of iced corn tea is a delicious egg-topped slice of toasted baked in the hotel bakery. Like you see in anime series, it makes you want to grab it, shove it between your teeth and run outside on an adventure.

Any fans of Studio Ghibli's work aren't going to want to miss out on this very special event. If you're in Japan this summer be sure you get to go.

©️TS ©️Studio Ghibli

Information

Toshio Suzuki & Studio Ghibli Exhibition

Running: July 13, 2019 – September 23, 2019

Location: Huis Ten Bosch Art Museum, Huis Ten Bosch (1-1 Huis Ten Bosch Machi, Sasebo, Nagasaki Prefecture)

Time: 9:00-21:00 *Depending on day – check official website for details

Prices

*Free for those who hold any of Huis Ten Bosch's passport tickets including the 1-Day Passport, Moonlight 4 Passport, After 5 Passport, VIP Premiere Passport, and Yearly Passport

*For those who hold a Sansaku (Walking) ticket: Adults ¥800, Children ¥700, Toddlers & Preschoolers ¥500

*For those who hold a Harbour Zone-only ticket: Adults ¥1,600, Children ¥1,400, Toddlers & Preschoolers ¥1,000

(Harbour Zone Entry Price: Adults & Children ¥1,000, Children & Preschoolers ¥500)

Huis Ten Bosch Official Website: https://www.huistenbosch.co.jp/

Spend 24-Hours With Dolphins at Iki Iruka Park

Iki Iruka Park in Nagasaki Prefecture is undergoing renovation and is set to reopen on April 25 with new facilities and programs.

Iki Iruka Park first opened in 1995. Located in the city of Iki on the island of Iki, the park enjoys up to 20,000 visitors a year. Its reopening will see a new cafe space open where the park will be open from morning time, something rarely seen on the island of Iki. The cafe menu will include items never before served in Iki such as pancakes from VERY FANCY®―a shop in Tokyo―as well as açaí bowls using local fruits and more. There will also be food served with local produce such as Iki brand beef, seasonal ingredients and so on. In the future the park hopes to be open at dinner time too as well as serve alcohol such as the Iki shochu from the shochu brewery that opened last year.

The new Iki Iruka Park will make full use of the surrounding natural environment for visitors to come into contact with the dolphins more, swim with them, and experience what it's like to be a trainer amongst other activities. There will also be a special 1-night stays for 1 person where they get to spend 24 hours with the dolphins.

Information

Iki Iruka Park

Address: Katsumotocho Higashifure, Iki, Nagasaki Prefecture

Opening Hours: Weekdays 9:30-17:30 / Weekends & Holidays 9:30-17:00

Website: http://www.ikiparks.com/iruka

Price

Non-Residents General ¥500 / Junior High School Students and below ¥250

Residents: Free (Citizen Card Required)

Anime Tourism 88 Adds the Yamamoto Nizo Museum to its List of Must-Visit Anime Sites

Anime Tourism 88 is a website for anime fans around the world that works with the anime industry and officials around the country. The site has just added the Yamamoto Nizo Museum in Goto, Nagasaki to the 2019 edition of its must-visit locations associated with anime.

The museum is a celebration of Japanese art director Nizo Yamamoto who is best known for his work with Studio Ghibli. The films he has worked on include Laputa: Castle in the Sky (1986), Grave of the Fireflies (1988), Princess Mononoke (1997) and even Madhouse's The Girl Who Leapt Through Time (2006). Visitors at the museum can expect to see background illustrations from his works, original pieces drawn from the establishment and more. The building itself is a renovated samurai house that was built during the Edo period in 1863.

Yamamoto himself grew up surrounded by the immense natural environment of Goto. If you visit Nagasaki, be sure to visit the museum dedicated to him.

Information

Yamamoto Nizo Museum

Address: 2 Chome-2-7 Bukeyashiki, Goto, Nagasaki Prefecture

Opening Hours: 9:00-18:00

Closed: Mondays (And New Year Holidays – December 29~January 3)
Access: 10 minutes by car from Fukue Airport / 2-minutes by bus from Zenkyouji (善教寺前) bus stop / 10-minutes on foot from Fukue Port

TEL: 0959-76-3923

Entry Price

Single: Adults ¥400 / Elementary~High School Students ¥200

Group (5 or more): Adults ¥320 / Elementary~High School Students ¥160
*Student residents of Goto can enter for ¥100.
*Free entry for infants.

Yamamoto Nizo Museum Official Website: https://www.goto-yamamoto-nizo-museum.com/

Anime Tourism 88 Official Website: https://animetourism88.com/en

Japan's Top 10 Instagram-Worthy Locations

Snaplace is a website that analyses posts on social media they they deem 'Instagrammable.' They have close to 6,000 spots listed on their website, and they have selected the very best from their data this year to make two Top 10 lists for 2018 – one for Instagram and one for Twitter.

Instagram Top 10


1st Place: Yasaka Kōshin-dō (Kyoto, Kyoto Prefecture)
Coming in at No. 1 is Yasaka Kōshin-dō, a small temple in Kyoto dedicated to Shomen Kongo, a guardian warrior, and three wise monkeys. The temple is known by locals for the colourful cloth balls that decorate the site called "kukurizaru" on which worshippers write their wishes and hang them. There is a rental kimono place close to this temple, making it the perfect spot to snap some photos.

2nd Place: Kawagoe Hikawa Shrine (Kawagoe, Saitama)
Kawagoe Hikawa Shrine is a popular spot with Japanese women for being a shrine of love. There, you can get your hands on special charms and fortunes based on the East Asian concept of the 'red string of fate' which binds together two people destined to meet. There's a stylish cafe and in summer they set up a corridor of wind chimes as shown in the photo. There's lots of places to take pictures here.

3rd Place: BE KOBE (Kobe, Hyogo)
The "BE KOBE" sign was built in April 2017 and was seen much across student social media during its first year. You can see lots of high school students take photos here on school trips to Kobe from October to March. This spot was initially popular with just students but its recognition began to spread amongst the masses and today taking a picture there is a must-do when visiting Kobe. On a busy day you can be waiting over 30 minutes to get one.

4th Place: La Collina (Omihachiman, Shiga)
La Collina is a confectionery factory that sells a range of exclusive sweets and confections including baumkuchen. This cute place looks like something out of a fairy tale and is noted for its post-worthy treats and chic, otherworldly architecture. Its spread on social media came from the fact that the building can easily make it look like you've been transported to another world. It has a real Studio Ghibli vibe to it with its grassy roof and surrounding natural environment.

5th Place: Sakushima (Nishio, Aichi)
6th Place: 21st Century Museum of Contemporary Art (Kanazawa, Ishikawa)
7th Place: Sarushima (Yokosuka, Kanagawa)
8th Place: Sankoinari Shrine (Inuyama, Aichi)
9th Place: Site Of Reversible Destiny (Yoro, Gifu)
10th Place: Shima Mediterranean Village (Shima, Mie)

Twitter Top 10

1st Place: Ōkunoshima (Takehara, Hiroshima)
Ōkunoshima is sometimes called "Poison Gas Island" for its role in World War II as a poison gas factory. But it is more known for being called "Rabbit Island" due to the number of feral rabbits living there. Around 700 roam the island, so it's become a popular spot for taking photos.

2nd Place: Fukui Prefectural Dinosaur Museum (Katsuyama, Fukui)
This museum is the biggest dinosaur museum in Japan and is renowned across Asia for its dinosaur fossil and specimen display. The gigantic realistic dinosaur models have hit it big on Japanese social media.

3rd Place: Ushiku Daibutsu (Ushiki, Ibaraki)
Ushiku Daibutsu was originally the tallest statue in the world from 1993-2002, even making it into the Guinness World Records. As of 2018 it is now one of the five tallest statues in the world. A photo of this Buddha looks like something from another world which led to its surging popularity on social media.

4th Place: Yasui Konpiragu Shrine (Kyoto, Kyoto Prefecture)
The Yasui Konpiragu Shrine is home to a large stone which is associated with binding good relationships tighter and severing bad ones. You first write your wishes on a piece of paper. If you want to initiate a good relationship then you must crawl through the hole in the stone from front to back while holding the paper. To end a bad relationship you crawl from back to front. The ritual is completed by sticking the paper onto the stone.

5th Place: Shimizu Koen (Noda, Chiba)
6th Place: Sand Museum (Tottori, Tottori Prefecture)
7th Place: Mikane-Jinja Shrine (Kyoto, Kyoto Prefecture)
8th Place: Nanzo-in (Kasuya District, Fukuoka)
9th  Place: North Safari Sapporo (Sappoto, Hokkaido)
10th  Place: Momotaro Shrine (Inuyama, Aichi)

Use this list as reference when in Japan to get the very best photos for showing off your trip!

BOOK & CAFE: Nagasaki Prefecture's Best Bookstore & Cafe Fusion

Tsutaya Bookstore Mirai Nagasaki Cocowalk is a new bookshop and cafe combination that opened on July 20 in Nagasaki Prefecture which people of all ages can enjoy.

There are 200 seats at the book and cafe space that are as comfortable as if you were in your home living room. Order a delicious cup of coffee and choose some reading material from a selection of different books, or gaze the townscape of Nagasaki from the window.

There are counter seats filled with books on travelling and sofas to relax on too.

Fashion concierge Yoshitsugu Naoyasu of Ropponmatsu Tsutaya Book Store decked out the shop with a selection of high quality tools and items from Nagasaki to give it that lifestyle vibe.

The 2500m²+ sales floor includes a food corner as well as a space for artists and creators to perform and give talks. There's also workshops and an art exhibition.

There's also a kid's area where they can enjoy reading picture books aloud and where there's a range of classic children's stories that adults will find nostalgic to rediscover. The area has board games too.

Enjoy books in a new and exciting way at Tsutaya Bookstore Mirai Nagasaki Cocowalk.

UNESCO Adds Nagasaki's 'Hidden Christian Sites' to World Heritage List

The 'Hidden Christian Sites in the Nagasaki Region' was officially added to UNESCO's World Heritage list on June 30. The decision was made at the 42nd Session of the World Heritage Committee which was held in Bahrain. This is the 18th location in Japan to feature on the list.

Over 2,000 people attended the public viewing of the announcement. The moment the official registration was declared, the people gathered at the event all cheered.

The Hidden Christian Sites are twelve sites in the Nagasaki and Amakusa regions which serve as evidence of a history of Christianity in Japan during its time of prohibition from the 17th to the 19th century. They tell us about how the hidden Christians existed in society, their connection to relgion and their faith, as well as how their traditional religious beliefs changed once the prohibition was lifted.

Japanese musician Masaharu Fukuyama gave the statement below regarding the decision to add the sites to the list. Fukuyama was appointed as the navigator of the Nagasaki Prefecture Blue Islands Project in February 6 this year. Since then, he has been involved in every project as a creative producer. He stated that he wants to know more about islands and so was invited to Nagasaki at the beginning of May. He also visited the settlements on Hisaka Island, one of the Goto Islands.

Masaharu Fukuyama's Comments:

"Congratulations on the 'Hidden Christian Sites in the Nagasaki Region' being registered on the World Heritage list. By knowing about Nagasaki's long history, it will allow peace for humanity in the future. Perhaps that was the reason behind this World Heritage registration."

Lots of related events and exhibitions are set to be held in Nagasaki Prefecture in connection with the decision.

Hotel Nampuro in Nagasaki Introduces an Infinity Pool Overlooking the Ariake Sea

Hotel Nampuro is located in Shimabara Onsen in Nagasaki Prefecture and has been around for 110 years. The hotel recently held the grand opening two infinity pools. One gives an unbroken view of the Ariake Sea and the other a lush garden.

The concept behind the pools is to get people closer to Shimabara's natural environment. Guests can enjoy feeling the sea breeze from ideal locations close amongst Shimabara's abundance of lush greenery and the Ariake Sea while offering an exquisite resort experience you can't get in the city.

The unique design of the open-air infinity pool makes it seem as if it flows into the sea itself. There's also an observation deck next to the pool too where people can gaze across the gorgeous waters.

The location also makes for a great power and energy spot as one can see the morning sun rise from Kumamoto across the shore. Guests can enjoy the sight in the morning, daytime and nighttime.

The other infinity pool is built by the garden restaurant deck terrace and blends in with the surrounding nature. Beyond the horizon lies Shimabara's waters, sky and nature which becomes one with the edge of the pool. The sky and trees also reflect on the surface of the water, making it feel like you're floating on top of a cloud in the sky.

The pool is around 50cm deep so children can enjoy themselves too. There are also jets fitted on the sides of the pool.

The poolside wooden deck is fitted with tables and sofas to enhance that resort feel. They also serve breakfast and there's a BBQ too.

Guests can look forward to the 300+ trees in the garden being lit up in a magical and mystical performance, giving the air a touch of romance. It offers an experience like no other as you're wrapped in a forest of lights under a starry sky.

Consider Hotel Nampuro if your trip to Japan is taking you to Nagasaki Prefecture.

i+Land Nagasaki: The New Entertainment Resort Opening on Iojima in Nagasaki

i+Land Nagasaki is a new entertainment resort that will host its grand opening on July 18.

A former leisure facility, the establishment underwent a huge renewal and changed its name to i+Land Nagasaki on April 1, 2018. The new resort will host a huge line-up of activities including Island Lumina, which hails as Japan's first interactive and immersive night walk, as well as yoga, SUP yoga, sea kayaking, and more. Select parts of the resort's accommodation and restaurants have been revamped too.

Iojima is an easy location to being just 30 minutes by car from the city of Nagasaki (or 20 minutes from Nagasaki Port via boat).

i+Land Nagasaki covers a wide area and faces the sea. It's split into four areas: the Port Area, Garden Area, Shimakaze Area and Lumina Area.

In the run up to the grand opening, the new seaside BBQ facility will open in the garden area on July 1 smack bang in the middle of the island and facing the sea. Food and amenities will already be prepared for guests so you can turn up empty-handed. There's even outdoor tents meaning you can enjoy yourself even if it rains.

As well as each area having their own accommodation facilities, there's also a restaurant, hot springs, a kid's play area and more, all of which can be used by non-guests of the resort too. An array of activities are also scheduled to take place around the resort.

The huge recommendation at i+Land Nagasaki is Island Lumina which opened on April as Japan's first ever experienced-based multimedia night walk. You'll be transported into a mystical and romantic world that will pleasure all five of your senses.

Island Lumina was created by Moment Factory, a world-leading digital art group from Canada. It uses cutting-edge technology that combines light and music in a twilight forest environment. Those who enter the forest will be absorbed into an immersive story of a girl looking for a magical jewel.

You can take part in a bicycle excursion tour of Iojima―which stretches across 2.26km² of the island―that'll around 1 hour. There's also optional tours to go and see Hashima Island, now an abandoned island and World Heritage site, as well as Oura Church, another World Heritage Site, and more.

Take a strip to the new i+Land Nagasaki this summer and immerse yourself in nature.

■Information

i+Land Nagasaki

Address: 1-3277-7 Iojimamachi, Nagasaki-shi, Nagasaki PrefectureGrand Opening: July 18, 2018Price: From ¥13,800 (Pre-Tax) – Includes 1 night and 2 meals for up to 2 people

TEL: 095-898-2202

Official Website:

https://www.islandnagasaki.jp/

Seaside BBQ
Times: Lunch 11am-3:30pm (Last Orders 2:30pm) / Dinner 5pm-9:30pm (Last Orders 9pm)

Price:

Lunch – Adults ¥2,800, Children ¥1,200, Toddlers (4-6 years) ¥300

Dinner – Adults ¥3,800, Children ¥1,200, Toddlers (4-6 years) ¥300

Area: i+Land Nagasaki Garden Area
Seats: 340

Island Lumina
Time: Sunset-11pm (Last Entries 10:30pm) *Time will change depending on the season
Price: Adults ¥2,400, Middle Schoolers to High Schoolers ¥1,800, Children (4-years to Elementary School) ¥1,500

*Free for those aged 3 and below.
Official Website: https://www.islandlumina.jp/