Experience the Edo period at ECO EDO Nihonbashi 2017 ~Enjoy the Real Edo with your Five Senses〜 open from 7th July!
From Friday 7th July ~ Sunday 24th September 2017 for the 10th year running, Nihonbashi will be launching their annual summer event "ECO EDO Nihonbashi 2017 ~Enjoy the Real Edo with your Five Senses〜" (ECO EDO 日本橋 2017 ~五感で楽しむ、江戸の涼~).
 "ECO EDO Nihonbashi" has arranged a variety of events to take place all over the district. These events combine the concept of "refreshing coolness", which has remained in the culture of Nihonbashi since the Edo period, with modernity.
Be refreshed by the "sight" of goldfish and Japanese lanterns. "Taste" the refreshing limited edition sweets. "Feel" refreshment by wearing the traditional Japanese summer clothing known as a Yukata. Enjoy a refreshing boat ride that is packed with Edo culture, and much more! Explore Japanese culture with your five senses alongside the cool evening breeze.
The "Goldfish sweets & Bar Walk" is located in Ningyo-cho, Nihonbashi. Here, a total of 76 old and new shops dominate the area. (Counted on 23rd May). Last year, the Goldfish sweets were the most popular. This year there will be many more cool things to look out for, such as the "Bar menu", Nihonbashi local alcoholic beverages and an alcohol menu.
Running: Friday 7th July ~ Sunday 24th September 2017
※ The goods will vary from shop to shop. Example menu:
※ The name of the menu and the design, and contents of the goods may change.
Courtesy of ECO EDO Nihonbashi 2017's general producer Hidetomo Kimura, visitors will be greeted by a gigantic goldfish lantern as they walk Naka-dori to Fukutoku shrine. Feel refreshed by the rows of goldfish-patterned lanterns lining the path. These lanterns were designed by Mr. Kimura.
*Location: Naka-dori (Coredo Muromachi 1 & 2 )
In addition, there will also be the "ECO EDO Nihonbashi Art Aquarium 2017~ Edo・ Sakana no Ryo & Night Aquarium", for which Mr. Kimura produced the artwork. Working around the theme of "Palace of the Dragon King", Mr. Kimura has created a wonderful work themed as a treasure chest. During the Edo period, the goldfish was an important symbol in everyday life. Now, this refreshing concept has been brought back to life. Admire the culture and refreshing goldfish theme surrounded by a unique atmosphere – this exhibition will leave you in awe, as if you stumbled in to the Geisha district of the Edo period.
*Location: Nihonbashi Mitsui Hall (Coredo Muromachi 1  floor 5  ※Entrance on the 4th floor)
To enjoy the nighttime, visitors are welcome aboard the "Nihonbashi Noryo Sakana Chochin Fune 2017". This is a cruise that runs during the nighttime. The vessel is decorated with Japanese lanterns decorated with goldfish patterns. These lanterns are special to Yanai, Yamaguchi. Enjoy the wonderful nighttime scenery and the wonderful refreshing breeze.
*Running: Every Tuesday, Wednesday & Thursday between Tuesday 1st August ~ Wednesday 30th August ~
※ Service suspended on Tuesday 15th & Wednesday 16th August
Course: Nihonbashi Harbor ~ Nihonbashi River ~ Sumida River (Round trip)

Price : Adults: ¥3,500 / Primary school children: ¥ 2,000 (tax included)
Queries: Shinnichiya https://www.shinnichiya.com/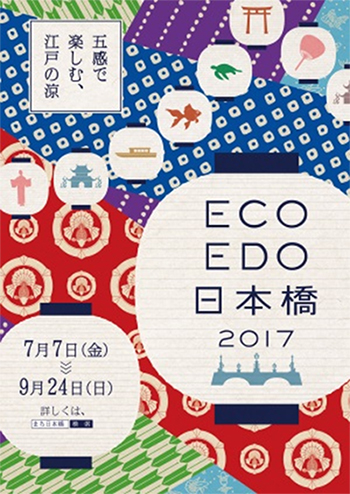 There are many more events besides those mentioned above. Indulge your senses in the refreshing atmosphere, a touch of the past, and much more!
Related article:【Tokyo Stroll】 Half-day Stroll in Kappabashi: Lively Shopping Street where You Can Get Variety of Cooking Tools and Dishes at Good Price
Related article:【Tokyo Stroll】Stroll around in Ginza for half a day. Visit the special stationary stores and get a delicious ground meat cutlet hamburger!