Appreciate Kumamoto's Culture at New Tokyu Hands Store in Amu Plaza Kumamoto
Tokyu Hands is opened a new lifestyle shop called Hands Be inside Amu Plaza Kumamoto in front of JR Kumamoto Station April 23. The shop will sell a range of everyday products from beauty to stationery, seasonal, and more, that showcase Kumamoto's culture and craftsmanship. Whether it be for yourself or a gift for someone else, there's something for everybody.
Kumamoto culture
Kurikawa Uchiwa Shoten
Kurikawa Shoten is a specialist in Japanese uchiwa fans that first opened in 1889. Kumamoto is the third biggest producer of uchiwa fans together with Kyoto and Marugame and is the only place passing down the traditional kutani craft of fans. Their fans are durable and long-lasting, enjoyed as gifts at children's birthday parties, weddings, as well as at company commemorations and elsewhere. To celebrate Hands Be's opening, the Kurikawa Shoten is providing fans with original colours exclusive to the new store.
Coffee Arrow
Coffee Arrow is a coffee shop that opened in Hanabatacho in the central ward of Kumamoto back in 1964. Customers can get their hands on a range of original coffee beans, merchandise, and more.
Coming together during these times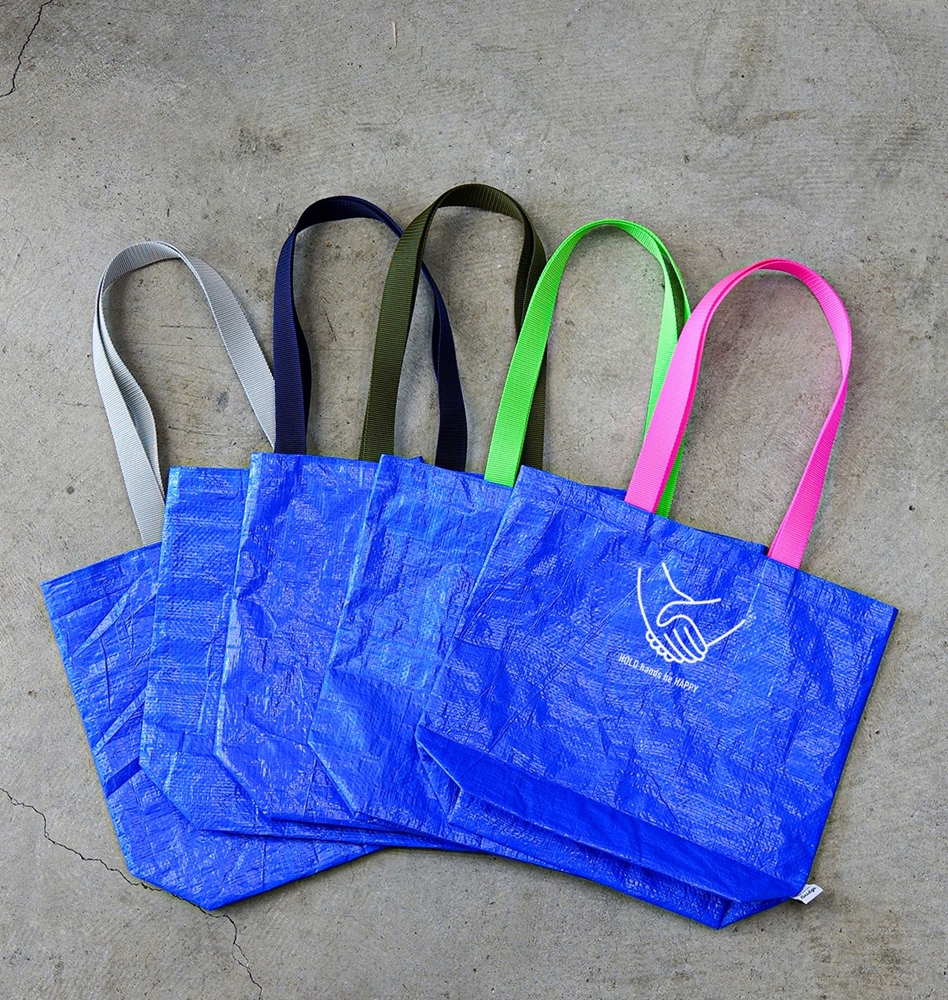 BLUE SEED BAG 
"HOLD hands be Happy" is the message written on the recyclable, eco-friendly BLUE SEED BAG which is made using washed blue sheets that were actually used as part of the restoration efforts after the Kumamoto Earthquake struck in 2016. The bags are a reminder that even though many of us can't hold hands with us during the pandemic, we are still connected by our hearts.
Wesign
Javasparrow is a manufacturer and service focused on creating products around "familiarity" and "connection." The Wesign is a set of two lights that connect to Wi-Fi. These unique lights can be used by lovers or family members who live apart or long-distance, so that you know when the other is on or offline, helping everyone feel connected.
Original bandana available for the grand opening
Hands Be is also offering a free bandana for the opening to anyone who spend over ¥3,000 (tax included).
Information
Hands Be Amu Plaza Kumamoto
Opening Date: April 23, 2021
Where: Amu Plaza Kumamoto Floor 3F, Kasuga, Nishi-ku, Kumamoto-shi, Kumamoto
Official Website: https://hands.net/
RELATED ENTRIES
niko and … Collaborates With Kumamoto Painter to Promote New Store Opening

Style editorial brand "niko and …" opened pre-orders for a new collection with Kumamoto resident oil painter Takeshi Matsunaga at its new AMU PLAZA KUMAMOTO branch on April 23. The line-up is set to be subsequently released via the online webstore "st." as well as five branches of niko and … on April 29, including their Tokyo store.

MATSUNAGA TAKESHI MEETS niko and … KUMAMOTO

The line-up is a collection of everyday items from tote bags and mugs to key rings, pencil cases, iPhone cases, t-shirts, caps, and more. Each item features a design inspired by Rakunou Gyunyu, a brand of milk that's hugely popular in Kumamoto. Matsunaga adds his delicate touch to the oil-painted series. Part of the proceeds generated from the sales of these items will be donated to the city of Kumamoto in support of restoration efforts from the 2016 Kumamoto earthquakes.

niko and's new Kumamoto store also has a cafe attached to it, "niko and … COFFEE," where a milk smoothie will be sold for a limited time until September 30. Each will come with a milk-flavoured wafer featuring Matsunaga Takeshi's art on it.

Information

niko and … x Matsunaga Takeshi

Pre-Sales: April 23, 2021

Where: niko and … AMU PLAZA KUMAMOTO

General Sales: April 29, 2021

Where: .st / niko and … TOKYO/ Five branches of AMU PLAZA in Kyushu (Oita, Kokura, Hakata, Kagoshima, Nagasaki)

Buy on .st: http://www.dot-st.com/nikoand
Buy on niko and…: https://www.nikoand.jp

Iconic Japanese Mascot Kumamon Takes Annual Festival Online to Thank Fans

Kumamon is a Japanese mascot many are sure to have seen. It was created in 2010 as a way to promote Kumamoto Prefecture in Kyushu, Japan.

Each year, Kumamon brings fans together at an event called "Kumamon Fan Gratitude Festival in TOKYO." This year, for the safety of fans, it will be held digitally—from Tokyo rather than in Tokyo—with an online stream via Kumamon's official YouTube channel Kumamon TV on February 12 at 20:00 (JST). Kumamon is currently in the last stages of preparing what is sure to be an equally fun event for fans.

You can follow Kumamon on social media at the links below. Be sure to tune in for the stream this Friday.

Japan's Pixar Bullet Train Project 'GO! WAKU WAKU ADVENTURE with Pixar' Details Announced

JR Kyushu has signed a promotional license agreement with Walt Disney Japan to launch the "GO! WAKU WAKU ADVENTURE with PIXAR" project, which will see the shinkansen bullet trains decorated in characters from the Pixar animated filmography starting on September 12, 2020.

The project comes at a time when Pixar celebrates the 25th anniversary of the original Toy Story film, which released back in 1995 as the first entirely computer-animated feature film.

New details have been released for the upcoming project, including the unveiling of the key visual, the content of the collaboration, campaigns that will be held, and limited-edition merchandise which will be sold.

Key Visual

The key visual is a colourful Pixar creation which is shaped to look like the seven prefectures that make up Kyushu—Japan's south-westernmost island where the JR Kyushu WAKU WAKU ADVENTURE Shinkanen bullet train will run.

Character Visuals

Poster Design

All major stations along the JR Kyushu Line display the key visual along with the above-pictured poster featuring various Pixar characters. Each of Kyushu's seven major prefectural train stations listed below will also have additional posters for different Pixar films.

Hakata Station: Toy Story
Saga Station: Up
Nagasaki Station: Finding Nemo
Oita Station: The Incredibles
Kumamoto Station: Cars
Kagoshima-Chūō Station: Monsters, Inc.
Miyazaki Station: Wall-E

Tabloid Distribution

For illustrative purposes only. Distribution from September 12, 2020.

At all major stations running the JR Kyushu Line, commuters can get their hands on a free tabloid inspired by the "My Adventure Book" from the Pixar film Up. The content of the tabloid features information related to the collaboration and where you can find Pixar characters at stations throughout Kyushu, so you too can have your own adventure.

Photo Spots

Cars photo spot

The seven JR Kyushu prefectural stations will also have their own photo spots where you can snap a picture. You'll also spot Woody and Buzz dolls and Hakata Station and Sully and Mike ones at Kagoshima-Chūō Station.

Participating Stations: Hakata Station, Saga Station, Nagasaki Station, Oita Station, Kumamoto Station, Kagoshima-Chūō Station, Miyazaki Station

Special Site & Official Instagram

A special site opened which features the departure schedule for the JR Kyushu WAKU WAKU ADVENTURE Shinkansen, details on campaigns, the latest details on the collaboration, and more. Waku Waku ADVENTURE now also has its own Instagram page which includes reports on event, pictures of merchandise, and other details.

Special Movie

A special collaborative movie will be released in September centred on the themes of Pixar's movies such as bonds between people, family, friends, and adventure. It will be shown at JR Kyushu stations and the special site.

Campaign: Find the Pixar Ball

Original sticker designs

If you spot a station staff member at any of the JR Kyushu prefectural stations wearing a Pixar ball badge, call out to them and they'll give you one of seven possible Pixar stickers as pictured above. All seven can be put into your "My Adventure Book," so try collecting them all!

Participating Stations: Hakata Station, Saga Station, Nagasaki Station, Oita Station, Kumamoto Station, Kagoshima-Chūō Station, Miyazaki Station

*Depending on the time, platform staff may not be wearing the badges

*Stickers are available while supplies last

GO! WAKU WAKU ADVENTURE Digital Stamp Rally

A digital stamp rally will be held on the official JR Kyushu app. Board the JR Kyushu WAKU WAKU ADVENTURE Shinkansen, visit JR Kyushu Stations, and get some original stamps.

1st Stamp Rally: September 12, 2020 – January 31, 2021

Limited Edition Merchandise

Merchandise lineup

A special collection of merchandise has been created featuring designs of Kyushu and the Pixar characters. The items will be sold at shops around JR Kyushu stations and online in Japan.

Release Date: September 12, 20202
Merchandise List: https://www.jrkyushu.co.jp/train/wakuwaku-adventure/goods/

Those who ride the very first departing train will receive an original Pixar design train ticket. The Tsubame 363 train bound for Kagoshima-Chūō Station will depart from Hakata Station at 12:19 on September 12, 2020.

©Disney/Pixar

Yowamushi Pedal Anime's 'Five Bridges of Amakusa' Ranks Number One in Places People Want to Visit Most

Seikatsu Guide, and online website that helps support and promote local regions around Japan, has announced its Top 10 selection for "Places I Most Want To Go And See (Western Japan)" as voted for by people.

Right now, most of us are under lockdown and are prohibited from making trips deemed unnecessary. So why not make a list of places you want to visit for when we can next travel? One of those places should be the Five Bridges of Amakusa in Kumamoto Prefecture.

"Yowamushi Pedal" Anime | Five Bridges of Amakusa in Kumamoto


Taking the number one spot on the list is Five Bridges of Amakusa which is located in Kamiamakusa, Kumamoto. As the name suggests, five bridges make up the landmark, all of which stretch from Misumimachi and connect to Oyano Island, Nagaura Island, Oike Island, and Maejima Island. The bridges are a famous sightseeing spot and have been chosen as one of Japan's "100 Best Evening Spots" and "100 Best Roads."


One woman in her 30's said, "I've been there on numerous occasions. It's a really beautiful place." A man in his 30's also commented, "I love the [Yowamushi Pedal] manga. If you're going as a fan, that scene is really exciting, so I went there on my bike."

Comment from the person in charge of the Kamiamakusa Planning Committee

"Thank you for honouring us with 1st place in this […] ranking. Five Bridges of Amakusa features as the location for the race in the Yowamushi Pedal movie. It gets its name from its five bridges which connect the islands along National Route 266. The area is also nicknamed 'Amakusa Pearl Line' for the abundance of pearls that can be found here. It was also selected as one of Japan's 100 Roads. It's a truly beautiful bridge which is also an example of Japan's fine bridge building craftsmanship."

They continue: "Amakusa is surrounded by the beautiful ocean and spectacular mountains. Most of the city is located in Unzen-Amakusa National Park. There are islands that sit atop the glistening sea, and there's the Amakusa Alps which offer a spectacular view. It hails as one of Japan's best places for nature! There are many fun outdoor activities to experience, like dolphin watching, kayaking, cycling, and more. We have incredible food like kuruma prawns, which are a speciality food here, as well as free range local chickens. You can relax your mind and body with a dip in the hot springs while gazing at the ocean. Please be sure to drop by Kamiamakusa to enjoy everything it has to offer."

Other places that ranked on the list include the following.

2nd Place – "Manpuku" TV Drama | Porto Europe, Wakayama

3rd Place – STU48 Promotional Video | Chichibugahama Beach, Kagawa

4th Place – "Yatsuhakamura" Movie | Makido Cave, Okayama

5th Place – "Segodon" TV Drama | Tatsumonjizaka Trail (Ryumonjizaka), Kagoshima

Tokyu Hands to Open New Branch at Singapore Changi Airport

Tokyu Hands has announced that it will open a new branch at the new Jewel Changi Airport set to open at Singapore Changi Airport in spring this year. This will be the chain's fourth branch to open in Singapore.

Tokyu Hands is a Japanese department store which describes itself as "the one-stop shop chock-full of many products unique to Japan." Its stores stock a wide variety of products, and those visiting the new Jewel branch too can expect to get their hands on a range of items from Japan including high-quality living ware, hobby and lifestyle products and more.

If you're passing through Singapore Changi Airport be sure to pop in for a visit this spring.

Information

Tokyu Hands Jewel (Temporary Name)

Address: 78 Airport Boulevard #02-203 Jewel Changi Airport Singapore 819666

Business Hours: 10:00-22:00 (subject to change)

Opening: Spring 2019

Official Website: https://www.tokyu-hands.co.jp/en/

A new design was added to the series of lip balm included inside "omamoris" (Japanese charms) called "Fuku Fuku Lip"

"Fuku Fuku Lip" is a product which was released in November of 2017 and it has gained a high reputation. From the 6th of January 2018, the new products (17th, 18th, 19th designs) "Fujiyama," "Daruma" and "Hanabi" were added to the series.

You can wear them or give them as a gift to person who are precious to you.

"Fuku Fuku Lip" was created under the concept of introducing "omamori" to many people in a fun manner.

It is a new style of omamori which has a modern design and includes a lip balm inside.

The cuteness of the series gained much popularity and took the first place in the lip balm category sales in November and December.

Luck will come to persons with moist lips. "Fuku Fuku Lip" which brings luck can be used in everyday life or as a gift to foreign guests.

Fujiyama – This product has an illustration of Mount Fuji which is known as the symbol of luck in Japan and a shiny full moon. The product has a premium feel and is suitable to be used as a gift for celebration events.

Daruma – A product which has the pattern of a daruma which is known as the "God of exams." The product has a cute design which is colored in beige and has a red string attatched.

Hanabi – Hanabi (fireworks) are often set off on Lunar New Year in China and is known as a symbol of celebration. The product has a delicate pattern of a golden string and a white string on top of a black colored surface.

The products have the scent of "yuzu" (Japanese citrus fruit) which has been used in Japan from a long time ago. The products uses the rare essence of yuzu produced in Japan.

Let's call in luck by using "Fuku Fuku Lip."

◼︎Information

Fuku Fuku Lip

Price: 1,080 yen (tax included)

TEL: 03-3239-1635

Available stores: Tokyu Hands, Loft, Isshindo Honpo Tsushin Hanbai's Tokyo Sky Tree Town store, Soramachi store etc…

A new food product only available in the Kyusyu area "Kumamoto no Bankan & Aso no Tennensui" from the mineral water brand Suntory Tennensui will be newly released!

 "Suntory Tennensui" will release its first area-limited product (only available in Kyusyu) "Suntory Kumamoto no Bankan (※1) & Aso no Tennensui."

※ Kumamoto-originated fruit which was discovered in present Kawauchi, Kumamoto Prefecture.

After the earthquake of April of last year, the production line of "Suntory Aso no Tennensui" was stopped. However, they restarted their production line after recovery work. This time, the company will release a new product that is only available in Kyusyu,"Suntory Kumamoto no Banakan & Aso no Tennensui" in order to show their gratitude towards the local community.

The product includes "Kawauchi Bankan" which is a fruit produced in Kumamoto that has a refined sweetness/sourness and a fresh flavor and honey. These ingredients are added to soft-flavored "Suntory Aso no Tennensui.  The flavor of the product is rich but fresh at the same time.

An illustration of the "business manager" and "happiness" mascot of Kumamoto Prefecture, "Kumamon" and the brand character of "Suntory Tennensui" called "Mizukuma" are depicted on the side of the product. This shows that Suntory is trying to boost the morale of not only Kumamoto Prefecture but that of all of Kyusyu.

Let's help to cheer on the Kyusyu Area by drinking "Suntory Kumamoto no Bankan & Aso no Tennensui!"

■Information

Suntory Kumamoto no Bankan & Aso no Tennensui

・Content / suggested retail price (tax not included): 530ml / 124 yen / 280ml (only available at vending machines) 115 yen

・Release date: September 19th (Tue.)

・Available Prefectures: Fukuoka, Saga, Nagasaki, Oita, Kumamoto, Miyazaki and Kagoshima

 "Suntory Kumamoto no Bankan & Aso no Tennensui" official website:

http://www.suntory.co.jp/water/tennensui/product/bankan.html 

"Suntory Tennensui" official website:

Japanese beer company Sapporo releases special-edition can to support Kumamoto Castle recovery

Be sure to spend the drinking funds for your cherry blossom viewing party on these beautiful cans.

Between April 14 and April 16, 2016, several powerful earthquakes shook Kumamoto and Oita Prefectures, killing at least 50 people and injuring 3,000 others. Merely five years from 2011, it was another stark reminder that Japan lies on an active fault line and that major earthquakes are always possible.

The two prefectures suffered damage to a number of significant cultural properties, including Aso Shrine and Kumamoto Castle. Aso Shrine is one of Japan's oldest shrines, and Kumamoto Castle can often be found listed among the most popular castles in Japan.

With the anniversary of the earthquake quickly approaching, along with the beginning of cherry blossom season, Sapporo has found a crisp, refreshing way to continue supporting recovery with one of the best parts of sakura viewing: drinking beer.

Tokyu Hands commemorates 40 years in business with a "Hands Thanksgiving Celebration" — Sanrio, Fuchiko and many more famous characters collaborate!

Tokyu Hands is celebrating 40 years since their founding with the "Hands Thanksgiving Celebration" which will start from Tuesday 1st November! This will involve a range of popular characters and goods, brands and tags! As well as 10 collaboration items, there is a large range of other stuff to enjoy!

One of the most attention-grabbing collaborations is the "Cup no Fuchiko". For this collaboration, the character figure is dressed in the old Tokyu Hands uniform that was worn long ago, and she is copying the same pose as in the Tokyu Hands logo! Customers who wear the current uniform and turn up to the store will receive one of the 2 varieties of posing Fuchiko! There is a massive lineup of goods in store that you won't be able to take your eyes off, including the Sanrio Hands limited edition mascot!

The store will be offering a variety of workshops too to ensure that the 40 year commemoration event will be jam-packed with lots of fun! From now on, information about bargains and further information about the event will be updated on the 40 year commemoration special site! Please check it out and don't miss out!!

■Information

ハンズ感謝祭 (Hands Thanksgiving Celebration)

Website:http://www.tokyu-hands.co.jp/40th/

ーーー

■ Related article: Have even more fun this Halloween with workshops & makeovers at Tokyu Hands!

■ Related article: Cup no Fuchiko Teams Up with Disney for New Toy Series

Have even more fun this Halloween with workshops & makeovers at Tokyu Hands!

The theme at Tokyu Hands this Halloween is becoming the protagonist of a story. For 2016, Tokyu Hands stores nationwide will be holding the "HALLOWEEN FESTIVAL 2016" until Monday October 31st. Tokyu Hands has a range of Halloween outfits, accessories and items every year for the popular event. This year they will be making some Halloween handmade clothes with their new project "Magical! Hands Halloween" for which there is a video you can watch. Check the official Tokyo Hands Halloween website below to see the handmade costumes they are making, as well as the video they made in collaboration with a popular cosplayer.
・「Magical! Hands Halloween」Official Website: http://www.hands-halloween.com


There will also be a workshop where you can learn how to make your own Alice bands using sponge sheets, as well as receive Halloween style make-up that you can do at home too! Full details regarding the event can be found at the website below (Japanese):
・HALLOWEEN FESTIVAL 2016 http://www.tokyu-hands.co.jp/halloween/2016/

ーーー
■Related Article: Start off 2016 Halloween with "KAWAII MONSTER CAFE HARAJUKU"! There will be Halloween specials as well as rare dishes are offered!

http://www.moshimoshi-nippon.jp/19531
■Related Article: 65-year old "Wagashi" Japanese style sweet shop release limited edition Halloween goodies for the spooky month!