'hotel tou nishinotoin kyoto by withceed' is a new hotel in Kyoto managed by Withceed Hospitality Management that held its grand opening on April 20, 2021.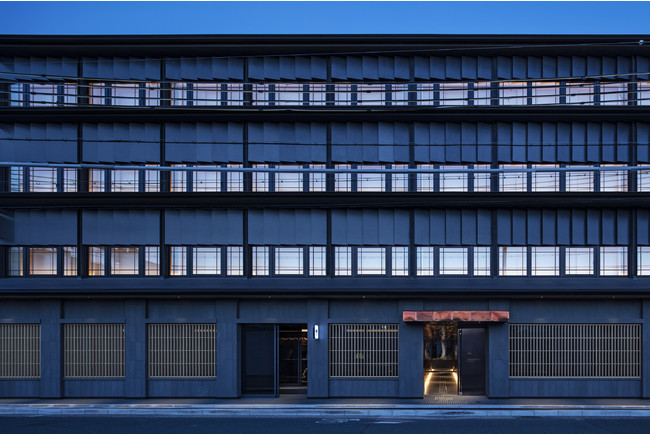 Located just a 10-minute walk from JR Kyoto Station, the hotel is situated between Nishi Hongan-ji and Higashi Hongan-ji, two temples and UNESCO World Heritage Sites. The hotel's concept is Oku (奥) which is Japanese for "deep," "interior," or being at the "heart" of something. Its aim is to offer guests a place to dive deep into Kyoto's traditions and culture in a space that puts great focus on its interior design.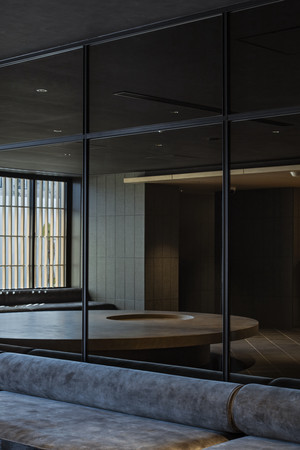 The design is built around themes of 'light and shadow,' 'distance,' and 'gloss' which expresses the notion of depth. The lattice windows and sliding doors pour in natural light, and the single boulder makes one think of being in a garden. It's a design to tickle the senses and imagination which in turn lets guests feel the depth of culture and being deep within the space.
The hotel has its own cafe/bar fusion called 'cafe&bar oku' which serves food and drinks from a range of Kyoto restaurants and cafes such Kyoto-style meicha tea from Ippodo Chaho, a tea shop that first established back in 1717, as well as a traditional Japanese breakfast rice porridge called okaisan made using Hachidai Megihei rice, and more. Customers can also enjoy drinks from Allpress Espresso, a New Zealand speciality coffee roaster setting up shop in Japan for the first time.
Information
hotel tou nishinotoin kyoto by withceed
Grand Opening: April 20, 2021
Address: 455 Nishinotoincho Shimogyo-ku, Kyoto-shi, Kyoto-fu 600-8327 Japan
TEL: 075-744-0144
Official Website: www.hotel-tou.com
RELATED ENTRIES
Relax With Cows and Sheep at Hoshino Resorts Tomamu in Hokkaido

Hokkaido's largest hotel resort Hoshino Resorts Tomamu is set to open its enormous new 100-hectare farm area this summer for a limited time between July 1 and September 30. Guests are invited to sit and lay amongst the farm's animals during the warm season.

Relax in nature

The farm area was originally an agricultural ground home to around 700 cows. Hoshino Resorts Tomamu wanted to bring the space back to its origins for people to enjoy, and so it is now operating as 100s hectares of farmland. The resort has offered a range of limited-time experiences on the land in the past, such as the Cow & Daytime Nap Hammocks where people can doze on hammocks and count the sheep, as well as the Pasture Lounge, and more.

What to expec

Inhale the smells of nature while laying on some comfy beds

Guests are invited to kick back and relax on a warm and cosy bed spanning 30 meters. Its large size means you don't have to come into close contact with everyone, enabling you to enjoy yourself withour worry. Cushions and blankets are also prepared.


Soak up the sights and sounds of the farm

The cows on the grass

Hammocks for a siesta snooze

Yagi the Postman

Information

Farm Beds

Running: July 1, 2021 – September 30, 2021

Price: Free

Time: 10:00-16:00

Location: Hoshino Resorts Tomamu Farm Area

Note: Accessible to hotel and daytrip guests 

*Will not run if the weather is bad

Official Website: https://www.snowtomamu.jp

Exquisite Afternoon Tea to be Served in Tokyo in Collaboration With Pierre Hermé

InterContinental Tokyo Bay is set to serve up a special afternoon tea by French pastry chef Pierre Hermé at five of its restaurants including New York Lounge from June 1 to August 31.

A colourful, fruit-filled line-up

From the left: Mosaic Cheesecake, Macarons, Ispahan, Emotion Satine

From the left: Jardin de Misole, Jardin de L'atlas, Infiniment Cassis

Chocolate gateaux line-up

Two jam scones, one with raspberry and one with lemon

The savoury items are made by the French restaurant next door

The full afternoon tea at New York Lounge

The full afternoon tea at Hudson Lounge

The full afternoon tea at Manhattan

The full afternoon tea at La Provence

The full afternoon tea at Italian Dining Zillion

The afternoon tea line-ups are a collaboration between French pastry chef Pierre Hermé, who has been called the pastry industry's Picasso, and award-winning executive chef Junji Tokunaga. Their first time working together, the duo have created an afternoon tea service packed with fruits like passion fruit, raspberry, orange, lychee, lemon, and more. Tokunaga also baked up chocolate gateaux as an homage to Hermé.


Items on the menu include Pierre Hermé's signature Ispahan which is a rose-flavoured macaron stuffed with rose cream, fresh lychee, and raspberry; Mosaic Cheesecake which harmoniously combines griotte cherries and pistachio; the refreshing Emotion Satine in all its passion fruit, orange, cream cheese, and mascarpone richness; four original gateaux chocolate oranges by Tokunaga; scones, and more.

The afternoon tea served at French Dining Manhattan, a restaurant which has a terrace overlooking Tokyo Bay, also comes with its own original savoury line-up, while Fine Dining La Provence and Italian Dining Zillion serve up lunch plates with theirs.


Information

Pierre Hermé x Junji Tokunaga

Running: June 1, 2021 – August 31, 2021

Venues

<Pierre Hermé x Junji Tokunaga Summer Sparkle Afternoon Tea>
New York Lounge/Hudson Lounge/Rainbow Bridge View Dining & Champagne Manhattan


<Pierre Hermé x Junji Tokunaga Summer Sparkle Afternoon Tea-Style Dessert w/Lunch Plan>
La Provence/Italian Dining Zillion

Hokkaido's New Hotel Boasts a Famous Hot Spring and Overlooks the Tsugaru Straits

Core Global Management is set to open the all-new Yunokawa Onsen Umi to Akari Hewitt Resort on July 1, 2021. In line with its opening, Japanese calligrapher Shoko Kanazawa has been put in charge of designing the hotel's name logo.

The sea and sky meet in the Infinity Onsen

Tsukifune: the buffet restaurant

Enjoy Japanese-style food at Kumonami

Tatami baths

Fires prepared by the staff everyday

A look inside the guest rooms

A look inside the guest rooms

Yunokawa Onsen is one of the three major hot spring resorts in Hokkaido. During the Edo period, Matsumae Chikatsumaru, who later became the lord of the Matsumae domain, and Enomoto Takeharu, the president of the former Tokugawa shogunate, are said to have bathed in this very hot spring. Yunokawa Onsen Umi to Akari Hewitt Resort is a chance to enjoy the good old days of Hakodate Yunokawa.

The rooftop offers an unbroken view of the incredible Tsugaru Straits. Guests can also enjoy a tranquil moment at the historic hot spring with a cup of Hakodate's local sake and dango in hand underneath a moonlit sky while surrounded by the lights of fishing fires. There's also a chance for both kids and adults to take a dip in a tatami bath – something you don't really see in Japan.

Information

Yunokawa Onsen Umi to Akari Hewitt Resort

Address: 3-9-20 Yunokawacho, Hakodate, Hokkaido 042-0932, Japan
Access: 5-minutes by car from Hakodate Airport
Official Website: http://hewitt-resort.com/hakodate-yunokawa/

Discover 130 Years of KYOTO BENRIDO's Colourful Photo and Printmaking World

Nara TSUTAYA BOOKS is set to host the KYOTO BENRIDO's World fair from May 15 to July 9, celebrating the history of a store that was established in 1887.

Benrido has been contributing to the inheritance of Japanese culture through the photography, printmaking, and publications of cultural properties for 130 years. The The company owns is one of the world's few remaining collotype studios which provides modern day photographers the unique opportunity to produce prints of their work using this rare process. Collotype was invented in France in the 19th century. It enables one to print images in various tones without the need for halftone screens.

Benrido offers a range of different products such as postcards, folding fans, standing screens, and more, all of which feature artwork by famous artists from the Meiji era to the early Showa era, the Chōjū-jinbutsu-giga, the portfolio of Saul Leiter, and more.

At the fair, visitors can pick up a wide selection of items from collotype pieces to other artistic goods. And starting on May 28, it will also sell items related to Hokusai and ukiyo-e prints.

MITAKE: The New Ryokan That Opened in Japan's City of Ninja Iga

VMG HOTELS & UNIQUE VENUES has renovated a four-room building located inside the Iga-based ryokan NIPPONIA HOTEL IGAUENO JOKAMACHI and transformed it into a new accommodation called MITAKE. The new building opened on May 1, 2021.

The ryokan is located in the former castle town shitamachi area of Iga Ueno Castle in Mie Prefecture's city of Iga. The city is a hub of historical architecture with countless buildings left over from multiple periods including Edo, Meiji, Taisho, and Showa. Its historical value earned it a spot on the 20th Century Heritage List carried out by ICOMOS. However, more and more buildings are becoming vacant in the city due to a decrease in its population in recent years, leading to many of these traditional sites being unused. This is where the idea to open MITAKE came from as part of an effort to renovate historical buildings and townhouses.

The two-storey building exterior has polearm-shaped ultra-fine lattice windows. It has also kept the same wood that was used at the time of its building during the early Meiji Period. It was originally preserved as a centre for the future of traditional townhouses but management by NOTE eventually ceased. It is now managed by VMG.

All guest rooms have the original exteriors and beams preserved but have been given a modern touch with new furnishings to create a sophisticated combination of old and new. All necessary social distancing and COVID-19 precautions are being carried out at the hotel and new building.

Häagen-Dazs Dessert Buffet Whipped Up at Keio Plaza Hotel

Keio Plaza Hotel in Shinjuku, Tokyo, is welcoming Häagen-Dazs through its doors who have prepared a very special dessert buffet for the hotel's "Summer Trip with Häagen-Dazs" service. The sweet treat line-up will be served from June 1 to September 30 along with a range of savoury foods from around the world – an inviting prospect to those unable to travel during the pandemic.

Sweets Collection with Häagen-Dazs ~Ice Cream Holic~ | General ¥4,800, Children (Aged 4-12)

The first entry to the Summer Trip with Häagen-Dazs is the "Sweets Collection with Häagen-Dazs ~Ice Cream Holic~" dessert buffet. To protect customers, all desserts are ordered and served like a course rather than going to pick up the food yourself. This marks the third year of the dessert buffet, and this time it's inspired by ice cream shops in New York, the home of Häagen-Dazs. Ice cream will be served in a cool and refreshing variety of ways.

Experience that feeling of picking out a flavour from the ice cream store with a line-up of eight flavours including classics such as vanilla and strawberry as well as the new rich royal milk tea. Each serving is customisable with numerous toppings.

Other menu items include mini ice cream croissants, ice cream sodas, ice cream cake, and more. There's also a line-up of savoury food too if you want to line your belly before dessert: fried chicken, burgers, hot dogs, fries, and so on.

While the buffet is on, the hotel restaurant itself will be transformed into an ice cream theme park with summery tropical fruit colouring as well as designs and decor inspired by ice creams and cones.

Information

Sweets Collection with Häagen-Dazs ~Ice Cream Holic~

Running: June 1, 2021 – September 30, 2021

Bookings; Now Open

Location: Jurin (Keio Plaza Hotel Floor 2F)

Address: 2-2-1 Nishi-Shinjuku, Shinjuku-ku, Tokyo

Slots: 15:00-17:00 (Last Orders 16:30) / 15:30-17:30 (Last Orders 17:00)

Jurin Official Page: https://www.keioplaza.com/restaurants/coffee.html

Deliciously Luxurious Matcha Shaved Ice to be Served in Shinjuku This Summer

This summer, Southern Tower Dining and Lounge South Court—both of which are located inside Odakyu Hotel Century Southern Tower—are serving up a fluffy matcha shaved ice dessert called Wa -Nagomi- from June 1 to September 30.

Southern Tower's Famous Fluffy Light Snowfall Wa -Nagomi- Shaved Ice | Eat In ¥1,470, Takeout ¥700

The matcha-flavoured shaved ice has a texture as light and fluffy as snow. As you spoon through the dessert your taste buds are met with a range of delicious tastes and textures like the Japanese rice flour confection known as gyuhi, winter melon syrup, black soybean flour ice cream, and cream.

The dessert can also be ordered for takeout. The black soy bean flour ice cream adds a crunchy cereal-like texture to the soft shaved ice, and with the takeout option, there's also chocolate-coated wheat bran and brown sugar syrup.

Information

Wa -Nagomi-

Japanese Name: 和 -なごみ-

Serving: June 1, 2021 – September 30, 2021

Where: Southern Tower Dining / Lounge South Court (Odakyu Hotel Century Southern Tower Floor 20F)

Address: 2-2-1 Yoyogi, Shibuya, Tokyo

Opening Hours:

[Southern Tower Dining] 11:30-16:00 (Last Orders 15:00) / 17:30-22:00 (Last Orders 21:00)

[Lounge South Court] 10:00-23:30 (Last Orders 22:30)

Southern Dining Official Website: https://www.southerntower.co.jp/restaurant_lounge/st_dining/bar_lunch/

HOSHINOYA Tokyo's New Hotel Plan Lets Guests Cool Down in the Summer With an Edo Period Stay

HOSHINOYA Tokyo is shining the spotlight on Japan's Edo period culture once again this summer with a new hotel stay experience, Edo Suzumi ("Edo Cooling Down"), which will run from June 1 to August 31.

Air cons are common in Japan, but they didn't exist during the Edo Period. The people of Edo therefore had to find alternatives for cooling down during the hot Japanese summer heat. HOSHINOYA Tokyo's new hotel plan will showcase just this by preparing special guest rooms for cooling off, making tsuri shinobu ornamental plans, making tea with both Japanese and Chinese ingredients, and more. Desserts made with sweet sake, something which townsfolk enjoyed drinking during the cool summer evenings, will also be served when the sun sets.

Edo Suzumi: 3 Things to Look Forward to

1. Guest rooms specially prepared with the Edo Period in mind

Guest rooms will be decorated with cool indigo-dyed cloth. They will also feature a number of things that the people of Edo observed to cool down during the summer blaze, such as goldfish, tsuri shinobu, seasonal flower prints, and more. The colour blue reminds one of water and so when seen it is said to make one feel cooler by reducing the pulse, number of breaths, and blood pressure.

Guests will be able to make their very own tsuri shinobu, a decorate hanging fern made from moss and bamboo which is suspended like a wind chime to create the same refreshing sensation during summer.

2. HOSHINOYA Tokyo's new Suzumi Seats cool you off in the evenings

In the evenings, water will be sprayed on the hotel plaza floor, in the same area as where the new Suzumi Seats are. During the Edo Period, people would lay out suzumidai seats and sit outdoors in the evenings when the temperature drops. At HOSHINOYA Tokyo, guests can do the same while enjoying a sweet sake parfait made with seasonal peach compote and edamame mousse. Sweet sake has a good balance of glucose and amino acid, and so people during Edo times would drink it to replenish nutrients and cool down their body.

3. New tea blends with Japanese and Chinese ingredients

Ice was a valuable resource during the Edo Period, and so it's said that many people would drink hot drinks during the summer and cool off by sweating. Various ingredients were sold for making tea in the towns, such as loquat, liquorice, cinnamon, and more, which would be mixed together. Guests will be able to try making their own original tea blends.

Summer cooling was a big part of Edo culture and a way of life that was experienced using all of the senses, such as hanging chimes and ferns, observing goldfish, and more. This unique life can now be experienced at HOSHINOYA Tokyo this summer.

Information

Edo Suzumi

Japanese Plan Title: 江戸涼み滞在

Running: June 1, 2021 – August 31, 2021

Where: HOSHINOYA Tokyo
Bookings: https://hoshinoya.com/tokyo/ (Must be made 14 days in advance)

Price: From ¥59,000 (1 room for 2 people. Tax, service charge, and accommodation not included)

Capacity: 1 group of up to 2 people per day

Notes: For guests of HOSHINOYA Tokyo staying in the Kiku (菊) rooms
Official Website: https://hoshinoya.com/en/

Shonai Hotel Suiden Terrasse Reopens With New Sauna Area

Shonai Hotel Suiden Terrasse reopened on April 29 after refurbishments to install a new sauna. The hotel, located in Yamagata Prefecture, is known for being situated atop rice paddies. Along with the sauna, it has also introduced a new spa program and healthy new menu made using organic vegetables grown by the hotel company itself.

An authentic Finnish-style sauna

The sauna is based on the Finnish-style löyly sauna, fully equipped with an authentic kiuas sauna stove inside which sauna stones are placed to heat up the room. Hinoki scented water is also used in the sauna.

The Sauna Features


Men's Sauna

The male sauna features hexagonal designs on the seats, ceiling windows, and bath. The seats can be moved around freely so guests can decide how high they wish to sit for optimal heat customisation. The sauna rooms overlook the rice paddies outside, and there's open-air baths outdoors too so guests can feel at one with nature.

Women's Sauna

The women's sauna is also a löyly type but uses raised benches instead of chairs. After sweating it out, guests can head to one of the outdoor baths and enjoy the view and sky.

There's also a bar where guests can order local beers, sake, and wine, as well as fruit juice and ice cream. While relaxing, they can pick out from one of the 1,000 books available.

As well as fitness and massage services, morning yoga will begin this June. The MOON TERRASSE restaurant is also introducing new healthy dishes and drinks made with organic local ingredients.

Stay in Harajuku's Yados Jingumae Hotel if You Love Art

Japanese company Rokuyon, which is responsible for creating a variety of hotel plans in Shibuya including at our own MOSHI MOSHI ROOMS, has launched a new project for guests of various hotels who are fans of brands and artists.

For their first endeavour, Rokuyon has teamed up with Yados Jingumae which has undergone major renovations. Guests staying in Room 202 this spring can enjoy a range of artworks as part of the room's exclusive Harajuku Night Owl Art Exhibition, while in summertime Room 301 will incorporate furniture by Sekai Class.

Yados Jingumae Room 202: Harajuku Night Owl Art Exhibition

Living room

Bedroom

Artist room

Participating Artists

CHiNPAN | April 23, 2021 – May 30, 2021

CHiNPAN began their career as an oil painter after getting selected at the 2008 Asia Creative Art Exhibition at The National Art Center in Tokyo. They explore the possibilities of oil painting by not limiting themselves to just paper. "Fusion" is the theme of their work which has taken them to creating visuals for shops, fashion, music, and more.

BANBU | June 10, 2021 – July 19, 2021

BANBU is a 24-y-ear-old artist who studied art abroad in Canada and New York after graduating at a vocational school in Japan. Currently based in Tokyo, they create colourful and eye-catching graphics with their three-eyed character.

Hotel Stay x Artists Come Together

"Harajuku Night Owl Art Exhibition" is the theme of Room 202 which will collaborate with different illustrators, video makers, photographers, and other artists every 1-2 months, shining the spotlight on each of their unique visions.

Yados Jingumae Room 301: Sekai Class

Hotel Stay x Furniture

Vintage furniture and artwork from around the world will be brought together in Room 301 so guests can experience a 'world living' experience. What's more is that all of the furniture, art, and items on display will be purchasable, and will change on a fixed schedule.

Go Diving in Fuji Five Lakes' Lake Mototsu in Summer 2021

This summer, glamping resort HOSHINOYA Fuji is offering guests a diving experience into the crystal clear Lake Mototsu, the third largest of the Fuji Five Lakes. The diving tour comes as a chance for people to reconnect with nature during the troubling COVID-19 times – to unwind and refresh.

A magical scene of lava, large trees, and freshwater fish

Lake Mototsu is one of Japan's most popular freshwater diving spots. There are restrictions in place for for boats when riding across the beautiful lake, which shimmers crystal clear because of water welling rather than flowing. Divers will be able to spot lake prawns, tachysurus nudiceps, and other lake life which sprouted during the Jōgan eruption in 864. Lava poured from Mount Fuji and created a space for the lake to form. Other sights under the lake include towering trees standing silently over 10-meters in height, water spurting up from holes, and more.

An expert guide will take you to the diving spots

The lava belt

Water swells from the holes

Submerged trees sit silently

Divers will be taken on a tour by a well-versed guide with 21 years in the industry who will lead them to spots based on guests' interests. The experience welcomes both beginner and veteran divers.

An afternoon nap in the forest tents

Due to the breathing control and water pressure that diving exerts, rest is important, and so HOSHINOYA Fuji has prepared a place for divers to enjoy an afternoon nap. They can enjoy the sounds of the forest as they lay suspended between the trees in a hammock-like tent.

Information

Freshwater Diving

Running: July 1, 2021 – August 31, 2012

Where: HOSHINOYA Fuji

Times: 11:00-18:00
Capacity: One group per day (up to two people)

Price: ¥35,000 per person (doesn't include tax, service charge, or accommodation fee)
Bookings: https://hoshinoya.com/fuji/  *Must be made 3 weeks in advance

Royal Park Hotel Begins Serving Limited-Time Desserts For Golden Week

For this year's Golden Week, Royal Park Hotel in Tokyo is serving up a limited-time selection of two desserts on its first floor cafe and bakery IKI: the Koinobori Roll Cake and Animal Sweets & Pastries, both of which are available now until May 5. It's also selling two different mont blancs for Mother's Day and Father's Day.

Carp streamer-inspired roll cake and animal pastries

Koinobori Roll Cake – ¥2,160 (Tax Included)

Animal Sweets & Pastries: Sheep Cheesecake, Bear Tiramisu, Rabbit Mousse – ¥540 Each / Piglet Pastry, Dog Pastry, Chick Pastry – ¥324 (Tax Included)

This line-up of takeout desserts and pastries are made at the hotel's own cafe and bakery IKI, all of which have been made to celebrate Children's Day which falls on May 5 every year. This includes a moist chocolate and strawberry carp streamer roll cake which is popular at IKI every year. There's also a cute selection of animal delights including the light and fluffy Sheep Cheesecake, mascarpone cream and coffee Bear Tiramisu, and a sweet and tangy Rabbit Mousse made from assorted berry mousse and jelly, as well as three pastries made to look like a chick, dog, and piglet.

Serving: April 29, 2021 – May 5, 2021

Happy Father's Day & Happy Mother's Day Specials

Mother's Day Mont Blanc / Father's Day Mont Blanc – ¥1,944 Each (Tax Included)

The Mother's Day Mont Blanc is a wonderfully light combination of strawberry jelly, fresh strawberries, white chocolate mousse, and strawberry cream. The Father's Day version is made with a fresh mascarpone cream, a mont blanc base that's made from chestnut and blackcurrant jam, chocolate cream, and caramelised nuts.

Mother's Day Mont Blanc: May 7, 2021 – May 9, 2021

Father's Day Mont Blanc: June 18, 2021 – June 20, 2021

 

Monthly Breads: May & June

Each mother, IKI releases limited-time breads or pastries. For May, customers can enjoy the rich Edamame & Bacon Parmesan France and the bitter Chocolate Cream Cornet. In June, there's an Orange Cream Cornet made with sliced orange peel, and the Tomato Rustic which is crunchy on the outside and soft in the middle, combining tomato and cheese. There's also Shokupan made with matcha and large-grained adzuki beans.

Edamame & Bacon Parmesan France / Chocolate Cream Cornet (Dark Chocolate) – ¥302 Each (Tax Included)

Orange Cream Cornet – ¥302 / Tomato Rustic – ¥302 / Shokupan (Matcha & Adzuki Bean) – ¥648 (Tax Included)

May Monthly Bread: May 6, 2021 – May 31, 2021

June Monthly Bread: June 1, 2021 – June 30, 2021

Information

Royal Park Hotel Golden Week Desserts

Start Date: April 29, 2021

Where: IKI

Address: royal Park Hotel, 2-1-1 Nihonbashikakigarachō, Chuo-ku, Tokyo

Official Website: https://www.rph.co.jp/event/GWevent2021.html