Peter Rabbit English Garden to Open at Mount Fuji in Spring 2022
Fujimoto Lake Biwa Resort is set to welcome the new Peter Rabbit™ English Garden in Spring 2022 which will be themed entirely around English writer Beatrix Potter's fictional animal character Peter Rabbit.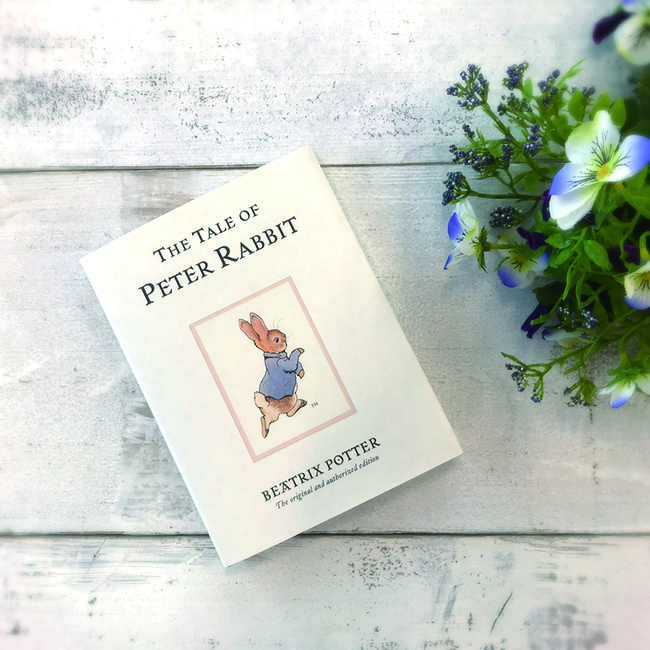 The garden will open as the biggest English-style garden in Japan. Fujimoto Lake Biwa Resort is located right beside Mount Fuji and is known for the Fuji Shibazakura Festival, an annual springtime cherry blossom event. This means the garden will be opening during the perfect season at the site. It will bring to life a magical recreation of the Lake District where the Peter Rabbit stories are set. There will be lots of photo opportunities, a menu themed on the characters, a museum, a shop selling original merchandise, and more. British garden designer Mark Chapman is helping to create this English-style garden.
Not only can visitors enjoy the spring and summer flowers when the garden opens, but the gorgeous hues of autumn too, and all with Mount Fuji in the background.
Information
Peter Rabbit™ English Garden
Opening: Spring 2022
Where: Fujimoto Lake Biwa Resort
Address: 212 Motosu, Fujikawaguchiko, Minamitsuru District, Yamanashi 401-0337, Japan
Fuji Shibazakura Festival Official Website: https://www.shibazakura.jp/
RELATED ENTRIES
Nakamura Keith Haring Collection Holds 15th Anniversary Exhibition, 'Chaos and Hope'

The Nakamura Keith Haring Collection in Yamanashi Prefecture will be holding a celebratory exhibition in honor of the location's 15th anniversary from May 14, 2022 until May 7, 2023.

In April 2007, the Nakamura Keith Haring Collection opened in Kobuchisawa, located at the foot of Mt. Yatsugatake. The only museum in the world dedicated entirely to New York-based artist Keith Haring, Kazuo Nakamura collected the works and acts as the director of the museum. Over 300 works of art are on display along with 500 other pieces, from photographs and videos to merchandise. The new exhibition features approximately 150 works.

Three Lithographs (People Ladder), 1985

Icons (Radiant Baby), 1990

Untitled, 1984

Untitled, 1988

Untitled (Subway Drawing), 1981-1983

The 'Chaos and Hope' exhibition was originally held during the museum's first year of operation and looks back at Haring's first experiences in New York City in 1978. The artist was present at the dawn of the hip-hop movement and was struck by the clash between typical white art and underground minority artists. In only five years, Haring rose to stardom. Sadly, while traveling the world, he contracted AIDS, passing away at the age of 31. Behind the bright and cheerful artwork he left behind, he hid his inner suffering and desire for hope and freedom.

All Keith Haring Artwork ©Keith Haring Foundation
Courtesy of Nakamura Keith Haring Collection.

Information

Nakamura Keith Haring Collection 15th Anniversary: Chaos and Hope

Venue: Nakamura Keith Haring Collection

Running: May 14, 2022 – May 7, 2023

Official Site: https://www.nakamura-haring.com

Peter Rabbit's English Garden Opens at Fuji Motosuko Resort

Peter Rabbit's English Garden, one of the largest English-style gardens in the Tokyo metropolitan area, will open at Fuji Motosuko Resort on April 16, 2022.

Known for the Fuji Shibazakura Festival, an annual springtime cherry blossom event, Peter Rabbit's Garden is opening at the resort at the perfect time. The garden will include over 300 varieties of plants, trees, and flowers, and visitors can enjoy a photogenic stroll with popular characters. An on-site cafe will offer a lineup of original items inspired by Beatrix Potter's classic books, including a colorful afternoon tea set and 'Flowery Latte' with petals scattered on top. 'Mr. McGregor's Vegetable Garden Salad' is also a light dish perfect for spring.

Cafe Menu

Take Out Menu

Cafe


Original Merchandise

Photo Spot

Shop & Gallery

Original Sticker

Guests can also enjoy a gallery highlighting moments from the Peter Rabbit picture books, from The Tale of Squirrel Nutkin to The Tale of Mr. Jeremy Fisher, both translated by novelist and poet Mieko Kawakami. The shop will offer original merchandise only available at Fuji Motosuko Resort, including keychains, sweets, and coffee cups. There's something for adults and children alike, so fans of Peter Rabbit won't want to miss it!

To commemorate the opening of the garden, a bus decorated with Peter Rabbit and friends will be in operation from April 4 until April 16. This passenger bus will bring visitors from Shinjuku, Yokohama, Shizuoka, and other locations, and those riding will get a special sticker as a bonus.

Come enjoy some time outdoors with Peter this spring!

BEATRIX POTTER(TM) & (C) Frederick Warne & Co.,2022

Information

Peter Rabbit's English Garden at Fuji Motosuko Resort

Opening April 16, 2022

Address: 212 Fujigane, Fujikawaguchiko, Minamitsuru, Yamanashi

Peter Rabbit Garden Cafe in Jiyugaoka to Celebrate 7th Anniversary with New Event

The Peter Rabbit Garden Cafe opened in Jiyugaoka in March 2015, and is celebrating its 7th anniversary with seven special events! This year also marks the 120th anniversary of the first Peter Rabbit picture book.

Peter Rabbit's Dad's Pie was incredibly popular when the location opened in 2015 and will be making a limited-time comeback, along with Mr. McGregor's Vegetable Garden Curry! New desserts and drinks will also be available, and guests ordering from the 7th-anniversary menu will receive an original muddler!

The first 200 customers to make a purchase of ¥3,000 or more (including tax) at the cafe will receive an original mug. Additionally, the first 200 customers to purchase the cafe's popular bakery items at the online store will receive an original bamboo fiber mug while supplies last. 

Special Peter Rabbit panels will decorate the cafe for the event, so come take some adorable pictures with this classic character!

(TM)&(C)FW&Co.,2022

Information

Peter Rabbit Garden Cafe Jiyugaoka 7th Anniversary
Address: Jiyugaoka MYU 1F (1-25-20 Jiyugaoka, Meguro-ku, Tokyo)

7th Anniversary Menu
Available: March 23 – May 17, 2022

7th Anniversary Muddler
Distribution Periods:
First Run: March 23 – April 19, 2022 (Peter Rabbit / Jemima Puddle-Duck)
Second Run: April 20 – May 17, 2022 (Peter Rabbit / Tom Kitten)

Online Shop: https://rakerushop.thebase.in/

Official Site: https://www.peterrabbit-japan.com/cafe/

New Blue Mount Fuji Beer Looks Just Like the Snow-Capped Peak

Fujisan Product, a company that specializes in making Mount Fuji-themed food and beverages, has released a gorgeous blue beer in partnership with distributor Millex Japan and Far Yeast Brewing, an award-winning craft brewery. The refreshing product is being sold mainly through department stores. 

After plenty of trial and error, the drink now resembles a snow-capped mountain when poured into the appropriate glass. The blue color comes from Spirulina and blueberry, and the beer contains natural water from Mount Fuji.

Shinsaku Nagata and Actor Tori Matsuzaka Collaborate on New Picture Book

Picture book author Shinsaku Nagata and actor Tori Matsuzaka are leaders in their prospective fields. Inspired by each other's works, the two came together to create their own story after a series of conversations. 303 Books has opened preorders for Maroyaka na Honoo (The Circular Flame) exclusively on the TopCoat Land website. It will be available in bookstores nationwide on March 14, 2022.

Members of TopCoat can enjoy a live reading by Tori Matsuzaka and a live-painting video by Shinsaku Nagata, as well as a recorded conversation between the two. 





A man named Tori Matsuzaka

is full of deep mysteries. 

There's something hidden

way down inside. 

We have created a new picture book.

Shinsaku Nagata





While we've been aware of each other for a long time, 

we could finally talk. 

"It would be great if we could do something," we said.

This is a book that captures our 'now.' 

I hope you'll read it.

Tori Matsuzaka

Summary

Maro, a frilled lizard, was living a quiet and peaceful life in a daze. One day, a flame appears before him, as fast as a jet and as light as a bee. From that day forward, Maro's daily life is changed. Maro's surroundings heat up, and he can see things he couldn't see before! As their lives change, their relationship changes as well. The final world that Maro and the flame discover is…

Information

Maroyaka na Honoo (The Circular Flame)


Author: Shinsaku Nagata

Created by: Shinsaku Nagata, Tori Matsuzaka

Design: Toshimi Hayashi (Tokyu Agency Inc.)

Price: ¥1,800 (Excluding Tax)
Release Date: March 14, 2022
TopCoat Online Shop Preorders start February 14, 2022

https://topcoatshop.jp/

Details: https://303books.jp/maroyaka

TopCoat Land (Membership)

A video of Tori Matsuzaka reading the book and Shinsaku Nagata painting live, as well as a video of a conversation between the two is available for members.
https://sp.tcland.jp/

Sunshine 60 Observatory to Open Diamond Fuji Viewing Party in January

SKY CIRCUS Sunshine 60 Observatory will hold the 9th annual Diamond Fuji viewing event from January 23 until January 29, 2022 from 16:40 until 16:50. This is a rare sight that can only be glimpsed a few days a year when the sun is perfectly aligned above Mt. Fuji.

Guests will have no buildings blocking their view from the observation deck, and if the weather conditions are right, it will look exactly as if the sun is emerging from Japan's most famous mountain. You won't want to forget your camera!

 

The rooftop will be open to only 105 people total (15 guests per day) to experience this once-in-a-lifetime view from 227 meters above the ground. On January 25, a special viewing event will utilize a super-telephoto lens to project this incredible sight onto a monitor. Mr. Hiroyuki Narisawa, a renowned star photographer, will also give a lecture on how to take the best photos during the event.

Information

Diamond Fuji

Viewing Hours: January 23, 2022 – January 29, 2022 (From around 16:40-16:50)  
※Please note that certain dates may be canceled due to poor weather.
Location: SKY CIRCUS Sunshine 60 Observatory

Details:  https://sunshinecity.jp/observatory/ 

Artist Macoto Takahashi, Known for Shojo Manga Paintings, Releases Art Collection

You've likely seen Macoto Takahashi's artwork before. Imagine a girl with large, starry eyes, clad in over-the-top elegant clothing. For the past 68 years, Takahashi has been drawing princesses and girls to turn heads, each of them full of life and captivating coquettish energy. 

After his debut in 1953, Takahashi published the manga series Arashi wo Koete and Princess Anne. His signature style of depicting glittering stars in the eyes of his protagonists would have a lasting influence on other manga artists. In the 1960s and 1970s, he was at the helm of many magazine covers and illustrations for popular girls' manga magazines like Nakayoshi, Shojo Friend, and Margaret. 

Since 1992, Takahashi has regularly held solo exhibitions of new works, and these activities have expanded overseas as well. His paintings were used in the 2018 Comme des Garçons SS collection, and there's no sign that his style will fall out of favor any time soon. 

On October 28, an art book filled with Macoto Takahashi's beloved images was released. The 232-page book features over 150 works from the 1960s to the current day and is compact enough to bring anywhere. 

Information

Macoto Takahashi's Jewelry Box

Released: October 28, 2021

Price: ¥3,300 (Tax Included) 

Kansai Yamamoto's Nippon Genki Project 2021's Mount Fuji Runway to be Featured On YouTube

The Nippon Genki Project will be held again this year and it will be available to watch on the event's official website and on YouTube. The event was created by the late Japanese fashion designer Kansai Yamamoto as a way to get people energised and motivated to realise their dreams.

Past Nippon Genki Project events

Nippon Genki Project 2015 Super Energy!! at the Museum of Contemporary Art Tokyo

Nippon Genki Project 2016 Super Energy!! at Yoyogi National Stadium

Nippon Genki Project 2017 Super Energy!! at Roppongi Hills Arena

Nippon Genki Project 2018 Super Energy!! at Roppongi Hills Arena

Nippon Genki Project 2019 Super Energy!! at Roppongi Hills Arena

Nippon Genki Project 2020 Super Energy!! Online

The theme of this year's event is 'World Heritage Runway.' The event will be recorded in Fujiyoshida, Yamanashi, at the foot of the World Heritage Site of Mt. Fuji. The footage will be released as a fashion film on August 21. Designers from across Japan have created a variety of looks for the event, and pieces by fashion schools, fashion universities both in Japan and overseas, and more will also be showcased.

Information

Nippon Genki Project 2021 World Heritage Runway at Mt. Fuji
Online Release Dates

Fashion Movie: August 21, 2021 @ 20:00 (JST)

Documentary: August 28, 2021 @ 20:00 (JST)

Price: Free

Available: Nippon Genki Project Website / YouTube

Official Website: www.kansai-inc.co.jp/ngp2021/

*More details to be released in mid-August

Celebrate Sasuke Uchiha's Birthday at Fuji-Q Highland's Naruto x Boruto Summer Event

Fuji-Q Highland began its 'NARUTO x BORUTO Fuji Hidden Leaf Village' event on Wednesday which is set to run throughout summer until August 29. The event is taking place to celebrate the birthday of the popular character Sasuke Uchiha from the Naruto franchise.

During the event, a keyword rally will take place, and a special menu will be served up.

Keyword Rally

Guests must play and ride six Naruto-themed attractions at the park where they will be able to collect keywords related to the Uchiha family. Those who manage to answer all the questions correctly will receive one of two free exclusive pins. The Sasuke & Itachi design will be available from June 9 to July 22 and the Uchiha Family design from July 23 to August 29. Check out the designs below, both of which are must-grabs for fans of Sasuke and the Uchihas.

Pin Design 1: Sasuke & Itachi (Uchiha Brothers) | Available: June 9, 2021 – July 22, 2021 

Pin Design 2: Sasuke & Sakura & Sarada (Uchiha Family) | Available: July 23, 2021 – August 29, 2021

Special Menu

Guests will also be able to enjoy a special menu line-up including a ramen dish served at Ichiraku, the ramen bar at Fuji-Q Highland which is themed on the same eatery of the same name in Naruto, and two cakes at Fuji-Q Highland's official hotel resort and spa.

Uchiha Brother's Spicy Ramen | ¥1,500 (Tax Included)

Uchiha Brother's Print Cake

Uchiha Family's Print Cake


ⓒ岸本斉史 スコット/集英社・テレビ東京・ぴえろ

Information

Uchiha's Summer
Running: June 9, 2021 – August 29, 2021

Where: Fuji-Q Highland

Official Website: https://www.fujiq.jp/

Enjoy Breakfast Fruits While Gazing at Mount Fuji at this Glamping Experience

HOSHINOYA Fuji, a hotel which opened as Japan's first glamping resort, has announced the Glamping Fruits Breakfast summer plan which is set to run from June 20 to August 31.

HOSHINOYA Fuji is located in Japan's prefecture of Yamanashi, a place that enjoys a bounty of fruit cultivation. Yamanashi has been called the "Fruit Country," offering a variety of different fruits. In fact, it has been the biggest producer of peaches, grapes, and plums in Japan for over 10 year. The glamping masters of HOSHINOYA Fuji have had knowledge bestowed on them from the growers of these sweet gems who have advised on the safety and best ways to prepare land for fruit growing, characteristics of fruits grown throughout the year, and other means of support. Now, guests at HOSHINOYA Fuji are set to serve these fruits to guests at breakfast this summer.

Dine outdoors from a terrace with a breathtaking view

Guests will enjoy their breakfast out on a sofa on a private terrace that overlooks Mount Fuji and Lake Kawaguchi. With the support of the hotel's Glamping Master, food will be prepared outdoors using a skillet and burner. The main dish is roasted peaches made with bacon and fresh herbs. The salty bacon and sweet peach make for a delightful combination. Best of all, ingredients and condiments are all prepared for guests in advance so they can enjoy a hands-free outdoor experience.

Indulge in high quality fruits

Eight varieties of fruit are available during the breakfast experience including peaches, Shine Muscat, pione, and more. And only the tastiest fruit is served to customers.

An optional tour is available with the plan which offers guests a chance to depart HOSHINOYA Fuji early in the morning to visit a peach farm in the city of Fuefuki. Guests are given exclusive access to the farm where they can learn all about how the peaches are grown from the farmers. At the end, they can tuck into some freshly-picked peaches with a glass of sparkling wine in hand.

Information

Glamping Fruits Breakfast
Running: June 20, 2021 – August 31, 2021
Location: HOSHINOYA Fuji / Fuefuki Peach Farm
Time: 7:30-10:00
Capacity: One group of up to 3 people per day
Bookings/Details: https://hoshinoya.com/fuji/ (Bookings must be made 2 weeks in advance)
Note: Ingredients and menu subject to change

Keith Haring: 360° Exhibition in Yamanashi to Explore Pop Artist's Lifework

The Nakamura Keith Haring Museum in Yamanashi is set to welcome the Keith Haring: 360° exhibition which will explore the diverse works of American pop artist Keith Haring. The exhibition will run from May 15, 2021 to May 8, 2022.

Keith Haring was an American pop artist whose work began in the 1980's when he would create spontaneous drawings in the subways of New York City. Haring participated not only in solo exhibitions, but national and international shows too, such as documenta 7 in 1982 and Venice Biennale in 1984. His later works took on more political and societal themes such as drugs, racism, sexuality, and AIDS. Haring died of AIDS-related complications in 1990 at the young age of 31.

Photo by ©︎Makoto Murata

Untitled (Figure Balancing on Dog), 1989

Untitled (KH.200), 1982, The Museum of Art, Kochi

My Town, Peace I–IV, 1987, Tama City Cultural Foundation

Nakamura Keith Haring Collection

One of the most noteworthy appearances at the exhibition is Haring's Figure Balancing on Dog (1989), a rare sculpture made of raw aluminium. As the title suggests, the piece features a person riding atop a dog, which may be a depiction of balance. It brings to mind the relationship between humans and animals and the anxiety towards a strange society that cannot be measured. Other works will also Untitled (KH.200) (1982), My Town which was drawn by 500 children from Tama, Tokyo, My Town, Peace I–IV (1987), and a series of six drawings entitled Bad Boys (1986) which Haring produced in Amsterdam.

For the first time ever, visitors will be able to see photos taken by Japanese art journalist Makoto Murata who interviewed Haring when visiting New York from December 1982 to January the following year.

The exhibition will look at Keith Haring, his diverse work, and deep messages of society from all angles – a 360° view.

Information

Keith Haring: 360°
Running: May 15, 2021 – May 8, 2022

No Fixed Holidays

Opening Hours: 09:00-17:00

Official Website: https://www.nakamura-haring.com/

Get Wet at This Rain Themed Event at Hoshino Resorts RISONARE Yatsugatake

Hoshino Resorts RISONARE Yatsugatake is calling for the rain this summer with the announcement of its Yatsugatake Fure Fure Sky event. The event will see over 1,000 fure fure bozu strung up—small handmade dolls to pray for the rain—along the 150-meter main street Green Pepper Avenue. The dolls act as the opposite of the more well known teru teru bozu dolls which are used to prevent rainy days.

Rain is something that's always on the mind of travellers who hope for a dry trip when they reach their destination. This event however takes advantage of the rainy days to turn it into something to be enjoyed.

Yatsugatake Fure Fure Sky: 3 Things to Enjoy

The grand spectacle of the rain and over 1,000 dolls

Colourful fure fure bozu will line Green Pepper Avenue which serve as gorgeous decorations. There are eight colours to be spotted which represent the Yatsu in Yatsugatake meaning "eight" in Japanese.

Enjoy the sight and sound of the rainfall in the Rainy Domes

Sit inside your very own dome along Green Pepper Avenue and enjoy the sounds of the tapping rain. This is an experience that is best enjoyed when it rains, meaning praying for the rain is a must. It's a chance to enjoy the rain without getting wet while sipping on wine and tucking into some light food.

Times: 11:00-16:00
Price: Free

Location: Green Pepper Avenue

Snap some photos in the rain wearing a Fure Fure Poncho

Inside the activity centre, visitors can rent their very own Fure Fure Poncho. This means they can head out in the rain and enjoy the sounds of the rain hitting their poncho, which is available in three different colours and all sizes for the family.

Times: 9:00-18:00

Price: Free

Location: Activity centre

Notes: Exclusive to Hoshino Resorts RISONARE Yatsugatake guests

Information

Yatsugatake Fure Fure Sky

Running: June 1, 2021 – July 11, 2021
Times: 9:00-18:00


Price: Free

Location: Green Pepper Avenue (Japanese Name: ピーマン通り)

Official Website: https://risonare.com/yatsugatake/