Peter Rabbit English Garden to Open at Mount Fuji in Spring 2022
Fujimoto Lake Biwa Resort is set to welcome the new Peter Rabbit™ English Garden in Spring 2022 which will be themed entirely around English writer Beatrix Potter's fictional animal character Peter Rabbit.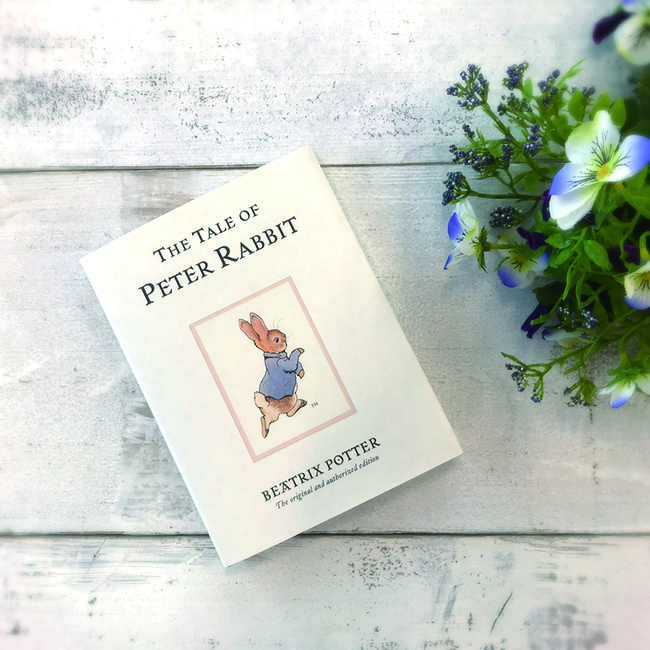 The garden will open as the biggest English-style garden in Japan. Fujimoto Lake Biwa Resort is located right beside Mount Fuji and is known for the Fuji Shibazakura Festival, an annual springtime cherry blossom event. This means the garden will be opening during the perfect season at the site. It will bring to life a magical recreation of the Lake District where the Peter Rabbit stories are set. There will be lots of photo opportunities, a menu themed on the characters, a museum, a shop selling original merchandise, and more. British garden designer Mark Chapman is helping to create this English-style garden.
Not only can visitors enjoy the spring and summer flowers when the garden opens, but the gorgeous hues of autumn too, and all with Mount Fuji in the background.
Information
Peter Rabbit™ English Garden
Opening: Spring 2022
Where: Fujimoto Lake Biwa Resort
Address: 212 Motosu, Fujikawaguchiko, Minamitsuru District, Yamanashi 401-0337, Japan
Fuji Shibazakura Festival Official Website: https://www.shibazakura.jp/
RELATED ENTRIES
Studio Ghibli's Earwig and the Witch Gets Recipe Picture Book

Japanese publisher SHUFUNOTOMO released a new recipe picture book based on the Studio Ghibli's 3D CG movie Earwig and the Witch on April 28.

Earwig and the Witch Recipe Book | ¥1,540 (Tax Included) 

The book features simple to follow recipes including famous British meals, desserts inspired by the movie, and lots of other mouth-watering delights that look like something straight out of Earwig and the Witch.

St. Morwald's Home for Children's Shepherd's Pie

Shepherd's pie is a classic British meal and makes an appearance in the movie when Earwig eats it at St. Morwald's Home for Children. It's her favourite meal: mash sat on top of a tomato sauce-loaded mince, carrots, green beans, onion, and paprika combo.

 

Boy Scout Fried Toast

Fried toast is another common food on the British breakfast menu. The recipe takes thickly-sliced bread and fries it in the juices of bacon and sausage. It's based on the scene where Earwig messes up making her fried toast. The recipe is made Frech-style with egg, milk, sugar, and butter.

 

Earwig's Pretzels

Using hot cake mix, learn how to make frosted white chocolate pretzels that look like Bella Yaga's magical worm minions

Goro Miyazaki | Comment (Taken From Recipe Book)

"Cooking is fun, isn't it? I myself love cooking: taking various ingredients and peeling them, chopping them, crushing them, and mixing them. You boil, you steam, you simmer, you fry. Using fire makes it all the more fun. What I make doesn't always turn out perfect, but you can turn off and forget everything while you're cooking, but it's an amazing feeling when you sit down to eat the fruits of your labour and people tell you what you made is delicious. It's even more amazing when you eat something that someone else made for you. Tasty food is like magic. Speaking of which, the magical spells that Earwig learns at Bella Yaga's house are a lot like cooking. Carving, crushing, mixing. I'm sure that if you're a skilled witch you'll be a skilled cook too. I hope the people who read this book and think for the first time that they want to try out cooking will try making all sorts. Getting better at cooking might even lead you on the path to becoming a witch."

The recipe book's front cover was designed specially for this book by Goro Miyazaki.

Children's Book Author Leo Lionni Gets Pop-Up Shop in Saitama

A pop-up shops has opened at SOGO Omiya Store in Saitama centred on the Italian-American children's book author Leo Lionni. Another pop-up shop based on the children's book 11 Piki no Neko by Noboru Baba also opened alongside it.

Leo Lionni's Friends Merchandise

Frederick Plush Toy | ¥2,200 (Tax Included) | Only 30 available

Swimmy Mini Letter Set | ¥440 (Tax Included) | Only 30 available

Time Wall Clock | ¥7,480 (Tax Included) | Only 10 available

Original bonus tote bag

11 Piki no Neko Merchandise

Blue Plush Toy (Large Size) | ¥4,400 (Tax Included) | Only 16 available

Toraneko Plush Toy | ¥1,650 (Tax Included) | | Only 32 available

Three Piece Lunch Box | ¥1,430 (Tax Included) | Only 30 available

Bonus pins

Leo Lionni's works are loved the world over and have been translated into many different languages. Fans can get their hands on a range of items, and the first 300 people to spend over ¥5,500 will receive a free original tote bag. This goes for the 11 Piki no Neko shop too – the first 150 to spend over ¥2,000 will receive a free pin.

Information

Leo Lionni's Friends Pop-Up Shop

Running: April 14, 2021 – APril 27, 2021

Where: SOGO Omiya Store (Floor 3F)

Address: 1-6-2 Sakuragicho, Omiya-ku, Saitama-shi, Saitama

Official Website: https://www.sogo-seibu.jp/omiya/

Fuji-Q Highland's Gaspard and Lisa Town Begins Spring Season Strawberry Festival

Strawberry lovers, listen up. If you're looking to indulge in strawberry-flavoured desserts all day long, then this fruity festival will have your mouth watering. The Gaspard and Lisa themed town at Fuji-Q Highland in Yamanashi is now holding its annual Strawberry Festa event which is running until May 5.

There are so many tasty treats to enjoy at this year's event, from cakes and pastries, desserts and drinks—all made with plump and fresh strawberries—that you can enjoy eating while walking around the themed town. One must-try is the Strawberry Pavlova which is made with a meringue that's crunchy on the outside and soft in the middle and is adorned with fresh cream and, of course, strawberries. It's a hearty serving but is actually a light and refreshing eat.

Strawberry Afternoon Tea Set at Les Rêves Salon de thé

Strawberry Festa exclusive face masks

Guests at the park who spend over ¥3,000 in a single transaction at any shop in the town will receive a free original face mask.

Hotel guest rooms

Meet Gaspard and Lisa in-person

Les Rêves Salon de thé

Strawberry Crepe recipe showcase

For those unable to travel due to restrictions, the town has also posted an online video showing how you can makes a strawberry crepe at home.

Chocolate bananas at LA BANANE

A variety of new shops have also opened at Fuji-Q Highland, including Strawberry Fetish which is Japan's first shop specialising in strawberry hard candy, as well as LA BANANE where you can enjoy chocolate bananas and other treats.

Colourful bagels at BONBON BAGLE

Gaspard and Lisa Town original merchandise

Popular Gacha Series Panda's Ana Releases Cute Picture Book About Mochi Monsters

Iwasaki Shoten published an adorable new picture book titled Mochi Bake Omochi Dakedo, Obake Desu on January 21 which is based on Takara Tomy Arts's hugely popular gacha series Panda's Ana.

The characters have fun at a festival

A plan to save the sweets shop

Fun 4-panel comic strips

A quiz about beans by Omame

The Story

The story takes place at a traditional Japanese confectionery store called Kumanekodo (Panda Temple). One day, the mochi sweets at the shop, which are made using traditional mallets and millstones which have been passed down for generations, come to life as Japanese obake (monsters). They are all friends and have fun together every day. The freshly-made mochi wait for the customers at the shop each day.

There are five main characters in the story: the strawberry daifuku Ichigo, cherry blossom mochi Sakura, mugwort mochi Yomogi, soy flour mochi Kinako, and the bean mochi Omame. If you're learning Japanese and love all things kawaii then this is a great book to get your hands on for your reading practice.

Ⓒ Panda's ana

Information

Mochi Bake Omochi Dakedo, Obake Desu

Japanese Title: 「もちばけ おもちだけど、おばけです。」
Artist: Ishihara Eri
Writer: Chisato Seki
Publisher: Iwasaki Shoten
Release Date: January 21, 2021

Price: ¥1,100 (Before Tax)

Available: Bookshops and online in Japan
Official Website: https://www.iwasakishoten.co.jp/

Visit Mount Fuji to Eat Bread That Looks Just Like Japan's Tallest Mountain

FUJISAN SHOKUPAN is a sandwich bread shop located in Fujikawaguchiko―a resort town in the northern foothills of Mount Fuji―in Yamanashi Prefecture. The shop is now offering online half price deliveries in Japan on four types of its popular breads until January 2021.


FUJISAN SHOKUPAN's website offer a range of products all of which are shipped across Japan in cooling packaging to keep everything fresh.


FUJISAN SHOKUPAN | ¥800 (Before Tax)

Perhaps the most famous item on their menu is that which goes by the same name as the shop itself. FUJI SHOKUPAN is a light blue and white sandwich bread which captures the form and appearance of Mount Fuji. Each sweet loaf is made with natural spring water from Fuji as well as Kyoho grape juice from Yamanashi before being baked with the utmost care.

If you get the chance to visit the area around Mount Fuji, or plan on climbing the mountain itself, be sure to mark the occasion by picking up a slice of FUJISAN SHOKUPAN.

Information

FUJISAN SHOKUPAN

Address: 3462-11 Funatsu, Fujikawaguchiko, Minamitsuru District, Yamanashi
Opening Hours: 11:00-18:00
Closed: Thursdays
Official Website: https://fuji3shokupan-2han.com/

Fuji-Q Highland Begins Christmas Event at Gaspard and Lisa Town

Christmas cheer is here at Fuji-Q Highland, the popular amusement park in Yamanashi, where a special Christmas event is taking place at Gaspard and Lisa Town in the park.

Christmas gift set with original tote bag

Hot Coffee Set | ¥2,000 (Tax Included)

Up until Christmas Day, the Gaspard and Lisa Town shop is selling a special hot coffee set to warm visitors this holiday season which comes with coffee, cookies, and a coffee cup sleeve.


The set comes in a festive tote bag with Gaspard and Lisa celebrating Christmas 2020 around a Christmas tree.

Hot Coffee Set Contents
①Drip Coffee (Gaspard or Lisa version)
②5 Fujiyama Cookies
③Sleeve (Gaspard or Lisa version)
*Tote bags are available while supplies las

Treats for Christmastime

Gaspard and Lisa Christmas Jar Sweets | ¥500 (Tax Included)

At the Les Rêves Salon de thé tea salon, visitors can pick up a jar dessert which contains a sweet and sour tart topped with Gaspard and Lisa shaped cookies. Cafe Brioche is also selling a selection of freshly-made Christmas pastries.

When visitors spend over ¥2,000 in a single transaction at shops in the town they will receive a limited-edition Gaspard and Lisa Christmas coaster.

Send Christmas post to the Gaspard and Lisa creators

When buying something in the town, customers will be handed a Christmas card that they can send a message in to post in the town's Christmas postbox. The post will be sent to wife and husband Anne Gutman and Georg Hallensleben, the creators of Gaspard and Lisa, in Paris, France. Up on the second floor of the town's shop are also drawings and messages by the two creators delivered for this year's Christmas event.

Post Collection: November 14, 2020 – December 13, 2020

Location: Gaspard and Lisa Town Shop

*1 card per transaction, available while supplies last

Meet Gaspard and Lisa

Gaspard and Lisa donning Christmas cloaks will make an appearance on Christmas cloaks to light up the Towatomo Tree. Visitors can also enjoy a soup with a cute Gaspard or Lisa sleeve.

Date: December 25, 2020
Time: From 16:30
Location: Gasprd and Lisa Town's Towatomo Tree
Prices:
Soup Only – ¥300 (Tax Included)

Soup & Sleeve – ¥720 (Tax Included)

Wine bottle shaped chocolate

~Le Premier~Le chocolate au vin | ¥2,980 (Tax Included)

The bakers at Highland Resort Hotel & Spa have crafted a new wine bottle-shaped chocolate for the Christmas event. Its sweetness makes it perfect for pairing with wine.

Available: Les Rêves Salon de thé in Gaspard and Lisa Town

©2020 Hachette Livre

Information

Gaspard and Lisa Town Christmas
Running: November 14, 2020 – December 25, 2020

Location: Fuji-Q Highland

Address: 5–6-1 Shinnishihara, Fujiyoshida, Yamanashi

Opening Hours: 9:00-17:00

Closed: December 3 / December 10

Official Website: https://www.fujiq.jp/en/

Directions to the park: https://www.fujiq.jp/en/access/

MALIBU HOTEL Kamakura Terrace Offers Mount Fuji View and Glamping Experience

Riviera Zushi Marina opened the new MALIBU HOTEL Kamakura Terrace inside MALIBU HOTEL, a hotel which just opened in March of this year. The hotel is now offering a special combination plan which includes a stay at MALIBU HOTEL as well as a glamping experience.

MALIBU HOTEL Kamakura Terrace offers a luxury glamping experience and more freedom when it comes to a hotel stay.

Luxury and freedom

Kamakura Terrace offers high quality and sophisticated interior design that allows guests to enjoy their stay however they like whether it be as a workation or a fancy stay to wine and dine. Guests can enjoy both a hotel and glamping experience at the same time.

The perfect workation

All sites at the facility are fitted with Wi-Fi so that guests can enjoy a workation while surrounded by 800 palm trees with a view of Mount Fuji and Enoshima in the back.

Information

MALIBU HOTEL Kamakura Terrace

Running: November 4, 2020 – February 28, 2021

Plan Name: Kamakura Terrace Plan

Price: +¥20,000 on top of a stay at MALIBU HOTEL

Bookings: 0467-23-007

Official Website: https://www.riviera.co.jp/malibuhotel/en/

See the Sun Sit Atop Mount Fuji at Tokyo's Sunshine 60 Observation Deck

SKY CIRCUS Sunshine 60 Observation Deck is holding its 5th Tentai Kanshokai this year where visitors can witness the phenomenon known as Diamond Fuji, a rare occurrence that only happens several times a year where the sun looks like it is sitting on top of the mountain peak and looks like a sparkling diamond. The first session was held on October 1, 2020 and the next ones will be held from November 12 to 18.

Diamond Fuji (Photo by Bic Camera Inc)

The phenomenon occurs most often during the winter solace when the days are shorter and can do so for both the sunrise and sunset depending on the time and place. SKY CIRCUS Sunshine 60 Observation Deck offers a spectacular view for this visual wonder.

Diamond Fuji at SKY CIRCUS

Running: November 12, 2020 – November 18, 2020

Time: 16:10-16:30

Location: SKY CIRCUS Sunshine 60 Observation Deck

Price: Entry to Observation Deck only

*Depending on the weather conditions the phenomenon may not be visible

The Sunshine 60 building is also offering rooftop viewings to the 30 people between November 14 and 16, with 10 people allowed per day on a first-come, first-served basis. The 227m view offers the perfect vista for a photo and so a photographer will be on site in co-operation with Bic Camera to take photos of people on the day.

Rooftop Photos

Running: November 14, 1010 – November 16, 2020

Time: 15:30-17:00

Price: ¥5,000

How to Book: Telephone bookings only on 03-3989-3457 from October 30 at 10:00am (JST). 10 people per day, first-come, first-served.

*Check the Important Notices before visiting

Information

SKY CIRCUS Sunshine 60 Observation Deck

Address: Sunshine City, Sunshine 60 Building Floor 6F, 3-1 Higashi-Ikebukuro, Toshima-ku, Tokyo

Opening Hours: 10:00-22:00 (Last Entries 21:00)

TEL: 03-3989-3457

Official Website: https://sunshinecity.jp/en/

Fujikawaguchiko Autumn Leaves Festival 2020 Begins This November

The Fujikawaguchiko Tourism Association will host this year's Fujikawaguchiko Autumn Leaves Festival, which will be the 22nd run, to help support the tourism industry in the northern region of Fuji which has seen a great impact as a result of the COVID-19 pandemic.

With much less people travelling to Japan during the pandemic, and the virus having continued for a long time, the Fujikawaguchiko Tourism Association is instead focusing on travellers within the country by hosting various events that can be enjoyed at Fujikawaguchiko.

All the necessary precautions will be taken at this year's festival, including taking people's temperature upon arrival, the mandatory wearing of face masks, alcohol gel being available at the site, and more. This will protects not only the locals but sightseers too, and so cooperation is being asked of everyone visiting.

At this year's festival, visitors can look forward to the popular Momiji Tunnel of maple trees which will be lit up at sunset until 10:00pm. The beautiful autumn colours can be enjoyed with Mount Fuji in the background. There will also be food, souvenirs, and a variety of activities to be enjoyed.

The Momiji Tunnel is an absolute must-see for anyone visiting Yamanashi during autumn and is nothing less than Instagram-worthy.

Information

22nd Fujikawaguchiko Autumn Leaves Festival
Location: Around Lake Kawaguchi
Running: November 7, 2020 – November 29, 2020

Opening Hours: 9:00-19:00 (Light up is from sunset to 22:00)
Access: 25 mins from Kawaguchiko Station by bus (nearest bus stop: Itchiku Kubota Art Museum Stop)
Entry: Free

*Please observe social distancing and government guidelines in relation to COVID-19.

*Fujikawaguchiko is a World Heritage Site and recognised as a place of natural beauty. Please take your trash home with you.

Celebrate Naruto's Birthday at Fuji-Q Highland's Hidden Leaf Village Theme Park Area

Naruto Uzumaki's birthday falls on October 10, so to celebrate, Fuji-Q Highland, an amusement park in Yamanashi, Japan, is holding a birthday festival for the titular character of the popular anime series. The event will be held at the park's Naruto x Boruto Fuji Hidden Leaf Village area.

Naruto Ramen | ¥1,280 | Available: October 10, 2020 and October 11, 2020

Customers who order the special ramen dish from the ramen bar at the park, which is called Ramen Ichiraku after Naruto's favourite eatery in the series, will get a huge topping of naruto, a type of Japanese steamed fish-paste cake. Only 100 of these hearty dishes will be served a day.

The park is also holding a social media campaign. If they can reach 7,610 followers—a number which can be read as "na-ru-to" in Japanese—this year, then they'll hold a lottery for fans to win a special prize.

Naruto Print Cake / Naruto Team 7 Print Cake

Fuji-Q Highland will also serve up two cakes, one with just Naruto and the other with Naruto and the rest of Team 7 including Sasuke, Sakura, and Kakashi.


Jiraiya / Tsunade / Gaara / Itachi

Lastly, from the end of November, life-sized portraits of Jiraiya, Tsunade, Gaara, and Itachi will be set up at the park for fans to take photos with.

ⓒMasashi Kishimoto Scott / Shueisha・TV Tokyo・Pierrot

Information

Naruto Uzumaki Birthday Festival 2020 – Naruto x Boruto Fuji Hidden Leaf Village
Fuji-Q Highland Official Website (English): https://www.fujiq.jp/en/

See 3,000 Rhododendrons in Full Bloom at the Tsutsuji Garden by Lake Ashi in Hakone

May is the most colourful time of the year at Hotel de Yama near Lake Ashi in Hakone, when a total of 3,000 rhododendronsーcomprised of 30 different typesーbloom their beautiful flowers in the large Tsutsuji Garden, where one can enjoy a great view of Mount Fuji and Lake Ashi.

Tsutsuji Garden at Hotel de Yama

"Tsutsuji" is the Japanese word for rhododendron. The Tsutsuji Garden at Hotel de Yama was once the villa of Koyata Iwasaki, "the fourth and last president of a unified Mitsubishi." During that time, numerous varieties of rhododendrons were planted in the garden, which have since been maintained. There are plants amongst them that are over 100-years-old, ones that tower over the human stature, and more; with petals that bloom pink, red, purple, and white.

A combined view of the kaleidoscopic rhododendrons and Mount Fuji

The staff who are experts on the garden have set up two photo frame stands in two of the best spots in the garden for taking picturesque photos. Snap some Instagrammable and memories with the colourful rhododendrons and Mount Fuji together.

Rhododendron Desserts: Saison a colorier – ¥1,634 / Tea Set – ¥2,360 (Before Tax)

Salon de thé Rosage, the dessert restaurant that sits in front of the hotel, is serving up a new special dessert called "Saison a colorier" in line with the full bloom of the rhododendrons. It captures the colourful pink, red, white, and purple appearance of the flowers, and looks like a mini version of the hotel's garden on your plate. The main part of the dessert is the tea mousse, which has a bright red colour as it is coated beautifully in a strawberry puree nappage. The tea used in the mouse is an original rhododendron blend exclusive to the restaurant.


The white rhododendron dessert is a macaron that's filled with raspberry sorbet. The red which contrasts with the white is a rhododendron milk tea cream and fresh raspberries. The rest of the plate is adorned with pink jelly and edible flowers. The perfect afternoon tea to finish off your time at Tsutsuji Garden.

This Irresistible Tart is Made From Rare and Delicious Heart-Shaped Grapes

 Fruit tart specialist shop Qu'il fait bon will be selling a brand new kind of lovable tart which is made using a rare species of grape sourced from Yamanashi prefecture. The tart is currently selling at Grand Maison, Ginza and Hamamatsu. These will be available for a limited period only. 


The tart is covered with incredibly rare "My Heart" grapes, which were developed by the grape research institute Shimura Budou Kenkyusho. Growing and cultivating these grapes was no easy task and took an incredible amount of time. There was only a short window of time available to harvest the produce and even then the harvest was small, so stocking up was very difficult. Despite the challenges, these tongue-tantalizing tarts are being sold this year, however, they are in limited supply. 

Shine muscat grapes and loubell muscat grapes were crossbred to create this new kind of grape. The marvellous flavour of both parent grapes can be tasted. The new grapes have a high sugar content, a wonderful scent and the skin is wonderfully crunchy.  

Take a bite into the special Yamanashi Grape My Heart Tart and you will be filled with a sophisticated fruity flavour. The adorable heart-shaped grapes are layered perfectly on top of a bed of white wine custard. You just have to try this delicious and beautiful tart!